Salt taste after bariatric surgery and weight loss in obese persons
Published

Accepted

Received
Academic Editor
Subject Areas

Keywords

Bariatric surgery

,

Salt

,

Taste

,

Sex differences

,

Obesity
Copyright

©

2016

Ekmekcioglu et al.

Licence

This is an open access article distributed under the terms of the Creative Commons Attribution License, which permits unrestricted use, distribution, reproduction and adaptation in any medium and for any purpose provided that it is properly attributed. For attribution, the original author(s), title, publication source (PeerJ) and either DOI or URL of the article must be cited.
Cite this article

2016

.

Salt taste after bariatric surgery and weight loss in obese persons

.

PeerJ

4

:

e2086

https://doi.org/10.7717/peerj.2086
Abstract
Background. Little is known about the perception of salty taste in obese patients, especially after bariatric surgery. Therefore, the aim of this study was to analyse possible differences in salt detection thresholds and preferences for foods differing in salt content in obese persons before and after bariatric surgery with weight loss compared to non-obese individuals.
Methods. Sodium chloride detection thresholds and liking for cream soups with different salt concentrations were studied with established tests. Moreover, a brief salt food questionnaire was assessed to identify the usage and awareness of salt in food.
Results. The results showed similar mean sodium chloride detection thresholds between non-obese and obese participants. After bariatric surgery a non-significant increase in the salt detection threshold was observed in the obese patients (mean ± SD: 0.44 ± 0.24 g NaCl/L before OP vs. 0.64 ± 0.47 g NaCl/L after OP, p = 0.069). Cream soup liking between controls and obese patients were not significantly different. However, significant sex specific differences were detected with the tested women not liking the soups (p < 0.001). Results from the food questionnaire were similar between the groups.
Conclusion. No differences between non-obese persons and obese patients were shown regarding the salt detection threshold. However, due to highly significant differences in soup liking, sex should be taken into consideration when conducting similar sensory studies.
Introduction
Reaching epidemic dimensions a high body mass index (BMI) belongs to the top risk factors for disability adjusted life years worldwide (Lim et al., 2012). Beside environmental, social and genetic factors, the main cause of obesity is a positive energy balance with an increased consumption of energy dense foods high in sugar and fat, in combination with a lack of physical activity.
In addition to a variety of well known co-morbidities, obese people tend to also have different taste and smell perceptions, which can influence their choice of food (Drewnowski, 1997). Obese children for example identified taste qualities like salty, umami and bitter less precisely compared to children and adolescents of normal weight (Overberg et al., 2012). Also overweight/obese adults perceived sweet and salty tastes as less intense (–23% and –19%, respectively) than normal-weight controls (Sartor et al., 2011). On the other hand, Pasquet et al. (2007) described that massively obese adolescents had higher taste sensitivity than lean controls, especially for sucrose and salt. Furthermore, not only humans but also obese mice show an altered perception of taste (Maliphol, Garth & Medler, 2013).
In previous investigations alterations in taste perception were shown after bariatric surgery and patients found certain foods repulsive and had developed aversions (Tichansky, Boughter Jr & Madan, 2006). Obese women showed decreased cravings for fast food and sweets and decreased preference for high sucrose concentrations after bariatric surgery and weight loss (Pepino et al., 2014). However, no alterations in taste sensitivity for sweet, salty and savory stimuli were detected.
Former studies especially investigated a change in sweet taste perception of obese people after bariatric surgery, whereas other studies detected an upregulation in bitter and sour taste acuity after surgery (Bueter et al., 2011; Scruggs, Buffington & Cowan Jr, 1994). Regarding bariatric surgery and salt perception, only few studies are available, with inconsistent results (Scruggs, Buffington & Cowan Jr, 1994; Pepino et al., 2014).
Due to the sparse and inconsistent data, this study aims to clarify the effect of bariatric surgery on salty taste by analysing the differences in the taste perception of salt of obese persons before and after bariatric surgery in comparison with a non-obese control group. Measurement of salt detection thresholds and analysis of hedonic liking of soups were applied to evaluate physiological and practical aspects.
The relevance of the study is especially twofold. First, a potential variation of salt taste in obesity and after weight loss is of chemosensory and physiological interest. In addition, it is well known that a high salt intake is associated with hypertension (Ekmekcioglu, Blasche, & Dorner, 2013), but probably also obesity (Ma, He & Macgregor, 2015). Therefore a modified salt taste in obese individuals, before or after weight loss, could influence their salt eating behavior and in turn their blood pressure and energy intake.
Results
Estimated salt detection thresholds
No statistical difference was observed between the salt detection thresholds of the controls (mean ± SD: 0.49 ± 0.45 g NaCl/l) compared to the obese group (mean ± SD: 0.51 ± 0.34 g NaCl/l) (Fig. 1A). Furthermore, a non-significant increase in the salt detection threshold of the patients was observed after bariatric surgery (mean ± SD: 0.44 ± 0.24 g NaCl/L before OP; 0.64 ± 0.47 g NaCl/L after OP, p = 0.069) (Fig. 1B). No sex specific differences were detected. Furthermore there were no significant differences in the salt detection thresholds between patients with or without diabetes or hypertension.
Soup liking
Cream soups with five different salt concentrations in increasing order (soup 1 lowest, soup 5 highest salt concentration) were used to test the soup preference on a 9 point hedonic scale. The results showed that the control group liked the soup 2 best (4.24 ± 2.33), whereas patients before surgery preferred soup 4 most (Table 4).
| Group | Soup 1 | Soup 2 | Soup 3 | Soup 4 | Soup 5 |
| --- | --- | --- | --- | --- | --- |
| Controls (n = 29) | 3.59 ± 2.31 | 4.24 ± 2.33 | 4.14 ± 2.55 | 3.45 ± 2.41 | 2.93 ± 2.20 |
| Patients before surgery (n = 33) | 2.79 ± 2.04 | 2.79 ± 2.38 | 2.88 ± 2.36 | 3.42 ± 2.66 | 2.88 ± 2.66 |
| Patients after surgery (n = 19) | 2.89 ± 1.82 | 2.58 ± 1.90 | 2.05 ± 1.68 | 2.21 ± 1.96 | 1.74 ± 1.41 |
Values are shown as mean ± SD.
However statistical analysis showed no significant differences between controls and patients before surgery when using the weighted mean of the soup liking as the dependent variable (Fig. 2A).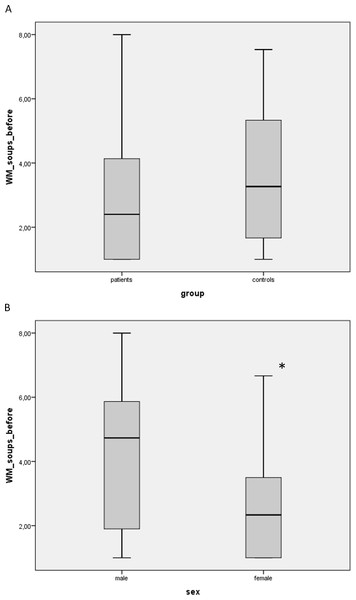 Interestingly, we found highly significant sex specific differences in the soup liking (p < 0.001; Fig. 2B), suggesting that the tested women did not like the soups.
In addition, the soup liking before and after surgery were not significantly different in the patient group. Also, contrast analyses showed no significant differences between the soups.
Food questionnaire
The food questionnaire was completed by 15 controls and 26 obese patients after testing the salt detection thresholds and soup liking at the first visit. Except for the question asking for the salt content of chocolate no significant differences were found between the two groups. Major results from the questionnaire showed that the participants in both groups ate moderately salted foods, rarely added salt to cooked dishes, ate ham, sausages or bacon 1–2 times per week, and ate convenience products or salty chips and similar snacks 2–3 times per month (for data, please refer to Supplemental Information 1).
Discussion
The present study showed that the salt detection thresholds and soup liking of obese patients were not significantly different from healthy, non-obese controls. In addition, a non-significant increase in the salt detection threshold was observed in patients after bariatric surgery. An unexpected result was that the tested women did not like the cream soups.
In several studies, the association between taste perception and obesity was evaluated, with a special focus on sweet taste (reviewed in Donaldson et al., 2009). However, the results in these studies were partly contradictory, possibly because different techniques were used (Donaldson et al., 2009).
Regarding obesity surgery and taste, one of the first studies in the mid 1970s showed that one year after intestinal bypass surgery and significant weight loss obese patients rated the pleasantness of a 40% sucrose solution lower than before surgery (Bray et al., 1976). In another study, the recognition threshold for sucrose fell from 0.047 mol/L to 0.019 mol/L 12 weeks after Roux-en-Y gastric bypass (Burge et al., 1995).
Also Bueter et al. investigated changes of sweet taste perception in nine obese patients 2 months after gastric bypass surgery. They found that even though patients were able to detected lower concentrations of sucrose after the operation as compared to before, no differences in hedonic ratings of sucrose solutions were found (Bueter et al., 2011). Therefore, although measurements of taste detection thresholds are established physiological methods to study the function of sensory receptors and gustatory circuits they do not necessarily correlate with suprathreshold intensity or hedonic values (Bueter et al., 2011; Spector, 2000; Bartoshuk, 1978; Webb et al., 2015). For example, in a recent comparison of five methods to assess taste function it was shown that detection thresholds were not correlated with suprathreshold intensities of any taste quality, including sodium chloride (Webb et al., 2015).
Regarding salty taste and obesity, only a few studies are available. In a study from Pasquet et al. (2007) for example, lower recognition thresholds for sucrose and sodium chloride were found in obese adolescents compared to the lean control group. In another study it was shown that overweight women liked the taste of salty foods more compared to the normal weight group; however converse results were seen in the male control group (Donaldson et al., 2009). Furthermore, Japanese women declaring to like salty foods had a higher BMI compared to those who disliked them (Hashimoto et al., 2008). Also, results from the French web-based observational cohort of the Nutrinet-Santé study showed that overall liking scores for salt and fat were linearly positively related to BMI in 46,909 adults and were higher in obese than in normal-weight persons (Deglaire et al., 2015). However, no effect of BMI on salty taste perceptions was shown in other studies (Malcolm et al., 1980; Simchen et al., 2006).
Salt detection threshold after bariatric surgery was only addressed by few studies. In rats, no effect of gastric bypass on salt preference scores was found (Bueter et al., 2011). Similar to our study, Scruggs, Buffington & Cowan Jr, (1994) also found no significant differences in the salt detection threshold between morbid obese patients compared to lean controls. However, in some contrast to our study the salt detection threshold 30, 60 or 90 days after bariatric surgery declined non-significantly, indicating a trend for an increased sensitivity. One major reason for this discrepancy may be the very low sample size of 6 individuals in the study of Scruggs, Buffington & Cowan Jr (1994). Furthermore, Scruggs et al. used higher salt concentrations and a different method for the tests, all which could have explained the diverging results. In another recent study, Pepino et al. (2014) showed no effect of bariatric surgery and weight loss on sodium chloride detection threshold in 27 obese women.
We also studied the liking of cream soups differing in their salt concentrations, since taste thresholds may be less representative for daily life. We found no significant differences between the patients and the controls and no effect of bariatric surgery and weight loss on hedonic responses. However, interestingly, considerable sex dependent differences were detected, as the women in our study did not like the cream soups. We also analysed soup liking between controls and patients and before and after surgery in women and men separately, and, similar to the outcome in the whole group, in both cases the results were not significant.
The reasons for the unexpected lower soup liking scores in women compared to men are unclear. Possibly lower intakes of milk and milk products in women may be an explanation. This was for example shown in a large sample by Klesges et al. (1999) with non-Hispanic white women experiencing more gastric stress after milk consumption than men. In addition, gender specific differences in liking of sweet, fatty or salty foods (Deglaire et al., 2015) or taste acuity (Mojet, Heidema, & Christ-Hazelhof, 2003) may also be relevant. However, to the best of our knowledge we found no studies looking at sex differences in the liking of dairy products. Furthermore, it has been suggested that the taste of women may be affected by the various phases of the menstrual cycle (Verma et al., 2005). A further reason for the sex specific differences may be a more frequent dieting behavior in women which may have lead to avoidance or disliking of cream soups by (dieting) women. In conclusion, further studies are needed to confirm these results.
Previous studies suggested an association between BMI and liking for salt (Deglaire et al., 2015; Donaldson et al., 2009) and it has been shown that higher urinary sodium excretions, as an indicator of salt intake, is associated with increased body weight (Huh et al., 2015; Libuda, Kersting & Alexy, 2012). Therefore, we also evaluated the salt eating behavior of the participants with a short questionnaire and found no differences between obese and lean persons in the preference for use and awareness of salt in food.
One limitation of the study was that the salt intake of the participants was not evaluated. In this regard a recent study found an association between salt intake and salty taste sensibility among hypertensive and normotensive individuals (Piovesana Pde, Sampaio Kde & Gallani, 2013). However, since there were no differences between the usage of salt between patients and controls, we believe that there might be no relevant differences in the salt intake between the study groups. Another limitation is the relatively high dropout rate of the patients after bariatric surgery resulting in a lower statistical power in the analysis of the effects of weight loss on the salt detection threshold. Finally, although we additionally studied soup liking, we did not analysed systematically suprathreshold intensity ratings, as an additional way to evaluate hedonic components of higher levels of salt stimuli. This is also a drawback of this study. In general, in a previous study it was suggested that taste function is very complex and difficult to characterize (Webb et al., 2015).
In conclusion, in our study obesity was not associated with an altered salty taste or salting of a taste soup. Bariatric surgery with weight loss may tend to worsen the salt detection threshold of obese patients, although studies with higher sample sizes are necessary. Furthermore, sex should be considered when conducting sensory studies.
Supplemental Information
SPSS file of the data used