Comprehensive profiling of retroviral integration sites using target enrichment methods from historical koala samples without an assembled reference genome
Published

Accepted

Received
Academic Editor
Subject Areas

Keywords

Integration sites

,

Retroviral endogenization

,

KoRV

,

Target enrichment

,

Clustering
Copyright

©

2016

Cui et al.

Licence

This is an open access article distributed under the terms of the Creative Commons Attribution License, which permits unrestricted use, distribution, reproduction and adaptation in any medium and for any purpose provided that it is properly attributed. For attribution, the original author(s), title, publication source (PeerJ) and either DOI or URL of the article must be cited.
Cite this article

2016

.

Comprehensive profiling of retroviral integration sites using target enrichment methods from historical koala samples without an assembled reference genome

.

PeerJ

4

:

e1847

https://doi.org/10.7717/peerj.1847
Abstract
Background. Retroviral integration into the host germline results in permanent viral colonization of vertebrate genomes. The koala retrovirus (KoRV) is currently invading the germline of the koala (Phascolarctos cinereus) and provides a unique opportunity for studying retroviral endogenization. Previous analysis of KoRV integration patterns in modern koalas demonstrate that they share integration sites primarily if they are related, indicating that the process is currently driven by vertical transmission rather than infection. However, due to methodological challenges, KoRV integrations have not been comprehensively characterized.
Results. To overcome these challenges, we applied and compared three target enrichment techniques coupled with next generation sequencing (NGS) and a newly customized sequence-clustering based computational pipeline to determine the integration sites for 10 museum Queensland and New South Wales (NSW) koala samples collected between the 1870s and late 1980s. A secondary aim of this study sought to identify common integration sites across modern and historical specimens by comparing our dataset to previously published studies. Several million sequences were processed, and the KoRV integration sites in each koala were characterized.
Conclusions. Although the three enrichment methods each exhibited bias in integration site retrieval, a combination of two methods, Primer Extension Capture and hybridization capture is recommended for future studies on historical samples. Moreover, identification of integration sites shows that the proportion of integration sites shared between any two koalas is quite small.
Introduction
Vertebrate endogenous retroviruses (ERVs) descend from exogenous retroviruses that infected the ancestral germ line and have subsequently been transmitted vertically from parent to offspring through Mendelian inheritance (Coffin, Hughes & Varmus, 1997). ERVs comprise up to 8–11% of vertebrate genomes (Bromham, 2002; Pontius et al., 2007). Most ERVs colonized their host genomes millions of years ago (Khodosevich, Lebedev & Sverdlov, 2002; Gifford & Tristem, 2003) making it difficult to study the process of retroviral invasion. Among vertebrates the exceptions are the EAV-HP virus of chicken and the koala retrovirus (KoRV) which spreads both horizontally and vertically among koalas (Phascolarctos cinereus) (Sacco & Venugopal, 2001; Tarlinton et al., 2005; Tarlinton, Meers & Young, 2006; Simmons et al., 2012; Wragg et al., 2015), and unlike most other described ERVs, are still in the process of endogenizing into the germ line of the host species (Tarlinton, Meers & Young, 2008). Therefore, in mammals, KoRV provides a unique opportunity to study the processes underlying ongoing retroviral endogenization. Historical DNA analysis from museum koala samples collected during the 19th and 20th centuries demonstrated that KoRV was already ubiquitous in northern Australia by the 19th century (Ávila-Arcos et al., 2013), and that the KoRV genome has remained strongly conserved (Tsangaras et al., 2014b). In contrast, KoRV integration sites among individuals are highly variable (Tsangaras et al., 2014b; Ishida et al., 2015).
Identical regulatory sequences at the 5′ and 3′ ends of the proviral genome, designated long terminal repeats (LTRs), are used to mediate viral integration within a host. The distribution of retroviral integration sites in the host genome is generally regarded as non-random (Cereseto & Giacca, 2004), with several factors influencing integration site selection, including viral integrase (Lewinski et al., 2006) and host chromosomal features (Santoni, Hartley & Luban, 2010). Retroviruses belonging to the same group tend to exhibit similar integration site preference (Mitchell et al., 2004; Kvaratskhelia et al., 2014). For example, gammaretroviruses in particular have been shown to preferentially integrate into the vicinity of enhancers, gene promoters and CpG Islands (LaFave et al., 2014). Despite these tendencies in integration site preference, the integration of a retrovirus within a precise location in the host genome is still a random event. All individuals in a host population may share older ERV integration sites as they become fixed in the population over time through drift, as is now true for most human endogenous retroviruses (Blikstad et al., 2008). In contrast, if a retrovirus endogenized very recently, the integration site will be rare among all but related individuals such as offspring, as is the case for KoRV among koalas (Tsangaras et al., 2014b; Ishida et al., 2015). The comprehensive identification of ERV integrations within host genomes would allow for research on how ERVs are affected over time by drift, selection and gene flow. Although KoRV integration sites have been examined in koalas, previous studies have not attempted a comprehensive survey of integration sites within or between host individuals. The focus of the current study was to evaluate methods that may comprehensively characterize retroviral integrations and which could be applied to museum samples to examine historical trends in the frequency of shared and unique KoRV integration sites.
Inverse PCR has conventionally been used for retrieving retroviral integration sites (Nowrouzi et al., 2006). Methods such as rapid amplification of cDNA ends (RACE), ligation-mediated PCR, linker-selection-mediated PCR, linear amplification–mediated PCR and genome walking (Bushman et al., 2005; Moalic et al., 2006; Schmidt et al., 2007; Kustikova, Modlich & Fehse, 2009; Hüser et al., 2010; Ciuffi & Barr, 2011) have also been used. However, it is unclear whether these methods can comprehensively detect integration sites given the potential for primer-target mismatch, and they have never been applied to ancient DNA (aDNA). DNA extracted from museum samples has the characteristics of aDNA, e.g., it is heavily fragmented (with most molecules shorter than 300 bp), damaged (e.g., uracil deamination), and in extremely low concentration (Willerslev & Cooper, 2005). The DNA degradation, fragmentation and contamination that occurs post mortem makes aDNA research technically challenging (Pääbo et al., 2004; Allentoft et al., 2012), often preventing the use of conventional molecular biological methods such as PCR.
To overcome the limitations of working with historical DNA, we applied three target enrichment techniques followed by high-throughput Illumina sequencing. The three techniques, Single Primer Extension (SPEX) (Brotherton et al., 2007), Primer Extension Capture (PEC) (Briggs et al., 2009) and hybridization capture (Maricic, Whitten & Pääbo, 2010) have been applied successfully to aDNA and could potentially be employed to determine sequences flanking targeted ERVs. Although inherently different, both SPEX and PEC are amplification techniques that specifically target a template strand at a locus of interest. The primer in each case will extend until physically halted or until the end of the template molecule is reached. By contrast, hybridization capture represents a range of varying methodologies used to enrich target sequences by 'capturing' the desired target sequence using hybridization to pre-designed probes. In all three methods, unwanted non-target molecules are washed away, while the enriched template is subsequently re-amplified before high-throughput sequencing. For a detailed overview of the three methods see Fig. 1. Ten koala museum samples collected between the 1870s and the 1980s were successfully examined. Because no assembled koala genome is currently available, an assembled host-reference-independent computational pipeline was established. The primary aim of this study was to compare the enrichment capabilities of these three methods with respect to establishing the number of KoRV integration sites retrieved from ten museum koalas. We additionally sought to determine the number of integration sites that were shared across koalas or unique to one koala, and to compare our results to those of published studies on integration sites in historical and modern koalas.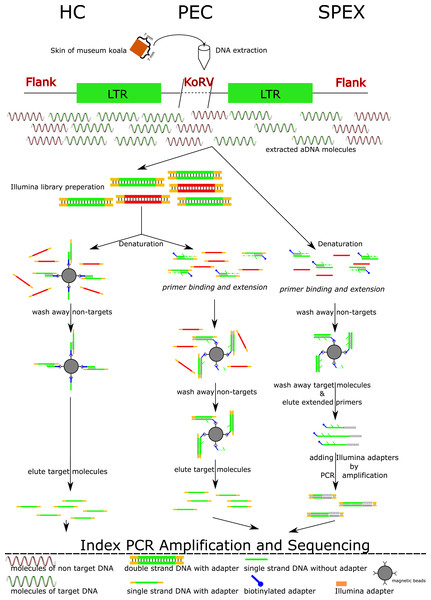 Results
NGS sequencing post enrichment by all three tested methods generated hundreds of thousands to millions of reads. The reads displayed the typical length distribution of aDNA (Fig. S1). After pre-processing steps, 714,929 sequences from the SPEX approach were available for further analysis, 1,188,365 from PEC, and 11,675,245 from hybridization capture.
Discussion
The currently available software for identifying viral integration sites using NGS data require an assembled host genome as a reference, e.g., SLOPE (Duncavage et al., 2011), VirusFinder (Wang, Jia & Zhao, 2013) and VirusSeq (Chen et al., 2013). For the koala however, no assembled genome is available, only raw sequence reads averaging 98 bp in length. We therefore established a customized computational pipeline that was largely reference-independent, but it made use of the Illumina HiSeq reads of the koala and assembled scaffolds of the wallaby, the closest relative to the koala with an assembled genome (Renfree et al., 2011).
Given the typically degraded state of DNA in museum specimens, many of the captured or extended molecules in this study either did not extend beyond the LTR or extended only a few bases into the flank. However, such sequences still represent successfully targeted enrichment even if they did not provide extensive integration site information. Primers closer to the ends of the LTRs may have retrieved more and longer integration site data. However, polymorphisms within the ends of the LTRs (Ávila-Arcos et al., 2013) may have led to primer mismatch, reducing the effectiveness of all three methods in identifying integration sites. The distance between the primer target and the end of the 5′ LTR was 37 bp, whereas for the 3′ LTR the distance was 70 bp. This may explain why the sequencing following hybridization capture yielded more 5′ flanking regions than 3′ flanking regions. However, primer position may not be the only factor, since both PEC and SPEX yielded more 3′ integration sites overall even though the primers were identically positioned. The LTRs of KoRV are distinct from those of its known closest related viruses, the gibbon ape leukemia virus (GALV). However, we cannot exclude the possibility that additional KoRV like LTRs exist in the koala genome associated with distinct ERVs that may lead to an overestimate of integration sites. However, over a decade of molecular biological analysis of KoRV like viruses in koalas have not identified such closely related ERVs in any species including koalas.
Both techniques that involve extension from a primer (SPEX and PEC) were biased toward the 3′ integration sites whereas techniques that did not extend from a primer (hybridization capture and genome-walking) were not. The underlying mechanisms generating this bias are not clear. Several koala samples in the current study overlap with those examined by PCR (around 100 bp amplifications) in Ávila-Arcos et al. (2013) (Table 1). Several samples in that study failed to yield PCR products but were successful here, likely because shorter sequences, less than 100 bp, are easily retrieved by the methods applied by the current study.
Hybridization capture found the greatest number of 5′ integration sites, which included nearly all integration sites identified by SPEX and 86.71% of the integration sites identified by PEC (Fig. 5). In contrast, for the 3′ LTRs, PEC yielded the most integration sites including 85.07% and 91.67% of the integration sites identified by SPEX and hybridization capture respectively. The results were generally consistent across individuals and with the data pooled (Table S6), with no single sample driving the biases for the 5′ or 3′ integration site retrieval thereby validating the reliabity of the methods tested in this study. Considering the output of the methods, the most reliable and comprehensive screening of museum DNA for sequences flanking a target can be achieved by performing PEC and hybridization capture in combination. Both methods covered nearly the full diversity of integration sites identified by SPEX. However, PEC and hybridization capture each retrieved integration sites unique to the method and had reciprocal biases in retrieving 5′ and 3′ integration sites. It should also be considered that because not all integration sites could be paired for 5′ and 3′ LTRs, it is clear that not all integration sites present in the samples were retrieved, even when combining all methods. The strong biases towards the 5′ or 3′ integration sites may prevent such comprehensive analysis from historical samples except at very high sequence coverage depth, for example, using Illumina HiSeq sequencing.
Querying of sequences concatenated from 5′ and 3′ flank sequences that suggested identical target site duplications identified 63 matches using the wallaby genome as a reference. The success rate would likely improve upon the availability of an assembled koala reference genome. Genome data available to this project was represented by unassembled raw reads of 98 bp average length. Among the 63 KoRV integration sites identified by this method, 40 were identified after concatenating 5′ and 3′ flanks derived from the same individual koala. A total of 23 integration sites were identified by querying with a sequence that concatenated 5′ and 3′ flanking sites from different koala individuals. This result demonstrates that although many integration sites were identified per koala, they were not identified comprehensively and many integration sites were missed. Considering that there are an estimated 165 KoRV copies per haploid genome in Queensland koalas (Tarlinton, Meers & Young, 2006), exhaustive identification of integration sites would have required detection of 1,650 5′ and 3′ integration sites across the 10 koalas used in the study. Moreover, for aDNA, comprehensive identification of integration sites is even more challenging due to the poor and variable condition of the samples, which results in a decrease in the number of endogenous DNA copies.
Little sharing of integration sites between museum samples in this study and those in Tsangaras et al. (2014b) were found (none at 3′ and three at 5′). This is possibly due to the methodology difference between the two studies: in Tsangaras et al. (2014b), the integration sites and the ends of KoRV LTRs were intentionally avoided for targeted hybridization capture retrieval of KoRV proviral sequences. The integration sites in this same study were captured due to the high CapFlank (Tsangaras et al., 2014a) nature of hybridization capture. In contrast, our study specifically focused on targeted retrieval of integration sites, which were more intensively studied using three techniques. Ishida et al. (2015) also used a different technical strategy than this study, namely genome walking. The focus of their study, like our own, was also integration site retrieval. This is evidenced by a slightly higher number of integration sites shared between museum koalas of our study and modern koalas in Ishida et al. (2015).
Generally, the low number of shared integration sites between the three studies can be due to the varying level of intensiveness for KoRV flank retrieval, which can potentially miss many shared integration sites. Given the independent aims and methods used across the three studies, statistical modeling of shared KoRV integration sites through time was only performed for the ten museum koalas in this study (Article S1; Fig. S2). While the number of koalas examined is few, a statistically significant increase in integration site sharing was observed over time. This could be explained by increased fixation of KoRVs over time. However, with only ten samples, regional differences in fixation of KoRVs e.g., the three young koalas from NSW could also explain the trend as a geographic rather than temporal trend. The methods applied in the current study should allow for a broader screen of museum koalas to distinguish between these possibilities. However, the current study confirms that in general, koalas share few integration sites among individuals in Queensland where KoRV is ubiquitous which contrasts with most known ERVs which are either fixed in the genome of the host species or are at very high frequency. This is further evidence that the KoRV invasion of the koala genome is still in the early stages.
Conclusions
A combination of PEC and hybridization capture generated the most comprehensive coverage of retroviral integration sites from historical samples. This is consistent with the high coverage of both provirus and integration sites observed in previous hybridization capture studies on modern and historical koalas (Tsangaras et al., 2014b). If mapping to an annotated genome were possible, clustering and other bioinformatic analysis would be facilitated. However, without an annotated reference genome, the methods described here allow for thorough characterization of high copy retroviral integrations. KoRV exhibits only a small fraction of shared integration sites among koalas consistent with its recent invasion of the koala genome. The methods described here should facilitate the characterization of target flanking sequences of any kind from modern and historical samples.