Revised phylogenetic analysis of the Aetosauria (Archosauria: Pseudosuchia); assessing the effects of incongruent morphological character sets
1
Division of Resource Management, Petrified Forest National Park

,

Arizona

,

United States
2
Jackson School of Geosciences, University of Texas at Austin

,

Austin, Texas

,

United States
Published

Accepted

Received
Academic Editor
Subject Areas

Keywords

Triassic

,

Aetosauria

,

Chinle Formation

,

Phylogeny

,

Partitioned Bremer Support

,

Pseudosuchia
Copyright

©

2016

Parker

Licence

This is an open access article distributed under the terms of the Creative Commons Attribution License, which permits unrestricted use, distribution, reproduction and adaptation in any medium and for any purpose provided that it is properly attributed. For attribution, the original author(s), title, publication source (PeerJ) and either DOI or URL of the article must be cited.
Cite this article

2016

.

Revised phylogenetic analysis of the Aetosauria (Archosauria: Pseudosuchia); assessing the effects of incongruent morphological character sets

.

PeerJ

4

:

e1583

https://doi.org/10.7717/peerj.1583
Abstract
Aetosauria is an early-diverging clade of pseudosuchians (crocodile-line archosaurs) that had a global distribution and high species diversity as a key component of various Late Triassic terrestrial faunas. It is one of only two Late Triassic clades of large herbivorous archosaurs, and thus served a critical ecological role. Nonetheless, aetosaur phylogenetic relationships are still poorly understood, owing to an overreliance on osteoderm characters, which are often poorly constructed and suspected to be highly homoplastic. A new phylogenetic analysis of the Aetosauria, comprising 27 taxa and 83 characters, includes more than 40 new characters that focus on better sampling the cranial and endoskeletal regions, and represents the most comprenhensive phylogeny of the clade to date. Parsimony analysis recovered three most parsimonious trees; the strict consensus of these trees finds an Aetosauria that is divided into two main clades: Desmatosuchia, which includes the Desmatosuchinae and the Stagonolepidinae, and Aetosaurinae, which includes the Typothoracinae. As defined Desmatosuchinae now contains Neoaetosauroides engaeus and several taxa that were previously referred to the genus Stagonolepis, and a new clade, Desmatosuchini, is erected for taxa more closely related to Desmatosuchus. Overall support for some clades is still weak, and Partitioned Bremer Support (PBS) is applied for the first time to a strictly morphological dataset demonstrating that this weak support is in part because of conflict in the phylogenetic signals of cranial versus postcranial characters. PBS helps identify homoplasy among characters from various body regions, presumably the result of convergent evolution within discrete anatomical modules. It is likely that at least some of this character conflict results from different body regions evolving at different rates, which may have been under different selective pressures.
Introduction
The goal of phylogenetic systematics is to determine phylogenetic relationships of organisms based on shared homologous character states, and to use this information to interpret the evolutionary histories of clades, or monophyletic lineages of organisms, as well as the histories of various evolutionary character transformations (e.g., Wiley & Lieberman, 2011). This presents special challenges for vertebrate groups with extensive carapaces of dermal armor like those of aetosaurian and ankylosaurid archosaurs, which are comprised of hundreds of individual osteoderms (e.g., Desojo et al., 2013). Whereas these osteoderms may be common in the fossil record, they are generally dissociated from the rest of the skeleton prior to burial (Heckert & Lucas, 2000). It has been asserted for aetosaurians that osteoderms provide an exhaustive source of phylogenetically informative character data above and beyond that provided by the underlying skeleton (e.g., Long & Ballew, 1985; Heckert & Lucas, 1999; Parker, 2007), but it has also been argued that, while informative, these data may be plagued with phylogenetically confounding homoplasy (Parker, 2007; Parker, 2008a). The specific goal of this paper is to confront these assertions analytically, first by undertaking an expanded phylogeny of aetosaurian archosaurs based on the largest taxonomic sample yet assembled, using a suite of characters that samples both osteoderms and endoskeletal characters; and second, by applying a new method (Partitioned Bremer Support) to assess character support and conflict within an entirely morphological dataset.
Historical background
Aetosaurians are quadrupedal, pseudosuchian archosaurs characterized by antero-posteriorly shortened skulls with upturned snouts, and heavy armor carapaces, as well an armor plastron (Fig. 1; Walker, 1961; Desojo et al., 2013). They had a global distribution during the Late Triassic and are often used as index fossils for biostratigraphic correlations (Heckert & Lucas, 1999; Desojo et al., 2013). The paramedian osteoderms possess a diagnostic surface ornamentation that allows for assignment of osteoderms and associated material to specific taxa, although as previously mentioned some of these osteoderm characters may be homoplastic (Long & Ballew, 1985; Parker, 2007). Accordingly it has been argued that characters from the lateral osteoderms may be more phylogenetically informative than those from the paramedian series (Parker, 2007).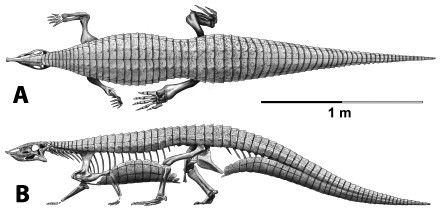 When Long & Ballew (1985) first proposed a taxonomy of North American aetosaurs based exclusively on osteoderm characters, they recognized only four taxa (Desmatosuchus, Typothorax, Calyptosuchus, Paratypothorax). Much new work based upon many new specimens reveals that the particular osteoderm character combinations proposed by Long & Ballew (1985) in fact can occur in many other unique combinations, resulting in the establishment of many new taxa from North America based almost solely on osteoderms (e.g., Zeigler, Heckert & Lucas, 2003; Martz & Small, 2006; Spielmann et al., 2006; Lucas, Hunt & Spielmann, 2007; Parker, Stocker & Irmis, 2008; Heckert et al., 2015). Moreover, it has been demonstrated that aetosaurs with nearly identical osteoderm character combinations can differ significantly in the other portions of the skeleton, especially in the cranial elements, indicating even more taxonomic potential (Desojo, 2005; Desojo & Báez, 2005; Desojo & Báez, 2007; Desojo & Ezcurra, 2011). Finally, aetosaurian osteoderm characters are not intraorganisimally homogeneous (i.e. characters can differ depending on position within the same carapace) and capturing this variation in the construction of phylogenetically informative characters is challenging (Harris, Gower & Wilkinson, 2003; Parker, 2007; Parker, 2008b; Desojo et al., 2013).
Although early studies did focus on character change across broadly defined carapace regions such as the cervical and caudal regions (e.g., Long & Ballew, 1985; Heckert & Lucas, 1999), more recent studies have sought to detail variation within those subregions (Martz, 2002; Parker, 2003; Parker, 2008b; Schoch, 2007; Parker & Martz, 2010; Heckert et al., 2015). Potentially further complicating this situation is our general lack of data regarding character transformations affected by ontogenetic variation as well as differences caused by individual and sexual dimorphism (Taborda, Cerda & Desojo, 2013; Taborda, Heckert & Desojo, 2015). Overall though, the rich source of character data present in aetosaurian osteoderms provides the systematist with a broad canvas on which to construct a detailed phylogenetic hypothesis, presuming of course that the changes in osteoderm characters are indeed phylogenetically informative (Parker, 2007) and that the homology of these characters can be determined (e.g., Harris, Gower & Wilkinson, 2003; Parker & Martz, 2010; Heckert et al., 2015).
At present we do not have an appropriate sample size across all clades to capture all of intraorganisimal character variation that occurs across the aetosaurian carapace and plastron. Indeed, many taxa are currently only known from a handful of associated osteoderms (e.g., Tecovasuchus, Apachesuchus, Rioarribasuchus), with the current challenge simply lying in determining the proper position of these osteoderms within the carapace (Lucas, Heckert & Hunt, 2003; Martz & Small, 2006; Spielmann et al., 2006; Parker, 2007; Lucas, Hunt & Spielmann, 2007; Parker & Martz, 2010; Spielmann & Lucas, 2012). As more discoveries are made, particularly of associated and articulated specimens, our increased understanding of positional variation should allow for more precise placement of isolated osteoderms leading to stronger determinations of homology of individual osteoderms (Parker, 2007; Parker & Martz, 2010; Heckert et al., 2015).
For this study all previously recommended characters used for determination of aetosaurian systematics were reviewed (Parrish, 1994; Heckert, Hunt & Lucas, 1996; Heckert & Lucas, 1999; Desojo, 2005; Parker, 2007; Desojo, Ezcurra & Kischlat, 2012; Roberto-Da-Silva et al., 2014; Heckert et al., 2015). Characters were discarded if found to be generally uninformative or ambiguously scored. The retained characters, as well as new characters, have been rewritten to be more descriptive and thus hopefully easier to interpret and score. Although the retention and construction of many characters and associated character states would presumably lead to better resolution and clade support (Hillis, Huelsenbeck & Cunningham, 1994), the goal of any phylogenetic analysis is accuracy, and this should not come at the expense of artificial resolution by including ambiguously written characters (Slowinski, 1993). Thus, the overarching goal of this project was to recover phylogenetic trees that seem logical given our anatomical understanding of aetosaurians, rather than highly resolved and supported trees that appear problematic and nonsensical in these regards. The matrix of Parker (2007), which has been used as the basis for many recent phylogenetic analyses (Parker, Stocker & Irmis, 2008; Desojo, Ezcurra & Kischlat, 2012, Roberto-Da-Silva et al., 2014; Heckert et al., 2015), is dominated by osteoderm characters. This is problematic given the large amount of discovered homoplasy in this dataset (Parker, 2007; Desojo, Ezcurra & Kischlat, 2012), and in light of the underlying assumption that osteoderm characters provide the main phylogenetic signal for the clade irrespective of the rest of the skeleton (Desojo, 2005; Parker, 2007; Parker, 2008b). For these reasons, this study sought to increase the number of non-osteoderm characters, as suggested by Desojo (2005) & Desojo, Ezcurra & Kischlat (2012). This presents challenges because of the relative infrequency of aetosaurian postcranial remains, which are lacking for many taxa or sometimes obscured by articulated carapaces. One of the best sources for aetosaurian postcranial bones is the Placerias Quarry in northeastern Arizona (Long & Murry, 1995). However, owing to a lack of association with diagnostic osteoderm material, most of these postcranial elements cannot unequivocally be referred to species (Parker, 2014; Parker, 2005a; differing from Long & Murry, 1995). Fortunately, there is cranial material preserved for many aetosaurian taxa and almost every known skull, with the exception of some elements from the Placerias Quarry and the Post Quarry (Texas), are unambiguously associated with osteoderms allowing for a precise taxonomic referral. Thus, the present analysis was able to significantly expand the number of cranial characters utilized.
The original basis for aetosaurian phylogenetic characters and character transformations is a table of information published by Long & Ballew (1985:58) where comparisons are provided between various North American taxa, establishing a key early character-based taxonomic scheme for aetosaurians (also see Walker, 1961). Several of these characters are still utilized in recent phylogenetic analyses. The first computed phylogenetic analysis of aetosaurians (Parrish, 1994) examined 15 characters (six osteoderm, nine non-osteoderm) and eight taxa. However, nine of those characters are parsimony-uninformative for the ingroup, and there are several incorrect scorings and typographical errors that affect the analysis; thus the published tree is neither well-resolved, nor accurate in its character state distributions (Harris, Gower & Wilkinson, 2003). Heckert, Hunt & Lucas (1996) expanded on Parrish's (1994) work, inflating the matrix to nine taxa and 22 (potentially 23) characters (17 armor, five non-armor). That study was also affected by some scoring errors, as well as the lack of use of a non-aetosaurian outgroup to root the resulting trees (Harris, Gower & Wilkinson, 2003), but did include many new characters that have been used in subsequent aetosaurian phylogenetic studies. Furthermore that study was the first to unambiguously recover the major clades Desmatosuchinae and Typothoracisinae (sensu Parker, 2007).
Heckert & Lucas (1999) aimed to expand the matrix of Heckert, Hunt & Lucas (1996), mainly to determine the phylogenetic relationships of a new taxon, Coahomasuchus kahleorum. Their published matrix consisted of 13 in-group taxa and 60 characters. However, 26 of these characters as coded were parsimony uninformative, and as noted by Harris, Gower & Wilkinson (2003) the published matrix included several typographical errors. When corrected, that matrix produced a tree that was different from the published one. Harris, Gower & Wilkinson (2003) were critical of several other aspects of this study, including the ad hoc deletion of taxa from the matrix when safe methods to determine appropriate taxon deletion were available (e.g., Wilkinson, 1995a), and character constructions that inflated seemingly non-independent character suites and biased the resulting tree (composite versus reductive coding; Rowe, 1988; Wilkinson, 1995b). Nonetheless, the study by Heckert & Lucas (1999) built further upon the character list of Heckert, Hunt & Lucas (1996) and represents a very important progression in our understanding of aetosaurian systematics.
The most recent core phylogenetic analysis of aetosaurians (Parker, 2007) focused on the lateral osteoderms, whereas the previous studies had focused more on characters of the paramedian osteoderms (Heckert, Hunt & Lucas, 1996; Heckert & Lucas, 1999). Parker (2007) noted that aetosaurians could roughly be divided into three groups based on the overall anatomy of the lateral osteoderms. This translated into a phylogenetic analysis (16 in-group taxa, 37 characters) that recovered three distinct clades: Aetosaurinae, Desmatosuchinae (Heckert & Lucas, 2000) and Typothoracinae. Whereas support for Desmatosuchinae and Typothoracinae was strong, especially for the subclade Paratypothoracini, Aetosaurinae was unresolved and weakly supported. This became especially apparent when other taxa were subsequently added to the matrix, causing significantly different tree topologies and character support (Parker, Stocker & Irmis, 2008; Desojo, Ezcurra & Kischlat, 2012). Indeed, a recent study (Desojo, Ezcurra & Kischlat, 2012) failed to recover Aetosaurinae as a clade, with Aetosaurus ferratus as the only member by definition (Heckert & Lucas, 2000). Desmatosuchinae is always recovered and well-supported, but relationships within the clade are not always fully resolved (e.g., Parker, Stocker & Irmis, 2008); however, Typothoracinae remains well-supported and resolved. Nonetheless, criticisms of the Parker (2007) dataset include the lack of endoskeletal characters as well as some scoring errors (see Desojo & Ezcurra, 2011; Desojo, Ezcurra & Kischlat, 2012; Heckert et al., 2015).
Materials and Methods
In order to test these questions about taxon sampling, character independence, and tree topology, the matrix has been expanded to include more taxa and characters. The new matrix (Appendix A) utilizes 83 characters for 26 ingroup taxa. The characters are well-divided between anatomical regions, with endoskeletal characters constituting the majority (34 cranial, 16 axial/appendicular, 33 osteoderm).
The 26 in-group taxa include the majority of aetosaurian taxa currently considered valid (Desojo et al., 2013; Roberto-Da-Silva et al., 2014; Heckert et al., 2015). They are listed below, and this study is the first to investigate the phylogenetic positions of Adamanasuchus eisenhardtae, Apachesuchus heckerti, Stagonolepis olenkae, Redondasuchus rineharti as well as a new taxon, Scutarx deltatylus gen. et sp. nov. Other taxa are rescored (e.g., Coahomasuchus kahleorum; Typothorax coccinarum) based on new referred material.
Taxa excluded from this analysis include Acaenasuchus geoffreyi (Long & Murry, 1995; Redondasuchus reseri Hunt & Lucas, 1991; Typothorax antiquum Lucas, Heckert & Hunt, 2003; and Chilenosuchus forttae Casamiquela, 1980). Acaenasuchus and Chilenosuchus were excluded because Chilenosuchus presently scores as a taxonomic equivalent (sensu Wilkinson, 1995a) of Typothorax coccinarum, and newly recognized material, including vertebrae and fused osteoderms, of Acaenasuchus casts doubt on its aetosaurian identify (M. Smith, personal communication, 2014). Redondasuchus reseri is poorly known and presently scores as a taxonomic equivalent of Redondasuchus rineharti; whereas Typothorax antiquum represents an ontogenetic stage of Typothorax coccinarum rather than a distinct species (Parker, 2006; Parker & Martz, 2011; Martz et al., 2013). In any case, in this matrix Typothorax antiquum and Typothorax coccinarum are taxonomic equivalents (i.e., they are scored exactly the same, and thus can obscure relationships in the data if both are included; Wilkinson, 1995a), so the less complete, Typothorax antiquum, is excluded.
Revueltosaurus callenderi is included in the analysis as an outgroup because it is currently recovered as the sister taxon of Aetosauria (Nesbitt, 2011). Furthermore, it is known from several specimens, which preserve nearly the entire skeleton (Parker et al., 2007). Postosuchus kirkpatricki is utilized as an outgroup because it is relatively complete, well-described and illustrated (Weinbaum, 2011; Weinbaum, 2013). Furthermore, it represents a more crownward clade (Paracrocodylomorpha) within Pseudosuchia providing a deeper optimization of character states than can be provided by Revueltosaurus. Both of these taxa have been utilized as outgroups in previous phylogenetic studies of the Aetosauria (e.g., Heckert & Lucas, 1999; Parker, 2007; Desojo, Ezcurra & Kischlat, 2012; Heckert et al., 2015). Unfortunately neither Postosuchus nor Revueltosaurus can presently be scored for lateral osteoderm characters and therefore these characters have been scored as inapplicable for these taxa. Furthermore, most of the paramedian osteoderm characters were scored as inapplicable for Postosuchus because even though Postosuchus possesses trunk osteoderms, the homology of characters such as ornamentation pattern and presence of certain processes cannot be determined.
A previous work (Parker, 2007) incorporated many scorings from past studies (Parrish, 1994; Heckert, Hunt & Lucas, 1996; Heckert & Lucas, 1999) some of which were later determined to be erroneous (Schoch, 2007; Desojo & Ezcurra, 2011; Desojo, Ezcurra & Kischlat, 2012; Heckert et al., 2015). Therefore, for this study the matrix was scored from scratch and the scorings completed from carefully studying materials first hand for most taxa, and using photos and the literature for any not studied first-hand (Stagonolepis olenkae, Aetosaurus ferratus, SMNS 19003 (Desojo & Schoch, 2014), Stenomyti huangae, Redondasuchus rineharti, Gorgetosuchus pekinensis, Polesinesuchus aurelioi). Much effort was directed toward detecting and fixing typographic errors, which can have a major effect on the final tree topologies (Harris, Gower & Wilkinson, 2003). Scoring completeness is shown in Supplemental Table 1 for each taxon, with inapplicable characters counted as scored. Completeness scores range from 98% (80 of 82) for Desmatosuchus smalli, which is known from several skulls and skeletons; to 22% for Apachesuchus heckerti (18 of 82), which is known only from five paramedian osteoderms. The average completeness score was 60%. The major factor causing incompleteness is a lack of skull material, which affected all taxa that scored lower than 50%. Because aetosaurians are generally identified by armor characters, there are no taxa that consist solely of cranial material, in contrast with many other groups (e.g., synapsids, dinosaurs).
The electronic version of this article in Portable Document Format (PDF) will represent a published work according to the International Commission on Zoological Nomenclature (ICZN), and hence the new names contained in the electronic version are effectively published under that Code from the electronic edition alone. This published work and the nomenclatural acts it contains have been registered in ZooBank, the online registration system for the ICZN. The ZooBank LSIDs (Life Science Identifiers) can be resolved and the associated information viewed through any standard web browser by appending the LSID to the prefix http://zoobank.org/. The LSID for this publication is: urn:lsid:zoobank.org:pub:841F81C7-A4AE-4146-94FE-DFE0A6725634. The online version of this work is archived and available from the following digital repositories: PeerJ, PubMed Central and CLOCKSS.
Institutional abbreviations – AMNH, American Museum of Natural History, New York, USA; ANSP, Academy of Natural Sciences of Drexel University, Philadelphia, Pennsylvania, USA; CPE2, Coleção Municipal, São Pedro do Sul, Brazil; DMNH, Perot Museum of Natural History, Dallas, Texas, USA; DMNH, Denver Museum of Nature and Science, Denver, Colorado, USA; FMNH, Field Museum, Chicago, IL, USA; FR, Frick Collection, American Museum of Natural History, New York, USA; MCCDP, Mesalands Community College Dinosaur Museum, Tucumcari, New Mexico, USA; MCSNB, Museo Civico di Scienze Naturali Bergamo, Bergamo, Italy; MCP, Museo de Ciencias e Tecnología, Porto Alegre, Brazil; MCZ, Museum of Comparative Zoology, Harvard University, Cambridge, Massachusetts, USA; MCZD, Marischal College Zoology Department, University of Aberdeen, Aberdeen, Scotland, UK; NCSM, North Carolina State Museum, Raleigh, North Carolina, USA; NHMUK, The Natural History Museum, London, United Kingdom; NMMNH, New Mexico Museum of Natural History and Science, Albuquerque, New Mexico, USA; MNA, Museum of Northern Arizona, Flagstaff, Arizona, USA; PEFO, Petrified Forest National Park, Petrified Forest, Arizona, USA; PFV, Petrified Forest National Park Vertebrate Locality, Petrified Forest, Arizona, USA; PVL, Paleontología de Vertebrados, Instituto 'Miguel Lillo', San Miguel de Tucumán, Argentina; División de Paleontología de Vertebrados del Museo de Ciencias Naturales y Universidad Nacional de San Juan, San Juan, Argentina, SMNS, Staatliches Museum für Naturkunde, Stuttgart, Germany; TMM, Texas Memorial Museum, Austin, Texas, USA; TTUP, Museum of Texas Tech, Lubbock, Texas, USA; UCMP, University of California, Berkeley, California, USA; ULBRA PVT, Universidade Luterana do Brasil, Coleção de Paleovertebrados, Canoas, Rio Grande do Sul, Brazil; UMMP, University of Michigan, Ann Arbor, Michigan, USA; USNM, National Museum of Natural History, Smithsonian Institution, Washington, D.C., USA; VPL, Vertebrate Paleontology Lab, University of Texas at Austin, Austin, Texas, USA; YPM, Yale University, Peabody Museum of Natural History, New Haven, Connecticut, USA; VRPH, Sierra College, Rocklin, California, USA; ZPAL, Institute of Paleobiology of the Polish Academy of Sciences in Warsaw, Warsaw; Poland.
Terminal Taxa
The phylogenetic study by Nesbitt (2011) is currently the basis for most studies of archosauriform relationships (e.g., Nesbitt & Butler, 2013; Butler et al., 2014). This study utilizes the format used in that study for the listing of terminal taxa and characters to make this work compatible.
Phylogenetic Analysis
The character matrix of 28 taxa and 83 characters (Appendices A and B) was assembled and edited in Morphobank (O'Leary & Kaufman, 2012) as matrix number 2617 of project number 1009, and exported as a NEXUS file (Appendix A). Submatrices (partitions) were edited using NEXUS Data Editor for Windows version 5.0 (Page, 2001). All matrices were analyzed in PAUP* (Version 4.0b10 for 32-bit Microsoft Windows, Swofford, 2003). Postosuchus kirkpatricki was constrained as the outgroup for the analysis. Revueltosaurus callenderi was utilized as a second outgroup, but unconstrained.
PAUP* determined three characters to be parsimony uninformative (39, 42, 72), which were excluded a priori to eliminate inflation of tree C.I. values (Kitching et al., 1998). The final matrix consists of 52 binary and 28 multi-state characters ten of which were treated as ordered if they were judged to form a morphocline (Slowinski, 1993).
Branches were set to collapse and form polytomies if the maximum branch length was zero. This is the default setting for PAUP* and preferable to collapsing minimum branch lengths of zero for this small dataset as the latter method can be too strict for small datasets, eliminating possible topologies (Swofford & Begle, 1993; Coddington & Scharff, 1994). Nonetheless, a test run with the 'minbrlens' setting was conducted, but obtained the same results as 'maxbrlens', as there is good support for all recovered branches. The matrix was analyzed using the Branch and Bound ('bandb') search option and the resultant trees were rooted with the outgroup Postosuchus kirkpatricki ('outroot=para').
A Permutation Tail Probability (PTP) test (Faith, 1991; Faith & Cranston, 1991) was conducted to test whether the data contain a signal that differs significantly from random data. The result of P=0.01 is demonstrative that the constructed dataset for this study (28 taxa, 83 characters) is significantly more structured than a random dataset (Faith & Cranston, 1991; Hillis & Huelsenbeck, 1992).
Results
The initial run of 27 in-group taxa and 83 characters (80 parsimony informative), with the settings given above, yielded 30 most parsimonious trees (MPTs) with a length of 203 steps; a reported Consistency Index (C.I.) of 0.5567, Homoplasy Index (H.I.) of 0.4433, a Retention Index (R.I.) of 0.7345, and a Rescaled Consistency Index (R.C.) of 0.4089. The strict consensus of these trees is provided in Fig. 6A and features a large polytomy at the base of the tree. An Adams consensus (Adams, 1972) of the 30 MPTs (Fig. 6B) recovers Aetobarbakinoides brasiliensis at the base of this large polytomy, and examination of the 30 MPTs demonstrates that this taxon occurs in 10 possible positions throughout the strict consensus tree including as the sister taxon to Revueltosaurus callenderi, the sister taxon to all aetosaurs, the sister taxon to the Desmatosuchinae, and the sister taxon to the Typothoracinae. A 50% Majority Rule consensus tree (Fig. 6C) places Aetobarbakinoides in a polytomy with Stagonolepis olenkae and Desmatosuchinae in 70% of the recovered trees. Coahomasuchus kahleorum is recovered in three positions in the strict consensus, as the sister taxon to Aetosaurus ferratus, the sister taxon to Typothoracinae, and as the sister taxon to Aetosaurus ferratus + Typothoracinae.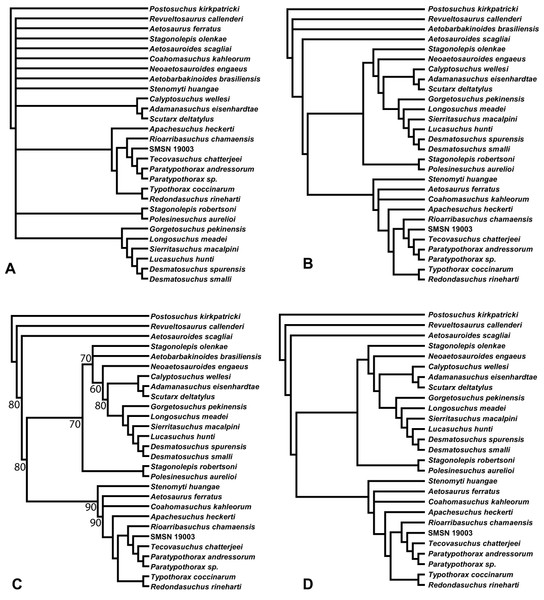 A reduced consensus tree (Fig. 6D) was generated by pruning Aetobarbakinoides brasilensis. Thus, this final matrix has 27 taxa and 83 characters (80 are parsimony informative). The reduced consensus tree has a length of 201 steps, a C.I. of 0.5622, H.I. of 0.4378, a R.I. of 0.7373, and a R.C. of 0.4145.
The reduced consensus (Figs. 6D and 7) features a nearly resolved topology with the exception of a clade with the unresolved polytomy that includes Coahomasuchus kahleorum, Aetosaurus ferratus, and Typothoracinae. Bremer support values were calculated for each node utilizing PAUP* by running repeated heuristic searches keeping trees one step longer in each iteration and noting which nodes collapse in strict consensus trees until no nodes remain. No nodes have a support value higher than four and many clades collapse after a single additional step (Fig. 7).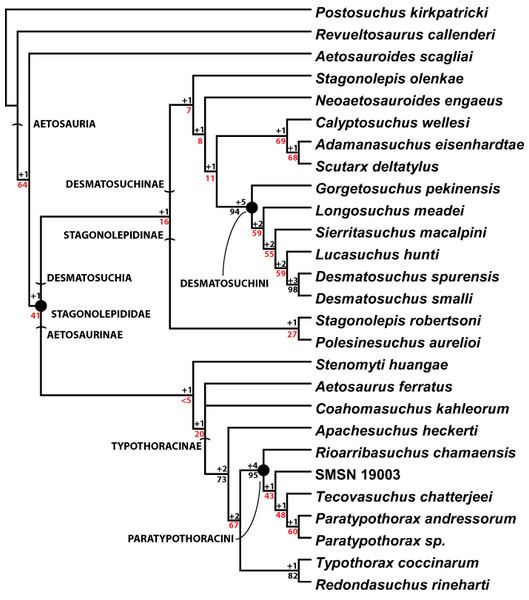 Bootstrap values were calculated using 600 replicates. Because of computational constraints I was unable to calculate bootstrap values using a higher number of replicates. Although using more replicates provides a better representation of confidence values, replicate numbers as low as 100, will provide a "rough but useful estimate" (Efron, Halloran & Holmes, 1996: 13432). Bootstrap values for this analysis are provided for all nodes in Fig. 7. Bootstrap values higher than 70%, the minimum meaningful value according to Hillis & Bull (1993), are noted in black, values less than 70% are provided in red, with values lower than 50% interpreted as having very low confidence. Synapomorphy lists for all nodes and definitions of clade names are provided in Appendix C.
Aetosauroides scagliai was recovered at the base of the tree as a non-stagonolepidid aetosaurian, similar to the most recent analyses (Desojo, Ezcurra & Kischlat, 2012; Heckert et al., 2015; Roberto-da-Silva et al., 2014). Stagonolepididae (Heckert & Lucas, 2000) comprises two major clades, Aetosaurinae (Heckert & Lucas, 2000) and Desmatosuchia (clade nov.; Appendix C). The former includes Paratypothoracini (Parker, 2007) as the sister taxon to a clade consisting of Typothorax coccinarum and Redondasuchus rineharti. Paratypothoracini includes Rioarribasuchus (=Heliocanthus) chamanensis, SMNS 19003 (Paratypothorax sp. of Sulej (2010) & Desojo & Schoch (2014)), Tecovasuchus chatterjeei, Paratypothorax andressorum, and Paratypothorax sp. (North American Paratypothorax specimens). This clade is well supported by six unambiguous synapomorphies (Appendix C), as well as a high decay index (+4) and bootstrap value (95%).
The sister taxon to that clade ((Typothorax + Redondasuchus) + Paratypothoracini) is the recently described Apachesuchus heckerti (Spielmann & Lucas, 2012), which is known from only a handful of osteoderms, and is situated here based mainly on the presence of the synapomorphy that supports the clade, width/length ratio of widest paramedian osteoderms 3.5 or higher (character 64-2).
In this analysis Typothoracinae, as defined by Parker (2007), would be equivalent to Aetosaurinae, so Typothoracinae is redefined here with an additional specifier (Aetosaurus ferratus, see Appendix C). Under this new definition Typothoracinae presently consists of Apachesuchus heckerti, Paratypothoracini, and Typothorax coccinarum + Redondasuchus rineharti. This clade is well supported by bootstrap values and decay indices (Fig. 7).
As previously mentioned Aetosaurus ferratus and Coahomasuchus kahleorum form a polytomy with Typothoracinae (Fig. 7). This close relationship is novel, but not entirely unprecedented as these taxa were recovered as adjacent terminal taxa by Heckert et al. (2015) & Roberto-da-Silva et al. (2014). Nonetheless, because of the polytomy support for this clade is not robust and these taxa may form other relationships in future analyses. Stenomyti huangae (Small & Martz, 2013) is recovered at the base of Aetosaurinae, but this position is also very weakly supported and at present there can be little confidence in this position.
Desmatosuchia consists of two clades, Stagonolepidinae (Heckert & Lucas, 2000) and Desmatosuchinae (Heckert & Lucas, 2000). Stagonolepidinae consists of Stagonolepis robertsoni (by definition) and the newly described Polesinesuchus aurelioi (Roberto-da-Silva et al., 2014), however, this relationship is not very well supported with a decay index of +1 and a bootstrap value of 27% (Fig. 7).
At the base of Desmatosuchinae lie Stagonolepis olenkae (Sulej, 2010) and Neoaetosauroides engaeus (Fig. 7). Neoaetosauroides was previously recovered outside of Desmatosuchinae by Parker (2007) & Desojo, Ezcurra & Kischlat (2012), but within by Heckert & Lucas (1999) & Heckert & Lucas (2000). Regardless these positions are not well supported with both branches having decay indices of +1 and bootstrap values under 10%.
Nested deeper in Desmatosuchinae is a clade consisting of Calyptosuchus wellesi, which is the sister taxon to Adamanasuchus eisenhardtae + Scutarx deltatylus (Fig. 7). These clades are fairly well supported with decay indices of +1 and bootstrap values in the high 60th percentile nearly reaching the confidence threshold of 70% proposed by Hillis & Bull (1993). This is a novel position for these taxa as Adamanasuchus eisenhardtae and Calyptosuchus wellesi had been recovered outside of Desmatosuchinae in previous studies (e.g., Parker, 2007; Desojo, Ezcurra & Kischlat, 2012). The presence of these five taxa within Desmatosuchinae is poorly supported with nodes having decay indices of only +1 and bootstrap values of less than 50% (Fig. 7). Thus, this part of the tree may also prove to be highly labile in future analyses.
The subsequent nested clade within Desmatosuchinae; however, is highly supported by 13 unambiguous synapomorphies, a decay index of +5, and a bootstrap value of 94%. I name this clade Desmatosuchini and define it in Appendix C. In this study, Desmatosuchini is well-resolved and includes Gorgetosuchus pekinensis, Longosuchus meadei, Sierritasuchus macalpini, Lucasuchus hunti, and Desmatosuchus. This new clade has the same constituent taxa as Desmatosuchinae sensu Parker (2007).
Discussion
Comparisons to previous analyses
Dataset Partitioning
An interesting question brought up during the construction of this dataset is: what if aetosaurians did not possess an extensive armor carapace? What if all of the characters and character states used in phylogenetic analyses of the Aetosauria were derived from the skull, axial, and appendicular portions of the skeleton as is the case for the majority of vertebrate animals? In sum, what would the phylogeny of aetosaurians look like without utilizing characters of the osteoderms?
One particular aspect of phylogenetic data set analysis is the discussion of data partitioning, which entails the separation of a data set of phylogenetic characters into discrete parts based on types of characters (e.g., molecular sequences vs. morphological; Kluge, 1989), or modular (e.g., skull vs. postcranium; Mounce, 2013). In most published cases, the debate over data partitioning in phylogenetic analyses revolves around the advantages or disadvantages of combining molecular sequence and morphological data into a single data set (e.g., Bull et al., 1993). Considerable discussion is available regarding partitioning of strictly morphological data into discrete character sets based mainly on anatomical subregions (Rowe, 1988; Gauthier, Kluge & Rowe, 1988; Donoghue et al., 1989; Rae, 1999; Clarke & Middleton, 2008; Mounce, 2013), but none pertains to the special case of osteoderms versus endoskeletal features.
Aetosaurians provide an excellent example of a group where historically the taxonomy is based almost entirely on characters from a single non-cranial anatomical subregion. A major assumption of aetosaur workers is that not only is osteoderm anatomy taxonomically informative, but that it is also phylogenetically significant, providing an accurate signal of evolutionary relationships within the group (Parker, 2007). Dataset partitioning provides a test of which characters, in this case integumentary versus non-integumentary, are providing the main phylogenetic signal for this group and allows for in-depth examination of possible underlying factors regarding the poorly resolved phylogenetic relationships recovered in past studies (Harris, Gower & Wilkinson, 2003).