Unified methods in collecting, preserving, and archiving coral bleaching and restoration specimens to increase sample utility and interdisciplinary collaboration
Published

Accepted

Received
Academic Editor
Subject Areas

Keywords

Coral

,

Reef

,

Provenance

,

Storage

,

Methodology

,

Protocols

,

Pipelines

,

Analytics

,

Physiology

,

Omics
Licence

This is an open access article, free of all copyright, made available under the Creative Commons Public Domain Dedication. This work may be freely reproduced, distributed, transmitted, modified, built upon, or otherwise used by anyone for any lawful purpose.
Cite this article

2022

.

Unified methods in collecting, preserving, and archiving coral bleaching and restoration specimens to increase sample utility and interdisciplinary collaboration

.

PeerJ

10

:

e14176

https://doi.org/10.7717/peerj.14176
Abstract
Coral reefs are declining worldwide primarily because of bleaching and subsequent mortality resulting from thermal stress. Currently, extensive efforts to engage in more holistic research and restoration endeavors have considerably expanded the techniques applied to examine coral samples. Despite such advances, coral bleaching and restoration studies are often conducted within a specific disciplinary focus, where specimens are collected, preserved, and archived in ways that are not always conducive to further downstream analyses by specialists in other disciplines. This approach may prevent the full utilization of unexpended specimens, leading to siloed research, duplicative efforts, unnecessary loss of additional corals to research endeavors, and overall increased costs. A recent US National Science Foundation-sponsored workshop set out to consolidate our collective knowledge across the disciplines of Omics, Physiology, and Microscopy and Imaging regarding the methods used for coral sample collection, preservation, and archiving. Here, we highlight knowledge gaps and propose some simple steps for collecting, preserving, and archiving coral-bleaching specimens that can increase the impact of individual coral bleaching and restoration studies, as well as foster additional analyses and future discoveries through collaboration. Rapid freezing of samples in liquid nitrogen or placing at −80 °C to −20 °C is optimal for most Omics and Physiology studies with a few exceptions; however, freezing samples removes the potential for many Microscopy and Imaging-based analyses due to the alteration of tissue integrity during freezing. For Microscopy and Imaging, samples are best stored in aldehydes. The use of sterile gloves and receptacles during collection supports the downstream analysis of host-associated bacterial and viral communities which are particularly germane to disease and restoration efforts. Across all disciplines, the use of aseptic techniques during collection, preservation, and archiving maximizes the research potential of coral specimens and allows for the greatest number of possible downstream analyses.
Introduction
Coral reefs provide sustenance, goods, and services for coastal communities worldwide and likely harbor more than one third of all marine species (Fisher et al., 2015). However, corals and reef frameworks are increasingly being degraded due to anthropogenic disturbances (Intergovernmental Panel on Climate Change, 2022). Climate change has severely affected coral reef health on a global scale, primarily through increased sea surface temperatures leading to devastating coral bleaching events. The increased frequency and intensity of these events reduces the capacity for reef recovery and restoration efforts (Heron et al., 2016; van Hooidonk et al., 2016; Sully et al., 2019), and successive bleaching events have decreased live coral cover by up to 60% in some localities (Miller et al., 2009; Raymundo et al., 2019; Dalton et al., 2020). Up to one third of all reef-building corals species may be at risk of extinction from the combined effects of bleaching and local stressors such as nutrient pollution, overfishing, and habitat destruction (Pandolfi et al., 2003; Carpenter et al., 2008; Plaisance et al., 2011; Hughes et al., 2017, 2018, 2019). Given the increased frequency and severity of bleaching events, scientists and restoration practitioners need to study coral bleaching and disease more. One way to achieve greater efficiency is through the implementation of a common framework recently developed for coral bleaching experiments (Grottoli et al., 2021). Another is by reducing the number of duplicative efforts more broadly and maximizing the number of analyses that can be performed on sampled specimens through greater collaboration.
Identifying common methodological pipelines in collecting, preserving, and archiving
Between 2014 and 2021 over 20,000 coral specimens and samples were collected for bleaching studies (McLachlan et al., 2021), many of which are suitable for additional analyses that could address new questions concerning various aspects of bleaching. The technology and methods commonly used in coral biology research have quickly progressed in recent decades (Cziesielski, Schmidt-Roach & Aranda, 2019; Grottoli et al., 2021). The combination of traditional and modern genomic insights, physiological metrics, and microscopy and imaging analytics have together given scientists an ever-expanding toolkit to interrogate the mechanisms and results of coral bleaching and restoration efforts at the subcellular, cellular, tissue, and organismal levels. Integration of these approaches thus allows individual specimens to be used for multiple downstream applications and expands the potential utility of every coral sample collected. Despite this, scientists and practitioners tend to sample, preserve, and archive specimens in a manner specific to their own specialized applications or aims, and on average only conduct one or two downstream analyses per study (McLachlan et al., 2021). However, it is unclear how many or how often archived samples are utilized. Yet, limits exist on how many tools individual researchers can manage, conduct, and financially support. Trained in increasingly complicated fields of study, it is impractical for any one scientist, or even a team of scientists, to have the breadth of knowledge, skills, and resources to conduct the full range of possible Omics, Physiology, and Microscopy and Imaging analyses on any given set of specimens. However, with effective documentation during sampling (Grottoli et al., 2021), coupled with strategic preserving and archiving decisions, specimens could be available to additional research teams, who could increase the number of analyses ultimately conducted on a given set of samples, contributing to a better understanding of bleaching mechanisms with less sampling and experimental damage to reefs.
As the numbers and expertise of scientific investigators expand, so do the tools, methods, and perspectives at their disposal. We brought together investigators from around the world to further synthesize research methods in order to identify low-cost and practical ways to share specimens, reduce duplicative efforts, and increase the end-use potential of samples generated in coral bleaching research and restoration programs (Fig. 1). We identified and consolidated working pipelines that could (1) expand the number of potential analyses on currently archived samples, and (2) assist in future project planning to maximize the number of potential downstream analyses while minimizing any extra work, time, or funds required. While no single methodological pipeline can be all-inclusive, several critical steps in these methodological pipelines were found to optimize the potential utility of each coral specimen within the constraints of a given study design (Fig. 2).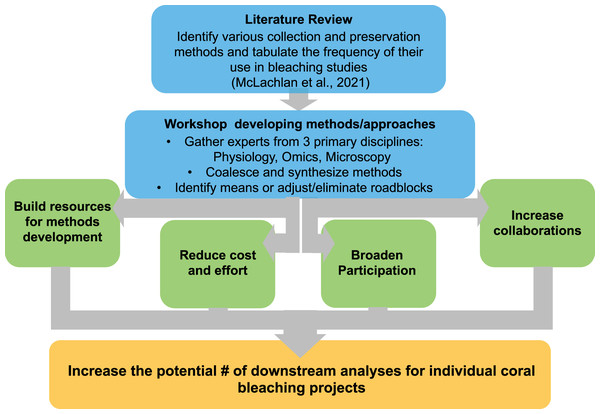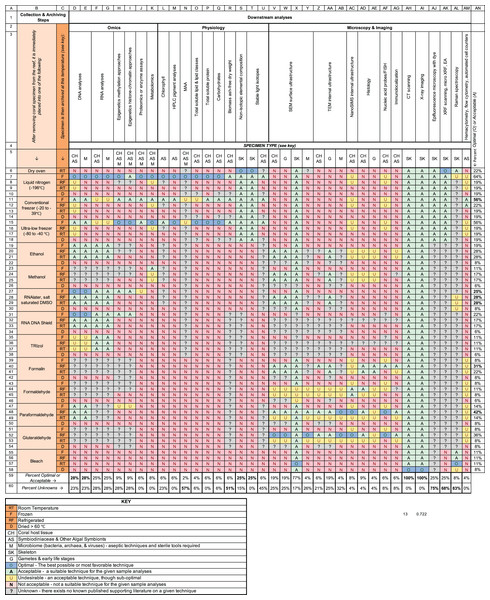 Consolidating methods for broadening participation
Cheap and unifying methods can serve to increase participation and inclusion in coral bleaching and restoration research, particularly for those with minimal funding. Clear, simple guidelines for specimen and sample collection, manipulation, and preservation can also make it easier for experts working on parallel questions in non-coral systems to bring their hypotheses and approaches to bear on the coral bleaching and restoration fields. Adapting and expanding sampling, preserving, and archiving of specimens in ways that allow for additional downstream analyses can generate research opportunities for early career scientists and students, providing a mechanism for additional collaboration and more entry points into the field of coral research, as well as creating new opportunities for collaborations and networking between researchers with distinct yet complementary areas of inquiry, thereby fostering advances and new ideas within the field. These efforts support the inclusion of researchers in the field who may not currently conduct marine fieldwork due to lack of access to resources (e.g., funding, SCUBA gear, boat access, laboratory equipment), training (e.g., scientific dive certifications), and/or physical or logistical capability. A separate challenge in promoting diversity and inclusion in the broader field of coral research is to connect researchers that have samples with other scientists and managers (including undergraduate trainees and volunteers) from diverse disciplines and backgrounds that can run additional analyses. A database of samples and researchers (and their research interests/skill sets) could be useful in identifying and jump-starting fruitful collaborations and sample sharing. Numerous community-based resources can also provide data storage options to both facilitate data archiving and reuse, including those specific to coral research, restoration and biodiversity (e.g., GEOME (Deck et al., 2017; Riginos et al., 2020)). Going forward, implementation of specific collection, preservation, and archiving pipelines developed herein could further maximize and foster more collaboration among diverse community members and stakeholders.
Consolidating methods for restoration specimens
Coral restoration and rehabilitation programs aim to assist in the recovery of reef ecosystems through passive and active means, and for the ultimate goal of creating a reef that can independently continue to develop without further intervention (Boström-Einarsson et al., 2020). Recent efforts to explore the success and failure of some restoration programs have revealed a lack of coordinated efforts among restoration practitioners, scientists, and managers. Further, some restoration programs remain unlinked to scientific endeavors that could track natural biological, chemical, and oceanographic phenomena that provide mechanistic context for why some coral propagation and outplanting efforts result in success while others do not. Collaborative work to engage in scientific inquiries before, during, and after restoration efforts, along with standardized practices, could accelerate and advance restoration programs. For example, genetic, physiological, and microbiome sampling of specimens from restoration corals that are successfully outplanted have revealed key aspects of why some genotypes and species are more resistant or resilient to local and global stressors (Baums, 2008; Lohr & Patterson, 2017; Morikawa & Palumbi, 2019; Klinges et al., 2020; van Woesik et al., 2021; Voolstra et al., 2021). Thus, the consolidated methods presented herein can be used to bridge the gaps between the restoration and research communities more readily and completely.
General considerations for collecting, preserving, and archiving coral bleaching specimens
The central aim of our workshop was to identify simple and low-cost methods within the three broad categories of Omics, Physiology, and Microscopy and Imaging analyses that could increase the impact of every coral bleaching study in an effort to best understand scientific principles and increase restoration and conservation success. In the process, we uncovered several key issues that all researchers and managers can consider regardless of individual subfields, including: (1) specimen and sample provenance and metadata, (2) sample collection considerations, and (3) sample handling and storage considerations. It is also important to consider how collection, preservation, and storage methods may shift the accuracy or precision of downstream analyses. For a more elaborate discussion of specific methods see the Supplemental Materials.
Identification of consolidated methodological pipelines for general use in coral bleaching and restoration studies
A previous literature review identified many methodologies in coral-bleaching studies (McLachlan et al., 2021), broadly categorized into three disciplinary areas: Omics (e.g., genomics, epigenomics, transcriptomics, metagenomics, amplicon analysis, proteomics, and metabolomics), Physiology (e.g., chlorophyll, lipid/protein/carbohydrate concentrations, biomass, tissue and skeletal stable isotopes), and Microscopy & Imaging-based analyses (e.g., Symbiodiniaceae density measures, electron microscopy, histology, Raman spectroscopy). Using 36 defined analytical assessments (Fig. 2 columns), we quantitatively determine which methodological pipelines can maximize the number of downstream procedures across these three disciplinary areas. We assigned several broad categorical terms to determine whether a step in the pipeline was 'Optimal,' 'Acceptable,' 'Undesirable,' or 'Not Acceptable.' Steps within pipelines marked 'undesirable' indicate that there may be research to show the method is not ideal, or that it is illogical to pursue a particular pipeline based on past evidence. Thus, caution should be taken when evaluating these incomplete pipelines. Further, in many cases it was unclear if limitations existed for a particular downstream method or pipeline due to a lack of existing references, and thus we also designated many cells in the matrix as 'unknown' (Fig. 2). These 'unknowns' are likely to have resulted from insufficient testing or knowledge in a particular area as opposed to the method being truly unacceptable; testing these approaches may present fruitful areas for future research. We then summed the number of 'optimal' and 'acceptable' cells to determine which pipelines best served a given set of downstream methodologies. In evaluating the various methodological approaches used in specimen collection, preservation, and archiving, we were able to identify several pipelines that maximize the number of downstream analyses that are possible (Fig. 2 green cells; Fig. 3 fuchsia pink cells).
Freezing or fixation methods dictate most methodological pipelines
Instantaneous freezing or 'rapid freezing' in liquid nitrogen upon initial collection followed by ultra-cold storage (e.g., −80 °C) maximizes the number of possible downstream analyses (supports ~64% of 36 methods; Fig. 2 blue and green cells row 7). Analyses that could concurrently or sequentially be conducted after specimen rapid-freezing and cold storage fell primarily within the Omics and Physiology disciplines, while rapid freezing is inappropriate for most tissue Microscopy and Imaging because it alters tissue integrity (see Box 1). Freezing post-collection using −80 °C and more conventional −40 °C or −20 °C freezers were also suitable for several procedures within the Omics- and Physiology-based methods (supports ~83% of 18 Omics- and Physiology analytics), except for some RNA-based analytics, which always require immediate rapid freezing or preservation (e.g., in RNAlater, TRIzol).
Within the Microscopy and Imaging discipline, preserving in paraformaldehyde followed by refrigeration allowed for the greatest number of downstream analytics (70% of all Microscopy and Imaging techniques, row 48), including some Omics methods. However, few if any of the Physiological methods could be conducted on samples stored in these aldehydes.
Methodological considerations are needed to determine the suitability of some collecting, preserving and archiving sample pipelines
A few analyses, including metabolomics, quantification and identification of mycosporine-like amino acids (MAAs), soluble lipid analysis, and histology techniques stood out as highly restrictive in their requirements for initial and secondary storage methods. Such methodological limitations could be due to stringency in storage requirements or, as suggested by the large number of unknowns in Fig. 2, due to insufficient testing of potential alternative methods. Thus, we summed the number of 'unknown cells' to determine which methods had the most uncertainty in terms of how samples could be collected, preserved, and archived. Numerous methods had many 'unknowns' (Fig. 2, row 60) limiting our ability to find suitable additional pipelines to access outside of their standard procedures. For example, biomass quantification and Raman spectroscopy each respectively had 51% and 83% unknowns for the different possible methodological pipelines we tracked.
Below we discuss considerations specific to each major discipline: Physiology, Omics, and Microscopy and Imaging, given these methodological differences. Furthermore, we add more details about standard operating procedures for each of the major downstream analyses within Fig. 2 and throughout the Supplemental Material. While not an exhaustive list, we aimed to give researchers enough information to consider how to collect, preserve, and archive their specimens for many potential applications. We also recognize that methods are continuously evolving with the advent of new technologies. It is likely that newer, better methods will eventually become available and, thus, future researchers should take steps to confirm that additional procedures have not become available following the publication of this work.
Considerations for individual fields of study
Glossary
Airbrushing: the use of pressurized and focused air, sometimes accompanied with a liquid to remove the surface tissue of corals from the skeleton.
Archiving: temperature and/or chemical fixative or preservation techniques for samples post-processing for potential future use.
Aseptic techniques: laboratory practices, procedures, and methods used to keep equipment and samples free from contamination from living microorganisms and nucleic acids such as DNA or RNA.
Blastate: semi-liquid mixture of fine coral skeleton particles, tissue, and mucus, usually in combination with seawater or a chemical stabilizer/preservative.
Blue ice: regular ice (ice cubes, ice packs, etc.). Storage temperature at or near 0 °C.
Computed tomography (CT) scanning: a technique where skeleton is exposed to X-rays from multiple angles, and the resulting 2-dimensional X-ray images are processed to produce a 3-dimensional image of skeletal density.
Cryopreservation: a process where organelles, cells, tissues, extracellular matrix, organs, or any other biological constructs susceptible to damage caused by unregulated chemical kinetics are preserved by cooling to very low temperatures.
Destructive: causing irreparable damage, rendering any sample unusable for further analyses.
Downstream analysis: the eventual laboratory analysis of the variable(s) of interest (e.g., chlorophyll concentration, lipid concentration, gene expression).
Epigenetics: the assessment of the modifications to the genome outside of the nucleic acid sequence. Often used to understand non-genetic mechanisms of acclimatization and/or plasticity.
Fixative: a chemical substance, such as formaldehyde or paraformaldehyde, used to preserve and/or stabilize some aspect (e.g., protein and/or cellular structure) of a specimen.
Genet: a genetically unique coral colony or a collection of colonies (ramets) that can trace their ancestry back to the same sexual reproductive event (i.e., they stem from the same settler and, hence, share the same genome) (Baums et al., 2019).
Genomics: analysis of partial or whole genomes including assessments of nucleotide sequence, genetic organization, and putative gene and gene family function.
Long-term storage: temperature and/or chemical fixative or preservation techniques for samples >24 h after initial collection.
Lyophilization (freeze-drying): a shelf stable method of preservation. Lyophilization or freeze-drying removes water from a sample while the sample is under vacuum. As such, ice can be changed directly from solid to vapor without passing through a liquid phase. After dehydration, samples are shelf stable and can be stored in the lab away from sunlight.
Metabolomics: the assessment of metabolites found in a specimen.
Metagenomics (or metatranscriptomics): methods aimed at analyzing partial or whole genomes from all organisms within a mixed community, including assessment of the composition and potential function of DNA (or RNA) found in a specimen. Often used to look at genetic potential, microbial community composition and function, and/or genetic background of a specimen.
Micro-XRF scanning: micro-X-ray fluorescence scanning is a non-destructive analysis for major and minor elements at down to 5 µm resolution by scanning the surface of skeletal slabs. XRF is based on the excitation of material with X-ray radiation and detection of the emitted fluorescence radiation spectrum whereby each element reacts at characteristic energy lines.
Mycosporin like amino-acids (MAA): metabolites induced by high-light and high wavelength light in diverse marine organisms in order to either absorb damaging UV rays (e.g., act as sunscreens) or offset their effects (e.g., act as antioxidants).
Nanoscale secondary ion mass spectrometry (Nano-SIMS): a method that uses primary ions beam to interact with sample surfaces resulting in the generation of secondary ions which can be analyzed for their specific mass.
Parent colony: coral colony growing on the reef from which specimens were removed.
Preservative: a chemical solution in which specimens are placed to avoid decay, such as ethanol >70% or a nucleic acid stabilizing salt buffer.
Proteomics: the high throughput analysis of peptides, proteins, and protein modifications from a given sample typically using either nuclear magnetic resonance or mass spectrometer techniques.
Provenance: a record of sample origin, collection, sampling, processing, and storage methods over lifetime usage of samples and their associated specimen.
Raman Spectroscopy: liquid, gas, or solid samples are exposed to a laser beam, and the changes in wavelength of the scattered light produces a Raman spectrum, which provides information about sample mineralogy and chemical composition.
Rapid Freezing ("flash" freezing): immediate sample preservation via freezing. In the field this may include placing samples on dry ice or liquid nitrogen. In the lab, this may include placing samples on dry ice, liquid nitrogen, or in an ultra-cold freezer.
Ramet: replicate fragments or colonies originating from the same genet.
Receptacle: a piece of laboratory equipment that receives and contains something (e.g., test tube, vial, bottle). Synonyms: container, holder, vessel.
Sample (noun): (1) a representative part or single item from a larger whole or group (e.g., fragment from a coral colony or a whole colony from a reef); (2) a finite part of a statistical population whose properties are studied to gain information about the whole.
Sample (verb): to take a sample of or from.
Scanning electron microscopy (SEM): high resolution microscopy using focused electron beans rasterized across a surface and visualization using the secondarily emitted electrons that result from the beam interacting with atoms on the surface.
Short-term storage: temperature and/or chemical fixative or preservation techniques for samples <24 h after initial collection.
Skeletal elemental analysis (non-isotopic): measurement of element ratios in coral skeletons, typically relative to Ca. Examples include Mg/Ca, Sr/Ca, and U/Ca.
Skeletal stable light isotopes: measurement of stable carbon, oxygen, and boron isotope ratios in coral skeleton.
Specimen processing: laboratory manipulation to prepare specimens for desired.
downstream analysis (e.g., airbrushing, freeze-drying, tissue homogenizing).
Specimen: (1) an individual, item, or part considered typical of a group, class, or whole; (2) a portion or quantity of material for use in testing, examination, or study.
Specimen collection: the removal of coral specimens from the reef or from experimental tanks.
Specimen preservation: the method by which coral specimens are sacrificed, preserved, and stored immediately following collection (e.g., rapid-freeze with liquid nitrogen and stored at −80 °C).
Sterile equipment: tools (e.g., gloves, forceps, cotton swabs), receptacles (e.g., test tubes, vials, bottles), and other equipment (e.g., fume hood, laboratory work bench) which have been decontaminated, and thus, are free from living microorganisms and nucleic acids such as DNA or RNA.
Stable isotope analysis: measurement of stable carbon and nitrogen isotope ratios in a specimen.
Transcriptomics: the assessment of the composition and often function of mRNAs and sometimes small regulatory RNAs found in a specimen. Often used to look at physiological changes/responses to particular focal conditions and/or the phylogenetic placement of a specimen.
Transmission electron microscopy (TEM): high resolution microscopy using beams of electrons transmitted through a specimen and then captured for visualization on some device or material. For electron transmission samples are typically required to be ultra-thin sectioned at thicknesses of less than 100 nm.
Ultra-cold freezing: storage of samples at ultra-cold temperatures (−40 °C to −80 °C).
Water-piking: the use of a Water-Pik (oral irrigator device) to remove the tissue from a coral skeleton using a jet of high-pressure water.
XRF scanning: X-ray fluorescence scanning is a non-destructive analysis for major and minor elements at cm to mm down to 200 micron-scale resolution by scanning the surface of split skeletal cores or of skeletal slabs. XRF is based on the excitation of material with X-ray radiation and detection of the emitted fluorescence radiation spectrum whereby each element reacts at characteristic energy lines.
Supplemental Information
SUPPLEMENTAL MATERIALS.
Unified methods in collecting, preserving, and archiving coral bleaching and restoration specimens to increase sample utility and interdisciplinary collaboration