Biomarkers of non-communicable chronic disease: an update on contemporary methods
Published

Accepted

Received
Academic Editor
Subject Areas

Keywords

Biomarkers

,

Chronic diseases

,

Multivariate analysis

,

Inflammation

,

Oxidative stress

,

Mitochondrial dysfunction

,

Principal component analysis
Copyright

©

2022

Al-hadlaq et al.

Licence

This is an open access article distributed under the terms of the Creative Commons Attribution License, which permits unrestricted use, distribution, reproduction and adaptation in any medium and for any purpose provided that it is properly attributed. For attribution, the original author(s), title, publication source (PeerJ) and either DOI or URL of the article must be cited.
Cite this article

2022

.

Biomarkers of non-communicable chronic disease: an update on contemporary methods

.

PeerJ

10

:

e12977

https://doi.org/10.7717/peerj.12977
Abstract
Chronic diseases constitute a major global burden with significant impact on health systems, economies, and quality of life. Chronic diseases include a broad range of diseases that can be communicable or non-communicable. Chronic diseases are often associated with modifications of normal physiological levels of various analytes that are routinely measured in serum and other body fluids, as well as pathological findings, such as chronic inflammation, oxidative stress, and mitochondrial dysfunction. Identification of at-risk populations, early diagnosis, and prediction of prognosis play a major role in preventing or reducing the burden of chronic diseases. Biomarkers are tools that are used by health professionals to aid in the identification and management of chronic diseases. Biomarkers can be diagnostic, predictive, or prognostic. Several individual or grouped biomarkers have been used successfully in the diagnosis and prediction of certain chronic diseases, however, it is generally accepted that a more sophisticated approach to link and interpret various biomarkers involved in chronic disease is necessary to improve our current procedures. In order to ensure a comprehensive and unbiased coverage of the literature, first a primary frame of the manuscript (title, headings and subheadings) was drafted by the authors working on this paper. Second, based on the components drafted in the preliminary skeleton a comprehensive search of the literature was performed using the PubMed and Google Scholar search engines. Multiple keywords related to the topic were used. Out of screened papers, only 190 papers, which are the most relevant, and recent articles were selected to cover the topic in relation to etiological mechanisms of different chronic diseases, the most recently used biomarkers of chronic diseases and finally the advances in the applications of multivariate biomarkers of chronic diseases as statistical and clinically applied tool for the early diagnosis of chronic diseases was discussed. Recently, multivariate biomarkers analysis approach has been employed with promising prospect. A brief discussion of the multivariate approach for the early diagnosis of the most common chronic diseases was highlighted in this review. The use of diagnostic algorithms might show the way for novel criteria and enhanced diagnostic effectiveness inpatients with one or numerous non-communicable chronic diseases. The search for new relevant biomarkers for the better diagnosis of patients with non-communicable chronic diseases according to the risk of progression, sickness, and fatality is ongoing. It is important to determine whether the newly identified biomarkers are purely associations or real biomarkers of underlying pathophysiological processes. Use of multivariate analysis could be of great importance in this regard.
Introduction
A biomarker is a tool that is used and employed by doctors, health professionals, and scientists to measure and indicate a pathogenic process, biological process, or an exposure or intervention response (Institute of Medicine US Committee on Qualification of Biomarkers and Surrogate Endpoints in Chronic Disease, 2010; Yetley, De Mets & Harlan Jr, 2017). It is essential to outline the analytical features that makes a biomarker useful in reflecting the course and activity of any disease. Ideally, a biomarker should be readily available, reproducible, and measurable in biological samples such as blood, urine, cerebrospinal fluid, and saliva (Lee et al., 2013). It should also be non-invasive, inexpensive, and have a high specificity and sensitivity to allow early detection. The advantage of this clinical feature allows for accurate differentiation between the normal and pathological status, as well as other clinical conditions (Devarajan, 2007). Detailed understanding of disease biology can potentially increase the effectiveness of prevention and treatment approaches, in addition to decreasing adverse effects from helpful treatments. Progress of biomarkers is critical in these areas, and it is vital that adequate studies of newly discovered biomarkers are performed before adopting their use in routine clinical management.
Biomarkers can be simply classified into, diagnostic, predictive, and prognostic markers. A diagnostic biomarker refers to a biological variable that helps the diagnosis of a disease and may aid in determining disease progression and/or success of treatment. It could be a laboratory, radiological, anatomical, physiological or other measurable parameter that helps to differentiate one disease from others.
A predictive biomarker is utilized to designate individuals that have a greater possibility of responding to exposure to a particular environmental agent or medical product, compared to their condition at baseline (Verdaguer, Saurí & Macarulla, 2017). This response can vary from being an adverse effect, a symptomatic advantage, or improved survival. An example of where a predictive biomarker is used is during a randomized controlled clinical trial of an investigational therapy, to enrich the study population for a medical product development.
A prognostic biomarker is employed to provide information on the possible health outcome of a patient irrespective of the treatment (Sechidis et al., 2018). It is used to indicate the possibility of disease recurrence, future clinical events, or disease progression in an identified population, and is usually measured at a defined baseline. It is common, in the biomedical field, to apply the term prognostic in healthy individuals who have a likelihood of developing a disease or a certain diagnosis in the future in addition to individuals who have been diagnosed with a certain disease or medical condition (Califf, 2018).
Chronic disease is defined as an illness of long duration, commonly slow in progression (WHO, 2021c). In 2013, the Global Burden of Disease study reported a significant increase in the years lived with disability (YLD) among patients with chronic diseases (Global Burden of Disease Study 2013 Collaborators, 2015). Multi-morbidity associated with chronic conditions is notably high in developed countries (with significant increase in its prevalence with the increase in age (Dennis, 2016). In fact, multi-morbidity is reported to be around 50% for 65–74-year-olds, increasing to 70% for 85 years old or over (Chronic disease Overview, 2021). Addressing chronic disease is a major challenge for healthcare systems around the world, which have been largely developed to deal with acute episodic care, rather than to provide a systematic approach to provide an organized care for people with long-term conditions (WHO, 2021b), which are frequently characterized by the need for long periods of supervision, observation or care.
Patients with chronic diseases usually face multiple challenges. The high cost of healthcare frequently needed by chronic disease patients is one of the top challenges. In addition, Patients with chronic disease usually experience major or minor physical disability concomitant with their illness which compromises their ability to sustain their lifestyle. Furthermore, emotional complications such as fear, anger, and depression are also of great importance as patients realize that it may be impossible to be cured. Additional care for patients with more than one chronic condition usually constitutes added burden requiring additional medical care and expenses compared to the average patient (Allen et al., 2014).
Chronic disease is a broad category that encompasses non-communicable diseases (NCDs), such as diabetes, osteoarthritis, heart disease, chronic obstructive pulmonary disease, cancer, and depression, as well as communicable diseases (CDs), such as acquired immunodeficiency syndrome (AIDS) and hepatitis. In the biomedical field, the diagnosis of (NCDs) can be categorized according to etiology, pathophysiology, protracted clinical course, comorbidity, symptoms, complications and treatment. However, they all involve an expected long duration and absence of a definitive cure (Bernell & Howard, 2016).
The current burden of NCDs is attributed to the earlier exposure to accumulative health risks, while the future burden can be related to the current exposure of population to multiple risk factors that can be either non-modifiable such as age, gender, and genetic vulnerability or modifiable such as diet, and physical activity (WHO, 2021a; Yach et al., 2004). Although the linkage between risk factors and chronic disease is comparable globally, it is greater in developing countries (Rodgers et al., 2004). Figure 1. Summarizes the modifiable and non-modifiable risk factors that are involved in the etiology of (NCDs).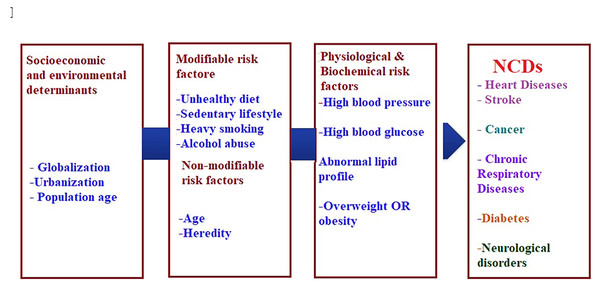 Worldwide, it is generally believed that chronic diseases constitute the most common reason of death, it is led by heart disease (17 million deaths), followed by cancer (7 million deaths), chronic lung disease (4 million) and diabetes mellitus (1.6 million) (World Health Organization, 2005). Other fundamental factors are the key powers motivating economic, cultural, and community change, including globalization, urbanization, and the overall environmental influences (WHO, 2021d). In addition, global powers such as trade and marketing are enhancing the increase in the incidence of chronic diseases. For example, one of the health-related effects of globalization is the trend known as 'nutrition transition' in which a traditional diet rich in fruit and vegetables is replaced by a diet rich in calories derived from animal fats, and lower in complex carbohydrates (Popkin, 2002). Such diet, when combined with a low level of physical activity, alcohol consumption, and heavy smoking usually results in global expansion of chronic diseases (WHO, 2021d). The association between modifiable lifestyle risk factors (alcohol, body mass index, smoking, diet, physical inactivity) and the age to have the first chronic disease were recently reported by Ng et al. (2020).
Additionally, Oral hygiene is considered as a central measure of overall (Allen & Camisa, 2015). Nevertheless, the high incidence of dental problems (DPs), such as periodontitis, and tooth loss, persist as public global health problems. DPs have been found to be linked with various CDs, including diabetes (Preshaw & Bissett, 2019), metabolic syndrome (Lamster & Pagan, 2017), cardiovascular diseases (CVD) (Sanz et al., 2020), lung (Gomes-Filho et al., 2020) and kidney problems (Delbove et al., 2021) in the general population.
While etiopathologies of common CDs are greatly different, they are associated with common and disease-specific alterations in the composition and function of the gut microbiota (Fan & Pedersen, 2021). Interestingly, when considering the translational associations of gut microbiome examination, it became apparent that most CDs and drugs have impact on microbiome, metatranscriptome and metabolome profiles in addition to their ascertained effects on CDs biomarkers (Adeshirlarijaney et al., 2019; Fan & Pedersen, 2021).
Mitochondria are cellular organelles that convert energetic substrates such as lipids, glucose, and oxygen into energy. These organelles have a double membrane, circular DNA molecules, and the ability to interact with each other (Braschi & McBride, 2010). Constant mitochondrion-mitochondrion communication occurs via dynamic interactions of membrane fusion and fission. These interactions change mitochondrial morphology and consecutively modulate the organelles' function (Westermann, 2010).
Mitochondrial dysfunction, characterized by impaired oxidative phosphorylation as the major role of the electron transport chain, and reduction in the mitochondrial capability to produce adenosine triphosphate (ATP), is a common character of all chronic diseases (Green, Galluzzi & Kroemer, 2011; Swerdlow, 2011).
Mitochondrial dysfunction, chronic inflammation, and oxidative stress are involved in most NCDs diseases such as cancer, atherosclerosis, Parkinson's disease, Alzheimer's disease, other neurodegenerative diseases, heart and lung disturbances, diabetes, obesity, and autoimmune diseases (Ij, 2017). In addition to the impairment of mitochondrial function, obesity and obesity-related complications are universally associated with chronic disease.
For example, in muscle tissues, mitochondrial dysfunction leads to the reduction of fatty acid oxidation and the inhibition of glucose transport, indicating that insulin-stimulated glucose transport is reduced as a hallmark of insulin resistance and type 2 diabetes. Mitochondrial ROS have also been correlated to the amplified activity of uncoupling proteins (UCP), which uncouples ATP synthesis from electron transport. UCP activity leads to heat generation without ATP production. Long-term reductions in ATP levels, affect multiple cellular signaling mechanisms associated with chronic disease (Brondani et al., 2012; Fedorenko, Lishko & Kirichok, 2012). Usually, NCDs, such as cancer, obesity, and diabetes are accompanied with high ROS levels which serve as markers for oxidative stress and elevated concentrations of free fatty acids (FFA) (Matsuda & Shimomura, 2013). Since ROS and FFA are important molecular signals that activate UCP2, it is essential to understand and clarify the relationship between UCP2 and chronic diseases. UCP is a family of mitochondrial anion proteins existing in the inner mitochondrial membrane. Since their discovery, they have attracted significant attention due to their contribution to the mitochondrial-mediated oxidative stress and impaired energy metabolism. Therefore, UCP2 is an important target to consider in the efforts attempting to control the prevalence of multiple chronic diseases (Sreedhar & Zhao, 2017).
It is generally accepted nowadays, that mitochondrial dysfunction is involved in the etiological mechanisms of several chronic diseases, including cardiac, liver and kidney disorders, and neurodegenerative diseases (e.g., Parkinson's disease and Alzheimer's disease) (Geto et al., 2020).
The use of biomarkers governed by the superiority of data that supports their use and on the view of their application. Evaluation of the quality of the laboratory assays and data associating the biomarkers to clinical outcomes is important for evaluating biomarker utility.
This encouraged us to survey the possibility of using multivariate statistical analysis in the field of biomarkers of chronic diseases. This could help to search for a discriminant, non-invasive, and easily applicable diagnostic tool. This might be of great help to care practitioners and their patients make decisions related to patient precaution.
Survey methodology
In order to ensure a comprehensive and unbiased coverage of the literature, first a preliminary skeleton of the manuscript (title, headings and subheadings related to biomarkers and chronic diseases) was drafted by the authors working on this paper.
Second, based on the components drafted in the preliminary skeleton a comprehensive search of the literature was performed using the following search engines:
The used key words included:
Biomarker

Chronic disease (Diabetes mellitus, Cardiovascular diseases, Chronic kidney diseases, and neurological disorders)

Oxidative stress (Role of Oxidative stress as etiological mechanisms of different chronic diseases)

Chronic inflammation (As etiological mechanism in chronic diseases)

Quality of life of chronic disease patients (Factors affecting QOL)

Oral disease (Etiological mechanisms)

Dental Caries (How it is related to chronic diseases)

Oral Cancer

Periodontal disease

Multivariate (Applications in Chronic Diseases)
These keywords were used as single keywords and in various combinations. Efforts were made to focus on the most recent publications (2016 –present), however, older references were included as deemed necessary according to the requirements of proper coverage of the topic. Search results were scanned, and the most relevant papers were selected to ensure a comprehensive and balanced representation of the current schools of thoughts on the topic. The selected articles were further examined to identify more articles that could be used in the review.
Conclusions
It is important to prospectively assess biomarkers in a variety of large populations over a prolonged duration, and to confirm their relationship to the severity of chronic disease, prior to the development of complications and/or mortality when considering their use in clinical practice. Although advances in proteomics technologies, sample conditioning, and analysis methods have greatly improved productivity and efficiency in biomarker discovery, biomarker verification and validation remains a significant, costly, and high-risk undertaking in the commercial development and deployment of novel biomarkers for some chronic diseases.