Remarkable genomic diversity among Escherichia isolates recovered from healthy chickens
Published

Accepted

Received
Academic Editor
Subject Areas

Keywords

Escherichia

,

Genomic diversity

,

Chickens

,

Phylogenomics

,

Commensal

,

Cryptic clades
Copyright

©

2022

Thomson et al.

Licence

This is an open access article distributed under the terms of the Creative Commons Attribution License, which permits unrestricted use, distribution, reproduction and adaptation in any medium and for any purpose provided that it is properly attributed. For attribution, the original author(s), title, publication source (PeerJ) and either DOI or URL of the article must be cited.
Cite this article

2022

. Remarkable genomic diversity among Escherichia isolates recovered from healthy chickens.

PeerJ

10

:

e12935

https://doi.org/10.7717/peerj.12935
Abstract
The genus Escherichia has been extensively studied and it is known to encompass a range of commensal and pathogenic bacteria that primarily inhabit the gastrointestinal tracts of warm-blooded vertebrates. However, the presence of E. coli as a model organism and potential pathogen has diverted attention away from commensal strains and other species in the genus. To investigate the diversity of Escherichia in healthy chickens, we collected fecal samples from antibiotic-free Lohmann Brown layer hens and determined the genome sequences of 100 isolates, 81 of which were indistinguishable at the HC0 level of the Hierarchical Clustering of Core Genome Multi-Locus Sequence Typing scheme. Despite initial selection on CHROMagar Orientation medium, which is considered selective for E. coli, in silico phylotyping and core genome single nucleotide polymorphism analysis revealed the presence of at least one representative of all major clades of Escherichia, except for E. albertii, Shigella, and E. coli phylogroup B2 and cryptic clade I. The most frequent phylogenomic groups were E. coli phylogroups A and B1 and E. ruysiae (clades III and IV). We compiled a collection of reference strains isolated from avian sources (predominantly chicken), representing every Escherichia phylogroup and species, and used it to confirm the phylogeny and diversity of our isolates. Overall, the isolates carried low numbers of the virulence and antibiotic resistance genes typically seen in avian pathogenic E. coli. Notably, the clades not recovered are ones that have been most strongly associated with virulence by other studies.
Introduction
Members of the genus Escherichia are common inhabitants of the gastrointestinal tracts of warm-blooded animals (Tenaillon et al., 2010; Jang et al., 2017). Although many isolates are believed to be beneficial or harmless components of a healthy microbiome, the genus has received a large share of research attention as some members—notably certain strains of Escherichia coli—cause disease and/or carry transferable antibiotic resistance genes (Kaper, Nataro & Mobley, 2004; Cummins et al., 2019).
Much effort has been expended to develop techniques for identifying and categorizing members of Escherichia and understanding the population structure of the genus. Classical phenotypic techniques identified species by morphology and biochemical tests and divided strains into pathotypes, based on site of infection, e.g., uropathogenic E. coli (UPEC) causing urinary tract infections; and serotypes, based on antibody recognition of variation in lipopolysaccharides, flagella and fimbriae (Fratamico et al., 2016). These methods have gradually given way to genome-based approaches classifying isolates with multi-locus enzyme electrophoresis studies (Selander et al., 1987) and multi-locus sequence typing (Maiden et al., 1998). Whole genome sequencing technologies have recently facilitated the comparison of strains in ever greater detail (Uelze et al., 2020), leading to new classification schemes based on average nucleotide identity (Konstantinidis & Tiedje, 2005) and whole-genome nucleotide polymorphism (Schürch et al., 2018).
The avian pathogenic E. coli (APEC) pathotype causes colibacillosis in chickens, turkeys and other avian species, and is responsible for significant morbidity and mortality in the worldwide poultry industry (Dziva & Stevens, 2008). Certain serotypes and virulence factors are frequently associated with APEC but it remains challenging to distinguish categorically between commensal and virulent strains (Mehat, van Vliet & La Ragione, 2021).
The large number of high-quality Escherichia genomes from diverse geographical and biological sources has forced a re-thinking of classification. Thus, although Shimwellia blattae was initially placed within Escherichia, it is now assigned to a separate genus (Priest & Barker, 2010). By contrast, although named as if a genus, Shigella is now thought merely to represent a series of pathovars of E. coli (Yang et al., 2005; Devanga Ragupathi et al., 2018). Nevertheless, the assignment of strains of E. coli to seven phylogroups (A, B1, B2, C, D, E and F) has proven a robust finding that holds for phylogenetic trees built from core genome alignments of large numbers of isolates. Phylogroups G and H have recently been proposed (Lu et al., 2016; Clermont et al., 2019), while five of what were initially called 'cryptic clades' (Walk et al., 2009) have been assigned to species: Clade I to E. coli (Clermont et al., 2013), Clade II to E. whittamii (Gilroy et al., 2021), Clades III and IV together to E. ruysiae (van der Putten et al., 2021), and Clade V to E. marmotae (Liu et al., 2015).
The accumulation of genomic data for Escherichia has been strongly biased towards clinical isolates from humans and economically important animals (Touchon et al., 2020). This hampers efforts to achieve a complete understanding of Escherichia diversity, ecology, and population genetics. Here, we report phylogenomic analyses on 100 Escherichia isolates cultured from fecal samples from a small flock of healthy adult layer chickens, 81 of which we determined to be unique (Fig. 1)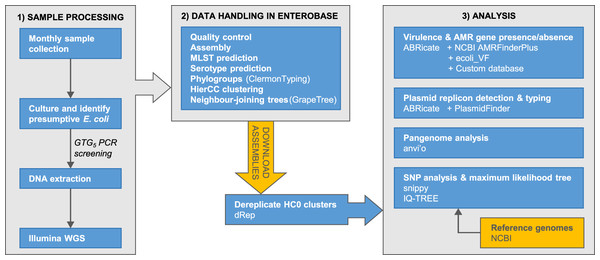 .
Discussion
Our data reveal remarkable diversity within the genus Escherichia from such a commonplace setting and small sample size. After minimal selection during sample collection, we were able to recapitulate almost the entire phylogeny of Escherichia. However, our initial selection for E. coli identity may still have excluded some isolates with phenotypes that differ from typical E. coli. On the other hand, the isolation of so many other Escherichia species raises doubts over the specificity of CHROMagar Orientation Medium for Escherichia coli sensu stricto. This finding may have implications for the use of CHROMagar Orientation Medium in clinical research and diagnostics, and warrants further investigation into the growth and morphology of different members of the Escherichia genus on this medium. We confirmed the diversity and identity of the isolates by several different methods, including PCR, in silico phylotyping and MLST, and core genome analysis. Our final core genome-derived phylogenetic tree was also in agreement with previously published phylogenies for the genus (Zhou et al., 2020; Abram et al., 2021; Gilroy et al., 2021).
The generally low carriage of virulence-associated genes within the isolates suggests that the majority are non-pathogenic and more likely represent commensal members of the gut microbiota (Wigley, 2015). By extension, this also supports the idea that although many strains are capable of opportunistic infection, most frank pathogens in the Escherichia genus belong to relatively well-defined pathotypes (Johnson et al., 2008). In support of this conclusion, three key phylogroups, B2, G and clade I, which have been associated with virulence in poultry (Papouskova et al., 2020; Mehat, van Vliet & La Ragione, 2021), were missing from our collection. This could be due to the relatively small sample size and small flock or might reflect that we only sampled healthy birds. Equally, the most common phylogroup in this study was phylogroup A, which has been linked to commensalism in chickens and other omnivores (Smati et al., 2015). E. albertii and Shigella were also absent from our collection. They are less well studied in birds, but have also both been linked to virulence in poultry (Shi et al., 2014; Gomes et al., 2020). We cannot rule out the possibility that APEC strains were simply lower in abundance and so were overlooked during culturing. As we only sampled healthy birds, it seems likely that this is a true reflection of the prevalence of these phylogroups among our study population. The limitations of our study prevent us from inferring any general conclusions about the distribution of Escherichia strains within chickens in other settings. Nevertheless, if such striking diversity is present in a few birds in a single location, it surely suggests that similar diversity (although perhaps with different population structures) has so far been overlooked elsewhere.
Although we did not track individual birds temporally and so cannot verify stable colonization of isolates within birds, most fecal samples yielded multiple distinct isolates. There were no clear indications of niche adaptation based on the pangenome and plasmid content of the strains, as gene clusters and plasmid replicons were spread fairly evenly among phylogenomic groups, and most phylogroups contained few isolates. The use of only short-read data also limited the completeness of our assemblies and our ability to identify plasmids and plasmid-encoded genes (Arredondo-Alonso et al., 2017). Further work involving more isolates and using both short- and long-read data will be necessary to identify unique, characteristic genetic components for each species and phylogroup, and to establish their spatial and functional niches within the chicken gut.
Recent studies have found similarly diverse populations of Escherichia after sampling of healthy pigs (Ahmed, Olsen & Herrero-Fresno, 2017; Bok et al., 2020), cattle and sheep (Shaw et al., 2021), and non-human primates (Foster-Nyarko et al., 2020), although it is notable that representatives of the 'cryptic clades' are scarce within these data. The reasons for this scarcity are unclear but are likely to include the use of different selection methods and the focus on virulent/AMR strains and E. coli sensu stricto. Escherichia diversity varies among samples from healthy humans (Bok et al., 2018; Foster-Nyarko et al., 2021a). High Escherichia species diversity has been detected within chickens previously (Vounba et al., 2019a; Foster-Nyarko et al., 2021b), although not from such a narrow pool of host birds as in the current study. Members of the cryptic clades have also previously been found in relatively high abundance in wild birds of various species (Clermont et al., 2011) but a definitive link to chickens has not been established. A recent metagenomics study included 60 different fecal samples from the same birds used here. Culturing of 3 of those samples yielded isolates of E. marmotae, E. whittamii and phylogroups A, B1, C, D and E, reflecting the diversity found in this study (Gilroy et al., 2021). However, most studies in chickens have taken samples from diseased birds and/or have focused on antimicrobial resistance and pathogenicity of the isolates recovered (Braga et al., 2016; Cummins et al., 2019; Vounba et al., 2019b; Papouskova et al., 2020; Kubelová et al., 2021).
Conclusions
The dearth of whole-genome sequencing studies that include all members of Escherichia (and sufficient metadata) skews our understanding of the genus and makes it impossible to discern patterns within or between sampling environments, geographical regions, diets, health status and so on. Consequently, there is much still to learn about the population structure and ecology of Escherichia (Lagerstrom & Hadly, 2021). We were surprised to find that isolates representing almost the entire known phylogeny of Escherichia were recovered from fecal samples from a small flock of healthy layer chickens, including species that have only recently been recognized (previously known as cryptic clades) and for which chicken-associated isolates have not been widely reported. These isolates had low carriage rates of antimicrobial resistance genes and virulence factors, suggesting that similar isolates might often be overlooked in studies that focus on these traits. Our findings highlight the surprising diversity of Escherichia harbored by even an individual chicken and emphasize the need to broaden the focus of research to encapsulate the full variety of species.