The modeled distribution of corals and sponges surrounding the Salas y Gómez and Nazca ridges with implications for high seas conservation
1
Marine Conservation Institute

,

Seattle, Washington

,

United States
2
Conservation International, Center for Oceans

,

Arlington, Virginia

,

United States of America
Published

Accepted

Received
Academic Editor
Subject Areas

Keywords

Cold-water corals

,

Sponge

,

Deep sea

,

Species distribution modeling

,

Habitat suitability

,

Conservation

,

Areas beyond national jurisdiction
Copyright

©

2021

Georgian et al.

Licence

This is an open access article distributed under the terms of the Creative Commons Attribution License, which permits unrestricted use, distribution, reproduction and adaptation in any medium and for any purpose provided that it is properly attributed. For attribution, the original author(s), title, publication source (PeerJ) and either DOI or URL of the article must be cited.
Cite this article

2021

.

The modeled distribution of corals and sponges surrounding the Salas y Gómez and Nazca ridges with implications for high seas conservation

.

PeerJ

9

:

e11972

https://doi.org/10.7717/peerj.11972
Abstract
The Salas y Gómez and Nazca ridges are two adjacent seamount chains off the west coast of South America that collectively contain more than 110 seamounts. The ridges support an exceptionally rich diversity of benthic and pelagic communities, with the highest level of endemism found in any marine environment. Despite some historical fishing in the region, the seamounts are relatively pristine and represent an excellent conservation opportunity to protect a global biodiversity hotspot before it is degraded. One obstacle to effective spatial management of the ridges is the scarcity of direct observations in deeper waters throughout the region and an accompanying understanding of the distribution of key taxa. Species distribution models are increasingly used tools to quantify the distributions of species in data-poor environments. Here, we focused on modeling the distribution of demosponges, glass sponges, and stony corals, three foundation taxa that support large assemblages of associated fauna through the creation of complex habitat structures. Models were constructed at a 1 km2 resolution using presence and pseudoabsence data, dissolved oxygen, nitrate, phosphate, silicate, aragonite saturation state, and several measures of seafloor topography. Highly suitable habitat for each taxa was predicted to occur throughout the Salas y Gómez and Nazca ridges, with the most suitable habitat occurring in small patches on large terrain features such as seamounts, guyots, ridges, and escarpments. Determining the spatial distribution of these three taxa is a critical first step towards supporting the improved spatial management of the region. While the total area of highly suitable habitat was small, our results showed that nearly all of the seamounts in this region provide suitable habitats for deep-water corals and sponges and should therefore be protected from exploitation using the best available conservation measures.
Introduction
The Salas y Gómez and Nazca ridges are two adjacent seamount chains stretching more than 2,900 km off the coasts of Peru and Chile (Fig. 1) (reviewed in Wagner et al., 2021). Combined, the ridges contain more than 110 seamounts that were created between 2–27 million years ago by a geological hotspot located on the western edge of the Salas y Gómez Ridge (Parin, Mironov & Nesis, 1997; Steinberger, 2002). The limited exploration that has been accomplished along the ridges has revealed exceptionally high biodiversity as well as unusually high endemism, due in part to its isolation from South America by the Humboldt Current System and the Atacama Trench (Parin, 1991; Comité Oceanográfico Nacional de Chile, 2017). More than 40% of known fish and invertebrate species are endemic to the region, the highest level of marine endemism in the world (Parin, Mironov & Nesis, 1997; Friedlander et al., 2016). New species have frequently and recently been discovered on the ridges (e.g., Andrade, Hormazábal & Correa-Ramírez, 2014; Sellanes et al., 2019; Shepherd et al., 2020; Diaz-Diaz et al., 2020), indicating that many new species remain to be discovered. The waters surrounding the Salas y Gómez and Nazca ridges provide important feeding grounds and migratory pathways for an array of important species, including billfish, sharks, sea turtles, seabirds and marine mammals (Weichler et al., 2004; Shillinger et al., 2008; Yanez et al., 2009; Hucke-Gaete et al., 2014; CBD, 2017; Serratosa et al., 2020). On the seamounts and neighboring island habitats, diverse benthic communities form around shallow-water, mesophotic (Easton et al., 2019), and deep-water coral and sponge reefs (Hubbard & Garcia, 2003; Easton et al., 2019; Friedlander et al., 2021).
Deep-water corals and sponges are critical foundation species found in every ocean basin. The complex, three-dimensional habitat structures they produce support thousands of associated species including other invertebrates and commercially important fish (Rogers, 1999; Costello et al., 2005; Cordes et al., 2008; Kenchington, Power & Koen-Alonso, 2013). In addition to habitat creation, corals and sponges provide other critical ecosystem services including the alteration of local current regimes (Dorschel et al., 2007; Mienis et al., 2009), carbon cycling and long-term sequestration (Oevelen et al., 2009; Kahn et al., 2015), and nutrient cycling (Wild et al., 2008; Tian et al., 2016). Deep-water corals and sponges are also being increasingly used as avenues for research purposes ranging from biomedical research (e.g., Hill, 2003; Müller et al., 2004) to reconstructing paleoclimate archives of climate change, pollution, and nutrients (Smith et al., 2000; Williams et al., 2006; Cao et al., 2007). The slow growth rates (Prouty et al., 2011), extreme longevity (Roark et al., 2009; Fallon et al., 2010), and life history strategies (e.g., low recruitment; Doughty, Quattrini & Cordes, 2014) make these taxa extremely sensitive to anthropogenic disturbance, and the recovery of damaged communities may take many decades, centuries, or even longer (see Ramirez-Llodra et al., 2011; Baco, Roark & Morgan, 2019). Considering the extreme logistical difficulties and costs associated with restoration efforts in these remote habitats (Van Dover et al., 2014), improved conservation measures are urgently needed to protect these fragile ecosystems before long-term damage occurs.
Like most marine biodiversity hotspots, the Salas y Gómez and Nazca ridges are threatened by a variety of ongoing or imminent anthropogenic disturbances, including commercial fishing, marine debris and plastic pollution, seabed mining, and climate change (reviewed in Wagner et al., 2021). Despite these threats and the clear biological value of the ridges, protecting their sensitive benthic communities from anthropogenic disturbance is a complex challenge. Over 73% of the ridges are located in areas beyond national jurisdiction (ABNJ), commonly known as the high seas, where no one country has sole management responsibility and hence international cooperation is necessary. While the portions of the ridge located within the Chilean and Peruvian exclusive economic zones (EEZs) have several established marine protected areas (MPAs) (MPAtlas, 2021), the high seas portions of the ridges are more loosely regulated by intergovernmental agencies including the International Seabed Authority (ISA), the International Maritime Organization (IMO), the Inter-American Tropical Tuna Commission (IATTC), and the South Pacific Regional Fisheries Management Organisation (SPRFMO), which regulate seabed mining, shipping, and fishing, respectively. Despite ongoing United Nations negotiations to better protect vulnerable marine ecosystems (VMEs) on the high seas (UNGA, 2007; Rogers & Gianni, 2010), there is no legal mechanism to establish high seas MPAs that are applicable to all States or sectors. Industrial fishing occurs in an estimated 48% of ABNJ, with fisheries pushing into deeper waters each year as stocks deplete in shallower waters (Visalli et al., 2020). Commercial fishing in waters surrounding the Salas y Gómez and Nazca ridges has been relatively limited historically (Wagner et al., 2021), providing a unique opportunity to protect this diverse region before it is irrevocably damaged. However, effecting strong protection in ABNJ is difficult due to the lack of clear legal mechanisms, competing interests, and lack of sufficient data in lesser-explored regions (Gjerde et al., 2021).
Species distribution models, also referred to as habitat suitability models, are important tools that help characterize the distribution and niche of taxa in data-poor regions. These models can be particularly useful for deep-water taxa on the high seas, where extremely limited surveys have occurred relative to shallow-water coastal areas (Fujioka & Halpin, 2014; Ortuño Crespo et al., 2019), and data availability is a considerable obstacle to improved conservation management and scientific advancement (Vierod, Guinotte & Davies, 2014; Wagner et al., 2020). Species distribution models statistically couple the known distribution of species with relevant environmental parameters to predict niche and distribution in unsurveyed geographic regions or under varying environmental conditions (Guisan & Zimmermann, 2000; Miller, 2010). Quantifying the biogeographic distribution of ecologically important or threatened species is critical for designing and implementing management plans, shaping future research and exploration efforts, and assessing past, present, and future anthropogenic impacts. Increasingly, species distribution models are being developed specifically to inform marine conservation and management (e.g., Rowden et al., 2017; Georgian, Anderson & Rowden, 2019) or to predict responses to recent anthropogenic disturbances (e.g., Georgian et al., 2020). Models have been successfully developed for a large variety of benthic taxa, including global models for stony corals (Davies & Guinotte, 2011), black corals (Yesson et al., 2017), octocorals (Yesson et al., 2012), and gorgonian corals (Tong et al., 2013), as well as large-scale regional sponge models (e.g., Knudby, Kenchington & Murillo, 2013; Chu et al., 2019). Given their status as foundation species, and the frequent classification of these taxa as indicators of VMEs, which SPRFMO and other fishery management organizations are mandated with identifying and protecting (e.g., Penney, Parker & Brown, 2009), it is critical to quantify their distribution.
An improved understanding of the spatial distribution of key taxa throughout the Salas y Gómez and Nazca ridges is necessary for the evidence-based conservation of the region. The suitability modeling in this study will inform ongoing efforts to identify and prioritize key conservation targets along the ridges (see Wagner et al., 2021), reinforcing the increasingly clear need to protect sensitive benthic fauna in the region from further exploitation and disturbance from anthropogenic sources. In addition to conservation planning, these models will also support future expedition planning, and will improve our understanding of the niche of cold-water corals and sponges throughout the region.
Results
Model performance
The models performed well across all taxa and modeling algorithms (Table 2). The 10-fold cross-validation procedure produced test AUC scores that were generally above 0.9, with a lowest score of 0.837 (RF model for demosponges). Test TSS scores were similarly high, with an average TSS score of 0.809 across all model types and taxa. Test scores did not change considerably among different cross-validation runs, suggesting that ten runs were sufficient to capture the variation caused by withholding different testing data. Glass sponge models performed slightly worse across all modeling types (average test AUC of 0.905 and training AUC of 0.925), followed by demosponges (average test AUC of 0.932 and training AUC of 0.942). Stony corals performed the best by a small margin with an average test AUC of 0.942 and training AUC of 0.952.
Taxa
Model
Test data
Training data
AUC
TSS
AUC
TSS
Demosponges
BRT
0.939 ± 0.02
0.783 ± 0.04
0.937
0.799
GAM
0.976 ± 0.01
0.912 ± 0.03
0.974
0.799
Maxent
0.975 ± 0.03
0.625 ± 0.06
0.817
0.524
RF
0.837 ± 0.01
0.932 ± 0.03
0.998
0.959
Ensemble
–
–
0.988
0.916
Glass sponges
BRT
0.868 ± 0.02
0.718 ± 0.04
0.872
0.739
GAM
0.904 ± 0.04
0.770 ± 0.05
0.929
0.763
Maxent
0.902 ± 0.04
0.738 ± 0.06
0.904
0.679
RF
0.948 ± 0.04
0.862 ± 0.07
0.993
0.961
Ensemble
–
–
0.968
0.770
Stony corals
BRT
0.915 ± 0.03
0.821 ± 0.07
0.924
0.842
GAM
0.956 ± 0.03
0.827 ± 0.06
0.964
0.855
Maxent
0.931 ± 0.03
0.820 ± 0.06
0.939
0.822
RF
0.965 ± 0.02
0.901 ± 0.04
0.980
0.940
Ensemble
–
–
0.973
0.845
Higher values (closer to one) indicate better model performance in each metric. Each metric was calculated using test data during a ten-fold cross-validation procedure withholding 20% of records for testing, and also for the full model using all available training data. Test value are given as the mean ± standard deviation across 10 model runs.
Test data revealed that GAM and Maxent models consistently performed slightly better than BRT and RF models. When looking at the evaluation metrics for the final models built using all available training data, RF consistently outperformed the other approaches, consistently having the highest AUC and TSS scores. However, when looking at test scores during cross-validation, RF scores dropped considerably, suggesting that RF models were slightly overfitting to the training data despite optimization of model parameters. In contrast, Maxent models, which generally performed slightly worse than RF models when using training data, had little to no decrease in scores when using testing data, in some cases even performing better against testing data. This suggests that the optimization of the Maxent regularization parameter (β = 5, default = 1) was successful in reducing model complexity to appropriate levels without a large effect on overall model performance. Testing and training scores were similar for BRT and GAM models, with a very slight decrease in most testing scores. BRT and RF models generally had the lowest uncertainty (Figs. S24–S35) compared to GAM and Maxent models, although GAM uncertainty was highly spatially restricted to very small areas of highly suitable habitat.
The full ensemble models performed well, with an AUC of 0.988 for demosponges, 0.968 for glass sponges, and 0.973 for stony corals. It is interesting that the demosponge ensemble model performed the best by a small margin, when the individual models performed slightly worse than the models for stony corals. This suggests that the ensemble modeling approach was successful in reducing potential structural inadequacies, lack of ideal model optimization, or bias in each model type that may affect the outputs (Robert et al., 2016). In general, the scores for the ensemble models suggest that they outperformed GAM, Maxent, and BRT models, but performed slightly worse than the RF model. However, this is likely because RF models were overfitting slightly, producing artificially elevated training scores. Collectively, the performance metrics suggest that the ensemble models were the best for each taxon.
Distributions
For all three taxa, areas with high predicted habitat suitability were largely restricted to small pockets clustered around the Salas y Gómez and Nazca ridges, the eastern portion of the Foundation Seamount Chain, and the waters around the Juan Fernández Islands (Figs. 3–5). Glass sponges and stony corals also had strips of low-moderate suitability along the South American coast and along the west flank of the Atacama Trench. Stony corals models also predicted low-moderate suitability on a large spreading ridge along the East Pacific Rise, although there were few highly suitable areas (see Fig. S21). Within the Salas y Gómez and Nazca ridges, suitability predictions were remarkably similar among the three taxa, with highly suitable habitat coinciding with the flanks and summits of most seamount, knoll, and ridge features (see Fig. 6). However, glass sponges appeared to have higher suitability predicted on the steeper sides of large seafloor features, while demosponges and stony corals were predicted to occur on the flanks and especially on the summits of the same features.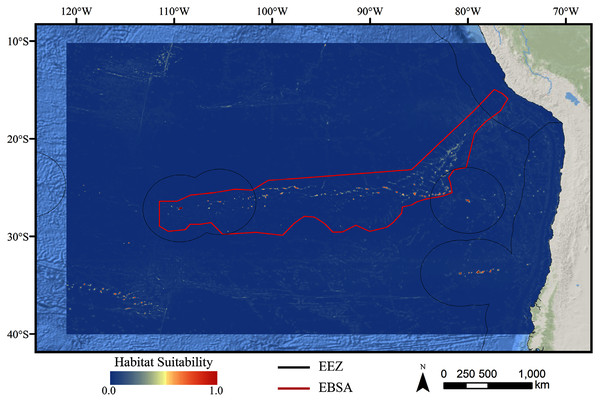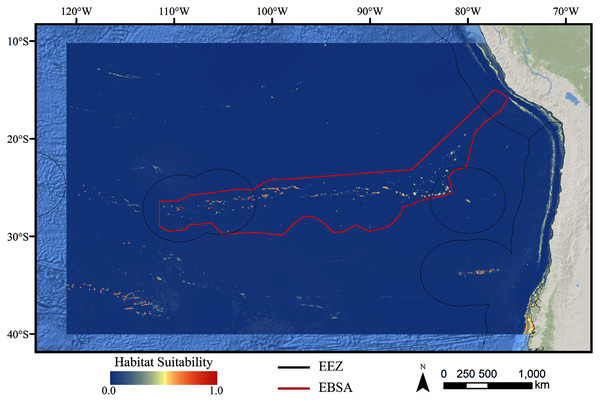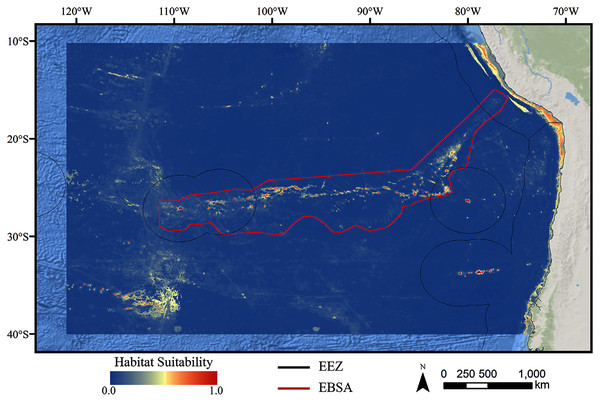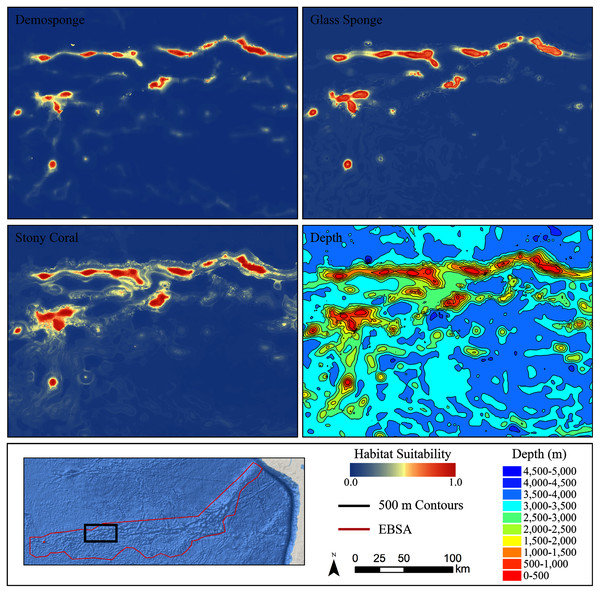 When the predicted distribution of each taxon was assessed against the large-scale geomorphological classifications (Harris et al., 2014, see Fig. S21), a clear preference for escarpments, ridges, seamounts, guyots, and plateaus (primarily along the Nazca Ridge) emerged (Table S2). BRT and RF models typically predicted narrow distributions clustered almost exclusively on seamounts and other large terrain features, while Maxent and GAM also predicted areas of low-moderate suitability in bands along the coast, spreading ridges, and smaller-scale terrain features throughout the region (Figs. S9–S20). While the highly suitability regions were remarkably similar among modeling types, structural differences or assumptions in each model type did affect the overall suitability predictions, lending additional support for the creation and use of ensemble models rather than relying on a single model. It should be noted that model uncertainty was generally highest in areas with higher predicted habitat suitability (Figs. S24–S35), as well as in more coastal areas, suggesting that additional field surveys may improve models in these areas.
Niche
The niche of each taxa was assessed via a combination of variable contribution to the models (Table 3), response curves showing how predicted suitability changes over a range of environmental conditions (Fig. 7), and bean plots showing the environmental conditions occurring in the known distribution of each taxa compared to background conditions (Figs. S3–S5).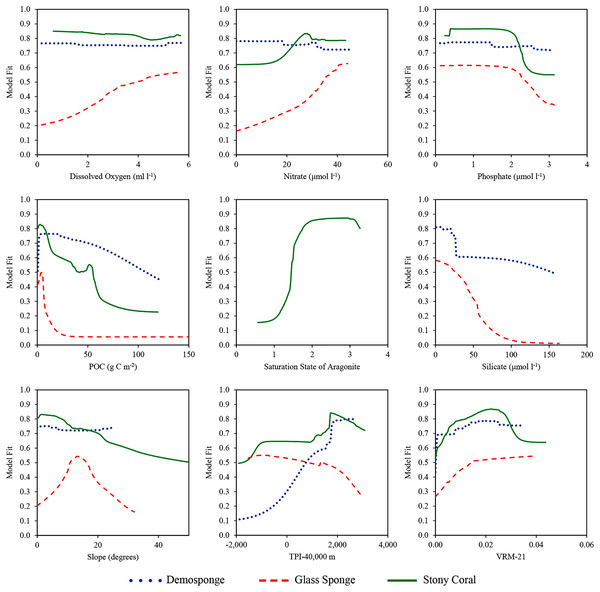 Taxa
Model
ΩA
Dissolved oxygen
Nitrate
Phosphate
POC
Silicate
Slope
TPI–40,000
VRM–21
Demosponges
BRT
–
0.0
0.4
0.3
3.7
8.5
0.1
86.0
1.0
GAM
–
19.0
15.9
4.2
16.7
27.4
3.8
7.4
5.6
Maxent
–
0.0
0.0
2.4
19.3
0.2
2.3
50.4
25.4
RF
–
0.6
4.5
5.8
6.5
35.5
1.9
37.4
7.7
Glass sponges
BRT
–
0.1
0.3
0.1
12.5
78.3
7.3
0.6
0.9
GAM
–
0.9
8.5
25.7
3.3
52.5
5.0
3.5
0.6
Maxent
–
3.2
3.5
0.8
1.0
62.8
11.8
4.3
12.7
RF
–
3.5
5.7
7.9
26.8
31.1
13.6
7.5
3.9
Stony corals
BRT
80.3
0.1
0.1
0.0
0.4
–
0.3
18.1
0.6
GAM
48.9
1.0
1.6
37.4
5.2
–
0.5
2.4
2.9
Maxent
89.7
0.1
0.0
0.0
4.8
–
0.3
0.0
5.1
RF
54.1
2.2
7.0
3.2
1.6
–
1.1
28.6
2.2
ΩA was only included in stony coral models. Silicate was only included in demosponge and glass sponge models. POC=particulate organic carbon. TPI–40,000 = topographic position index calculated at the 40,000 m scale. VRM–21 = vector ruggedness measure calculated with a neighborhood size of 21. The top three variables for each model are highlighted in bold.
Terrain metrics consistently contributed a considerable amount of information in each model. Across all model types for demosponges, slope contributed an average of 2% of information, TPI-40,000 contributed an average of 45.3%, and VRM-21 contributed an average of 9.9%. For glass sponges, slope contributed an average of 9.4%, TPI-40,000 contributed an average of 4.0%, and VRM-21 contributed an average of 4.5%. For stony corals, slope contributed an average of 0.6%, TPI-40,000 contributed an average of 12.3%, and VRM-21 contributed an average of 2.7%. Considered jointly, terrain comprised between 15.5–57.3% of information for each taxon, suggesting that the shape of the seafloor is an important component of their niche. Response curves and bean plots suggest that stony corals and demosponges have a clear preference for elevated TPI values (indicating large-scale elevated features). All three taxa show a preference for elevated VRM values (indicating more varied terrain). Interestingly, VRM-21 correlated and clustered with seamounts (Pearson's coefficient of 0.5; Figs. S1 and S2), indicating that at this scale, VRM-21 was a likely an indicator of features similar in topography to seamounts, guyots, and knolls. Bean plots showed that the known distribution of all three taxa coincides with higher slope values of approximately 5–20 degrees compared with background data, however, response curves indicated a more complex relationship. Demosponges exhibited a small preference for elevated slopes, while glass sponges had a large preference for slopes up to approximately 15 degrees, and then a lower preference for steeper slopes. Stony corals had a negative affinity for slopes steeper than 5°.
Silicate was the highest performing variable for glass sponge models (average contribution of 56.2 across model types), and the second highest for demosponges (average contribution of 17.9% across model types). Response curves indicated that both sponge taxa have a large drop-off in predicted suitability once silicate values exceed approximately 30–40 μmol l−1, and bean plots show that both taxa occur at lower than expected silicate values relative to the background environment. It should be noted that silicate had high correlations with other retained variables, including POC (Pearson's coefficient of −0.684) and nitrates (Pearson's coefficient of 0.538), which complicates the ecological interpretation of these results.
For stony corals, ΩA contributed by far the most information in each model type with an average of 68.3% across all models. A clear preference in both response curves and bean plots for elevated ΩA values above 1.5 indicated a need for a supersaturated environment. All three taxa were also moderately-highly influenced by POC, with response curves indicating a small spike in suitability between 0–10 g C m−2, and then a rapid decrease in suitability at higher concentrations. However, an analysis of the bean plots indicates that POC values > 5 g C m−2 are rare in the study area, and that all three taxa occur at higher than expected concentrations compared with background values.
Dissolved oxygen, nitrate, and phosphate concentrations were only moderately important in the models for each taxon, generally only entering the top three variables in GAM models, which typically included more moderate contributions from all variables rather than receiving large contributions for a few variables. Response curves indicated that glass sponges preferred elevated dissolved oxygen concentrations, while demosponges and stony corals did not have a clear response. Both sponge taxa appeared to moderately prefer higher nitrate values, while stony corals indicated a small preference for lower values. All three taxa exhibited a moderate preference for lower phosphate concentrations.
Conclusions
The scarcity of data concerning the distribution of key habitat-forming fauna represents an obstacle to conservation efforts. We found that highly suitable habitat for demosponges, glass sponges, and stony corals likely occurs throughout the study area, particularly on large terrain features including seamounts, guyots, ridges, and escarpments of the Salas y Gómez and Nazca ridges. When previously visited during the limited expeditions to the area, these taxa were found to support abundant and diverse ecosystems housing a wide array of associated species (e.g., Comité Oceanográfico Nacional de Chile, 2017). It is our hope that these models will inform expedition planning and future research, improve our understanding of the niche and distribution of key taxa, and be considered in a science-based spatial management plan for the region. Anthropogenic disturbance in the deep sea is increasing at an alarming rate, making it imperative to enact strong, permanent protection before these communities are irrevocably damaged.