Awake fMRI reveals a specialized region in dog temporal cortex for face processing
1
Department of Psychology, Emory University

,

Atlanta, GA

,

USA
2
Comprehensive Pet Therapy

,

Atlanta, GA

,

USA
Published

Accepted

Received
Academic Editor
Subject Areas

Keywords

fMRI

,

Dog

,

Face area
Copyright

©

2015

Dilks et al.

Licence

This is an open access article distributed under the terms of the Creative Commons Attribution License, which permits unrestricted use, distribution, reproduction and adaptation in any medium and for any purpose provided that it is properly attributed. For attribution, the original author(s), title, publication source (PeerJ) and either DOI or URL of the article must be cited.
Cite this article

2015

.

Awake fMRI reveals a specialized region in dog temporal cortex for face processing

.

PeerJ

3

:

e1115

https://doi.org/10.7717/peerj.1115
Abstract
Recent behavioral evidence suggests that dogs, like humans and monkeys, are capable of visual face recognition. But do dogs also exhibit specialized cortical face regions similar to humans and monkeys? Using functional magnetic resonance imaging (fMRI) in six dogs trained to remain motionless during scanning without restraint or sedation, we found a region in the canine temporal lobe that responded significantly more to movies of human faces than to movies of everyday objects. Next, using a new stimulus set to investigate face selectivity in this predefined candidate dog face area, we found that this region responded similarly to images of human faces and dog faces, yet significantly more to both human and dog faces than to images of objects. Such face selectivity was not found in dog primary visual cortex. Taken together, these findings: (1) provide the first evidence for a face-selective region in the temporal cortex of dogs, which cannot be explained by simple low-level visual feature extraction; (2) reveal that neural machinery dedicated to face processing is not unique to primates; and (3) may help explain dogs' exquisite sensitivity to human social cues.
Introduction
For social animals, faces are immensely important stimuli, carrying a wealth of information, such as identity, sex, age, emotions, and communicative intentions of other individuals (Bruce & Young, 1998; Tate et al., 2006; Leopold & Rhodes, 2010). Given the importance of face recognition for social animals, it is perhaps not surprising that humans and monkeys have dedicated neural machinery for processing visual face information discrete from the neural machinery responsible for processing nonface visual information, such as for scenes, bodies, and objects (Gross, Rocha-Miranda & Bender, 1972; Desimone et al., 1984; Perrett et al., 1988; Tsao, Moeller & Freiwald, 2008; Kanwisher & Dilks, 2013). But what about other social animals, especially non-primates, like dogs? Dogs are a special case because they are both highly social with each other and have an additional evolutionary history with humans through domestication. As such, dogs may have evolved mechanisms especially tuned to social cues and therefore may have specialized neural machinery for face processing (Hare & Tomasello, 2005; Kaminski, Schulz & Tomasello, 2012; Miklosi & Topal, 2013).
Behavioral evidence suggests that dogs may indeed process facial information (Racca et al., 2010; Somppi et al., 2014), but the neural mechanisms underlying the dogs' behavior could be very different than humans or monkeys. For example, face recognition in dogs might rely on purely associative mechanisms, associating a face with a meaningful outcome (e.g., food). If so, then one would not expect face-specific processing in visual cortical areas, but rather activation in reward areas. Alternatively, dogs may have evolved specialized neural machinery for face recognition, and thus one would expect face-selective regions in visual cortex.
To test these competing hypotheses about face-specific processing, using fMRI, we scanned six awake, unrestrained dogs (Berns, Brooks & Spivak, 2012). To obtain high-quality fMRI data, each dog (i) completed 2–4 months of behavioral training to teach them to hold still during scanning, and (ii) had a custom-made chinrest to help minimize head movement. During scanning, dogs were presented with movie clips of human faces, objects, scenes, and scrambled objects (dynamic stimuli) and static images of human faces, dog faces, objects, scenes, and scrambled faces (static stimuli) on a projection screen placed in the rear of the magnet (Fig. 1 and Video S1).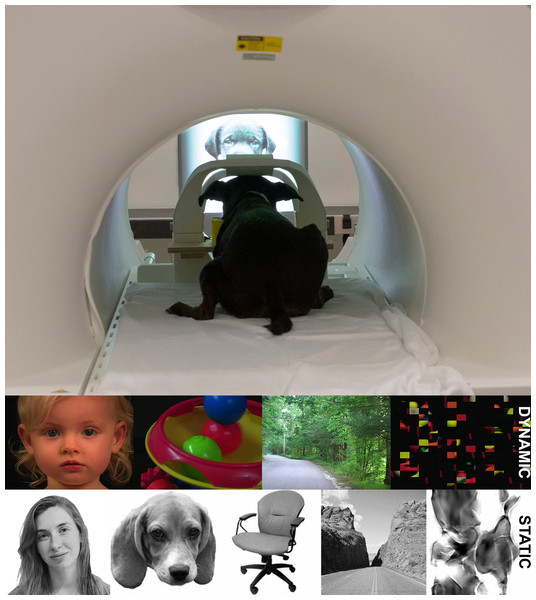 Results
The DFA was detected in the right hemisphere in all six dogs, but differed slightly in the medial-lateral direction: Four dogs exhibited a DFA more medially, while the other two dogs exhibited a DFA more laterally. Next, a region-of-interest (ROI) of 5 mm radius was centered over the peak voxel within the predetermined DFA for each dog (Fig. 2), and the activity of this ROI was compared across the stimulus categories in the static stimuli runs. Crucially, data from the static stimuli runs served as the test data and were independent from the data used to define the DFA. First, we found no significant difference in activation between human and dog faces in the DFA (t(5) = 0.82, p = 0.44), and thus collapsed across these two categories. Second, to investigate face selectivity, we then compared the response to images of faces to images of objects, scenes, and scrambled faces in DFA, and found a significant category effect (F(3, 24) = 3.79, p = 0.02), with a significantly greater response to images of faces compared to objects (punc = 0.004; pBonf = 0.01), a marginally greater response than scenes (punc = 0.06; pBonf = 0.17), but no significant difference in response to scrambled faces (punc = 0.30; pBonf = 0.89) (Fig. 3A). Extraction of average timecourses from DFA to both faces and objects showed that objects decayed quickly while the response to faces was sustained, resulting in an overall greater response (Fig. 4). These findings not only reveal within-subject replicability across paradigms, but also the face selectivity of the DFA, namely its significantly greater response to faces compared to objects.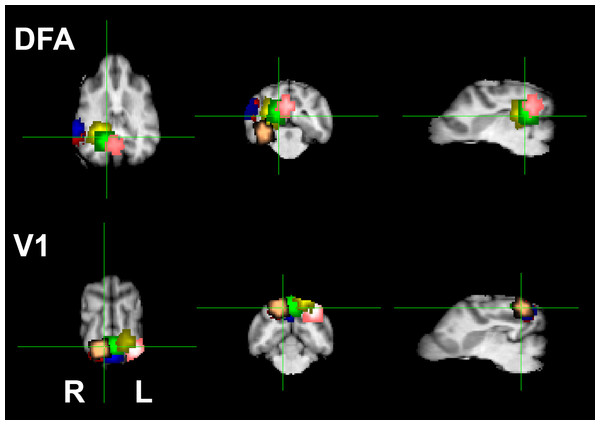 Given the similarity in low-level features between faces and scrambled faces, it is not surprising that the DFA might respond to scrambled faces, albeit less reliably than to the images of faces themselves. But might the face selectivity in the DFA be explained entirely by retinotopic information simply inherited from early visual cortex? To address this possibility, we defined the primary visual cortex (V1) (contrast: average of all stimulus categories versus baseline) using the dynamic stimuli runs for each dog. For all subjects, we found a region dorsally in the caudal portion of the marginal and endomarginal gyri, consistent with the known location of dog V1 (Beitz & Fletcher, 1993). Next, an ROI of 5 mm radius was centered over the peak voxel within the predetermined V1 for each dog, and the activity of this ROI was compared across the stimulus categories in the static stimuli runs. The face selectivity of this V1 ROI was then compared to the face selectivity of the DFA. A 2 (ROI: DFA, V1) × 2 (Condition: faces, objects) mixed-effect model revealed a significant interaction (F(1, 30) = 6.68, p = 0.02), indicating that the face selectivity of the DFA was not like that of V1, and thus not strictly a result of low-level feature extraction (Fig. 3B).


But might stimulus-correlated motion (e.g., the dogs moved more on images of faces than objects) explain our results? Stimulus-correlated motion would produce a general effect across brain regions, and we, in fact, see a differential effect between DFA and V1, thus we do not believe that stimulus-correlated motion provides an alternative account. However, to confirm that stimulus-correlated motion did not bias our results, we calculated the mean scan-to-scan motion as the Euclidean sum of differential translations in the three principal directions. The overall mean scan-to-scan motion was 0.62 mm (s.e. = 0.09), but this measure was not significantly different across the 4 stimulus categories (F(3, 24) = 0.43, p = 0.73). Thus, dogs did not move more during one category versus another, and as such stimulus-correlated motion cannot explain our results. (The same result was obtained for the censored trials (mean = 0.22 mm, s.e. = 0.03) (F(3, 24) = 0.27, p = 0.84)).
Discussion
Taken together, the above results provide the first evidence for a region in temporal cortex of dogs involved in the processing of faces. Indeed, while there is ample behavioral evidence that dogs respond to faces, our results demonstrate an evolutionary continuity in the neural substrates of a key aspect of social behavior: a face-selective region in dog cortex located in an area similar to that of humans and monkeys. The commonality of location is consistent with the commonality and importance of face processing in social species and is found in visual cortex, suggesting that dogs' ability to process faces is not simply the result of learned associations. Our finding that dogs, like humans and monkeys, exhibit specialized cortical face regions is also consistent with two other studies demonstrating that neural machinery dedicated to face processing may not be unique to primates, having been observed in sheep (Kendrick & Baldwin, 1987) and crows (Marzluff et al., 2012).
In addition to behavioral evidence suggesting dedicated neural machinery for face processing in dogs, one previous study suggested a neural signature for such processing (Tornqvist et al., 2013). Using visual event-related potentials (ERPs), this study reported differences in two ERP components between the responses to human and dog faces. This study gave the first hint of a neural substrate for face processing but also raised several questions, namely the degree to which visual recognition of any object (given only face stimuli were tested) or low-level feature extraction (given the low-level visual differences between the images of human and dog faces) might explain the results. Moreover, the limited spatial resolution of EEG precluded the precise localization of putative face-selective machinery, which is relatively small and restricted to specific regions of occipital and temporal cortex in primates. Our fMRI results build on these ERP findings and offer strong evidence for a face-selective region in dog temporal cortex, responding significantly more to images of faces than to images of objects. Furthermore, the face selectivity of the DFA was not found in dog primary visual cortex, ruling out simple low-level feature extraction as explanations for the face-selective response in DFA.
The principal limitation of our study stems from the small effect size. The average differential BOLD response was well less than 1%, which is consistent with human fMRI studies. Comparable animal fMRI studies, however, overcome the signal limitation by immobilizing the subject and scanning for much longer periods of time to decrease the effects of noise, but this approach often uses a small number of subjects – typically two. In contrast, our approach is to use awake, trained dogs who cooperatively enter the scanner and hold still for periods up to several minutes without restraint. And while the dogs do extraordinarily well, the data quality cannot approach that obtained from a sedated, immobilized monkey. Thus, the trade-off is noisier data. We compensate by using more subjects than a typical monkey study, here reporting the data from six dogs. Although we have studied larger cohorts of dogs in previous studies, watching images on a flat screen is not a natural behavior for dogs, and only a subset of the MRI-trained dogs would do so, even after months of training. Even so, the data we report here show a high degree of within-subject replicability, with some inter-subject variation in the location of DFA, some of which may be due to noise and some due to the existence of multiple face-sensitive patches. Another potential limitation of our study may be the concern about vasculature effects. In fMRI, signal changes in a given region of cortex are attributed to neuronal activity. However, it could be the case that such fMRI signal changes might arise from a draining vein, making it difficult to say whether the fMRI signal changes are due to neuronal activity in that region of cortex, in more distant cortical regions, or both. Physiological noise may hypothetically affect the detected activations; however, we have no a priori reason to suspect that the reported DFA or V1 activities are due to physiological confounds. The lack of condition-specific effects in V1 rules out a global confound, so the remaining question is whether the putative DFA activity is a result of physiologic noise on a local level. In a previous dog-fMRI study (Cook, Spivak & Berns, 2014), we investigated the inclusion of a ventricle ROI as a covariate and proxy for physiological noise and found that it was not a significant contributor to activations in the reward system. In that experiment, the stimuli represented conditioned signals to food reward, and would be expected to be far more arousing than the visual stimuli used here. Thus, the ultimate goal is to obtain converging evidence across multiple methodologies (fMRI, neurophysiology, lesion studies, etc.) and across multiple labs to definitively establish the selectivity of a given cortical region.
Finally, it is important to realize that a "baseline" does not exist in this study—at least in the same way as in human and monkey studies. Because the dogs were unsedated and unrestrained, they were periodically reinforced with treats and praise for holding still, and because this occurred between stimulus blocks, one should not interpret the baseline as "nothing". In fact, the dogs were always on task, whether a stimulus was visible or not. Although we report BOLD activations relative to an implicit baseline (Figs. 3 and 4), the statistics and inferences are based on the differential activity between stimulus conditions (e.g., faces and objects).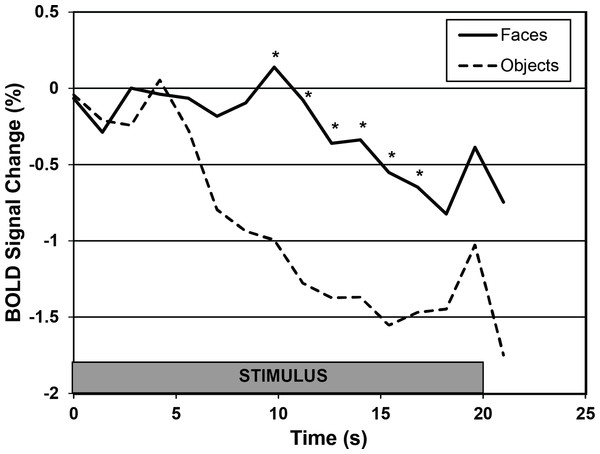 In summary, the existence of a face-selective region in temporal dog cortex opens up a whole range of new questions to be answered about their social intelligence: What is the relative impact of early socialization on dog versus human face processing? Do face regions in dogs process emotional content? Given canids' reliance on body posture for communication, are there corresponding body-selective regions? We do not know whether face-selective cortex in dogs is a result of the domestication process and dogs' resultant reliance on humans, or whether such face regions predate domestication and exist widely in other social carnivores. But the relatively small size of the dog brain, and the dedication of face processing to specific regions, highlights the importance of face processing to this species, and may explain dogs' exemplary skill at interspecies communication.
Supplemental Information
Sample videos of dynamic localizer
Extracted ROI values in DFA and V1 for all dogs
Sample consent form for participation in the study