Leadership and management influences the outcome of wildlife reintroduction programs: findings from the Sea Eagle Recovery Project
Nicholas School of the Environment, Duke University

,

Durham, NC

,

USA
Published

Accepted

Received
Academic Editor
Subject Areas

Keywords

Conservation leadership

,

Conservation champions

,

Transformational leadership

,

Wildlife reintroduction

,

White-tailed sea eagle

, Haaliaeetus albicilla ,

Organizational culture
Copyright

©

2015

Sutton

Licence

This is an open access article distributed under the terms of the Creative Commons Attribution License, which permits unrestricted use, distribution, reproduction and adaptation in any medium and for any purpose provided that it is properly attributed. For attribution, the original author(s), title, publication source (PeerJ) and either DOI or URL of the article must be cited.
Cite this article

2015

.

Leadership and management influences the outcome of wildlife reintroduction programs: findings from the Sea Eagle Recovery Project

.

PeerJ

3

:

e1012

https://doi.org/10.7717/peerj.1012
Abstract
Wildlife reintroductions and translocations are statistically unlikely to succeed. Nevertheless, they remain a critical part of conservation because they are the only way to actively restore a species into a habitat from which it has been extirpated. Past efforts to improve these practices have attributed the low success rate to failures in the biological knowledge (e.g., ignorance of social behavior, poor release site selection), or to the inherent challenges of reinstating a species into an area where threats have already driven it to local extinction. Such research presumes that the only way to improve reintroduction outcomes is through improved biological knowledge. This emphasis on biological solutions may have caused researchers to overlook the potential influence of other factors on reintroduction outcomes. I employed a grounded theory approach to study the leadership and management of a successful reintroduction program (the Sea Eagle Recovery Project in Scotland, UK) and identify four critical managerial elements that I theorize may have contributed to the successful outcome of this 50-year reintroduction. These elements are: 1. Leadership & Management: Small, dedicated team of accessible experts who provide strong political and scientific advocacy ("champions") for the project. 2. Hierarchy & Autonomy: Hierarchical management structure that nevertheless permits high individual autonomy. 3. Goals & Evaluation: Formalized goal-setting and regular, critical evaluation of the project's progress toward those goals. 4. Adaptive Public Relations: Adaptive outreach campaigns that are open, transparent, inclusive (esp. linguistically), and culturally relevant.
Introduction
Wildlife reintroductions are complex, expensive, and time-consuming. Worse, they are statistically unlikely to succeed, as repeated audits have shown (Clark & Westrum, 1989; Griffith et al., 1989; Kleiman, 1989; Fischer & Lindenmayer, 2000; Reading, Clark & Kellert, 2002; Lipsey & Child, 2007; Seddon, Armstrong & Maloney, 2007; Reading, Miller & Shepherdson, 2013). They are also the only way to restore an extirpated species to its prior home in cases where natural recolonization is impossible or unlikely, and for this reason, reintroductions remain an essential tool in conservation (Tear et al., 1993; Ostermann, Deforge & Edge, 2001).
Methods
I drew on data from multiple sources—interviews, observations, archival records, publicity documents, scientific publications, internal reports, and multimedia materials—as well as two traditions of inquiry: the case study and grounded theory methods. This approach relied on interviews with human subjects, and was approved by the Texas A&M University Institutional Review Board under IRB Protocol #20080131.
Selection of focal project
I chose the Sea Eagle Recovery Project because of its length (>40 years), status at the time of research (ongoing), success, and relative celebrity within the country (Scottish Natural Heritage, 1995; Royal Society for the Protection of Birds, 2006; Scottish Natural Heritage, 2007; Scottish Natural Heritage, 2008; British Broadcasting Company, 2008; Evans et al., 2009). Of further benefit was the fact that the reintroduction took place in four discrete phases: a pilot study in Fair Isle, the first phase in the Inner Hebrides, the second in Western Scotland, and the third in Eastern Scotland. These discrete phases allowed me to compare shifts in leadership and management across the length of the project, providing a natural experiment that gave insight into how different approaches might have influenced outcomes.
Data collection
I conducted face-to-face, in-depth, semi-structured confidential interviews with verbally consenting, voluntary participants who had been full-time project employees for at least three months during any phase of the reintroduction program. I asked about individual interviewee's experience with sea eagles during, before, and after the reintroduction, as well as the organizational structure of the project during the individual's time of employment, and the overall experience of working with the project (for a full list of guiding questions, see Appendix S1). I also asked interviewees to recommend other potential interviewees (the "snowball method"; Goodman, 1961).
In interviews, I made use of a modified logic model framework, based in the Gugiu & Rodriguez-Campos semi-structured interview protocol (2007), to guide the interview process. This method consisted of a series of introductory questions which ask basic information about the interviewee, followed by a series of open-ended questions intended to encourage the speaker to speak freely about their experiences. I set no time limit for the interviews. This approach allowed me to collect detailed accounts of the program and work in-depth with my interviewees to gain an understanding of organizational culture (Lincoln & Guba, 1985; Erlandson, 1993).
I conducted interviews with 13 interviewees in various locations (convenient to the interviewee) across Scotland, but eliminated two candidates post hoc. This is because one interviewee turned out to have worked for less than three months on the reintroduction (and therefore did not meet the criteria for inclusion), and because one interviewee's recordings were entirely lost due to technical failure.
I therefore conducted 17 total interviews, but after two eliminations, only 15 of these were ultimately used. I also conducted follow-up interviews via Skype with four of the six most experienced interviewees (those who had worked through at least two phases of the reintroduction); two were excluded because of schedule unavailability.
In addition to interviews, I gathered documents including but not limited to public outreach papers and pamphlets, children's education books, curricular materials, internal and external newsletters, newspaper and internet articles, blog posts, books, informational and recruitment brochures, DVDs, recorded TV programs, community flyers, and other informational packets either presented by or related to the project. I collected these items from archival collections at the Royal Society for the Protection of Birds (RSPB) Scotland headquarters, the Scottish Natural Heritage (SNH) offices, a variety of wildlife centers located around the country, and from private collections.
Data analysis
Manual typology
Extracting useful information from qualitative data first necessitates organizing the collected data into discrete groups or categories (Caracelli & Greene, 1993; Stake, 1995; Creswell, 2007). I began by grouping my interviews, documents, and notes into broad, meaningful types (e.g., children's books; brochures; journal articles; scientist interviews; non-academic texts). I then read and analyzed each document, identifying and highlighting ("tagging") recurrent concepts to create a preliminary data chart ("typology") (Caracelli & Greene, 1993; Creswell, 2007). As I read, I tagged discrete and overlapping passages, words, or phrases that described a particular thought, idea, or concept. This process matches the overall approach that both Stake (1995) and Creswell (2007) suggest for conducting either grounded theory or traditional case study research.
My tagged and highlighted passages resulted in an initial list of over 57 discrete ideas, concepts, and experiences; I then grouped these discrete experiences into a shorter list of eight categories (see: Experience Type Codes, Table 1). I then tagged discrete, descriptive characteristics within each Type (e.g. 'It was really quite helpful having our supervisor around a lot.' would have been categorized as Contact with Supervisor/Frequent/Positive; see Experience Characteristic Codes, Table 1).
| Experience Type (ET) codes | Descriptive Experience Characteristic (EC) codes |
| --- | --- |
| Contact with Supervisor (CS-) | Frequent (F) ‖ Infrequent (I) |
| | Positive (+) ‖ Negative ($) ‖ Neutral (N) |
| Position/Job Duties (JD-) | Autonomous (A) ‖ Non-autonomous (Na) |
| | Primary (P) ‖ Secondary (S) |
| | -Fieldwork (Fw) |
| | -Administrative work (Aw) |
| | -Public Relations work (PRw) |
| | -Supervision of Others (So) |
| Relationship with Coworkers (RC-) | Shared Responsibilities (SR) ‖ Divided Responsibilities (DR) |
| | Egalitarian (E) ‖ Hierarchical (H) |
| Goal-Setting and Evaluation Process (GSE-) | Proximate (P) ‖ Ultimate (U) |
| | - Formal (L) ‖ Informal/Casual(C) |
| | - Beneficial (+) ‖ Unhelpful/Costly ($)‖ Neutral (N) |
| | - Frequent (F) ‖ Infrequent (I) |
| Contact with Public (CP-) | Positive (+) ‖ Negative ($) ‖ Neutral (N) |
| | Frequent (F) ‖ Infrequent (I) |
| Public/Media Relations (PR-) | Internally Generated (Y)‖ Externally Generated (X) |
| | -Positive (+) ‖ Negative ($) ‖ Neutral (N) |
| | -Frequent (F) ‖ Infrequent (I) |
| Program Progress (PP-) | Good (G) ‖ Poor/Bad (B) ‖ Neutral (N) |
| Program Performance (PO-) | Good (G) ‖ Poor/Bad (B) ‖ Neutral (N) |
Once I completed this process for all of my collected documents, interviews, multimedia, and texts, I created a final data chart encompassing all the concepts, their characteristics, and the strength of their recurrence across multiple data sources. The typology I extracted from that final data chart is presented in Table 1.
Digital typology
After the construction of a manual typology, I imported all interviews and digital documents into NVivo 10, a qualitative analysis software program, and then used the manual typology as a guideline for inductive digital analysis. This approach afforded me the opportunity to code more precisely and to explore the data with greater nuance, including queries and cross-tabulations of thematic overlap (Auld et al., 2007; NVivo, 2013).
Results
Interviews averaged 45 min, and all took place at times and locations of the interviewee's choice.
Interviewee demographics
Interviewees had worked an average of 18.3 years on the Sea Eagle Recovery Project, and had lived in Scotland an average of 30.8 years (more than half of interviewees were lifelong residents of Scotland). Six interviewees had worked through more than one phase of the reintroduction; four had served during the earliest phases of the project (1968–1990) and ten had served during the latter phases of the project (1990 onward). Nine of eleven interviewees were men (Table 2).
| Gender | Employer during Sea Eagle Recovery Project | Length of time living in Scotland | Years working with Sea Eagle Recovery Project | Phases* involved |
| --- | --- | --- | --- | --- |
| M | RSPB | 40 years | 41 | All |
| M | SNH | 20 years | 19 | 2 + 3 |
| M | SNH | Whole life | 19 | 2 + 3 |
| M | RSPB | 20 years | 8 | 1 + 2 |
| M | RSPB | Whole life | 1 | 2 + 3 |
| M | SNH | Whole life | 10 | 2 + 3 |
| M | Several | Whole life | 41 | All |
| F | RSPB | Whole life | 15 | 2 + 3 |
| M | SNH | 5 years | 25 | 2 + 3 |
| M | RSPB | 20 years | 25 | 1, 2, 3 |
| F | RSPB | 4 years | 2 | 3 |
*
Phases refer to the following: 1959—Pilot Phase (Fair Isle) 1975–1985—Phase 1: the Hebrides (Isle of Rum) 1993–1998—Phase 2: Western Scotland (Wester Ross) 2007–2012—Phase 3: Eastern Scotland (Fife).
Most were currently employed by the Royal Society for the Protection of Birds (n = 4) or Scottish Natural Heritage (n = 3); one interviewee was employed by Forestry Commission Scotland; and the remainder (n = 3) were self-employed. During their work on the reintroduction, six of the 11 interviewees had been employed by the Royal Society for the Protection of Birds, the majority remainder (n = 4) had been employed by Scottish Natural Heritage. One interviewee had been employed by multiple organizations, beginning with the Nature Conservancy Council.
Interview summary
Interviewees referenced a number of recurrent human and organizational issues that may have been influential to project outcomes, comprising four overall experience themes, which are highlighted below:
Theme 1: Leadership/Management, Hierarchy & Autonomy
Theme 2: Goals, Targets & Evaluation
Theme 3: Public Relations/Community Outreach
Theme 1: leadership & management, hierarchy & autonomy
More than half of interviewees' total reports on the nature of their experience described contact with supervisors as infrequent (n = 4, 57%) but positive (n = 4, 57%). These reports were made concurrent with verbal and nonverbal expressions of neutrality. More than half of interviewees described their work as autonomous (n = 6; 54.5% of respondents) and all interviewees could clearly identify their own supervisors and key project advisors, as well as accurately detail the chain of command above and below them (n = 11; 100% of respondents). Most interviewees' reports described the structure of their program as hierarchical (n = 45, 51.72%). Most reports on the nature of work within the reintroduction also described specialized assignments and clear task division between employees (n = 43, 65%). Early phase participants reported slightly less hierarchy and greater autonomy than later-phase participants, but the difference was marginal, and overall descriptions were consistent throughout reintroduction phases (Fig. 2).

Theme 2: goals, targets & evaluation
Interviewee reports on the nature of goal-setting differed by phase, with Pilot Phase (1968) reports tending to describe the goal-setting process as infrequent (n = 3, 100% of reports) and ad hoc (n = 4, 100% of reports) while Official Phases (1975–2012) reports tended to describe the process consistently as infrequent (n = 6, 100% of reports) but formal and bureaucratic (n = 30, 94% of reports).
The frequency with which interviewees discussed the impact of long-term goal setting increased with the project's progression, with the organizational influence of goal-setting arising four times more frequently with reference to the last phase of the project than the first (Pilot Phase frequency—1; Phase 1 frequency—1.75; Phase 2 frequency—3.28; Phase 3 frequency—4).
Evaluation likewise was discussed more frequently as influential to success in the latter phases of the project (Pilot Phase—1.75; Phase 1—2.75; Phase 2—3.29; Phase 3—3.71). Descriptive reports of the nature of evaluation were consistent across phases: evaluation within the project was generally formal (n = 27, 77% of reports), took place on an ongoing or ad hoc basis (n = 20, 67% of reports), and was handled internally (i.e., did not involve an external agency or auditor; n = 10, 100% of reports) (Fig. 3).

Theme 3: public relations & community outreach
Conflict and Persecution was by far the most frequently reported Public Relations issue (n = 102 reports), nearly doubling in frequency-of-mention between the first and last phases of the project (Phase 1 frequency: 3.25; Phase 4 frequency—5.28) across all four phases of the project. Tourism was a distant second in frequency of discussion (n = 12 reports). Concurrent with interviewees' reports of conflict and persecution were verbal and nonverbal expressions of feelings of frustration, sadness, anger, and/or resignation/fatigue (Fig. 4).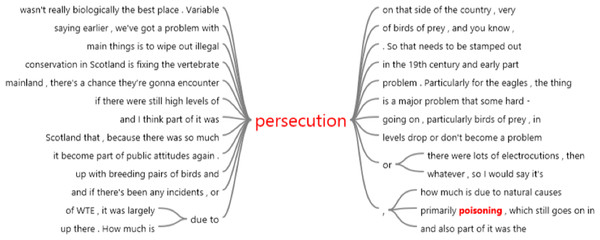 Discussion
Four critical factors in the human and organizational foundation of the Sea Eagle Recovery Project contributed to its success, helping it to overcome the challenges of limited biological knowledge, poor early support, and failures in its experimental pilot. These four critical success factors are common to all reintroduction projects, and the manner in which the Sea Eagle Recovery Project executed them could serve as an example for wildlife reintroductions worldwide.
Management Recommendations
Although these findings are limited by their exploratory (and therefore preliminary) nature, I draw on them to suggest four recommendations about best practices for organizational management in wildlife reintroduction projects:
Leadership & management: Reintroductions benefit from dedicated, consistent, long-term 'champion-style' leadership.

Autonomy & hierarchy: Reintroductions benefit from a clear hierarchical framework that serves as support for high employee autonomy in the field.

Goal-setting & evaluation: Reintroductions benefit from consistent, regular evaluation of progress toward formally established goals.

Public relations & outreach: Reintroductions benefit from adaptive public relations strategies that are open, transparent, inclusive (esp. linguistically), and culturally relevant.
Conclusion
The potential value of examining the conservation initiative (in this case, the reintroduction program) as an organization has been deeply neglected in the conservation literature. Despite its exploratory nature, the findings of this study suggest a specific and potentially fruitful direction which future research could take. Following studies could examine, broadly and comparatively, the differential outcomes of conservation initiatives with differing leadership and management styles. Such a comparative study would be a useful contribution to the growing wealth of literature related to conservation leadership and management.
Supplemental Information
Semi-Structured Interview Survey Protocol (with Informed Consent Statement)
Raw data