Ask me anything journal club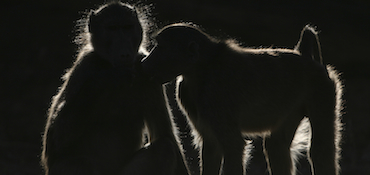 - on animal social behavior and Baboon personality
Who: Dr. Alecia Carter is a Junior Research Fellow at Churchill College, University of Cambridge. She is interested in animal personalities, and she is exploring the influence of personality in the use of social and personal information for decision-making. Dr. Harry Marshall is an Associate Research Fellow at the University of Exeter. He is interested in animal social behavior and how the costs and benefits of this vary between social group members under different environmental conditions.
What: Studying baboons in Namibia with the ZSL Institute of Zoology's Tsaobis Baboon Project, the researchers examined how personality influenced whether baboons solved foraging tasks and whether they then showed others how to solve the tasks. The peer-reviewed results will be published on Tuesday, March 11, here at PeerJ.
Dr. Carter and Dr. Marshall will be answering your questions live, regarding their article on baboon personality, or any other topic of relevance to animal social behavior.
Image: Alecia Carter/Tsaobis Baboon Project, CC-BY
When: March 11, 2014 02:00 am PDT
How: Ask a question using the orange button below at any time before or during the event
Where: Return here to follow all questions & the PeerJ Twitter feed
---