People's expectations and experiences of big data collection in the Saudi context
1
Department of Computer Information Systems, King Abdulaziz University

,

Jeddah

,

Saudi Arabia
2
Labuan Faculty of International Finance, Universiti Malaysia Sabah

,

Malaysia
3
Faculty of Engineering and IT, University of Technology Sydney

,

Sydney

,

Australia
Published

Accepted

Received
Academic Editor
Subject Areas

Keywords

Big Data

,

Privacy

,

Social computing

,

Emerging technologies
Copyright

©

2022

Binsawad et al.

Licence

This is an open access article distributed under the terms of the Creative Commons Attribution License, which permits unrestricted use, distribution, reproduction and adaptation in any medium and for any purpose provided that it is properly attributed. For attribution, the original author(s), title, publication source (PeerJ Computer Science) and either DOI or URL of the article must be cited.
Cite this article

2022

.

People's expectations and experiences of big data collection in the Saudi context

.

PeerJ Computer Science

8

:

e926

https://doi.org/10.7717/peerj-cs.926
Abstract
Big data and machine learning technologies facilitate various business intelligence activities for businesses. However, personal data collection can generate adverse effects on consumers. Big data collection can compromise people's sense of autonomy, harming digital privacy, transparency and trust. This research investigates personal data collection, control, awareness, and privacy regulation on people's autonomy in Saudi. This study used a hybrid analytical model that incorporates symmetrical and asymmetrical analysis via fuzzy set qualitative comparative analysis (fsQCA) to analyze consumer sense of autonomy regarding big data collection. The symmetrical shows that 'Control' had the most significant influence on people's autonomy, followed by 'Big data collection' and 'Awareness'. The fsQCA shows 84% of the variation, explaining the people's autonomy.
Introduction
The flow of information has significantly increased because of progression in web 2.0 technologies, which has given a massive quantum of data: 'Big Data' (Lichy, Kachour & Khvatova, 2017). Since the third parties are likely to gain access to the consumer's private information, which is thought to be the prevalent concern associated with Big data (Helveston, 2016), there can be two situations wherein personal data is compromised. Firstly, when the private information is intentionally shared by the provider, which can entirely be confined (Crawford & Jason, 2014). In the second situation, the provider is unable to secure valuable information. Privacy contains multifaceted aspects. Hence, immeasurable damage is realized due to privacy invasions. Autonomy (AUTONOM) is a crucial aspect of privacy: a space where an individual can make decisions independent of others. Autonomy is "the ability of consumers to make autonomous and informed decisions without excessive power or undue influence" (Drumwright, 2018).
Many online consumers are ignorant that some entities are collecting their online web activities. For instance, when surfing the web or during online shopping, there are different levels, such as web browsers, affiliation companies, social network platforms, ad-serving agencies etc., where the consumers' data is being acquired. Big data significantly focuses on consumer analytics (Erevelles, Fukawa & Swayne, 2016). Nevertheless, the experts must evaluate the impact of all these data and sources of information on consumers' data control, for example, privacy (CPRC). The consumer should have full authority to maintain their data. Consumer trust needs to be established in the online setting.
The commercial perspectives of big data are generally emphasized in the existing literature (Erevelles, Fukawa & Swayne, 2016; Berntzen & Krumova, 2017). Nonetheless, we need to gain an insight into the concept of consumer autonomy being central to big data collection. Consumer behaviour is a promising area with forthcoming opportunities that the big data revolution will likely bring (Hofacker, Malthouse & Sultan, 2016). In the age of big data, the consumers' perceptions of autonomy and choice need to be further investigated (André et al., 2018). Consumer purchasing decisions and behaviour are the benefits that businesses can realize owing to big data. Yet, the entire value potential of big data can be revealed by thoroughly understanding the dynamics of consumer autonomy.
In the digital day and age, the key challenges experienced by the consumers are this exchange between the benefits that personalization can offer and remaining autonomous decision-makers. The consumers are left with limited opportunities to make well-informed and deliberate choices, mainly when AI is likely to enhance the likelihoods of covert influence and manipulation. In terms of an individual scale and democracy on a large scale, consumer autonomy is vulnerable to possible threats (Grafanaki, 2016; Mik, 2016; Susser, Roessler & Nissenbaum, 2019).
The transactions in-store and online, social media, web browsing, and sensor-enabled devices are various sources to generate consumer data. Consumers provide their data by adhering to online terms and conditions at many places. Nonetheless, these consumers may be unaware of its intended use and that their data is being acquired. The consumer has not been granted permission for data collection purposes across various other instances. The privacy and integrity of the consumers might have been breached subject to their privacy boundaries.
As explained above, big data collection creates several ethical questions regarding consumers' autonomy and their expectation of using their data. Businesses have various reasons and motivations to collect and use personal consumer data. Therefore, the primary aim of this study is to determine the multiple factors that can cause consumer autonomy concerns and how these concerns can be mitigated. Focusing on the Saudi context, the research question this study is investigating is, what factors impact people autonomy and control of their online data collection?
This structure of the paper is organized as follows: the following "Literature Review" review the prior research on big data, then the theoretical foundations are hypotheses development are discussed in "Theoretical Framework and Hypotheses Development". "Research Methodology" presents the research methodology. "Results" presents the results, and finally, the study concludes with a discussion.
Literature Review
Besides generating content through sensor networks or business deals, for example, purchase transactions and sales queries, another huge quantum of sources, such as mobile transactions, Internet clicks, social media and user-generated content, tend to generate the big data (George, Haas & Pentland, 2014). In addition, as quoted in Lichy, Kachour & Khvatova (2017), "the health care, genomics, operations management, engineering, finance and the industrial Internet have a significant role in the big data occurrence". Nonetheless, there is a likelihood of disregarding consumers' privacy concerns during big data acquisition. The actual privacy concerns relate to significance and ease of personalization (Aguirre et al., 2015). Researchers are highly focused on privacy in big data due to its relevance (Aguirre et al., 2015). Data can be collected through numerous sources and contexts, and the subject may not be informed of data acquisition. The growing number of resources, such as digital technologies, is an apparent reason for massive data generation. Digital technologies are progressing fast, resulting in more and more data. Hence, a desperate change has been noticed in an individual's behaviour associated with internet use (Buttarelli, 2015).
E-commerce is rapidly advancing with its own merits and demerits. The maintenance of privacy, risks of taking consent and the adjustment of analytical marketing techniques are included among the disadvantages. It also entails products and services exclusion and price discrimination techniques. Besides offers for the consumers, the online market is uplifted by the growing progress in data acquisition, including buyer attitude and online browsing as well as the social network, significance of products and the history of credit.
Besides effectively utilizing the information for constructive analysis, the use of big data to identify the concealed information about the attitude of users is defined as big data consumer analytics (Hofacker, Malthouse & Sultan, 2016). Owing to technology, a usual consumer has emerged as an individual who keeps on generating structured, unstructured, and conventional data types. The dimensions above contribute to delineating big data and are referred to as three V's, i.e. volume, velocity and variety (Lycett, 2013; Erevelles, Fukawa & Swayne, 2016). The speed with which big data is immensely developed via digital processing is velocity. The enormity feature is known as volume. New formats and data diversity is something known as variety. The images, words, videos and non-numeric forms are different data shapes, and hence the same cannot be conditional on usual statistical analysis. Several risks are associated with the commercial uses of big data. Security breaches and other allied risks can be experienced subject to massive personal data (Romanosky, Hoffman & Acquisti, 2014). Users are generally not likely to follow consent-based restraints if the data comes from various streams. When the data is meant to suggest pricing, sales and employment matters, a possibility is there that users will not wholly adhere to anti-discriminate laws (Helveston, 2016).
There are diverse aspects in the literature related to Big Data. For instance, privacy-related concerns (Boyd & Crawford, 2012), big data and its applications (Cerf, 2014), the consequences of the digital tools and technologies (Mantelero, 2014), the moral principles of collecting personal data (Bodrov & Ramzaev, 2015) in addition to financial trade-offs (Reed & Dongarra, 2015). In recent advancements, big data has played a role in accelerating economic growth. It has also yielded new ideas and efficiency enhancement. As a result, both providers and consumers realize the benefits (Helveston, 2016). A negative impact on the consumer's health may be one of the shortcomings (Helveston, 2016).
The global economy is data-driven (Zhang, Yang & Appelbaum, 2015), enabling researchers to gain insight into the important information produced with every minute. The consumer behaviour choice should also be taken into consideration.
Theoretical Framework and Hypotheses Development
Business ethics have been driven by the principles of social contract theory (Donaldson & Dunfee, 1994). Generally, this theory has three vital elements: harmony among moral agents, consent of the individual, and a method or device through which an agreement is obtained (Dunfee, Smith & Ross, 1999). Characterized by the beliefs of social contract theory, the integrative social contract theory was developed by Donaldson & Dunfee (1994), delineating the shared norms within the industry by adhering to which the organizations will be bound to behave ethically. Some organizations may have legal requirements to have privacy policies within some territorial boundaries. Besides improving the consumer's trust, the information privacy concerns may also be curtailed because of the privacy disclosure policy of an organization (Culnan & Armstrong, 1999). Nevertheless, individuals must show consent (control) for the data collection and be aware of their data usage (awareness) so that the policies may be effective. Primarily, individuals might express their consent for the collection of their data; but they may be ignorant about control of their data for "re-use," which leads to a perceived breach of privacy (Culnan, 1995).
As far as information boundary theory is concerned, Stanton (2003) emphasizes that the willingness of an individual to share the data would be determined by his/her observation about the organization that acquires the data, its expected usage, and any likely benefit of sharing the data (Stanton, 2003).
With the help of boundary "opening" and "closing" behaviours, individuals control the exposure of personal data (Stanton & Stam, 2003). Upon finding/realizing some benefit, an individual may be ready to share information (boundary opening). However, the data (boundary closing) can be withheld to mitigate risk.
Within an organization, an individual's trust can be influenced by Information privacy concerns (Malhotra, Kim & Agarwal, 2004). In the event of a trust deficit, the consumers may stop all future transactions with an organization if their information privacy concerns are beyond their patience. In line with informational boundary theory, consumers may exhibit boundary closing behaviours if the perceived risk is substantial. The study on e-commerce and trust has revealed that a mediating factor between the willingness to execute online transactions and information privacy concerns is none other than trust (Van Slyke et al., 2006).
Derived from the literature review, elements of awareness and control are common in the information boundary theory and the social contract theory concerning an individual's concept of information privacy. Figure 1 shows the research model.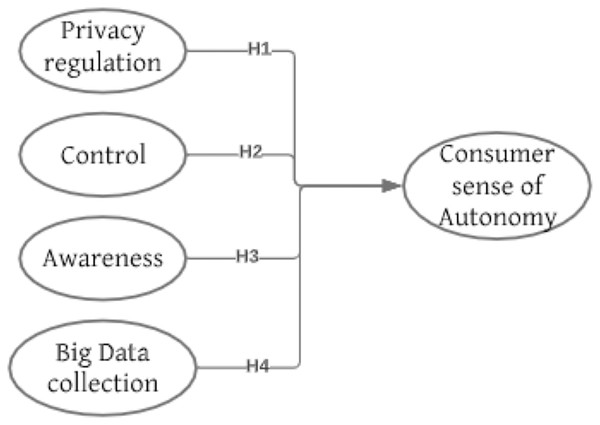 Privacy regulation (PRVREGU)
According to Vinuesa et al. (2020), the pace of technological development is one of the biggest challenges hampering sustainable AI development since individuals and governments do not appear to maintain this. Several key sustainability risks related to legislation and governance were indicated by Henriksson & Grunewald (2020), for instance: human rights violations (e.g., privacy, modern slavery), regulatory (e.g., failure to live up to the EU General Data Protection), diversity, unfairness, and inclusion (e.g., General Data Protection Regulation (GDPR)) besides non-adherence to ethical codes (e.g., responsible sales practice). Consumer welfare can be compromised owing to the lack of legislation regarding AI development. Nonetheless, in terms of consumers' decision-making, privacy regulation is believed to be of extreme significance. This is attributed to Vinuesa et al. (2020), who claimed that "if not regulated properly, the consumer opinion towards a certain product or political cause might be influenced by the immense quantity of data generated by the people."
According to Bleier, Goldfarb & Tucker (2020), the privacy regulation aims to regulate the extent to which consumers' personal information can be tracked and used. For instance, the effectiveness of online advertising has reportedly been reduced by the privacy regulation (Goldfarb & Tucker, 2011), which can be important for consumer welfare because such a level of advertising is not looked-for. According to Pan (2016), consumer privacy is not threatened by acquiring and storing a single piece of quantitative data. However, it is instead the qualitative presumptions about a person's qualities, such as their level of intelligence, personality traits, race, employee worth, and political identity, that are the focus. "When it is unclear which data is yielding which inferences, all obtained data might intrude on autonomy and disclose personal facts" (Pan, 2016). This data was obtained and used without the consumer's knowledge or consent, and it was done in a shady manner. Since algorithms may intelligently identify unique patterns that humans cannot see, this compromises the customers' autonomy.
Similarly, Grafanaki (2016) acknowledged that privacy is not confined to a single person; instead, it also holds "a public value in a manner that a democratic society and modernization both call for the individual autonomy and compromising it will bring damage to that society." As far as online decision-making is concerned, the role of autonomy needs to be carefully examined concerning both the consumer and society.
Individual autonomy is significantly based on the level of privacy (Rossler, Glasgow & Glasgow, 2005; Lanzing, 2019). Therefore, regulation and legislation must be in place to protect privacy so that consumers' autonomy could not be considerably affected, provided this course of action will dampen businesses' opportunities to make use of data produced and examined about individual consumers. This has greater significance owing to the distinct mismatch among powerfully conveyed privacy concerns of consumers and their negligent actions about privacy.
According to Singla et al. (2017), consumers give high importance to the advantages realized from giving away personal data as compared to the privacy itself. It was also noticed that consumers would happily exchange information if they were likely to obtain personal benefits that may have a role in their consumer experience. The Cambridge Analytical case is a recent happening, due to which consumers have become cautious and anxious. Consequently, public awareness regarding collecting and using personal data has increased (Isaak & Hanna, 2018). Due to a lack of knowledge about constantly evolving AI data-driven technologies, it can be claimed that consumers are still oblivious of data privacy concerns. Therefore,
H1: Privacy regulation has a positive effect on consumer sense of autonomy. Control and Awareness (CONT and AWARENES).
Researchers collect and store consumers' data for analysis purposes. The information privacy concerns can be determined by various factors, such as privacy research, the awareness of personal data collection and its usage (Culnan, 1995, Clarke, 1999). The consumers' ability to control their information also plays an essential role in affecting information privacy concerns (Clarke, 1999). With the acquisition of consumers' records in big data, the information privacy concerns of the consumer will be affected by the two constructs of awareness and control (Bjørlo, Moen & Pasquine, 2021). Likewise, subject to the consumer's control of their data and understanding, data usage can generate information privacy concerns. There are two sides to awareness; awareness will depict whether consumers are aware of their information acquisition and whether they are conscious of their data usage. Control also has various aspects (André et al., 2018). Consent for the provision of data and its legitimate usage are included in control related matters. The ability to withdraw consent or/and return the data is also included in the Control parameters. Moreover, the authority also restricts the re-use of data or secondary use of personal data. The information privacy concerns of an individual can be determined by the consumer awareness and control of the collection of data and its use.
H2: Control has a positive effect on consumer sense of autonomy.

H3: Awareness has a positive effect on consumer sense of autonomy.
Big data collection (BDCLLC)
A fair data collection and use policy should incorporate a mechanism to notify consumers of the data collection and its intended use (awareness). For big data, the pseudonymization, anonymization and data masking tools have been thoroughly investigated by the researchers (Pan, 2016; Isaak & Hanna, 2018). For instance, they performed a field test on smartphones, not sending personal data to central servers. Thus, information privacy concerns get abridged (Sutanto et al., 2013). If significant control of data collection practices and data usage is enabled, the privacy concerns would be moderated. By following the big data disclosure policy, consumers will become aware of the procedures to withdraw or strip any of their identifiers (André et al., 2018).
Subject to the collection and data utilization without consumer permission, it should be ensured that the shared norms of data collection and use should be developed by organizations acquiring information from consumers or prospective consumers.
A collective standard among organizations will be needed given the potential competitive advantage of gathering and using big data. The authorities concerned should implement the legislative measures.
H4: Big data collection and use positively affect consumers' sense of autonomy.
Results
249 observations were used for the analysis after removing incomplete or missing data. A total of 65% of participants were males, and females were 35%. A total of 55% of participants were 18–25 years old, followed by 35% were 26–34 years old. A total of 73% of participants spend more than 5 h per day using the Internet.
Findings from symmetrical modelling (PLS-SEM)
Discussion and Conclusion
In terms of the symmetrical results of the model, CONT had the most significant influence on the people's autonomy, followed by BDCLLC and AWARENES. On the other hand, the symmetrical findings show that PRVREGU had no impact on consumers' autonomy. In addition, the results of fsQCA were compared to the six basic principles of complexity theory in this study (Pappas & Woodside, 2021). The five causal combinations generated 84% of the variation in the fsQCA results, explaining the people's autonomy. The variance derived from the fsQCA study is more than the PLS-SEM model's explanatory potential for AUTON, 56.8%.
Additionally, Model 5 (CONT, BDCLLC, and AWARENES) articulates the most precise explanatory potential for the study's suggested outcome out of the five casual conditions. fsQCA further demonstrated that predicting AUTONOM based on just one condition or antecedent is insufficient, supporting Tenet 1. A complicated combination of CONT, BDCLLC, AWRENES, and PRVREGU is adequate for a consistently high score in the outcome condition, according to the second tenet of the recipe principle (Model 1 & Model 2, Table 4). As a consequence, Tenet 2 was also endorsed. The outcomes for tenet 3 revealed that five different models fit the desired outcome's conditions. Tenet 3 is thereby supported by the finding of alternate configurations.
Additionally, tenet 4: causal asymmetry states that a configuration for high outcome prediction isn't always the inverse of the outcome negation recipe. According to the findings, the two low AUTONO causal models were not the polar opposites of the five high AUTONOM recipes. As a result, Tenet 4 was approved. Tenet 5 states that the features of other situations are used to evaluate each precedent's perspective. As indicated in Table 5, CONT, AWARENES, PRVREGU, and BDCLLC played both positive and negative functions (see Table 4) in forecasting AUTONOM. As a result, Tenet 5 was approved. Tenet 6 states that each configuration should represent the views in some but not all cases and that each configuration's coverage should be less than one. Table 5 shows that the coverage of each solution was less than 1, indicating that Tenet 6 was supported. Almost universally, six key principles of complexity theory have been validated by the proposed causal models. As a result, the use of complexity theory inveterates the intricate interactions of various aspects connected to CONT, PRVREGU, AWARENES, and BDCLLC in order to achieve the study's desired goal (autonomy).
The existing corpus of research is entirely based on symmetry modelling, namely structural equation modelling (SEM; Erevelles, Fukawa & Swayne, 2016; Berntzen & Krumova, 2017), primarily based on net effect modelling (Pappas & Woodside, 2021). Conversely, asymmetrical modelling is greatly limited in the big data collection and autonomy related to consumer decision making, and the absence of causally linked elements is noticeable. According to Douglas & Prentice (2019), the application of fsQCA elucidates phenomena that would be missed using symmetrical techniques. As a result, much as in real life, the data set's constructions are rather intricate and not irreversibly well-adjusted (Pappas & Woodside, 2021). For instance, customer diversification in terms of control, privacy and regulation and data collection towards consumer autonomy may not be captured in a framework examined using conservative multivariate regression techniques. Thereby, due to the restrictions of previous existing papers, which used orthodox multivariate methods such as SEM to examine differences among countries, this study employs asymmetric affiliation between concepts and introduces the influence of a construct on the output, whilst complexity theory and configurational models necessitate that researched variables be necessary (Seyfi et al., 2021).
Moreover, depending on symmetric connections may be misleading because a single effect may well not impose in all cases, casting aspersions on the prospect of asymmetric correlation between the concepts (Woodside, 2014). For example, an elevated big data collection may be sufficient to contribute to high autonomy (AUTONOM). However, if control and privacy and regulations are missing, consumers could still have a favourable perception toward people's autonomy. As a result, control may not be required for the conclusion. Therefore, requiring a different strategy acknowledges the linkages as asymmetric.
Thus, in addition to addressing the gap in the existing studies, researchers in this survey implemented a hybrid analytical model that incorporates symmetrical and asymmetrical analysis via fuzzy set qualitative comparative analysis (fsQCA) to analyze and discern the "sufficient" and "necessary" conditions for the several aspects that influence to a lower or higher degree of consumer autonomy, respectively (Seyfi et al., 2021). Therefore, the outcomes of fsQCA will help enhance prediction precision by revealing the causal models that might result in a more significant outcome. The fusion of fsQCA and symmetrical analysis (PLS-SEM) provides critical methodological weight to the argument by concentrating on consumer autonomy. People's exposure to the data collection process and its use will reduce data privacy concerns and enhance awareness.
Limitations and future work
This study has limitations like any other research study, which could be addressed in future studies. First, the data were collected in Saudi Arabia. Therefore, the generalizability of the findings is limited to one country. Second, the study didn't consider all possible factors affecting online consumer autonomy. Future researchers could use various other variables, the moderating role of gender, etc.
Supplemental Information
Questionnaire.
Raw data.