The role of software in science: a knowledge graph-based analysis of software mentions in PubMed Central
Published

Accepted

Received
Academic Editor
Subject Areas

Data Mining and Machine Learning, Data Science, Digital Libraries, Natural Language and Speech, World Wide Web and Web Science

Keywords

Knowledge graph

,

Software mention

,

Named entity recognition

,

Software citation
Copyright

©

2022

Schindler et al.

Licence

This is an open access article distributed under the terms of the Creative Commons Attribution License, which permits unrestricted use, distribution, reproduction and adaptation in any medium and for any purpose provided that it is properly attributed. For attribution, the original author(s), title, publication source (PeerJ Computer Science) and either DOI or URL of the article must be cited.
Cite this article

2022

.

The role of software in science: a knowledge graph-based analysis of software mentions in PubMed Central

.

PeerJ Computer Science

8

:

e835

https://doi.org/10.7717/peerj-cs.835
Abstract
Science across all disciplines has become increasingly data-driven, leading to additional needs with respect to software for collecting, processing and analysing data. Thus, transparency about software used as part of the scientific process is crucial to understand provenance of individual research data and insights, is a prerequisite for reproducibility and can enable macro-analysis of the evolution of scientific methods over time. However, missing rigor in software citation practices renders the automated detection and disambiguation of software mentions a challenging problem. In this work, we provide a large-scale analysis of software usage and citation practices facilitated through an unprecedented knowledge graph of software mentions and affiliated metadata generated through supervised information extraction models trained on a unique gold standard corpus and applied to more than 3 million scientific articles. Our information extraction approach distinguishes different types of software and mentions, disambiguates mentions and outperforms the state-of-the-art significantly, leading to the most comprehensive corpus of 11.8 M software mentions that are described through a knowledge graph consisting of more than 300 M triples. Our analysis provides insights into the evolution of software usage and citation patterns across various fields, ranks of journals, and impact of publications. Whereas, to the best of our knowledge, this is the most comprehensive analysis of software use and citation at the time, all data and models are shared publicly to facilitate further research into scientific use and citation of software.
Introduction
Science across all disciplines has become increasingly data-driven, leading to additional needs with respect to software for collecting, processing and analyzing data. Hence, transparency about software used as part of the scientific process is crucial to ensure reproducibility and to understand provenance of individual research data and insights. Knowledge about the particular version or software development state is a prerequisite for reproducibility of scientific results as even minor changes to the software might impact them significantly.
Furthermore, from a macro-perspective, understanding software usage, varying citation habits and their evolution over time within and across distinct disciplines can shape the understanding of the evolution of scientific disciplines, the varying influence of software on scientific impact and the emerging needs for computational support within particular disciplines and fields. Initial efforts are made to provide publicly accessible datasets that link open access articles to respective software that is used and cited, for instance, the OpenAIRE Knowledge Graph (Manghi et al., 2019) or SoftwareKG (Schindler, Zapilko & Krüger, 2020). Given the scale and heterogeneity of software citations, robust automated methods are required, able to detect and disambiguate mentions of software and related metadata.
Despite the existence of software citation principles (Smith, Katz & Niemeyer, 2016; Katz et al., 2021), software mentions in scientific articles are usually informal and often incomplete—information about the developer or the version are often missing entirely, see Fig. 1. Spelling variations and mistakes for software names, even common ones (Schindler, Zapilko & Krüger, 2020), increase the complexity of automatic detection and disambiguation. Training and evaluation of information extraction approaches requires reliable ground truth data of sufficient size, raising the need for manually annotated gold standard corpora of software mentions.

Most works concerned with recognition of software mentions in scientific articles apply manual analysis on small corpora in order to answer specific questions (Howison & Bullard, 2016; Nangia & Katz, 2017) or are limited to specific software (Li, Lin & Greenberg, 2016; Li, Yan & Feng, 2017). Automatic methods, enabling large scale analysis, have been implemented by iterative bootstrapping (Pan et al., 2015) as well as machine learning on manually engineered rules (Duck et al., 2016). However, both achieve only moderate performance. Extraction through deep learning with a Bi-LSTM-CRF (Schindler, Zapilko & Krüger, 2020) shows promise, but requires sufficient and reliable ground truth data which only recently became available.
Available corpora (Duck et al., 2016; Schindler, Zapilko & Krüger, 2020; Du et al., 2021) do not cover all available metadata features, cater for disambiguation of different spelling variations of the same software or distinguish between the purpose of the mention such as creation or usage. In SOMESCI (Schindler et al., 2021b), we have introduced a gold standard knowledge graph of software mentions in scientific articles. To the best of our knowledge, SOMESCI is the most comprehensive gold standard corpus of software mentions in scientific articles, created by manually annotating 3,756 software mentions with additional information about types of software, mentions and related features, resulting in 7,237 labeled entities in 47,524 sentences from 1,367 PMC articles.
In this work, we provide a large-scale analysis of software usage and citation practices facilitated through an unprecedented knowledge graph of software mentions and affiliated metadata generated through a supervised information extraction model trained on SOMESCI and applied to more than 3 million scientific articles. In summary, our contributions include:
A large-scale analysis of software usage across 3,215,386 scholarly publications covering a range of diverse fields and providing unprecedented insights into the evolution of software usage and citation patterns across various domains, distinguishing between different types of software, mentions as well as rank of journals and impact of publications. Results indicate strongly discipline-specific usage of software and an overall increase in software adoption. To the best of our knowledge, this is the most comprehensive analysis of software use and citation at the time.

A comprehensive knowledge graph of software citations in scholarly publications comprising of 301,825,757 triples describing 11.8 M software mentions together with types and additional metadata. The knowledge graph is represented using established vocabularies capturing the relations between citation contexts, disambiguated software mentions and related metadata and provides a unique resource for further research into software use and citation pattern.

Robust supervised information extraction models for disambiguating software mentions and related knowledge in scholarly publications. As part of our experimental evaluation, our model based on SciBERT and trained on SOMESCI Schindler et al. (2021b) for NER and classification outperforms state-of-the-art methods for software extraction by 5 pp on average. Software mentions are disambiguated and different variations interlinked, e.g., abbreviations and name- and spelling-alternatives, of the same software.
Through these contributions, we advance the understanding of software use and citation practices across various fields and provide a significant foundation for further large-scale analysis through an unprecedented dataset as well as robust information extraction models.
The remaining paper is organized as follows. Related work is discussed in the following section, whereas the Methods and Materials introduces developed information extraction methods together with datasets used for training and testing. Results: Information Extraction Performance describes the performance results obtained on the various information extraction tasks, while the Results: Analysis of Software Mentions introduces an in-depth analysis of the extracted data. Key findings are discussed in the Discussion, followed by a brief conclusion and introduction of future work.
Related Work
Requirements for large scale software citation analyses
Software mentions in scientific articles have been analyzed for several reasons including mapping the landscape of available scientific software, analyses of software citation practices and measuring the impact of software in science (Krüger & Schindler, 2020). This includes manual analyses based on high quality data, such as Howison & Bullard (2016), Du et al. (2021), Nangia & Katz (2017) and Schindler et al. (2021b) but also automatic analyses such as Pan et al. (2015), Duck et al. (2016) and Schindler, Zapilko & Krüger (2020). While manual analyses provide highly reliable data, results often only provide a small excerpt and do not generalize due to small sample size. Analyses based on automatic data processing, in contrast, allow to make more general statements, for instance, regarding trends over time or across disciplines, but require high quality information extraction methods which themselves rely on reliable ground truth labels for supervised training. Table 1 compares manual and automatic approaches with respect to sample size and quality indicators such as IRR or FScore. Manual approaches provide substantial to almost perfect IRR, but are restricted to less than 5,000 articles at most. Howison & Bullard (2016), for instance, analyzed software mentions in science by content analysis in 90 articles. The main objective of Du et al. (2021) and Schindler et al. (2021b) was to create annotated corpora of high quality for supervised learning of software mentions in scientific articles. Du et al. (2021) provide labels for software, version, developer, and URL for articles from PMC, which is multidisciplinary but strongly skewed towards Medicine (see Table A11) and Economics. Schindler et al. (2021b) exclusively used articles from PMC, and provide labels for software, a broad range of associated information, software type, mention type, and for disambiguation of software names.
Early automatic approaches, such as Pan et al. (2015) and Duck et al. (2016) achieve only moderate recognition performance of 0.58 and 0.67 FScore, but perform analyses on up to 714 K articles raising doubts about the reliability and generalizability of the described results. Pan et al. (2015) used iterative bootstrapping—a rule-based method that learns context rules—as well as a dictionary of software names based on an initial set of seed names. Duck et al. (2016) employ machine learning classifiers on top of manually engineered rules. With the availability of large language models and deep learning methods for sequence labeling, Schindler, Zapilko & Krüger (2020) employed a Bi-LSTM-CRF and achieved an FScore of 0.82 for the recognition of software mentions in scientific articles. Most recently, Lopez et al. (2021) compare Bi-LSTM-CRF and SciBERT-CRF models on Softcite (Du et al., 2021) software entity recognition at paragraph level. They achieve 0.66 and 0.71 FScore, respectively, and further improved performance to 0.74 FScore by linking entities to Wikidata during postprocessing.
Beside high recognition rates, and thus the basis for reliable statements, Schindler, Zapilko & Krüger (2020) demonstrate the capabilities of semantic web technologies for information structuring and data integration with respect to analyzing software usage. They provide a KG—SoftwareKG—representing a source for structured data access for analyses. Moreover, the performed disambiguation of software mentions allows to draw conclusion on the level of software rather than software mentions, even with spelling variations. Finally, the linked nature of KG allows the integration of external data sources enabling further analyses. Following the direction of Schindler, Zapilko & Krüger (2020), large scale analyses of software mentions in scholarly articles requires (1) robust information extraction and disambiguation techniques that achieve results on the level of manual approaches, and (2) the provision of all data in a standardized way that allows the reuse and the integration of external knowledge.
Previous analyses of software in scholarly publication
As described above, previous studies on software mentions in scholarly publication were based on high quality manual analyses with small sample sizes or automatic analyses with large sample size but moderate quality. Most studies report basic descriptive statistics such as the number of overall mentions given in Table 1 or the distribution of software mentions over different software. Howison & Bullard (2016) report an average of 3.2 software mentions per article in Biology while Duck et al. (2016) report 12.9. In PMC, Duck et al. (2016) report an average of 5.5 mentions while Du et al. (2021) report 1.4 and Schindler et al. (2021b) 2.6. Similarly, Pan et al. (2015) and Schindler, Zapilko & Krüger (2020) report values of 2.7 and 2.6 for sub-selections of PLoS. Interestingly, Du et al. (2021) report a low value of 0.2 for Economics and Duck et al. (2016) a high value of 30.8 for Bioinformatics. Some of those results clearly show disciplinary differences, while others such as the PMC discrepancies might be attributed to methodical differences, for instance, publication time of articles in the investigated sets. Articles within Du et al. (2021) are significantly older than articles in Schindler et al. (2021b) which could result in a lower average software usage. This is also supported by the finding of Duck et al. (2016) who analyze software mentions up to 2013 and report a rapid increase in software usage between 2000 and 2006.
Other findings regard the distribution with respect to unique software names. Pan et al. (2015) report that 20% of software names account for 80% of mentions. Duck et al. (2016) report that 5% of software names account for 47% of mentions, and, similarly, 6.6% of entities are responsible for 50% of mentions in Schindler et al. (2021b). Therefore, all prior studies agree that the distribution of software within articles is highly skewed, pointing towards the fact that there are few pieces of general purpose software such as SPSS or R that support the scientific infrastructure. On the other hand, there is a high number of rarely mentioned software that is likely to be highly specialized towards problems and domains. Duck et al. (2016) perform an analysis of domain specific software to investigate disciplinary differences in software usage. They were able to confirm the existence of domain specific software and showed, for instance, that 65% of software used in medicine was not used in other analyzed domains. They also analyze journal specific software and applied a clustering analysis with respect to journal and software names.
Completeness of software mentions and citations is of high importance since employed software can only be clearly identified with sufficient information. Providing information such as the specific version or developer of software is, therefore, essential for provenance of study results or to provide credit for the creation of scientific software. For this purpose, guidelines for proper software citation have been established (Smith, Katz & Niemeyer, 2016; Katz et al., 2021) that recommend the following information to be included: name, author, version/release/date, location, venue, and unique ID, e.g., DOI. Howison & Bullard (2016) analyze the completeness of software mentions with respect to formal citation 44%, version 28%, developer 18% and URL 5%. Based on the given information they were able to locate 86% of software online, but only 5% with the specific version. Completeness analyses by Du et al. (2021) showed that a total of only 44% of software mentions include further information with version being included in 27%, publisher in 31%, and URL in 17%. An analysis by Schindler et al. (2021b) showed that 39% mentions included a version, 23% a developer, 4% a URL and 16% a formal citation. Overall, the studies show that software mentions are still often informal and incomplete, but exhibit some notable differences between reported values. The problem of formal and informal software citation was also included in the automatic analysis of Pan et al. (2015) who identified formal citations for recognized software by automatic string pattern matching. They report a correlation between the number of mentions of a software and its formal citation frequency.
Availability of used software is crucial as studies conducted with commercial software might not be reproducible by other research teams. Furthermore, implementation details for non open source software cannot be reviewed by the scientific community and can potentially bias study results. Therefore, different studies included analyses regarding commercial, free and open source software usage. Pan et al. (2015) found that of the most frequent software mentions, which were labeled for availability manually, 64% are free for academic use. Moreover, they found that free software received more formal citations than commercial software. Howison & Bullard (2016) include an analysis for accessibility, license and source code availability and report that commercial software is more likely to be mentioned similar to scientific instruments (including details on developer and its location) while open access software is more often attributed with formal citations. However, they note that there is no overall preferred style for any group of software. Schindler, Zapilko & Krüger (2020) show a comparison of software mention numbers for free, open source and commercial software over time that showed no clear trend towards a specific group.
Beside analyses about software in scholarly publications in general, several studies focus on particular aspects such as specific software or the relation of software usage to bibliometric measures. Li, Lin & Greenberg (2016), analyze mentions of the specific engineering software (LAMMPS) and found that the given information is often not complete enough to determine how it was applied with respect to version, but also regarding software specific settings. Li, Yan & Feng (2017) analyze software citation for R and R packages. They report inconsistency resulting from a variety in citation standards, which are also not followed well by authors. Overall, they show a trend towards more package mentions, and find a comparably high number of formal citations for R packages (72%). Mayernik et al. (2017) discuss data and software citation and conclude that there is no impact measure for software available. Allen, Teuben & Ryan (2018) analyse the availability of source code in astrophysics and report that it could only be located for 58% of all mentions. Pan et al. (2018) analyze the completeness for usage statements of three specific bibliometric mapping tools and find provided versions in 30% of cases, URLs in 24%, and formal citations in 76%. They argue that the high formal citation might be due to good author citation instruction given by the tools. Howison & Bullard (2016) report that articles published in high impact journals mention more software. The platform swMATH (Greuel & Sperber, 2014) aims to establish a mapping of software used in mathematical literature by manually labeling software present in zbMATH articles pre-filtered through an automatic, heuristic search.
Most studies agree that software citation is important but often incomplete and report similar trends about the frequency of software mentions. They deviate, however, when it comes to particular numbers such as software mentions per article. This could be the result of (1) discipline specific citation habits, (2) small sample sizes in analysis studies, and (3) insufficient quality of automatic information extraction. A large scale study based on reliable automatic information extraction is required to draw conclusions across different disciplines.
Results: Information Extraction Performance
Entity recognition and classification
Performance for software recognition on development set, used to select the best model, is summarized in Table 5. All values are provided by mean and standard deviation for repeated training to assess the effect of randomization in the training process of deep learning models. We found that both BERT based models perform better than ML,sw,opt in both Precision and Recall. As described above, MSB,sw,plain and MBB,sw,plain were initially compared with the same set of default hyper-parameters and only the best of the two models was optimized. In the initial comparison, MSB,sw,plain showed better performance than MBB,sw,plain with respect to Recall and was therefore selected. We found that hyper-parameter optimization for MSB,sw,plain improved performance further, especially in terms of Recall. A detailed overview of all performed hyper-parameter tests for the Bi-LSTM-CRF (ML,sw,−) is given in supplementary Tables A1–A6 and for SciBERT (MSB,sw,−) in supplementary Tables A7–A10. The chosen hyper-parameter configuration for MSB,sw,opt is summarized in Table 6. It outperforms baseline by 7 pp on the development set and is selected as the best model for the task.
Precision
Recall
FScore
Model compare (n = 499)
S

O

M

E

S

CI

Baseline
0.82
0.77
0.79
ML,sw,opt
0.829 (±0.016)
0.762 (±0.011)
0.794 (±0.004)
MBB,sw,plain
0.862 (±0.005)
0.808 (±0.011)
0.834 (±0.006)
MSB,sw,plain
0.863 (±0.016)
0.844 (±0.009)
0.853 (±0.003)
MSB,sw,opt
0.868 (±0.006)
0.865 (±0.012)
0.866 (±0.008)
| Parameter | Value |
| --- | --- |
| Learning Rate (LR) | 1e−6 |
| Sampling | all data |
| Dropout | 0.2 |
| Gradient clipping | 1.0 |
The test set performance of MSB,sw+info,opt on all classification tasks is summarized and compared to the baseline in Table 7. Software extraction and overall entity recognition perform well with respective FScores of 0.883 (±0.005) and 0.885 (±0.005). The entity types Extension, Release, and AlternativeName, for which the fewest data samples are available, show a lower performance compared to the other entities. Software types are recognized with a good overall performance of 0.800 (±0.008). Especially the types Programming Environment and Operating System are recognized with high performance. The software type Application is also recognized well, but PlugIn shows a lower performance of 0.5 (±0.023). Mention type classification also performs well with 0.806 (±0.01). Here, mention type Allusion is the most challenging target with 0.522 (±0.038) FScore, while all other targets are extracted with a satisfactory performance.
MSB,sw+info,opt
S

O

M

E

S

CI

baseline
Precision
Recall
FScore
FScore
n
Software
0.876 (±0.011)
0.891 (±0.009)
0.883 (±0.005)
0.83
590
Abbreviation
0.884 (±0.046)
0.879 (±0.025)
0.881 (±0.029)
0.71
17
AlternativeName
0.719 (±0.09)
0.734 (±0.061)
0.726 (±0.075)
0.25
4
Citation
0.868 (±0.018)
0.855 (±0.027)
0.861 (±0.015)
0.87
120
Developer
0.867 (±0.025)
0.901 (±0.029)
0.883 (±0.023)
0.88
110
Extension
0.331 (±0.045)
0.688 (±0.099)
0.444 (±0.053)
0.60
5
License
0.799 (±0.056)
0.83 (±0.061)
0.814 (±0.057)
0.80
14
Release
0.499 (±0.049)
0.771 (±0.027)
0.605 (±0.042)
0.82
9
URL
0.858 (±0.028)
0.979 (±0.006)
0.914 (±0.016)
0.95
53
Version
0.927 (±0.014)
0.94 (±0.006)
0.934 (±0.008)
0.92
190
Entities
0.875 (±0.009)
0.897 (±0.009)
0.885 (±0.005)
0.85
1,112
Application
0.788 (±0.012)
0.865 (±0.014)
0.824 (±0.007)
0.81
415
OS
0.933 (±0.036)
0.852 (±0.023)
0.89 (±0.023)
0.82
30
PlugIn
0.652 (±0.05)
0.408 (±0.029)
0.5 (±0.023)
0.43
78
PE
0.924 (±0.014)
0.998 (±0.005)
0.96 (±0.009)
0.99
63
Software Type
0.792 (±0.010)
0.818 (±0.01)
0.800 (±0.008)
0.78
590
Creation
0.784 (±0.043)
0.805 (±0.024)
0.794 (±0.029)
0.64
53
Deposition
0.71 (±0.058)
0.821 (±0.018)
0.761 (±0.036)
0.65
28
Allusion
0.603 (±0.058)
0.464 (±0.046)
0.522 (±0.038)
0.29
71
Usage
0.832 (±0.013)
0.883 (±0.011)
0.857 (±0.007)
0.80
438
Mention Type
0.794 (±0.016)
0.823 (±0.01)
0.806 (±0.01)
0.74
590
Relation extraction
The results for RE by the Random Forest as well as the original SOMESCI baseline on both, development set and test set are given and compared in Table 8. In summary, high recognition rates with 0.94 FScore are observed, showing improvements resulting from our extension and optimization to the baseline. At the level of the individual relation types, high FScores (>0.9) are observed for all types except for Release F1 = 0.82, PlugIn F1 = 0.78, and Specification F1 = 0.71. This indicates that relations between two software entities, i.e., PlugIn and Specification, are particularly challenging classification targets.
Development set
Test set
Random forest
S

O

M

E

S

CI

Random forest
S

O

M

E

S

CI

Label
P
R
F1
F1
n
P
R
F1
F1
n
Abbreviation
1.00
1.00
1.00
1.00
17
1.00
0.94
0.97
0.97
17
Developer
0.94
0.97
0.95
0.95
87
0.95
0.95
0.95
0.94
111
AltName
1.00
1.00
1.00
0.83
6
1.00
1.00
1.00
1.00
4
License
0.88
0.70
0.78
0.57
10
1.00
0.93
0.96
0.64
14
Citation
0.94
0.97
0.95
0.83
90
0.94
0.92
0.93
0.86
121
Release
0.78
1.00
0.88
0.80
7
0.88
0.78
0.82
0.53
9
URL
0.93
0.94
0.94
0.80
70
0.98
0.92
0.95
0.89
53
Version
0.97
0.99
0.98
0.96
139
0.98
0.96
0.97
0.95
190
Extension
1.00
1.00
1.00
1.00
5
1.00
1.00
1.00
0.89
5
PlugIn
0.77
0.66
0.71
0.60
35
0.85
0.72
0.78
0.65
39
Specification
0.67
0.67
0.67
0.60
6
0.83
0.62
0.71
0.22
8
Overall
0.93
0.94
0.93
0.87
472
0.95
0.92
0.94
0.88
571
Software disambiguation
As described above, the disambiguation first uses a perceptron model to estimate linking probabilities between entity pairs and afterwards uses the probabilities for agglomerative clustering. The optimized perceptron predicted links between software entities with a Precision 0.96, Recall 0.90, and FScore 0.93. These values were estimated on the test dataset with a threshold of t = 0.5 based on the sigmoid output. The perceptron performance does influence the final performance, but during clustering entity pairs plink(EA,EC) < t can still be linked even if they have not been predicted by the perceptron through a chain of closer entities: plink(EA,EB) > t, plink(EB,EC) > t. Therefore, evaluation of the perceptron alone does not allow to make statements about disambiguation quality.
For the actual agglomerative clustering based on single linkage performance was estimated with a Precision of 0.99, Recall of 0.96, and FScore of 0.97 at a optimal threshold of t = 0.00347 for clustering all gold label data in a common features space with all extracted data. The SOMESCI baseline results are reported with Precision of 0.99, Recall of 0.96 and FScore of 0.97, but as noted above they cannot be compared to the results reported here. The small threshold is a clear indicator of how densely populated the feature space is considering all extracted software mentions. In total 605.364 clusters of software were generated.
Results: Analysis of Software Mentions
Discussion
Reliable method for software mention extraction
Information extraction is based on reliable ground truth data from SOMESCI (IRR F = 0.93, κ = 0.82). In combination with state-of-the-art language models for scientific articles such as SciBERT, we achieve state-of-the-art performance for software mention extraction in scientific articles. Regarding software recognition, the SOMESCI baseline was outperformed by a notable margin raising performance to F = 0.88 from F = 0.83 by 5 pp. This also represents an increase over the previous automatic approaches by Pan et al. (2015) with F = 0.58, Duck et al. (2016) with F = 0.67, Lopez et al. (2021) with F = 0.74 and Schindler, Zapilko & Krüger (2020) with F = 0.82, however, as prior work was based on different data bases, the results are not directly comparable. With respect to the chosen NER architecture, SciBERT achieved superior recognition rates when compared with Bi-LSTM based models, illustrating the effectiveness of SciBERT for mining scholarly documents. Interestingly, Lopez et al. (2021) report notable lower performances for both architectures, which we believe results from the less reliable input including PDF conversion artifacts and ground truth annotation.
Regarding the identification of additional information (F = 0.89, baseline F = 0.85) as well as software type (F = 0.80, SOMESCI baseline F = 0.78) and mention type (F = 0.81, SOMESCI baseline F = 0.74), we achieve better performance than baseline results, especially considering that the reported results already take error propagation into account, which is not the case for baseline results. We also achieve better performance for Version, Developer, and URL as reported for the Softcite corpus (Du et al., 2021; Lopez et al., 2021), however, these results cannot be directly compared due to different training and test data. Moreover, the study presented here is the first that classifies software mentions according to both, software and mention type. However, we found that software type PlugIn and mention type Allusion were extracted with lower performance as other types. In both cases the lower performance is mainly due to confusion with another class (Application and Usage) with corresponding higher prior probability but a difficult to distinguish context. This is consistent with the results of the manual annotation performed for SOMESCI (Schindler et al., 2021b), where annotation IRR was also found to be lowest for these classes.
RE and disambiguation for software mentions has, to the best of our knowledge, not been evaluated as part of any scientific investigation of software mentions in scholarly publications besides the SOMESCI baseline. We improve RE performance by 6 pp from F = 0.88 to F = 0.94. RE performs well for additional information related to software, but it is challenging (F = 0.71–0.78) to predict relations between software entities such as the plugin-of relation. This was expected since, by definition, additional information is always related to another entity while two software entities are not necessarily related to each other. Consequently, relations between software are rare compared to the overall number of software mentions. It should also be noted that both, baseline and our reported results, do not take error propagation from entity recognition to RE into account. Overall, we achieved superior recognition rates compared to previous, automatic, large scale analyses of software mentions in scholarly publications and conclude, thus, that software mentions and additional information extracted by our pipeline are more reliable.
With respect to disambiguation, it has to be noted that previous large scale analyses did not consider spelling variations but only summarized software mentions with equal (or similar) spellings. As this is the first study to use disambiguation methods for software mentions, comparison to state-of-the-art results is not possible. However, the disambiguation baseline performance for SOMESCI of F = 0.97 was matched, while considering a much denser feature space. In small data sets, only few spelling variations (and other features used for disambiguation) of software exist; this number increases with the size of the data set. This means that finding reliable boundaries between different software gets harder with increasing size of the data set as rare spelling variations (and other features) of software with similar names tend to overlap stronger with increasing amounts of data. In our case, the training data set contains 3,756 software mentions from 637 different software while information extraction resulted in almost 12 M software mentions. To recreate this effect for the training data, we included a large set of augmented, fictional software names. With respect to evaluation, the negative effect of increasing sample size on the ability of finding reliable boundaries between different software prevents the transfer of quality statement from training to inference dataset. To counteract this effect, we included the manually disambiguated training data in the inference dataset, determined the clustering threshold, and evaluated the quality based on those samples. Same as for RE, it should be noted that error propagation from the previous information extraction steps influence disambiguation performance. The additional augmented samples simulate the effect of false positives, but we cannot estimate to what extent they are successful at suppressing resulting errors. False negative samples do in practice directly influence linking quality.
Due to computational and space complexity we chose a single linkage-based clustering, which is known for semantic drift away from cluster means, but enables an efficient implementation when distance between all pairs is pre-computed and sorted up to a given threshold. Average linkage would have required to re-compute the average distance of all clusters in each step. An initial evaluation showed only marginal differences between single and average linking based clustering for disambiguation, which seemed sufficient for the task at hand. Overall, disambiguation provides reasonable results; 440 different spellings for SPSS1 , have, for instance, been discovered. For the different spellings python and Python (see Table 12), however, no common cluster could be determined. While this clearly represents an error when considering the string only, our machine learning based distance additionally considers the context and accompanying entities such as developer and URL. We believe that the reason here is the low number of spelling variations that prevent the semantic drift to counteract misleading linking probabilities. In consequence, this would mean that more frequent software (with many different contexts and spelling variations) are more likely to be disambiguated than less frequent software (with fewer contexts and spelling variations), which may have had a reinforcing effect on the power law distribution of mentioned software. For software with more frequent spelling and context variations, in contrast, this might result in more false positives and thus overestimate the software use. For Excel, 54 spelling variations were found that represent 152 K mentions. From those only about 150 K mentions (from 13 different spellings) can be considered as correctly classified. The remaining mentions contain software such as Firefox (1,162, 0.7%) or F (185, 0.1%). A similar phenomenon could be observed for Stata. While disambiguation performance is satisfactory the algorithm can be improved in future work, for instance, by including information on PlugIns provided with software names after an initial disambiguation of the PlugIn names. However, this would lead to higher run-time requirements because a higher number of mention contexts needs to be considered to cover rare features such as PlugIns. The number is currently limited to n = 6.
SoftwareKG: knowledge graph of software mentions
SoftwareKG represents the largest dataset of software mentions and related metadata in scholarly publication. It contains 11.8 M software mentions of over 605 K different software automatically extracted from more than 3 M Open Access articles from PMC. Moreover information from PubMedKG was integrated to allow bibliometric analyses. The KG was created by re-using established vocabularies for data representation, such as schema.org, BIBO, and DCT and is available as JSON-LD under Creative Commons Attribution at Zenodo (Schindler et al., 2021a). The published version of the KG only contains information available under open licenses. As this is not the case for most of the bibliometric data, those parts where excluded from publication.
SoftwareKG consists of over 300 M triples describing the properties and relations between more than 55 M resources. A summary of the properties of SoftwareKG is given in Table 14. In SoftwareKG, we employ frequency-based confidence values to provide a transparent way to analyse errors that originate from information extraction or author spelling variations. For names, developers as well as software type and other information we included those confidence values in the reification statements to allow further analyses.
| Property | Frequency |
| --- | --- |
| Triples | 301,825,757 |
| Resources | 55,953,270 |
| Distinct Types | 12 |
| Distinct Properties | 47 |
| Reification Statements | 2,042,076 |
| Type | Frequency |
| --- | --- |
| nif:String | 22,066,759 |
| schema:Person | 20,373,227 |
| schema:Organization | 7,063,708 |
| schema:ScholarlyArticle | 3,215,346 |
| rdf:Statement | 2,042,076 |
| irao:Software | 605,352 |
| skg:SoftwareVersion | 380,234 |
| skg:JournalInformation | 134,369 |
| bibo:Journal | 15,338 |
| dct:LicenseDocument | 4,748 |
| skos:Concept | 303 |
| skos:ConceptScheme | 27 |
SoftwareKG facilitates the large-scale analysis of software mentions in scholarly publications and allows to give insights into the role of software in science. A tutorial to recreate all tables and figures from the KG is included in the Supplemental Material (https://github.com/f-krueger/SoftwareKG-PMC-Analysis). This article contains first analyses and sketches the potential for more elaborate studies. This includes the creation of an impact measure for scientific software but also to provide a software mapping for science in general such as swMath (Greuel & Sperber, 2014) for Mathematics.
The role of software in science/PMC
Software mentions
With an average of 3.67 software mentions per article, our result confirms previous studies, ranging from 2.6 (Schindler et al., 2021b) to 3.2 (Howison & Bullard, 2016) to 5.5 (Duck et al., 2016) in different subsets of PMC. With over 605 K, the number of different software from over 11.8 M mentions is high, given that 3.2 M articles were investigated. This number probably overestimates the actual number of software used in science, due to errors from information extraction and disambiguation. The distribution of software mentions per software shows that only few software are used in a large number of articles and thus play a major role in science. This distribution partly confirms the general trend but shows even higher skewness as previously reported statements about the distribution of software mentions in scholarly articles (Pan et al., 2015; Duck et al., 2016). This amplified trend could be the result of software name disambiguation which was not applied in previous studies and highlights the importance of considering all spelling variations for software usage analysis. The most frequent software (7 from the top 10) are mainly used for statistical data analysis. A closer look at the domain specific distribution of the top 10 software revealed domain specific differences as it characterizes all of the analysed domains uniquely. The software SHELXL and SAINT, for instance, are most frequently but exclusively used in Chemistry, Materials and Physics, whereas Excel is frequently used in almost all other research domains except for them. Overall, an increased role of applications that can be controlled via scripts rather than point and click software can be observed. Schindler, Zapilko & Krüger (2020) reported that the Programming Environment R superseded SPSS in an excerpt of articles in PLoS One from 2017. While a similar trend can be seen here, the particular ranks did not change yet, see Fig. 15. While the usage of SPSS, Excel, and SAS remained constant over the last 5 years at the relative level, usages of R and Python increased. Considering articles from PLoS One only, R replaced SPSS at the top position, which confirms the result and suggests journal specific software preferences.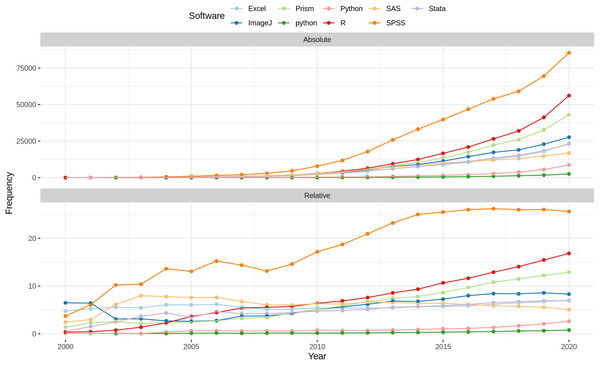 Article level statistics
The importance of software increased in recent years for both, the actual investigation as well as the reporting within the scholarly publication. This is suggested by the increasing trend of including software mentions into the textual description and the increasing number of different software per article. A reason could be the growing complexity of data driven analyses requiring more software to be employed, coupled with a high awareness about transparency and reproducibility in general. The positive correlation between journal rank and number of different software supports this by suggesting strong rigor in the description of the analysis2 . The positive correlation of the number of software and the number of citations per article indicates a growing appreciation of the traceability of the described research processes. The observed domain specific difference in software usage could reflect the role of data in those domains. While in Arts and Humanities and Economics only few articles mention only few software suggesting an important role of manual data analysis, in Mathematics, Computer Science, Decision Science, and Agricultural and Biological Science many articles mention multiple different software indicating automatic and complex data collection and analyses.
Software citation completeness
Citation completeness has not improved over recent years, that is, the information provided to identify the particular software is not provided to full extent. This suggests a lack of awareness about the necessity to understand and reproduce research processes and its requirement for identifying particular software versions. When comparing formal citation, i.e., providing a formal literature reference, with in-text mention, we found contrary trends both over time and across categories. Here, we consider in-text citations as complete when version and developer are included, while formal citations are always considered sufficient. Following this definition, only about 38% of the articles in 2020 allow the unique identification of the used software based on the provided information. Software usages in the technical domains use formal citation more frequently in contrast to research domains related to medicine. We believe the reason to be that the latter more frequently employ other materials and devices and adapt the same citation style for all research objects other than scholarly publications. With respect to journal rank, we see a growing trend in the usage of formal software citation with rising rank and a contrary trend in the completeness of in-text software mention. We believe that this supports the statement of increasing rigor in scholarly review and the request for more traceable descriptions in higher quality journals. This is also supported by the slight increase of formal citation frequency and contrary decrease of citation completeness for rising citation count. In summary, our results indicate that software citation standards, as suggested by Katz et al. (2021) or Smith, Katz & Niemeyer (2016) have not been adequately adapted in scholarly publications, yet.
Types of software mention
Each software mention is classified according to mention type indicating the reason why the software was mentioned within the scholarly article and software type providing information about the particular kind of software. Analyses of disciplinary differences showed that most software is created and published by scientists from the technical domains (Mathematics, Engineering and Computer Science). This reflects the domains with the highest interest in automating complex calculations combined with the programming knowledge to implement new suited software applications. Further, software allusions without actual usage are also more common within scholarly publications from those disciplines indicating more description, discussion and comparison between software entities. On the other hand there are disciplines which mostly reuse existing scientific software such as Material Science, Nursing, Dentistry, and Veterinary.
When looking at the different kinds of software, we found an increasing trend of using PlugIns over recent years, see supplementary Fig. A1. The relative frequency of Application mentions, in contrast, declined. We see this as an indicator toward the usage and extension of established software frameworks. With respect to the host software, we found a notable overlap in the most frequently used software (Table 10) and the most important host software (Table 12). This includes the Programming Environments R and Matlab, but also the Applications ImageJ, Stata, and Excel. More than 19 K PlugIns were found for the Programming Environment R making it the most important host software for scientific investigations. While this number seems high at first glance, inspecting the two most important package repositories, CRAN (https://cran.r-project.org/) and Bioconductor (https://www.bioconductor.org/) with 18,312 and 2,042 unique packages3 indicates these results to be plausible. However, the comparably low FScores for the identification of PlugIns might have resulted in an overestimation of less frequent PlugIns. This growing interest in the Programming Environment R and its package universe was previously investigated (Li, Yan & Feng, 2017; Li & Yan, 2018), some results of which are confirmed here. In particular, we see an overlap for the most frequent R packages.
Software creation and deposition
By analyzing the mention types Creation and Deposition, we were able to identify the most important targets for the publication of software. On the one hand this includes web services such as GitHub for general purpose software and CRAN for R packages, on the other hand software journals. Specifically designed repositories to host and assign Digital Object Identifiers (DOI) to scientific research data such as Zenodo are not commonly used for publishing scientific software with a share of <1% of depositions. While this allows to provide researchers with recommendations on where to publish their software and/or the corresponding description, it also enables the search for software. Moreover, the identification of Creation and Deposition allows to track the scientific software landscape with low latency. It has to be noted that the second most frequent deposition URL is the result of a false software mention detection and its propagation.
Summary
The importance of software in science has been growing in recent years, in both relative and absolute numbers. The awareness for providing all necessary information to enable the identification of the particular software by others, in contrast, remains unchanged. Software citation principles have not been adapted yet in scholarly publications. However, articles in higher ranked journals tend to more formal software citations instead of in-text citations, which reflects recent software citation recommendations (Katz et al., 2021). Articles in lower ranked journals provide more complete in-text citations, i.e., Version and Developer. We identified domain specific software citation habits: Medicine related domains prefer in-text citation, while technical domains tend to more formal citations. Domain independent as well as domain specific software is used across most research domains, the top 10 of which represent domain specific characteristics. Most software mentioned in scholarly articles are software for statistical analysis, such as SPSS, R, and Prism. Interestingly, we identified an increased interest in the usage of PlugIns, which allow the problem specific extension of general purpose software. The most important representatives of them are the Programming Environments R, MATLAB, and Python. Finally, we confirmed GitHub as a central repository for scientific software, for both publication and re-use, as previously assumed (Russell et al., 2018).
Limitations of the study
The study presented in this article involves complex data processing and information extraction steps, where each of these is subject to limitations that are discussed in the following.
The articles in SoftwareKG cover a broad range of scientific disciplines, however, the selection of PMC as primary data source implies a bias towards Medicine. While the training data set SOMESCI itself is also taken from PMC, the selection might introduce domain specific biases. Therefore, the trends reported here, might be different if we look at a domain such as computer science in general. For instance, BLAST is the second most used software in computer science in our set, which would likely not be true when looking at computer science in general, as this software is primarily used in Bioinformatics. Another bias in the selection of articles is towards open access, as all article are from the PMC Open Access subset. Researchers choosing to publish under open access might also be supporters of open data movement and, therefore, have a better awareness for attributing other open work such as software.
For information extraction and disambiguation, we found high performance for all employed machine learning methods. However, it is important to consider error propagation between them. The given evaluation for software and mention type classification does take error propagation into account, but the results for RE and entity disambiguation do not. Therefore, the F = 0.94 performance for RE might overestimate the true performance as it relies on results of F = 0.885 entity recognition. For disambiguation we model the effects of false positive entities by data augmentation, but it is hardly possible to tell if this completely suppresses their effect and false negatives do directly influence disambiguation performance. Moreover, evaluation for disambiguation has proven to be challenging and the gold standard dataset alone is no good predictor for performance on large scale entity disambiguation. We, therefore, adjusted our evaluation method to take the large scale data into account, but note that further systematic evaluation is required for entity disambiguation.
Our analyses regarding domains, journal rank and citation count rely on external data and are, thus, influenced by their quality. For instance, only 86.7% of our data was covered by Scimago data on domains and journal rank. Regarding the external citation data we assumed completeness but in case article citations were missing from the list they were not included in the computed citation count. In case one article would miss completely it would be counted with a citation count of 0.
An analysis of the article types (skg:documentType) contained in SoftwareKG showed that aside the largest group of research articles it also covers review articles and abstracts, but also case reports or letters and several other categories. For each of the groups we did find publications that cite software, but the prior probability for software mentions across article types differs. Therefore, it is important to note that the reported results are not specific to only research articles but to the distribution of scientific publications indexed in the PMC OA subset. The information about the article type, however, is included in the KG enabling others to analyse these effects.
Conclusion
In this article we presented the largest analysis of software usage in scholarly publications over the longest duration covering articles between 1990 and 20214 . Software mentions were identified by automatic information extraction covering NER for software and associated information, software and mention type classification, and RE between software and additional information. Moreover, in difference to previous studies, software names were automatically disambiguated to allow reasoning about software usage even when the same software is referred to by different names. The analysis covers 3.2 M articles, mentioning a total of 11.8 M software.
From the extracted information, we created SoftwareKG, the largest KG describing software mentions in scholarly publications. The KG was created by re-using existing vocabularies and published under an Open Access license to support further research on the role of software in science. SoftwareKG consists of over 300 M triples and contains information about software, accompanying information as well as information about articles, journals, authors, and publishers.
We performed a large-scale analysis on SoftwareKG with respect to publication date, article domain, journal rank and article citation count in order to identify differences and trends in software mention. Overall, the results show that software usage has increased over the course of the last 10 years, but we found no change in citation completeness during this time frame. This leads us to believe that there is still a lack in awareness for software citation in science, even so software citation standards have been available and promoted since 2016, e.g., by Smith, Katz & Niemeyer (2016).
We also identified a trend towards using extendable software architectures instead of stand-alone software, especially in combination with the Programming Environment R. Overall, their design allows an easy extension and offers high flexibility. Especially adding functionality and publishing new packages or PlugIns is facilitated. We could also show this trend by analyzing which infrastructure is used by scientists to publish their software, with GitHub playing a central role, but CRAN and Bioconductor being especially important in combination with R.
In general, we show that there are many domain specific peculiarities in software usage. We showed that the amount of software usage as well as the most used software per domain and their application purpose varies significantly. Domain specific citation habits are also reflected in preferences to formal and informal software citation, ranging from 5–40% in formal citation contrasting to 1–35% software citation completeness with opposing trends.
Overall, we believe that SoftwareKG provides a valuable data source for further investigations about the role of software in science. One finding that should be further investigated is, for instance, the influence of journal rank on formal citation of software usage. The trend could, for instance, be explained by higher review quality and journal policies enforcing better software citation. Further insights could allow to give better recommendations for journals to encourage software citations habits.
In future work SoftwareKG can build the basis to further explore software usage in science, for instance, as a mapping for available software and newly established software. It can also be used to track software usage and establish software impact measures. Furthermore, the investigation of formal software citations should be extended to include the citation targets. Currently, formal citations are recognized, but not further analysed. In the future we need to include a distinction between software citation and software article citation and model citation completeness within formal citations.
Software and Data
We implemented all machine learning models for information extraction in Python 3.9.5 (Van Rossum & Drake, 2009), utilizing the following packages: PyTorch 1.9.0 (Paszke et al., 2019) for deep learning models, Huggingface transformers 4.9.1 (Wolf et al., 2020) to load and fine-tune pre-trained BERT models, Gensim 4.0.1 (Řehůřek & Sojka, 2010) for pre-training word embeddings, scikit-learn 0.24.2 (Pedregosa et al., 2011) for implementation of RE models, articlenizer R-14.06.2021 (Schindler, Zapilko & Krüger, 2020, https://github.com/dave-s477/articlenizer) for preprocessing of scientific articles, and NLTK 3.6.2 (Loper & Bird, 2002) for feature extraction. Moreover, to extract JATS XML meta data we used lxml 4.6.3 (Behnel, Faasen & Bicking, 2005) and for knowledge graph construction rdflib 6.0.0 (RDFLib Team https://github.com/RDFLib/rdflib). For statistical analysis and generation of figures we used R 4.1.1 (R Core Team, 2021), utilizing tidy verse 1.3.1 (Wickham et al., 2019) for data processing and plotting and SPARQL 1.16 (van Hage et al., 2013) to access the KG interface. To setup a SPARQL endpoint for SoftwareKG we used OpenLink Virtuoso Open Source Edition 07.20.3229 (OpenLink, 2021), available as docker from https://hub.docker.com/r/tenforce/virtuoso/.
Source code for construction and analysis is published on GitHub at https://github.com/f-krueger/SoftwareKG-PMC-Analysis and the data for SoftwareKG (Schindler et al., 2021a) itself is available on Zenodo via https://doi.org/10.5281/zenodo.5553737. To facilitate reproducibility of our data analysis, a docker file including a suited R environment to execute analyses on SoftwareKG is included.
Supplemental Information
Appendix Tables and Figure.
All 440 different spellings of SPSS have manually been validated.
When interpreting the journal rank as an indicator of journal quality and thus for review quality.
Package counts for CRAN and Bioconductor were retrieved on October 4th, 2021.
SoftwareKG actually contains articles from before 1990, but we restricted most analyses to time between 1990 and 2021.