MAC protocol with grouping awareness GMAC for large scale Internet-of-Things network
1
Center for Cyber Security, Universiti Kebangsaan Malaysia UKM

,

Bangi, Selangor

,

Malaysia
2
Department of Computer Science, King Abdulaziz University

,

Jeddah

,

Saudi Arabia
3
Department of Information Technology, Faculty of Computing and Information Technology in Rabigh, King Abdulaziz University

,

Jeddah

,

Saudi Arabia
Published

Accepted

Received
Academic Editor
Subject Areas

Keywords

Grouping

,

IEEE 802.15.4

,

ISA 100.11a

,

MAC Protocol

,

Scheduling

,

Internet of Things

,

Wireless Sensor Networks
Copyright

©

2021

Sameer Sadeq et al.

Licence

This is an open access article distributed under the terms of the Creative Commons Attribution License, which permits unrestricted use, distribution, reproduction and adaptation in any medium and for any purpose provided that it is properly attributed. For attribution, the original author(s), title, publication source (PeerJ Computer Science) and either DOI or URL of the article must be cited.
Cite this article

2021

.

MAC protocol with grouping awareness GMAC for large scale Internet-of-Things network

.

PeerJ Computer Science

7

:

e733

https://doi.org/10.7717/peerj-cs.733
Abstract
The development of Medium Access Control (MAC) protocols for Internet of Things should consider various aspects such as energy saving, scalability for a wide number of nodes, and grouping awareness. Although numerous protocols consider these aspects in the limited view of handling the medium access, the proposed Grouping MAC (GMAC) exploits prior knowledge of geographic node distribution in the environment and their priority levels. Such awareness enables GMAC to significantly reduce the number of collisions and prolong the network lifetime. GMAC is developed on the basis of five cycles that manage data transmission between sensors and cluster head and between cluster head and sink. These two stages of communication increase the efficiency of energy consumption for transmitting packets. In addition, GMAC contains slot decomposition and assignment based on node priority, and, therefore, is a grouping-aware protocol. Compared with standard benchmarks IEEE 802.15.4 and industrial automation standard 100.11a and user-defined grouping, GMAC protocols generate a Packet Delivery Ratio (PDR) higher than 90%, whereas the PDR of benchmark is as low as 75% in some scenarios and 30% in others. In addition, the GMAC accomplishes lower end-to-end (e2e) delay than the least e2e delay of IEEE with a difference of 3 s. Regarding energy consumption, the consumed energy is 28.1 W/h for GMAC-IEEE Energy Aware (EA) and GMAC-IEEE, which is less than that for IEEE 802.15.4 (578 W/h) in certain scenarios.
Introduction
The recent development of Wireless Sensor Networks (WSNs) and the incorporation of technologies of Internet of Things (IoT) has enabled their applications in various industrial fields, particularly through IoT-based WSN (IoT-WSN) (Hassan et al., 2020). Such the emergence has led to numerous applications in different sectors such as agriculture (Hassan et al., 2020; Keswani et al., 2018), smart cities (Al-Majhad et al., 2018; Nassar et al., 2019; Zhang, 2020), intelligent transportation system (Muthuramalingam et al., 2019), medical field (Onasanya & Elshakankiri, 2019; Yao et al., 2019), security and surveillance (Benzerbadj et al., 2018; Memon et al., 2020), military (Zieliski, Chudzikiewicz & Furtak, 2019), forensics (Yaqoob et al., 2019), education, and voting (Srikrishnaswetha, Kumar & Rashid Mahmood, 2019). Sensing-based applications that monitor and gather data are regarded as common applications of IoT (Sadeq, Hassan & Mahdi, 2018; Wu, Wu & Yuce, 2018). Figure 1 shows a conceptual diagram of a healthcare monitoring application using IoT-WSN. Body area networks are installed on patients in hospitals, and they continuously gather data from all patients in real time. The sensors are deployed in 3D based configuration, and the sensors are located in each patients' room separately from other patients' rooms, which emphasize the assumption of clusters-based decomposition. The collected data are then used within an intelligent system to assign care algorithmically to increases the recovery ratio. For one floor, one sink connects the clusters, each representing one patient with sensors on different parts of the body. On the other end, the sink is connected to a Software Defined Network (SDN) controller connected to an application layer in the cloud to monitor patients and assign tasks to doctors.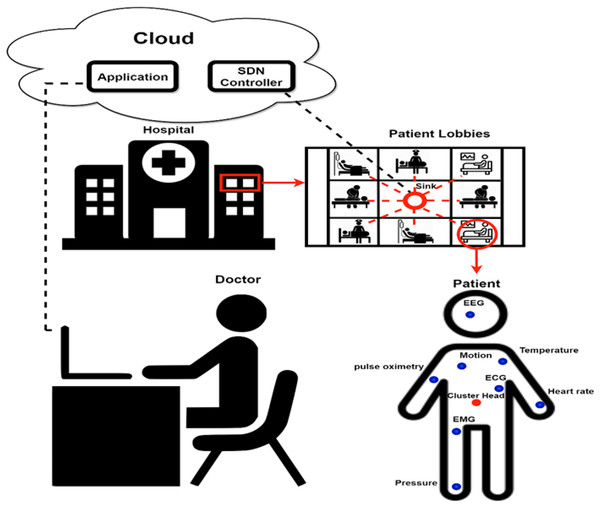 This application requires continuous sensor data collection and transfer to the cloud. The wireless nature of the network and the limited resources of its nodes create two issues. First, the management of node access to the medium must be coordinated with consideration of the sensing rate, sensors' nature, and their relation to the application. This issue affects Quality of Service (QoS) metrics in the network. Second, the management of energy in the network affects the lifetime metric. These issues are not independent of each other, enabling Carrier Sense Multiple Access/Collision Avoidance (CSMA/CA) mode may cause failure in several sensors in accessing the medium, which eventually leads to energy waste and shorter lifetime. However, saving the node energy requires careful scheduling and management of their access to the medium.
Numerous types of Medium Access Control (MAC) protocols are available. A few of the most widely used are IEEE 802.15.4 and ISA 100.11a as IoT MAC protocols in numerous types of applications. These types have small differences in terms of enabling or ignoring packet life time or adding priority to packets or not. One critical issue of these two protocols is the scalable energy awareness solution (Sotenga, Djouani & Kurien, 2020). When an application requires installing a high number of sensor nodes, the protocol may be inefficient in terms of energy-saving due to the resulting collisions. Another issue is the non-awareness of various priority and grouping aspects of the sensor nodes. Such an awareness is important to manage the medium effectively. Recent variants are developed with grouping awareness, such as User-Defined Grouping (UDG) (Yasari et al., 2017) based on ISA 100.11a. However, this variant has various limitations and necessitates developing of IoT-oriented MAC protocol with scalability, energy efficiency, and grouping awareness. The article aims to propose a novel protocol based on both IEEE 802.15.4 and ISA 100.11a to improve their CAP performance based on exploiting prior knowledge about the clustering information of the network and the priority level of the nodes. Therefore, this study aims to develop two novel variants of Grouping MAC (GMAC) based on current benchmarks, namely, GMAC-IEEE and GMAC-ISA.
Literature Review
In addition, several improvements on IEEE 802.15.4 in various aspects have been performed, such as the Clear Channel Assessment (CCA) and its effect on the delay and overhead on the protocol. An improvement on CCA (Wang, Liu & Yin, 2018) is proposed using a graded tailoring strategy, which checks the length of the original packet and modifies its original size according to the partition points. Assuming that the same back-off unit size is used, the protocol includes 20 symbols. To make the data packet tail size eight, those with lower than eight add zeroes, and those higher than eight subtract zeroes. This improvement is useful from the general perspective of delay and over-head, but it ignores prior knowledge of nodes or packets priorities. The mechanism of CCA of IEEE 802.15.4 is also examined in different ways. For example, the CCA has been modified to include primary and secondary stages (Gamal et al., 2020). In addition, an optimization model is built for the delay with energy consumption as a constraint. The model is solved using linear quadratic programming, but it does not consider retransmission essential in IEEE 802.15.4.
Another modification to IEEE 802.15.4 (Patel & Kumar, 2017) aims to increase the number of CCA from one to two, reducing the number of back-off periods to confirm the status decision of the channel and scarify the low energy consumption of CCA. This modification avoids high-energy consumption when a failure occurs and bandwidth loss if the channel becomes idle. The number of retransmissions and their effect on performance is also examined. The network nodes are divided into sub-groups or classes according to the number of failed retransmission (Henna & Sarwar, 2018). Specifically, the low number of failed retransmissions implies low increases in the back-off time and converts the protocol of IEEE 802.15.4 from a fixed to an adaptive back-off. However, the approach lacks an automatic means to decide to change the back-off for each class. Another issue is the neglect of energy level of each sensor that is considered a highly critical aspect in the performance. Furthermore, the approach does not embed prior knowledge regarding the sensor's class or priority related to its function in the system.
TDMA and CSMA functionalities of IEEE 802.15.4 are also combined for WSN scheduling with the support of demand, that is, profile. A proposed WSN scheduling based on the concept of network virtualization (Uchiteleva, Shami & Refaey, 2017) divides the networks into profiles, each of which indicates a set of nodes sharing the same channel demand nature or characteristics. The scheduling proposes two profile categories, bursty and periodic. The super-frame in IEEE 802.15.4 is then decomposed into contention access frame and contention free frame (Uchiteleva, Shami & Refaey, 2017), which contains a set of guaranteed time slot. Next, an optimization is conducted to maximize the utility for each profile. The algorithm uses a greedy optimization approach. Furthermore, as stated in (Shrestha, Hossain & Choi, 2014), the strength of CSMA/CA when it is combined with TDMA improves the scalability by preserving the performance of legacy-based CSMA/CA-based MAC scheme in congested networks.
Other approaches in the literature aim to improve ISA 100.11a, which is regarded as a common protocol for industrial wireless sensor networks owing to its wide use in MAC layer management of sensors of control systems (Florencio, Doria Neto & Martins, 2020). In a recent survey (Raptis, Passarella & Conti, 2020), a comparison between ISA 100.11a and WirelessHART has been conducted to conclude the need to optimize various aspects in ISA such as communication and energy optimization. An optimization of ISA under TDMA (Satrya & Shin, 2020) proposes a solution representation that provides a code for each node according to its time slot. Next, the work of (Yasari et al., 2017) develops a genetic-based scheduling algorithm that enables flexible scheduling in ISA 100.11a. However, this work only optimizes one parameter in ISA 100.11a, the packet lifetime assigned to each group, and another parameter outside ISA 100.11a, which is the number of nodes in each group. An objective function is then used to maximize the number of nodes and the distribution of nodes in the groups according to their weights. In addition, this work ignores a direct optimization to the network performance measures such as QoS, which is used as constraint in the optimization only. Some researchers aimed to enhance ISA 100.11a in the context of application, such as adapting ISA to operate in a specific control environment. In (Herrmann & Messier, 2018), an optimization of the scheduling and the routing (cross-layer) is proposed. The goal is to minimize energy consumption and prolong the lifetime of the petroleum refinery process. The frame structure and an optimization of the scheduling and selection of the routing hops, are the elements of ISA enhancement. Despite the many developments of ISA 100.11a and IEEE 802.15.4 and other related WSN scheduling, some researchers proposed different improvement perspectives. For example, in (Farayev et al., 2020), the pre-knowledge of the periodic nature of data generated in the network is exploited to formulate joint optimization of scheduling, power control, and rate adaptation for discrete rate transmission mode. Although this assumption is useful when it is valid, many WSNs have no pre-knowledge of the nature of data generation, such as event-based monitoring.
The literature on MAC layer scheduling in IEEE 802.15.4 and ISA 100.11a tackles various aspects of these two protocols. Several approaches focus on optimizing CSMA (Gamal et al., 2020) and others pay attention to TDMA (Osamy, El-Sawy & Khedr, 2019), but limited work concentrates on integrating both functionalities (Wang, Liu & Yin, 2018). Furthermore, none of the previous work develops protocols for integrated CSMA–TDMA with grouping awareness. This factor affects the performance that relies heavily on prior knowledge about each node in terms of its application or role in the system or its priority of responding when packets are generated, compared with systems that consider scheduling of medium access but not the source or group of node priority.
Overall, the handling of the problem of MAC scheduling in IEEE 802.15.4 based protocols, despite its covering to various development aspects such as optimization of parameters, incorporation of adaptive approaches, usage of TDMA and/or CMSA, non-of the previous approaches has addressed the scheduling with a consideration of the node's geographical distributions. Considering that the collisions occur more frequently when the nodes are close to each other or share the same coverage zone, relative location-aware contention is an important criterion for optimizing the scheduling and reducing the collisions. The article aims to propose a novel MAC scheduling protocol based on IEEE 802.15.4 that enables clustering, which is location-based grouping as a criterion for handling scheduling. Furthermore, the proposed protocol will exploit TDMA to exchange clusters' information with the sink and CMSA for transmitting information within the clusters to the cluster heads. With such scheduling management, the developed protocol is the first MAC scheduling that jointly enables clustering awareness and CSMA-TDMA integration in a single protocol.
Materials & Methods
This section provides the developed protocol and the evaluation methods and metrics used to compare with state-of-the-art protocols or benchmarks. We divide the methodology into several parts. At first, we present the assumptions and symbols, and the network hierarchy. Next, the energy model and the energy-aware back-off time along with the protocol design are provided. In the protocol design, we provide the network cycle and the protocol activity diagram.
Experimental design and results
This section provides the evaluation scenarios and experimental works for comparing our GMAC with the benchmarks IEEE 802.15.4, ISA 100.11a, and UDG (Yasari et al., 2017). GMAC has two variants, namely, GMAC-IEEE and GMAC-ISA. Hence, we have five protocols: GMAC-IEEE, GMAC-ISA, and UDG based on ISA 100.11a, IEEE 802.15.4, and ISA 100.11a.
Experiment design
The simulation work uses MATLAB 2019b for evaluation. The experiment design is based on changing the inter-arrival time that indicates the offered load in the network. The range of the inter-arrival time changes from 0.1 to 5 s. In each experiment, a set of scenarios are generated on the basis of changing two variables, the number of nodes in the network and the number of clusters. The number of nodes is = 10, 20, …100, and the number of clusters is taken as = 1, 2, ..10. In addition, different priority groups are generated = 1, 2, ..10. Moreover, the average number inside each cluster ranges from to where denotes the diversity of the number of nodes in the clusters. Table 2 provides the simulation parameter. For channel fading, we use Nakagami, which is a method commonly used in the simulation of physical fading radio channels. Using the parameter, this distribution can model signal fading conditions ranging from extreme to mild, light to no fading, (Beaulieu & Cheng, 2005). The scenario details in terms of number of nodes and number of clusters are shown in Table 3 with the visualization of two scenarios in Figs. 5A and 5B.

| Parameter | Value |
| --- | --- |
| Max Packet Life Time (Max PLT) | 30 s |
| Inter arrival time interval (T) | 5–0.25 s |
| Alert priority levels | 16 |
| Number of priority groups (Ng) | Li = 1, 2, … 10 |
| Number of packet priority levels | 16 |
| Superframe duration (SD) | 0.25 s |
| Back-off symbol duration | 0.01 s |
| CCA duration | 0.0 0 0128 s |
| ACK packet size | 18 Bytes |
| Packet size | 127 Bytes |
| Data rate | 250 kbps |
| Simulation time | 50 s |
| macMinBE | 3 |
| macMaxBE | 5 |
| Timeslot duration (TD) | 0.01 s |
| Fading type | Nakagami |
| Scenario no | Number of cluster-number of nodes |
| --- | --- |
| 1 | 3–150 |
| 2 | 3–200 |
| 3 | 5–200 |
| 4 | 3–300 |
| 5 | 3–400 |
| 6 | 5–150 |
| 7 | 5–300 |
| 8 | 5–400 |
Evaluation results and configuration
The experimental results for the evaluation scenarios of Table 3 are provided in Figs. 6–17. First, we present the PDR of IEEE, GMAC-IEEE and GMAC-IEEE EA in Fig. 6, and of ISA, GMAC-ISA and GMAC-ISA EA in Fig. 7. GMAC-IEEE and GMAC-IEEE EA generate higher values of PDR compared with IEEE with slight superiority of GMAC-IEEE EA. This is interpreted by the geographical distribution awareness of G-MAC based protocols which enable less collision due to dividing them into geographical clusters with less overlap of their coverage compared with one cluster contention in IEEE.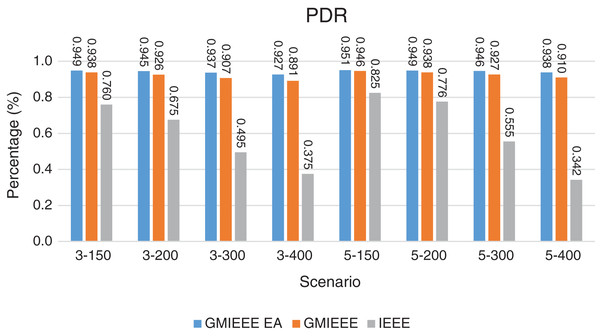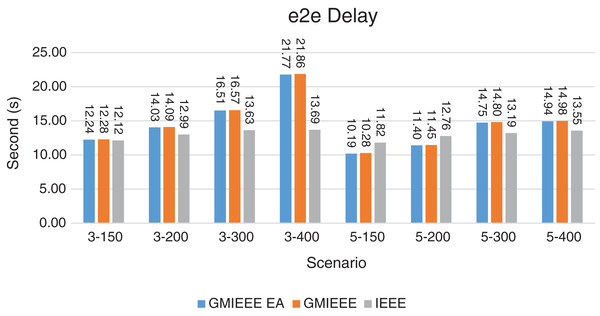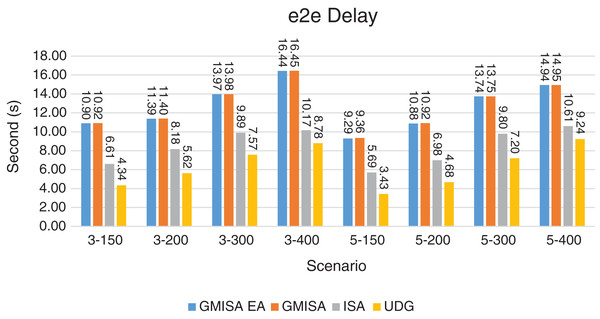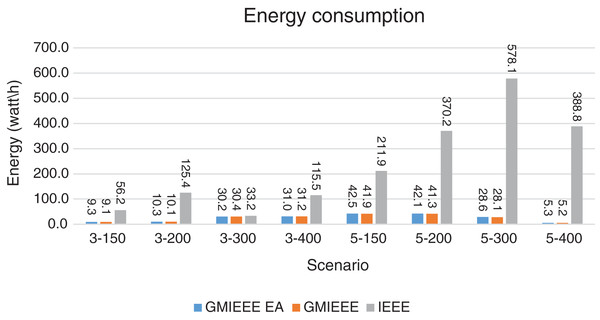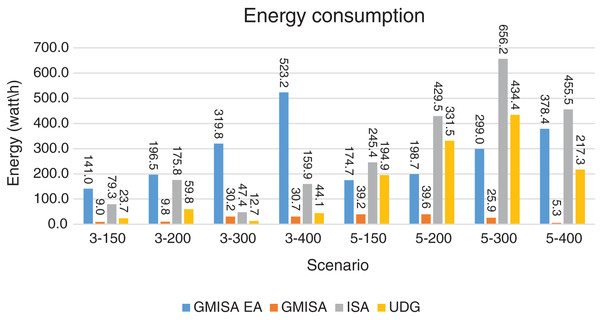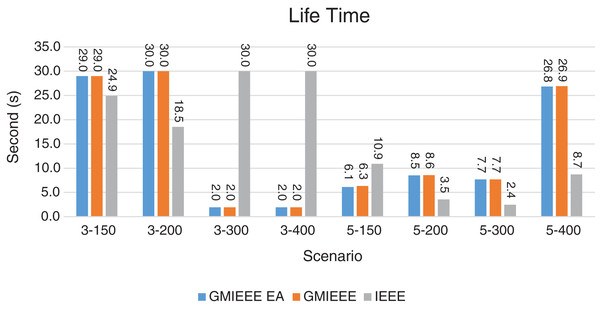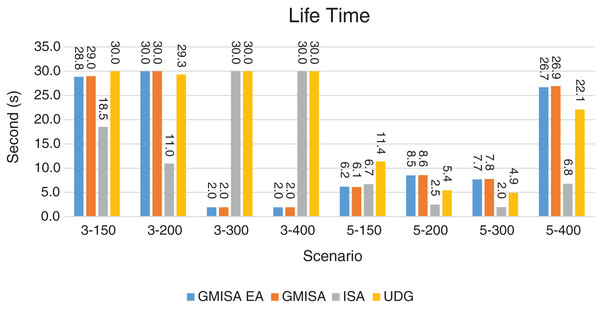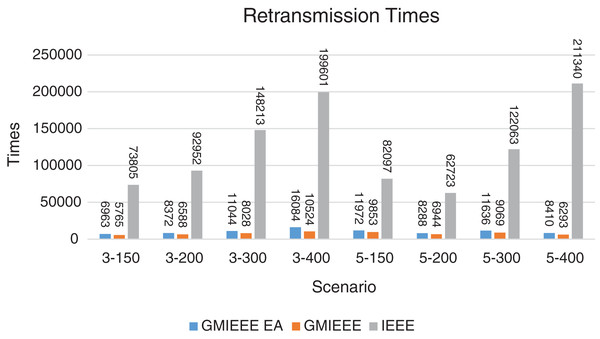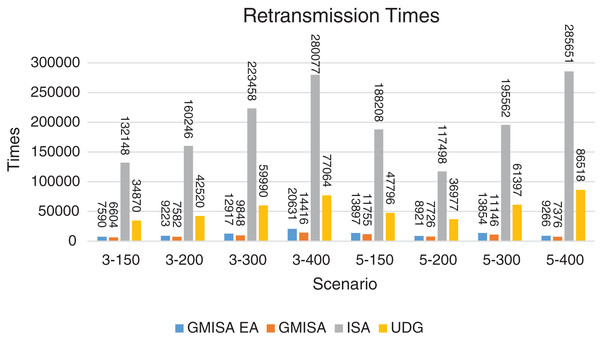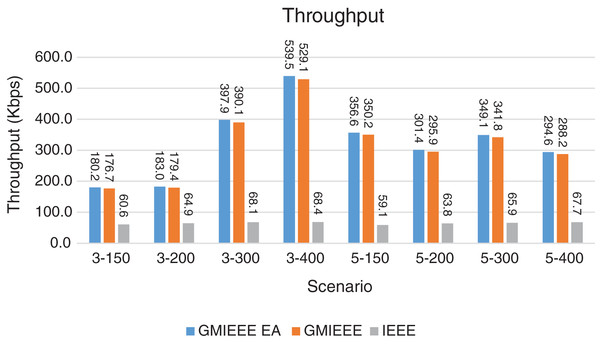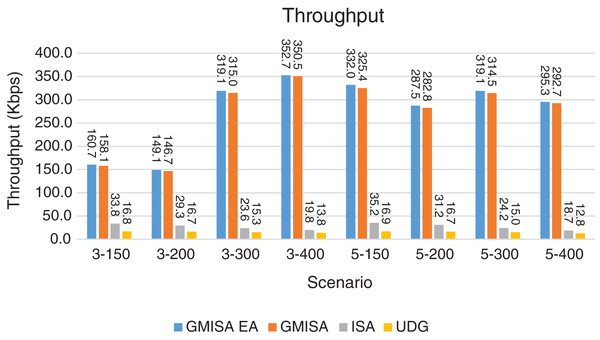 Conclusions
This study proposes a novel protocol for MAC layer in IoT network considering three aspects of operations: low energy level of nodes, high number of nodes, and need of grouping the nodes according to their priorities. This protocol is considered distinct from state-of-the art MAC protocols for IoT, such as IEEE 802.15.4 and ISA 100.11a. In addition, GMAC is suitable to work using SDN technology where a control plane is separated from the data plane and the network is managed by an SDN controller. This is because the protocol requires adaptability to the geographic node distribution by incorporating clustering awareness in the frames and cycles. In addition, GMAC decomposes the network into cycles to enable efficient medium sharing and competition by activating channel access attempts within the cluster that is supposed to be isolated from other clusters in terms of communication collision when a low energy level is used. This is sufficient to transfer packets from nodes to cluster heads while transferring packets to the sink uses dedicated cycles by cluster heads. GMAC is compared with state-of-the-art protocols with respect to various scenarios in terms of number of nodes and priority levels. A clear superiority is observed in PDR, energy consumption, and competitive performance in terms of e2e delay. GMAC protocols generate a PDR higher than 90%, whereas the PDR of benchmark is as low as 75% in some scenarios and 30% in others. In addition, GMAC protocols has lower e2e delay than the least e2e delay of IEEE with a difference of 3 s. Regarding energy consumption, the consumed energy is 28.1 W/h for GMAC-IEEE EA and GMAC-IEEE, which is lower than that of IEEE 802.15.4 (578 W/h) in certain scenarios. The highest achieved throughput by GMAC-IEEE EA and GMAC-IEEE is 539 and 529 kbps, respectively, compared with only 68.4 kbps by IEEE. As limitations for the work, we state that it requests that the nodes are distributed in a wide geographical area where their various clusters have no overlapping in the coverage, so the intra-cluster operations are executed without collisions with other clusters. Second, it assumes that the nodes are stationary, which does not change the clustering decision. However, it enables dynamic reallocation of the cluster head. Future work can develop more energy-saving techniques and incorporate machine learning for channel access. Another future work is to implement hardware for validating the new protocol and evaluate it in real-world scenarios. Developing the work to include channel hopping is an additional future work.
Supplemental Information
Codes.
The codes are to compare the G-MAC variants with standard IEEE and ISA protocols:
the codes was tested on Matlab 2018
how to run the code :
# go to Codes and chose the directory of the desired protocol
# run MainFileScenarios.m
# to show results copy the resulted mat files to Results\New Expirminets Folder and run Results\MaifileScenariosWithoutProbabilistuc.m
the results images will be stored in Results\Images
Raw data.
The various metrics that resulted from the conducted experiments.