Investigating cross-lingual training for offensive language detection
1
Jožef Stefan Institute

,

Ljubljana

,

Slovenia
2
Jožef Stefan International Postgraduate School

,

Ljubljana

,

Slovenia
3
Queen Mary University of London

,

London

,

United Kingdom
Published

Accepted

Received
Academic Editor
Subject Areas

Keywords

Cross-lingual models

,

Transfer learning

,

Intermediate training

,

Offensive language detection

,

Deep learning
Copyright

©

2021

Pelicon et al.

Licence

This is an open access article distributed under the terms of the Creative Commons Attribution License, which permits unrestricted use, distribution, reproduction and adaptation in any medium and for any purpose provided that it is properly attributed. For attribution, the original author(s), title, publication source (PeerJ Computer Science) and either DOI or URL of the article must be cited.
Cite this article

2021

.

Investigating cross-lingual training for offensive language detection

.

PeerJ Computer Science

7

:

e559

https://doi.org/10.7717/peerj-cs.559
Abstract
Platforms that feature user-generated content (social media, online forums, newspaper comment sections etc.) have to detect and filter offensive speech within large, fast-changing datasets. While many automatic methods have been proposed and achieve good accuracies, most of these focus on the English language, and are hard to apply directly to languages in which few labeled datasets exist. Recent work has therefore investigated the use of cross-lingual transfer learning to solve this problem, training a model in a well-resourced language and transferring to a less-resourced target language; but performance has so far been significantly less impressive. In this paper, we investigate the reasons for this performance drop, via a systematic comparison of pre-trained models and intermediate training regimes on five different languages. We show that using a better pre-trained language model results in a large gain in overall performance and in zero-shot transfer, and that intermediate training on other languages is effective when little target-language data is available. We then use multiple analyses of classifier confidence and language model vocabulary to shed light on exactly where these gains come from and gain insight into the sources of the most typical mistakes.
Introduction
The massive growth of social media in the last two decades has changed the way we communicate with each other. On the one hand, it allows people worldwide to connect and share knowledge; but on the other, there is a corresponding increase in the negativity to which they can be exposed. Offensive language and hate speech are major concerns on social media, and result in poor psychological well-being, hate crime, and minority group prejudice in both virtual and local communities (Blair, 2019; Gagliardone et al., 2015). As an extreme example, social media posts were one reason to incite violence against Rohingya Muslims in Myanmar in 2017 (Beyrer & Kamarulzaman, 2017; Stevenson, 2018; Subedar, 2018).
There is therefore a growing need to moderate these platforms to minimize hate speech. Platforms like Facebook, Twitter, and YouTube have started taking the necessary steps to monitor their platforms using manual moderation and automated detection (Simonite, 2020; Lomas, 2015). At the same time, countries like Germany (Lomas, 2017) and the UK (Morgan, 2020) are creating regulations to hold social media platforms accountable. However, with billions of messages posted daily on social media platforms, it is nearly impossible to do this manually, and automatic methods are becoming important. Multiple datasets (e.g., Davidson et al., 2017; Zampieri et al., 2019a; Ljubešić, Fišer & Erjavec, 2019), shared tasks (e.g., Wiegand, Siegel & Ruppenhofer, 2018; Zampieri et al., 2020a) and models (e.g., Salminen et al., 2018; Farha & Magdy, 2020; Gao & Huang, 2017; Zampieri et al., 2020a) have been proposed for several languages. However, so far, good accuracy in automatic detection depends upon the availability of substantial, well-labelled datasets: in many domains and in many languages, this is not the case.
A common theme across recent work in NLP which promises to reduce the requirement for such task-specific labeled data is the use of transfer learning (see e.g., Ruder, 2019). Typically, in this approach, a large pre-trained language model (LM) is learned using a general source task (e.g., masked language modeling or next sentence prediction) over a very large amount of easily obtained unlabeled data. This pre-trained LM—which contains a lot of information about word meaning and dependencies—can then be fine-tuned on the target NLP task (e.g., hate speech detection, question answering etc.), requiring only a smaller labeled dataset to achieve state-of-the-art performance (see e.g., Devlin et al., 2019).
While most of this research is focused on the English language only, the principle extends to transfer between languages, and recent work in cross-lingual transfer leverages datasets in multiple languages to provide pre-trained models with multilingual embeddings (Artetxe & Schwenk, 2019; Devlin et al., 2019). For example, Devlin et al. (2019) propose a multilingual version of BERT, called mBERT, trained on 104 languages, in which the representations seem to capture significant syntactic and semantic information across languages (Pires, Schlinger & Garrette, 2019). These pre-trained LMs can therefore be trained on a language with available resources and employed on a less-resourced target language without additional language-specific training. This can help alleviate the data availability gap between high-resourced and less-resourced languages: for example, Leite et al. (2020) perform zero-shot transfer from English to Brazilian Portuguese for toxic comment detection. Most such studies are however restricted to evaluating zero-shot transfer from one language to one other only, and using only one multilingual pre-trained LM. Furthermore, several studies (Stappen, Brunn & Schuller, 2020; Leite et al., 2020), including our own initial work (Pelicon et al., 2021), suggest that this zero-transfer approach to multilingual training does not achieve performance comparable to systems trained on the actual target language data. As such, some amount of data in the target language is still preferred and may be needed for good accuracy. However, it is not clearly understood how exactly the amount of data affects this requirement and the performance of the final models.
Another question that remains largely unexplored is whether this data shortage problem can instead be addressed by using training data in one or several other non-target languages. An intermediate training mechanism has been proposed (Yogatama et al., 2019; Wang et al., 2019a; Pruksachatkun et al., 2020; Vu et al., 2020) to reduce the need for large scale data for all tasks in all languages. In the intermediate training step, instead of fine-tuning the LM directly on the target language task, it is first trained on a similar task using the same or different language data. Pruksachatkun et al. (2020) show that performing intermediate training using English data improves the multiple XTREME benchmark tasks (Hu et al., 2020). Robnik-Sikonja, Reba & Mozetic (2020) perform sentiment classification using training data from both target language and several non-target languages. However, this work is evaluated only in a setting where all available target language data is used for training: it is therefore hard to tell whether and how the benefit of intermediate training depends on how much target data is available. Stappen, Brunn & Schuller (2020) investigate this, via an analysis of cross-lingual capabilities of their hate speech model in which they first train a model in one language and then progressively add data in the target language. However, their analysis is performed only on one pair of languages. From these studies alone it is therefore not yet clear how much of the performance gap is due to the pre-trained model and its properties, and how much to the training regime, choice of intermediate languages and relative amount of data available.
In this work we perform a thorough analysis of the feasibility of training models that leverage multilingual representations with non-target language data. Specifically, we address the following research questions:
Effect of pre-trained LM: How does the choice of multilingual pre-trained language model affect performance?

Effect of intermediate training: Where little or no target language training data is available, when and by how much does intermediate training in a different language boost performance?

Data hunger of the model: How does performance depend on the amount of intermediate and/or target language data?
We used five hate speech datasets in different languages, namely Arabic, Croatian, German, English, and Slovenian. All these languages are included in the standard pre-trained mBERT model. Arabic, German and English were chosen for their range of similarity: while German is fairly similar to English, sharing many syntactic and vocabulary features, Arabic is dissimilar to both, with very different linguistic features, an entirely different alphabet, and written right-to-left rather than left-to-right. Croatian and Slovenian were then chosen for being less-resourced, for representing a mid-point in similarity (being Slavic languages, they are less similar to English than German is, but more so than Arabic), and because they are included in a more specific trilingual Croatian-Slovenian-English pre-trained language model based on BERT architecture (Ulčar & Robnik-Šikonja, 2020, see "Background and Related Work"). This selection allows us to test a range of hypotheses, including that intermediate training may be more useful for more similar languages and that more specific LMs transfer better. We show that cross-lingual transfer can be useful for the offensive language detection task, and that using a more specific LM significantly improves performance for Croatian and Slovenian, even in the low data regime. We perform multiple analyses to shed light on the behavior of the models, and use visualization techniques to try and interpret the inner workings of our fine-tuned models.
The paper is organized as follows; first, in "Background and Related Work", we start by providing a summary of offensive language detection, the use of different pre-trained language models, and intermediate training. In "Method and Datasets", we describe our experimental pipeline, the dataset used, and model architecture. "Quantitative Results" presents our experiments and quantitatively answers our research questions. "Analysis and Qualitative Results" provides insight into the results using different analyses and some qualitative results. "Conclusion" concludes our contribution. The paper also contains an "Appendix" with additional detailed experimental results. The code and data splits for the experiments are made available on GitHub (https://github.com/EMBEDDIA/cross-lingual_training_for_offensive_language_detection).
Background and related work
In this section we present an overview of the state of the art in offensive language detection, first reviewing defining the task and reviewing available datasets (Offensive Language Detection: Task and Datasets), and next describing current approaches to automatic detection, explaining their use of pre-trained language models (Automatic Detection and Pre-Trained Models). We then discuss approaches to multilinguality and cross-lingual training (Multilingual and Cross-lingual Approaches), and explain in detail the technique of intermediate training that we investigate here (Intermediate Training).
Method and datasets
In this study, we investigate the effectiveness of cross-lingual training for the problem of hate speech detection. This problem can be modeled as a classification task, formally stated as follows.
Let
represent a classifier able to map from the space of text representations (e.g., byte pair encoded inputs) Xl in a given language l to the set of possible classes C. The purpose of this work is to explore the predictive performance of NN in a cross-lingual setting. Formally, we explore the performance of NN when trained on the space Xa and tested on Xb, where a and b represent two different languages.
In this section, we describe our experimental setup, datasets, the details of our classification model architecture and optimization, and the evaluation metrics used.
Experimental pipeline
Our experimental pipeline (Fig. 1) consists of three steps: selection of a pretrained language model (LM), intermediate-task training on data in one or more non-target languages, and fine-tuning on a single target-language task. In the last fine-tuning step, we test the effect of variable amounts of target-language training data.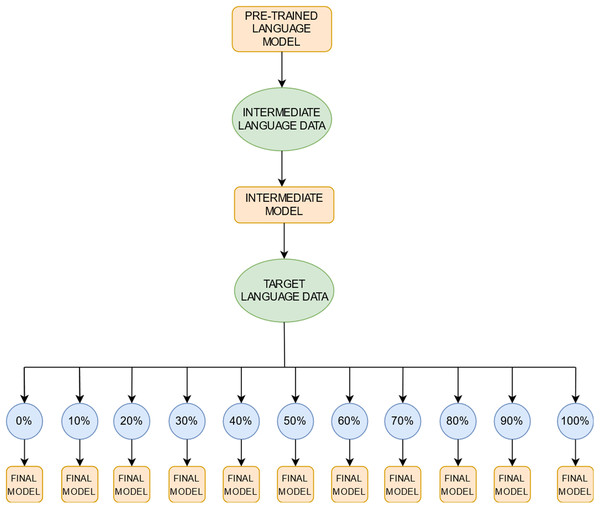 Language model
In order to investigate the effect of the pre-trained LM properties, we use two multi-lingual transformer based models: mBERT, a general model with 104 languages (Devlin et al., 2019), and CroSloEngual BERT, hereafter cseBERT, a much more specific model with only three languages (Ulčar & Robnik-Šikonja, 2020). All the languages used in the experiments are present in mBERT; three languages (Croatian, Slovenian and English) are present in cseBERT, allowing us to compare its effect on those and on others not included in its pre-training.
Intermediate training
In this step, we perform intermediate-task training of the model on a classification task in one or more non-target languages. We focus on three different languages for intermediate training, namely English, Slovenian and Arabic. English and Slovenian are used because they are used in both mBERT and cseBERT; use Latin script, common for all languages except Arabic; and give two points for comparison of language similarity (Slovenian is more similar to Croatian and less similar to German; English is more similar to German and less to Croatian, as discussed in "Introduction"). Finally, we include Arabic as it is the most dissimilar from all other languages used here, in terms of both linguistic and orthographic features, and is present in mBERT but not in cseBERT. We also test the use of intermediate training on all the languages except for the target language, and call this the leave-one-(language-)out (LOO) setting.
Target task fine-tuning
In the final step, we fine-tune our model on the target language task dataset following the standard procedure (Devlin et al., 2019). Depending on the configuration of the first two steps, the target task performance can then be observed with the different LMs, and with and without the different intermediate training variants.
Data hunger of the model
To observe how data availability influences the performance on the target language task, we gradually increase the amount of training data for the fine-tuning, from 0% target data (the zero-transfer setting) to 100% target data (the ideal fully-resourced scenario) in steps of 10%. We use this increasing data regime to investigate the following questions. First, does having a better pre-trained LM reduce the amount of target data needed to achieve good performance? Second, to what extent can intermediate training on another language compensate for unavailability of target language data (which would be especially valuable for less-resourced languages)? Last but not least, we test whether training in intermediate language(s) can boost the performance compared to training only in the target language.
Datasets
We used hate speech and offensive language datasets in five different languages—English, Arabic, Croatian, Slovenian and German (see Table 1)—for intermediate training and fine-tuning:2
| Language | Source | Original size | Not-offensive proportion (%) | Offensive proportion (%) |
| --- | --- | --- | --- | --- |
| Croatian (Shekhar et al., 2020) | News comment | 99,246 | 50 | 50 |
| Slovenian (Ljubešić, Fišer & Erjavec, 2019) | Facebook | 12,400 | 46 | 54 |
| English (Zampieri et al., 2019a) | Twitter | 13,240 | 67 | 33 |
| German (Wiegand, Siegel & Ruppenhofer, 2018) | Twitter | 8,884 | 67 | 33 |
| Arabic (Zampieri et al., 2020a) | Twitter | 7,839 | 80 | 20 |
Although all the datasets were annotated for hate speech or offensive language detection tasks, the authors employed different annotation schemes due to their domain and specific purposes and phenomena. This reflects the current situation, in which a large number of labeled hate speech datasets are freely available for different languages, but do not share a common annotation procedure. These discrepancies, albeit small, can potentially impact a model's ability to properly converge if one were trying to boost performance using data across several datasets and languages. In this way, our experimental setting reflects this real-world scenario and provides a realistic estimation of the models' behavior.
To deal with the differences in annotations, we consolidated the annotation schemas of different datasets so as to model the problem as a similar binary classification task in each case. For this purpose, we use the first-level annotations of the English, German and Arabic datasets, which label the documents as either offensive or not offensive. For the Slovenian dataset, in which offensive posts are labeled in several categories on one level, we combine the different offensive categories into one offensive class. For the Croatian dataset only the hate speech label is used, as the other categories represent different reasons for blocking comments which may not necessarily include offensive language of any kind.
To minimize the effect of dataset size on the performance of the model, we use the same amount of training data for each language. We reduced the size of all datasets to the size of the smallest dataset in the set, namely the Arabic dataset with 7839 instances, while keeping the class balance the same. We split the resulting datasets into training, validation and test sets in the proportion 80-10-10.3
Models and optimization
We perform the whole three-step experiment described in "Experimental Pipeline" using a BERT-based language model (mBERT or cseBERT). The representation of the (CLS) token from the last layer of the BERT language model is used as a sentence representation, and passed to a further linear layer with a softmax activation function to perform the classification. The whole model is jointly trained on the downstream task of hate speech detection. Fine-tuning is performed end-to-end. All models were trained for maximum 4 epochs with batch size 16. The best model is selected based on the validation score. We used the Adam optimizer with the learning rate of 2 × 10−5 and learning rate warmup over the first 10% of the training instances. For regularization purposes we used weight decay rate set to 0.01. The same optimization process was used for both the intermediate training and the fine-tuning steps of our training setup. We perform the training of the models using the HuggingFace Transformers library (Wolf et al., 2020). To perform matrix operations in an efficient manner we ensured all inputs were of the same length, first tokenizing all inputs and then setting their maximum length to 256 tokens. Sequences larger than this maximum were shortened, while longer sequences were zero-padded. As is standard with the BERT architecture, each of these models was pre-trained with minimal text preprocessing and comes with its own tokenizer which tokenizes text at word and sub-word levels. We applied the same procedure in the intermediate learning and fine-tuning phases, tokenizing the text input using the default tokenizers that were trained with the mBERT and cseBERT models, with no additional text pre-processing.
Evaluation metrics
Due to imbalance in the dataset, we follow the standard evaluation metrics used in OffensEval (Zampieri et al., 2019a) and report the macro-averaged F1 score. To counteract the effect of random initialization of the model, we trained models with three different random seeds and report mean and standard deviations of F1 scores. To qualify the performance with increasing data, we report the area-under-curve (AUC) with respect to the F1-score and data size. For more detailed evaluation information, we also provide two other standard evaluation metrics, macro-averaged recall and precision, again reported as mean and standard deviation over the three training runs with different random seeds. For readability purposes, we present these results in the "Appendix".
To test for statistical significance of differences between results, we use the Mann–Whitney U test with a significance level of 0.05. We choose this non-parametric test as it makes no assumptions about normality of distribution and is suitable to be used with a small number of samples (3 runs of each experiment in our case).
Quantitative results
In this section, we present quantitative results, and in particular answer the research questions presented in "Introduction" concerning the effects of pre-trained model selection, intermediate training (using one or more additional languages), and amount of target language training data.
Analysis and qualitative results
In this section, we take a closer look at the performance of the models. In "Analysis of Misclassification", we examine how mBERT and cseBERT differ in their mistakes, with a per-example analysis of several trained models to explore how the misclassifications change with different pre-trained language models. In "Analysis of Classifier Confidence", we go further and examine misclassifications and different kinds of example via patterns in the confidence of the model outputs. While in "Analysis of Vocabulary Coverage", we look at the vocabulary coverage and compare it with the model's performance.
Analysis of misclassification
We analyze the performance of mBERT and cseBERT using misclassified examples, aiming to explore how the space of misclassified samples behaves and changes when we change the underlying language model. Although standard performance metrics give us some idea of the models' performance varies on different classes, they do not provide any insight into the performance across particular examples. For example, two models may achieve the same overall accuracy score yet may misclassify completely different examples.
The analysis is performed on the three languages of cseBERT (Croatian, Slovenian and English); for each language, we perform a pair-wise comparison of mBERT and cseBERT model outputs. All compared models were trained using 100% of target language training data without any intermediate training (corresponding to the quantitative results in Table 2). Figure 5 presents, for each comparison, the percentage of misclassified test set examples in the form of Venn diagrams, one for 'offensive' examples and one for 'not offensive' (according to the gold-standard labels). The different subsets in the diagrams show the proportions misclassified by mBERT alone, by cseBERT alone, and by both models together.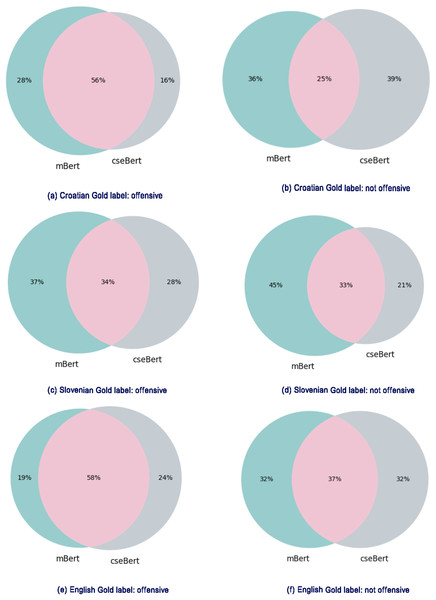 Figures 5E and 5F show that mBERT and cseBERT perform similarly for English. The subset of examples misclassified by both models is relatively large, covering 58% of the offensive and 37% of not-offensive examples. The other two subsets are of similar size: each model corrected some mistakes from the other model but made a similar number of mistakes on other examples. The results seem to be more in favor of cseBERT for the Slovenian and Croatian languages (see Figs. 5A–5D). Fewer examples are misclassified by cseBERT than mBERT, except for the Croatian 'not offensive' case. For these two languages, the proportion of shared misclassified examples is also much lower than for English, in all settings except for the Croatian 'offensive' examples (56%), where it is close to (but still lower than) the 'offensive' English examples.
These results show that while cseBERT does not seem to have any advantage for English, it performs substantially better for Slovenian and Croatian, in line with the quantitative results of Table 2. For these languages, it correctly classifies a range of examples for which mBERT makes incorrect predictions. Furthermore, the reduced number of the Slovenian and Croatian shared misclassifications may suggest that these models have gained different knowledge during their pre-training phases. These results show great promise for using these two models in tandem, e.g., as part of an ensemble, to produce higher quality models for hate speech detection in Slovenian and Croatian.
Analysis of classifier confidence
In this section, we look for patterns in the outputs based on the classifier's confidence. Specifically, we analyze how "true" label confidence varies as the model is trained using more and more data (see data hunger analysis in "Quantitative Results"). Formally, for a test instance (xi) on the j% of the target data at the kth epoch, we looked at the correct label probability for all trained models. The confidence of the classifier is defined as the mean of the correct label probabilities and the variability the standard deviation. We analyzed the confidence and variability together to find the overall behavior of the test data Following Swayamdipta et al. (2020), we plot confidence and variability on the Y-axis and X-axis respectively. Please note that Swayamdipta et al. (2020) calculated confidence and variability over epochs; we used both changes over the data size and epochs. Figure 6 shows the confidence-variability plot for the English data; we found a similar pattern for other languages. As we can see from Fig. 6, there are three groups of instances. First, those for which the classifier is correct and has very high confidence and low variability, i.e., "easy" examples. Second, those where classifier confidence is close to 0.5 and has high variability, i.e., "ambiguous" examples. And third, where the classifier has very low confidence and variability for the true label, i.e., "hard" examples.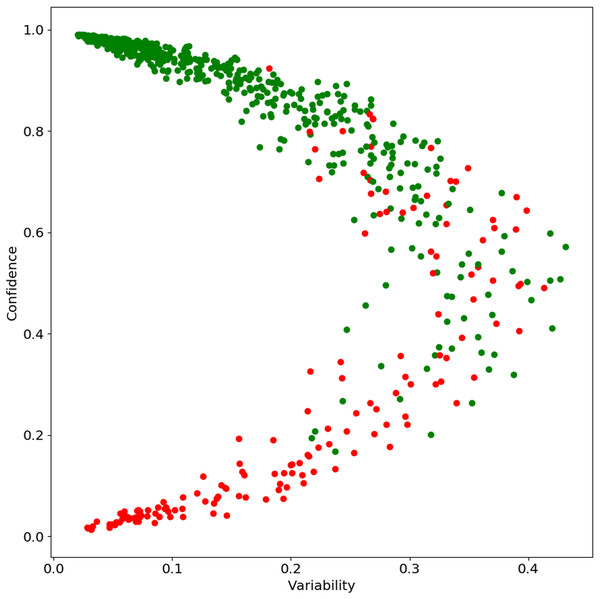 To further analyze these three categories, we manually inspected some examples and tried to understand what makes them easy, ambiguous, or hard for the classifier to classify. We present some of these examples in Tables 7–9. Most easy examples are characterized by specific offensive words or phrases. For example, in Table 7, the first example has "Nigga ware da", and the second example has only socially accepted words. In the hard category, many examples are cases where it is hard to identify from the sentence alone whether it is offensive or not, without some form of context. The classifier generally made mistakes in classifying such instances. For example, in Table 7, one example needs context in the form of the URL, and the other one is dependent on the comment it is replying to. The ambiguous category is perhaps the most interesting: in many cases, the annotation appears to be wrong, and in others another label is equally possible. For such examples, we have provided the potentially correct labels in the tables. The classifier seems to work inconsistently for these instances; we believe this is because these instances have patterns similar to the class opposite to their gold label. Please note that these three classes are not rigidly defined: several examples could belong to other classes. In particular, there are overlaps between the hard and ambiguous classes: in many cases the gold labels appear to be wrong for "hard" examples, and "ambiguous" examples require context. However, most such overlaps occur at the boundaries of the classes.
| Nr. | Category | Example | Gold label | Classifier label | Possible label | Remark |
| --- | --- | --- | --- | --- | --- | --- |
| 1 | Easy | @USER Nigga ware da hits at | OFF | OFF | / | |
| 2 | Easy | #I once read about the man who invented bulbs, he saw failure differently, it was 5,000 new ways of doing it differently…Now he is a genius# | NOT | NOT | / | |
| 3 | Hard | #ChristineBlaseyFord is your #Kavanaugh accuser… #Liberals try this EVERY time… #ConfirmJudgeKavanaugh URL | OFF | NOT | / | Lack of context—from URL |
| | Hard | @USER @USER @USER Are you referring to how they lollygag with gun control as their kids get slaughtered in schools? | NOT | OFF | / | Lack of context |
| 5 | Ambiguous | #Kavanaugh so a wild claim from 36 years ago of groping has evolved into A Rape A Violent Sexual Event by Move URL a Soros based Org. that supports BLM Antifa etc. Unbelievable! | NOT | OFF | OFF | Gold label mistake. Offensive towards BLM etc. |
| 6 | Ambiguous | #Cancer Hate crime isn't an actual crime. If there's a victim, then it's just called crime. (Malum in se) "Hate" crime is socially engineered programing to control people's behavior, just like gun control. #ChangeMyMind URL* | NOT | OFF | BOTH | Both labels are possible. Giving opinion but could also be treated as pointing to blame to a gr. of people |
| Nr. | Category | Example | Gold Label | Classifier label | Possible Label | Remark |
| --- | --- | --- | --- | --- | --- | --- |
| 1 | Easy | Postreljati to smrdljivo golazen pa direktno na grmado pa skurit [Shoot this stinky vermin and burn it at the stake] | OFF | OFF | / | |
| 2 | Easy | Been here, seen that :) | NOT | NOT | / | Different language |
| 3 | Hard | Na imigrantski mladini svet "stoji". https://www.youtube.com/watch?v=Wj9LLC7GZQk Pridruži se, če ti ni vseeno za svojo domovino: https://www.facebook.com/stranka.slovenskega.naroda.ssn [The world depends on young migrants. Join if you care about your country.] | NOT | OFF | / | Lack of context—from URL |
| 4 | Hard | V zivalski vrt jh iskat pa bo zadeva resena :) [Go to the zoo and get them, problem solved :)] | NOT | OFF | / | Lack of context |
| 5 | Ambiguous | Sej bo ze drzava placala ne skrb haha [Don't worry, the government will pay haha] | OFF | NOT | / | Lack of context |
| 6 | Ambiguous | Ce si rojen v sloveniji, to ne pomeni tud da si!!!!!!!!!!!!!vazne so korenine!!!!!!!! [If you're born in Slovenia it doesn't mean you are a Slovenian!!!!!! Your roots matter!!!!!!] | NOT | NOT | OFF | Gold label mistake |
| Nr. | Category | Example | Gold label | Classifier label | Possible label | Remark |
| --- | --- | --- | --- | --- | --- | --- |
| | Easy | Ja san dobia zuti karton jer san covika oslovia sa klaune a to sto oni reklamiraju javno prostituciju, lazi, itd nikome nista… Admini ove stranice naguzite se mamicu [I got a warning because I said to someone that he was a clown but they are advertising public prostitution, spreading lies etc. and nothing happens… Admins of this site are motherfuckers.] | OFF | OFF | / | |
| 2 | Easy | Ko si ti kurvo glupa da nekome nešto govoris [Who are you stupid whore to lecture someone] | OFF | OFF | / | |
| 3 | Hard | Treba iz objesiti ! [Needs to be hanged!] | OFF | NOT | / | Lack of context |
| 4 | Hard | Gospođo, u kuhinju! [Go to the kitchen, miss!] | OFF | NOT | / | Sociolinguistic features |
| 5 | Ambiguous | Vaso jedi kurac [Vaso eat dick] | NOT | OFF | OFF | Gold label mistake |
| 6 | Ambiguous | Da je pravde po mom na ovom svijetu završile bi njemu ruke na giljotini pa nek boksa ćaću svog… Dizat ruku na Policiju ma mrs tamo [If there were justice in this world his hands would end up on a guillotine and then he could start hitting his father… Striking a policeman, what the hell] | NOT | OFF | OFF | Gold label mistake |
For the Slovenian dataset, we found some examples written in a language other than Slovenian (see example 2 Table 8). We observe that on average such instances tend to get correctly classified, perhaps due to the effectiveness of the multilingual mBERT and cseBERT representations, or because the English used in these cases is relatively simple; however, no conclusions can be made without deeper analysis.
For Slovenian and Croatian, another category of examples was found that cannot be labeled without more general cultural and societal knowledge. We currently do not know how much such knowledge, if any, a language model possesses, which may lead to difficulties in labeling such messages. A clear-cut example would be "Gospodo, u kuhinju!" (Go to the kitchen, miss!) from the Croatian dataset (see Table 9). Such an example may seem very tame in terms of its vocabulary; however, in gender roles, it may be labeled as offensive to women. Such examples can be found in any region (easy, hard or ambiguous) of the data map. This suggests the classifier seems to pick some signals for these kinds of instances during training, however, the results are highly inconsistent. In order for the classifier to classify such instances correctly, it seems likely that similar instances must be present in the training set during fine-tuning; the knowledge from the pre-trained model may not be enough to decode such instances properly.
Attention visualization
In Fig. 7 we provide an attention weight visualization for two English examples, one from the high-confidence/low-variability region (i.e., "easy") and another from the low-confidence/low-variability region of the data map ("hard"). For each instance we have visualized the maximum attention weight each token gets across BERT's 12 attention heads, using the AttViz visualization tool (Škrlj et al., 2021). Since the role of attention is to weight different parts of the input, this lets us gauge the relative importance of specific input tokens.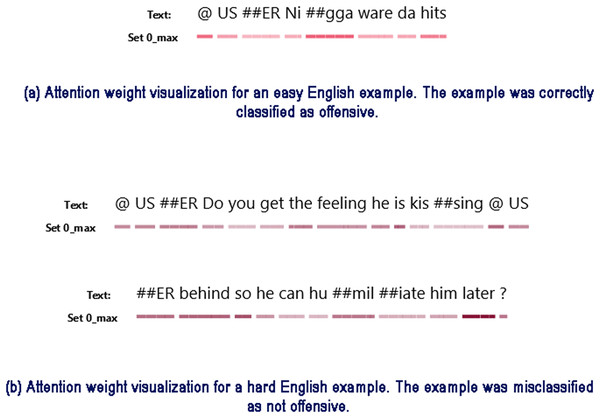 As is standard with BERT models, we add two special tokens to the original input text during training and inference stages (see Devlin et al., 2019). The (CLS) token is added in the first position in the sequence, and its representation is used for performing classification. The (SEP) token is added in the last position of the input text sequence to mark its end. Since these two tokens are present in every input at predefined positions they are assigned high attention weights by the model. However, we are more interested in the importance of other tokens that are originally part of the input text. Since the presence of these two tokens during visualization may overshadow the importance of other tokens, we remove them from the input during visualization of the attention weights.
Figure 7A presents an "easy" example which was correctly classified by the model as offensive. We can see that the model puts a lot of weight on the token "##gga", part of the offensive word "nigga". It also puts moderate weight on the final word "hits" which may suggest violence. Figure 7B presents a "hard" English example. Here the model puts weight on the token "behind", however it is unable to decipher the meaning of the English expression "kissing someone's behind" and misclassifies the example as not offensive.
Analysis of vocabulary coverage
In this section, we shed some light on the performance difference based on vocabulary coverage. Specifically, we are interested in understanding whether better vocabulary coverage helps classification performance. To measure this, we calculated the percentage of missing words in the sentence, i.e., the words that are not present either in the pre-trained LM vocabulary or in the training set. BERT-based models use WordPiece (Schuster & Nakajima, 2012; Wu et al., 2016) to create the vocabulary. WordPiece is a data-driven approach guaranteed to generate a deterministic segmentation of a word. For example, if "bagpipe" is not present in the vocabulary, but "bag" and "pipe" are, then "bagpipe" will be divided into two sub-words "bag" and "##pipe", where "##" indicates that a token is part of the previous word. This allows for wider vocabulary coverage, as even rare words can be covered via their sub-word units. We define a missing word as either:
a word split to character level (and therefore not in the pre-trained model's vocabulary, although it may be present in the training data). The hypothesis behind this condition is that if words are split into individual characters rather than longer tokens, it is unlikely that a model can easily assign meaning.
or
a word not in the vocabulary nor in the training set. In this case, a word may be split into larger units than characters. If the word is present in the training set, it is not considered as missing: the meaning may at least partly be learned by the classifier model during the training phase.
We illustrate this with an example sentence "I like flowers", assuming that only "I" is present in the vocabulary, but "like" and "flowers" are present in the training set. If the sentence is tokenized as "I li ##ke flower ##s", then there are 0 missing words. However, if tokenized as "I l ##i ##k ##e flower ##s" (i.e., "like" is character-level tokenized), there is one missing word, i.e., 33.33%.
In Fig. 8, we plot the classifier F1 score against the cumulative percentage of missing words (i.e., for data with x% or less missing words, what is the performance). We also report the percentage of test set examples covered at that point. As we can see from Fig. 8, as the percentage of missing words increases, the performance decreases in most cases. There are a few exceptions: for Croatian, due to a sharp drop at 10% there is a large subsequent increase in performance. This could be due to more hard examples in that range.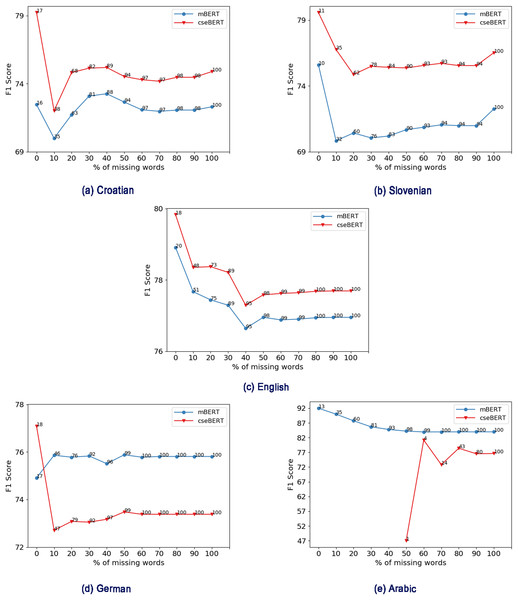 For Croatian and Slovenian, cseBERT has fewer missing words than mBERT, and this better vocabulary coverage may be one reason for the performance gain. As we can see from Figures 8A and 8B, when there is less than 20% of missing words, cseBERT covers 3–5% more sentences for Croatian and Slovenian compared to mBERT, and shows a corresponding performance gain of more than 5–6%. However, this cannot be the only factor: at 0% missing words, even though there is only 1% higher dataset coverage, there is a large difference (4–5%) in performance. This could be due to larger whole-word vocabulary coverage, allowing cseBERT to learn better word meaning.
Interestingly for English (Fig. 8C), even though cseBERT has less vocabulary coverage, it performs slightly better. However, for German, the trend is the opposite: mBERT has less vocabulary coverage, and performs better, because it is pre-trained on the German data, while cseBERT is not. For Arabic, cseBERT has a very high percentage of missing words, with all the examples having more than 50% missing words (see Fig. 8E), and the difference between the cseBERT and mBERT performance is very high (11%, see Table 2).4 Our results therefore show some links between vocabulary coverage and performance, but suggest that more research is needed to fully understand them. In the future, we plan to look at how these effects relate to word frequency and part of speech.
Conclusion
In this work, we study the feasibility of cross-lingual training to develop offensive speech detection models. Specifically, we investigated how the choice of pre-trained multilingual language models and non-target language intermediate training impact the final performance. We experimented with five diverse languages; Croatian, Slovenian, English, German, and Arabic, using two pre-trained language models, mBERT and cseBERT. We found out that having a language model pre-trained with a smaller set of languages has a better overall performance than a general multilingual language model for those languages, and gives better performance via intermediate training. In general, intermediate training is not useful if a large amount of target language data is available, giving relatively small improvements in only approximately half of the experiments, regardless of choice of language or number of languages for intermediate training. However, intermediate training is useful when we have limited target language data, and is particularly effective with a good choice of pre-trained language model. In this case, intermediate training with all other available languages (LOO) boosted performance for all languages except German.
Considering the choice of language model had the most significant impact on the final model performance, we also performed a qualitative analysis of the two language models we used in this study, namely mBERT and cseBERT. Vocabulary analysis suggests that better vocabulary coverage could be one reason for better performance, but that it is probably not the only factor. The analysis using classifier confidence revealed that models generally have trouble classifying instances that are hard to understand without additional context. Furthermore, the models perform inconsistently where additional socio-political knowledge is required to label the message correctly.
In future work on cross-lingual hate speech detection, we would like to make our analysis more general by extending it to other languages and other NLP tasks, and extend our study to other multilingual language models beyond the BERT architecture, such as those based on XLM (Conneau & Lample, 2019).
Appendix
We present additional metrics to better gauge the performance of our models in various experimental settings conducted in the course of this study.
Tables 10 and 11 show the results of mBERT and cseBERT models respectively in terms of macro-averaged recall and precision when they are trained on all available target language data without intermediate training. For comparison with the F1 score, refer to the Table 2.
Tables 12 and 13 show the results of mBERT and cseBERT models respectively when intermediate training is performed in one or more non-target languages and no fine-tuning is performed on target language data (zero-shot setting). The performance of the models is measured in terms of macro-averaged recall and macro-averaged precision scores. For comparison with the F1 score, refer to Table 3.
Tables 14 and 15 show the results of mBERT and cseBERT models respectively when intermediate training is performed in one or more non-target languages and fine-tuning is performed on all available target language data. The performance of the models is measured in terms of macro-averaged recall and macro-averaged precision scores. For comparison with the F1 score, refer to Table 4.
The additional metrics seem to confirm our claims of model comparison between mBERT and cseBERT models. Both in scenarios where high amounts of target language data are available and in scenarios where target language data is not available (zero-shot scenario), the cseBERT consistently shows higher performance than mBERT on Croatian, Slovenian and English languages.
Supplemental Information
Slovenian FRENK dataset splits.
**Review Only**
The dataset splits that were used in the experiment for the Slovenian language
All the datasets used in this study were gathered in the course of other studies. For Slovenian the data is not public, but is available upon request from the original authors; for all other languages the datasets are publicly available (see cited references for details), and our GitHub repository (https://github.com/EMBEDDIA/cross-lingual_training_for_offensive_language_detection) provides exact data splits used in our study.
Please note that even though cseBERT is not trained on the Arabic script, it has some Arabic characters in the vocabulary and the Arabic dataset has some Latin words.