Measuring online social bubbles
Center for Complex Networks and Systems Research, Indiana University

,

Bloomington, IN

,

United States
Published

Accepted

Received
Academic Editor
Subject Areas

Keywords

Bias

,

Diversity

,

Polarization

,

Filter bubble

,

Echo chamber

,

Web traffic
Copyright

©

2015

Nikolov et al.

Licence

This is an open access article distributed under the terms of the Creative Commons Attribution License, which permits unrestricted use, distribution, reproduction and adaptation in any medium and for any purpose provided that it is properly attributed. For attribution, the original author(s), title, publication source (PeerJ Computer Science) and either DOI or URL of the article must be cited.
Cite this article

2015

.

Measuring online social bubbles

.

PeerJ Computer Science

1

:

e38

https://doi.org/10.7717/peerj-cs.38
Abstract
Social media have become a prevalent channel to access information, spread ideas, and influence opinions. However, it has been suggested that social and algorithmic filtering may cause exposure to less diverse points of view. Here we quantitatively measure this kind of social bias at the collective level by mining a massive datasets of web clicks. Our analysis shows that collectively, people access information from a significantly narrower spectrum of sources through social media and email, compared to a search baseline. The significance of this finding for individual exposure is revealed by investigating the relationship between the diversity of information sources experienced by users at both the collective and individual levels in two datasets where individual users can be analyzed—Twitter posts and search logs. There is a strong correlation between collective and individual diversity, supporting the notion that when we use social media we find ourselves inside "social bubbles." Our results could lead to a deeper understanding of how technology biases our exposure to new information.
Introduction
The rapid adoption of the Web as a source of knowledge and a social space has made it ever more difficult for people to manage the constant stream of news and information arriving on their screens. Content providers and users have responded to this problem by adopting a wide range of tools and behaviors that filter and/or rank items in the information stream. One important result of this process has been higher personalization (Mobasher, Cooley & Srivastava, 2000)—people see more content tailored specifically to them based on their past behaviors or social networks. Recommendation systems (Ricci et al., 2011), for example, suggest items in which one is more likely to be interested based on previous purchases, past actions of similar users, or other criteria based on one's past behavior and friends. Search engines provide personalized results as well, based on browsing histories and social connections (Google, 2009b; Google, 2009a).
It is common for users themselves to adopt filters in their online behavior, whether they do this consciously or not. For example, on social platforms such as Facebook, a large portion of users are exposed to news shared by their friends (Bakshy et al., 2012; Matsa & Mitchell, 2014). Because of the limited time and attention people possess and the large popularity of online social networks, the discovery of information is being transformed from an individual to a social endeavor. While the tendency to selectively expose ourselves to the opinion of like-minded people was present in the pre-digital world (Hart et al., 2009; Kastenmüller et al., 2010), the ease with which we can find, follow, and focus on such people and exclude others in the online world may enhance this tendency. Regardless of whether biases in information exposure are stronger today versus in the pre-digital era, the traces of online behavior provide a valuable opportunity to quantify such biases.
While useful, personalization filters—whether they are algorithmic, social, a combination of both, and whether they are used with or without user awareness—have biases that affect our access to information in important ways. In one line of reasoning, Sunstein (2002), Sunstein (2009) and Pariser (2011) have argued that the reliance on personalization and social media can lead people to being exposed to a narrow set of viewpoints. According to this hypothesis, one's existing beliefs are reinforced because they are locked inside so-called "filter bubbles" or "echo chambers," which prevent one from engaging with ideas different from their own. Such selective exposure could facilitate confirmation bias (Baron, 2000; Nickerson, 1998) and possibly create a fertile ground for polarization and misinformed opinions (Nyhan & Reifler, 2010; McKenzie, 2004; Stanovich, West & Toplak, 2013; Silverman, 2011).
These concerns are borne out to varying degrees in online user behavior data. For example, on Facebook, three filters—the social network, the feed population algorithm, and a user's own content selection—combine to decrease exposure to ideologically challenging news from a random baseline by more than 25% for conservative users, and close to 50% for liberal users (Bakshy, Messing & Adamic, 2015). The same study however highlights the difficulty in interpreting measurements of diverse information exposure. The decrease in exposure is significant, but the random baseline represents a completely bias-free exposure, which may not occur in reality. Our exposure is biased both in our explicit choices of information sources and implicitly through homophily—our tendency to associate with like-minded friends. Each social media filter may mitigate or amplify these biases. The combination of filters on Facebook still allows for exposure to some ideologically challenging news. But how does this compare to other ways of discovering information?
In a different Facebook study, users, especially partisan ones, were more likely to share articles with which they agree (An et al., 2014). Similar patterns can be seen on other platforms. On blogs, commenters are several times more likely to agree with each other than not (Gilbert, Bergstrom & Karahalios, 2009), and liberals and conservatives primarily link within their own communities (Adamic & Glance, 2005). On Twitter, political polarization is even more evident (Conover et al., 2011; Conover et al., 2012). When browsing news, people are more likely to be exposed to like-minded opinion pieces (Flaxman, Goel & Rao, 2013), and to stay connected and share articles with others having similar interests and values (Grevet, Terveen & Gilbert, 2014). In the context of controversial events that are highly polarizing, web sources tend to be partial and unbalanced, and only a small fraction of online readers visit more than two different sources (Koutra, Bennett & Horvitz, 2014). To respond to such narrowing of online horizons, researchers have started to concentrate on more engaging presentation of disagreeable content (Doris-Down, Versee & Gilbert, 2013; Munson & Resnick, 2010; Graells-Garrido, Lalmas & Quercia, 2013).
In domains outside of political discourse there is less evidence that personalization and social networks lead to filter bubbles. Recommendation systems have a diversifying effect on purchases (Hosanagar et al., 2013), and search engines have had a democratizing effect on the discovery of information, despite the popularity-based signals used in their ranking algorithms (Fortunato et al., 2006).
Aspects of the filter bubble hypothesis have so far been quantified for specific platforms like blogs (Adamic & Glance, 2005), Facebook (Bakshy, Messing & Adamic, 2015), and Twitter (Conover et al., 2011), but not across different classes of information sources. Indeed, social media and blogs could be very different from other types of sites, because of the strong social influence in them. What these differences may be and how they affect information consumption is an open question. For example, on the one hand, one would imagine homophily to contribute to the formation of echo chambers in social networks. On the other hand, the abundance of weak ties between individuals in different communities (Bakshy et al., 2012) could lead to highly diverse exposure. In this study we look at the diversity of information exposure more broadly. Our goal is to examine biases inherent in different types of online activity: information search, one-to-one communication from email exchanges, and many-to-many communication captured from social media streams. How large is the diversity of information sources to which we are exposed through interpersonal communication channels, such as social media and email, compared to a baseline of information seeking? We answer this question at the collective level by analyzing a massive dataset of Web clicks. In addition, we investigate how this analysis relates to the diversity of information accessed by individual users through an analysis of two additional datasets—Twitter posts and search logs. Figure 1 illustrates our empirical analysis: we measure how the visits by people that are engaged in different types of online activities are distributed across a broad set of websites (Figs. 1A and 1C) or concentrated within a few (Figs. 1B and 1D).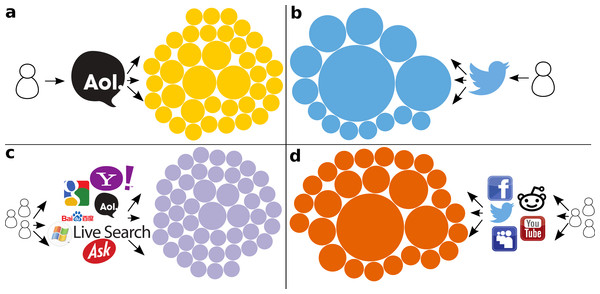 We carry out our analyses on all web targets as well as on targets restricted to news sites. The latter are of particular relevance when examining bias in public discourse. We do not make any additional distinctions regarding the type of content people visit, such as opinion pieces versus reporting, or differing ideological slant. We do not consider beliefs, past behaviors, or specific interests of information consumers. These deliberate choices are designed to yield quantitative measures of bias that do not depend on subjective assessments. Our results are therefore general and applicable to different topics, geographical regions, interests, and media sources.
Methods
To study the diversity of information exposure we use a massive collection of Web clicks as our primary dataset, and two supplementary datasets of link shares on Twitter and AOL search clicks. Code is available to reproduce our entire data processing procedure, described next (https://github.com/dimitargnikolov/web-traffic-iu).
Results
Figure 3A presents our main finding: the diversity of targets reached from social media is significantly lower than those reached from search engine traffic, for all traffic as well as news targets (inset). This result holds for both second- and third-level domains, and is consistent with results obtained using an alternative measures of diversity. The observed differences in diversity did not change significantly over a period of three and a half years (see Fig. 3B). This empirical evidence suggests that social media expose the community to a narrower range of information sources, compared to a baseline of information seeking activities. Figure 4 illustrates the top targets of traffic from search and social media on a typical week. The diversity of targets reached via email also seems to be higher than that of social media, however the difference is smaller and its statistical significance is weaker due to the larger noise in the data. The difference in entropy is larger and more significant for traffic from email sources to news targets.

While we wish to ultimately understand the biases experienced by individuals, the diversity measurements based on anonymous traffic data do not distinguish between users, and therefore they reveal a collective social bubble, as illustrated in Figs. 1C and 1D. It is at first sight unclear whether the collective bubble implies individual bubbles, or tells us anything at all about individual exposure. The number of clicks per user, or even the number of users could vary to produce different individual diversity patterns resulting in the same collective diversity. In theory, high collective diversity could be consistent with low individual diversity, and vice versa. Therefore we must investigate the relationship between collective and individual diversity measurements. To this end, we analyze the two auxiliary datasets where user information is preserved (see 'Methods'). For both datasets, we measure the diversity for individual users, and collectively disregarding user labels. The strong correlation between collective diversity and average user diversity (Fig. 5) suggests that our results relate not only to a collective bubble, but also to individual social bubbles, as illustrated in Figs. 1A and 1B.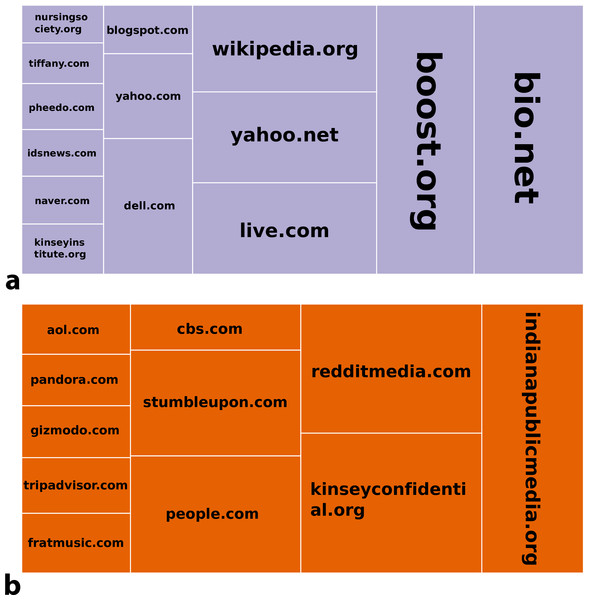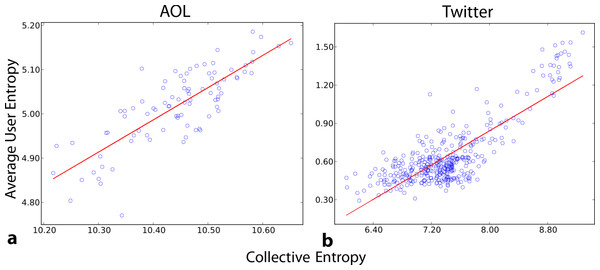 Discussion
We have presented evidence that the diversity of information reached through social media is significantly lower than through a search baseline. As the social media role in supporting information diffusion increases, there is also an increased danger of reinforcing our collective filter bubble. A similar picture emerges when we specifically look at news traffic—the diversity of social media communication is significantly lower than that of search and inter-personal communication. Given the importance of news consumption to civic discourse, this finding is especially relevant to the filter bubble hypothesis.
Our results suggest that social bubbles exist at the individual level as well, although our evidence is based on the relationship between collective and individual diversity and therefore indirect. Analysis of traffic data with (anonymized) user identifiers will be necessary to confirm this conclusively. In addition, these results apply to the population of users from Indiana University during the time period when the data was collected—from late 2006 to mid 2010. Repeating these experiments on other populations would be beneficial to establish the generality of our findings. Indeed, the social media and search landscapes have changed since 2010 and how that affects the diversity of information exposure for people is an interesting question for ongoing research.
Further research is also needed to tease out the influence of social versus algorithmic effects. Both are present in systems like Facebook—the algorithmic effect has to do with how a platform populates the feed for each user, which can be determined by a variety of individual and collective signals such as past social interactions and popularity. It seems unlikely that the relationship between algorithmic and social effects can be extracted from traces of online behavior as done here, without conducting controlled user studies.
These results also come with the caveat that in our analysis we do not try to quantify the diversity inside each domain. We are assuming that the diversity of content is higher across different domains than across the pages within a single domain. The problem of quantifying the diversity of the content inside a single domain is a significant research problem in its own right, and one that would greatly benefit this and similar lines of research. Quantifying domain diversity will likely need to be tackled by looking at the content of individual pages as other measures, such as the number of sub-domains or the number of pages inside the domain, are more indicative of size and popularity, but not necessarily of diversity.
Finally, in our study all social media traffic and all search traffic is merged. Further work is needed to tease out possible differences in diversity of information accessed through distinct search and social platforms. The social media platforms that exist today have important differences in functionality, and it will be worthwhile to investigate whether all these services under the umbrella of social media have similar properties when it comes to diverse information exposure.
Conclusion
Our findings provide the first large-scale empirical comparison between the diversity of information sources reached through different types of online activity. The traffic dataset gives us a unique opportunity to carry out this analysis. We are not aware of any other methods, based on publicly available data, for contrasting different information access patterns produced by the same set of users, in the same time period.
While we have found quantitative support of online social bubbles, the question of whether our reliance on technology for information access is fostering polarization and misinformation remains open. Even with ample anecdotal evidence (Mervis, 2014), we have yet to fully comprehend how today's technology biases exposure to information.