Temporal constrained objects for modelling neuronal dynamics
Published

Accepted

Received
Academic Editor
Subject Areas

Keywords

Temporal constrained objects

,

Constraint programming

,

Object-oriented languages

,

Declarative modelling

,

Neuron models
Copyright

©

2018

Nair et al.

Licence

This is an open access article distributed under the terms of the Creative Commons Attribution License, which permits unrestricted use, distribution, reproduction and adaptation in any medium and for any purpose provided that it is properly attributed. For attribution, the original author(s), title, publication source (PeerJ Computer Science) and either DOI or URL of the article must be cited.
Cite this article

2018

.

Temporal constrained objects for modelling neuronal dynamics

.

PeerJ Computer Science

4

:

e159

https://doi.org/10.7717/peerj-cs.159
Abstract
Background
Several new programming languages and technologies have emerged in the past few decades in order to ease the task of modelling complex systems. Modelling the dynamics of complex systems requires various levels of abstractions and reductive measures in representing the underlying behaviour. This also often requires making a trade-off between how realistic a model should be in order to address the scientific questions of interest and the computational tractability of the model.
Methods
In this paper, we propose a novel programming paradigm, called temporal constrained objects, which facilitates a principled approach to modelling complex dynamical systems. Temporal constrained objects are an extension of constrained objects with a focus on the analysis and prediction of the dynamic behaviour of a system. The structural aspects of a neuronal system are represented using objects, as in object-oriented languages, while the dynamic behaviour of neurons and synapses are modelled using declarative temporal constraints. Computation in this paradigm is a process of constraint satisfaction within a time-based simulation.
Results
We identified the feasibility and practicality in automatically mapping different kinds of neuron and synapse models to the constraints of temporal constrained objects. Simple neuronal networks were modelled by composing circuit components, implicitly satisfying the internal constraints of each component and interface constraints of the composition. Simulations show that temporal constrained objects provide significant conciseness in the formulation of these models. The underlying computational engine employed here automatically finds the solutions to the problems stated, reducing the code for modelling and simulation control. All examples reported in this paper have been programmed and successfully tested using the prototype language called TCOB. The code along with the programming environment are available at http://github.com/compneuro/TCOB_Neuron.
Discussion
Temporal constrained objects provide powerful capabilities for modelling the structural and dynamic aspects of neural systems. Capabilities of the constraint programming paradigm, such as declarative specification, the ability to express partial information and non-directionality, and capabilities of the object-oriented paradigm especially aggregation and inheritance, make this paradigm the right candidate for complex systems and computational modelling studies. With the advent of multi-core parallel computer architectures and techniques or parallel constraint-solving, the paradigm of temporal constrained objects lends itself to highly efficient execution which is necessary for modelling and simulation of large brain circuits.
Introduction
Modelling complex systems using computer languages has spanned a wide range of domains: from organs and organ systems to weather and atmospheric turbulence to economic systems and social networks. While it is the responsibility of the programmer to choose an appropriate paradigm for the problem at hand, conventional languages are limited in their ability to provide the right framework for a broad range of problems. Models for complex problems tend to be large and unwieldy, and hence it is critically important that the programming language used to program such models not exacerbate the problem with inadequate support. In this regard, imperative languages require more effort on the programmer, in providing the detailed data representation and algorithms, needed to solve a problem. This adds another layer of software complexity, especially when the problem to be modelled is a highly complex one.
Declarative languages had their origins in 1960s and are useful in directly modelling a problem by stating the properties of solutions (Benhamou, Jussien & O'Sullivan, 2007). In constraint-based languages, programmers declaratively specify the relation between variables using constraints, and the task of solving/maintaining the constraints is the responsibility of the underlying constraint solvers (Freeman-Benson, Maloney & Borning, 1990). This approach provides the desired separation between the problem-specification phase and the problem-solving phase. In this paper, we present a compositional approach in constraint programming to model the structure and behaviour of complex biological systems using the concept of temporal constrained objects (Kannimoola et al., 2017).
Temporal constrained objects are an extension of the paradigm of constrained objects which has been studied for over three decades (Borning, 1981; Leler, 1987; Horn, 1993; Tambay, 2003) and provide a declarative approach to data abstraction using the concepts of classes, hierarchies and aggregation found in object-oriented languages (Lago & Artalejo, 2001; Reiner & Zimmer, 2017). Constrained objects also provide a declarative approach to behavioural specification using constraints within the class (Jayaraman & Tambay, 2002). Constrained objects have been used previously to model cellular behaviour (Covert, Famili & Palsson, 2003) and metabolic pathways in cells (Pushpendran, 2006) in the context of biological systems. Although constraint satisfaction problems were introduced originally as a static framework, the paradigm of temporal constrained objects allows a modeller to solve a broader class of problems. In temporal constrained objects, constraint-solving is integrated within a time-based simulation regime and is well-suited to problem domains that require ordinary differential equations or partial differential equations. Extensions to constraint programming frameworks, such as hybrid concurrent constraint programming (Gupta et al., 1995), have also proved to be useful in modelling constraint satisfaction problems with time-varying behaviours. Temporal constrained objects were successful in modelling highly dynamic systems such as vehicular networks (Kannimoola, Jayaraman & Achuthan, 2016) and firewalls (Kannimoola, Jayaraman & Achuthan, 2018). This paper applies similar modelling principles to neural microcircuits.
In this paper, we demonstrate how the paradigm of temporal constrained objects can be applied for modelling the structure and behaviour of a complex biological system. Temporal constrained objects are appropriate for systems whose behaviour is governed by physical laws. The adaptive and dynamic nature of neural circuits demands efficient modelling strategies to incorporate structural compositions of the constituents at various translational levels—from ion channels to neurons to networks and behavioural systems. This paradigm is suitable to model neural systems since it focuses on a component-based modelling approach, with individual components governed by invariant principles. For example, neurons' and synapses' signalling mechanisms and its non-linear dynamics are represented by membrane voltage models constrained by current and voltage laws, and are also known to be constrained by neuronal anatomy and interconnection between neurons (Gutkin, Pinto & Ermentrout, 2003). While building neural networks, the aggregation of different neuronal circuit elements was automatically addressed using internal and interface constraints, without imposing the relations explicitly from outside.
In this paper, the section 'Background' gives background about the programming language aspects of temporal constrained objects followed by the essential modelling principles of neural systems. Computational modelling of neural systems using temporal constrained objects is described in the section 'Methods.' We present a detailed case study of an implementation of neurons and the micro-circuitry of a rat cerebellum granular layer. The 'Results' section includes the results of modelling with temporal constrained objects as well as model validations and performance optimizations. The last two sections of the paper highlights the discussion followed by conclusions and remarks on future research directions.
Methods
In this paper, we used temporal constrained objects to model the time-varying dynamics of a neural circuit as exhibited by the electrical activity of neurons and synapses. In modelling studies, elemental features of a neural system are abstracted into a conceptual model and are formalized into a mathematical form. A working embodiment of neural dynamics is created using computational models which is used to test and examine the modelled abstract. Chemical and electrical phenomena of neural systems were then simulated from mathematical representations (Fig. 3).
Temporal constrained objects allowed a direct implementation of the circuit model of a neuronal system. Initial focus was on modelling the component-based structure of the neural system by identifying the components, their functions and parameters. The main constituent of the neural system—the neuron—was modelled in two different formulations: (1) using voltage functions which are continuous over a time evolution (as in a HH model, described in 'Modelling neurons using continuous time HH mechanisms'); and (2) using voltage reset functions which show piece wise state changes (as in AdEx and Izhikevich models, described in 'Reconstructing neurons using voltage reset models'). 'Modelling synaptic dynamics' presents modelling the synaptic interactions between neurons using continuous functions of time.
In modelling neurons and synapses with temporal constrained objects, the biophysical mechanisms (abstracted as mathematical formulations in the models) were represented as constraints of the class. Continuous state changes of variables were represented using simple constraints while voltage reset functions were represented using conditional constraints. Once the fundamental components of a neural network were modelled, the interaction between these components in a network ('Modelling neuronal interactions' and 'Modelling cerebellar microcircuits') was incorporated. Biological fidelity of the models was tested to validate whether the model produces experimental outcomes.
Results
Temporal spike train firing patterns in neurons
To demonstrate the effectiveness of constraint evaluation results against state-of-the-art simulations, the output of TCOB models were recorded using TCOB predicates. Using standard values for model parameters, voltage plots of continuous-time HH models and voltage-reset models, Izhikevich and AdEx, were reproduced (Naud et al., 2008). In HH models, computationally reconstructed action potential peaked at a voltage of +40 mV, followed by hyper-polarization following which the resting potential was re-established (Hodgkin & Huxley, 1952) (Fig. 11A). As in experiments, when the injected current in the model was insufficient to depolarize the membrane, no action potential was generated. In our implementation, a minimum threshold non-zero current was observed for which the HH model demonstrated repeated firing, and the firing frequency increased with the increase in intensity of the input. The plot of HH gating variables depicted the behaviour of channel activation and inactivation (Fig. 11B). Izhikevich and AdEx models were also stimulated with input currents to reproduce various firing behaviour of different neuron types in the brain (Figs. 11C–11F).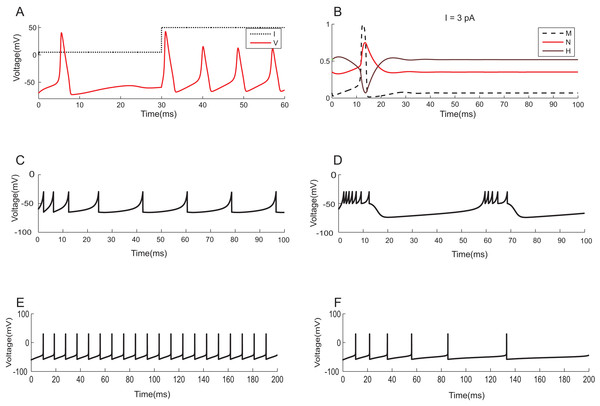 The neuron and synapse models implemented using temporal constrained objects were parameter optimized to reproduce the firing behaviour of different neuron types present in the cerebellum (Medini et al., 2014; Nair et al., 2014) under current clamp experiments (D'Angelo et al., 1995; Bezzi et al., 2004), during in vitro behaviour (as seen in brain slices) and during in vivo behaviour (as seen in anaesthetized rats) for inputs through mossy fibres (Diwakar et al., 2009). Single spike inputs were applied through the synapses to model in vitro inputs while small burst inputs (e.g., five spikes per burst) was used to model in vivo inputs (Roggeri et al., 2008). The modelled responses of granule, Golgi and Purkinje neurons using AdEx neuron models for 10 pA input current are shown in Figs. 12A–12C (Medini et al., 2014). The modelled responses of granule neurons during in vitro inputs and in vivo inputs are shown in Figs. 12D and 12E.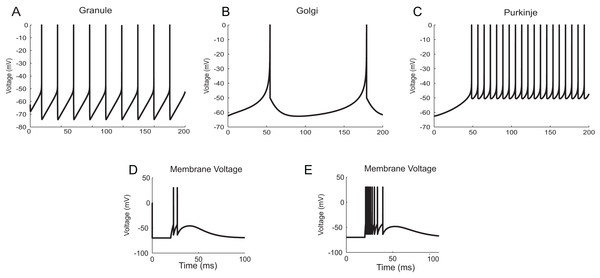 Synaptic dynamics resolved using TCOB
Using a conductance-based synaptic mechanism, neurons were excited synaptically using pre-synaptic spike trains. Alpha function reproduced the post-synaptic conductance of synapses with a finite rise time (Fig. 13A). Instantaneous rise and exponential decay of membrane potential were modelled using single exponential synapses (Fig. 13B). A closer approximation of post-synaptic dynamics was obtained by employing double exponential models. Fluctuations of synaptic conductance were approximated using rise time and decay time of conductance change independently (Fig. 13C). The activation kinetics of excitatory and inhibitory synaptic receptors was modelled using AMPA, NMDA, GABAA and GABAB receptor behaviour (Fig. 13D). In the models, AMPA channels mediated the fast-excitatory transmission and were characterized by fast rise time and decay time for the conductance values. Significantly slower NMDA channel modelled related to modifications of synaptic efficacy and temporal summation of currents. In the implementations, the two primary inhibitory receptor kinetics; GABAA and GABAB modelled the fast and slow time course of inhibitory interactions.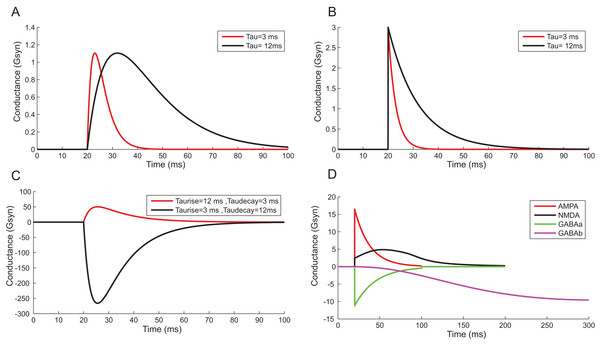 Correctness of computations and performance improvements in TCOB models
To test numerical accuracy of TCOB for floating point computations, the results of numerical integration of TCOB were compared with imperative C++ implementation. Fourth-order Runge–Kutta integration technique was employed for solving differential equations in the imperative implementation while numerical approximation using Euler approach was used for the current TCOB models. It has been observed that the membrane voltage traces produced by both approaches were approximately similar for the entire time evolution (Figs. 14A–14C). In this paper, we present the core concepts of TCOB and we have not discussed library support for the language. It is straightforward to make standard solvers for differential equations, such as Runge–Kutta, as library functions so that the programmer does not have to define them. However, these solvers need to be 'programmed' by the end user, the specification occurs at a much higher level than would be the case in an imperative language such as C or C++.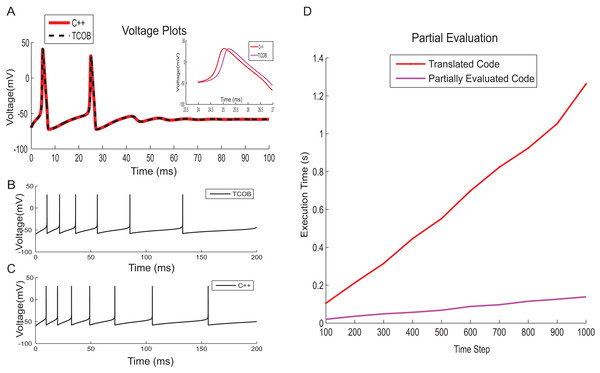 Although LOC are not always a definitive measure of software complexity, the declarative approach of a temporal constrained object model significantly reduced coding time, making the model more compact and closer to the problem specification, and hence also easier to understand, similar to scripting languages used in computational modelling. In comparison with the C++ version of the HH model, which required about 300 LOC, the temporal constrained object version was implemented in just 30 LOC.
TCOB compiler translates the temporal constrained objects program into Prolog code which can be executed directly under SWI-Prolog with a CLP(R) library. The potential sources of performance inefficiency of TCOB are due to the layers of predicate calls arising from the systematic translation and also due to the repeated checking of consistency in the underlying constraint store. To alleviate these inefficiencies, we adapted and extended a partial evaluation technique (Kannimoola, Jayaraman & Achuthan, 2016) for optimized code generation of constrained object programs that was first presented in Tambay (2003). Given the translated Prolog program of TCOB and a top-level goal, the partial evaluator outputs the list of constraints that need to be solved for the given goal. The partial evaluation process makes our implementation independent from constraint solver. On an Intel i7 processor-based desktop computer with 16 GB memory, the partially evaluated code for HH model executed approximately six times faster than the corresponding normal code (Fig. 14D).
Discussion
Temporal constrained objects were able to successfully recreate substantive classes of neuroscience models related to time-varying behaviour using a declarative approach. With large-scale brain circuit models in mind, the compositional modelling requirement was tested by mathematically reconstructing the constituent components of neuronal network, i.e., neurons and synapses. Models that followed continuous-time functions, such as the HH type neuron model, as well as different synaptic models were implemented in temporal constrained objects easily. Special mention must be made of how temporal constrained objects were able to express voltage-reset models which exhibit piecewise continuous-time behaviour through a constant reset of the voltage. These models exhibit both discrete and continuous state changes, in contrast to the continuous-time behaviour of HH type neuron models. Such systems that exhibited discontinuous behaviour or choice, such as the Izhikevich- and AdEx-type neuron models, required injecting a discontinuous change during constraint-solving. Temporal constrained objects were able to elegantly support this capability using series variables and conditional constraints, i.e., whenever the condition was met for resetting the voltage, the value of the series variable at the applicable point in time is set appropriately. It should be noted that this is not an imperative update of a state variable but rather the declarative specification of a value at a new point in time of the series variable. Both continuous and voltage reset behaviour of the models implemented in temporal constrained objects, generated typical firing patterns of different neurons. Even though we have used manually defined synaptic connections in the example scripts, conditional constraints and dynamic typing in TCOB enables to use dynamic construction of objects based on the various conditions of the networks. Since temporal constrained objects also supports unbounded arrays, neurons can be programmed to receive dynamic stimuli generated from constraints. Since TCOB programming environment use SWI-Prolog built-in predicates to create random numbers, synaptic jitter and other forms of randomness in the network can also be modelled easily. Having been able to test that the tractability of employing temporal constrained objects as arbitrary neuron models, we perceive that temporal constrained object implementations allow continuous functions as in HH models or discrete state change of functions as in voltage reset models.
Constraint-based systems accumulate and aggregate the partial information from the set of constraints. Moreover, the order of constraint specification does not depend on the final result, which permits the incremental addition of information to the constraint store at any point of execution without worrying about the computation state. Temporal constrained object-like frameworks are well-suited for modelling systems from which useful inferences are to be derived based on partial or incomplete information available at the current stage. In computational neuroscience of neurons and circuits, this feature enables the modeller to process information incrementally at each functional zone with in specialized brain circuits.
Conclusion
In our temporal constrained object implementation, the modelled neural responses reproduced biologically validated and relevant outputs as observed in experiments. The identification of global constraints of the system are to be tested on a larger scale, i.e. at the population level. Debugging network models in such frameworks has been changed to a constraint satisfaction problem where the constraint-solving algorithms operate on the constraint representation of the network variables, their domain and a set of relations between these variables. Successively imposing constraints with the level of details expected makes the system automatically scalable in terms of its software representation.
Although the current implementation of temporal constrained objects is not most efficient to compare with specialised simulators available for computational neuroscience, it is hoped that with novel re-implementation of the temporal constrained objects programming platform, we would be able to express models for large-scale reconstructions in the future. With new computing architecture and multiple core GPUs and CPUs, it is crucial to consider declarative modelling strategies that allow implicit parallelization. This re-implementation, however, pilots a general-purpose constrained object-based programming paradigm to declaratively express both the concept space and computational space of neuron models where the model evaluations are automatically handled by the computational engine.
While declarative languages provide a much higher level of abstraction and are more scalable, the execution of declarative programs under early implementations faced performance bottlenecks. Since slight changes in the constraint formulation may lead to unpredictable changes in the performance of the system, stability of constraint formulation of a model has always been challenged. Similar limitations exist while applying cost optimization techniques (Barták, 1999). Over the years, with advances in compiler and hardware technologies, the performance of declarative programs improved significantly, but is still not equal to that of imperative programs such as C or C++. Detailed performance measures were introduced to reduce the execution time by using methodologies such as compile-time optimization and partial evaluation. With these improvements, we feel that our proposed paradigm of temporal constrained objects is a good candidate for modelling small- to medium-scale brain circuit structures. In order to build constrained-object-based simulators for large-scale networks, we propose studying the parallelization of temporal constrained objects. Temporal constrained objects with parallelization are a promising approach for representing the emergent properties of systems that otherwise is too complex to model at multiple translational levels.
Supplemental Information
Supplementary text and code for temporal constrained objects for modelling neuronal dynamics.
Code samples and descriptions of modeling implementation of neurons and synapses as temporal constrained objects.