ClusterEnG: an interactive educational web resource for clustering and visualizing high-dimensional data
Published

Accepted

Received
Academic Editor
Subject Areas

Keywords

Validation measures

,

Genomics

,

Web interface

,

Education

,

Clustering
Copyright

©

2018

Manjunath et al.

Licence

This is an open access article distributed under the terms of the Creative Commons Attribution License, which permits unrestricted use, distribution, reproduction and adaptation in any medium and for any purpose provided that it is properly attributed. For attribution, the original author(s), title, publication source (PeerJ Computer Science) and either DOI or URL of the article must be cited.
Cite this article

2018

.

ClusterEnG: an interactive educational web resource for clustering and visualizing high-dimensional data

.

PeerJ Computer Science

4

:

e155

https://doi.org/10.7717/peerj-cs.155
Abstract
Background
Clustering is one of the most common techniques in data analysis and seeks to group together data points that are similar in some measure. Although there are many computer programs available for performing clustering, a single web resource that provides several state-of-the-art clustering methods, interactive visualizations and evaluation of clustering results is lacking.
Methods
ClusterEnG (acronym for Clustering Engine for Genomics) provides a web interface for clustering data and interactive visualizations including 3D views, data selection and zoom features. Eighteen clustering validation measures are also presented to aid the user in selecting a suitable algorithm for their dataset. ClusterEnG also aims at educating the user about the similarities and differences between various clustering algorithms and provides tutorials that demonstrate potential pitfalls of each algorithm.
Conclusions
The web resource will be particularly useful to scientists who are not conversant with computing but want to understand the structure of their data in an intuitive manner. The validation measures facilitate the process of choosing a suitable clustering algorithm among the available options. ClusterEnG is part of a bigger project called KnowEnG (Knowledge Engine for Genomics) and is available at http://education.knoweng.org/clustereng.
Background
Clustering is one of the most powerful and widely used analysis techniques for discovering structure in large datasets by grouping data points that are similar according to some measure. Several programming languages such as R (R Core Team , 2015) and Python (Pedregosa et al., 2011) offer libraries or packages for clustering custom data and generating static plots. However, interactive visualization, which aids the user in understanding the data at a deeper level, requires additional libraries and external software. Moreover, the advent of next-generation sequencing has enabled researchers to generate data at an unprecedented rapid pace, creating an acute need for resources that can enable the users of high-dimensional biological data to quickly perform "first-hand" analysis, such as clustering (Stephens et al., 2015). The main challenges to building such a resource are handling large datasets and facilitating its interpretability. Client-side computer systems or web browsers may not always be powerful enough for efficient navigation through the data. The NIH has recently funded Big Data to Knowledge (BD2K) Centers to tackle this type of challenges. As part of the KnowEnG BD2K Center, we have developed a web-based resource called ClusterEnG (acronym for Clustering Engine for Genomics) for clustering large datasets with efficient parallel algorithms and software containerization.
Web servers, such as ClustVis (Metsalu & Vilo, 2015), provide a simple yet powerful interface for visualizing Principal Component Analysis (PCA) and heatmap plots. However, at present, ClustVis limits the uploaded file size to 2 MB, and the plots are also static. WebMeV (Wang et al., 2017), a cloud-based application, performs PCA, k-means and hierarchical clustering on large datasets, while providing limited interactivity and visualization. Gitools (Perez-Llamas & Lopez-Bigas, 2011) contains several features for interactive visualization of clustering results, but currently there is no web interface available. Also, at present, Gitools provides only two clustering algorithms for analysis. WebGimm (Joshi et al., 2011) is another application for clustering analysis of gene expression data and provides results to be viewed externally using various Java applications. Similarly, other existing tools, although catering to high-dimensional data, either require a local software installation or lack clustering visualization and validation analysis (L'Yi et al., 2015; Fernandez et al., 2017). In comparison, ClusterEnG integrates the features of the above tools into one platform and produces visual results with enhanced interactivity. ClusterEnG's interactive PCA and t-Distributed Stochastic Neighbor Embedding (t-SNE; Van der Maaten & Hinton, 2008) plots in 2D and 3D allow intuitive exploration of structures in data. ClusterEnG also provides additional algorithms not available in the above resources. Furthermore, ClusterEnG offers several internal validation measures, thereby adding a crucial feature for evaluating the performance of clustering results.
Results
Figure 1 illustrates the flowchart of various components of ClusterEnG, from user-uploaded data to output visualizations. Underlying details of the components are outlined below.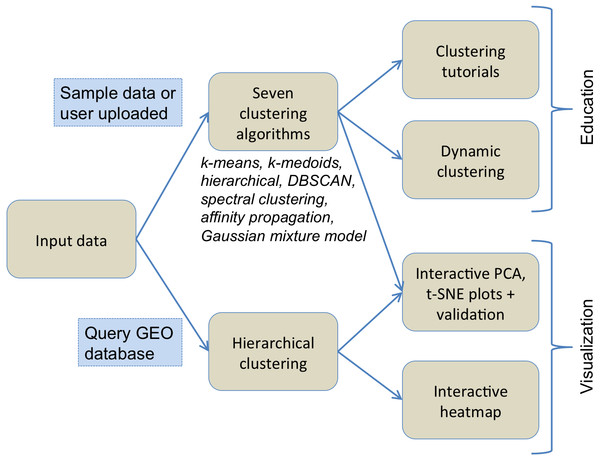 Discussion
We have benchmarked the performance of the codes for all available clustering algorithms. Figure 5 shows the runtime of various clustering algorithms on ClusterEnG as a function of number of samples. The test data are randomly generated from five Gaussian distributions with different mean over the feature set. The number of features for each dataset is fixed at 10,000, while the number of samples is varied from 100 to 5,000. Figure 5 also includes the time taken to perform PCA on the test data. The PCA step is common to all the algorithms. As shown in Fig. 5, DBSCAN performs best with respect to runtime for all tested data, whereas affinity propagation and hierarchical clustering have maximum runtimes for larger and smaller sample sizes, respectively. However, DBSCAN and affinity propagation can give different numbers of clusters, since these algorithms estimate the number of clusters from data. In the above analysis, the parallel k-means and spectral clustering algorithms are run on a single core for comparison with serial codes. We note that the above benchmarking was performed with datasets having a similar data structure (Gaussian distribution). The actual runtime of each algorithm may vary from dataset to dataset.
For the NCI60 and B-cell lymphoma gene expression datasets, hierarchical clustering performs best in terms of the quality of clustering (with default parameters), as assessed by the number of validation measures suggesting optimal clustering. Specifically, eight and eleven of the eighteen validation measures indicated that hierarchical clustering is optimal for the NCI60 and B-cell lymphoma datasets, respectively. However, we note that the quality of a clustering result crucially depends on the geometric structure of the data being analyzed. For example, the comparison plot on the website shows that spectral clustering and DBSCAN can correctly cluster the concentric annuli data, while the other algorithms fail to identify the correct clusters.
We are currently developing and implementing parallel algorithms for affinity propagation and hierarchical clustering, and they will be included in the future releases of ClusterEnG. Furthermore, we plan to incorporate modules for exporting the clustering results directly to other available web servers for integrative analyses, including gene ontology and gene set enrichment analysis.
Conclusions
ClusterEnG offers a one-stop web service for efficient clustering of large datasets with the flexibility of choosing among many state-of-the-art clustering algorithms, which are not readily accessible to beginners. The included interactive visualizations of clustering results in 2D and 3D will enable the users of our resource to comprehend their data effectively. We are exploring the possibility of accepting datasets much larger than the current limit by allowing the user to perform clustering on our server and then download the results for further analysis and/or visualization. As is the case for other visualization web resources, ClusterEnG's interactive visualization module for large datasets depends on the user's system specifications. Nevertheless, an alternative approach would be to visualize only user-selected samples after clustering.