Accelerating the XGBoost algorithm using GPU computing
Department of Computer Science, University of Waikato

,

Hamilton

,

New Zealand
Published

Accepted

Received
Academic Editor
Subject Areas

Keywords

Supervised machine learning

,

Gradient boosting

,

GPU computing
Copyright

©

2017

Mitchell and Frank

Licence

This is an open access article distributed under the terms of the Creative Commons Attribution License, which permits unrestricted use, distribution, reproduction and adaptation in any medium and for any purpose provided that it is properly attributed. For attribution, the original author(s), title, publication source (PeerJ Computer Science) and either DOI or URL of the article must be cited.
Cite this article

2017

.

Accelerating the XGBoost algorithm using GPU computing

.

PeerJ Computer Science

3

:

e127

https://doi.org/10.7717/peerj-cs.127
Abstract
We present a CUDA-based implementation of a decision tree construction algorithm within the gradient boosting library XGBoost. The tree construction algorithm is executed entirely on the graphics processing unit (GPU) and shows high performance with a variety of datasets and settings, including sparse input matrices. Individual boosting iterations are parallelised, combining two approaches. An interleaved approach is used for shallow trees, switching to a more conventional radix sort-based approach for larger depths. We show speedups of between 3× and 6× using a Titan X compared to a 4 core i7 CPU, and 1.2× using a Titan X compared to 2× Xeon CPUs (24 cores). We show that it is possible to process the Higgs dataset (10 million instances, 28 features) entirely within GPU memory. The algorithm is made available as a plug-in within the XGBoost library and fully supports all XGBoost features including classification, regression and ranking tasks.
Introduction
Gradient boosting is an important tool in the field of supervised learning, providing state-of-the-art performance on classification, regression and ranking tasks. XGBoost is an implementation of a generalised gradient boosting algorithm that has become a tool of choice in machine learning competitions. This is due to its excellent predictive performance, highly optimised multicore and distributed machine implementation and the ability to handle sparse data.
Despite good performance relative to existing gradient boosting implementations, XGBoost can be very time consuming to run. Common tasks can take hours or even days to complete. Building highly accurate models using gradient boosting also requires extensive parameter tuning. In this process, the algorithm must be run many times to explore the effect of parameters such as the learning rate and L1/L2 regularisation terms on cross validation accuracy.
This paper describes and evaluates a graphics processing unit (GPU) algorithm for accelerating decision tree construction within individual boosting iterations in the single machine XGBoost setting. GPUs have been used to accelerate compute intensive tasks in machine learning and many other fields through the utilisation of their specialised SIMD architecture (Coates et al., 2013; Merrill & Grimshaw, 2011). GPU-accelerated decision tree algorithms have been tried before with moderate success. Our unique contributions are as follows. We describe a completely GPU-based implementation that scales to arbitrary numbers of leaf nodes and exhibits stable performance characteristics on a range of datasets and settings. We experiment with novel approaches to processing interleaved subsets of data on GPUs and develop a massively parallel tree construction algorithm that natively handles sparse data. We also provide a feature complete implementation for classification, regression and learning to rank tasks in the open source XGBoost library (https://github.com/dmlc/xgboost/tree/master/plugin/updater_gpu).
Background and Related Work
We review the basic strategy of tree boosting for machine learning and revisit the derivation of the XGBoost algorithm, before considering the execution model and memory architecture of GPUs as well as languages and libraries for GPU computing. Our GPU-based implementation makes extensive use of high-performance GPU primitives and we discuss these next. We briefly discuss the effect of using single-precision floating point arithmetic before reviewing related work on GPU-based induction of decision trees from data.
Parallel Tree Construction
Our algorithm builds a single decision tree for a boosting iteration by processing decision tree nodes in a level-wise manner. At each level we search for the best split within each leaf node, update the positions of training instances based on these new splits and then repartition data if necessary. Processing an entire level at a time allows us to saturate the GPU with the maximum amount of work available in a single iteration. Our algorithm performs the following three high level phases for each tree level until the maximum tree depth is reached: (1) find splits, (2) update node positions, and (3) sort node buckets (if necessary).
Phase 1: find splits
The first phase of the algorithm finds the best split for each leaf node at the current level.
Data layout
To facilitate enumeration through all split points, the feature values should be kept in sorted order. Hence, we use the device memory layout shown in Tables 9 and 10. Each feature value is paired with the ID of the instance it belongs to as well as the leaf node it currently resides in. Data are stored in sparse column major format and instance IDs are used to map back to gradient pairs for each instance. All data are stored in arrays in device memory. The tree itself can be stored in a fixed length device array as it is strictly binary and has a maximum depth known ahead of time.
f0
f1
f2
Node id
0
0
0
0
0
0
0
0
Instance id
0
2
3
3
2
0
1
3
Feature value
0.1
0.5
0.9
5.2
3.1
3.6
3.9
4.7
| | | | | |
| --- | --- | --- | --- | --- |
| Instance id | 0 | 1 | 2 | 3 |
| Gradient pair | p0 | p1 | p2 | p3 |
Block level parallelism
Given the above data layout notice that each feature resides in a contiguous block and may be processed independently. In order to calculate the best split for the root node of the tree, we greedily select the best split within each feature, delegating a single thread block per feature. The best splits for each feature are then written out to global memory and are reduced by a second kernel. A downside of this approach is that when the number of features is not enough to saturate the number of streaming multiprocessors—the hardware units responsible for executing a thread block—the device will not be fully utilised.
Calculating splits
In order to calculate the best split for a given feature we evaluate Eq. (4) at each possible split location. This depends on (GL, HL) and (GR, HR). We obtain (GL, HL) from a parallel scan of gradient pairs associated with each feature value. (GR, HR) can be obtained by subtracting (GL, HL) from the node total which we know from the parent node.
The thread block moves from left to right across a given feature, consuming 'tiles' of input. A tile herein refers to the set of input items able to be processed by a thread block in one iteration. Table 11 gives an example of a thread block with four threads evaluating a tile with four items. For a given tile, gradient pairs are scanned and all splits are evaluated.
Thread block 0
⇒
↓
↓
↓
↓
f0
Instance id
0
2
3
1
7
5
6
4
Feature value
0.1
0.2
0.3
0.5
0.5
0.7
0.8
0.8
Gradient pair
p0
p2
p3
p1
p7
p5
p6
p4
Each 32 thread warp performs a reduction to find the best local split and keeps track of the current best feature value and accompanying gradient statistics in shared memory. At the end of processing the feature, another reduction is performed over all the warps' best items to find the best split for the feature.
Missing values
The original XGBoost algorithm accounts for missing values by scanning through the input values twice as described in 'XGBoost: handling missing values'—once in the forwards direction and once in the reverse direction. An alternative method used by our GPU algorithm is to perform a sum reduction over the entire feature before scanning. The gradient statistics for the missing values can then be calculated as the node sum statistics minus the reduction. If the sum of the gradient pairs from the missing values is known, only a single scan is then required. This method was chosen as the cost of a reduction can be significantly less than performing the second scan.
Node buckets
So far the algorithm description only explains how to find a split at the first level where all instances are bucketed into a single node. A decision tree algorithm must, by definition, separate instances into different nodes and then evaluate splits over these subsets of instances. This leaves us with two possible options for processing nodes. The first is to leave all data instances in their current location, keeping track of which node they currently reside in using an auxiliary array as shown in Table 12. When we perform a scan across all data values we keep temporary statistics for each node. We therefore scan across the array processing all instances as they are interleaved with respect to their node buckets. This is the method used by the CPU XGBoost algorithm. We also perform this method on the GPU, but only to tree depths of around 5. This interleaved algorithm is fully described in 'Interleaved algorithm: finding a split.'
f0
f1
f2
Node id
2
1
2
2
1
2
1
2
Instance id
0
2
3
3
2
0
1
3
Feature value
0.1
0.5
0.9
5.2
3.1
3.6
3.9
4.7
The second option is to radix sort instances by their node buckets at each level in the tree. This second option is described fully in 'Sorting algorithm: finding a split.' Briefly, data values are first ordered by their current node and then by feature values within their node buckets as shown in Table 13. This transforms the interleaved scan ('multiscan') problem described above into a segmented scan, which has constant temporary storage requirements and thus scales to arbitrary depths in a GPU implementation.
f0
f1
f2
Node id
1
2
2
1
2
Instance id
0
2
3
3
2
1
0
3
Feature value
0.5
0.1
0.9
5.2
3.1
3.9
3.6
4.7
In our implementation, we use the interleaved method for trees of up to depth 5 and then switch to the sorting version of the algorithm. Avoiding the expensive radix sorting step for as long as possible can provide speed advantages, particularly when building small trees. The maximum number of leaves at depth 5 is 32. At greater depths there are insufficient shared memory resources and the exponentially increasing run-time begins to be uncompetitive.
Interleaved algorithm: finding a split
In order to correctly account for missing values a multireduce operation must be performed to obtain the sums within interleaved sequences of nodes. A multiscan is then performed over gradient pairs. Following that, unique feature values are identified and gain values calculated to identify the best split for each node. We first discuss the multireduce and multiscan operations before considering how to evaluate splits.
Multireduce and multiscan
Algorithms 5 and 6 outline the approach used for multireduce/multiscan at the thread block level. Our multiscan/multireduce approach is formulated around sequentially executing fast warp synchronous scan/reduce operations for each bucket. Passing vectors of items to the binary associative operator is not generally possible given the number of buckets and the limited temporary storage. This was discussed in 'Scan and reduce on multiple sequences.' We instead perform warp level multiscan operations. Listing 5 shows how a 32-thread warp can perform a multiscan by masking off non-active node buckets and performing a normal warp scan for each node bucket. The function 'WarpExclusiveScan()' herein refers to an exclusive version of the warp scan described in Listing 3.
| | |
| --- | --- |
| 1. | An input tile is loaded. |
| 2. | Each warp performs local reduction for each bucket, masking off items for the current bucket. |
| 3. | Each warp adds its local reductions into shared memory. |
| 4. | The remaining tiles are processed. |
| 5. | The partial sums in shared memory are reduced by a single warp into the final node sums. |
| | |
| --- | --- |
| 1. | An input tile is loaded. |
| 2. | Each warp performs local scans for each bucket, masking off items for the current bucket. |
| 3. | The sums from each local scan are placed into shared memory. |
| 4. | The partial sums in shared memory are scanned. |
| 5. | The scanned partial sums in shared memory are added back into the local values. |
| 6. | The running sum from the previous tile is added to the local values. |
| 7. | The remaining tiles are processed. |
Note that the number of warp reductions/scans performed over a warp of data increases exponentially with tree depth. This leads to an exponentially increasing run time relative to the depth of the tree, but is surprisingly performant even up to depth 6 as warp synchronous reductions/scans using shuffle instructions are cheap to compute. They only perform operations on registers and incur no high latency reads or writes into global memory.
The exclusive scan for the entire input tile is calculated from individual warp scans by performing the same multiscan operation over the sums of each warp scan and scattering the results of this back into each item. More detailed information on how to calculate a block-wide scan from smaller warp scan operations is given in Nvidia (2016).
Evaluating splits
There is one additional problem that must be solved. It arises as a consequence of processing node buckets in interleaved order. In a decision tree algorithm, when enumerating through feature values to find a split, we should not choose a split that falls between two elements with the same value. This is because a decision rule will not be able to separate elements with the same value. For a value to be considered as a split, the corresponding item must be the leftmost item with that feature value for that particular node (we could also arbitrarily take the rightmost value).
Because the node buckets are interleaved, it is not possible to simply check the item to the left to see if the feature value is the same—the item to the left of a given item may reside in a different node. To check if an item with a certain feature value is the leftmost item with that value in its node bucket, we can formulate a scan with a special binary associative operator. First, each item is assigned a bit vector of length n + 1 where n is the number of buckets. If the item resides within bucket i then xi will be set to 1. If the item's feature value is distinct from the value of the item directly to the left (irrespective of bucket) then xn+1 is set to 1. All other bits are set to 0.
We can then define a binary associative operator as follows: (5)
Bit xn+1 acts as a segmentation flag, resetting the scan so many small scans are performed across groups of items with the same feature value. Scanning the bucket flags with a logical or operator determines which node buckets are represented in the items to the left of the current item. Therefore, within a group of items with the same feature value, if the current item's bucket flag is set to 0 for the bucket it resides in, the item represents the leftmost item with that value in its bucket. This item can then be used as a split point.
In practice, a 64 bit integer is used as the bit vector in order to hold a maximum of 33 bits at the sixth level of the tree (the maximum number of active nodes at this level +1 for the segmentation flag). The operator is formulated according to Listing 6 in C++ code. Moreover, when applying this interleaved algorithm we cannot choose the split value as the halfway point between two training examples: We do not know the value of the item to the left within the current node, only if it is the same as the current item or not. The split value is accordingly calculated as the current value minus some small constant. This distinction in the split value does not affect accuracy in practice.
Complete algorithm
Given a reduction, scan and the above method for finding unique feature values we have all the machinery necessary to enumerate splits and select the best. The complete algorithm for a thread block processing a single feature at a given tree level is shown in Algorithm 7.
| | |
| --- | --- |
| 1. | Load input tile |
| 2. | Multireduce tile gradient pairs |
| 3. | Go to 1. until all tiles processed |
| 4. | Return to first tile |
| 5. | Load input tile |
| 6. | Multiscan tile gradient pairs |
| 7. | Scan tile for unique feature values |
| 8. | Calculate gain for each split |
| 9. | Store best split for each warp |
| 10. | Go to 5. until all tiles processed |
| 11. | Output best splits |
The output of this algorithm contains the best split for each leaf node for a given feature. Each thread block outputs the best splits for its assigned feature. These splits are then further reduced by a global kernel to find the best splits for any feature.
Sorting algorithm: finding a split
The sorting implementation of the split finding algorithm operates on feature value data grouped into node buckets. Given data sorted by node ID first and then feature values second we can perform segmented scan/reduce operations over an entire feature only needing a constant amount of temporary storage.
The segmented reduction to find gradient pair sums for each node is implemented as a segmented sum scan, storing the final element from each segment as the node sum. Another segmented scan is then performed over the input feature to get the exclusive scan of gradient pairs. After scanning each tile, the split gain is calculated using the scan and reduction as input and the best splits are stored in shared memory.
The segmented scan is formulated by performing an ordinary scan over key value pairs with a binary associative operator that resets the sum when the key changes. In this case the key is the current node bucket and the value is the gradient pair. The operator is shown in Eq. (6).
(6)
An overview of the split finding algorithm for a single thread block processing a feature is provided in Algorithm 8. The output of this algorithm, like that of the interleaved algorithm, consists of the best splits for each feature, and each node. This is reduced by a global kernel to find the best splits for each node, of any feature.
| | |
| --- | --- |
| 1. | Load input tile |
| 2. | Segmented reduction over tile gradient pairs |
| 3. | Go to 1. until all tiles processed |
| 4. | Return to first tile |
| 5. | Load input tile |
| 6. | Segmented scan over tile gradient pairs |
| 7. | Calculate gain for each split |
| 8. | Store best split for each warp |
| 9. | Go to 5. until all tiles processed |
| 10. | Output best splits |
Phase 2: update node positions
Once the best splits for each node have been calculated, the node positions for each instance must be updated. This is made non-trivial because of the presence of missing values. We first create an array containing the pre-split node position of each training instance. These node positions are then updated as if they contained all missing values, according to the default missing direction in the newly calculated splits. We then update this array again based on the feature values of the instances. Any instance which does not have a value for that feature (missing value) will have its node position left unchanged as per the missing direction. Because we now have the updated node position for each instance, we write these node positions back to each feature value.
To illustrate this with an example, Fig. 8 shows the state of a decision tree after having calculated splits for level 1. The node positions in the data structure used for split finding (Table 14) must be updated before proceeding to calculate the splits for level 2. To do this we update the array in Table 15 that maps instances to a node.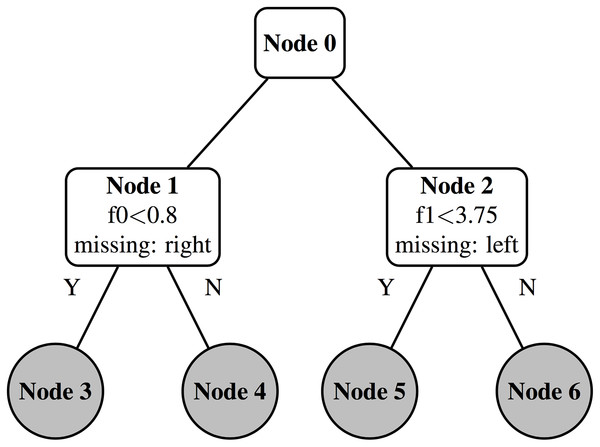 First we update the node ID map in the missing direction. All instances residing in node 1 are updated in the right direction to node 4. Instances residing in node 2 are updated in the left direction to node 5. The node ID map now looks like Table 16.
We now update the map again using the feature values from Table 14, overwriting the previous values. Instance 0 resides in node 1 so we check if f0 < 0.8. This is true so instance 0 moves down the left branch into node 3. Instance 1 moves into node 5 and instance 2 moves into node 6 based on their f1 values. Note that instance 3 has a missing value for f0. Its node position is therefore kept as the missing direction updated in the previous step. This process is shown in Table 17.
The per instance node ID array is now up-to-date for the new level so we write these values back into the per feature value array, giving Table 18.
Phase 3: sort node buckets
If the sorting version of the algorithm is used, the feature values need to be sorted by node position. If the interleaved version of the algorithm is used (e.g. in early tree levels) this step is unnecessary. Each feature value with its updated node position is sorted such that each node bucket resides in contiguous memory. This is achieved using a segmented key/value radix sort. Each feature represents a segment, the sort key is the node position and the feature value/instance ID tuple is the value. We use the segmented radix sort function from the CUB library. It delegates the sorting of each feature segment to a separate thread block. Note that radix sorting is stable so the original sorted order of the feature values will be preserved within contiguous node buckets, after sorting with node position as the key.
Evaluation
The performance and accuracy of the GPU tree construction algorithm for XGBoost is evaluated on several large datasets and two different hardware configurations and also compared to CPU-based XGBoost on a 24 core Intel processor. The hardware configurations are described in Table 19. On configuration #1, where there is limited device memory, a subset of rows from each dataset is taken in order to fit within device memory.
| Configuration | CPU | GHz | Cores | CPU arch. |
| --- | --- | --- | --- | --- |
| #1 | Intel i5-4590 | 3.30 | 4 | Haswell |
| #2 | Intel i7-6700K | 4.00 | 4 | Skylake |
| #3 | 2× Intel Xeon E5-2695 v2 | 2.40 | 24 | Ivy Bridge |
| Configuration | GPU | GPU memory (GB) | GPU arch. |
| --- | --- | --- | --- |
| #1 | GTX970 | 4 | Maxwell |
| #2 | Titan X | 12 | Pascal |
| #3 | – | – | – |
The datasets are described in Table 20 and parameters used for each dataset are shown in Table 21. For the YLTR dataset we use the supplied training/test split. For the Higgs dataset we randomly select 5,00,000 instances for the test set, as in Chen & Guestrin (2016). For the Bosch dataset we randomly sample 10% of the instances for the test set and use the rest for the training set.
| Dataset | Training instances | Test instances | Features |
| --- | --- | --- | --- |
| YLTRa | 473,134 | 165,660 | 700 |
| Higgsb | 10,500,000 | 500,000 | 28 |
| Boschc | 1,065,373 | 118,374 | 968 |
| Dataset | Objective | eval_metric | max_depth | Eta | Boosting iterations |
| --- | --- | --- | --- | --- | --- |
| YLTR | rank:ndcg | ndcg@10 | 6 | 0.1 | 500 |
| Higgs | binary:logistic | auc | 12 | 0.1 | 500 |
| Bosch | binary:logistic | auc | 6 | 0.1 | 500 |
We use 500 boosting iterations for all datasets unless otherwise specified. This is a common real world setting that provides sufficiently long run-times for benchmarking. We set η (the learning rate) to 0.1 as the XGBoost default of 0.3 is too high for the number of boosting iterations. For the YLTR and Bosch datasets we use the default tree depth of six because both of these datasets tend to generate small trees. The Higgs dataset results in larger trees so we can set max depth to 12, allowing us to test performance for large trees. Both the Higgs and Bosch datasets are binary classification problems so we use the binary:logistic objective function for XGBoost. Both Higgs and Bosch also exhibit highly imbalanced class distributions, so the AUC (area under the ROC curve) evaluation metric is appropriate. For the YLTR dataset we use the rank:ndcg objective and ndcg@10 evaluation metric to be consistent with the evaluation from Chen & Guestrin (2016). All other XGBoost parameters are left as the default values.
Conclusion
A highly practical GPU-accelerated tree construction algorithm is devised and evaluated within the XGBoost library. The algorithm is built on top of efficient parallel primitives and switches between two modes of operation depending on tree depth. The 'interleaved' mode of operation shows that multiscan and multireduce operations with a limited number of buckets can be used to avoid expensive sorting operations at tree depths below six, resulting in speed increases of 1.14× for the GPU implementation.
The GPU algorithm provides speedups of between 3× and 6× over multicore CPUs on desktop machines and a speed up of 1.2× over 2× Xeon CPUs with 24 cores. We see significant speedups for all parameters and datasets above a certain size, while providing an algorithm that is feature complete and able to handle sparse data. Potential drawbacks of the algorithm are that the entire input matrix must fit in device memory and device memory consumption is approximately twice that of the host memory used by the CPU algorithm. Despite this, we show that the algorithm is memory efficient enough to process the entire Higgs dataset containing 10 million instances and 28 features on a single 12 GB card.
Our algorithm provides a practical means for XGBoost users processing large data sets to significantly reduce processing times, showing that gradient boosting tasks are a good candidate for GPU-acceleration and are therefore no longer solely the domain of multicore CPUs.