MLitB: machine learning in the browser
Informatics Institute, University of Amsterdam

,

Amsterdam

,

The Netherlands
Published

Accepted

Received
Academic Editor
Subject Areas

Data Mining and Machine Learning, Emerging Technologies, Mobile and Ubiquitous Computing, World Wide Web and Web Science, Software Engineering

Keywords

Machine learning

,

Pervasive computing

,

Ubiquitous computing

,

Social computing

,

Mobile computing

,

Client–server systems

,

Distributed computing

,

Crowdsourcing
Copyright

©

2015

Meeds et al.

Licence

This is an open access article distributed under the terms of the Creative Commons Attribution License, which permits unrestricted use, distribution, reproduction and adaptation in any medium and for any purpose provided that it is properly attributed. For attribution, the original author(s), title, publication source (PeerJ Computer Science) and either DOI or URL of the article must be cited.
Cite this article

2015

.

MLitB: machine learning in the browser

.

PeerJ Computer Science

1

:

e11

https://doi.org/10.7717/peerj-cs.11
Abstract
With few exceptions, the field of Machine Learning (ML) research has largely ignored the browser as a computational engine. Beyond an educational resource for ML, the browser has vast potential to not only improve the state-of-the-art in ML research, but also, inexpensively and on a massive scale, to bring sophisticated ML learning and prediction to the public at large. This paper introduces MLitB, a prototype ML framework written entirely in Javascript, capable of performing large-scale distributed computing with heterogeneous classes of devices. The development of MLitB has been driven by several underlying objectives whose aim is to make ML learning and usage ubiquitous (by using ubiquitous compute devices), cheap and effortlessly distributed, and collaborative. This is achieved by allowing every internet capable device to run training algorithms and predictive models with no software installation and by saving models in universally readable formats. Our prototype library is capable of training deep neural networks with synchronized, distributed stochastic gradient descent. MLitB offers several important opportunities for novel ML research, including: development of distributed learning algorithms, advancement of web GPU algorithms, novel field and mobile applications, privacy preserving computing, and green grid-computing. MLitB is available as open source software.
Introduction
The field of Machine Learning (ML) currently lacks a common platform for the development of massively distributed and collaborative computing. As a result, there are impediments to leveraging and reproducing the work of other ML researchers, potentially slowing down the progress of the field. The ubiquity of the browser as a computational engine makes it an ideal platform for the development of massively distributed and collaborative ML. Machine Learning in the Browser (MLitB) is an ambitious software development project whose aim is to bring ML, in all its facets, to an audience that includes both the general public and the research community.
By writing ML models and algorithms in browser-based programming languages, many research opportunities become available. The most obvious is software compatibility: nearly all computing devices can collaborate in the training of ML models by contributing some computational resources to the overall training procedure and can, with the same code, harness the power of sophisticated predictive models on the same devices (see Fig. 1). This goal of ubiquitous ML has several important consequences: training ML models can now occur on a massive, even global scale, with minimal cost, and ML research can now be shared and reproduced everywhere, by everyone, making ML models a freely accessible, public good. In this paper, we present both a long-term vision for MLitB and a light-weight prototype implementation of MLitB, that represents a first step in completing the vision, and is based on an important ML use-case, Deep Neural Networks.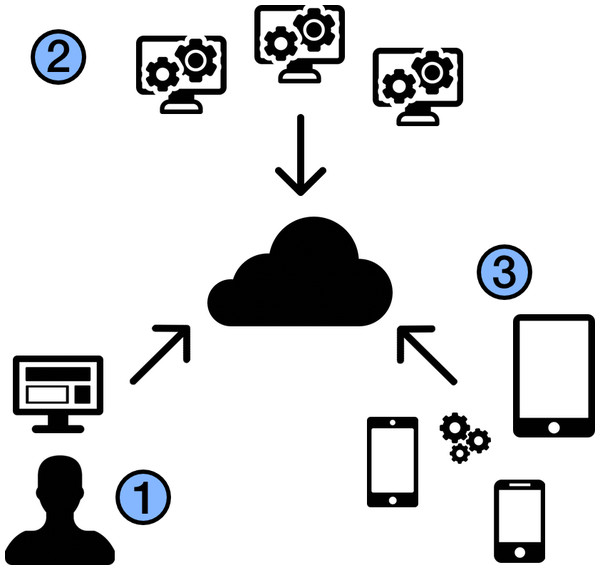 In Section 'MLITB: Vision' we describe in more detail our vision for MLitB in terms of three main objectives: (1) make ML models and algorithms ubiquitous, for both the public and the scientific community, (2) create an framework for cheap distributed computing by harnessing existing infrastructure and personal devices as novel computing resources, and (3) design research closures, software objects that archive ML models, algorithms, and parameters to be shared, reused, and in general, support reproducible research.
In Section 'MLITB: Prototype' we describe the current state of the MLitB software implementation, the MLitB prototype. We begin with a description of our design choices, including arguments for using JavaScript and the other modern web libraries and utilities. Then we describe a bespoke map-reduce synchronized event-loop, specifically designed for training a large class of ML models using distributed stochastic gradient descent (SGD). Our prototype focuses on a specific ML model, Deep Neural Networks (DNNs), using an existing JavaScript implementation (Karpathy, 2014), modified only slightly for MLitB. We also report results of a scaling experiment, demonstrating the feasibility, but also the engineering challenges of using browsers for distributed ML applications. We then complete the prototype description with a walk-through of using MLitB to specify and train a neural network for image classification.
MLitB is influenced and inspired by current volunteer computing projects. These and other related projects, including those from machine learning, are presented in Section 'Related Work.' Our prototype has exposed several challenges requiring further research and engineering; these are presented in Section 'Opportunities and Challenges,' along with discussion of interesting application avenues MLitB makes possible. The most urgent software development directions follow in Section 'Future MLitB Development.'
MLitB: Vision
Our long-term vision for MLitB is guided by three overarching objectives:
Ubiquitous ML: models can be training and executed in any web browsing environment without any further software installation.
Cheap distributed computing: algorithms can be executed on existing grid, cloud, etc., computing resources with minimal (and possibly no) software installation, and can be easily managed remotely via the web; additionally, small internet enabled devices can contribute computational resources.
Reproducibility: MLitB should foster reproducible science with research closures, universally readable objects containing ML model specifications, algorithms, and parameters, that can be used seamlessly to achieve the first two objectives, as well as support sharing of ML models and collaboration within the research community and the public at large.
Ubiquitous machine learning
The browser is the most ubiquitous computing device of our time, running, in some shape or form on all desktops, laptops, and mobile devices. Software for state-of-the-art ML algorithms and models, on the other hand, are very sophisticated software libraries written in highly specific programming languages within the ML research community (Bastien et al., 2012; Jia et al., 2014; Collobert, Kavukcuoglu & Farabet, 2011). As research tools, these software libraries have been invaluable. We argue, however, that to make ML truly ubiquitous requires writing ML models and algorithms with web programming languages and using the browser as the computational engine.
The software we propose can run sophisticated predictive models on cell phones or super-computers; for the former, this extends the distributed nature of ML to a global internet. By further encapsulating the algorithms and model together, the benefit of powerful predictive modeling becomes a public commodity.
Cheap distributed computing
The usage of web browsers as compute nodes provides the capability of running sophisticated ML algorithms without the expense and technical difficulty of using custom grid or super-computing facilities (e.g., Hadoop cloud computing Shvachko et al. (2010)). It has long been a dream to use volunteer computing to achieve real massive scale computing. Successes include Seti@Home (Anderson et al., 2002) and protein folding (Lane et al., 2013). MLitB is being developed to not only run natively on browsers but also for scaled distributed computing on existing cluster and/or grid resources and, by harnessing the capacity of non-traditional devices, for extremely massive scale computing with a global volunteer base. In the former set-up, low communication overhead and homogeneous devices (a "typical" grid computing solution) can be exploited. In the latter, volunteer computing via the internet opens the scaling possibilities tremendously, albeit at the cost of unreliable compute nodes, variable power, limited memory, etc. Both have serious implications for the user, but, most importantly, both are implemented by the same software.
Although the current version of MLitB does not provide GPU computing, it does not preclude its implementation in future versions. It is therefore possible to seamlessly provide GPU computing when available on existing grid computing resources. Using GPUs on mobile devices is a more delicate proposition since power consumption management is of paramount importance for mobile devices. However, it is possible for MLitB to manage power intelligently by detecting, for example, if the device is connected to a power source, its temperature, and whether it is actively used for other activities. A user might volunteer periodic "mini-bursts" of GPU power towards a learning problem with minimal disruption to or power consumption from their device. In other words, MLitB will be able to take advantage of the improvements and breakthroughs of GPU computing for web engines and mobile chips, with minimal software development and/or support.
Reproducible and collaborative research
Reproducibility is a difficult yet fundamental requirement for science (McNutt, 2014). Reproducibility is now considered just as essential for high-quality research as peer review; simply providing mathematical representations of models and algorithms is no longer considered acceptable (Stodden, Guo & Ma, 2013). Furthermore, merely replicating other work, despite its importance, can be given low publication priority (Casadevall & Fang, 2010) even though it is considered a prerequisite for publication. In other words, submissions must demonstrate that their research has been, or could be, independently reproduced.
For ML research there is no reason for not providing working software that allows reproduction of results (for other fields in science, constraints restricting software publication may exist). Currently, the main bottlenecks are the time cost to researchers for making research available, and the incompatibility of the research (i.e., code) for others, which further increases the time investment for researchers. One of our primary goals for MLitB is to provide reproducible research with minimal to no time cost to both the primary researcher and other researchers in the community. Following (Stodden, Borwein & Bailey, 2013), we support "setting the default to reproducible."
For ML disciplines, this means other researchers should not only be able to use a model reported in a paper to verify the reported results, but also retrain the model using the reported algorithm. This higher standard is difficult and time-consuming to achieve, but fortunately this approach is being adopted more and more often, in particular by a sub-discipline of machine learning called deep learning. In the deep learning community, the introduction of new datasets and competitions, along with innovations in algorithms and modeling, have produced a rapid progress on many ML prediction tasks. Model collections (also called model zoos), such as those built with Caffe (Jia et al., 2014) make this collaboration explicit and easy to access for researchers. However, there remains a significant time investment to run any particular deep learning model (these include compilation, library installations, platform dependencies, GPU dependencies, etc.). We argue that these are real barriers to reproducible research and choosing ubiquitous software and compute engines makes it easier. For example, during our testing we converted a very performant computer vision model (Lin, Chen & Yan, 2013) into JSON format and it can now be used on any browser with minimal effort.1
In a nod to the concept of closures concept common in functional programming, our approach treats a learning problem as a research closure: a single object containing model and algorithm configuration plus code, along with model parameters that can be executed (and therefore tested and analyzed) by other researchers.
MLitB: Prototype
The MLitB project and its accompanying software (application programming interfaces (APIs), libraries, etc.) are built entirely in JavaScript. We have taken a pragmatic software development approach to achieve as much of our vision as possible. To leverage our software development process, we have chosen, wherever possible, well-supported and actively developed external technology. By making these choices we have been able to quickly develop a working MLitB prototype that not only satisfies many of our objectives, but is as technologically future proof as possible. To demonstrate MLitB on a meaningful ML problem, we have similarly incorporated an existing JavaScript implementation of a Deep Neural Network into MLitB. The full implementation of the MLitB prototype can be found on GitHub (https://github.com/software-engineering-amsterdam/MLitB).
Related Work
MLitB has been influenced by a several different technologies and ideas presented by previous authors and from work in different specialization areas. We briefly summarize this related work below.
Volunteer computing
BOINC (Anderson, 2004) is an open-source software library used to set up a grid computing network, allowing anyone with a desktop computer connected to the internet to participate in computation; this is called public resource computing. Public resource or volunteer computing was popularized by SETI@Home (Anderson et al., 2002), a research project that analyzes radio signals from space in the search of signs of extraterrestrial intelligence. More recently, protein folding has emerged as significant success story (Lane et al., 2013). Hadoop (Shvachko et al., 2010) is an open-source software system for storing very large datasets and executing user application tasks on large networks of computers. MapReduce (Dean & Ghemawat, 2008) is a general solution for performing computation on large datasets using computer clusters.
JavaScript applications
In (Cushing et al., 2013) a network of distributed web-browsers called WeevilScout is used for complex computation (regular expression matching and binary tree modifications) using a JavaScript engine. It uses similar technology (Web Workers and Web Sockets) as MLitB. ConvNetJS (Karpathy, 2014) is a JavaScript implementation of a convolutional neural-network, developed primarily for educational purposes, which is capable of building diverse neural networks to run in a single web browser and trained using stochastic gradient descent; it can be seen as the non-distributed predecessor of MLitB.
Distributed machine learning
The most performant deep neural network models are trained with sophisticated scientific libraries written for GPUs (Bergstra et al., 2010; Jia et al., 2014; Collobert, Kavukcuoglu & Farabet, 2011) that provide orders of magnitude computational speed-ups compared to CPUs. Each implements some form of stochastic gradient descent (SGD) (Bottou, 2010) as the training algorithm. Most implementations are limited to running on the cores of a single machine and by extension the memory limitations of the GPU. Exceptionally, there are distributed deep learning algorithms that use a farm of GPUs (e.g., Downpour SGD (Dean et al., 2012)) and farms of commodity servers (e.g., COTS-HPS (Coates et al., 2013)). Other distributed ML algorithm research includes the parameter server model (Li et al., 2014), parallelized SGD (Zinkevich et al., 2010), and distributed SGD (Ahn, Shahbaba & Welling, 2014). MLitB could potentially push commodity computing to the extreme using pre-existing devices, some of which may be GPU capable, with and without an organization's existing computing infrastructure. As we discuss below, there are still many open research questions and opportunities for distributed ML algorithm research.
Opportunities and Challenges
In tandem with our vision, there are several directions the next version of MLitB can take, both in terms of the library itself and the potential kinds of applications a ubiquitous ML framework like MLitB can offer. We first focus on the engineering and research challenges we have discovered during the development of our prototype, along with some we expect as the project grows. Second, we look at the opportunities MLitB provides, not only based on the research directions the challenges uncovered, but also novel application areas that are perfect fits for MLitB. In Section 'Future MLitB Development' we preview the next concrete steps in MLitB development.
Challenges
We have identified three keys engineering and research challenges that must be overcome for MLitB to achieve its vision of learning models a global scale.
Memory limitations
State-of-the-art Neural Network models have huge numbers of parameters. This prevents them from fitting onto mobile devices. There are two possible solutions to this problem. The first solution is to learn or use smaller neural networks. Smaller NN models have shown promise on image classification performance, in particular the Network in Network (Lin, Chen & Yan, 2013) model from the Caffe model zoo, is 16 MB, and outperforms AlexNet which is 256 MB (Jia et al., 2014). It is also possible to first train a deep neural network then use it to train a much smaller, shallow neural network (Ba & Caruana, 2014). Another solution is to distribute the NN (during training and prediction) across clients. An example of this approach is Downpour SGD (Dean et al., 2012).
Communication overhead
With large models, large of numbers of parameters are communicated regularly. This is a similar issue to memory limitation and could benefit from the same solutions. However, given a fixed bandwidth and asynchronous parameter updates, we can ask what parameter updates (from master to client) and which gradients (from client to master) should be communicated. An algorithm could transmit a random subset of the weight gradients, or send the most informative. In other words, given a fixed bandwidth budget, we want to maximize the information transferred per iteration.
Performance efficiency
Perhaps the biggest argument against scientific computing with JavaScript is its computation performance. We disagree that this should prevent the widespread adoption of browser-based, scientific computing because the goal of several groups to achieve native performance in JavaScript (Chrome V8, 2014; asm.js, 2014) and GPU kernels are becoming part of existing web engines (e.g., WebCL by Kronos: www.khronos.org/webcl) and they can be seamlessly incorporated into existing JavaScript libraries, though they have yet to be written for ML.
Future MLitB Development
The next phases of development will focus on the following directions: a visual programming user interface for model configuration, development of a library of ML models and algorithms, development of performant scientific libraries in JavaScript with and without GPUs, and model archiving with the development of a research closure specification.
Conclusion
In this paper we have introduced MLitB: Machine Learning in the Browser, an alternative framework for ML research based entirely on using the browser as the computational engine. The MLitB vision is based upon the overarching objectives that provide ubiquitous ML capability to every computing device, cheap distributed computing, and reproducible research. The MLitB prototype is written entirely in JavaScript and makes extensive use of existing JavaScript libraries, including Node.js for servers, Web Workers for non-blocking computation, and Web Sockets for communication between clients and servers. We demonstrated the potential of MLitB on a ML use-case: Deep Neural Networks trained with distributed Stochastic Gradient Descent using heterogenous devices, including dedicated grid-computing resources and mobile devices, using the same interface and with no client-side software installation. Clients simply connect to the server and computing begins. This use-case has provided valuable information for future versions of MLitB, exposing both existing challenges and interesting research and application opportunities. We have also advocated for a framework which supports reproducible research; MLitB naturally provides this by allowing models and parameters to be saved to a single object which can be reloaded and used by other researchers immediately.
If a user closes a client tab, the master will know immediately and take action. In the current implementation, if a user closes the master tab, all current connections are lost.
Slave node specifications (32 units): Intel Core i3-2120 3.3 GHz (dual-core); 4GB RAM; Windows 7 Enterprise x64; Google Chrome 35. Master node specifications (1 unit): Intel Xeon E5620 2.4 GHz (quad-core); 24 GB RAM; Ubuntu 10.04 LTS. NodeJS version: v0.10.28. The NN has a 28 × 28 input layer connected to 16 convolution filters (with pooling), followed by a fully connected output layer.