Automatic computer science domain multiple-choice questions generation based on informative sentences
Published

Accepted

Received
Academic Editor
Subject Areas

Adaptive and Self-Organizing Systems, Data Mining and Machine Learning, Mobile and Ubiquitous Computing, Natural Language and Speech, Scientific Computing and Simulation

Keywords

BERT

,

Multiple choice questions

,

Natural language processing

,

Text analysis

,

TF-IDF
Copyright

©

2022

Maheen et al.

Licence

This is an open access article distributed under the terms of the Creative Commons Attribution License, which permits unrestricted use, distribution, reproduction and adaptation in any medium and for any purpose provided that it is properly attributed. For attribution, the original author(s), title, publication source (PeerJ Computer Science) and either DOI or URL of the article must be cited.
Cite this article

2022

.

Automatic computer science domain multiple-choice questions generation based on informative sentences

.

PeerJ Computer Science

8

:

e1010

https://doi.org/10.7717/peerj-cs.1010
Abstract
Students require continuous feedback for effective learning. Multiple choice questions (MCQs) are extensively used among various assessment methods to provide such feedback. However, manual MCQ generation is a tedious task that requires significant effort, time, and domain knowledge. Therefore, a system must be present that can automatically generate MCQs from the given text. The automatic generation of MCQs can be carried out by following three sequential steps: extracting informative sentences from the textual data, identifying the key, and determining distractors. The dataset comprising of various topics from the 9th and 11th-grade computer science course books are used in this work. Moreover, TF-IDF, Jaccard similarity, quality phrase mining, K-means, and bidirectional encoder representation from transformers techniques are utilized for automatic MCQs generation. Domain experts validated the generated MCQs with 83%, 77%, and 80% accuracy, key generation, and distractor generation, respectively. The overall MCQ generation achieved 80% accuracy through this system by the experts. Finally, a desktop app was developed that takes the contents in textual form as input, processes it at the backend, and visualizes the generated MCQs on the interface. The presented solution may help teachers, students, and other stakeholders with automatic MCQ generation.
Introduction
Since its introduction in the mid-20th century, multiple choice questions (MCQs) have been considered a practical approach among the various assessment methods. For instance, MCQs have been extensively used for educational assessment, market research, and elections. More precisely, the underlying assessment criteria is a simple way to test candidates' knowledge in less time. Moreover, for self-assessment, MCQs-based assessment is also a convenient tool for evaluators, since it is easy to mark MCQs. Furthermore, the division of marks is comfortable and straightforward in the MCQs-based assessment method. MCQs based assessment gained popularity with the advent of data preprocessing machines and scanners since these machines made it possible to check many questions within no time (Mitkov, 2003).
MCQ generation is a difficult task for humans since it requires domain knowledge and understanding of pedagogical processes with context and tone. It is challenging for exam setters to prepare MCQs with a suitable statement and relevant options manually, since every sentence in the text cannot be a candidate for MCQ. Moreover, reading the entire topic and extracting essential lines or concepts for MCQ generation is a time-consuming task. Furthermore, making statements concise without changing the context and choosing options is tricky. MCQ-based questions comprises three parts, the stem, key, and distractor, as depicted in Fig. 1. The stem is the question or statement that inquires something, the key is the central word/concept that is asked, and distractors are similar options, including the correct answer. In case not prepared adequately by the setter, reading the stem and making a decision about the appropriate key among distractors may take plenty of time (Papasalouros, Kanaris & Kotis, 2008). Hence, it is required that a system may be presented that can develop the MCQs intelligently.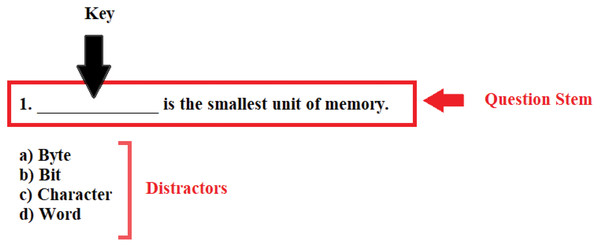 With the enhancement of automation, we are handing off every task to machines. Most advancements have become possible due to machine learning (ML), natural language processing (NLP), and other related tools. Similar to other domains, researchers are trying to automatically generate the assessment tests, including question answers, filling in the blanks, MCQs, etc. Automatic MCQ generation is getting popular; many tests are being taken online and making MCQ generation fast and efficient. Since automatic MCQ generation may help the teachers and the students with efficient assessments and active learning. We present a system that automatically makes MCQs for computer science topics using NLP and ML tools. The system takes raw text consisting of computer science based topics. The system's output comprises of MCQs based on imperative stems of the given topic. Each MCQ consists of a stem with a key and four distractors consisting of one correct answer and three wrong relevant answers. Figure 2 shows the inputs and output of our system (Genest & Lapalme, 2011).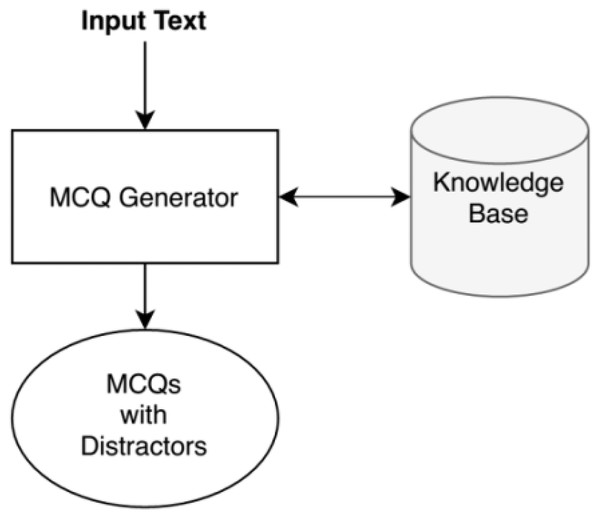 In detail, the presented MCQ generation system can generate MCQs of stems containing quality phrases (Liu et al., 2015). Moreover, MCQs are generated based on informative stems containing most of the domain literature's core knowledge and terminologies. However, most of the models are trained or use only natural languages corpora and WordNet, where words are conceived as their natural meaning, e.g., cloud (the collection of water vapors), but if we take cloud as computer science terminology, it depicts a different meaning and context, i.e., (groups of servers or data centers, where data is kept or services are provided via the internet), the same concept runs with the windows and mouse. Additionally, MCQs are generated from unstructured data. Furthermore, stem selection is improved by obtaining an extractive summary of the given text, so we extract the imperative knowledge from the entire topic. Finally, an interface is presented as a front end that takes the unstructured text of the employed domain and outputs effective MCQs in a structured way. In detail, for extractive text summarization to find the informative sentences and key phrases, the bidirectional encoder representations from transformers (BERT) model for generating text embeddings and K-means clustering are employed. A text summary provides the sentences that give the main idea and concept of the whole topic and automatically discards less helpful information. This helps to get the sentences closest to the centroid for creating a summary. The sentences are then scored on several features like quality phrases (Liu, Shang & Han, 2017; Tahir et al., 2021), TF-IDF (Wu et al., 2008), number of nouns and verbs, number of stop words, and Jaccard similarity of chapter title with candidate stems. Since readily available systems for generating MCQs lack informative sentences, the quality of generated distractors is low. The proposed system overcomes such gaps in the prevalent works (Malinova & Rahneva, 2016; Susanti et al., 2016; Satria & Tokunaga, 2017).
Introduction to informative sentences
Informative sentences give knowledge about an important concept or imperative information. The extraction of informative sentences is done by extractive summarization and scoring using quality phrases, TF-IDF, etc. The importance of summarization and quality phrases is discussed in the following subsections.
Summarization
Text summarization methods belong to two types, abstractive and extractive. Abstractive summarization is closest to the way humans generate a summary. Abstractive summarization usually extracts the text's key points and rephrases it, including the vocabulary beyond the specified text, and it is smaller in size (Genest & Lapalme, 2011). Undoubtedly, many researchers are working on abstractive summarization as it is closer to the human way of summarization, which is advantageous. But it requires a massive human summarization dataset for complex algorithms and deep learning, rules with restricted generalizability, and training of several GPUs over many days for automatic generation of summery. At the same time, extractive summarization creates a summary containing actual phrases and the same sentence structure from the source data. The proposed system only considers such text-based stems mined through extractive text summarization.
Quality phrases
A phrase contains more information than a word, so our system requires a phrase mining technique to extract quality phrases from the underlying domain. Similar works have been done previously using N-gram (Tahir et al., 2021) and topical phrase mining techniques. In detail, the N-gram technique facilitates identification and extracts frequent N-grams from the given text (Tahir et al., 2021). Similarly, topical phrase mining is a helpful technique for phrase mining, topic identification, social event discovery, etc. (Li et al., 2018). Another work proposes a knowledge discovery method for an information retrieval system to extract informative and most frequent phrases (Aljuaid et al., 2021). In Papasalouros, Kanaris & Kotis (2008), the researchers employ the online frequent sequence discovery method to extract frequent phrases. TF-IDF (Wu et al., 2008) and KEA (Zhu et al., 2013) are text analysis techniques for calculating raw frequency in a given text corpus. But these techniques calculate the raw frequency of phrases based on frequent pattern mining without considering their semantic meanings. For the extraction of quality phrases based stems from the extractive summary, a quality phrase mining technique (Liu et al., 2015) extracts semantically meaningful phrases instead of frequent patterns from raw text.
The quality phrase mining technique counts the word's frequency, analyzes phrases semantically, and recognizes the quality phrases by considering some features. For example, quality phrase mining techniques make decisions based on features like concordance, completeness, informativeness, and popularity (Liu et al., 2015).
Introduction to distractors
Distractors are "options" in MCQs. The proposed system provides four distractors containing one correct answer and three related but wrong answers. The system makes distractors by following steps:
Searching words relevant to key

Create a list of distractors

Choosing random words from the list
In this system, distractors are made by using a lexical database, "WordNet" (Miller, 1995), online resource wiktionary (https://en.wiktionary.org/), and "google search" results.
Introduction to WordNet
A WordNet is a machine-readable dictionary. It is a lexical database for the English language. In WordNet, nouns, verbs, adjectives, and adverbs are grouped into synonyms set. That set is known as synsets. Each word expresses a distinct concept. These synsets are interlined. There exist semantic relations and linguistic relations between the items of synsets. It works like a thesaurus, but WordNet has an advantage as it groups words with a particular sense. For example, wordNet lexicalized the main concept of "key" by making a synonym set of terms related to the idea. Figure 3 demonstrates an example of a concept hierarchy made by WordNet.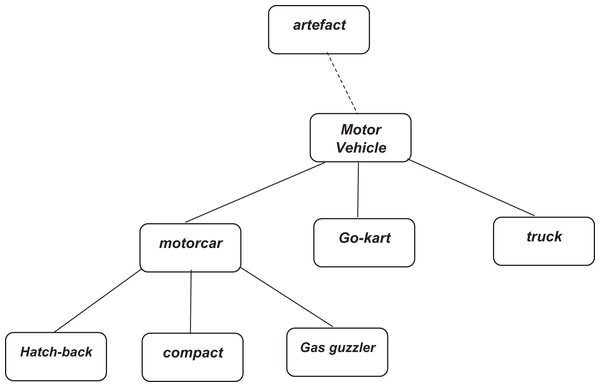 Wiktionary
Wiktionary is a web-based project it provides a free dictionary related to the content of terms. It contains data in a semi-structured form. In NLP tasks, Wiktionary offers the opportunity to convert lexicographic data into a machine-readable format.
Google search results
Google provides search results related to keywords given by the user in a query. The searched results are usually retrieved based on tokens in the query. The most relevant keyword appears at the top of the page. At the same time, they are arranged in descending order of relevancy. In creating the distractor list, the keywords of Google search results are also used.
The basic flow of the system
The system works in three significant steps as follows:
informative sentence extraction

key identification

distractor generation
The steps mentioned above are performed by introducing two modules in the system. The first module is the informative sentence responsible for extracting essential stems from the given unstructured text. It is further divided into three sub-modules summarization, scoring, and selection. In the summarization module, the BERT language understanding model generates a summary. The summary lines are then scored based on features. The lines with a high score are selected as informative. The informative lines are then passed to the stem and distractor generation module that identifies the key from the informative sentences, replaces the answer with blank space, transforms the statement, and generates distractors. The basic flow of the system is shown in Fig. 4.
Problem description
Currently, most of the assessments are comprised of MCQs. Mostly, it becomes challenging to find the informative sentence, key, and distractor for the generation of MCQs, especially in the computer science domain. Thus, making an intelligent system that could generate MCQs from unstructured text is required.
Specific objective
The objective of the proposed system are as follows:
To make a desktop-based application that could generate MCQs from the unstructured text of the computer science domain.
Scope of the system
The proposed system is able:
To make the informative sentence-based MCQs of the computer science domain from the given unstructured text.
The rest of the article is organized as follows.
Section 1: A preliminary section discusses the problem, the potential solution, and a concise introduction of techniques and methods used in the proposed system.
Section 2: Presents the literature review for designing an automated system for informative sentence extraction and stem and distractor generation.
Section 3: We discussed the research methodology, including the summarization method, scoring parameters, informative sentence selection method, and stem and distractor generation approach.
Section 4: The discussion and results are provided in this section.
Section 5: The conclusion, restrictions, and future work of the system are presented.
Background and literature review
For the assessment of students, academic performance assessments are necessary. Assessments provide an idea about the level of subject understanding attained by the student. As assessment could be done at any time, the generation of academic assessment elements should be less time-consuming. MCQs standardize the test while evaluating performance by a different instructor and time taken during the assessment process. MCQ-based tests are conducted on a large scale with less evaluation and assessment time than other evaluations (Correia et al., 2012).
MCQs are commonly the most extensively adopted and constructive type of objective test. MCQ-based assessment is imperative for determining the most significant learning outcomes, understanding, opinion, and analytics. MCQ contains short text as a stem with multiple distractors as options. Distractors include one right or most relevant answer, while other choices refer to wrong or less relevant answers. MCQ consists of three parts. First is the question statement, the second is the key and the third is the distractor's statement that represents a question. The question may be of two types: fill in the blank based or WH question. 'WH question' may start with 5W1H like who, what, where, why, and how, whereas 'fill in the blank question' is defined as a statement with a word/term missing from it. MCQ is usually added as a subsection in the objective part of the article. It is a quick way of assessing. Teachers prefer MCQ because it provides ease in marking (Aldabe, Maritxalar & Martinez, 2007). Marks division is also comfortable in the case of MCQ rather than short answer questions. Different students may write the other answers as distractors that are also relevant to the context of the question. Hence, distractors help to know the level of understanding of individual students. However, manual MCQ generation is a time taking task. Reading the whole topic and extracting essential lines or concepts for MCQ generation is challenging. Similarly, making statements short and choosing options are tough. Automatic MCQ generation is getting popular; many tests are being taken online and making the process of MCQ generation fast and efficient (Aldabe & Maritxalar, 2010).
Results and discussion
This section includes the results of all the procedures through which raw text passed. All the steps are discussed in detail in Section III. Here the results of the system are discussed. For this purpose, the data set used for testing is taken from a 9th and 11th grade computer science book consisting of five and 10 chapters, respectively. Each chapter comprises of several subtopics in it. For testing purposes, the full one chapter's unstructured text is given as input at a time.
Providing unstructured text
The user first writes the title of a chapter in the "Title" field of the interface and unstructured text in the "Raw text" field. Then, after pressing the "Process" button, the processing is started. Figure 12 shows the input fields of the desktop interface, taking the raw text as input.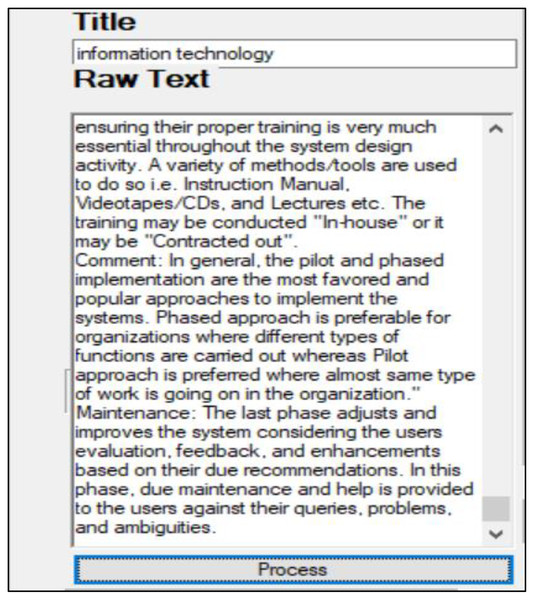 Processing of text
At this step first BERT model creates embeddings of all the sentences. Then, the k-Means clustering algorithm makes clusters, and in this way, sentences close to the centroid are selected for further processing. The next step is the scoring of candidate sentences. Finally, each sentence is scored based on scoring features.
MCQs generated by the system
After scoring, 20% of the sentences with a high sum score are selected as MCQ candidates. A full view of the desktop app can be seen in Fig. 13.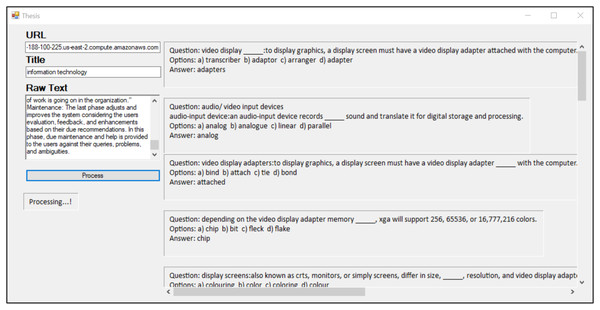 Evaluation of the system
Ten domain experts evaluated the system. In addition, domain experts assessed the system's efficiency on informative sentences, key generation, and distractor generation parameters. Therefore, the results of the system are presented in Table 4.
| | Informativeness | Key generation | Distractor generation |
| --- | --- | --- | --- |
| Evaluator 1 | 8.5 | 7.5 | 6.5 |
| Evaluator 2 | 7.5 | 4 | 9.5 |
| Evaluator 3 | 8.5 | 9.5 | 9 |
| Evaluator 4 | 9.5 | 8 | 7.5 |
| Evaluator 5 | 8.5 | 7.5 | 8.5 |
| Evaluator 6 | 9 | 9.5 | 9 |
| Evaluator 7 | 8.5 | 6 | 7.5 |
| Evaluator 8 | 8.5 | 9 | 9.5 |
| Evaluator 9 | 7.5 | 6.5 | 5.5 |
| Evaluator 10 | 7 | 9.5 | 7.5 |
| Percentage | 83 | 77 | 80 |
The proposed system scored 83% for informativeness, 77% for blank generation, and 80% for distractor generation. The overall accuracy of the system is 80%.
Conclusion and future work
Continued feedback is required for student's practical learning. MCQs play an essential role in students' constructive education. Manual MCQ generation involves a lot of effort, time, and domain knowledge. We have presented a system that generates MCQs automatically using computer science domain text as input. As all the sentences are not capable of the generation of MCQs, the automatic MCQ generation is carried out by following three steps; the first step is the extraction of informative sentences, the second step is the identification of the key, and the third step is determining the distractors relevant to the key. We propose a novel method involving NLP and ML techniques for the generation of MCQs. The preprocessing of input text corpus is performed by NLP techniques like tokenization, lemmatization, POS, etc. Subsequently, the proposed method extracts informative sentences by extractive text summarization using the BERT model for creating text embeddings and K-means clustering for getting sentences closest to the centroid for generating a summary. The unsupervised machine learning approach has been used in summarization due to the absence of a human-generated computer science summary labeled data set. Scoring of sentences is done on parameters like quality phrases, TF-IDF, the number of nouns/verbs, stop words, the number of tokens, Jaccard similarity of title, and then sentences with high scores are selected for MCQ generation. For key identification, the knowledge-base is used. The knowledge base contains essential and domain-relevant keywords. It is due to the lack of dataset for key identification, the knowledge-base is made by using computer science books and the web.
Moreover, WordNet, Wiktionary, and Google search results are incorporated for the distractor generation process. Domain experts validated the accuracy of automatically generated MCQs as 80%. Experimental results demonstrated that the proposed method is quite accurate. Finally, the system provides a user-friendly interface that inputs raw text, processes it, and gives MCQs as output. Students, as well as teachers, may easily use this Desktop app to generate MCQs automatically.
Advantages and assumptions
Some advantages and disadvantages of the research work should be considered to improve future work.
Advantages
Machine deep learning techniques used in the system help to achieve the followings:
Fast and efficient results

Free of bulky computation devices

Bettering learning process

Easily accessible
Achieving research objectives
We can reduce the research gap

MCQs are based on informative sentences

These reduce the cost and time of finding informative sentences, keys, and appropriate distractors.
Assumption
An assumption must be considered along with the improvement of the proposed system. First, a high-speed internet connection is required for using the system smoothly without any disturbance.
Future work
This system may further be improved by introducing abstractive summarization techniques. This system can also make MCQs of other domains by enhancing the dataset of keys and quality phrases. The method for distractor selection may be improved to make more confusing or difficult distractors. Further work can be done on the front end of this system by providing options for the number of required MCQs.
Supplemental Information
Raw data.
Code.