The highly rearranged mitochondrial genomes of three economically important scale insects and the mitochondrial phylogeny of Coccoidea (Hemiptera: Sternorrhyncha)
1
Institute of plant protection, Sichuan Academy of Agricultural Sciences, Key Laboratory of integrated pest management of Southwest crops, Ministry of Agriculture

,

Chengdu

,

China
2
School of Grain Science and Technology, Jiangsu University of Science and Technology

,

Zhenjiang

,

China
3
Analysis and testing center of Sichuan Academy of Agricultural Sciences

,

Chengdu

,

China
Published

Accepted

Received
Academic Editor
Subject Areas

Keywords

Hemiptera

,

Sternorrhyncha

,

Coccoidea

,

Mitogenome

,

Phylogeny
Copyright

©

2020

Liu et al.

Licence

This is an open access article distributed under the terms of the Creative Commons Attribution License, which permits unrestricted use, distribution, reproduction and adaptation in any medium and for any purpose provided that it is properly attributed. For attribution, the original author(s), title, publication source (PeerJ) and either DOI or URL of the article must be cited.
Cite this article

2020

.

The highly rearranged mitochondrial genomes of three economically important scale insects and the mitochondrial phylogeny of Coccoidea (Hemiptera: Sternorrhyncha)

PeerJ

8

:

e9932

https://doi.org/10.7717/peerj.9932
Abstract
The mitochondrial genomes (mitogenomes) of scale insects are less known in comparison to other insects, which hinders the phylogenetic and evolutionary studies of Coccoidea and higher taxa. Herein, the complete mitogenomes of Unaspis yanonensis, Planococcus citri and Ceroplastes rubens were sequenced for Coccoidea. The 15,220-bp long mitogenome of U. yanonensis contained the typical set of 37 genes including 13 PCGs, 22 tRNA genes and two rRNA genes; the 15,549-bp long mitogenome of P. citri lacked the tRNA gene trnV; the 15,387-bp long mitogenome of C. rubens exhibited several shortened PCGs and lacked five tRNA genes. The mitochondrial gene arrangement of the three mitogenomes was different from other scale insects and Drosophila yakuba. Most PCGs used standard ATN (ATA, ATT, ATC and ATG) start codons and complete TAN (TAA or TAG) termination codons. The ND4L had the highest evolutionary rate but COX1 and CYTB were the lowest. Most tRNA genes had cloverleaf secondary structures, whereas the reduction of dihydrouridine (DHU) arms and TψC arms were detected. Tandem repeats, stem-loop (SL) structures and poly-[TA]n stretch were found in the control regions (CRs) of the three mitogenomes. The phylogenetic analyses using Bayesian inference (BI) and maximum likelihood methods (ML) showed identical results, both supporting the inner relationship of Coccoidea as Coccidae + (Pseudococcidae + Diaspididae).
Introduction
The scale insects (Coccoidea) are well-known sap-sucking hemipterans which are economically important pests causing severe damage to native crops and plants (Kondo, Gullan & Williams, 2008). Adult males of Coccoidea are hyperpaurometamorphosis, whereas the adult females are paurometamorphosis and resemble their nymphs (Gullan & Kosztarab, 1997). These insects are usually smaller than 5 mm and often appear similar color with their host plants. Most scale insects can produce waxy secretion covering their bodies as a protection armature (Gullan & Kosztarab, 1997), which also causes difficulty in using chemical control methods.
When compared with other superfamilies of the monophyletic suborder Sternorrhyncha: Aphidoidea (aphids), Aleyrodoidea (whiteflies) and Psylloidea (jumping plant lice), the superfamily Coccoidea possess a higher biodiversity and morphological variety (Gullan & Martin, 2003; Gullan & Cook, 2007). Despite the previous morphological and molecular contributions (Koteja, 1974; Von Dohlen & Moran, 1995; Gullan & Cook, 2007; Cook, Gullan & Trueman, 2002; Hodgson & Hardy, 2013), the scale insect systematics especially the family-level classification still remains unresolved.
Morphology of scale insects has apparent limits when used for resolving the higher-level phylogeny of scale insects, which is expected to be improved by the DNA sequence data. Mitochondrial genome (mitogenome) usually contains a typical set of 37 genes: 13 protein-coding genes (PCG), 22 transfer RNA genes (tRNA), two ribosomal RNA genes (rRNA) and a non-coding control region (CR) and has become one of the most popular molecules used in insect phylogenetic studies (Cameron, 2014). Recently, Deng, Lu & Huang (2019) and Lu, Huang & Deng (2020) respectively sequenced the mitogenomes of the two scale insects, Ceroplastes japonicus (Green, 1921) and Saissetia coffeae (Walker, 1852) and investigated the efficiency of using mitogenome data in the phylogeny of Sternorrhyncha. Mitochondrial gene rearrangement and truncation of tRNA genes have been found in the two mitogenomes. To facilitate the resolution of phylogeny and molecular evolution of Coccoidea, we sequenced the complete mitogenomes of Unaspis yanonensis (Kuwana, 1923), Planococcus citri (Risso, 1813) and Ceroplastes rubens (Maskell, 1893), which includes the first representatives of Pseudococcidae and Diaspididae. The mitogenomic organizations, gene rearrangements, nucleotide compositions, codon usages of PCGs, secondary structures of tRNA genes and CR were analyzed for the three mitogenomes. In addition, the phylogenetic relationships of four species of Coccoidea were reconstructed to evaluate the validity of the newly obtained molecular data.
Materials & Methods
Sample preparation and DNA extraction
The specimens of U. yanonensis, P. citri and C. rubens were collected from Chengdu, Sichuan Province of China in October of 2019. The specimens were reliably identified by experts of Sichuan Academy of Agricultural Sciences, and were preserved in 100% ethanol. The total genomic DNA of the three scale insects was isolated using the E.Z.N.A.® Tissue DNA Kit (OMEGA, America) and preserved at −20 °C before the sequencing process.
Sequencing, assembly and annotation
The Illumina TruSeq short-insert libraries (insert size = 450 bp) were constructed using 1.0 µg of purified DNA fragments and sequenced by Illumina Hiseq 4000 (Shanghai BIOZERON Co., Ltd). Prior to assembly, raw reads were filtered and high-quality reads were retained and assembled into contigs by SOAPdenovo2.04 (Luo et al., 2012). Then the assembled contigs were aligned to the reference mitogenome of C. japonicus (GenBank accession number MK847519) using BLAST. The aligned contigs (≥80% similarity and query coverage) were arranged according to the reference mitogenome. Finally, the clean reads were mapped to the assembled draft mitogenome to fix the wrong bases; gaps were filled using GapFiller v2.1.1 (https://sourceforge.net/projects/gapfiller/). The mitogenome sequences of U. yanonensis, P. citri and C. rubens were deposited in GenBank under the accession numbers MT611525, MT611526 and MT677923, respectively.
Most tRNA genes were predicted and depicted by MITOS (Bernt et al., 2013); structures of several tRNA genes of C. rubens were predicted manually. PCGs and rRNA genes were identified by homology alignments. Gene boundaries of PCGs were confirmed in ORF finder (https://www.ncbi.nlm.nih.gov/orffinder/). The graphic view of the mitogenomes were computed using CGView Server (http://stothard.afns.ualberta.ca/cgview_server/) (Grant & Stothard, 2008). The probable mitochondrial rearrangement scenarios during the evolution of U. yanonensis, P. citri and C. rubens were predicted by the CREx (Common Interval Rearrangement Explorer) online server (Bernt, 2007) using Drosophila yakuba as a reference (Clary & Wolstenholme, 1985). Nucleotide composition of each gene and codon usage of PCGs were calculated by MEGA v.6.0 (Tamura et al., 2013). The composition skew analysis was conducted by AT-skew = [A−T]/[A +T] and GC-skew = [G−C]/[G +C] formulas (Perna & Kocher, 1995). The software DnaSP v. 5.10 (Librado & Rozas, 2009) was used to calculate the synonymous substitution rate (Ks) and the nonsynonymous substitution rate (Ka). Presumed secondary structures in the control region were predicted by the online tool Tandem Repeats Finder (http://tandem.bu.edu/trf/trf.advanced.submit.html) and DNAMAN v6.0.3.
Phylogenetic analysis
Nucleotide sequences of PCGs derived from four species of Coccoidea, including U. yanonensis, P. citri and C. rubens sequenced in this study, were used in the phylogenetic analysis (Table 1). The species S. coffeae was not included in the dataset due to the unannotated and unreliable status of its sequence as noted in Genbank. The two aphids, Aphis glycines and Diuraphis noxia were used as the outgroups. The 13 PCGs were aligned by MAFFT and concatenated as a combined dataset using SequenceMatrix v1.7.8 (Katoh & Standley, 2013). PartitionFinder v2.1.1 was used to determine the optimal nucleotide substitution models and partitioning schemes by using the Bayesian Information Criterion (BIC) and a greedy search algorithm (Lanfear et al., 2016). Two phylogenetic inferences were conducted with the partition schemes, including Bayesian inferences (BI) and Maximum likelihood (ML) analysis. BI analysis was conducted by MrBayes v3.2.7, with 10 million generations sampling every 1,000 generations, running one cold chain and three hot chains with a burn-in of 25% trees (Ronquist & Huelsenbeck, 2003). Stability of the results of BI analysis was examined by Tracer v.1.5. ML analysis was performed by RAxML v8.2.12 with 1,000 bootstrap replicates (Stamatakis, 2014). Tree files generated by both BI and ML trees were adjusted and visualized in FigTree v1.4.2.
Superfamily
Family
Species
Accession number
Coccoidea
Coccidae
Ceroplastes japonicus
MK847519
Ceroplastes rubens
MT677923
Diaspididae
Unaspis yanonensis
MT611525
Pseudococcidae
Planococcus citri
MT611526
Aphidoidea
Aphididae
Aphis glycines
MK111111
Diuraphis noxia
KF636758
Discussion
To test the reliability of the three sequenced mitogenomes and investigate the mitochondrial phylogenetic relationships within Coccoidea, nucleotide sequences of available scale insects were obtained from GenBank and used in the phylogenetic analyses (Table 1). The two phylogenetic trees using BI and ML analyses generated identical topological structures for Coccoidea (Fig. 13). The three families of Coccoidea were grouped together, suggesting the probable monophyly of Coccoidea as found in Von Dohlen & Moran (1995), which used the small-subunit (18S) ribosomal DNA in the phylogenetic analysis. The monophyly of Coccidae was supported with high values, indicating the efficiency of mitogenome data in grouping members of the same family and partially supporting the correctness of the tree topologies. Pseudococcidae was recovered as the sister group of Diaspididae and the phylogenetic position of their combined clade was supported basal to Coccidae. However, in previous molecular and morphological studies (Gullan & Cook, 2007; Cook, Gullan & Trueman, 2002; Hodgson & Hardy, 2013), Pseudococcidae was supported basal to Coccidae and Diaspididae. The insufficient mitogenome data of Coccoidea, and the selection of different taxa and different molecular markers in the phylogenetic analysis were very likely to cause different phylogenetic results especially for the family levels (Chen et al., 2018). The new mitogenome data obtained in this study provided a basis for the accurate reconstruction of mitochondrial phylogeny in Coccoidea. The sequencing of more scale insects in future can also provide new data for our understanding of the highly rearranged mitogenomes and evolutionary history of these enigmatic insects. Sufficient representatives and molecular data will furtherer resolve the inner relationship of Coccoidea.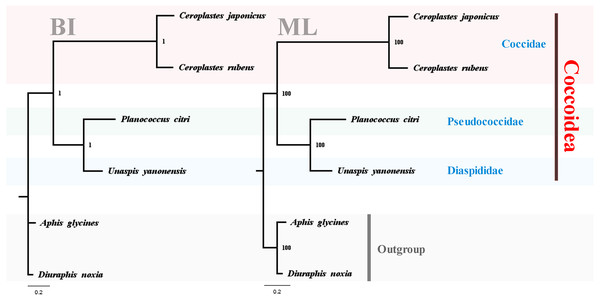 Conclusions
The complete mitochondrial genomes of U. yanonensis, P. citri and C. rubens were sequenced and analyzed. The mitochondrial genes of the three scale insects were highly rearranged and different from other scale insects. The phylogenetic reconstructions with BI and ML methods generated identical phylogenetic topology and supported the inner relationship of Coccoidea as Coccidae + (Pseudococcidae + Diaspididae). More mitogenomes should be obtained in future works to resolve the phylogeny of scale insects.