Omics approaches in Allium research: Progress and way ahead
Published

Accepted

Received
Academic Editor
Subject Areas

Keywords

Allium

,

Genomics

,

Transcriptomics

,

Proteomics

,

Metabolomics

,

Metagenomics

,

Microrna
Copyright

©

2020

Khandagale et al.

Licence

This is an open access article distributed under the terms of the Creative Commons Attribution License, which permits unrestricted use, distribution, reproduction and adaptation in any medium and for any purpose provided that it is properly attributed. For attribution, the original author(s), title, publication source (PeerJ) and either DOI or URL of the article must be cited.
Cite this article

2020

. Omics approaches in Allium research: Progress and way ahead.

PeerJ

8

:

e9824

https://doi.org/10.7717/peerj.9824
Abstract
Background
The genus Allium (Family: Amaryllidaceae) is an economically important group of crops cultivated worldwide for their use as a vegetable and spices. Alliums are also well known for their nutraceutical properties. Among alliums, onion, garlic, leek, and chives cultivated worldwide. Despite their substantial economic and medicinal importance, the genome sequence of any of the Allium is not available, probably due to their large genome sizes. Recently evolved omics technologies are highly efficient and robust in elucidating molecular mechanisms of several complex life processes in plants. Omics technologies, such as genomics, transcriptomics, proteomics, metabolomics, metagenomics, etc. have the potential to open new avenues in research and improvement of allium crops where genome sequence information is limited. A significant amount of data has been generated using these technologies for various Allium species; it will help in understanding the key traits in Allium crops such as flowering, bulb development, flavonoid biosynthesis, male sterility and stress tolerance at molecular and metabolite level. This information will ultimately assist us in speeding up the breeding in Allium crops.
Method
In the present review, major omics approaches, and their progress, as well as potential applications in Allium crops, could be discussed in detail.
Results
Here, we have discussed the recent progress made in Allium research using omics technologies such as genomics, transcriptomics, micro RNAs, proteomics, metabolomics, and metagenomics. These omics interventions have been used in alliums for marker discovery, the study of the biotic and abiotic stress response, male sterility, organ development, flavonoid and bulb color, micro RNA discovery, and microbiome associated with Allium crops. Further, we also emphasized the integrated use of these omics platforms for a better understanding of the complex molecular mechanisms to speed up the breeding programs for better cultivars.
Conclusion
All the information and literature provided in the present review throws light on the progress and potential of omics platforms in the research of Allium crops. We also mentioned a few research areas in Allium crops that need to be explored using omics technologies to get more insight. Overall, alliums are an under-studied group of plants, and thus, there is tremendous scope and need for research in Allium species.
Introduction
Allium crops are cultivated globally due to their importance as a vegetable, condiment, and spice with medicinal properties. The genus Allium belongs to the family Amaryllidaceae of the order Asparagales. Telomerase sequence variation is responsible for the divergence of Allium from other genera belonging to Asparagales. The genus Allium comprises more than 920 species (Seregin, Anačkov & Friesen, 2015), and among them, onion, garlic, bunching onion, leek, and shallots are widely cultivated because of their economic importance. The total production value of Allium crops in 2014 was US$61348 million (http://www.fao.org/faostat/en/#data/QC), of which dry onion and garlic contributed a major share of 70% and 25%, respectively. China, India, and the United States of America are among the major Allium producing countries.
The biannual life cycle, high cross-pollination, and inbreeding depression in onion and vegetative propagation, and lack of flowering, especially in garlic, are the main barriers to the conventional breeding of these major Allium crops. Alliums are known to possess one of the largest genomes (10–30 pg/1C) among vegetable crops (Ricroch et al., 2005). Thus, sequencing and assembling of these genomes become difficult, leading to limited availability of markers (Chinnappareddy et al., 2013; Khosa et al., 2016a; Khosa et al., 2016b). Therefore, mapping and genomics-assisted breeding in Allium crops are lagging (Shigyo, Khar & Abdelrahman, 2018) compared with other crops, such as rice, wheat, and tomato. Presently, we are witnessing tremendous developments and data generation from various omics experiments such as genomics, transcriptomics, proteomics, metabolomics, and metagenomics. These approaches have the potential to increase the speed and accuracy of analysis ofthe complex molecular process, ultimately leading to the development of new strategies in breeding programs for Allium improvement.
Next-generation sequencing (NGS) has recently been used for transcriptome analyses of hundreds of model as well as non-model plant species (Martin et al., 2013). RNA sequencing (RNA-seq) is a rapid and inexpensive technique that is independent of genome complexity, and thus, NGS has emerged as a method of choice for expression analyses in crops where genome sequence information is unavailable. In alliums, RNA-seq was used for studying telomeres, molecular mechanism underlying male sterility, flowering, abiotic stress, and bulb color, and for marker discovery (Duangjit et al., 2013; Abdelrahman et al., 2015; Kamenetsky et al., 2015; Fajkus et al., 2016; Baek, Kim & Kim, 2017; Yuan et al., 2018). The mRNA expression profile differs from the pattern of protein levels, and the correlation between them is often reported in the range of 0.3–0.5 (Voelckel, Gruenheit & Lockhart, 2017). It may be due to protein degradation, post-transcriptional and post-translational regulations (Voelckel et al., 2010). Protein levels are often closely associated with the trait compared to the transcript profile, and therefore, proteomics can be more reliable for studying plant development and responses to stress. Proteomics is an excellent research tool when genome sequence information is limited. A few proteomic studies have been conducted in Allium crops to determine abiotic stress tolerance (Chen et al., 2013; Qin et al., 2016) and garlic fertility (Shemesh-Mayer et al., 2015). Nowadays, metabolomics is used to gain insights into metabolites involved in specific cellular and developmental processes and stress responses in plants. Because of its rapid and accurate analyses, metabolomics can be used for selecting superior genotypes based on the quantity of metabolites of interest in the breeding program. Metabolomics has a vast potential for the characterization of flavonoids and sulfur (S) compounds in Allium crops. Garlic and onion metabolomes were studied for antimicrobial compounds (Farag et al., 2017), authentication of genotypes (Hrbek et al., 2018), and S-containing compounds (Nakabayashi & Saito, 2017). Thus, overall, omics approaches have a massive potential in Allium research (Fig. 1). Because Allium crops are yet unexplored in terms of omics compared with other crops, omics approaches can assist improvement in these crops.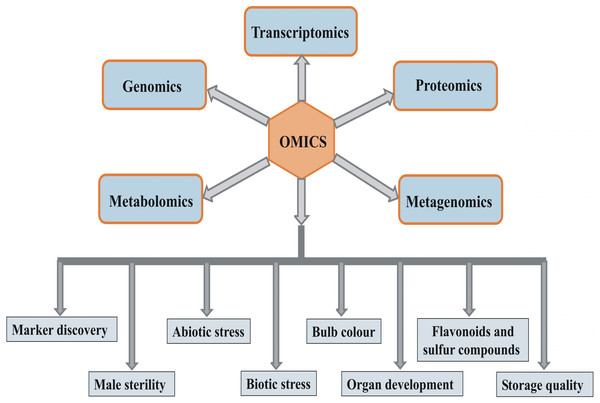 Survey Methodology
An extensive literature survey for published research papers in the area of omics approaches in Allium crops was conducted using different databases (e.g., Pubmed, Google Scholar, Science Direct, and Scopus). To collect all relevant information, we built our literature search by using the following keyword combinations: genomics and alliums, transcriptomics and alliums, proteomics and allium s, metabolomics and alliums, metagenomics, and alliums. These articles were critically studied and used as references for the present review article. Our literature survey was not limited to specific time, area, institute, and authors, and thus, a comprehensive and unbiased review was ensured.
Supplemental Information
Onion transcription factor analysis
Metabolites identified in Alliums, their applications and functions