Advances and complications of regenerative medicine in diabetes therapy
1
Federal Research Clinical Center for Specialized Types of Health Care and Medical Technologies of Federal Medical and Biology Agency

,

Moscow

,

Russia
2
Koltzov Institute of Developmental Biology of Russian Academy of Sciences

,

Moscow

,

Russia
3
Center for Precision Genome Editing and Genetic Technologies for Biomedicine, Pirogov Russian National Research Medical University

,

Moscow

,

Russia
Published

Accepted

Received
Academic Editor
Subject Areas

Keywords

Pluripotent stem cells

,

Transdifferentiation

,

Diabetes mellitus

,

Beta-cells

,

Regenerative medicine

,

Reprogramming
Copyright

©

2020

Brovkina and Dashinimaev

Licence

This is an open access article distributed under the terms of the Creative Commons Attribution License, which permits unrestricted use, distribution, reproduction and adaptation in any medium and for any purpose provided that it is properly attributed. For attribution, the original author(s), title, publication source (PeerJ) and either DOI or URL of the article must be cited.
Cite this article

2020

.

Advances and complications of regenerative medicine in diabetes therapy

.

PeerJ

8

:

e9746

https://doi.org/10.7717/peerj.9746
Abstract
The rapid development of technologies in regenerative medicine indicates clearly that their common application is not a matter of if, but of when. However, the regeneration of beta-cells for diabetes patients remains a complex challenge due to the plurality of related problems. Indeed, the generation of beta-cells masses expressing marker genes is only a first step, with maintaining permanent insulin secretion, their protection from the immune system and avoiding pathological modifications in the genome being the necessary next developments. The prospects of regenerative medicine in diabetes therapy were promoted by the emergence of promising results with embryonic stem cells (ESCs). Their pluripotency and proliferation in an undifferentiated state during culture have ensured the success of ESCs in regenerative medicine. The discovery of induced pluripotent stem cells (iPSCs) derived from the patients' own mesenchymal cells has provided further hope for diabetes treatment. Nonetheless, the use of stem cells has significant limitations related to the pluripotent stage, such as the risk of development of teratomas. Thus, the direct conversion of mature cells into beta-cells could address this issue. Recent studies have shown the possibility of such transdifferentiation and have set trends for regeneration medicine, directed at minimizing genome modifications and invasive procedures. In this review, we will discuss the published results of beta-cell regeneration and the advantages and disadvantages illustrated by these experiments.
Introduction
Diabetes mellitus is a widespread and socially significant disease that leads to a deterioration in the quality of life and life expectancy of patients. Patients with type I diabetes (T1D) are characterized by a deficiency of the pancreatic beta-cells mass, which can represent a loss of between 70–100% (Lam & Cherney, 2018). Traditionally, T1D can be separated from type II diabetes (T2D) by the factors triggering it, age of manifestation, and the useful strategies for treatment. T2D is considered to develop due to insulin resistance rather than initial beta-cell loss. However, to compensate for the imbalance, the beta-cells produce more insulin but then, after years of hypersecretion, the pool of beta-cells is depleted by up to 65% in some cases. As a consequence, this group of T2D patients also needs exogenous insulin administration (Butler et al., 2003; Eckel et al., 2011).
However, exogenous control of insulin dosage cannot compensate for the sensitive adjustment normally made by beta-cells. This often leads to hyper- or hypoglycemia with corresponding complications increasing with the time. Hyperglycemia increases the development and progression of microvascular complications such as retinopathy, nephropathy, and neuropathy (Gibbons & Freeman, 2020; Williams, Nawaz & Evans, 2020). Furthermore, the most severe complications are those related to hypoglycemia in T1D patients, resulting in neurocognitive dysfunction (Kodl & Seaquist, 2008). Thus, recovery of the pool of beta-cells is an attractive strategy for treating patients with diabetes (Fig. 1). Currently, only surgical islet transplantation provides such an opportunity (Shapiro, Pokrywczynska & Ricordi, 2017; Matsumoto & Shimoda, 2020). Islet transplantation has been developed mainly for T1D patients and involves both transfusion into the portal vein and embolization within the liver, and allows the avoidance of complications related to whole organ transplantation. However, such an approach is complicated by the limited source of donor tissue available and by immune rejection, requiring immuno-suppression therapy (Posselt et al., 2010). Furthermore, there are no approved methods in regenerative medicine that can address the specific characteristics required of beta-cells.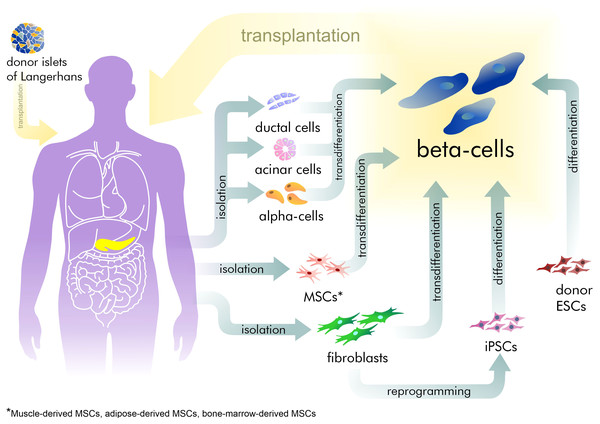 Our current understanding of lesion mechanisms in beta-cells is based on rodent studies. Although it appears that human pancreas does show a corresponding lack of regeneration capacity under systemic disorders. Therefore the translation of these observation to human beta-cells should be handled with caution (Zhou & Melton, 2018). Indeed, a comprehensive analysis of a diverse array of animal models and human cell cultures might be fruitful in initiating new advances in regenerative medicine.
Survey Methodology
The purpose of this article is to present a comprehensive review of the literature regarding recent methods of regenerative medicine in diabetes mellitus. To that aim, we performed PubMed searches for such keywords and terms as "beta-cells", "pluripotent stem cells", "3D culturing", "transdifferentiation", and "diabetes mellitus" among others. We then analyzed articles from Q1 journal ranking quartiles within the subdiscipline, using the SJR citations referenced. Although this is a comprehensive review, it is not exhaustive. It should be noted that we focused particularly on the limitations of the current methods, as solutions to these problems should help progress the development of regenerative medicine. However, it must be remembered, that the question regarding the problems underlying beta-cell preservation remains open and needs further investigation.
Conclusions
These days regenerative medicine is advancing rapidly, breaking new ground. iPSC-technology is replacing ESCs, to provide an almost unlimited source for the generation of desired autologous cell lines. Currently, stem cell technologies are taking the lead in the regeneration of beta-cells, however, there are certain risks due to manipulations of the genome and the capacity of undifferentiated cells for forming teratomas. To overcome these limitations, the transient introduction of RNAs, recombinant proteins, or chemical mimics can substitute virus-mediated introduction. Meanwhile, the direct conversion of mature cells or the differentiation of adult stem cells can reduce the risk of teratoma development. Thus, the current trends of regenerative medicine are aiming towards safety and immune-compatibility.
However, despite the substantial success of regenerative medicine overall, there are still many whitespaces in diabetes treatment when using beta-cells. Without a primary determination of the diversity and functions of different beta-cell populations, current technologies for beta-cell reproduction represent a colossus with feet of clay and will continue to have limitations.
Epitranscriptome modifications also require further investigations, especially for transdifferentiation approaches, since most of the studies suggest that the newly generated beta-cells retain the epigenomic landscape of the initial cell line.
Evidently, beta-cell preservation remains a stumbling block in diabetes treatment. Finding a solution to this problem represents the core task both for treating early stage patients and for patients with a total loss of beta-cells.