Differential expression between drought-tolerant and drought-sensitive sugarcane under mild and moderate water stress as revealed by a comparative analysis of leaf transcriptome
1
National Omics Center (NOC), National Science and Technology Development Agency (NSTDA)

,

Thailand Science Park, Pathum Thani

,

Thailand
2
Mitr Phol Sugarcane Research Center Co., Ltd.

,

Phu Khiao, Chaiyaphum

,

Thailand
3
Department of Biotechnology, Faculty of Science and Technology, Thammasat University (Rangsit Campus)

,

Pathum Thani

,

Thailand
Published

Accepted

Received
Academic Editor
Subject Areas

Keywords

Sugarcane

,

Drought

,

Drought tolerance

,

Early response

,

Transcriptome

,

RNA-Seq
Copyright

©

2020

Nawae et al.

Licence

This is an open access article distributed under the terms of the Creative Commons Attribution License, which permits unrestricted use, distribution, reproduction and adaptation in any medium and for any purpose provided that it is properly attributed. For attribution, the original author(s), title, publication source (PeerJ) and either DOI or URL of the article must be cited.
Cite this article

2020

.

Differential expression between drought-tolerant and drought-sensitive sugarcane under mild and moderate water stress as revealed by a comparative analysis of leaf transcriptome

.

PeerJ

8

:

e9608

https://doi.org/10.7717/peerj.9608
Abstract
Sugarcane contributes 80% of global sugar production and to bioethanol generation for the bioenergy industry. Its productivity is threatened by drought that can cause up to 60% yield loss. This study used RNA-Seq to gain a better understanding of the underlying mechanism by which drought-tolerant sugarcane copes with water stress. We compared gene expression in KPS01-12 (drought-tolerant genotype) and UT12 (drought-sensitive genotype) that have significantly different yield loss rates under drought conditions. We treated KPS01-12 and UT12 with mild and moderate water stress and found differentially expressed genes in various biological processes. KPS01-12 had higher expression of genes that were involved in water retention, antioxidant secondary metabolite biosynthesis, and oxidative and osmotic stress response than UT12. In contrast, the sensitive genotype had more down-regulated genes that were involved in photosynthesis, carbon fixation and Calvin cycle than the tolerant genotype. Our obtained expression profiles suggest that the tolerant sugarcane has a more effective genetic response than the sensitive genotype at the initiation of drought stress. The knowledge gained from this study may be applied in breeding programs to improve sugarcane production in drought conditions.
Introduction
Sugarcane (Saccharum ssp.) is a C4 grass in the Poaceae family. Modern sugarcane cultivars are mainly hybrids of sugar rich Saccharum officinarum species and the wild species S. spontaneum (Shearman et al., 2016). This plant is one of the most important economic crop species of the world as it is used in both the food and energy industries (Ferreira et al., 2017). The global harvest area and production of sugarcane have continually increased since 1961 and reached a maximum in 2013 (http://www.fao.org). The major planting areas of sugarcane are distributed in tropical and subtropical regions because the plant requires hot weather (32–38 °C) and relatively high rainfall (1,000–1,500 mm/year). Dry conditions can have positive effects on sucrose yield of sugarcane during maturation phase (Ferreira et al., 2017). However, stem and leaf growth of sugarcane is very sensitive to water stress during germination, tillering and during the vegetative growth phase (Ferreira et al., 2017). Drought can cause up to 60% yield loss in rainfed areas (Ferreira et al., 2017).
Selection and breeding of sugarcane cultivars that can adapt to drought conditions offers a promising solution to the problem. However, this is not trivial because the responses of sugarcane to drought can cause both positive and negative effects (Ferreira et al., 2017). For example, although drought-induced stomatal closure can help a plant prevent water loss, it can also cause photosynthetic inhibition (Wang et al., 2016). In addition, different sugarcane cultivars likely have different drought response mechanisms. Even if the mechanisms are complementary, the efficiency levels can vary among genotypes leading to poor combination results (Fracasso, Trindade & Amaducci, 2016). Therefore, it is imperative to have comprehensive data to understand the complex drought responses of sugarcane. Several molecular techniques have been applied to discover genetic responses of sugarcane to drought. Suppression subtractive hybridization identified differentially expressed genes (DEGs) in sugarcane cultivar Co740 under water deficit conditions by comparing to a condition with adequate water supply over a 45-day time course (Prabu et al., 2011). The DEGs appeared to be involved in many cellular processes including photosynthesis, signaling, molecular metabolisms and stress responses. Another gene expression study using microarrays revealed that the drought-tolerant SP83-5073 had fewer number of DEGs than the drought-sensitive SP90-1638 under mild (~80% substrate water content), moderate (40%) and severe (20%) water stress conditions (Rodrigues, De Laia & Zingaretti, 2009). More recently, a study applied RNA sequencing (RNA-seq) to de novo assemble the transcriptome and compare the level of gene expression between drought-tolerant (GN18) and drought-sensitive (FN95-1702) sugarcane cultivars exposed to drought stress (Xu et al., 2018). GN18, which was an offspring of FN95-1702, had higher expression levels of genes involved in photosynthesis, signal transduction and reactive oxygen species (ROS) scavenging.
RNA-Seq is a technique that uses high-throughput sequencing of transcript reads to identify gene expression changes. However, the high polyploidy complexity of the sugarcane genome can interfere with read mapping that is required to get gene expression from RNA-Seq. A transcriptome reference was often used for mapping sugarcane reads even though the mapping rate was moderate (Kasirajan et al., 2018). The recently reported monoploid reference genome of sugarcane (Garsmeur et al., 2018) enables a reference-based analysis of RNA-Seq data to yield precise gene expression profiles. Moreover, several sophisticated RNA-Seq data analysis softwares, for example, DEseq2 (Love, Huber & Anders, 2014), have been developed. In this study, we conducted RNA sequencing and analyzed the data by using the monoploid reference genome (Garsmeur et al., 2018) and DEseq2 to find gene expression change in a drought-tolerant sugarcane (KPS01-12) in response to the water stress. We compare the expression changes with those in a drought-sensitive sugarcane (UT12) to show genes that are uniquely and/or highly expressed only in the drought-tolerant sugarcane.
Materials and Methods
Plant material and growth conditions
To investigate the effects of drought stress on gene expression, the experiment was conducted in a naturally lit glasshouse at the National Science and Technology Development Agency, Pathum Thani, Thailand from May to July 2018. Sugarcane (Saccharum spp. hybrid KPS01-12 and UT12) plantlets were produced in tissue culture at Mitr Phol Sugarcane Research Center Co., Ltd., Chaiyaphum, Thailand and transplanted into potting trays (5 × 6 wells) on May 2018. The permission and regulation to obtain the sugarcane plant material were not required and no protected species was involved in this study. Thirty-day-old plants with ~10–12 cm stem height were transplanted into 1.5 L pots with peat and sand (50:50 v/v) for 28 days before applying the stress treatment. Each pot consisted of approximately 2,000 ± 50 g of peat and sand (50:50 v/v) and contained one plant. A nutrient solution was applied every fortnight through irrigation. The transplanted seedlings were grown at 35 ± 2 °C with 50% ± 10% humidity for 4 weeks and uniform seedlings were chosen for the study.
Water stress treatment
In this experiment, the well-watered (WW) plants continued to receive full irrigation where field capacity (FC) was kept at 100%. For treatment, water stress (WS) was imposed by gradually withdrawing irrigation over a period of 14 days until the potting mix reached 50% FC, determined gravimetrically (Earl, 2003). Leaf samples were collected from the well-watered and water-stressed plants at seven and fourteen days after the onset of the treatment corresponding to ~75% FC (mild WS) and ~50% FC (moderate WS), respectively.
Field conditions for yield data collection
We collected yield data from Mitr Phol Sugarcane Research Center Co., Ltd. at Phukhieo District, Chaiyaphum Province during December 2017–December 2018, which is one of the growing seasons of the area. Sugarcane plants were grown under normal water condition and dry condition. The plants under normal water condition were supplied with water of ~60 cubic/rai twice a month from December 2017 to May 2018 while the plants under dry condition did not receive any water.
RNA extraction, cDNA library construction and sequencing
Two biological replicates were used for each genotype, water treatment, and time point. All samples were pulverized in liquid nitrogen, and then put into CTAB extraction buffer (2% CTAB, 1.4 M NaCl, 2% PVP, 20 mM EDTA pH 8.0, 100 mM Tris-HCl pH 8.0, 0.4% SDS). Total RNA was extracted from the aqueous phase twice using 24:1 chloroform:isoamylalcohol, and the supernatant was precipitated overnight in 1/3 volume of 8 M LiCl. RNA pellets were washed with 70% ethanol, air-dried, and resuspended in RNase-free water. Dynabeads mRNA purification kit (Thermo Fisher Scientific, Waltham, MA, USA) was used for mRNA enrichment. RNA integrity was assessed using Fragment Analyzer (Advanced Analytical Technologies, Inc., Ames, IA, USA). cDNA libraries were prepared according to the Ion Total RNA-Seq Kit v2 (Life Technologies, Carlsbad, CA, USA) protocol. The template-positive Ion 540™ ion sphere particles (ISPs), containing amplified cDNA (about 200 bp), were prepared using the Ion 540™ kit-OT2 kit and the reaction was performed in the OneTouch™ 2 Instrument. The template-positive ISPs were enriched using Ion OneTouch™ ES. The libraries were sequenced using the Ion 540™ chip on the Ion S5 XL sequencing system (Thermo Fisher Scientific, Waltham, MA, USA).
Identification of differential expression gene and functional clustering
Raw reads were processed by trimming sequencing adapters and low-quality bases. Possible ribosomal RNA contamination in the data set was removed by comparing to SILVA rRNA database (release 132) using local BLAST search (Camacho et al., 2009; Quast et al., 2012).
Cleaned reads were mapped to the sugarcane monoploid reference genome assembly using STAR aligner (version 2.6.1a) (Dobin et al., 2013). The genome sequence, protein sequences and GFF annotation files were downloaded from http://sugarcane-genome.cirad.fr (Garsmeur et al., 2018). Raw counts of the reads mapped to gene regions were quantified by HT-seq count (version 0.9.1) (Anders, Pyl & Huber, 2015). The reads mapped to multiple loci were discarded. Differentially expressed genes (DEGs) were identified using R package DESeq2 (Love, Huber & Anders, 2014) with Benjamini-Hochberg false discovery rate adjusted p-value of 0.05. For samples collected under mild or moderate WS, two sets of DEGs were calculated from two comparison types. The first set compared water-stressed and well-watered samples of the same genotype (WS/WW comparison). The second set compared two genotypes (KPS01-12/UT12 comparison) and DEGs that are uniquely present under WS condition were selected. For both comparison types, only identified DEGs with log2 fold-change greater than 1.5 were retained for subsequent analyses. Two biological replicates were enough for DEseq2 normalization and statistic test to keep sensitivity in detecting differential gene expression when a foldchange cutoff of 1.5 is used (Schurch et al., 2016).
Gene symbols and protein products for the DEGs were obtained from GFF annotation file provided along with the reference genome sequence. The DEGs were clustered based on their possible biological functions or pathways in which they were involved by performing similarity search of corresponding protein sequences with Mercator v.3.6 (Lohse et al., 2014), AgriGO v2.0 (Tian et al., 2017), KEGG database (Kanehisa & Goto, 2000) and UniProt database (UniProt, 2008) depending on the data available for each DEG.
Quantification of target gene transcripts with NanoString nCounter SPRINT Profiler
A custom-designed NanoString nCounter gene expression codeset targeting 15 sugarcane genes and five housekeeping genes was applied to validate the RNA-seq results. The target genes were selected from the DEGs obtained from the RNA-seq data and the housekeeping genes were selected based on (De Andrade et al., 2017). For each sample, 100 ng of total RNA in 5–8 µl solution was used in the hybridization reaction according to the manufacturer's protocol. Purified target RNA-probeset complexes were loaded onto nCounter Cartridges and were quantified on nCounter Sprint Profiler. We used nSolver 4.0 software (https://www.nanostring.com/products/analysis-software/nsolver) to analyse the data, in which eight negative and five positive control genes provided by the manufacturer were used for background noise removal and technical variability normalization, respectively.
Results
Phenotypic responses to water stress
The field data collections revealed that KPS01-12 (25% yield reduction) had significantly less yield loss than UT12 (66% yield reduction) under drought conditions while their yields under normal water conditions were similar (Table S1). The data revealed that KPS01-12 was more tolerant to drought than UT12.
Gene expression changes in response to water stress
RNA sequencing using Ion S5 XL system yielded a total of 12 Gb of transcriptomic sequences from two sugarcane genotypes with two biological replicates for each of mild WS, moderate WS and WW conditions (Table S2). We mapped our RNA reads to the genome of Sorghum bicolor, S. spontaneum and Saccharum spp. hybrid cultivar R570 (Garsmeur et al., 2018). The average percentage over all samples of RNA reads that could be mapped to a unique locus on the R570 sugarcane genome was 67% while the percentage of RNA reads that were mapped to multiple loci was 3% and the percentage of the unmapped reads was 26% (Table S3). The average percentage of the uniquely mapped, multiple loci mapped and unmapped reads with the S. bicolor genome were 50%, 22% and 11%, respectively. With the S. spontaneum AP85-441 genome, the average percentages were 34%, 30% and 31%, respectively. The mapping results with the R570 sugarcane genome were used in our analysis of gene expression since it had the highest percentage of uniquely mapped reads. The average number of genes that had at least one uniquely mapped read was approximately 15,000 genes, accounting for 61% of all annotated protein coding genes in the reference genome. The sequencing data have been deposited in the NCBI Sequence Read Archive database under the accession number PRJNA574856.
Multiple genes were significantly differentially expressed in response to mild or moderate water stress (Figs. 1 and 2; Table S4). Six sets of DEGs were calculated from mild WS and moderate WS compared to the WW condition for each genotype and by comparing KPS01-12 to UT12 for each of mild WS and moderate WS. We filtered out DEGs that had been annotated to encode hypothetical or redundant proteins in the reference genome and focused only on genes with known functions. From the WS/WW comparison, KPS01-12 under mild WS and moderate WS had four and 44 final DEGs, respectively, and UT12 had two and 58 DEGs, respectively (Fig. 1; Table S4). From the KPS01-12/UT12 comparison, the final number of DEGs under mild and moderate WS were 39 and 56, respectively. Of these DEGs, 58% (n = 23) and 37% (n = 21) had higher expression in the tolerant genotype than the sensitive genotype under mild WS and moderate WS, respectively.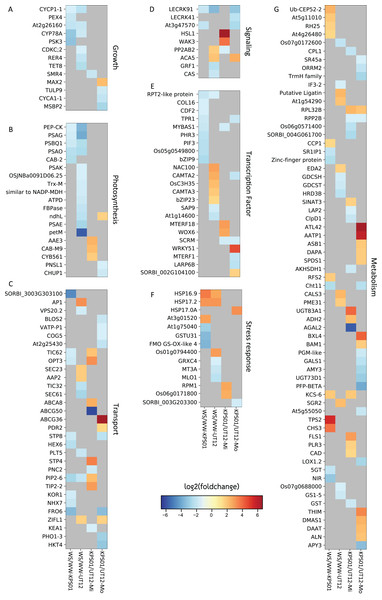 To validate the RNA-Seq results, we used NanoString to directly quantify the mRNA of 15 genes from the DEG list. We computed log2 fold-change in the same six comparison groups as in the RNA-seq experiment. Ten of these genes were up-regulated with the log2 fold-change values between 1.45 and 6.87 while the other five genes were down-regulated with the log2 fold-change from −2.30 to −3.13. The log2 fold-change values were consistent with the results obtained from the RNA-seq data (Fig. S1).
All non-redundant DEGs were classified into seven major classes of biological processes (Fig. 1; Table S4). Growth and photosynthesis were the only classes where all DEGs from WS/WW comparison of both genotypes were down-regulated. For the molecular transport class, the DEGs were involved in vesicle, lipid, protein, sugar, ion, and metabolite transport (Fig. 1C; Table S4). For genes in signaling and transcription factor (TF) classes, the tolerant genotypes had only down-regulated DEGs from the WS/WW comparison (Figs. 1D and 1E). In the stress-responsive class, most DEGs were involved in heat and oxidative stress responses (Fig. 1F; Table S4). The cellular metabolism class contained the highest number of DEGs among all DEG classes (Fig. 1G), but none of these DEGs was shared between the two genotypes. The cellular metabolism DEGs were involved in RNA binding and processing, and metabolism of protein, carbohydrate, lipid, secondary metabolite and organonitrogen compounds (Table S4).
Conclusions
This study compared gene expressions between a drought tolerant sugarcane KPS01-12 genotype and a drought sensitive sugarcane UT12 genotype. Our experiment was conducted under mild and moderate water stresses to identify primary transcriptional response of the tolerant sugarcane to drought. From RNA-Seq data, we could identify gene expression changes between KPS01-12 and UT12 from a variety of pathways. We found that KPS01-12 had different expression profiles of genes that were involved in water retention, secondary metabolite biosynthesis, oxidative and osmotic stress protection, photosynthesis, and transcription regulation from UT12. These positive gene expressions may contribute to the higher yield maintaining ability of the tolerant sugarcane genotype under drought than the sensitive genotype. The obtained information not only expand our understanding of the underlying mechanisms that a drought-tolerant sugarcane uses to cope with water stress but may also be applied in breeding programs that aim to improve sugarcane production in drought conditions.