Subcellular compartmentalization of the plant antioxidant system: an integrated overview
Published

Accepted

Received
Academic Editor
Subject Areas

Keywords

Antioxidant system

,

Reactive oxygen species

,

Antioxidants

,

Systems biology

,

Plant cell

,

Compartments

,

Mathematical modeling
Copyright

©

2020

Bobrovskikh et al.

Licence

This is an open access article distributed under the terms of the Creative Commons Attribution License, which permits unrestricted use, distribution, reproduction and adaptation in any medium and for any purpose provided that it is properly attributed. For attribution, the original author(s), title, publication source (PeerJ) and either DOI or URL of the article must be cited.
Cite this article

2020

.

Subcellular compartmentalization of the plant antioxidant system: an integrated overview

.

PeerJ

8

:

e9451

https://doi.org/10.7717/peerj.9451
Abstract
The antioxidant system (AOS) maintains the optimal concentration of reactive oxygen species (ROS) in a cell and protects it against oxidative stress. In plants, the AOS consists of seven main classes of antioxidant enzymes, low-molecular antioxidants (e.g., ascorbate, glutathione, and their oxidized forms) and thioredoxin/glutaredoxin systems which can serve as reducing agents for antioxidant enzymes. The number of genes encoding AOS enzymes varies between classes, and same class enzymes encoded by different gene copies may have different subcellular localizations, functional loads and modes of evolution. These facts hereafter reinforce the complex nature of AOS regulation and functioning. Further studies can describe new trends in the behavior and functioning of systems components, and provide new fundamental knowledge about systems regulation. The system is revealed to have a lot of interactions and interplay pathways between its components at the subcellular level (antioxidants, enzymes, ROS level, and hormonal and transcriptional regulation). These facts should be taken into account in further studies during the AOS modeling by describing the main pathways of generating and utilizing ROS, as well as the associated signaling processes and regulation of the system on cellular and organelle levels, which is a complicated and ambitious task. Another objective for studying the phenomenon of the AOS is related to the influence of cell dynamics and circadian rhythms on it. Therefore, the AOS requires an integrated and multi-level approach to study. We focused this review on the existing scientific background and experimental data used for the systems biology research of the plant AOS.
Introduction
Aerobic metabolism provides great energetic benefits to organisms but has byproducts such as forms of reactive oxygen species (ROS), including singlet oxygen, superoxide radical, hydrogen peroxide, hydroxyl radical. ROS plays a considerable role as signal molecules for cell processes (e.g., cell division, differentiation, immune response). However, excessive amounts of ROS are highly toxic and can damage cell membranes, oxidize various cellular substrates, and macromolecules. ROS initiates a cascade of reactions that enhance the production of hydroxyl ions and lipid peroxides in membranes (Noctor & Foyer, 1998). Furthermore, ROS triggers positive feedback by lipid oxidation, which can lead to damage to membranes. These processes can disrupt the transfer of electrons and lead to enhanced production of more ROS. The cumulative effect of excessive ROS can lead to disruption of the metabolism of individual cells, death of tissues, organs, and organisms, and cause so-called oxidative stress (Gill & Tuteja, 2010). In nonoptimal conditions, the production of ROS multiplies by many folds (Orozco-Cardenas & Ryan, 1999). So, for cellular metabolism, it is essential to maintain the optimal level of ROS.
Being one of the basic systems, the AOS arose in the time of aerobic photosynthetic metabolism appearance, which is approximately 2.4 billion years ago (Hohmann-Marriott & Blankenship, 2011). It is well known that the AOS is capable of controlling the concentration of ROS neutralizing their excess and protecting the plant cell against oxidative stress (Ahmad et al., 2010). For existing organisms, the AOS components could be encoded by several copies of the same enzyme class genes that may carry different functional loads and may be characterized by different modes of evolution. The genetic complexity of the AOS lies in its multicopy structure; for example, in the genome of Arabidopsis thaliana L., about 40 genes encode antioxidant enzymes (Mittler et al., 2004). Moreover, each enzymatic class in the AOS is represented in the plant genome in several copies, which, as a rule, have different localization in the cell compartments (cytosol, mitochondria, peroxisomes, chloroplasts).
The AOS consists of seven classes of enzymes, thioredoxins/glutaredoxins reducing system, and low-molecular antioxidant species, which represent reduced and oxidized forms of ascorbate (AsA) and glutathione (GSH). The main classes of AOS enzymes with names of corresponding MetaCyc reactions (Krieger et al., 2004) are listed in Table 1. One group of enzymes including superoxide dismutase (SOD), catalase (CAT), glutathione peroxidase (GPX), and ascorbate peroxidase (APX) catalyzes ROS decomposition, and the other one including monodehydroascorbate reductase (MDHAR), dehydroascorbate reductase (DHAR), and glutathione reductase (GR) maintains the level of reduced forms of antioxidants. The AOS components interact with each other by the mechanism summarized in Fig. 1. Superoxides are neutralized in a dismutation reaction catalyzed by SOD, which produces hydrogen peroxide. Hydrogen peroxide can be neutralized in three ways: by CAT, by GPX with the oxidation of reduced thioredoxins, and by APX with AsA oxidation to monodehydroascorbate (MDHA). MDHA can non-enzymatically transform into ascorbate and dehydroascorbate (DHA) and can be restored by MDHAR, which can turn again into ascorbate under the reaction of DHAR with GSH oxidation to GSSG. NADPH-dependent GR can reduce GSSG.
| Enzyme abbreviation | Full name | EC | Pathway link |
| --- | --- | --- | --- |
| APX | Ascorbate peroxidase | 1.11.1.11 | MetaCyc:PWY-6959 |
| GPX | Glutathione peroxidase | 1.11.1.9 | MetaCyc:DETOX1-PWY-1 |
| CAT | Catalase | 1.11.1.6 | MetaCyc:DETOX1-PWY-1 |
| SOD | Superoxide dismutase | 1.15.1.1 | MetaCyc:DETOX1-PWY-1 |
| DHAR | Dehydroascorbate reductase | 1.8.5.1 | MetaCyc:PWY-2261 |
| MDHAR | Monodehydroascorbate reductase | 1.6.5.- | MetaCyc:PWY-2261 |
| GR | Glutathione reductase | 1.8.7.1 | MetaCyc:PWY-4081 |
| NTRC | NADPH-dependent thioredoxin reductase | 1.8.1.9 | MetaCyc:THIOREDOX-PWY |
| – | – | 1.8.4.2 | MetaCyc:GLUT-REDOX-PWY |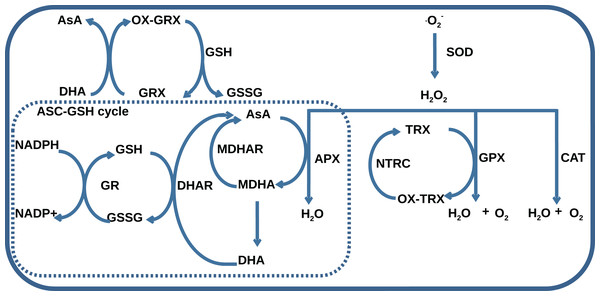 Obtaining of experimental data related to the AOS regulation is the subject of interest for many scientific groups working with different objects. Starting with investigations including northern blot analysis/PCR techniques and/or measurements of enzyme activity during stresses, which revealed the ambiguity of the transcription regulation and, in some cases, indirect relationship between changes of mRNA level and enzyme activity during treatment for Nicotiana plumbaginifolia L. (Tsang et al., 1991), Raphanus sativus L. (Lopez et al., 1996), Arabidopsis thaliana L. (Kandlbinder et al., 2004). Recent studies address more precise ways to quantify antioxidant genes using qRT-PCR methods for Musa acuminata L. (Taufikurahman & Widiyanto, 2016) and Solanum tuberosum L. (El-Argawy & Adss, 2016) and also showing advanced techniques of choosing the reference genes for normalization of AOS gene expression for Cucumis melo L. (Kong et al., 2014) and Actinidia deliciosa L. Petriccione et al. (2015).
Also, for many AOS enzymes, the post-transcriptional character of regulation is detected. It was shown that the cytosolic APX, for Pisum sativum L., is regulated by control of protein synthesis, probably at the level of initiation of translation during drought (Mittler & Zilinskas, 1994). For gene encoding the second catalase subunit, light dependance of mRNA accumulation was found (Ni & Trelease, 1991). For another essential AOS enzyme, SOD, it was established that the expression of two Cu/Zn SOD genes regulated by miR398 (Sunkar, Kapoor & Zhu, 2006). Expression of the miR398 repressed during stress conditions, which allows the system to activate the targeted SOD genes for protection. Also, an investigation of Alscher, Erturk & Heath (2002) showed increased activity in response to the stress of various SODs and a high degree of similarity of their upstream regulatory regions, which indicates the co-regulation of SOD.
The AOS reveals a compensatory behavior: plants with suppressed expression of APX induced the expression of SOD, CAT, GR (Willekens et al., 1997; Rizhsky et al., 2002). CAT and APX cannot fully compensate each other for their insufficiency, which has been shown for both abiotic and pathogen-caused stresses (Mittler et al., 1999). Also, plants lacking APX and CAT demonstrate higher resistance to oxidative stress than mutants defective by only one class of enzyme (Rizhsky et al., 2002), which is associated with a rearrangement of plant metabolism and a decrease in photosynthesis activity of double-antisense mutants. Induction of individual enzymes of the AOS can affect various related processes in the cell. For example, Chen, Twito & Miller (2014) stressed out the role of ascorbate peroxidase 6 (APX6) in cellular metabolism, including a link between APX6 functioning, ROS signaling, stages of seed development, and up-regulation of abscisic acid (ABA) and auxin for A. thaliana.
Accumulated over many years, the existing scientific background and experimental data could serve as a unique basis for the systems biology research of the plant AOS. Therefore we aimed to systematize available data and methods, including mathematical modeling, and to highlight the latest discoveries concerning the plant antioxidant system by describing the underlying biochemical and kinetic properties and subcellular localization.
The primary purpose of this review is to show available data and methods which can help to reconstruct and describe the behavior of the AOS in silico. We focused on the main features of this system, which determines its complexity. We will start by describing the underlying biochemical and kinetic properties of the system. Then we discuss available experimental data and give readers some facts about the regulation of this system during stress. We also emphasize the importance of AOS's subcellular properties, which should be studied more precisely to gain a more profound knowledge of this system. Finally, we discuss available models of the AOS and the mathematical modeling methods related to this system.
Survey methodology
Following the review plan, lists of key terms for each research topic were compiled. We searched for articles in the Google Scholar database (https://scholar.google.com/) using search terms that match the issues of the relevant sections indicated in Table S1. The obtained articles were initially screened based on their abstracts. The selected articles for each section of the review and its quantity are presented in Table S1. This review also pays attention to some biochemical researches which address the study of antioxidant enzyme activities in plants and provide insights into the regulation of the system and its compartmentalization. For searching these articles, we use keywords like kinetic measurements/enzyme activities of the AOS of plants. Because the biochemistry of the antioxidant system was intensively studied in the 1990–2000s, we found it essential to include these articles in the review.
Conclusion
During the last decades, an extensive compendium of knowledge was accumulated. Still, most of it is fragmentary and concerns various individual properties of the system in control and stress conditions, different compartments (specific features of regulation and sources of electrons), different tissues (tissue-specific AOS profiles), and plant development stages. However, the dynamics and regulation of this system have not been exhaustively studied. In particular, some information concerning intracellular crosstalk between various components of the system in response to stress is missing, and there are still some gaps related to regulation and functional diversity attributed to different intracellular compartments.
Nevertheless, the development of biochemical and cell biology approaches provide much information concerning the functioning of the AOS. For example, the amount of transcriptome data for an extensive compendium of plant species is continuously growing. Now it is a time for integration all these data into a detailed mechanism-based mathematical model that would become an in silico replica of the underlying biology. Currently available data, including biochemical studies of AOS and recent omics data related to this system in combination with in silico methods for simulation and analyzing such systems, can help to make steps towards this long-term goal.
We should admit that there might be various authors' attempts to build different versions of models, for different fragments of the AOS, and different plants. The approach of blueprint modeling could help to deal with this complexity. Blueprint modeling is based o the concept that all organisms are similar in their macromolecular networks. They use similar building blocks (mRNA, DNA, proteins, etc.) and similar biochemical reactions organized in similar metabolism pathways. The difference is mostly in the values of the parameters, for example, in the expression levels of certain enzymes. Thus, a generic blueprint model can be built and then parameterized for every particular instantiation, for example, for every specific organism or condition (Kolodkin, 2017).
The ideal way would be to build such a blueprint model as a live online system in the environment, similar to the one proposed by JWS Online (https://jjj.bio.vu.nl/). The models on JWS Online are aligned with FAIR (Findable, Accessible, Interoperable, Reusable) principles and can run online for either default parameters (curated and approved JWS team), or for parameters chosen by the user. The user can choose parameters based on his/her own experimental data or from curated databases, such as SABIO-RK (http://www.sabio.h-its.org/), or the data assembled at facilities of ELIXIR Research Infrastructure (https://elixir-europe.org/). Now user should do it manually. However, it is planned to do it automatically. For example, the user will go in the database, choose the appropriate organism and conditions, and run model simulations in the JWS Online environment. This is planned to implement within the framework of the recently started EOSC-Life project (European Open Science Cloud) supported by Horizon 2020.
The reconstruction of the emergent behavior of the AOS in silico would help to identify network targets for intervening antioxidant defense, for example, in crop-related biotechnologies. On the other hand, building a systems biology model would be a valuable exercise in itself. The model building would be concise the efforts of many researchers into a single framework and would merge sometimes contradictory and fragmentary information into a unique global picture. This would help to identify possible gaps in our knowledge, would shed light on many blind spots in our understanding of the antioxidant defense, and would drag the experimental research towards new horizons.
Supplemental Information
Specific search terms for the review sections and number of total and selected articles.