Open Access uptake by universities worldwide
1
Delft Institute of Applied Mathematics, Delft University of Technology

,

Delft

,

Netherlands
2
Centre for Science and Technology Studies, Leiden University

,

Leiden

,

Netherlands
3
Centre for Research on Evaluation, Science and Technology, University of Stellenbosch

,

Stellenbosch

,

South Africa
Published

Accepted

Received
Academic Editor
Subject Areas

Keywords

Open access

,

Universities

,

Research assessment

,

Research policy

,

Open science

,

Unpaywall

,

Scientometrics

,

Science of science
Copyright

©

2020

Robinson-Garcia et al.

Licence

This is an open access article distributed under the terms of the Creative Commons Attribution License, which permits unrestricted use, distribution, reproduction and adaptation in any medium and for any purpose provided that it is properly attributed. For attribution, the original author(s), title, publication source (PeerJ) and either DOI or URL of the article must be cited.
Cite this article

2020

.

Open Access uptake by universities worldwide

.

PeerJ

8

:

e9410

https://doi.org/10.7717/peerj.9410
Abstract
The implementation of policies promoting the adoption of an open science (OS) culture must be accompanied by indicators that allow monitoring the uptake of such policies and their potential effects on research publishing and sharing practices. This study presents indicators of open access (OA) at the institutional level for universities worldwide. By combining data from Web of Science, Unpaywall and the Leiden Ranking disambiguation of institutions, we track OA coverage of universities' output for 963 institutions. This paper presents the methodological challenges, conceptual discrepancies and limitations and discusses further steps needed to move forward the discussion on fostering OA and OS practices and policies.
Introduction
The implementation of policies promoting the adoption of an open science (OS) culture must be accompanied by indicators that allow monitoring the penetration of such policies and their potential effects on research publishing and sharing practices. In this paper we present open access (OA) indicators for universities worldwide. We analyse the presence of OA by type of access, field differences and comparisons with scientific impact and international collaboration. We explore discrepancies between the operationalization of OA indicators and the different definitions of OA provided in the literature.
The notion of OS goes back to the sixteenth century (David, 2008), but it has recently gained relevance as the European Union (EU) introduced it as a pivotal stone in their research programmes (Moedas, 2015). Within the different directives set up to achieve it, OA has become one of the first milestones. Initiatives such as Plan S (Else, 2018a; Else, 2018b) or the European Commission's Open Science Monitor (https://ec.europa.eu/info/research-and-innovation/strategy/goals-research-and-innovation-policy/open-science/open-science-monitor_en) exemplify such efforts and the prioritization of OA for these agencies, the latter being the tool the European Commission is using to monitor its uptake. However, more granular levels of analysis are needed to better understand how OA is expanding, which OA models are being implemented and what the potential side-effects of such models are. Universities have been supporting OA for many years now. The most common strategy has been to build and maintain institutional repositories, and introduce mandates that oblige their researchers to deposit pre- or postprints of their publications (Harnad, 2007; Harnad et al., 2008). There is also evidence of institutions promoting OA publications by sponsoring the costs derived from the article processing charges (APC) of open journals (Gorraiz & Wieland, 2009; Gorraiz, Wieland & Gumpenberger, 2012). In most cases, institutions are faced with the challenge of determining the success of such initiatives and monitoring the compliance of their researchers with international and national OA mandates. Initiatives such as the ranking of OA repositories (Aguillo et al., 2010) offer partial information on the share of OA availability at the institutional level, as they only provide details on the among of documents stored in institutional repositories, irrespective of the overall research output. Although valuable, it is still insufficient, as institutional repositories may not be the main vehicle used by researchers to make their outputs openly accessible (Arlitsch & Grant, 2018), and not all researchers, even at the same university, comply with their institutional mandates in the same manner.
Until recently, there were no more than estimates as to the amount of OA publications. However, the development of platforms like CrossRef, DOAJ or even Google Scholar, along with computational advancements on web scrapping, have led to a plethora of large-scale analyses to empirically identify OA literature (Archambault et al., 2014; Van Leeuwen, Tatum & Wouters, 2018; Piwowar et al., 2018; Martín-Martín, Costas & Van Leeuwen, 2018b). Overall, these studies report that around half of the scientific literature is freely available but point towards the increasing availability of publications which do not adhere strictly to what is considered OA. The game changer in this respect, has been Unpaywall (Piwowar et al., 2018), a product developed by the non-profit Our Research (https://ourresearch.org/), which tracks OA versions of published research with a document identifier (e.g., DOI), including e-prints self-archived in repositories, recently becoming the most standard mechanism to identify OA.
In this article we present a first attempt at analyzing OA at the institutional level. The main goal of the study is to provide methodological insights that can ease the analytical use and interpretation of OA indicators while providing a general overview of institutional OA uptake. Hence, the article is in nature descriptive, not aiming at responding specific research questions on OA uptake, but to set the basis so that more specific research questions can be developed in the future in an informed way. In order to achieve the proposed goal, we structure our findings in the following way. First, we inform on how OA is being achieved in different institutions and countries, describe national trends, and pathways by which OA is being expanded. Second, we deepen the analysis into green and gold OA types to understand potential discrepancies between the common understanding of these two types OA and how it is actually operationalized in Unpaywall. The results of this study have been recently incorporated to the 2019 edition of the Leiden Ranking released in May 2019 (Van Leeuwen, Costas & Robinson-Garcia, 2019) and a first version was presented at the ISSI 2019 Conference (Robinson-Garcia, Costas & Van Leeuwen, 2019).
Materials & Methods
In this article we use different sets of data sources and combine different methods to determine OA. Publication data is retrieved from the CWTS in-house version of the Web of Science. Unlike in the Leiden Ranking (restricted to article and reviews), here we report indicators for letters, articles and reviews (that is documents considered citable) indexed in the Science Citation Index Expanded, Social Sciences Citation Index and Arts & Humanities Citation Index for the 2014–2017 period. We link publications to the 963 universities identified in the Leiden Ranking database via their disambiguated list of institutional names, also hosted at CWTS (Waltman et al., 2012). Publications are assigned to five fields of science, following the methodology employed in the Leiden Ranking.1 These fields are: Biomedical and Health Sciences, Life and Earth Sciences, Mathematics and Computer Science, Physical Sciences & Engineering, and Social Sciences and Humanities. The supplementary data offers indicators aggregated at the institutional level as detailed record metadata is subject to proprietary rights and cannot be openly shared.
For each publication, we identify if they are openly accessible and the type of OA by querying the Unpaywall information. A dump version of the Unpaywall database retrieved in April, 2019. Unpaywall relies on Digital Object Identifiers (DOI), which means that we will only include records which have a DOI assigned to them. Furthermore, the Unpaywall API does not label types of OA but records different pieces of evidence of OA availability of each publication. More information on the Unpaywall approach to OA is available at their User Guide offered for researchers (http://unpaywall.org/data-format).
Four types of OA are considered. These four types of OA are defined as follows:
Green OA. Self-archived versions of a manuscript. Here the responsibility lies on the authors of the publication, or institutional colleagues such as central library staff members, who oversee depositing the document in a repository. This version of the document may not correspond with the final version of the publisher.

Gold OA. This refers to journals which publish all their manuscripts in OA regardless of the business model they follow (e.g., publicly sponsored, author pays).

Hybrid OA. Toll access (non-OA) journals make specific publications openly accessible usually after the author pays a fee, claiming an alleged need to account for potential losses derived from subscription fees.

Bronze OA. This OA type was first suggested by Piwowar et al. (2018) and refers to free-to-read articles made available by publishers, without an explicit mention to any OA license. This OA is not subjected to copyright conditions set to be defined as OA (i.e., they do not ensure perpetual free access).
The labelling of OA types is described in Fig. 1 and already highlights some of the difficulties raised when trying to define what is actually OA (Torres-Salinas, Robinson-Garcia & Moed, 2019). The Unpaywall database provides a set of different pieces of OA evidence for each DOI. For each piece of evidence, we study all the metadata labels referring to the OA status of the publication. Thus, when one piece of evidence suggests that a paper belongs to an OA journal (gold OA), this automatically overrides bronze or hybrid OA. As observed in Fig. 1, gold, bronze and hybrid are conceptually incompatible types of OA, as these documents are all provided by the publishers, distinguishing themselves by the type of journal (OA or toll) or the presence of an OA license (hybrid or bronze). The only exception is made with green OA, which could overlap with any of the other three types.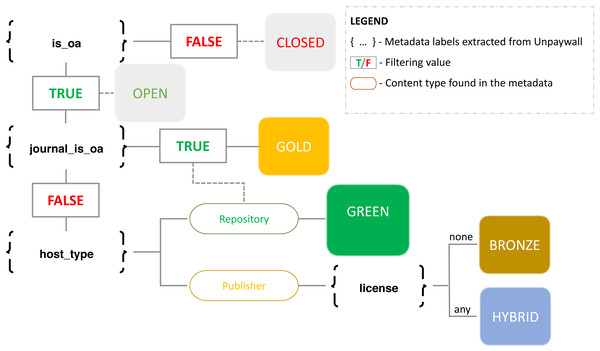 Overall, a total of 4,621,721 distinct publications records are examined. 4,620,666 include a DOI, out of which 1,881,193 records were identified as OA. Figure 2 shows how these OA publications are distributed by type. 77% of all OA publications were green OA, followed by gold OA (33%), bronze OA (20%) and hybrid OA (16%). However, there is a substantial overlap between each of these latter OA types and green OA. 81% of all gold OA publications are also in green OA, for hybrid the share which is also green is 63%, and of hybrid are 45% for bronze OA.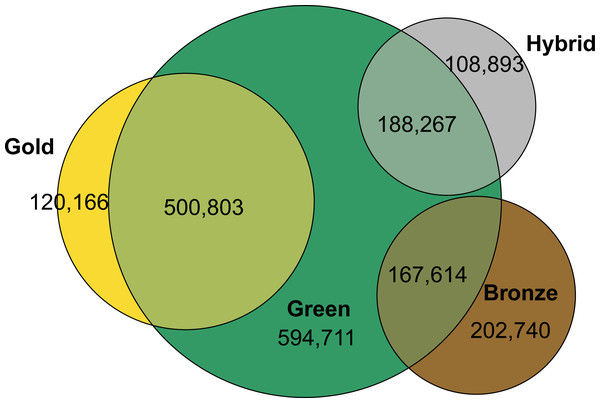 The results are reported at different levels. First analyses investigate the share of OA on the overall output of each university, differences by country, continent and field. We then look specifically into the two main OA types: green and gold. We focus specifically on these two types as they represent the largest groups of OA publications. In the case of green OA publications, we focus on two aspects. First, the relation between green OA documents produced by an institution and share of which are stored in their institutional repository. Second, potential distortions on how OA types are operationalized and how they are commonly defined, specifically looking into the role played by PubMed Central (PMC). In the case of gold OA, we introduce different national models of gold OA publishing. We characterize gold OA publishing based on three variables: share of papers published in national journals, share of papers published in English language and share of papers published in journals following including APCs. Language of documents and journal's country are identified using data from Web of Science. In the case of the latter, we identify the country of the journal by querying the field Publisher Address (PA). This approach is not exempt of limitations, as some publishers have an international outlook, while others may shape their geographic focus based on the location of their editors. Hence, the results of this analysis should be interpreted with caution and as a first attempt for developing taxonomies of gold OA publishing.
In the case of APCs, we queried the Directory of Open Access Journals (DOAJ). Here we must note that this is not a comprehensive list of OA journals. Unpaywall identifies a larger number of gold OA journals (n = 11, 601) than DOAJ (n = 11,365), and for which we have no information on APCs. Therefore, the numbers on gold OA journals with/out APCs provided represent a lower bound of all the gold OA journals for which APC information is available via DOAJ. A total of 768 APC journals were identified. After some inspection, we found some inconsistencies in the way APC is defined according to DOAJ. That is, not in all cases, APC refers to an author pays model, but in some cases, journals offer an optional subscription fee for those interested on accessing to printed versions of the journal. This is the case for many journals stored in the SciELO platform which are free of costs for both readers and authors, but which offers the option to pay a subscription fee for printed versions of the journal.
Discussion
The purpose of this study is to present a global view of the state of OA uptake at the institutional level. For this, we have included all universities appearing in the 2019th edition of the Leiden Ranking and retrieved all their publications from Web of Science. These have been crossed with Unpaywall, a database which identifies evidences of OA for publications under the requirement that they have a DOI assigned to them. An important limitation of this tool is that it is dependent on DOIs, which means that we underestimate OA penetration overall, and especially in the Arts and Humanities fields (Gorraiz et al., 2016). Based on evidences of OA presence, we classified OA publications into four types: gold, green, hybrid and bronze. Overall, we find that around 41% of all publications contained in our data set are openly accessible. Green OA is the most common type of OA (77%), followed by Gold OA (33%).
Still, we find great differences between countries. For instance, Brazilian universities show a higher median share of Gold OA than Green OA, being the only case where this happen. This is a paradigmatic case, arguably the result of a long-standing OA policy commitment promoting national OA journals via the SciELO programme (Meneghini, Mugnaini & Packer, 2006). Furthermore, it goes beyond Brazilian universities and includes other South American countries such as Colombia or Chile (Packer, 2009; Minniti, Santoro & Belli, 2018), not necessarily fully covered in this study, due to the restrictions on the set of institutions included (only those present in the Leiden Ranking). United Kingdom, Netherlands, Austria and Sweden show similar levels of gold and hybrid OA, a surprising pattern as the levels of OA awareness and the types of mandates implemented in these countries is quite different (Schmidt & Kuchma, 2012). United Kingdom exhibit a strong OA uptake as a result of the implementation of policies which reinforce especially, the green route (Chan, 2019). In this sense, the UK's Research Evaluation Framework plays an important role on promoting OA, as any publication submitted for evaluation are required be openly accessible (Hatzipanagos & Gregson, 2014). These differences between countries are observed also at the continental level (Fig. 6) with Europe leading on OA penetration, followed by North America, and Asia and Africa lagging behind. However, it also yields many differences between universities from the same region, with only universities from Oceania and South America showing similar ratios of OA presence.
A closer look into green OA reveals some counterintuitive findings. First, the presence of repositories such as PubMed Central (PMC) which, although laudable, distort to some extent our perception of what is green OA and what it is not, particularly at the institutional level. This repository (and there might be others), indexes automatically OA literature, meaning that it includes self-archived publications as well as those from OA journals and OA publications from toll journals (Hybrid OA). Depending on how restrictive we are on our definition of green OA (i.e., self-archived by the author), we might disregard this source and hence reduce the overall presence of this type of OA. This along with the inclusion of bronze OA, evidence some discrepancies between the conceptual definition of OA and how it is operationalized in practice, leading the way to alternative conceptual framings of OA which might be closer to actual evidence of OA (e.g., Martín-Martín et al., 2018a). Here, we propose looking into the share of publications stored in universities' own repository and highlight some cases of good practices such as Bilkent University or City University London (Table 1).
In the case of gold OA, where the definition is much clearer, the intrusion of an author pays model (or APC model), along with the emergence of predatory journals (Grudniewicz et al., 2019), has led the way to much criticism as to the quality of OA journals (Bohannon, 2013). In the present study, the study of the presence of predatory journals in the counts of OA publications at the institutional-level is not directly approached, and we estimate that the study of this aspect may be restricted by the fact that we are only considering publications covered in the Web of Science database (from which we normalize institutional names and extract scientific fields), which is a database with a more restrictive coverage of scientific publications. But a similar approach to the one presented here could be performed to larger databases (such as Dimensions or Microsoft Academic Graph) in which predatory journals could have a stronger presence (an aspect which remains to a large extent unclear, and requires additional research).
While it is out of the scope of this study to analyse or compare the quality of OA journals, we do attempt to characterize such journals. For this, we expand on the modelling proposed by Torres-Salinas, Robinson-Garcia & Moed (2019), and use three variables to characterize countries' gold OA publishing: language of publication, journals' editing country and the inclusion of an APC model (Fig. 9). This way we can identify outliers following alternative models of publishing (such as the aforementioned case of Brazil), evidencing that in some cases, publishing in OA journals is more related with other factors, such as publishing in national journals or non-English language rather than with the fact that the journal is offered in OA.
Conclusion
While the study is descriptive in nature, it opens the opportunity for institutions, funding agencies and national science policy officers to better understand the expansion of OA in their country and better design and model effectives mandates of OA. Furthermore, new indicators can be designed which may fit into indicator frameworks of OS (Schomberg et al., 2019), moving away from metrics of excellence to metrics of openness and transparency.
Supplemental Information
Supplemental Material
Data has been aggregated at different levels of analysis and cannot be reported at the publication level due to proprietary rights from Clarivate.
A detailed description the assignment of publications to fields is provided here https://www.leidenranking.com/information/fields It is important to note here that humanities journals publications are taken out of the Leiden Ranking publication set.