Identification of SPRR3 as a novel diagnostic/prognostic biomarker for oral squamous cell carcinoma via RNA sequencing and bioinformatic analyses
Published

Accepted

Received
Academic Editor
Subject Areas

Keywords

Oral squamous cell carcinoma

,

Bioinformatics

,

SPRR3

,

Biomarker

,

High-throughput RNA sequence
Copyright

©

2020

Yu et al.

Licence

This is an open access article distributed under the terms of the Creative Commons Attribution License, which permits using, remixing, and building upon the work non-commercially, as long as it is properly attributed. For attribution, the original author(s), title, publication source (PeerJ) and either DOI or URL of the article must be cited.
Cite this article

2020

.

Identification of SPRR3 as a novel diagnostic/prognostic biomarker for oral squamous cell carcinoma via RNA sequencing and bioinformatic analyses

.

PeerJ

8

:

e9393

https://doi.org/10.7717/peerj.9393
Abstract
Oral squamous cell carcinoma (OSCC) has always been one of the most aggressive and invasive cancers among oral and maxillofacial malignancies. As the morbidity and mortality of the disease have increased year by year, the search for a promising diagnostic and prognostic biomarker for the disease is becoming increasingly urgent. Tumorous and adjacent tissues were collected from three OSCC sufferers and we obtained 229 differentially expressed genes (DEGs) between tumor and normal tissues via high-throughput RNA sequence. Function and pathway enrichment analyses for DEGs were conducted to find a correlation between tumorigenesis status and DEGs. Protein interaction network and molecular complex detection (MCODE) were constructed to detect core modules. Two modules were enriched in MCODE. The diagnostic and prognostic values of the candidate genes were analyzed, which provided evidence for the candidate genes as new tumor markers. Small Proline Rich Protein 3 (SPRR3), a potential tumor marker that may be useful for the diagnosis of OSCC, was screened out. The survival analysis showed that SPRR3 under expression predicted the poor prognosis of OSCC patients. Further experiments have also shown that the expression of SPRR3 decreased as the malignancy of OSCC increased. Therefore, we believe that SPRR3 could be used as a novel diagnostic and prognostic tumor marker.
Introduction
Oral squamous cell carcinoma (OSCC) is a well-known malignancy that frequently arises from the epidermal layer in oral cavity and, in most of the cases, develops from precancerous lesions of the oral mucosa. The majority of the OSCC patients are among those affected by head and neck squamous cell carcinoma (HNSCC), with an overall 5-year survival rate of ~64.4%. The outcome of OSCC treatment may vary depending on a series of factors, such as age, race, tumor staging, secondary complications and location of the tumor in the oral cavity (Zanoni et al., 2019). So far, current therapeutic strategies have been unable to fundamentally predict and fully cure OSCC patients. The mechanisms involved in the transformation of the normal oral epithelium into OSCC have not been fully characterized (Abdalla et al., 2017), therefore limiting any prediction on tumor progression and potential therapeutic approaches. Despite the various methods used for identifying the tumor type/stage and corresponding prognosis, most of these approaches have limited use to precisely specify the occurrence and development of the disease. Due to postoperative recurrence and lack of targeted chemical drugs, further innovations are urgently needed in regard to OSCC diagnosis and treatment. Therefore, a better prediction method for OSCC prognosis has been proposed, namely using gene expression data combined with clinical information of affected patients. Since microarray analyses and high-throughput sequencing techniques have been largely utilized in oncology, a representative number of genetic and molecular alterations have been reported (Shridhar et al., 2016). Still, the use of single markers to accurately diagnose malignant tumors is challenging. Thus, it appears critical to collectively distinguish candidate genes that are essential in cancer progression, from unrelated ones.
In general terms, Bioinformatics refers to a cutting-edge method of biological information analysis with obvious advantages when compared with traditional trials, such as the high efficiency to analyze extensive amounts of supporting data. As a result, Bioinformatic approaches have been continuously applied in cancer research to eliminate inconsistent results led by small sample size and/or by applying different technological platforms. However, the application of Bioinformatic techniques in the field of OSCC research is still restricted, despite the multitude of available information awaiting to be mined in public databases. Instead of performing isolated bioinformatics analysis, we have presently added biopsy RNA sequencing from OSCC patients during the analytical process. We further confronted this analysis with large sampling of microarray data in the current databases, accompanied with immunohistochemical (IHC) staining, therefore increasing the reliability of endpoint results. According to this Bioinformatic workflow, Small Proline Rich Protein 3 (SPRR3) was screened out as a potential prognostic and diagnostic biomarker for OSCC.
Small Proline Rich Protein 3 is a protein coding gene largely expressed in normal epithelial cells, whose gene product is known as a small proline-rich protein typically present in epidermal differentiation complexes. Importantly, SPRR3 has been recognized as a marker of terminal squamous cell differentiation (Candi, Schmidt & Melino, 2005), but its role in OSCC has been rarely studied. In our current work, we have established a bioinformatic-based workflow (Fig. 1) to screen novel diagnostic and prognostic OSCC markers as well as to verify their predictive efficiency in OSCC patients. As a result, we were able to identify SPRR3 as a putative target marker in OSCC.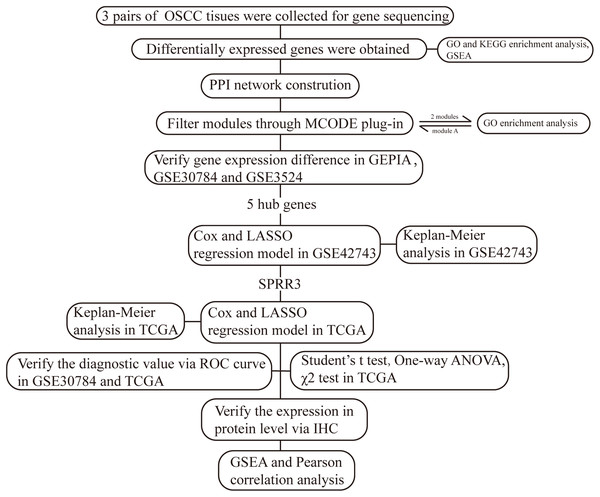 Discussion
Oral squamous cell carcinoma, a subset of HNSCC, is one of the most common malignancies from the oral cavity worldwide. It is an aggressive tumor that bears a poor prognosis. In fact, OSCC patients at advanced stages, even after intensive treatment, may develop relapses and distant metastases. Therefore, early diagnosis and intervention remain critical for the management of OSCC. In this regard, measuring tumor markers has gradually become an important method for detecting the tumor status and monitoring therapeutic effects in the clinic.
The development and increasing use of tumor biomarkers has become a pivotal part of cancer diagnosis. Likewise, seeking novel tumor-related markers has provided new trains of thought in OSCC treatment (Csosz et al., 2017). Potential biomarkers with high specificity and sensitivity, identified in datasets by distinct Bioinformatic methods, have been continuously explored (Sun et al., 2015). Previous studies have determined a number of target genes by filtering DEGs in datasets (Yang et al., 2017; Zhao et al., 2018). Still, given the differences in specimens and database platforms, potential markers have failed to bear a significant clinical application value, so their verification process have been far from clinical practice. Hence, we expect that DEGs obtained from biopsy-based sequencing, combined with the validation by independent public datasets and tissues analyses, will be more beneficial for the clinical diagnosis and prognosis of the disease. In this study, we have focused on the identification of potential biomarkers which may possess diagnostic and prognostic significance.
Current RNA-seq data has revealed 229 OSCC-related DEGs that were particularly enriched in processes associated with tumorigenesis and malignant progression. By further screening gene modules in a PPI network, a module cluster containing eight down regulated hub genes in OSCC (cluster 1) was selected as a target. The core gene in this module was retrieved by acquiring OS information from different datasets. Univariate Cox regression, LASSO regression and multivariant Cox regression analyses were successively conducted in order to screen the key genes that could independently predict OSCC prognosis, resulting in the identification of SPRR3 as a central hub gene. Thereafter, we conducted K–M survival analysis and further established ROC curves. As a predictive marker, SPRR3 has considerable clinical significance in OSCC diagnosis and prognosis. Based on clinical data, a low expression of SPRR3 was correlated with patients' alcohol consumption, histologic grade, lymph node metastasis, lymphatic vascular invasion, and perineural metastasis. GSEA and Pearson correlation analyses have been also conducted for gene annotation. Putting together, we concluded that SPRR3 is potentially associated with epidermis development, metabolic processes and tumor progression.
SPRRs are located in an evolutionarily conserved genetic cluster, designated as the epidermal differentiation complex (EDC) in the chromosome 1q21. Epidermis development and epithelial cell differentiation are some of the basic functions of SPRR proteins (Cabral et al., 2001; Candi et al., 2000). In addition, SPRRs family proteins have been reported to be active during the progression of many cancers. In OSCC, over-expressed SPRR2A (Small Proline Rich Protein 2A) can impair distant metastasis of tongue squamous cell carcinoma cells in vivo (Fang et al., 2016). Down-regulation of SPRR3 expression has been reported in esophageal squamous cell carcinoma, esophageal adenocarcinoma, anal and gastric cancers, while it has been strongly upregulated in colorectal and breast cancers (Cho et al., 2010; Kim et al., 2012). Nevertheless, the role of SPRR3 in oral tissues has never been explored. According to χ2 tests, here we observed that low SPRR3 expression is associated with OSCC progression, lymphovascular invasion and perineural invasion. GSEA enrichment analysis showed that SPRR3 is also correlated with K-Ras and VEGF signaling, which are classic pathways in OSCC carcinogenesis and progression (Caulin et al., 2004; Siriwardena et al., 2018).
TJP1 and CDH1 are classic inhibitors of tumor invasion and metastasis (Li et al., 2016). The positive correlation between SPRR3 and these two target genes indicate that SPRR3 might be essential for cell adhesion. Furthermore, SPRR3 was negatively correlated with some mesenchymal markers, such as CDH2, TGFBI, FN1, VIM, MMPs, and transcriptional factors such as SNAI1, SNAI2 (Li et al., 2016). Therefore, SPRR3 appears to work as a modulating factor involved in the maintenance of oral epithelial tissues and also in EMT inhibition. These particular roles may explain why patients under-expressing SPRR3 are expected to have a relatively poor prognosis. However, the SPRR3's role in suppressing EMT, as well as its mechanism(s) of action in OSCC, require more in-depth investigation.
Gene-set enrichment analysis enrichments analysis indicates that a series of metabolic processes are impacted by SPRR3. This observation is consistent with other results we acquired by χ2 test, where alcohol consumption is correlated with SPRR3 expression. Particularly, alcohol consumption is an important risk factor for OSCC, and the individual's ability to metabolize alcoholic beverages somehow reflects on its ability to control cancer. Accordingly, ethanol has been classified as a carcinogenic substance in humans (Zygogianni et al., 2011). Additionally, SPRR3 may be involved in the metabolism of other substances, including fatty acid, drugs, and xenobiotics. It has been reported that ADH, ALDH and CYP2E1 are indispensable in some metabolic processes (Jin et al., 2013). Thus. the relationship between SPRR3 and ADH, ALDH, CYP2E1 can confirm, to some extent, the role of SPPR3 in metabolic processes.
Altogether, our current results reflect the close relationship between SPRR3 and OSCC carcinogenesis and development. In addition, this work provides novel insights for follow-up studies, which should better dissect the impact of SPRR3 in OSCC, at the molecular and cellular level.
Conclusion
In our research, the expression of SPRR3 was detected to be dysregulated in OSCC by means of RNA-seq, and further was verified by Bioinformatics methods. SPRR3 could be a potential bio-marker for identifying OSCC, and its under-expression could predict the prognosis of patients with OSCC. Above all, SPRR3 could be a qualified diagnostic/prognostic biomarker for OSCC.