Effects of microbial evolution dominate those of experimental host-mediated indirect selection
1
Okinawa Institute of Science and Technology Graduate University

,

Onna-son

,

Okinawa

,

Japan
2
Research School of Biology, Australian National University

,

Acton

,

ACT

,

Australia
Published

Accepted

Received
Academic Editor
Subject Areas

Keywords

Microbiome

,

Nutrition

,

Experimental evolution

,

Microbiome engineering

,

Eclosion

,

Diet

,

Experimental design

,

Phenotype
Copyright

©

2020

Arora et al.

Licence

This is an open access article distributed under the terms of the Creative Commons Attribution License, which permits unrestricted use, distribution, reproduction and adaptation in any medium and for any purpose provided that it is properly attributed. For attribution, the original author(s), title, publication source (PeerJ) and either DOI or URL of the article must be cited.
Cite this article

2020

.

Effects of microbial evolution dominate those of experimental host-mediated indirect selection

.

PeerJ

8

:

e9350

https://doi.org/10.7717/peerj.9350
Abstract
Microbes ubiquitously inhabit animals and plants, often affecting their host's phenotype. As a result, even in a constant genetic background, the host's phenotype may evolve through indirect selection on the microbiome. 'Microbiome engineering' offers a promising novel approach for attaining desired host traits but has been attempted only a few times. Building on the known role of the microbiome on development in fruit flies, we attempted to evolve earlier-eclosing flies by selecting on microbes in the growth media. We carried out parallel evolution experiments in no- and high-sugar diets by transferring media associated with fast-developing fly lines over the course of four selection cycles. In each cycle, we used sterile eggs from the same inbred population, and assayed mean fly eclosion times. Ultimately, flies eclosed seven to twelve hours earlier, depending on the diet, but microbiome engineering had no effect relative to a random-selection control treatment. 16S rRNA gene sequencing showed that the microbiome did evolve, particularly in the no sugar diet, with an increase in Shannon diversity over time. Thus, while microbiome evolution did affect host eclosion times, these effects were incidental. Instead, any experimentally enforced selection effects were swamped by uncontrolled microbial evolution, likely resulting in its adaptation to the media. These results imply that selection on host phenotypes must be strong enough to overcome other selection pressures simultaneously operating on the microbiome. The independent evolutionary trajectories of the host and the microbiome may limit the extent to which indirect selection on the microbiome can ultimately affect host phenotype. Random-selection lines accounting for independent microbial evolution are essential for experimental microbiome engineering studies.
Introduction
Communities of microbes living on or in multicellular host organisms interact with their hosts in diverse ways that often influence host phenotype and fitness (Zilber-Rosenberg & Rosenberg, 2008). Such host-microbe interactions have traditionally been investigated by experimentally comparing hosts raised without a microbiome (axenic) to hosts inoculated with known components of the microbiome (gnotobiotic) or that receive microbiome transplants composed of complex communities (Turnbaugh et al., 2009). Observations of atypical phenotypes in axenic organisms indicate hosts are dependent on their microbiome and cannot function normally without it (Shin et al., 2011; Theis et al., 2016; Rosenberg & Zilber-Rosenberg, 2018). The integral role of the microbiome in shaping host phenotype suggests that desirable host traits can be indirectly selected through microbiome engineering (Mueller & Sachs, 2015; Gopal & Gupta, 2016; Oyserman, Medema & Raaijmakers, 2018). To achieve this, microbes or microbial communities correlated with desired host traits are selected, but selection success is evaluated by measuring host traits (Mueller et al., 2019). This novel approach has numerous practical applications, such as better probiotic design and improved crop yields, without requiring selection on genetically diverse hosts or otherwise altering hosts through genetic engineering.
While applying or administering specific bacterial strains or communities (i.e., probiotics) to achieve a desired host effect is now widespread, true microbiome engineering studies remain rare. Diverse examples of successful probiotic studies include: increased biomass and antioxidant capacity in plants inoculated with Agrobacterium (Chihaoui et al., 2015), reduced white pox disease in corals that received a probiotic cocktail of 13 bacterial strains isolated from coral mucus (Alagely et al., 2011), and intestinal epithelial cells with increased ability to keep pathogens from escaping the intestinal tract in mice that were administered Lactobacillus strains (Mack et al., 2003). While often successful, probiotic approaches typically rely on relatively simple manipulations of the microbiome by introducing known and culturable bacterial species. Additionally, probiotic studies usually take advantage of some prior knowledge of host-microbe interactions involving the host or microbe(s) of interest. However, microbiomes as communities are more complex than what is generally applied experimentally (Qin et al., 2010) and can elicit greater magnitude and more specific responses (Sheth et al., 2016) than synthetically prepared treatments. In contrast to probiotics, microbiome engineering leverages complex microbial communities by modifying and transferring entire microbiomes, including unknown or unculturable bacterial strains, without prior knowledge of host-microbe interactions by selecting microbiomes based on host phenotype (Mueller & Sachs, 2015).
As complex dynamic interactions among microbes in an in-situ microbial community are difficult to manipulate, only a few studies have so far tried to engineer native microbiome communities. Swenson, Wilson & Elias (2000) first engineered the Arabidopsis thaliana rhizosphere microbiome to increase and decrease shoot biomass by inoculating fifteen successive Arabidopsis selection rounds with the microbiome of plants with the highest or lowest above-ground biomass in the preceding round (Swenson, Wilson & Elias, 2000). Panke-Buisse et al. (2015) expanded this application by selecting on late and early flowering-time under nutrient stress and demonstrating that the engineered microbiomes could influence flowering-time in additional Arabidopsis strains, as well as another related plant. Importantly, Panke-Buisse et al. (2015) evaluated microbiome composition through 16S rRNA amplicon sequencing, clearly illustrating that the microbiome evolved in response to host selection. However, Mueller & Sachs (2015) proposed the use of random-selection lines—where the propagated microbiome is randomly chosen from replicates—as the gold standard for experimental controls in microbiome engineering experiments, even while admitting that they greatly increase experimental effort. Previous microbiome engineering studies relied on sterile media transfers as negative controls, although Mueller et al. (2019) also incorporated a fallow-soil control for the presence of naturally occurring microbes. Notably, none of these studies used random-selection controls, which account for independent microbial evolution that may otherwise confound results. Furthermore, microbiome engineering experiments have, to the best of our knowledge, not yet been attempted with animal models.
In this study, we performed a microbiome engineering experiment incorporating random-selection lines the first time in an animal model for. We chose the fruit fly, Drosophila melanogaster, as a model for microbiome selection because of its relatively quick generation times (Trinder et al., 2017) and its simple core gut microbiome community (<30 major species), which are largely commensals acquired from the environment and transmitted between flies (Erkosar et al., 2013; Blum et al., 2013). Furthermore, the microbiome has been implicated in a wide range of host-associated functions (Wong, Ng & Douglas, 2011; Ridley et al., 2012; Broderick & Lemaitre, 2012; Engel & Moran, 2013); for example, fly development (or eclosion time, May, Doroszuk & Zwaan, 2015), immunity, mating, response to external infection, and aging (Charroux & Royet, 2012; Gould et al., 2018).
Taking advantage of the fact that the microbiome affects fly development time i.e., emergence of adult flies from pupae (Shin et al., 2011; Ridley et al., 2012), we attempted to select for a microbiome that speeds up fly eclosion in sugar-starved flies and flies fed a high-sugar diet. Over the course of four selection cycles, we propagated the microbiome from vials with fast-eclosing flies and saw a significant decrease in fly eclosion times. However, there was no difference between fly eclosion times in selected treatments and random-selection controls. Rather, the phenotypic changes were a byproduct of microbes adapting to the media instead of the applied selective pressure. Our results emphasize the need for proper controls in microbiome evolution experiments and suggest that independent selection pressures on the microbiome may sometimes dominate in microbiome selection experiments.
Results
Fly eclosion time is unaffected by artificial microbiome selection
To examine if diet, selection and cycle leads to faster fly eclosion time, we used linear mixed effects models, which allow for testing nested random effects and within-group variation. We used selection-cycle, diet and artificial microbiome selection as fixed effects, and lines with sample replicates nested within them as random effects. We observed significant contribution of diet and selection-cycle on fly eclosion time, but artificial microbiome selection did not affect the fly phenotype either as a main effect or an interaction (Fig. 2, Table 1). Flies in high-sugar diets took longer to eclose than those in the no-sugar diet, but eclosion time decreased in both diets.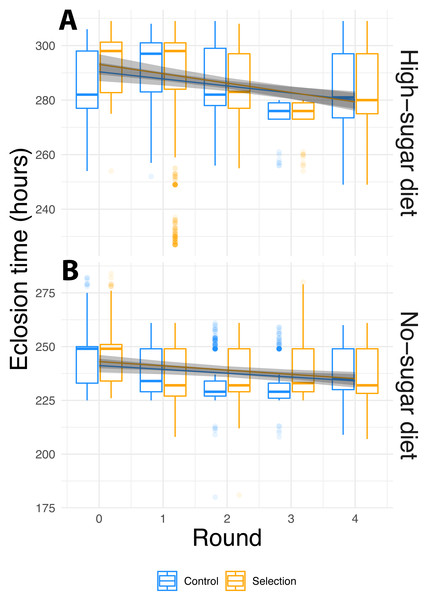 Time
Predictors
Estimates
CI
p
Intercept (High-sugar diet, No-selection control)
292.96
288.36–297.57
<0.001
Selection cycle
−2.59
−3.95—1.23
<0.001
No-sugar diet
−50.00
−56.29—43.70
<0.001
Selection treatment
3.58
−3.21–10.37
0.302
Selection cycle × No-sugar diet
0.81
−1.06–2.68
0.397
Selection cycle × Selection treatment
−0.85
−2.83–1.14
0.402
No-sugar diet × Selection treatment
−1.52
−10.57–7.53
0.742
Selection cycle × No-sugar diet × Selection treatment
0.65
−2.03–3.33
0.634
Nline
10
Nreplicate
199
Observations
10,850
Marginal R2/Conditional R2
0.779/0.834
16S rRNA gene analysis of microbiome composition
We performed 16S rRNA amplicon sequencing of microbiome from both selected and random-selection control media that was chosen for propagation to the next cycle in each diet. We sequenced the V3/V4 hypervariable region of the 16S rRNA gene using the MiSeq v2 platform which generated an average of 175,522 reads per sample. These reads were analyzed using the DADA2 (Callahan et al., 2016a) pipeline implemented in QIIME 2 (Bolyen et al., 2018). ASVs with low prevalence (<0.01) were removed and alpha-diversity was measured by Shannon-diversity Index that accounts for both species abundance and evenness (Willis & Martin, 2018). The association between bacterial alpha-diversity and artificial microbiome selection regime was tested via the adonis function in vegan R package (Oksanen et al., 2015), with alpha-diversity as dependent variable and diet, cycle, selection pressure as explanatory variables. The alpha-diversity varied with both diet and cycle. It increased in each successive cycle for both selected and non-selected vials, but it was more pronounced in no-sugar vs. high-sugar diet (Fig. 3).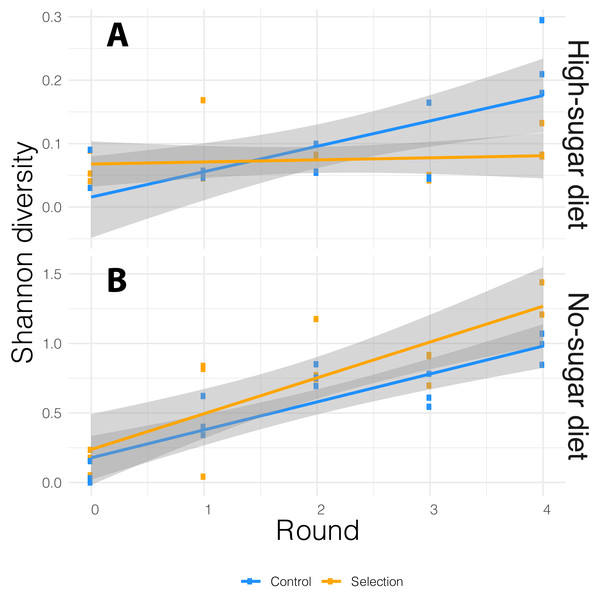 In general, the media contained low bacterial diversity, as reported previously (Blum et al., 2013). The microbial communities were homogeneous in the initial rounds of both diets. While Acinetobacter and Staphylococcus increased in frequency over time in high-sugar diet, change in relative abundance of Pseudomonas and Acinetobacter led to a significant increase in alpha diversity over time in the no-sugar diet (Table 2, Figs. 3 and 4). An adonis analysis of the UniFrac distances between microbial communities found a significant change over cycles for the no-sugar diet (F = 6.15, p = 0.0004), but not for the high-sugar diet (F = 0.62, p = 0.73), consistent with alpha diversity and compositional differences (Figs. 3 and 4). We could not detect specific genera that systematically changed over the course of the experiment in either media using linear models implemented in DESeq2.
Value
Predictors
Estimates
CI
p
Intercept (High-sugar diet)
0.04
−0.06–0.15
0.420
No-sugar diet
0.17
0.02–0.32
0.031
Selection cycle
0.02
−0.02–0.06
0.353
Selection cycle × No-sugar diet
0.20
0.14–0.26
<0.001
Observations
58
R2/R2 adjusted
0.833/0.824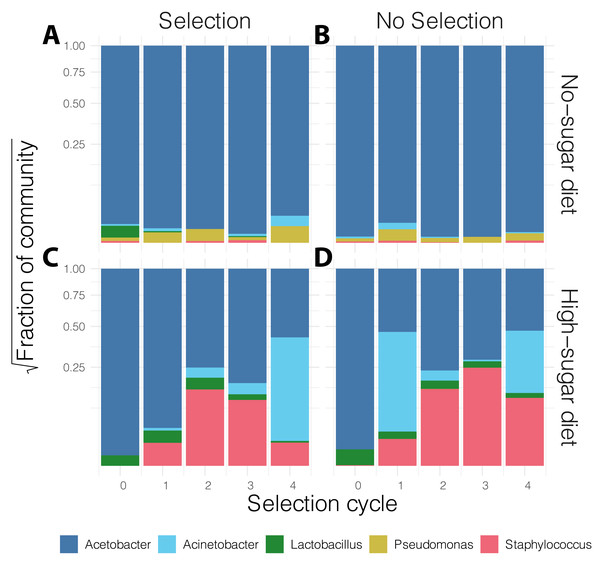 Discussion
We attempted to apply microbiome engineering to increase fruit fly development rate by propagating the microbial community associated with fast development over four selection cycles (Fig. 1). We observed substantial increase in developmental rates over the course of the four selection cycles in two different dietary media with no- or high-sugar content. However, selection for more rapid eclosion had no effect on either the developmental rate or its change over the course of the experiment (Fig. 2). 16S rRNA amplicon sequencing showed that the microbial diversity did indeed change over time, with a general increase in alpha diversity, particularly in the no-sugar diet, but it too was unaffected by selection (Figs. 3 and 4). Thus, independent microbial evolution in the media swamped any signal of experimentally induced selection. This phenomenon is commonly observed in microbes, which rapidly adapt to culture media, but the magnitude and significance of this effect has largely been neglected by microbiome engineering work. However, by chance, the effects of microbial adaptation affected the host phenotype in the same direction as our selection pressure. Only by using a random-selection control could we detect that the entirety of the observed effect was incidental.
To the best of our knowledge, this is the first study to examine host-mediated indirect selection of microbiome in an animal model. The fruit fly is an excellent model for microbiome manipulations. It is an open symbiotic system, meaning that the microbiome is horizontally transferred and is supplemented and maintained through food consumption (Blum et al., 2013; Wong et al., 2015). As a result, the processes affecting the microbiome can be complex, including a mixture of ecological, evolutionary and social interactions (Mueller et al., 2005; Kaltenpoth et al., 2014). For instance, behavior of individual flies, such as regurgitation and fecal deposition in the food, tunneling, allo-coprophagy (consumption of conspecifics' feces), and acquisition of fly microbes through food consumption rather than internal maintenance, leads to an exchange of symbionts among group members reared in the same media (Chandler et al., 2011; Goodrich et al., 2014; Wong et al., 2015; Körner, Diehl & Meunier, 2016). This aspect of fly biology motivated the media transfer in our experiment. However, since the inoculating flies came from a common stock, the initial microbiome diversity may have been low, with less variation available for subsequent artificial selection. Yet, the microbiome did evolve over subsequent cycles, with significant phenotypic effects on the flies.
It is well-known that the microbiome affects fly nutrition and development, particularly by affecting the amount of fat (triglycerides) in the host; axenic individuals have a longer developmental period (Storelli et al., 2011; Shin et al., 2011; Ridley et al., 2012; Newell & Douglas, 2014; Ma et al., 2015). However, different bacterial species have unique effects on the host. It is likely that our measures of bacterial relative abundance and community diversity metrics (Figs. 3 and 4) cannot fully capture the complexity of bacterial interactions with the host. This is exemplified by the fact that we only detected significant changes in bacterial community composition in no-sugar media, yet, flies in both media types—high-sugar and no-sugar—had comparable decreases in eclosion times. It is, therefore, possible that phenotypic changes resulted from effects of lower-frequency strains (Matsutani et al., 2011; Chouaia et al., 2014), or perhaps from other factors, such as chemical compounds produced by bacteria in response to each other or to the media composition. In complex systems, such as microbial communities, substantial phenotypic variation may be due to interactions between its components, which play a role in facilitating community-level selection (Williams & Lenton, 2007).
Implications for the design of experiments using artificial selection of microbiome engineering
Did the experiment have power to detect effects of artificial selection?
This question may be answered by drawing on a parallel with artificial selection on genes, which is a chief appeal of artificial selection on the microbiome. If there is no heritable variation in the microbiome's effect on host phenotype, it cannot evolve in response to selection. In the context of classical genetics, to understand whether evolution is possible in principle, key parameters include (1) the selection differential (S), which is the difference in average trait values between selected and unselected individuals and (2) the heritability (h2). Given these values, the short-term response is governed by the breeder's equation R = h2S (Falconer & Mackay, 1996). In our experiment correlation between the 'parental' and 'offspring' mean phenotypes measured in the absence of selection was high (r = 0.92), indicative of a high 'microbial heritability' (h) in the system. Likewise, by selecting the top third of the replicates we attained a strong selection coefficient (6.8 h ± S.D. 11.5/selection cycle). Based on these considerations alone, we would expect to see measurable changes at the end of the experiment in the selected treatments. Under ideal circumstances mean eclosion time could potentially have been reduced by over a day. However, in our treatments eclosion was accelerated by about half a day. Note, that the parameter h is only broadly analagous to narro-sense genetic heritability, since the microbiome is potentially more mutable, so these calculations are only crude approximations. Nonetheless, estimating the amount of expected change in response to selection is key before embarking on a long-running experimental selection design, and we strongly recommend a pilot study to estimate h and S beforehand. If there is no h in the system, a selection experiment will not likely succeed.
Efficacy of experimental selection vs. independent evolution by the microbiome: implication for controls
Microbial evolution experiments typically apply discrete cycles of selection (Swenson, Wilson & Elias, 2000; Panke-Buisse et al., 2015; Mueller et al., 2019). However, media microbiome evolved continuously between selection cycles and not necessarily in ways that we wanted or could effectively control. For example, to be passed to the next selection cycle, microbes had to aggressively colonize fresh media and compete amongst themselves for resources, but not in a way that negatively affected fly larvae. Because there are many microbial generations within selection cycles, these parallel selection pressures may dominate the evolutionary response with significant effects on the host phenotype, as appears to have happened in our experiment.
We did not anticipate the strength of independent evolution by the microbiome when designing our study, and the topic has received relatively little theoretical or empirical attention (though see Williams & Lenton, 2007). One key implication is for the design of controls during microbiome evolution studies. Randomly selected control lines allow the microbiome to evolve in the same way, except for the experimentally enforced selection. However, these controls are extremely time- and labor-consuming. Alternative options, such as constant inoculation from a preserved microbiome source (Martino et al., 2018) or null inoculations, have been proposed as efficient alternatives (Mueller & Sachs, 2015). Even the fallow-soil control used by Mueller et al. (2019), which is a substantial methodological advance over typically used sterile controls, does not take into account possible interactions between the microbiome and the plant and how they might evolve. Experimental designs with other control strategies do not provide the same level of control over microbial evolution as does the random-selection control. For example, using constant or null controls in our experiment would have led us to erroneously infer that the microbiome evolved in response to experimental selection. Understanding the evolutionary processes that can take place during micribiome harvesting, transfer and selection is key to for optimizing microbiome engineering experiment design.
Evolution can take place either by evolution of the initial communities, by changes in the frequencies of existing microbes or by immigration of new ones. Microbiome engineering strives to harness the first two mechanisms, which can be quantified via sequencing protein coding genes along with 16S rRNA (Matsutani et al., 2011; Chouaia et al., 2014). On the other hand, microbial immigration (i.e., contamination) can be limited, but close to impossible to eliminate unless the experiment takes place in completely sealed systems, such as bioreactors. In more realistic settings where microbial evolution takes place alongside a living host, eliminating immigration is much harder. Specifically, immigration may provide an inherent problem in open systems like the fruit fly gut/media or plant/soil systems, where experimental selection will have to overcome its effects. By contrast, microbiome engineering may be more powerful in closed systems with strict vertical transmission.
Control of host genotypes
Along similar lines, we cannot exclude the possibility that the host has changed in the course of the experiment. Strictly controlling the host population (e.g., in a glycerol stock or seed bank) is not possible with fruit flies. In retrospect, it would have been desirable to confirm stability of eclosion times in the source population at the beginning and the end of the experiment. Changes in the host population appear a less likely explanation for the observed data, given the magnitude of change seen in the experiment—about half a day earlier eclosion in the course of four selection cycles (Fig. 2). First, the fly stocks were inbred and genetically homogeneous, minimizing the possibility of evolutionary changes (Emborski & Mikheyev, 2019). Second, they were kept in a stable environment with controlled temperature, humidity, photoperiod and diet. Third, eggs were surface sterilized to prevent the introduction of additional microbes to the experiment. Nonetheless, even because the most stable-seeming environments, such as glycerol stock or seed banks may experience change over time (e.g., due to freezer malfunctions or fungal rot), ideally both host and microbiome changes should be controlled in the course of microbiome engineering experiments. Therefore, we strongly recommend that studies introduce this 'host-stability' control.
Conclusions
In conclusion, the findings show that artificial microbiome selection is not significantly correlated with fly phenotype or microbiome. This was made possible due to the use of random-selection controls to measure selection pressure. The lack of significant correlation of selection might be driven by factors independent of host-mediated artificial selection. Any future prospects in artificial engineering of host microbiome to select desirable host phenotype would require selection regimes that are stronger than microbial evolution. In short, we recommend the following three considerations for experimental design:
Random-selection controls are mandatory, as they control for microbiome evolution, either outside the control of the host or through immigration.

A control for the stability host phenotype over the timescale of the experiment assures that the evolutionary dynamics are, in fact, due to microbiological changes

A power analysis before the start of the experiment to assure transmission of the phenotype via the microbiome (a measure of heritability) and to compute the extent of phenotypic variability within a selection round. These will help choose an appropriate selection coefficient to obtain a detectable magnitude of response.