Contributions of Latin American researchers in the understanding of the novel coronavirus outbreak: a literature review
1
Epidemiology Program, Faculty of Health Sciences, Universidad Surcolombiana

,

Neiva

,

Colombia
2
Bioprocesses and Bioprospecting Group, Universidad Nacional de Colombia

,

Bogotá D.C.

,

Colombia
Published

Accepted

Received
Academic Editor
Subject Areas

Keywords

COVID-19

,

SARS-CoV-2

,

Pandemic

,

Severe acute respiratory syndrome

,

Coronavirus disease
Copyright

©

2020

Fiesco-Sepúlveda and Serrano-Bermúdez

Licence

This is an open access article distributed under the terms of the Creative Commons Attribution License, which permits unrestricted use, distribution, reproduction and adaptation in any medium and for any purpose provided that it is properly attributed. For attribution, the original author(s), title, publication source (PeerJ) and either DOI or URL of the article must be cited.
Cite this article

2020

.

Contributions of Latin American researchers in the understanding of the novel coronavirus outbreak: a literature review

.

PeerJ

8

:

e9332

https://doi.org/10.7717/peerj.9332
Abstract
This article aimed to give the visibility of Latin American researchers' contributions to the comprehension of COVID-19; our method was a literature review. Currently, the world is facing a health and socioeconomic crisis caused by the novel coronavirus, SARS-CoV-2, and its disease COVID-19. Therefore, in less than 4 months, researchers have published a significant number of articles related to this novel virus. For instance, a search focused on the Scopus database on 10 April 2020, showed 1,224 documents published by authors with 1,797 affiliations from 80 countries. A total of 25.4%, 24.0% and 12.6% of these national affiliations were from China, Europe and the USA, respectively, making these regions leaders in COVID-19 research. In the case of Latin America, on 10 April 2020, we searched different databases, such as Scopus, PubMed and Web of Science, finding that the contribution of this region was 2.7 ± 0.6% of the total publications found. In other words, we found 153 publications related to COVID-19 with at least one Latin American researcher. We summarized and processed the information from these 153 publications, finding active participation in topics like medical, social and environmental considerations, bioinformatics and epidemiology.
Introduction
Severe acute respiratory syndrome coronavirus 2 (SARS-CoV-2) is a novel virus that mainly affects the respiratory system through the new coronavirus disease 2019 (COVID-19) (Ciotti et al., 2020). COVID-19 has spread quickly; thus, on 11 March 2020, the World Health Organization (WHO) declared it as a pandemic (Hussain, Bhowmik & Do Vale Moreira, 2020). Since the first cases reported in Wuhan, China, in December 2019, until 20 April 2020, SARS-CoV-2 has affected most countries in the world, with nearly 2.5 million people infected and 170,000 deaths (Johns Hopkins University, 2020). Latin America is no stranger to this reality, totaling approximately 100,000 cases and 5,500 deaths, as shown in Table 1 (Johns Hopkins University, 2020). However, these data may be lower than actual numbers because the number of tests per million inhabitants remains low, which is caused by factors such as the limited availability of tests and the difficulty of monitoring people without facilities like indigenous populations, vulnerable groups and Venezuelan refugees (Oliveira, Abranches & Lana, 2020; Torres & Sacoto, 2020).
Country
First case
Cases
Deaths
Argentina
Mar 3
2,941
136
Bolivia
Mar 10
564
33
Brazil
Feb 25
40,581
2,845
Chile
Mar 3
10,507
139
Colombia
Mar 6
3,963
189
Costa Rica
Mar 6
662
6
Cuba
Mar 11
1,087
36
Dominican Republic
Mar 1
4,964
235
Ecuador
Feb 14
10,128
507
El Salvador
Mar 18
218
7
Guatemala
Mar 13
289
7
Haiti
Mar 2
47
3
Honduras
Mar 11
477
46
Mexico
Feb 27
8,261
686
Nicaragua
Mar 18
10
2
Panama
Mar 8
4,467
126
Paraguay
Mar 7
208
8
Peru
Mar 6
16,325
445
Uruguay
Mar 13
528
10
Venezuela
Mar 13
256
9
Total
106,483
5,475
SARS-CoV-2, as SARS and MERS, belongs to the family Coronaviridae, has a zoonotic origin, and can remain on some surfaces for considerable periods (Ciotti et al., 2020; Van Doremalen et al., 2020). Additionally, COVID-19 is a new disease with no yet vaccines or targeted drugs, making the containment of the outbreak difficult (Carnero Contentti & Correa, 2020). Therefore, the recommendation is the self-isolation to reduce COVID-19 spreading, especially in more susceptible people as older adults or patients with comorbidities (Diaz-Quijano, Rodriguez-Morales & Waldman, 2020). More general aspects of the current outbreak have been published in review articles according to available information in the moment of publication. These reviews include other zoonotic diseases (such as SARS and MERS), outbreak chronology, virus characteristics, zoonotic links, transmission, diagnosis, disease characteristics, therapeutics and treatments, prevention, epidemiological surveillance and control (Ciotti et al., 2020; Cupertino et al., 2020; Huang et al., 2020; Millán-Oñate et al., 2020; Palacios Cruz et al., 2020; Rodriguez-Morales et al., 2020a; Sifuentes-Rodriguez & Palacios-Reyes, 2020; Siordia, 2020; Wu et al., 2020; Zhu et al., 2020).
In the past, during SARS and MERS outbreaks, research focused on coronaviruses increased significantly, which was led by researchers from China and the USA (Bonilla-Aldana et al., 2020b). This new outbreak is not an exception because thousands of articles have been published in less than four months, where China, Europe and the USA are leaders in the number of publications. In the case of Latin America, it is a region with an increasingly high contribution to science; thus, our question was, what are the contributions of Latin American researchers in understanding this novel coronavirus outbreak? Therefore, our purpose in this review was to highlight the contributions of this region in the comprehension of SARS-CoV-2 and COVID-19. The literature survey consisted of revising and summarizing publications with Latin American researchers. Keeping in mind that several researchers from this region work together with researchers from other continents, we included publications submitted by these types of international research groups. Hence, the relevance of this review focused on finding the research interests of Latin American researchers according to global and regional priorities.
Survey Methodology
Search strategy
We performed the present review following the PRISMA guidelines. The search was done on 10 April 2020, using Scopus, Web of Science, PubMed, ScienceDirect, Wiley, SAGE, LILACS and SciELO databases because they are the main academic literature collections globally and regionally. Other databases like Springer Link were excluded because they do not allow to filtrate by affiliation. The search equation used had ("COVID 19" OR "COVID-19" OR "SARS-CoV-2" OR "SARS CoV 2" OR "SARS-CoV 2" OR "2019-nCoV" OR "2019 nCoV" OR "nCoV-2019" OR "nCoV 2019" OR "hCoV-19" OR "hCoV 19") in all fields and (Argentina OR Bolivia OR Brasil OR Brazil OR Chile OR Colombia OR Cuba OR Ecuador OR Salvador OR Guatemala OR Haiti OR Honduras OR Mexico OR Nicaragua OR Panama OR Paraguay OR Peru OR Dominicana OR Uruguay OR Venezuela) in affiliation field. We did not consider preprints during the search stage. No interfaces were used in the present literature review.
Article selection and data extraction
After the search stage, both reviewers (KYFS and LMSB) removed all duplicated publications, which included a manual revision because some publications were simultaneously in English, Spanish, or Portuguese. Later, we performed a second manual revision to verify that all publications had at least one researcher with a Latin American affiliation. After these two manual revisions, we did not exclude more publications, and final publications were included in the qualitative synthesis. Before the qualitative synthesis, we collected the following information, which was used in the bibliometric analysis: title, authors, journal, DOI, type of publication, national affiliation of Latin American researchers, and topic of publication.
Data analysis
We summarized information from the collected publications according to the type of publication, the topic of publication and the national affiliation in the "Bibliometric Analysis" section. The first purpose of this section was to quantify contributions of the region in the global context, and the contribution by country in the regional context. The second purpose was to classify the publications by topic and type, which allowed us to organize the next sections of this literature review. In the following two sections, "Phylogenetic and Molecular Understanding" and "Medical Contributions", we compiled information from research articles and reviews. The last section, called "Additional Concerns", was included to highlight contributions not covered in the two main topics, but discussed in the remaining publications (commentaries, letters to the editor, editorials, communications, perspectives, points of view and contributions).
Bibliometric Analysis
Following the PRISMA guidelines shown in Fig. 1, we found 301 publications in the considered databases; this number decreased to 161 after excluding duplicates. Later, we manually excluded eight additional publications due to affiliations from New Mexico (1) and Pennsylvania (7) were confused with Mexico and Panama, respectively. Therefore, this qualitative analysis included 153 publications, which contained at least one researcher with Latin American affiliation (see File S1 for complete information of publications). We highlight that several publications were not exclusively submitted by Latin American researchers, some of which are part of research groups together with North American, European, or Asian researchers. Figure 2 presents the classification of publications by type, where most of them were letters to the editor or commentaries, editorials and research articles.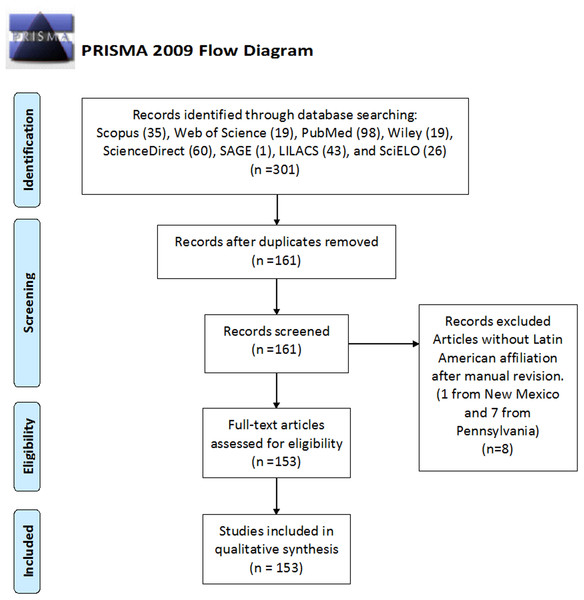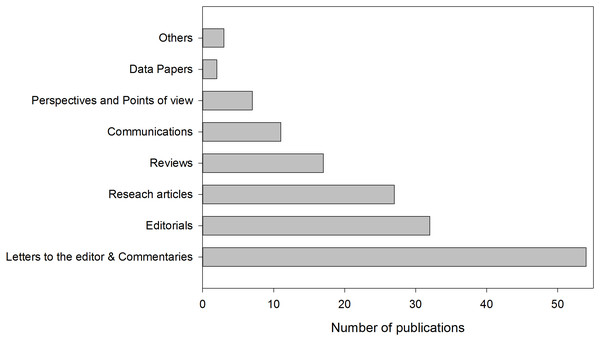 Regardless of the number of authors from the same country but different institutions, among all publications, we highlight that 15 of them were submitted by groups in which there were researchers from at least two Latin American countries. Therefore, these publications were counted for each nation involved; thus, these 15 publications have 56 national affiliations. Most of these publications were due to the Latin American Network of Coronavirus Disease 2019-COVID-19 Research (LANCOVID-19), which was created to integrate the region around this new outbreak (Rodriguez-Morales et al., 2020c). The remaining 138 publications were submitted by groups in which there were researchers from a single Latin American country. Therefore, these publications were counted once for the country, disregarding whether they were submitted by one or more researchers with the same national affiliation; in other words, these 138 publications have 138 national affiliations. In summary, the 153 publications accounted for 194 national affiliations. Figure 3 shows publications by national affiliation, where Brazil had the highest contribution with 80 publications, followed by Colombia, Mexico and Argentina, with 36, 18 and 14 publications, respectively. Conversely, the following Latin American countries had no publications: Cuba, Costa Rica, Dominican Republic, El Salvador, Guatemala, Haiti and Nicaragua.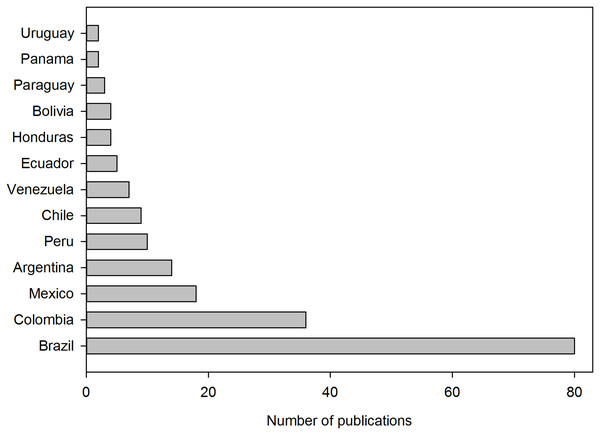 We did the same search without the affiliation field restriction. We found 1,224, 615, 3,538, 1,841, 665, 48, 2,627 and 34 publications in Scopus, Web of Science, PubMed, ScienceDirect, Wiley, SAGE, LILACS and SciELO databases, respectively. Hence, publications with Latin American researchers in these databases, Fig. 1, represent 2.9%, 3.1%, 2.8%, 3.3%, 2.9%, 2.1%, 1.6% and 76.5% of all publications, respectively. Excluding SciELO, which is a Latin American database, the contribution of the region was 2.7 ± 0.6%. This low value could be associated with the science gap (gap in science funding, technology, facilities) between the region and the developed countries. However, other possibilities are the late coronavirus appearance in the region (between February and March), as opposed to the initial outbreak (December 2019) and the number of Latin American cases (nearly 4% world total), as shown in Table 1.
Finally, Fig. 4 shows the classification of publications by topic, which were medical considerations (surgery recommendations, diagnosis, comorbidities, medical guidelines, dentistry considerations, among others), social and environmental considerations, general aspects (zoonotic links, spreading, origin, disease, surveillance, among others), epidemiological analyses, bioinformatics (molecular and phylogenetic analyses, molecular simulations, genetic annotations, among others), mental health considerations, search for potential treatments, and meta-analyses. Excluding the general aspects, the remaining topics are shown in the following sections.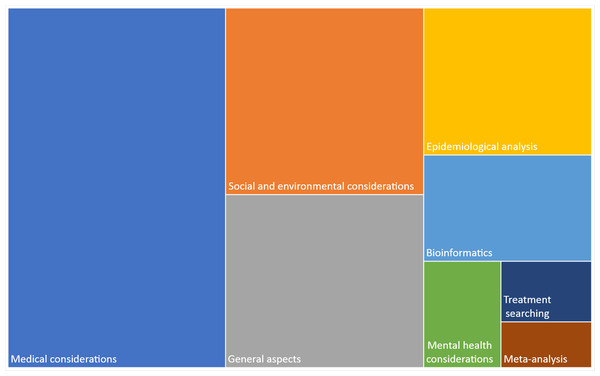 Phylogenetic and Molecular Understanding
The researcher with the highest number of research articles was Ph.D. Marta Giovanetti, who has contributed to SARS-CoV-2 understanding through bioinformatic analyses (Angeletti et al., 2020; Benvenuto et al., 2020a, 2020b, 2020c, 2020d; Cleemput et al., 2020; Giovanetti et al., 2020a, 2020b). Her first research focused on a phylogenetic analysis of SARS-CoV-2, finding that among the viruses compared, this virus is closely related to bat-SL-CoVZXC21 (GenBank ID MG772934.1), while the least related is MERS (Benvenuto et al., 2020b). However, Cárdenas‐Conejo et al. (2020) proposed that SARS-CoV-2 has a closer relation to bat-SL-CoV-RaTG13 (GenBank ID MN996532.1), then, authors suggested first that SARS-CoV-2 is unlikely to come directly from pangolin viruses, and second, that if SARS-CoV-2 has a recombinant origin, this recombination did not happen in ORF1ab. Nevertheless, both Benvenuto et al. (2020b) and Cárdenas‐Conejo et al. (2020) concluded that the novel virus could come from a bat SARS-like coronavirus isolate, which is in agreement with reports from the GISAID database (Hadfield et al., 2018; Sagulenko, Puller & Neher, 2018).
Subsequent studies of the Giovanetti group found differences in the superficial spike protein S of SARS-CoV-2 through structural analyses, which could give a higher ability to infect humans when compared to other coronaviruses (Benvenuto et al., 2020b). This ability could be attributed to two mutations found in the non-structural protein 2 (nsp2) and nsp3, both originating from a possible positive pressure (Angeletti et al., 2020). Similarly, evaluating in silico molecular interactions between the human angiotensin-converting enzyme 2 (ACE2) receptor and the spike protein of some coronaviruses, Ortega et al. (2020a) found that SARS-CoV-2 has some modified residues. Such residues could improve the recognition and interaction with the ACE2 receptor, providing SARS-CoV-2 with a higher infectiousness, which is in agreement with another study published simultaneously (Andersen et al., 2020). Likewise, performing in silico molecular interactions, Ortega et al. (2020b) evaluated the interaction between the protease of SARS-CoV-2 and some protease inhibitors as a strategy to control COVID-19 infection. The most energetic interactions predicted were using Saquinavir, Lopinavir, and Tipranavir, which are treatments for HIV patients; however, experimentation is required to validate these simulations.
In a later study, the Giovanetti group analyzed SARS-CoV-2 mutations through time, finding two variations located in nsp6 and ORF10, which could be caused by a positive selective pressure, leading to a lower protein structure stability and possibly (awaiting for evidence) a higher virulence (Benvenuto et al., 2020a). Cárdenas‐Conejo et al. (2020) similarly detected variations in nsp6 and eight deleted amino acids in nsp1 from some Japanese virus strains. Although these in silico studies are a first approach and require experimental validation (Ciccozzi et al., 2020), they could also be a first step to aid in identifying treatments or vaccines.
Lastly, Giovanetti simultaneously contributed to another research group to develop and validate an open-access tool, called the Genome Detective Coronavirus Typing Tool, which analyzes SARS-CoV-2 genomes to generate new knowledge of COVID-19 outbreak (Cleemput et al., 2020).
Concerning the sequencing of SARS-CoV-2 genomes to understand this novel coronavirus, some Latin American researchers have contributed to the publication of sequences of isolated strains from countries such as Chile (Castillo et al., 2020) or Nepal (Sah et al., 2020). Researchers from other countries have also sequenced the genomes of strains from Argentina, Brazil, Chile, Colombia, Ecuador, Mexico, Panama, Peru and Uruguay, totaling 98 genome sequences until 20 April 2020 (see File S2 for detailed information of all sequences). The GISAID database has these 98 sequences collected along with 10,380 others, meaning that Latin American contribution is near 0.94% (Hadfield et al., 2018; Sagulenko, Puller & Neher, 2018). Table 2 summarizes this information by country, showing that Brazil and Mexico have the highest number of sequenced genomes, 52 and 17, respectively. Figure 5 presents some of the Latin American SARS-CoV-2 strains in the phylogenetic tree, evidencing the high heterogeneity among them because they belong to different clades.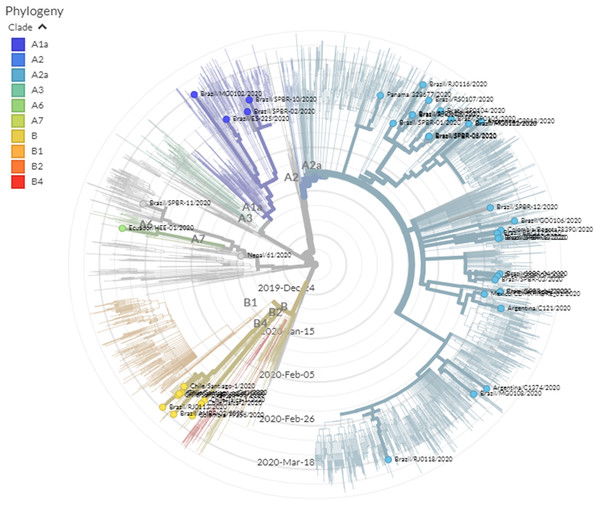 Country
Submitting lab
Location
Total
Argentina
Instituto Nacional Enfermedades Infecciosas C.G.Malbran
Argentina
3
Brazil
Bioinformatics Laboratory—LNCC
Goiais
1
Minas Gerais
5
Rio de Janeiro
7
Rio Grande do Sul
1
São Paulo
4
Instituto Adolfo Lutz, Interdiciplinary Procedures Center, Strategic Laboratory
Brasilia
1
Sao Paulo
2
Sao Paulo
11
Instituto Oswaldo Cruz FIOCRUZ - Laboratory of Respiratory Viruses and Measles (LVRS)
Maceio
1
Feira de Santana
2
Brasilia
5
Vila Velha
1
Niteroi
1
Rio de Janeiro
6
Florianopolis
1
Joinville
1
Laboratorio de Ecologia de Doencas Transmissiveis na Amazonia, Instituto Leonidas e Maria Deane—Fiocruz Amazonia
Manaus
1
Laboratory of Virology
Brasilia
1
Chile
Instituto de Salud Publica de Chile
Santiago
2
Talca
2
MSHS Pathogen Surveillance Program
Santiago
3
Colombia
Instituto Nacional de Salud Universidad Cooperativa de Colombia Instituto Alexander von Humboldt Imperial College-London London School of Hygiene & Tropical Medicine
Antioquia
1
Bogota
1
Ecuador
Institute of Microbiology, Universidad San Francisco de Quito
Pichincha
3
Quito
1
Mexico
Instituto de Diagnostico y Referencia Epidemiologicos (INDRE)
Chiapas
1
Estado de Mexico
1
Mexico City
2
Puebla
1
Queretaro
1
Instituto Nacional de Ciencias Medicas y Nutricion Salvador Zubiran
Mexico City
5
Instituto Nacional de Enfermedades Respiratorias
Mexico City
5
Laboratorio Central de Epidemiología-DLVIE / Laboratorio de Secuenciación-Centro de Instrumentos. Instituto Mexicano del Seguro Social
Chihuahua
1
Nepala
The University of Hong Kong
Kathmandu
1
Panama
Gorgas Memorial Institute for Health Studies
Panama City
1
Peru
Laboratorio de Referencia Nacional de Biotecnologia y Biologia Molecular. Instituto Nacional de Salud Peru
Lima
2
Uruguay
Microbial Genomics Laboratory, Institut Pasteur Montevideo
Montevideo
9
Total general
98
a
Nepal was included due to researchers with Colombian and Honduran affiliations contributed in its genome sequencing (Sah et al., 2020).
Additional Concerns
Social and environmental concerns
Conclusions
Although our purpose was to give visibility to the contribution of Latin American researchers in the knowledge generation related to the COVID-19 outbreak, this review has two drawbacks. The first is the continuous availability of new publications; therefore, an observation window was employed. Second, several Latin American researchers are currently working on other continents without a Latin American affiliation, making them impossible to track. However, after this literature review, we were able to evidence the active participation of Latin American researchers in different subjects, whether as members of national, regional (LANCOVID-19), or even international research groups. Concerning our findings, the publications evidenced that these research groups have advanced in molecular and medical subjects, mainly in genetic understanding, epidemiological behaviors, meta-analyses, interaction between COVID-19 and other pathologies, and recommendations to medical procedures. Finally, understanding that this health crisis requires the commitment of as many researchers as possible, our wish is that the contribution of Latin American researchers continues to grow. Some topics with regional and global interest for future studies include in silico analyses of potential treatments and their respective in vitro and in vivo validations, meta-analysis of Latin American patients, and epidemiological surveillances. Regarding medical considerations, a deeper understanding of the COVID-19 interaction with risk comorbidities is needed to propose adequate clinical treatments. The same applies to unexplored/underexplored physical and mental pathologies, such as dengue.
Supplemental Information
PRISMA checklist.
COVID-19 or SARS-CoV-2 publications with at least one researcher with Latin American affiliation.
Genome sequences from Latin American SARS-CoV-2 strains collected in the GISAID database.