Multiple immunity-related genes control susceptibility of Arabidopsis thaliana to the parasitic weed Phelipanche aegyptiaca
1
Genetic Improvement of Fruits and Vegetables Laboratory, United States Department of Agriculture, Agricultural Research Service

,

Beltsville, MD

,

USA
2
School of Plant and Environmental Sciences, Virginia Tech

,

Blacksburg, VA

,

USA
3
Department of Statistics, Virginia Tech

,

Blacksburg, VA

,

USA
Published

Accepted

Received
Academic Editor
Subject Areas

Keywords

Phelipanche aegyptiaca,

Parasitic plants

,

Parasite resistance

,

Parasite susceptibility

, Arabidopsis thaliana,

Plant immunity
Licence

This is an open access article, free of all copyright, made available under the Creative Commons Public Domain Dedication. This work may be freely reproduced, distributed, transmitted, modified, built upon, or otherwise used by anyone for any lawful purpose.
Cite this article

2020

. Multiple immunity-related genes control susceptibility of Arabidopsis thaliana to the parasitic weed Phelipanche aegyptiaca.

PeerJ

8

:

e9268

https://doi.org/10.7717/peerj.9268
Abstract
Parasitic weeds represent a major threat to agricultural production across the world. Little is known about which host genetic pathways determine compatibility for any host–parasitic plant interaction. We developed a quantitative assay to characterize the growth of the parasitic weed Phelipanche aegyptiaca on 46 mutant lines of the host plant Arabidopsis thaliana to identify host genes that are essential for susceptibility to the parasite. A. thaliana host plants with mutations in genes involved in jasmonic acid biosynthesis/signaling or the negative regulation of plant immunity were less susceptible to P. aegyptiaca parasitization. In contrast, A. thaliana plants with a mutant allele of the putative immunity hub gene Pfd6 were more susceptible to parasitization. Additionally, quantitative PCR revealed that P. aegyptiaca parasitization leads to transcriptional reprograming of several hormone signaling pathways. While most tested A. thaliana lines were fully susceptible to P. aegyptiaca parasitization, this work revealed several host genes essential for full susceptibility or resistance to parasitism. Altering these pathways may be a viable approach for limiting host plant susceptibility to parasitism.
Introduction
The parasitic weed Phelipanche aegyptiaca (syn. Orobanche aegyptiaca) is an obligate holoparasite, lacking the capacity for photosynthesis and fully dependent on parasitization of a host plant for nutrients and completion of its lifecycle. P. aegyptiaca, which is commonly known as Egyptian broomrape, is a major biotic constraint to crop production throughout much Eastern Europe, Asia and Northern Africa (Parker, 2013). P. aegyptiaca is able to parasitize a remarkably broad host range of dicotyledonous plants including crop and non-crop species. The crop-containing plant families for which P. aegyptiaca is a major threat are Solanaceae, Fabaceae, Apiaceae and Cucurbitaceae (Parker, 2013). Additionally, P. aegyptiaca can successfully parasitize the model host plant Arabidopsis thaliana which makes it a promising model parasitic plant (Goldwasser, Plakhine & Yoder, 2000; Westwood, 2000), despite the significant challenges of working with P. aegyptiaca in a laboratory setting.
Phelipanche aegyptiaca is a member of the Orobanchaceae family, which includes the overwhelming majority of agriculturally relevant parasitic weeds. Other members of the family that are major pests in agricultural production systems include Striga hermonthica (purple witchweed), a widespread and devastating parasite of cereal crops throughout Africa (Spallek, Mutuku & Shirasu, 2013), Orobanche cumana (sunflower broomrape), one of the primary biotic constraints to sunflower production in Europe and Asia (Molinero-Ruiz et al., 2015) and Orobanche cernua (nodding broomrape), a costly weed of tomato and other solanaceous crops throughout Africa, Asia and Europe (Parker, 2013). Although much has been written about the ability of parasitic weeds to germinate in response to host-specific chemical cues (Zwanenburg, Pospíšil & Ćavar Zeljković, 2016), develop haustoria to invade host plant tissues (Yoshida et al., 2016), and extract nutrient through vascular connections (Irving & Cameron, 2009), relatively little is known about the host plant immune responses and parasitic plant virulence mechanisms throughout these stages of plant–parasite interactions (See Kaiser et al. (2015) and Clarke et al. (2019) for review).
Because of the close physical association and shared angiosperm characteristics between parasitic plants and their hosts, mechanical and chemical controls are largely ineffectual in the control of parasitic weeds. Development of genetically resistant host crops is the most promising strategy for managing parasitic weeds (Rubiales, Rojas-Molina & Sillero, 2016). Unfortunately, to date only a few resistance (R) genes or resistance-associated quantitative trait loci have been identified for parasitic weeds. A classic nucleotide-binding-site, Leucine-rich-repeat (LRR) R gene that confers resistance to S. gesnerioides was cloned from cowpea (Li & Timko, 2009). A pattern recognition receptor (PRR) in tomato that confers resistance to the stem parasite Cuscuta reflexa was identified in tomato (Hegenauer et al., 2016). Recently, another LRR receptor-like kinase was identified as responsible for sunflower resistance to O. cumana (Duriez et al., 2019). Several other resistance loci have been deployed in the management of O. cumana on sunflower, but the parasite rapidly overcomes such resistance (Molinero-Ruiz et al., 2015).
An alternative genetic strategy for the control of parasitic weeds is the alteration of host plant genes that are essential for parasite attachment or development, so called susceptibility genes (Van Schie & Takken, 2014). For example, genes involved in the biosynthesis of parasite germination stimulants or transport of critical nutrients to the parasite are potential susceptibility genes. Identifying the genetic pathways that underpin host compatibility for parasite attachment and development is an essential first step toward finding susceptibility genes. To that end, we developed an assay to quantify the ability of P. aegyptiaca to successfully attach and develop on A. thaliana roots, and quantified susceptibility to parasite attachment and development for 46 mutant lines of A. thaliana. The primary goal in this work was to test the impact on a parasitic plant of host plant hormone signaling and immunity-related genes that have been either demonstrated or hypothesized to be involved in plant susceptibility to other pathogen classes.
Materials and Methods
Plant growth and quantifying parasite attachment and development
The parasite attachment assay was conducted using a randomized incomplete block design due to large number of tested genotypes. For each experimental block, four mutant plant lines were randomly selected from the pool of all mutant lines in the collection. Approximately 25 A. thaliana seeds of each of the four mutant lines plus the wild type background ecotype were stratified in water at 4 °C for 2 days in then planted in Sunshine #1 potting mix (Sungro, Agawam, MA, USA). Plants were grown in a Conviron ATC40 growth chamber at 20 °C, 12-h light cycle and light intensity of 90 µmol m2s−1 for 10 days. Eight Polyethylene (PE) bags with glass fiber grade A (GFA) paper (Whatman, Maidstone, UK) backings were made as previously described (Westwood, 2000) with dimensions of 26 cm × 9 cm (Fig. 1A). The 10-day-old A. thaliana seedlings were gently removed from the soil and the roots were washed with water until free of soil. The plants were transplanted such that the roots were positioned between the PE bag and the GFA paper and the hypocotyl extended from the top of the bag (Fig. 1A). One plant of each of the four mutant lines and one plant of the wild type background ecotype were randomly distributed into each of the PE bags and placed under a laboratory growth light with a 12-h light cycle for 12 days. P. aegyptiaca seeds were sterilized following previously described protocols (Westwood, 2000) and placed on wet GFA paper in a sealed Petri plate (Fisher Scientific, Waltham, MA, USA) for six days to condition the seeds (Westwood, 2000). The strigolactone analog rac-GR24 was then applied to the conditioned P. aegyptiaca seeds at a concentration of 2 mg/L to stimulate germination. The Petri dishes were resealed and stored in the dark for an additional 24 h. Conditioned and stimulated P. aegyptiaca seeds were inoculated onto the roots of the A. thaliana plants in the PE bags (12 days after transplanting from soil) using a fine-tipped paintbrush. By placing germinated P. aegyptiaca seeds immediately adjacent to developed roots, the impact of differential root development among the various tested Arabidopsis mutants was limited. The seeds were aligned to be within 0.3 mm of roots that had grown since the transplanting (lighter colored roots) and approximately 35 seeds were placed along the roots of each plant in each bag.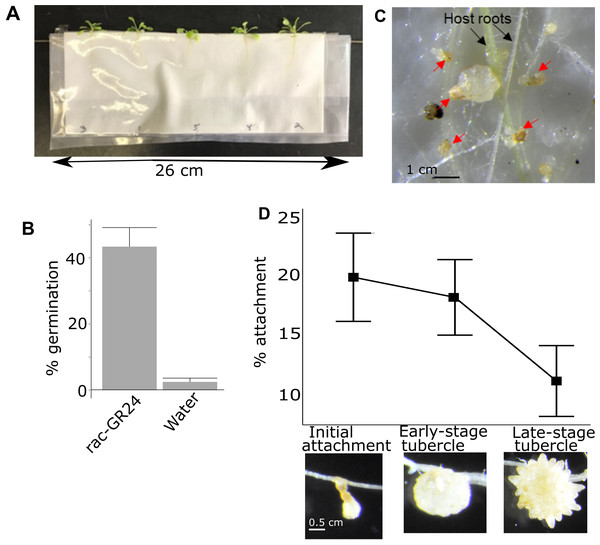 The attachment rate for each individual A. thaliana plant was quantified 15 days after inoculation. Every P. aegyptiaca seed was examined under a dissecting microscope (Zeiss Stemi SV11) at 12×g magnification and classified as either non-germinated, germinated but not attached, or attached. Not attached and attached germinated seeds were distinguished by probing with a 0.3 mm wide dissecting probe to test for adherence of the parasite radicle to the A. thaliana roots. The attached P. aegyptiaca plants were further classified as either early-stage attachment/haustoria connection, early-stage tubercle, or late-stage tubercle which correspond to the stages 3, 4.1 and 4.2 in the Parasitic Plant Genome Project datasets (Westwood et al., 2012; Yang et al., 2014) (Fig. 1D). The 0.3 mm dissecting probe was used to distinguish the three attached classifications as follows: an attached radicle thinner than 0.3 mm was categorized as an attached radicle/initial attachment (stage 3). A tubercle formed that is thicker than 0.3 mm but has no secondary roots was categorized as an early-stage tubercle (stage 4.1) and coincides with the completion of the vascular connection/feeding bridge between the parasite and the host plant. A tubercle with secondary roots longer than 0.3 mm was categorized as a late-stage tubercle (stage 4.2). The rate of attachment for each of the three stages was determined by calculating the ratio of all of the P. aegyptiaca seeds that had reached at least the designated stage (i.e., the rate of initial attachment included the count of late-stage tubercles plus early-stage tubercles) divided by the total number of germinated P. aegyptiaca seeds (i.e., the total number of all stages plus those seeds that germinated but did not attach to hosts).
Statistical analysis of attachment rates
We used a generalized linear mixed model (SAS/STAT(R) 9.2 User's Guide SE, 2016) to analyze different rates of parasitization at each of the three developmental stages. This model is based on the binomial distribution with the logit link. The SAS script and example files are uploaded to the Ag Data Commons (https://data.nal.usda.gov/dataset/data-multiple-immune-pathways-control-susceptibility-arabidopsis-thaliana-parasitic-weed-phelipanche-aegyptiaca). The one fixed effect of interest was treatment of the plants. The treatments are the different host plant genetic pathways which were compared to the respective wildtype in our model (Col-0, Ler-0, or Ws-2). Both bag and position were set as fixed effects to account for any systematic variability within both bag and position. The experiment was specified as a random block, which allows us to determine significance of the fixed effects above and beyond experiment to experiment variability. This also accounts for the fact that results within an experiment may be more related than results across experiments. Our response variable was the ratio of attachment stage total to overall germinated seed total (described above). We compared 95% and 99% confidence intervals on the odds ratio estimates at each of the three stages to determine which treatments are statistically significantly different from the wildtype. An odds ratio greater than one indicates that P. aegyptiaca is more successful on the mutant line relative to the wildtype. An odds ratio less than one indicates that P. aegyptiaca is less successful on the mutant line than on the wildtype.
Type III tests of fixed effects indicated that there was no significant variation dependent on the bag. However, there was a significant effect dependent on the position of the plant within the bag for early and late stage tubercle attachment rates (Table S1). Tukey–Kramer analysis of the least square means of the differences of position with adjustment for multiple comparisons showed that significant differences (p < 0.05) always included plants on the edge of the bag (positions 1 and 5). We hypothesize that these differences were due to the edge of the GFA paper drying out more unevenly than the center of the GFA paper. Therefore, it is essential to randomize the position of the plants within each bag, as was done here.
Time-lapse photography
A PE bag containing A. thaliana eco. Col-0 was inoculated with stimulated P. aegyptiaca seeds as described above. The bags were mounted on a metal hanger inside a 11.3-L Rubbermaid container that had a 70 mm diameter hole cut in the side for insertion of a macro camera lens and the top portion was covered with aluminum foil with a narrow opening so that the A. thaliana shoots could be exposed to light (12-h light-dark cycles) while the parasites were in darkness. The camera was a Sigma SD14 digital camera with a 70 mm Sigma DG macro lens. The camera flash provided the light source for the photography. The A. thaliana was watered through a tube that fed directly into the bag, so that the plant did not have to be disturbed during the time-lapse photography. For recording aboveground plant growth, a tomato (Solanum lycopersicum) was used as host because Arabidopsis does not support robust aboveground growth in our experimental setup. A Nikon D5100 camera with a Nikon DX AF-S Nikkor lens was used. Pictures were taken at 9-min intervals for 37 days over the course of the above and below ground segments. Sigma Photo Pro software (Sigma Corporation of America, Ronkonkoma, NY, USA) was used to convert the images from raw X3F format into JPEG. Adobe Premiere Pro CC 2017 was then used to assemble the images and for video editing to make the time-lapse video at 24 fps.
Quantitative RT-PCR
Three biological replicates of approximately 40 0.5 cm root sections were harvested from both inoculated and time-matched mock-inoculated A. thaliana eco. Col-0 plants at early attachment stage, early vascularization/early tubercle stage, and late tubercle stage (six total experimental conditions with three biological replicates and three technical replicates each). RNA was extracted using a Qiagen RNeasy kit. cDNA was synthesized using Superscript cDNA synthesis kit (Invitrogen, Carlsbad, CA, USA) following the manufacturer's recommended protocol. qRT-PCRs were performed by StepOnePlus Real-Time PCR System (Invitrogen, Carlsbad, CA, USA) with Power SYBR green master mix (Invitrogen, Carlsbad, CA, USA). The reaction condition was 2 min at 50 °C and 10 min at 95 °C followed by 40 cycles at 95 °C for 15 s, at 56 °C for 15 s and 72 °C for 15 s. Dissociation curves were evaluated to confirm the specificity. Relative quantification was calculated by 2−∆∆Ct method using qBase+ software. Three housekeeping genes (SAND, UBQ10 and UFP) were used for the normalization. geNorm analysis revealed that geNorm M-value of all three genes (SAND, UBQ10 and UFP) were 0.762, 0.709 and 0.619, relatively (qBASE+, Biogazelle). The recommended cutoff value is one or less. Calibrated, normalized relative quantification values for each gene were compared between the mock-inoculated and Phelipanche-inoculated plants for each parasite developmental stage using a two-tailed, two-sample unequal variance t-test. The primers used are described in Table S2. All primers were previously designed in other studies: (Jacobs et al., 2011) (VSP2, MYB51, EXPPT1, BOI, SID2, WRKY53), (Paponov et al., 2008) (IAA13, IAA2, ACS6), (Nguyen et al., 2016) (ARR10, UBQ10), (Šašek et al., 2014) (SAND), (Tran, Chen & Wang, 2017) (UFP), (Pegadaraju et al., 2007) (PAD4), (Zhang et al., 2014) (PR1). All primers were validated to be specific to A. thaliana DNA and to not amplify any product from cDNA prepared from early tubercle stage P. aegyptiaca tissue.
Discussion
The importance of several genes for A. thaliana resistance and susceptibility to P. aegyptiaca was revealed by our novel quantitative screen for plant parasitism. Given the artificial nature of the PE bag growth system, these observations are a starting point for elucidating the host molecular pathways that dictate whether a host is resistant or susceptible to attack from a parasitic plant. Notably, the mpk4, gai1 and cpr5 plants exhibited marked reduced growth compared to wildtype in the PE bags. Additionally, substantial crosstalk among many of the studied pathways (Koornneef & Pieterse, 2008), complicates our ability to definitively list which host pathways are critical for supporting plant parasitism. Nevertheless, this data provides the foundation for understanding the host genetics of susceptibility to plant parasitism. We discuss the host pathways that appear to be the most important below.
Conclusion
This work demonstrates that the parasitization potential of P. aegyptiaca on A. thaliana is remarkably robust and not fully dependent on any of the genetic pathways tested here. However, P. aegyptiaca parasitization is at least partially limited in a small selection of A. thaliana mutant lines. The most robust phenotype revealed from this study is that multiple genes involved in JA signaling and biosynthesis are critical for full host plant susceptibility to P. aegyptiaca. Additionally, this work revealed that the putative immunity hub protein PFD6 is a critical component of the plant immune response that limits the severity of P. aegyptiaca parasitization. Further investigation into the identified genes that affect the degree of host plant susceptibility to parasitization will further elucidate the molecular mechanisms of plant parasitism. Alteration of these genetic pathways has the potential to help control parasitic weed infestation through either enhanced expression of resistance-associated genes or reduced expression of susceptibility-associated genes. Several of the susceptibility associated genes identified in this work cannot be knocked out without substantial negative impacts on the plants such as male sterility (e.g., dde2) or growth retardation (e.g., cpr5). This work serves as a starting point for understanding which genetic pathways are essential for plant susceptibility. Additionally, the viability of overexpressing PFD6 or other identified resistance-associated genes to control parasitic plant infection needs to be determined in future work.