Synthetic neuronal datasets for benchmarking directed functional connectivity metrics
Institute of Biophysics and Biomedical Engineering, Faculty of Sciences, University of Lisbon

,

Campo Grande, Lisbon

,

Portugal
Published

Accepted

Received
Academic Editor
Subject Areas

Keywords

Neuronal modeling

,

Computational modeling

,

Hemodynamic response function

,

EEG forward modeling

,

Granger causality
Copyright

©

2015

Rodrigues and Andrade

Licence

This is an open access article distributed under the terms of the Creative Commons Attribution License, which permits unrestricted use, distribution, reproduction and adaptation in any medium and for any purpose provided that it is properly attributed. For attribution, the original author(s), title, publication source (PeerJ) and either DOI or URL of the article must be cited.
Cite this article

2015

.

Synthetic neuronal datasets for benchmarking directed functional connectivity metrics

.

PeerJ

3

:

e923

https://doi.org/10.7717/peerj.923
Abstract
Background. Datasets consisting of synthetic neural data generated with quantifiable and controlled parameters are a valuable asset in the process of testing and validating directed functional connectivity metrics. Considering the recent debate in the neuroimaging community concerning the use of these metrics for fMRI data, synthetic datasets that emulate the BOLD signal dynamics have played a central role by supporting claims that argue in favor or against certain choices. Generative models often used in studies that simulate neuronal activity, with the aim of gaining insight into specific brain regions and functions, have different requirements from the generative models for benchmarking datasets. Even though the latter must be realistic, there is a tradeoff between realism and computational demand that needs to be contemplated and simulations that efficiently mimic the real behavior of single neurons or neuronal populations are preferred, instead of more cumbersome and marginally precise ones.
Methods. This work explores how simple generative models are able to produce neuronal datasets, for benchmarking purposes, that reflect the simulated effective connectivity and, how these can be used to obtain synthetic recordings of EEG and fMRI BOLD signals. The generative models covered here are AR processes, neural mass models consisting of linear and nonlinear stochastic differential equations and populations with thousands of spiking units. Forward models for EEG consist in the simple three-shell head model while the fMRI BOLD signal is modeled with the Balloon-Windkessel model or by convolution with a hemodynamic response function.
Results. The simulated datasets are tested for causality with the original spectral formulation for Granger causality. Modeled effective connectivity can be detected in the generated data for varying connection strengths and interaction delays.
Discussion. All generative models produce synthetic neuronal data with detectable causal effects although the relation between modeled and detected causality varies and less biophysically realistic models offer more control in causal relations such as modeled strength and frequency location.
Introduction
The field of brain research that studies connectivity relies in an ever evolving array of methods that aim at finding directed or undirected connectivity links from recorded neuronal datasets which pose different challenges such as having nonlinear relations, non-stationary dynamics, low signal-to-noise ratio (SNR), linear mixes or slow dynamics. Therefore, most studies that introduce or discuss connectivity metrics use not only real but also simulated datasets for demonstration and validity purposes on a controlled environment. These simulated datasets are obtained through generative models that simulate the conception of neuronal activity, like local field potentials (LFPs), with a certain degree of realism and can be followed by forward biophysical modeling where LFPs are transformed into other neuronal recording datasets like electroencephalography (EEG), magnetoencephalography or functional magnetic resonance imaging (fMRI) blood-oxygen-level dependent (BOLD) signals, for example. With these controlled simulations, it is possible to isolate the effect of certain parameters and understand how directed functional connectivity metrics perform in a realistic range of values.
As far as directed functional connectivity is concerned, Granger causality (GC) based metrics have been in the center of several studies that discussed their plausibility in the analysis of fMRI BOLD datasets due to the inherent low SNR, slow dynamics compared to neuronal activity and confounding effects due to variable vascular latencies across brain regions (Deshpande, Sathian & Hu, 2009; Smith et al., 2010; Valdes-Sosa et al., 2011; Seth, Chorley & Barnett, 2013; Rodrigues & Andrade, 2014). Most of these studies used simulated datasets to support their claims with generative models such as networks of 'on–off' neurons (Smith et al., 2010), multivariate vector autoregressive (MVAR) processes with real LFPs (Deshpande, Sathian & Hu, 2009; Rodrigues & Andrade, 2014) and columns of thousands of spiking units (Seth, Chorley & Barnett, 2013) and BOLD forward models consisting of linear operations or more biophysically realistic models. Other problems such as the effect of volume conduction in directed connectivity has also been addressed with LFPs being modeled as sinusoids and the forward EEG model as a linear mix of different LFPs (Kaminski & Blinowska, 2014).
The objective of this work is to present and test the ability of popular generative and forward models to produce synthetic neuronal datasets with modeled causal effects, to be used as benchmarks.
Methods
In this section, we succinctly present the methodological framework used in this study from the modeling techniques to the connectivity metrics employed. Figure 1 depicts the generative models to simulate LFPs and the forward models for fMRI BOLD signals and EEG signals. The ensuing subsections expand on each technique separately by laying theoretical foundations, mentioning available software and explaining why these simulations have been important in the development of brain connectivity tools. Although we present the generative model definitions in their general terms for any given network, in this work simulations only encompass two nodes.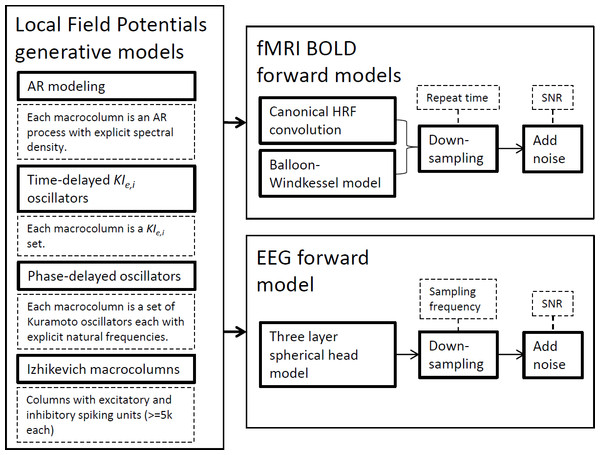 Simulations ran on a desktop PC equipped with an Intel® Core™ i7-2600K CPU @3.4 GHz, 8 GB of RAM and an NVIDIA® GeForce® GTX 580 GPU with 3 GB graphics memory. Simulations of Izhikevich columns ran on modified CUDA/C + + routines from CARLsim 2.0 (Richert et al., 2011) and used the parallel processing capabilities of the GPU. The remaining generative and forward models were implemented and ran in Matlab® and used only the CPU without any explicit parallelization.
Results
This section presents the results of applying (11) to bivariate time-series simulated with the generative and forward models introduced in Fig. 1 and in the previous sections with varying interaction strength and delay. This analysis aims at finding whether these changes in the generative modeling are captured by standard causality estimation by analyzing how GGC's difference of influence (DOI) (Fj→i − Fi→j when Fj→i is the true causal direction) varies with the modeled interaction strength, and how GGC's DOI and estimated MVAR model order estimation change with increasing interaction delays. An increase in empirical model order from BIC or AIC suggests that the interaction delays introduced in the generative model are detected in the resulting time-series.
LFP
LFPs represent the local activity of neuronal populations without forward modeling hence, without the confounding effects expected from fMRI BOLD signals or EEG data and, the only randomness is due to the stochastic parameters from each model. This way, this analysis tests each generative model's capability to produce synthetic datasets with detectable causal effects.
AR modeling
Results for GGC with varying modeled causality and interaction delays can be seen in Figs. 3A and 4A, respectively, and the model order estimated with BIC and AIC for the different interaction delays are shown in Fig. 5A.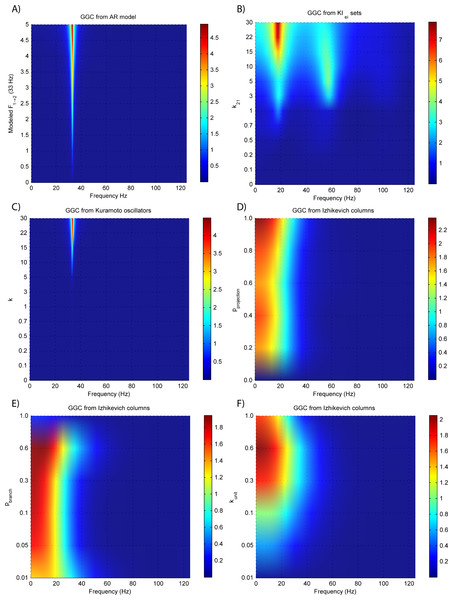 The estimated GGC DOI present in Fig. 3A shows, as expected, causal influence at 33 Hz with the same absolute value from what was modeled. Changing the interaction delay from 4 to 100 ms doesn't affect the estimated causality, as can be seen in Fig. 4A, and both BIC and AIC model orders increase linearly with the increase in interaction delay (Fig. 5A). Also, these model orders correspond exactly to the neuronal delay; with a sampling rate of 250 Hz, the neuronal delays in d21 correspond to [1, 5–25 in steps of 5] lagged observations which equal the model orders suggested by BIC and AIC (except for the neuronal delay of 4 ms).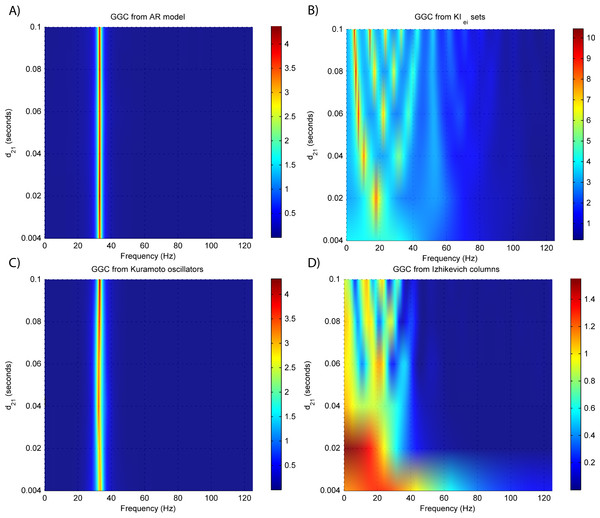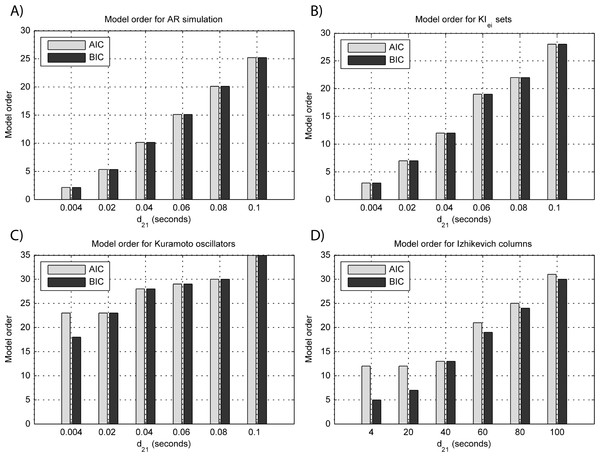 Time-delayed coupled KIe,i sets
Figures 3B and 4B respectively show the estimated GGC for varying coupling and interaction delay and Fig. 5B the respective model orders estimated with BIC and AIC.
Figure 3B shows that there are two frequency bands where connectivity is detected, around 20 Hz and around 60 Hz. These causal influences are more expressive for strong couplings (>1) and are inexistent at weak couplings below 0.5. When the interaction delay changes, connectivity also changes its frequency (Fig. 4B). This occurs as different delays change the oscillatory behavior of these neuronal populations, and also because the MVAR model order also changes which influences the AR spectrum. In Fig. 5B it is possible to see that both BIC and AIC are sensitive to the increase in the interaction delay and overestimate the true model order by approximately 2 lagged observations.
Phase-delayed coupled Kuramoto oscillators
Figures 3C and 4C respectively show the estimated GGC for varying coupling and interaction delay and Fig. 5C the respective model orders estimated with BIC and AIC
GGC only detects causal relations with positive DOI at 33 Hz as can be seen in Fig. 3C. However, these only present expressive values on strong couplings (>3). Different interaction delays do not affect the GGC intensity or frequency distribution (Fig. 4C) although the model order suggested by BIC and AIC is not linearly related to the interaction delay (Fig. 5C) and is overestimated.
Izhikevich columns
GGC results for varying pprojection can be seen in Fig. 3D, results for varying pbranch can be seen in Fig. 3E and results for varying kunit can be seen in Fig. 3F. GGC results for simulations with varying are shown in Fig. 4D and the respective model orders estimated with BIC and AIC in Fig. 5D.
From Figs. 3D–3F it is possible to see that GGC detects connectivity below 20 Hz and that a linear increase only occurs with kunit. Interaction delays change the connectivity frequency distribution (Fig. 4D) as different delays change the oscillatory behavior of the neuronal populations and different MVAR model order produce different AR spectrums. Increasing the interaction delay produces a linear increase in model orders estimated with BIC although these are slightly overestimated (Fig. 5D).
EEG forward modeling
Figure 6 shows the same experiments as Fig. 3 only this time, the time-series is the EEG recorded at the scalp electrodes. It is possible to see that, except for the Izhikevich columns, GGC amplitude is reduced.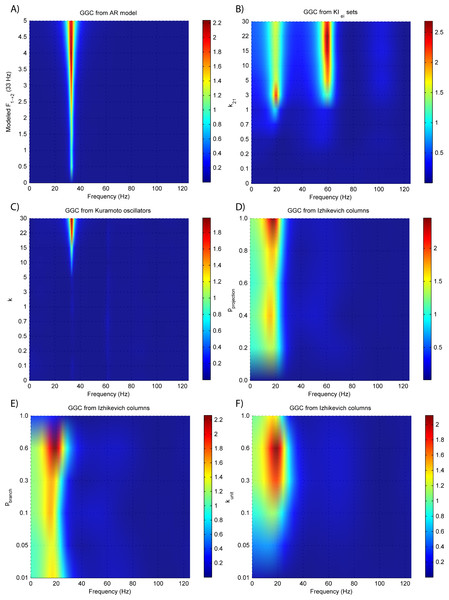 EEG forward modeling does not affect the detection of interaction delays as can be seen in Fig. 7. However, for the KIe,i sets, causality around the 20 Hz dissipates and causality at 60 Hz is maintained. At some delays (0.4 and 0.8 ms) the EEG from the Kuramoto oscillators (Fig. 7C) shows GGC values similar to the LFPs.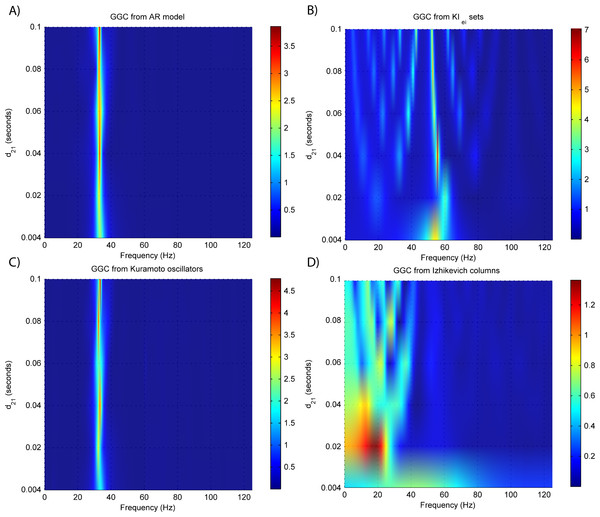 Overall, model orders are overestimated for EEGs from every generative models. In the EEG from MVAR modeling and KIe,i sets (Figs. 8A and 8B, respectively) this is more pronounced in the lower interaction delays, and in the EEG from the Izhikevich columns (Fig. 8D) the opposite seems to occur. The overestimation problems in the LFPs from the Kuramoto oscillators are more pronounced after EEG forward modeling (Fig. 8C).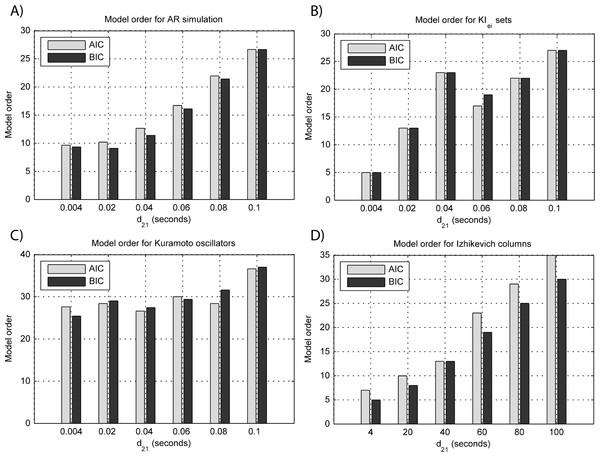 BOLD forward modeling
The results for both the convolution with canonical HRF and the extended BW model are shown in Figs. 9 and 10.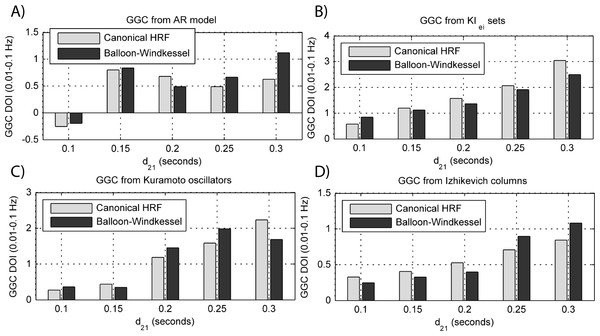 The results in Fig. 9 show that GGC is greatly reduced after BOLD forward modeling regardless of the generative or forward models. In BOLD signals generated with MVAR modeling, causal effects are more visible after a modeled causality of 2.5 (Fig. 9A) although these remain around 0.5. The same values are achieved by KIe,i sets and Kuramoto oscillators after a coupling of 1 and 10 respectively. The Izhikevich columns only achieved these values for pprojection > 0.4, pbranch > 0.6 or kunit > 0.3. Both the canonical HRF and the extended BW show similar results.
By keeping the coupling strengths at the maximum values in Fig. 9 and varying the interaction delay from 100 ms to 300 ms, the results in Fig. 10 suggest that all generative and forward models benefit from higher delays. With MVAR modeling, 150 ms is the value when causality is detectable (Fig. 10A) whereas for the remaining generative models this value is at 200 ms. Again, there are no relevant differences between canonical HRF and extended BW models.
Discussion
This study explores four generative models that represent distinct methodologies: multivariate MVAR modeling, neural mass models and spiking neuron populations. Although most of these models have been used previously in simulation studies that aim at benchmarking connectivity metrics, their capability to reflect causal interactions in their generated neuronal time-series had not been compared yet. Also, these neuronal time-series are not limited to the LFPs, BOLD signals and EEG covered by this work but these are the most widely used in connectivity studies.
Concerning the generative models in this work, both MVAR modeling and Kuramoto oscillators offer the possibility to directly specify the frequency of their oscillatory activity and therefore the frequency where connectivity occurs whereas in KIe,i sets and Izhikevich columns this is not possible, at least directly. On the other hand, KIe,i sets and Izhikevich columns are neurophysiologically plausible, as they offer the possibility to modulate different types of excitatory and inhibitory neurons. This suggests two different uses for these subgroups of generative models. MVAR modeling and Kuramoto oscillators, as these allow to manipulate the strength and frequency of causal relationships (or even the theoretical GGC in the MVAR modeling), seem more adequate for initial testing of directed functional connectivity metrics (Baccalá & Sameshima, 2001), studying the effect of post processing or other transformations in data prior to causality inference (Barnett & Seth, 2011) or to compare different metrics performance in an extended benchmark (Rodrigues & Andrade, 2014). Due to their superior neurophysiological realism, KIe,i sets and Izhikevich columns are more useful to inquire about the effectiveness of certain connectivity metrics for data recorded in specific brain locations with known dynamics (Friston et al., 2014). For example, in Freeman (1987) coupled KI sets are used to simulate chaotic EEG emanating from the olfactory system and in Richert et al. (2011) Izhikevich columns are used to simulate a large-scale model of cortical areas V1, V4, and middle temporal (MT) with color, orientation and motion selectivity.
All generative models are able to produce LFPs with detectable causal relations, and these results show the relation between experimental parameters and simulated causality. Only MVAR modeling allows for a direct specification of causality by solving the analytical equations for GGC applied to the MVAR coefficients. Concerning the neural mass models, the KIe,i sets show causal effects with lower coupling strength than the Kuramoto oscillators as the first start having causal relations with k21 = 0.7 while the second required values of k >3 for identifiable causality. In the Izhikevich columns, the percentage of projecting neurons from the source column pprojection is the variable with least influence in the observed GGC, except for when it is zero. Increases in both the percentage of target connections per projection pbranch and the synaptic strength kunit lead to increases in the observed GGC. Although it wasn't tested in this work, it is possible that these values change for different number of neurons per column. In all generative models the modulation of the interaction delay is possible without loss of causal relations, although the neurophysiologically realistic models show different frequency spectrums for different interaction delays. This neuronal delay is also detected by the BIC and AIC, which suggest higher model orders for higher interaction delays.
Forward models lead to a decrease in the absolute value of GGC, especially the forward BOLD model where negative DOIs could be found in worst scenarios. EEG forward modeling reduces the estimated GGC due to the added noise and to the volume conduction effect that produces a "cross-talk" between the two neural populations and electrodes; these effects would be more adverse if more neuronal populations were added inside the three-shell sphere. Nevertheless, these results show that all generative models produce LFPs that, when treated as activity from radial dipoles, preserve the causal relations in the resulting EEG. BOLD forward modeling is more detrimental to the preservation of causal effects, and this work did not model hemodynamic variability between brain regions (Handwerker, Ollinger & D'Esposito, 2004) which would further affect causality preservation in BOLD signal time-series (Deshpande, Sathian & Hu, 2009). Causality was reduced approximately by a factor of 10 in all generative models, and there were no concise differences between HRF convolution and BW modeling except for the Kuramoto models where the last leads to smaller values of causality.
The overview from Table 1 confirms our initial suggestions that AR models are suitable for exhaustive benchmarks of causal measures to study their dependence on experimental parameters and formulation, due to their low computational load associated with versatility and analytical solution. For benchmarks with fewer experimental parameters and increased concern in emulating neuronal data from frequency specific synchronized populations, the Kuramoto oscillators offer the best compromise between versatility and computational load. Finally, to study causality in specific known neuronal dynamics both the KIe,i sets or the Izhikevich are the most appropriate thanks to their ability to realistically simulate varied neuronal populations.
| | AR models | KIe,i sets | Kuramoto oscillators | Izhikevich columns |
| --- | --- | --- | --- | --- |
| Causal relations with different strengths | yes | yes | yes | yes |
| Causal relations with different delays | yes | yes | yes | yes |
| Frequency specific causal relations | yes | no | yes | no |
| Analytic calculation of theoretical causality | yes | no | no | no |
| Neurophysiological model | no | yes | yes | yes |
| Can simulate different neuronal dynamics | no | no | yes | yes |
| Causality is preserved after EEG forwarding | yes | yes | yes | yes |
| Causality is preserved after hemodynamic forwarding | yes | yes | yes | yes |
| Expected computational load | very low | high | average | average |
Conclusion
This work presented and analyzed different modeling strategies to generate artificial neuronal datasets for benchmarking purposes. LFPs are obtained by generative models and can be used by forward models to produce other recordings of neuronal activity such as the BOLD signal or EEG. All the analyzed models were able to transmit their causal structure (φ21(1), k21, k, pprojection, pbranch, kunit) into their generated data but with different relations between these and the identified GGC. This study only covered bivariate models, but the same analysis could be performed with larger networks with large-scale fluctuations (Cabral et al., 2011). This would be useful to identify the directed functional connectivity metrics most appropriate to analyze large scale data such as fMRI BOLD signals from resting state networks.
Supplemental Information
Figure S1