Woodlice change the habitat use of spiders in a different food chain
1
Northeastern University

,

Boston

,

MA

,

United States of America
2
School of Forestry & Environmental Studies, Yale University

,

New Haven

,

CT

,

United States of America
3
Department of Biology, University of Western Ontario

,

London

,

Canada
Published

Accepted

Received
Academic Editor
Subject Areas

Keywords

Behavior

,

Grasshopper

,

Habitat domain

,

Individual-based model

,

Isopod

,

Old field

,

Signal-detection theory

,

Trophic cascade

,

Woodlice

,

Trait-mediated interactions
Copyright

©

2020

Guiliano et al.

Licence

This is an open access article distributed under the terms of the Creative Commons Attribution License, which permits unrestricted use, distribution, reproduction and adaptation in any medium and for any purpose provided that it is properly attributed. For attribution, the original author(s), title, publication source (PeerJ) and either DOI or URL of the article must be cited.
Cite this article

2020

.

Woodlice change the habitat use of spiders in a different food chain

.

PeerJ

8

:

e9184

https://doi.org/10.7717/peerj.9184
Abstract
Background
In old field systems, the common woodlouse may have an indirect effect on a nursery web spider. Woodlice and nursery web spiders feed in different food chains, yet previous work demonstrated that the presence of woodlice is correlated with higher predation success by nursery web spiders upon their grasshopper prey. This finding suggested a new hypothesis which links two seemingly disparate food chains: when woodlice are present, the spider predator or the grasshopper prey changes their location in the vegetative canopy in a way that increases their spatial overlap and therefore predation rate. However, warming temperatures may complicate this phenomenon. The spider cannot tolerate thermal stress, meaning warming temperatures may cause the spider to move downwards in the vegetative canopy or otherwise alter its response to woodlice. Therefore, we would expect warming and woodlice presence to have an interactive effect on predation rate.
Methods
We conducted behavioral experiments in 2015, 2017, and 2018 to track habitat domains—the use of the vegetative canopy space by grasshoppers and spiders—in experimental cages. Then, we used three models of spider movement to try to explain the response of spiders to woodlice: expected net energy gain, signal detection theory, and individual-based modelling.
Results
Habitat domain observations revealed that spiders shift upward in the canopy when woodlice are present, but the corresponding effect on grasshopper prey survival was variable over the different years of study. Under warming conditions, spiders remained lower in the canopy regardless of the presence of woodlice, suggesting that thermal stress is more important than the effect of woodlice. Our modelling results suggest that spiders do not need to move away from woodlice to maximize net energy gain (expected net energy gain and signal detection theory models). Instead spider behavior is consistent with the null hypothesis that they move away from unsuccessful encounters with woodlice (individual-based simulation). We conclude that mapping how predator behavior changes across biotic (e.g. woodlouse presence) and abiotic conditions (e.g. temperature) may be critical to anticipate changes in ecosystem dynamics.
Introduction
Cross food chain interactions can occur when species share some portion of their habitat. These interactions are often mediated by changes in behavior or habitat-use, so-called trait-mediated interactions (Ohgushi & Schmitz, 2012; Buchkowski & Schmitz, 2015). Consumer species that acquire their energy from primary production or decomposition are said to feed in the plant-based and detritus-based food chains, respectively. They are prime candidates for cross food chain interactions because they can have overlapping habitat domains (Bardgett & Wardle, 2010; Zou et al., 2016; Northfield, Barton & Schmitz, 2017). However, the data required to understand behavioral interactions between animals in separate food chains are rarely collected (Schmitz, 2006; Zhao et al., 2013).
Preliminary data suggests that cross food chain interactions might have an important effect on trophic dynamics in New England old fields. The sit-and-wait predator Pisaurina mira (nursery web spider) typically has a positive indirect effect on plant diversity and soil nitrogen, because it causes its herbivore prey Melanoplus femurrubrum (red-legged grasshopper) to switch from feeding on grasses to feeding on the dominant goldenrod species (Schmitz, 2006). When grasshoppers depress goldenrod biomass, it reduces the amount of nitrogen being removed from the soil and so increases nitrogen mineralization. The effect on soil nitrogen occurs because grasshoppers remain at a high density and change their foraging decisions under the risk of predation. However, when the detritivorous woodlouse Oniscus asellus is present, grasshopper survival decreases and the effect of P. mira on soil nitrogen disappears (Buchkowski & Schmitz, 2015). One hypothesis explaining this phenomenon is that woodlice increase P. mira predation rate by changing how often spiders and grasshoppers interact in the old field canopy. In other words, woodlice shift P. mira from a predator with primarily trait-mediated effects to one with density-mediated effects (Schmitz, 2006).
The exact mechanism explaining the spider, grasshopper, and woodlouse interaction remains unclear. Either spiders or grasshoppers could shift their position within the canopy in the presence of woodlice, leading to a higher encounter rate and higher predation rate. Grasshoppers might shift in response to a risk from woodlice, which are opportunistically predaceous (Edney, Allen & McFarlane, 1974; Le Clec'h et al., 2013). Spiders might shift in response to woodlice because woodlice are not an accessible prey item and their movement distracts spiders from true prey items (i.e., signal detection theory; Green & Swets, 1966; Staddon & Gendron, 1983; Getty & Krebs, 1985; Abbott & Sherratt, 2013). Spiders do not eat woodlice, because feeding on woodlice requires significant morphological and biochemical adaptations that this species does not possess (Vizueta et al., 2019). We have no evidence that woodlice pose a risk to grasshoppers, nor that spiders would be attracted towards woodlice as a potential prey item (we observed no predation in shared terraria). So, we hypothesized that spiders move upwards in the canopy to avoid distractions caused by woodlice movement, and thereby come into closer contact with grasshoppers. Behavioral observations of grasshopper and spider habitat domain—their respective use of the canopy space—are necessary to test this hypothesis.
Interactions between spiders, grasshoppers, and woodlice may also be mediated by abiotic stressors. High temperatures cause spiders to move downwards in the canopy, away from grasshoppers (Barton & Schmitz, 2009). Grasshoppers in old-field ecosystems do not change their location in the canopy in response to warming, because they can tolerate higher temperatures than spiders (Barton & Schmitz, 2009). This raises the question of whether any effect of woodlice on grasshopper survival would hold under climate warming. If spiders respond both to woodlice (by moving up) and climate warming (by moving down) the consequences for grasshopper survival should be null.
We conducted a series of behavioral experiments to evaluate spider and grasshopper habitat domains under woodlouse presence and warming. Habitat domains use the mean spatial location to measure where animals spend their time, and use the variance to determine how much animals move (Miller, Ament & Schmitz, 2014; Rosenblatt, Wyatt & Schmitz, 2019). Habitat domain is a useful metric for our study because it can be used to predict differences in predation rate (Northfield, Barton & Schmitz, 2017). We used the habitat domains from our behavioral observations to calculate spider attack rates for our theoretical models.
We used three theoretical models to explain the response of spiders and grasshoppers to woodlouse presence. The first two models were competing models that consider the net energy gain of spiders as they attack grasshoppers and woodlice (Abbott & Sherratt, 2013). The third model was an individual-based model that tests whether woodlice encounters can cause spiders to occupy a different canopy position.
We documented the habitat domains of grasshoppers and spiders in the presence and absence of woodlice in cage experiments in 2015, 2017, and 2018. We found that spiders shifted upwards in the canopy when woodlice were present, while grasshopper habitat domain was unchanged. Contrary to our predictions, the increased overlap in habitat domains did not consistently reduce grasshopper survival, despite a decrease in some years of the experiment. Our modeling work suggests that energy accounting can only explain the movement of spiders away from woodlice under opportunity costs or attack costs that are far higher than the available data suggest. We explore possible rationales for the change in spider behavior and provide insight into whether or not the outcome of this study can be generalized to other predators of similar ecological function.
Results
Our analysis suggests that spiders were more likely to move upwards in the canopy when woodlice were present . The expected movement of ∼16-cm and the 95% confidence interval indicates that spiders moved upwards on average (Table S1). Often, spiders moved from the mid-canopy to the top of the canopy (Fig. 1A). Temperature alone did not cause spiders to move lower into the canopy in contrast to previous studies (). When spiders experienced both warming and woodlouse presence, the interaction nullified the effect of woodlice alone , suggesting temperature stress was more important than woodlice to spiders (Fig. 1A). Grasshoppers did not change their position in the canopy in response to woodlouse or temperature treatments .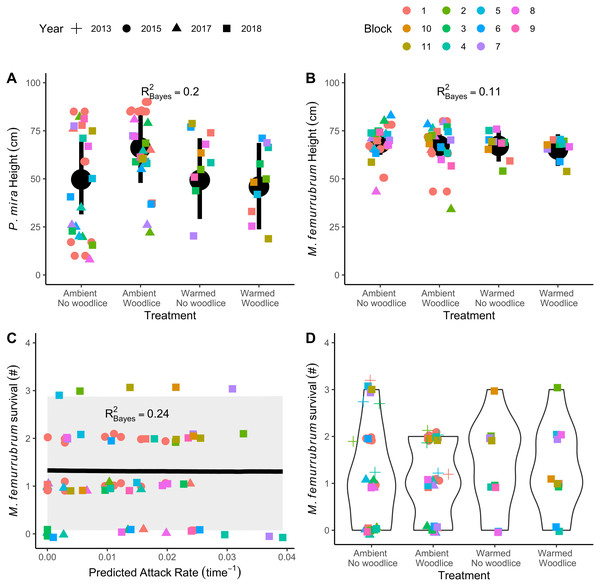 The movement of nursery web spiders higher into the canopy increased the overlap between grasshopper and spider habitat domains (Figs. 1A–1B). However, in contrast to our predictions, we found that increases in the theoretical spider predation rate did not actually reduce grasshopper survival across our entire dataset (; Fig. 1C; Table S4). Grasshopper survival was lower in spider × woodlouse cages in 2013 and 2017 (Fig. 1D), but this trend did not occur in 2015 or 2018. The 2013 data were taken from an earlier publication to extend our dataset (Buchkowski & Schmitz, 2015).
Wolf spiders (G. gulosa) remained hidden in the leaf litter throughout most of our observations, and we only observed two individuals for a total of three unique positions in the canopy. Consequently, we could not model the joint grasshopper and wolf spider habitat domain. The wolf spiders caused the grasshoppers to move upwards in the canopy regardless of whether woodlice were present or absent (; Fig. S5; Table S5). Grasshopper survival was not altered by the presence of wolf spiders (Fig. S5). We did not pursue this line of investigation further, because there was no woodlouse × wolf spider interaction and wolf spiders were not observable.
Our model simulations show that nursery web spider behavior is more likely driven by movement away from woodlice rather than movement towards grasshoppers (Fig. 2). Calculating the energy balance demonstrated that attacking woodlice has a negligible effect on spiders, even if they attack every woodlouse they encounter (Fig. 2A). These results only change if the cost of attacking woodlice is higher by three orders of magnitude (Fig. S7A) and do not change if spider attack success is increased (Fig. S7B).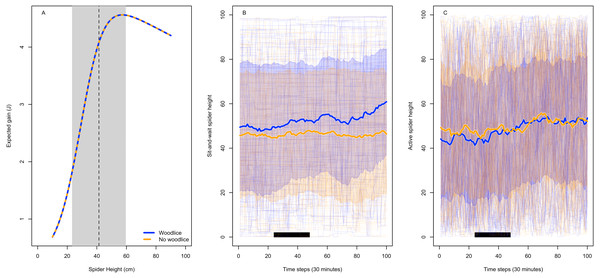 Our combined model of signal detection theory with habitat domain predicted that spiders should employ an "always attack" strategy when woodlice are present (Fig. S8). An "always attack" strategy means that spiders should attack both woodlice and grasshoppers, because the cost of missing a grasshopper outweighs the energy wasted attacking a woodlouse. These models predict that spiders should only shift their habitat position in the canopy when they (1) have great difficulty distinguishing between woodlice and grasshoppers, or (2) face a large risk of losing that prey item, or (3) face a cost of attacking woodlice three orders of magnitude higher than we expected it to be (Fig. S8). Extreme cases are also the only situations where spiders should make multiple attack attempts in order to learn the difference between woodlice and grasshoppers.
The individual-based model simulations replicate our empirical observations of sit-and-wait spiders shifting upwards when woodlice are present (c.f. Fig. 1A, 2B). The sit-and-wait simulations replicate the empirical probability of nursery web spider movement (sim. = 0.092, emp. = 0.104) and the correct order of magnitude for empirical average distance moved by the spiders (sim. = 1.21 ± 1.47 cm, emp. = 2.35 ± 9.49 cm). The qualitative results are the same if spiders move after unsuccessful attacks against a grasshopper as well (Fig. S9A). The difference in average spider height caused by the presence of woodlice disappeared when we increased the spider movement probability from 0.1 to 0.8 to replicate an active hunting predator (Fig. 2C). The biased movement away from woodlice only appears to matter if the spider predator has an otherwise low probability of moving. Our theoretical analysis suggests that the woodlouse effect on spider habitat domain is more consistent with spiders switching perches after encountering a woodlouse, rather than because they are maximizing net energy intake.
Discussion
Our results indicate that the nursery web spider predator P. mira shifts its habitat domain upwards in the canopy when the woodlouse O. asellus is present. Woodlice appear to be a poor prey item for the spider due to the low nutritional value of woodlice and the spider's inability to handle the morphology of a large, armored arthropod (Vizueta et al., 2019). We can conclude that their interaction likely links two disparate food chains via a trait-mediated effect.
In general, sit-and-wait predators like P. mira depend on detecting movement to capture nearby and unsuspecting prey (Lawrence, 1985; Gall & Fernández-Juricic, 2009). Therefore, a plausible explanation for the behavioral change was that the movement of woodlice disturbs or distracts the spider enough to induce it to move away. The sit-and-wait hunting strategy of the spider is successful only under low energetic expenditure (Schmitz, 2006), so reacting to false alarms could come at a high cost. We predicted that the spider avoids the false alarms of woodlouse movement by shifting higher into the canopy (Green & Swets, 1966; Getty & Krebs, 1985). However, our analysis of spider energetic balance did not support this hypothesis. Using a novel combination of signal-detection theory and habitat domain theory, we show that if a spider is optimizing energy intake, it should attack everything because the cost of a short burst of activity (∼4.3 mJ) is small relative to the expected payoff of attacking a grasshopper (∼6.8 J). Consequently, spiders do not benefit much from 'testing' multiple items to learn to distinguish between woodlice and grasshoppers (Abbott & Sherratt, 2013). Attacking costs would need to be three orders of magnitude higher to alter the optimal spider strategy (Fig. S8).
An alternative explanation is that nursery web spiders change their perches after incorrectly attacking a woodlouse. P. mira spend most of the day in a single location (our data, Miller, Ament & Schmitz, 2014; Rosenblatt, Wyatt & Schmitz, 2019), so unsuccessful attacks on woodlice can be infrequent but would still induce a change in the median canopy height of the spider. Furthermore, interactions with woodlice occur almost exclusively near the ground where the only direction to move is upwards. A similar response to an unsuccessful attack on a grasshopper would not have the same effect, because grasshoppers occupy the middle to upper canopy (c.f. Fig. 2B, Fig. S9). However, when the spider's baseline movement rate is increased, as would be the case for an active hunting predator, the effect of woodlice is washed out. Our individual-based model suggests that this small bias in movement probability can lead to an increased height only for spiders that do not move often.
We might question why P. mira would ever perch in the lower canopy when grasshoppers are often in the middle to upper canopy. Our model and previous empirical data suggest that thermal stress higher in the canopy may drive P. mira to perch in the lower canopy (Barton & Schmitz, 2009). This is supported by our data showing that P. mira remained in the lower canopy under warming conditions, regardless of the presence of woodlice. Another explanation is that nursery web spiders also feed on other old field arthropods and likely respond to the habitat domain of these prey. For example, the intraguild prey species P. clarus occupies the middle canopy, close to the perches P. mira selected in woodlouse-free cages (Miller, Ament & Schmitz, 2014). Future studies could explore whether the movement of P. mira upwards in the canopy reduces predation on other arthropod prey.
In treatments combining woodlice and warming, the nursery web spider P. mira did not move upward. The spider may be too heat sensitive to move upwards in the canopy in response to woodlice (Barton & Schmitz, 2009). Under this hypothesis, thermal stress is the binding constraint, but relaxing thermal stress allows the spiders to choose a foraging perch away from woodlice. Therefore, global climate change trends may influence the relationship between these animals. The effects of woodlice on spiders, along with any subsequent effects on ecosystem properties, would be mitigated or eliminated if nursery web spiders no longer move upwards (Buchkowski & Schmitz, 2015). We must acknowledge that warming may also influence the ecosystem in ways that our short-term study cannot predict. One possibility is that warming temperatures will increase grasshopper growth rates (Coxwell & Bock, 1995), reducing the capture success for predatory spiders. This could shift spider diets toward other organisms, subsequently altering grasshopper diets and nitrogen cycling.
The effect of woodlice on grasshopper survival was inconsistent across the three experimental years. One explanation is that the nursery web spider has a negligible impact on grasshopper survival even if encounter rates are increased (Schmitz, 2010) because their attack success rate is low. Two lines of evidence support this conclusion. First, our predicted spider attack rates do not correlate with grasshopper survival. Since we know that the spider does not reduce grasshopper populations substantially, it is probable that their attack success is low enough to negate the effects of a higher encounter rate (Schmitz, 2006). The second line of evidence is correlative and provides one explanation for why grasshopper survival was only reduced in two years: 2013 and 2017. The largest effect of woodlice on grasshopper survival occurred in 2013, when the cage experiment started earlier in the season (Fig. S3). While we always stocked third-instar grasshoppers into our behavioral experiments, there may have been size variation within the instars at stocking time that could, on average, select for smaller individuals earlier in the season. Smaller grasshoppers are more susceptible to spider predation (Brose, 2010). The larger effects that we observed in 2013 and 2017 may have been caused by rapid consumption of smaller grasshoppers in the first week of the experiment. Another factor may have been the differences in annual climate. The summer of 2013 had the warmest July and coolest August of any study year. It is possible that cooler August temperatures kept grasshoppers small in 2013 and 2017, increasing spider predation success (Coxwell & Bock, 1995). A climate explanation is also consistent with the interaction effect of woodlice and warming on spider height in 2018, because the spider's upward shift was smaller in warmer years (c.f. Fig. 1A; Fig. S3). Overall, our results suggest that spider attack success rate is low relative to encounter rates, mitigating the differences in grasshopper survival in all but the most ideal circumstances.
Measuring parameters such as attack success requires controlled experimental conditions where reliable data can be collected. Our small cages balance two features: (1) maintaining key environmental conditions such as plant canopy structure and temperature and (2) keeping the same animals contained and observable over an entire day. Larger cages closer to 1-m3 make it impossible to observe the animals when they shelter in the center (2015, R. Buchkowski). The controlled environment was especially important for factorially manipulating woodlice, because they must be disturbed by removing cover objects to observe them in their natural habitat (Hassall & Tuck, 2007; our study). We were able to parameterize our models of spider, grasshopper, and woodlouse interactions because our simplified cage environments allowed us to manipulate animals and observe interactions.
Our results demonstrate that behavioral interactions can link plant-based and detritus-based food chains even without cross-chain feeding. Specifically, we demonstrate how the behavior of a spider in the plant-based food chain is altered by the presence of a detritivore. We did not observe direct interactions between nursery web spiders and woodlice in our cages. Further attempts to observe these interactions would provide a definitive test of our hypothesis that "failed attacks" instigate spider movement. Although grasshopper survival was unaffected overall, woodlice may be perturbing the entire food web by impacting the the location of the nursery web spider in the canopy. Future studies involving prey species that are consumed by nursery web spiders in the mid-canopy, such as the intraguild prey P. clarus, would help test our model (Barton & Schmitz, 2009). One intriguing possibility is that the shift in habitat domain is a functional trait of sit-and-wait predators, whose location in the canopy changes less often than active hunting predators (Schmitz, 2010). This hypothesis is supported by the behavior of the individual-based model. Data from an active hunting spider that can be observed in the canopy, such as P. clarus, would provide a direct test of our hypothesis that the response of nursery web spiders to woodlice is linked to their sit-and-wait strategy.
Conclusions
We provide a new modeling approach that combines signal-detection theory and habitat domain theory to help predict when predators hunting in a spatially structured environment make energy trade-offs between true and false prey items. Using our empirical data from old fields, simulations demonstrated that spider predators were not sensitive to the energetic trade-off. Instead, our modelling work supported the alternative hypotheses that the shift in habitat domain resulted from the movement of nursery web spiders away from an undesirable interaction. Future research into sit-and-wait predators could use this theory to elucidate how habitat domain and species interactions might link seemingly disparate food chains and shift with changes in local climate.
Supplemental Information
Additional empirical data, detailed statistical results, an analysis of the wolf spider cages, and additional theoretical model results