GISA: using Gauss Integrals to identify rare conformations in protein structures
Published

Accepted

Received
Academic Editor
Subject Areas

Keywords

Protein structure analysis

,

Knots and links

,

Gauss integrals

,

Rare conformations

,

Sub-chains

,

Fast algorithm

,

Database scan

,

Topology

,

Geometry
Copyright

©

2020

Grønbæk et al.

Licence

This is an open access article distributed under the terms of the Creative Commons Attribution License, which permits unrestricted use, distribution, reproduction and adaptation in any medium and for any purpose provided that it is properly attributed. For attribution, the original author(s), title, publication source (PeerJ) and either DOI or URL of the article must be cited.
Cite this article

2020

.

GISA: using Gauss Integrals to identify rare conformations in protein structures

.

PeerJ

8

:

e9159

https://doi.org/10.7717/peerj.9159
Abstract
The native structure of a protein is important for its function, and therefore methods for exploring protein structures have attracted much research. However, rather few methods are sensitive to topologic-geometric features, the examples being knots, slipknots, lassos, links, and pokes, and with each method aimed only for a specific set of such configurations. We here propose a general method which transforms a structure into a "fingerprint of topological-geometric values" consisting in a series of real-valued descriptors from mathematical Knot Theory. The extent to which a structure contains unusual configurations can then be judged from this fingerprint. The method is not confined to a particular pre-defined topology or geometry (like a knot or a poke), and so, unlike existing methods, it is general. To achieve this our new algorithm, GISA, as a key novelty produces the descriptors, so called Gauss integrals, not only for the full chains of a protein but for all its sub-chains. This allows fingerprinting on any scale from local to global. The Gauss integrals are known to be effective descriptors of global protein folds. Applying GISA to sets of several thousand high resolution structures, we first show how the most basic Gauss integral, the writhe, enables swift identification of pre-defined geometries such as pokes and links. We then apply GISA with no restrictions on geometry, to show how it allows identifying rare conformations by finding rare invariant values only. In this unrestricted search, pokes and links are still found, but also knotted conformations, as well as more highly entangled configurations not previously described. Thus, an application of the basic scan method in GISA's tool-box revealed 10 known cases of knots as the top positive writhe cases, while placing at the top of the negative writhe 14 cases in cis-trans isomerases sharing a spatial motif of little secondary structure content, which possibly has gone unnoticed. Possible general applications of GISA are fold classification and structural alignment based on local Gauss integrals. Others include finding errors in protein models and identifying unusual conformations that might be important for protein folding and function. By its broad potential, we believe that GISA will be of general benefit to the structural bioinformatics community. GISA is coded in C and comes as a command line tool. Source and compiled code for GISA plus read-me and examples are publicly available at GitHub (https://github.com).
Background
Røgen & Bohr (2003) introduced a set of quantitative protein fold descriptors consisting in 29 knot-theoretic Gauss Integral (GI) based invariants, shown shortly after in Røgen & Fain (2003) to be able to automatically recover the classification of the CATH database.
Automated local scrutiny of folds is desired for various purposes, including identifying odd shapes in predictions, improving classification and for structure alignments. However, while the GI invariants work very well as global fold descriptors, an efficient method for computing them locally has been lacking and local applications have been few. Revealing though indeed the relevance of applying GIs locally, the structural similarity methods in Chang, Rinne & Dewey (2006) and Zhi, Shatsky & Brenner (2010) based on local writhe showed excellent performance (writhe is an order one GI). Due to its recursive nature, our new algorithm, GISA, computes not only the GI invariants of an entire chain but at the same time of all sub-chains, allowing therefore structural analyses on any scale from local to global (we assume chains and sub-chains to be connected).
By the knot-theoretic nature of the GIs, GISA is sensitive to topologic-geometric differences, while having the fundamental translational-rotational invariance. This distinguishes GISA from distance based approaches. A general method for structural analysis having such topologic-geometric sensitivity seems still to be lacking (Jarmolińska et al., 2018; Marks et al., 2011). By its versatility, we believe that GISA can fill this gap.
As a tool GISA includes computation of the desired GIs, deriving GI-values for sub-chains and search/scan methods. The latter allow to rank a set of query structures' GI-values against a background, consisting in a set of GI-values, likewise produced by running GISA on a "data base" of structures.
The main aims of this paper are to introduce GISA, to explain the method via a proof-of-concept and describe the contents of the tool. The primary focus is on the proof-of-concept, which only involves the lowest order GI, viz. the writhe: First we show in a "restricted search" how GISA can be exploited to provide an algorithm for identifying particular geometries in folds such as a chain forming an almost closed loop through which it passes, or two such loops interlinking (these were termed "pokes" and "co-pokes", respectively, by  Khatib, Rohl & Karplus (2009)). Then, in a similar unrestricted search, we show how GISA allows identifying the very same configurations as well as more elaborate ones, by letting the search be based on finding outlying writhe values only (please see the 3d-figures below; more examples from both searches can be found in Supplemental Information 1).
Recent work by Dabrowski-Tumanski & Sulkowska (2017) indicates the steady interest in interlinking loops and closely related topologies. While search algorithms as those in Dabrowski-Tumanski & Sulkowska (2017), Khatib, Rohl & Karplus (2009), Niemyska et al. (2016) build on predefined shapes, our algorithm searches for exceptional values of GIs, and the shapes of the search hits are then final output rather than input; thus GISA allows to identify both less constrained as well as more elaborate shapes. This we support by running the unrestricted search and, more generally, by the runs of GISA's basic scan method, rar0. This scan tool formalizes the unrestricted search (rar is short for rarity). It allows assessing a set of structures on a larger background by means of writhe values only (GISA has two additional scan tools that allow using higher order GIs).
Our proof-of-concept—the restricted and unrestricted searches—and rar0 make use only of the writhe for identifying locally entangled configurations. Several authors have recently made similar use of the writhe, but for defining a global entanglement of one or more polymers (Baiesi et al., 2016; Baiesi et al., 2017; Baiesi et al., 2019; Panagiotou & Kröger, 2014; Panagiotou, Kröger & Millett, 2013; Panagiotou & Plaxco, 2019; Panagiotou, Millett & Atzberger, 2019). A general aim there is to relate such an entanglement measure to physical properties of the molecules. In these works the writhe is applied to open curves (Baiesi et al., 2016; Panagiotou & Kröger, 2014; Panagiotou, Kröger & Millett, 2013; Panagiotou & Plaxco, 2019; Panagiotou, Millett & Atzberger, 2019). Closest to our application of the local writhe numbers are Baiesi et al. (2017); Baiesi et al. (2019). These are however restricted to the particular geometry consisting in pokes (threads) of almost closed loops with no restriction on the length of the poking segment except a lower bound of 10 residues (which coincidentally is the largest poke-length we consider). The "maximal poke writhe-value" is then used as the global measure.
In another direction, well-established knot-invariants ("knot polynomials") have been applied to detecting knots in proteins. A particular case is that of slipknots (King, Yeates & Yeates, 2007), where particular care is taken in closing the sub-chains. A more general approach is that of knotoids Goundaroulis et al. (2017), which allows similar detection of knots while working on the (open) chain, i.e., even without performing random closures of it (see also Dabrowski-Tumanski et al., 2018). The method is though still stochastic in nature.
The other main tools in GISA are the GI-generating functions and two more advanced scan methods (rar1 and rar2). All three scan tools build on the possibility of pre-computing the GIs so as to generate a background against which query sets can be swiftly assessed. Key in the pre-computability of the GIs is their translational and rotational invariance (no costly superpositions of the structures are needed). Since our focus in this paper is on the application of the writhe, we dedicate most time to the basic rarity scan, rar0. The strength of the two more advanced scan flavours, rar1 and rar2, is that they allow including higher order GIs. We include a short description below; more can be found in Supplemental Information 1.
To validate the output of the restricted and unrestricted searches we visually inspect the cases having the most conspicuous writhe values and compare their rankings. To assess the validity of GISA's scan methods, we check that the top-rankings of the basic scan tool, rar0, match those of the unrestricted search. As for rar1/2 we show that their outputs are well-aligned at similar settings (Supplemental Information 1).
The command line tools (compiled code) as well as the source C code for computing the invariants up to and including order 3, for supporting the scans and for the particular searches are available at GitHub under GNU General Public License v3 (https://github.com/ceegeeCode/GISA).
Methods
We represent a protein chain by the piece-wise linear curve given by its α-Carbon trace. A poke consists of an almost closed loop (of moderate length) through which a shorter segment of the chain sticks—or pokes. A co-poke can be understood as a "1-link": two almost closed loops (of moderate length) poking through each other, i.e., interlinking once. For an example of a poke see Fig. S15; examples of 1-links can be seen in the 3d-figures right below.
In a 1-link the two smooth closed loops have a linking number, or writhe, of ± 1. The writhe is therefore a key notion in this paper why we give a short introduction now.
Results
Restricted and unrestricted searches
For the restricted search we follow Khatib, Rohl & Karplus (2009) and let a closed loop mean a sub-chain consisting of no less than 6 and no more than 30 line-segments and such that the α-Carbon atoms at the sub-chain terminals are at most 7 Ångström apart.
For the unrestricted search we consider sub-chains of length 30 (results for length 15 are given in Supplemental Information 1). For both types of search we consider only pairs of non-overlapping sub-chains. More examples can be found in Supplemental Information 1.
In the restricted search we see from Fig. 1A, that the writhe values (almost) fit within the expected interval [−1, 1], and are distributed with rather heavy tails (for top100 and the Pisces sets, see Supplemental Information 1). In the unrestricted search (Fig. 1B), the range of writhe values becomes larger, but values rarely exceed ± 1.5 (less with a preset sub-chain length of 15, see Supplemental Information 1). Notably, in the top100 set, the 1-links found in the restricted search were re-found in the unrestricted search; the two conspicuous cases surfacing from the restricted search through the top100 set were both found among the top 10 absolute writhe value cases in the unrestricted search. However, the restricted search missed a 1-link in the 1dif protein's B chain, while catching the similar 1-link in the A chain. The reason is that one of the loops in the B chain is not recognized as (almost) closed. While this can depend on the definition of an almost closed loop, the unrestricted search does not have this vulnerability and catches the 1-link in the B chain too. The additional cases of high writhe values (unrestricted search) are in general of more elaborate geometry; an example of particularly high negative writhe in the top100 set is shown in Fig. 2B.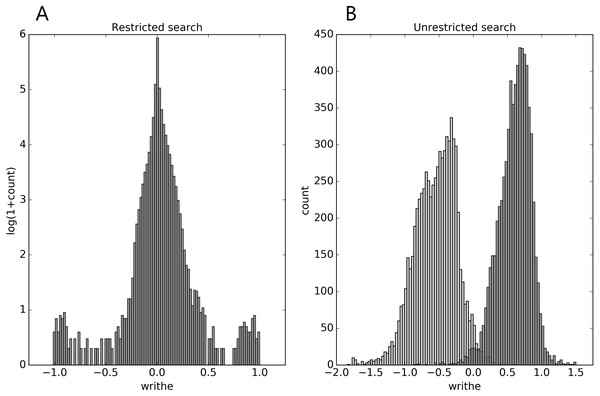 The same happens for the top8000 set where the 1-link cases are retained, albeit sometimes with lower rank (Supplemental Information 1). In particular on the negative writhe side, the more complex geometries occupy the top ranks and push the 1-links down the list (Supplemental Information 1). As we shall see below, applying GISA's basic scan tool to the top8000 set, a series of 14 top-negative writhe cases were found, all highly similar to the "pseudo-knot" in Fig. 2B. As for the highest positive writhe, cases appearing to be true knots surfaced (Fig. 3). That is, upon closing a small gap between the sub-chain pairs, if any, the resulting sub-chain becomes a knot (to be rigorous the ends should be "connected at infinity" or similarly).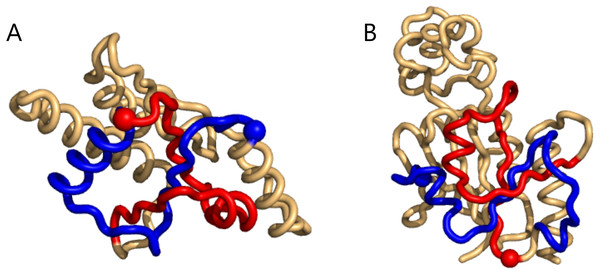 As for the pokes one may notice that the distributions of writhe values (see Supplemental Information 1) are not heavy tailed as those for the 1-links; indeed "pokedness" is not a binary property as is linking (cf. the electromagnetic analogy above; see also Supplemental Information 1 for a short discussion). Also importantly, less pronounced writhe values reveal uninteresting examples, e.g., two loops well separated; a loop not pierced by the sub-chain (see Supplemental Information 1).
In the PiscesLoRes set the findings are very similar to those in top8000 (Supplemental Information 1). First, the writhe distributions closely resemble each other despite the two sets having a rather small intersection (Figs. S19, S20). It should though be borne in mind that the intersection does not take sequence similarity into account. However, the writhe distributions for the PisceHiRes have the same shapes, a sign that these are really "canonical" of large representative sets of protein chains. The number of structures covered in PiscesLoRes are ∼ 8200 and ∼ 4500 in PiscesHiRes.
In the restriced search in PiscesLoRes we noticed that a single ensemble model, 2q46, dominate at the top of the negative writhe cases (Supplemental Information 1); this can seem peculiar, but the resolution of the model is high.
As for the top-hits in the unrestricted search in PiscesLoRes the cases of positive writhe are all knots (in the same sense as above), while the negative writhe cases are double-pokes in which one sub-chain winds around the other more than 1.5 times (Supplemental Information 1). The most conspicuous case is that of 3n40 where the two sub-chains form a (distorted, long) double-helix of more than two windings (Fig. 4).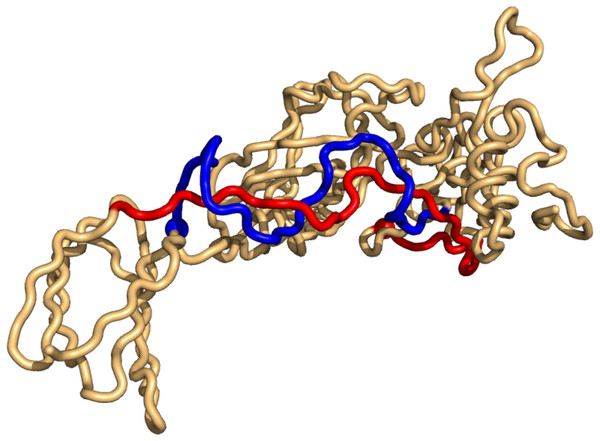 Finally, as in the top8000 case, almost all the links of positive writhe are found among the top-hits of the unrestricted search. With the negative cases there is again a tendency of loss-of-rank, i.e., cases of more extreme writhe values are dominating.
GISA scans
We here consider only the basic scan tool (rar0); validation of the two other tools can be found in Supplemental Information 1. Below we show results from applying rar0 to scans of the top100 set against top8000 as background, and of top8000 against itself. The probability stated in the tables refers to the frequency of structures in the top8000 set having a mutual writhe (or score) of the stated level or exceeding it. For these results a sub-chain (window) length of 30 and a step size of 2 were used. The tables contain excerpts of longer lists found in the Tables S9–S11).
The structures found in the unrestricted search again emerge (as they should, Tables 1 and 2; Tables S3, S11). We also see the clear sign of the skewness of the mutual writhe distributions; in the top100 set the highest negative writhe values appear to be less rare than the similar high positive values. In the ranking from scanning the top8000 set against itself (Tables 3 and 4; Tables S9, S10) this skewness is also clear (cf. also Fig. 1B). Furthermore, the top 10 positive writhe cases (Tables 3; S9) are recorded as true knots in the KnotProt data base (Dabrowski-Tumanski et al., 2018; Jamroz et al., 2015; KnotProt, 2019; Sulkowska et al., 2012) (cf. Figure 3). At the top of the negative writhe list (rank 2–16) are 15 structures of which all except one (2v25) share a very similar structural motif of little secondary structure content (visual inspection; similar to that found in 2cpl, cf. Fig. 2B). Probably as should be expected, these cases are not captured in the KnotProt server (Dabrowski-Tumanski et al., 2018; Jamroz et al., 2015; KnotProt, 2019; Sulkowska et al., 2012) . Since the subchains are very similarly situated in these 14 cases, we ran a multiple sequence alignment using Clustal Omega (Sievers et al., 2011) so as to grasp the sequence similarity and amount of conservation. In the resulting multiple alignment, 20 residues of the about 60 were perfectly conserved, and an additional 10 showed high similarity, an overall similarity of about 50 pct. This though does not appear as high considering the high spatial similarity even of low secondary structural content.
While of relevance in itself, this case also points to using the Gauss Integrals for locally based fold classification or structural alignment. To find such structural similarities by means of superimposing the structures, if at all a viable approach, would be computationally unsurmountable (with about 100 windows in an average structure and 8000 structures it would take ∼1015 superpositions). We also noticed other cases where the mere value of the (high) writhe seems roughly to determine the spatial configuration: in the unrestricted search through top8000 at sub-chain length 15 all the top 10 ranking cases (either sign) were of the same "pseudo 1-link" nature (Supplemental Information1).
Finally, regarding the rar0 scan of the PiscesLoRes set against top8000 as background (Tables S12–S13), the results were similar to those for the top8000 set against itself: the top-hits were as in the unrestricted search (Table S8) with some changes in the exact ordering (as for top100, see Supplemental Information 1). Also the same skewness in extreme positive and negative writhe appears as does the skewness in the configurations found: the top positive writhe cases were knots while the extreme negative were rather multiple-wind cases.
Computational performance
The computational complexity of GISA's base algorithm for computing the GIs of order less than three is O(L2), while O(L3) in order three (L being the length of the chain). When run in order one (and beyond) GISA produces the order one GIs on all sub-chains, where in our implementation we find a run time of ≈2 10−7sL2. The additional time spend on computations done for the proof-of-concept searches amounts to a small overhead of less than 5 % (see section Computational performance in Supplemental Information 1 for these matters).
Discussion
While there are obvious advantages of using a method not restricted to a sought-after geometry, such as the ability to find new configurations in real proteins and identifying non-protein like ones in models, there is a price to the generality: the unavoidable loss of specificity. In our method this shows up in the loss-of-rank for the 1-links in the unrestricted search through the top8000 set and the PiscesLoRes set, though this essentially only hits the negative writhe cases. However, with a restricted method there is, in addition to its specificity, a likewise unavoidable weakness given by the fact that a definition of the sought-after shapes must be implemented; we saw how one of two highly similar 1-links in the top100 set was missed in the restricted search because a sub-chain was not qualified as a loop.
Regarding the rareness of the shapes (within the considered data sets), the distribution of the writhe for potential links in the top8000 set (Fig. 1A) and the Pisces sets (Supplemental Information 1) are clearly heavy tailed. Among around 1.27 million potential links (top8000), only about 1 out of 100,000 has a writhe below −0.944 or above 0.938, respectively, i.e., there are about 25 such cases in these ∼ 8000 structures. Among the potential pokes in these structures, about 1 out of 10,000 has a writhe below −0.890 or above 0.898, amounting to about 43 of such cases. For the Pisces sets these percentiles have very similar (writhe) values (the PiscesHiRes having slightly fatter tails though). Thus, if we set a threshold for links on absolute writhe of 0.9 (0.95), we find in the top8000 set 31 and 21 (12 and 9) cases having a writhe above the threshold and below minus the threshold, respectively. For the PiscesLoRes these numbers are 26 and 18 (13 and 10) and for PiscesHiRes 25 and 15 (12 and 8). It should be noticed that these numbers relate only to rareness within the top8000 set and the Pisces sets and not to whether these are representative sets of all proteins or not.
For the links these levels compare well to that reported in Khatib, Rohl & Karplus (2009), where 37 links ("co-pokes") were found in about 10,000 real proteins. Regarding the pokes, the numbers cannot be compared; first poking may be more or less—it is not a binary topological property but rather geometric, and therefore continuously graded; second the method in Khatib, Rohl & Karplus (2009) involves a filter which sifts out most but not all pokes in real proteins. Regarding the results in Dabrowski-Tumanski & Sulkowska (2017), Niemyska et al. (2016) these all pertain to configurations involving loops closed by covalent bonds (e.g., a cysteine bridge), and so are incommensurable to the results reported here. Identifying such configurations rather suggests a separate application of GISA in conjunction with the amino acid sequence.
Our results on rareness are very different from those of Baiesi et al. (2019), where about 1/3 of all proteins were found to be highly entangled. The differences are though not surprising as our results regard local configurations while those of Baiesi et al. (2019) relate to the chains' global characteristics. We have noticed that the approximation used in Baiesi et al. (2019) for the computation of writhe may have an impact on the decision boundary (threshold) for entanglement (Section S2.2).
The full output of GISA includes besides the writhe of all sub-chains also the remaining 13 generalized Gauss integrals of order at most 2 for each sub-chain. In Røgen & Fain (2003) it was shown that CATH2.4-domains can automatically be assigned to their CATH-fold class based on Gauss Integrals of order at most three of the full domains. The order three GIs are in Røgen (2005) found to be the less descriptive of these structural descriptors. It lies outside the scope of this work to check if the up to order two Gauss Integrals provided by GISA e.g., are sufficient for domain identification and structural classification of all sub-chains, but it is our original motivation for deriving and implementing GISA. KnotProt 2.0 include several methods for topological fingerprinting and can tell either deterministically or statistically if each sub-chain contains a knot or knotoid type (Dabrowski-Tumanski et al., 2018; Goundaroulis et al., 2017). The fingerprints provide data on if and where the searched non-trivial topological features are situated in a given protein structure. Most protein structures are topological trivial (Baiesi et al., 2019) and can therefore not be discriminated based on knot or knotoid content. The GISA output is as a contrast aimed at being a descriptor-vector that can tell members of distinct protein fold classes apart.
As for the computational performance, GISA appears to be efficient and competitive. The free availability of our code makes it feasible to make comparisons of timely performance of other methods to that of GISA.
Conclusions
We have shown that with the help of GISA it is possible to find cases of rare geometries in proteins, such as those studied in Khatib, Rohl & Karplus (2009) and knots as identified with KnotProt (Dabrowski-Tumanski et al., 2018; Jamroz et al., 2015; Sulkowska et al., 2012). GISA's command line tool scans formalize this, and more generally scores all the involved structures. The basic rar0 scan corresponds to the approach in the unrestricted search.
The method allows unprejudiced searching, in which other more elaborate shapes are found, while still catching the interesting cases found in the restricted search. Unavoidably, some specificity is lost. As such, the method shows the advantage of quantitative topological fold descriptors. Here the focus has been on applying the lowest order GI (the writhe) and a local search; GISA covers higher order GIs and supports the full range from local to global analysis, which we intend to exploit in upcoming work. In another direction, the two more advanced scan methods can be seen as a foundation for making structural alignments in the space of Gauss Integrals.
Supplemental Information
Supplemental Material