Phylogenetic relationships in the southern African genus Drosanthemum (Ruschioideae, Aizoaceae)
Published

Accepted

Received
Academic Editor
Subject Areas

Keywords

Distribution

,

Genetic diversity

,

Greater Cape Floristic Region

,

Haplotyping

,

Maximum Likelihood

,

MJ Network

,

Outgroup placement

,

Phylogeny

,

SP Network

,

Subgeneric Classification
Copyright

©

2020

Liede-Schumann et al.

Licence

This is an open access article distributed under the terms of the Creative Commons Attribution License, which permits unrestricted use, distribution, reproduction and adaptation in any medium and for any purpose provided that it is properly attributed. For attribution, the original author(s), title, publication source (PeerJ) and either DOI or URL of the article must be cited.
Cite this article

2020

. Phylogenetic relationships in the southern African genus Drosanthemum (Ruschioideae, Aizoaceae)

PeerJ

8

:

e8999

https://doi.org/10.7717/peerj.8999
Abstract
Background
Drosanthemum, the only genus of the tribe Drosanthemeae, is widespread over the Greater Cape Floristic Region in southern Africa. With 114 recognized species, Drosanthemum, together with the highly succulent and species-rich tribe Ruschieae, constitute the 'core ruschioids' in Aizoaceae. Within Drosanthemum, nine subgenera have been described based on flower and fruit morphology. Their phylogenetic relationships, however, have not yet been investigated, hampering understanding of monophyletic entities and patterns of geographic distribution.
Methods
Using chloroplast and nuclear DNA sequence data, we performed network- and tree-based phylogenetic analyses of 73 species of Drosanthemum with multiple accessions for widespread species. A well-curated, geo-referenced occurrence dataset comprising the 134 genetically analysed and 863 further accessions was used to describe the distributional ranges of intrageneric lineages and the genus as a whole.
Results
Phylogenetic inference supports nine clades within Drosanthemum, seven of which group in two major clades, while the remaining two show ambiguous affinities. The nine clades are generally congruent to previously described subgenera within Drosanthemum, with exceptions such as cryptic species. In-depth analyses of sequence patterns in each gene region were used to reveal phylogenetic affinities inside the retrieved clades in more detail. We observe a complex distribution pattern including widespread, species-rich clades expanding into arid habitats of the interior (subgenera Drosanthemum p.p., Vespertina, Xamera) that are genetically and morphologically diverse. In contrast, less species-rich, genetically less divergent, and morphologically unique lineages are restricted to the central Cape region and more mesic conditions (Decidua, Necopina, Ossicula, Quastea, Quadrata, Speciosa). Our results suggest that the main lineages arose from an initial rapid radiation, with subsequent diversification in some clades.
Introduction
In the south-western corner of Africa, the iconic leaf-succulent Aizoaceae (ice plant family, including Lithops, 'living stones'; Caryophyllales) is one of the most species-rich families in the biodiversity hot-spot of the Greater Cape Floristic Region (GCFR; Born, Linder & Desmet, 2007; Mittermeier et al., 1998; Mittermeier et al., 2004; Mittermeier et al., 2011), ranking second in the number of endemic genera and fifth in the number of species (Manning & Goldblatt, 2012). Although Aizoaceae species have received much attention both in terms of their ecology and evolution (e.g., Klak, Reeves & Hedderson, 2004; Valente et al., 2014; Ellis, Weis & Gaut, 2007; Hartmann, 2006; Schmiedel & Jürgens, 2004; Powell et al., 2019), information on phylogenetic relationships within major clades (or subfamilies) is still far from complete. Here, we aim at filling some of the knowledge-gaps by: (1) providing a review of the current classification of the family, and origin and distribution of major clades (in the Introduction), and (2) a study of phylogenetic relationships in the enigmatic and hitherto, phylogenetically, almost neglected genus Drosanthemum.
Material and Methods
Taxon sampling
We established a collection of georeferenced and identified Drosanthemum samples; each sample was only included if sufficient material was available to identify key characteristics. The full collection ('core collection'; n = 997 samples) represents the most comprehensive sampling of the currently recognized Drosanthemum species, covering 85 species in total, with each species represented by up to 30 georeferenced samples (range: 1–30; mean: 5 samples per species). This core collection consists of 590 samples identified to subgenus, plus 407 identified to species. The subgeneric classification follows Hartmann (2007) and Hartmann & Liede-Schumann (2014).
A subset of the core collection was used to generate the molecular dataset; this subset comprised 134 accessions of Drosanthemum, covering 73 of the recognized species, with the more widespread and morphologically variable species represented by up to 5 accessions. To cover the full distribution in the larger subgenera, the molecular dataset comprises 21 accessions identified to subgenus, several of which most likely represent hitherto undescribed species: subg. Drosanthemum (10 accessions), subg. Vespertina (8 accessions), subg. Xamera (2 accessions), and subg. Ossicula (1 accession). Geographic distributions of the subgenera that were corroborated with phylogenetic inference in this study (i.e., inferred clades, see Results) were plotted on a map using the elevation above sea level data from the WorldClim climate layers (Hijmans et al., 2005), with a spatial resolution of 30′ using the raster library v2.8-19 (Hijmans, 2019) in R v3.5.3 (R Core Team, 2019). Geographic references for the core collection are available at the Dryad digital repository (Liede-Schumann et al., 2019).
For outgroup comparison we selected a broad spectrum of species representing the three remaining tribes of Ruschioideae: Apatesieae (two accessions representing one species), Dorotheantheae (three species), and Ruschieae (49 accessions representing 47 species and 42 genera). We used the cpDNA dataset of Klak, Bruyns & Hanáček (2013) pruned to include one to several accessions of each Ruschieae clade (depending on clade size) with an additional nine species sequenced in previous studies of the present authors. Nuclear ITS sequences were downloaded from GenBank for accessions identical to the cpDNA dataset; in five cases different accessions of the same species had to be used: Dorotheanthus bellidiformis (Burm.f.) N.E.Br., Cheiridopsis excavata L.Bolus, Corpuscularia lehmannii (Eckl. & Zeyh.) Schwantes, Jacobsenia kolbei (L.Bolus) L.Bolus & Schwantes, and Prepodesma orpenii (N.E.Br.) N.E.Br. A species shown by Klak, Bruyns & Hanáček (2013), to belong in Ruschieae clade L1, Drosanthemum pulverulentum (Haw.) Schwantes, was regarded as part of the outgroup.
PCR and sequencing
We targeted four cpDNA markers and the nuclear rDNA ITS region. These included two cpDNA markers, the trnS-trn G intergenic spacer region and the rpl 16 intron, that were found to have the highest intra-generic divergence amongst the seven Drosanthemum accessions used by Klak, Bruyns & Hanáček (2013); these regions were amplified using the primers and protocols provided in the original paper. In addition, two cpDNA intergenic spacers, trnQ–5′rps16 and 3′rpS16–5′trnK, were amplified with primers trnQ(UUG) and rpS16x1 and with primers rpS16x2F2 and trnK(UUU), respectively (Shaw et al., 2007). The nuclear ITS region was amplified as detailed in Hassan, Thiede & Liede-Schumann (2005).
Total genomic DNA was extracted from seedlings or from herbarium specimens using the DNeasy Plant MiniKit (Qiagen, Hilden, Germany), following the protocol of the manufacturer. For sequencing, the PCR products were sent to Entelechon (Regensburg, Germany) or Eurofins (Ebersberg, Germany) resulting in 473 new sequences of Drosanthemum species produced in this study. Forward and reverse sequences were aligned with CodonCode Aligner, v.3.0.3 (CodonCode Corp., Dedham, Massachusetts, USA). Sequence data of individual marker regions were aligned with OPAL (Wheeler & Kececioglu, 2007) and checked visually using Mesquite v.3.51 (Maddison & Maddison, 2018). All sequences newly generated in this study have been submitted to ENA (for accession numbers see Supplemental Information 1).
Phylogenetic analyses
Phylogenetic tree inference
We used maximum likelihood (ML) and non-parametric bootstrapping (BS) analysis on a concatenated cpDNA dataset (comprising all four regions) including only Drosanthemum species ('Drosanthemum' dataset: 134 accessions), and on a dataset also including outgroup species ('Ruschioideae' dataset: 188 accessions; see Taxon sampling) to infer the placement of the Drosanthemum species in relation to the other Ruschioideae lineages. Note that prior to this concatenated cpDNA analysis, each marker was analysed individually and in various division schemes (several data matrices were tested: partitioned and unpartitioned, also including or excluding the most-divergent and length-polymorphic rps16-trnQ spacer region, and including/excluding an ITS partition; raw data, code and results are available at Dryad, Liede-Schumann et al., 2019). No supported topological discordances were present; thus we used a concatenated four-markers cpDNA dataset. ML tree inference and BS analysis relied on RAxML v. 8.0.20 (Stamatakis, 2014), partitioned and set to allow for site-specific variation modelled using the 'per-site rate' model approximation of the Gamma distribution (Stamatakis, 2006). Duplicate sequences were reduced to a single sequence resulting in 131 accessions in the ML cpDNA tree of Drosanthemum. The same RAxML settings were used for the 'Ruschioideae' dataset. To obtain probability estimates for the most likely Drosanthemum (ingroup) root, we used the evolutionary placement algorithm (EPA; Berger, Krompass & Stamatakis, 2011) implemented in RAxML and following the analytical set-up of Hubert et al. (2014) and Grímsson, Grimm & Zetter (2018). EPA provides probability estimates (Berger, Krompass & Stamatakis, 2011) for placing a query sequence (here: outgroup taxa representing the Ruschieae) within a given topology (here: ML Drosanthemum cpDNA tree) offering identifying a consensus outgroup-based root while minimising potential biases (e.g., long-branch attraction, LBA; Bergsten, 2005). To do so, we queried a set of 47 Ruschieae species and calculated a probability estimate (pR) by averaging the likelihood weight ratios of query taxa per inferred rooting scenario over all queried taxa.
Phylogenetic network inference
We investigated competing support patterns within Drosanthemum by means of BS consensus networks (Holland & Moulton, 2003; Grimm et al., 2006; Schliep et al., 2017) using SplitsTree v. 4.1.13 (Huson & Bryant, 2006) and up to 1000 BS (pseudo-) replicate RAxML trees (see paragraph above). The number of necessary BS replicates was determined using the extended majority bootstrap criterion (Pattengale et al., 2009). Additionally, we investigated within-lineage differentiation of subclades within Drosanthemum ('subclade' refers here to the nine clades within the genus Drosanthemum defined in the Results section) using median-joining (MJ; Bandelt, Forster & Röhl, 1999) networks for the cpDNA dataset and statistical parsimony (SP; Templeton, Crandall & Sing, 1992) networks for the ITS data. MJ networks were computed with Network v.5.0.0.3 (Fluxus; available online http://www.fluxus-engineering.com/sharenet.htm) with default settings and no character weighting and SP networks with pegas v0.11 (Paradis, 2010) in R. In the MJ network analyses, we used reduced sequence alignments differentiating four sequence patterns at the intra-subclade level: (i) single-nucleotide polymorphisms (SNPs); (ii) insertions, duplications and deletions (indels), represented by a single character because gaps are treated as 5th base by Network by default; (iii) length-polymorphic sequence motifs (LP, such as multi-A motifs, which were only considered when including mutations additional to length variation; this category also includes more complex length-polymorphic patterns such as length-polymorphic AT-dominated sequence regions); and (iv) oligo-nucleotide motifs (ONM), short motifs with apparently linked mutations that can slightly differ in length, which were treated as a single mutational event; inversions, like the ones found in the pseudo-hairpin structure of the trnK-rps16 spacer, are a special form of ONMs. The highly divergent, length-polymorphic 'high-div' region characterising the 5′ end of the rps 16-trnQ intergenic spacer, was generally excluded from the analysis but included in the haplotype documentation (see Liede-Schumann et al., 2019: file Haplotyping.xlsx).
The reasoning for the use of MJ and SP networks is because there were few consistent mutations at the intrageneric level within subclades—this results in a flat likelihood surface of the tree space and, in this situation, parsimony can be more informative than probabilistic approaches (Felsenstein, 2004). In contrast to phylogenetic trees, MJ networks include all equally parsimonious solutions to a dataset and produce n-dimensional splits graphs that can include topological alternatives. Also, MJ and SP haplotype networks directly depict ancestor-descendant relationships, and hence, can assist in deciding whether inferred clades in the tree are monophyletic in a strict sense, i.e., groups of inclusive common origin (Hennig, 1950; see also Felsenstein, 2004, chapter 10). Because the MJ networks can easily become diffuse or complex, especially when analysing interspecific relations, we summarized the inferred haplotypes into haplotype groups for visualizing and interpreting MJ networks.
Discussion
Genetic differentiation patterns indicate fast radiation initiating diversification within Drosanthemum
Phylogenetic analysis, in-depth haplotype analyses of cpDNA, and mapping of ITS evolution on the ML cpDNA tree point towards a rapid initial diversification within the genus Drosanthemum. The best outgroup-EPA inferred rooting position indicates Drosanthemum species to group in two large clades, with clade I–IV, the 'Drosanthemum core clade', sister to clade V–IX (Fig. 2). The uncertainty in root position (Fig. 3; Supplemental Information S4) is consistent with a pattern expected in initial radiations (Graham & Iles, 2009; Saarela et al., 2007). The star-like (but reticulated) structure of the SP network (nuclear ITS data) suggests an initial bottleneck early in the evolution of Drosanthemum followed by rapid diversification (Fig. 6, Supplemental Information 3). Similarly, the plastid sequence variation provides sufficient information to resolve nine well-supported clades within the genus Drosanthemum. However, the 'backbone' relationships among the nine clades, or more specifically, the six lineages, are not resolved (Figs. 2 and 3). Taken together, the difficulties to separate and clarify the exact sequence of early branching events is a characteristic pattern in rapid evolutionary radiations among the plant tree of life, and has been found at various phylogenetic levels, for example, in Saxifragales (Fishbein et al., 2001), within the genus Hypericum (Hypericaceae; Nürk et al., 2013; Nürk et al., 2015) and in a group of South American Lithospermum (Boraginaceae; Weigend et al., 2010). It remains to be seen, however, whether analyses of nuclear markers apart from ITS support the patterns retrieved here.
Phylogenetic inference reflects taxonomic classification
Within Drosanthemum, nine clades are revealed, which generally correspond to the recognized subgenera (Hartmann, 2017a), although some exceptions exist. The deviations in morphology-based classification and phylogenetic evidence produced in this study reveals cryptic species and several new relationships. For example, the species D. zygophylloides, D. gracillimum, and D. longipes, have either never been included into the subgeneric classification (D. zygophylloides), or phylogenetic evidence indicates affinities different from classification (D. gracillimum, D. longipes; Fig. 2). Considering our results, these species cannot be included in any of the proposed subgenera (Hartmann, 2017a). Note that both D. longipes and the species in clade IX shed leaves in summer and resprout with the winter rains.
Subgenus Drosanthemum is revealed as biphyletic, with most of its species in clade I, sister to clade II (subgenus Xamera; see below). Drosanthemum hispidum, the type species of Drosanthemum, groups in clade I (subclade Ic; Fig. 2). The rest of the species classified in subgenus Drosanthemum group within clade III. No morphological diagnostic characters are obvious to distinguish the clade III species from those in clade I, and thus, clade III is not yet circumscribed as a tenth subgenus. Likewise, subgenus Drosanthemum species in clade I group in three subclades Ia, Ib, and Ic, but morphological characters defining these clades cannot yet be named. Hence, this species-rich subgenus is obviously biphyletic, but species assigned to it are not distributed all over the tree, i.e., subgenus Drosanthemum does not appear to be a "dustbin" for species that cannot be assigned based on morphology to any other subgenera.
The discussed clades I–III, together with clade IV, constitute the informally named 'Drosanthemum core clade'. Clade IV corresponds to the night-flowering subgenus Vespertina that is characterized by flowers of the long cone type (Rust, Bruckmann & Hartmann, 2002). Subgenus Xamera (clade II) is characterized by usually six-locular capsules and four tiny spinules below the capsule stalk and on older lateral branches (Hartmann, 2007). Drosanthemum delicatulum and D. subclausum of clade II also show this character, so that their listing under subgenus Drosanthemum in Hartmann (2017a: 508, 532) is clearly erroneous as is also indicated by the listing of D. subclausum among the species of Xamera in Hartmann (2017a: p 495). Conversely, D. dejagerae L.Bolus, attributed to Xamera by Hartmann (2007) and Hartmann (2017a) due to the presence of a six-locular capsules characteristic for the subgenus, is placed in clade Ic (subgenus Drosanthemum p.p.).
Of the six remaining subgenera, four—Speciosa (clade Va), Ossicula (clade Vb), Necopina (clade VI), and Quastea (clade VII)—group in one clade that is, however, not well supported (Fig. 2) and also lacks obvious commonly shared, derived morphological characters. In particular, the stout and often large capsules (to one cm diam.) of subgenus Speciosa (Hartmann & Bruckmann, 2000) contrast strongly with the tender and smaller capsules of the other three subgenera. However, bone-shaped closing bodies in the capsules, considered unique for subgenus Ossicula, have also been found in capsules of Speciosa species (Hartmann & Le Roux, 2011), reducing their potential as a diagnostic character for Ossicula. This is illustrated by D. austricola L.Bolus, which is retrieved in subclade Va, corresponding to subgenus Speciosa, despite its conspicuous bone-shaped closing body, a character for which it was placed in Ossicula by Hartmann (2008).
While the subgeneric classification of Drosanthemum (Hartmann, 2007; Hartmann & Liede-Schumann, 2014) is largely confirmed, a few unexpected placements of single species deserve mentioning. Of the three samples of Drosanthemum cymiferum, attributed to subgenus Quastea in Hartmann (2007), only one sample was retrieved in the Quastea clade VII, the other two in clade III (Drosanthemum p.p.). This species was studied in some more detail in Liede-Schumann, Meve & Grimm (2019), who did not find any consistent morphological differences between these samples and suggested a case of cryptic speciation (following the definition of Bickford et al., 2007). A similar case is found in D. muirii L.Bolus, of which the two samples are retrieved with good support in subclades Ia and Ic, respectively (Fig. 2).
Distinct geographic distributions in the Greater Cape Floristic Region
Inside the genus Drosanthemum, six lineages originate from a soft polytomy (precisely, they root in an unsupported part of the tree; Fig. 2), suggesting a radiation right at the start of the evolutionary history of Drosanthemum. To which extent this radiation was driven by ecological or geographical factors remains an open question. Interestingly, several clades comprising only 3–6 species are distributed over a restricted geographical range: clade VI Necopina (6 spp), clade VII Quastea (4 spp), and clade VIII Quadrata (3 spp) are restricted to the western part of the Cape Mountains (Figs. 7F–7I). One species-poor lineage, clade IX Decidua (3 spp.), extends along the West Coast into Namibia Fig. 7J). Species in clade V, 14 in clade Va Speciosa and 6 in clade Vb Ossicula, are almost restricted to the fynbos of GCFR (Fig. 7F), whereas the comparatively higher species number in Speciosa might be the result of more thorough studies in this showy, horticulturally valuable subgenus (e.g., Hartmann, 2008; Hartmann & Le Roux, 2011). Notably, these clades are genetically and morphologically coherent, that is, possess unique and derived sequence patterns as well as characteristic morphologies.
The more or less narrow distribution pattern of these clades (Figs. 7F–7I) contrasts to a wide distribution of the 'Drosanthemum core clade' (Figs. 7B–7E), harbouring more widespread lineages with more species potentially indicating broader overall-habitat preferences: clade IV Vespertina (12 spp), clade II Xamera (8 spp) and the genetically and morphologically most diverse clade I (Drosanthemum p.p.; ≥ 55 spp; Fig. 7). The bulk of species diversity has been described in subgenus Drosanthemum, which falls in three subclades Ia–Ic not previously recognized (Fig. 2). These three subclades show distinct distribution patterns, with Ia restricted more or less to the fynbos area of GCFR, Ic extending far into the east and northeast, while Ib extends north to 28°S (Fig. 7B). Clade III, composed of species hitherto considered to belong to subgenus Drosanthemum, shows the most diverse distribution of all clades, with a southern group of poorly resolved species, and a lineage of several species extending to the northernmost locality of Drosanthemum, the Brandberg in Namibia (Liede-Schumann, Meve & Grimm, 2019; Fig. 7D).
Some more species-rich clades within Drosanthemum have also wide ecological preferences, with representatives both at lower and higher elevations. Morphological adaptations to arid habitats are capsules with deep pockets caused by false septa enabling seed retention (Hartmann & Bruckmann, 2000), which have been evolved in parallel in clade Ia and IIIb. However, whether the possession of false septa in the capsules is restricted to species of arid habitats remains an open question.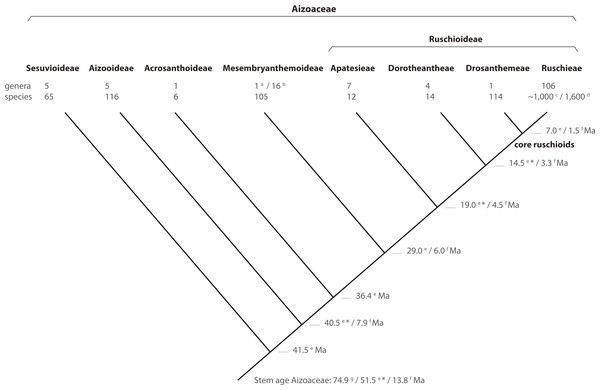 Conclusions
In this study, we present a comprehensive phylogenetic investigation of Drosanthemum, a morphologically diverse genus that has so far been relatively overlooked in evolutionary studies of Aizoaceae. Our results confirm Drosanthemum (= Drosanthemeae) as sister lineage to Ruschieae, which is in accord with the 'core ruschioids' hypothesis (Klak, Reeves & Hedderson, 2004; Klak, Bruyns & Hanáček, 2013; Fig. 8). Additionally, our phylogenetic evidence signifies Drosanthemum as a genetically well-structured but heterogenous lineage of mesomorphic plants that is, however, less species-rich than its sister clade; a pattern of diversity distribution common in the plant tree of life (Donoghue & Sanderson, 2015). Still, our analysis suggest that Drosanthemum is not simply a depauperate lineage sister to a radiation, but instead exemplifies a radiation by itself as indicated by complex plastid and nuclear DNA sequence differentiation patterns (Figs. 2, 3, 6), and the flower and fruit diversity present in the genus that is unusual for Aizoaceae.
Occurrence patterns among the evolutionary lineages might further indicate geographic factors playing a role in species diversification in Drosanthemum. While most of the evolutionary history of the genus seem to have taken place in a relatively mesic environment in the southwestern parts in the GCFR, several lineages apparently have started to adapt to more arid and/or winter-cold areas. Genetically relictual species from at least two early radiations co-exist among rapidly evolving lineages, reflecting species-delimitation problems in species-rich clades. This is mirrored in the present study that largely supports the current taxonomic concepts in Drosanthemum with few interesting exceptions, among others, cryptic species.