Blue carbon of Mexico, carbon stocks and fluxes: a systematic review
1
Departamento Recursos del Mar, Centro de Investigación y de Estudios Avanzados (CINVESTAV) del Instituto Politécnico Nacional Unidad Mérida

,

Mérida

,

Yucatán

,

México
2
Laboratorio de Ecología, Unidad Multidisciplinaria de Docencia e Investigación de la Facultad de Ciencias, Unidad Sisal, Universidad Nacional Autónoma de México

,

Mérida

,

Yucatán

,

México
Published

Accepted

Received
Academic Editor
Subject Areas

Ecology, Ecosystem Science, Climate Change Biology, Natural Resource Management, Environmental Impacts

Keywords

Blue carbon

,

Mangroves

,

Seagrasses

,

Carbon stocks

,

Climate change
Copyright

©

2020

Herrera-Silveira et al.

Licence

This is an open access article distributed under the terms of the Creative Commons Attribution License, which permits unrestricted use, distribution, reproduction and adaptation in any medium and for any purpose provided that it is properly attributed. For attribution, the original author(s), title, publication source (PeerJ) and either DOI or URL of the article must be cited.
Cite this article

2020

.

Blue carbon of Mexico, carbon stocks and fluxes: a systematic review

.

PeerJ

8

:

e8790

https://doi.org/10.7717/peerj.8790
Abstract
Mexico has more than 750,000 ha of mangroves and more than 400,000 ha of seagrasses. However, approximately 200,000 ha of mangroves and an unknown area of seagrass have been lost due to coastal development associated with urban, industrial and tourist purposes. In 2018, the approved reforms to the General Law on Climate Change (LGCC) aligned the Mexican law with the international objectives established in the 2nd Article of the Paris Agreement. This action proves Mexico's commitment to contributing to the global target of stabilizing the greenhouse gas emissions concentration in the planet. Thus, restoring and conserving mangrove and seagrass habitats could contribute to fulfilling this commitment. Therefore, as a first step in establishing a mitigation and adaptation plan against climate change with respect to conservation and restoration actions of these ecosystems, we evaluated Mexican blue carbon ecosystems through a systematic review of the carbon stock using the standardized method of Preferred Reporting Items for Systematic Reviews and Meta-Analyses (PRISMA). We used the data from 126 eligible studies for both ecosystems (n = 1220). The results indicated that information is missing at the regional level. However, the average above and below ground organic carbon stocks from mangroves in Mexico is 113.6 ± 5.5 (95% CI [99.3–118.4]) Mg Corg ha−1 and 385.1 ± 22 (95% CI [344.5–431.9]) Mg Corg ha−1, respectively. The variability in the Corg stocks for both blue carbon ecosystems in Mexico is related to variations in climate, hydrology and geomorphology observed along the country's coasts in addition to the size and number of plots evaluated with respect to the spatial cover. The highest values for mangroves were related to humid climate conditions, although in the case of seagrasses, they were related to low levels of hydrodynamic stress. Based on the official extent of mangrove and seagrass area in Mexico, we estimate a total carbon stock of 237.7 Tg Corg from mangroves and 48.1 Tg Corg from seagrasses. However, mangroves and seagrasses are still being lost due to land use change despite Mexican laws meant to incorporate environmental compensation. Such losses are largely due to loopholes in the legal framework that dilute the laws' effectiveness and thus ability to protect the ecosystem. The estimated emissions from land use change under a conservative approach in mangroves of Mexico were approximately 24 Tg CO2e in the last 20 years. Therefore, the incorporation of blue carbon into the carbon market as a viable source of supplemental finance for mangrove and seagrass protection is an attractive win-win opportunity.
Introduction
Coastal ecosystems are critical for the maintenance of biodiversity and human well-being by providing diverse benefits and ecosystem services, including protection against storms and mean sea level rise, as well as the prevention of coastal erosion, water quality regulation, nutrient recycling, and provision of habitats for high diversity commercial species, among others (Gautier, Amador & Newmark, 2001; Kathiresan & Rajendran, 2005; Mazda, Kobashi & Okada, 2005; Alongi, 2008; Bouillon & Connolly, 2009; Koch et al., 2009; Wang et al., 2010; Yulianto, Soewardi & Adrianto, 2016).
Mangroves, seagrasses and salt marshes are known as blue carbon ecosystems; they sequester greenhouse gases and store more organic carbon over the long term per unit area than terrestrial forests, and they are now recognized for their role in the climate change mitigation (Pendleton et al., 2012). Despite these benefits, blue carbon ecosystems are among the most threatened ecosystems, and their relatively low coverage <0.5% (Duarte et al., 2013) is the result of natural fragility and human-induced impacts.
International groups, such as the Intergovernmental Panel on Climate Change (IPCC), have begun to recognize the climate mitigation value of these ecosystems and included them in the 2016 update to the 2003 Wetlands Supplement (IPCC, 2014). At an international level, it has been recognized that Corg sequestration and storage in the vegetation and soil of blue carbon ecosystems could be a key component of mitigation strategies in the face of climate change. Thus, actions that conserve, restore, and sustainability use coastal wetlands are needed to avoid emissions and maintain (and where possible enhance) coastal wetland sequestration and storage. These actions contribute to global and national carbon management and increase the resilience of the socioecological ecosystem (Wolanski et al., 2004; Saintilan et al., 2013; Sutton-Grier & Moore, 2016; Lovelock, Fourqurean & Morris, 2017; Macreadie et al., 2017).
Mexico has one of the largest extensions of blue carbon ecosystems and is among the areas with the greatest coverage in the tropical and subtropical Western Hemisphere. The Mexican Federal Government reports 755,555 ha of mangrove and 461,059 ha of seagrasses (Valderrama-Landeros et al., 2017; CONABIO, 2018). However, estimations of their extensions have varied over time according to the precision of the methods (aerial photos, satellite images, number of sites verified "in situ"), and special attention is required for seagrasses due to the scarce reports on their extension, which differ significantly (Table 1). For mangroves, Mexico's main species are Rhizophora mangle, Avicennia germinans and Laguncularia racemosa (Valderrama-Landeros et al., 2017); and for seagrasses, the main species are Halodule wrightii, Syringodium filiforme, Thalassia testudinum and Zostera marina (CONABIO, 2018).
| Period (decade) | Mangroves extension (ha) | Seagrass extension (ha) | References |
| --- | --- | --- | --- |
| 1970–1980 | 1,420,0001 1,124,0002 856,4053 | – | 1, 2, 3 |
| 1981–1990 | 985,6002 855,5663 | – | 2,3 |
| 1991–2000 | 932,8004 885,0002 | – | 2, 4 |
| 2001–2010 | 820,0002 774,1343 773,8543 764,7743 | 688,2307 | 2, 3, 7 |
| 2011–2018 | 741,9176 939,5218 775,5553 | 919,30010 456,059–461,05811 | 3, 6, 8, 10, 11 |
Recently, academia, nongovernmental organizations and governmental groups have created synergies to increase scientific knowledge concerning blue carbon ecosystems, and the Corg reserves of several ecosystems have been quantified and mapped (Caamal-Sosa et al., 2011; Adame et al., 2013; Ramírez-Ramírez, Medina-Gómez & Herrera-Silveira, 2015; Adame & Fry, 2016; Ezcurra et al., 2016; Kauffman et al., 2016; Medina-Gómez et al., 2016; Cinco-Castro et al., 2017; Ochoa-Gómez et al., 2019). In this systematic review, we checked more than 150 reports with data related to blue carbon stocks and fluxes in Mexico (Fig. 1).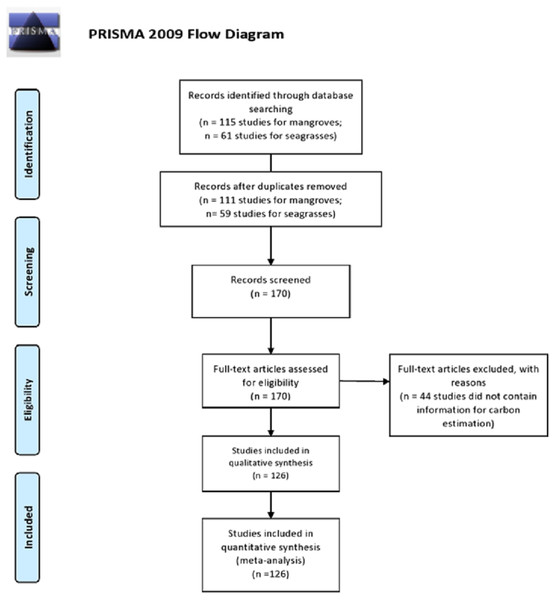 The storage and fluxes of Corg in blue carbon ecosystems mainly depend on the community structural characteristics and extensions, which are the result of the addition of particularities of climate, geomorphology, hydrology and human land use. In Mexico, there is a natural and human-induced heterogeneity along the 11,592 km (De la Lanza Espino, Pérez & Pérez, 2013) of coast, resulting in a mosaic of spatial and structural arrangements of mangrove and seagrass communities. Traditionally, management schemes do not consider all the abovementioned criteria.
In the case of seagrasses, both the bathymetry gradient and coastal current velocities influence the water transparency, which is one of the key variables for seagrass development. The variability in water transparency is a factor related to the morphometric characteristics of the plants, which determine the above ground Corg assessments of this ecosystem (Fourqurean et al., 2012a). However, Mexico has insufficient information on seagrasses at the high spatial resolution required for use as a reference criterion for seagrass zonation. Currently, the Mexican government is requesting information from mangrove and seagrass Corg stocks under different criteria that allow for the development of conservation and restoration policies at different scales (INECC, 2018). In this context, it is necessary to consider the ecological and environmental scenarios in which mangroves and seagrasses develop to improve local, regional and national carbon inventories.
Mexico ranks 13 in the list of countries with the largest CO2 emissions (IEA, 2014), derived from the use and burning of fossil fuels representing 1.37% of global emissions in 2012; however, and unknown amount of CO2 emissions is contributed by degraded or destroyed blue carbon ecosystems, which are able to release the carbon they have stored for centuries into the atmosphere and oceans and become sources of greenhouse gases (Pendleton et al., 2012). It has been estimated by experts that as much as 1.02 billion tons of carbon dioxide are being released annually from degraded coastal ecosystems, which is equivalent to 19% of emissions from tropical deforestation globally (Pendleton et al., 2012). Changes in the coverage of Mexico's blue carbon ecosystems over time and their relation to changes in land use have been difficult to quantify due to the lack of long-term evaluation programs.
Mexico is one of the 175 countries that have signed onto the Paris Agreement, and it has committed to "increase carbon capture and coastal protection with the implementation of conservation and recovery schemes for coastal and marine ecosystems, such as coral reefs, mangroves, seagrasses and dunes", through Mexico's Nationally Determined Contribution with the Adaptation category (INECC, 2018). However, insufficient data have been collected in Mexico, and no complete synthesis of the mitigation value or the greenhouse gases (GHG) emissions related to mangroves and seagrasses existed until now. This comprehensive review is a first step in providing a tool for decisionmakers to develop efficient strategies aimed at reducing carbon emissions from the loss of these ecosystems while also protecting current levels of carbon capture and storage as well the many ecosystem services provided by mangroves and seagrasses.
Methods
A systematic review was conducted at the country level to assess the carbon stocks and fluxes of blue carbon ecosystems in Mexico. We use the Preferred Reporting Items for Systematic Reviews and Meta-Analyses (PRISMA) (Fig. 1) framework and protocols (Moher et al., 2009a).
Information sources and search strategy
An electronic literature search was performed for carbon stocks and carbon fluxes in mangroves and seagrasses from Mexico. We use PubMed (MEDLINE) and Web of Science as the primary sources for searches and include open access publications. Google Scholar was a secondary source used to acquire additional literature (thesis, technical reports), and the inclusion of gray literature is recommended for systematic reviews to minimize publication bias (Koricheva, Gurevitch & Mengersen, 2013; Pullin & Stewart, 2006).
We also include published databases on Corg stocks from Herrera-Silveira et al. (2018a) and Herrera-Silveira et al. (2018b), and the Mexican Carbon Program (PMC), which have been validated and reviewed by experts and organizations of the federal government and civil society (CONABIO and CONAFOR) and subjected to public consultation (http://pmcarbono.org/pmc/). In the initial phase, titles and abstracts from network were screened to identify potential eligible studies. In the second phase, full texts of the remaining articles were read to determine if they meet the inclusion and exclusion criteria. When disagreement emerged regarding the eligibility of studies, the main author Jorge A. Herrera Silveira made the final decision.
The search of carbon stocks and fluxes extended from 1987 to 2018 and included keywords (exclusively in Spanish and English) population ("mangrove", OR "seagrass", OR "Submerged aquatic vegetation", OR "wetlands", OR "coastal basin", OR "coast"), AND compartments ("Forest structure", OR "ecosystem structure", OR "DBH", OR "biomass", OR "above ground" AND "biomass", OR "below ground" AND "biomass", OR "litter productivity", OR "carbon" AND "flux", OR "decomposition" OR "soil" AND "carbon", OR "soil" AND "organic matter", OR "sediment" AND "organic matter", OR "soil" AND "bulk density", OR "sediment" AND "bulk density"), AND "location" (v.g. "Gulf of Mexico", OR "Pacific", OR "Yucatan Peninsula") OR "Mexican Caribbean", OR state names (v.g. "Yucatan", OR "Campeche", "Quintana Roo", OR "Tabasco", OR "Veracruz", OR "Tamaulipas", OR "Baja California Sur", OR "Baja California Norte", OR "Sinaloa", OR "Oaxaca", OR "Chiapas"); OR specific site names (v.g. "Laguna de Terminos", OR "Magdalena Bay", OR "Sian Ka'an", OR "La Encrucijada", OR "La Mancha", OR "Laguna Alvarado", OR "San Quintín Bay", OR "Marismas Nacionales", OR "Celestún", OR " Laguna Madre", OR "Barra de Navidad", OR "Laguna Mar Muerto").
The searches were undertaken independently by authors with at least five years of experience in sampling, laboratory analysis, and proven experience in data analysis and redaction of technical reports on blue carbon ecosystems. The five researchers for mangrove review were the coauthors Andrea Camacho-Rico, Monica A. Pech-Cardenas, Siuling Cinco-Castro; for sediments were Eunice Y. Pech-Poot and Juan P. Caamal Sosa; and for seagrasses were Juan E. Mendoza-Mantínez and Sara M. Morales-Ojeda.
Eligibility criteria
We include studies and datasets that report the biomass, organic carbon stock, organic matter and bulk density in sediments per unit of area and spatially referenced or flux data from mangroves and seagrasses. For mangroves, an important criterion was the plot design (including at least three replicates) to guarantee the representativeness of the data; for seagrasses, we looked for studies that based their results on quadrants or cylindrical core sampler along transects. No conference abstracts were considered to meet the inclusion criteria.
Data extraction and analysis
Data extraction was independently performed by authors (Andrea Camacho Rico, Monica A. Pech -Cardenas, Siuling Cinco-Castro, Eunice Y. Pech-Poot, Juan P. Caamal-Sosa, Juan E. Mendoza-Martinez and Sara M. Morales Ojeda). Study-specific variables were recorded for each entry. Many properties assessed in this review were reported as contextual environmental data rather than the primary outcome for their respective studies (no replicates or dispersion measures described), which was why bias was not reported in this study. We include entries such as geographic location and region (according to Valderrama-Landeros et al., 2017), environmental characteristics including ecological type (Lugo & Snedaker, 1974), sample, compartment (above and below ground components), mangrove fluxes by litterfall biomass and/or constant decay of litter.
The estimation of Corg stocks was carried out for mangroves by authors Monica A. Pech-Cardenas, Andrea Camacho-Rico, Juan P. Caamal-Sosa, Claudia Teutli-Hernandez and for seagrasses by Juan E. Mendoza-Martinez and Sara M. Morales Ojeda, and the supervisor was Jorge A. Herrera-Silveira. The above and below ground biomass of all the studies were converted to organic carbon using the factor 0.45 for mangroves and 0.35 for seagrasses (Fourqurean et al., 2012a; Howard et al., 2014; Kauffman & Donato, 2012). The total soil Corg pool was standardized to a depth of 1 m, although there are reports in mangroves of organic matter depths greater than 1 m (Caamal-Sosa et al., 2011; Adame & Fry, 2016; Ezcurra et al., 2016). The units employed to report the Corg stocks in the coastal blue carbon ecosystems were Mg Corg ha−1 except where indicated. For both ecosystems, our lab data were used as the control for Corg and for both above and below ground assessments. The georeferenced data were standardized and plotted, and corrections were made for inconsistencies in the location of the sites and derived from the different coordinate systems used in the literature. The mangrove zonation used belongs to the national official regionalization and was proposed by a panel of scientists (CONABIO, 2009 based on Lugo & Snedaker, 1974). The humidity ranges were defined according to CONABIO (2009) based on García (1988); we use humid (Am and Af variations), sub humid (Aw2, Aw1, Aw0 variations), arid (BW) and semi-arid (BS1) classifications. The ecological typology criteria used were dwarf, basin, fringe and hammock (peten) mangrove types, which could be of interest both for decision makers and for future research at regional and local scales (Fig. 2, Table 2). We report the average carbon stored per region and standard error as a measure of data dispersion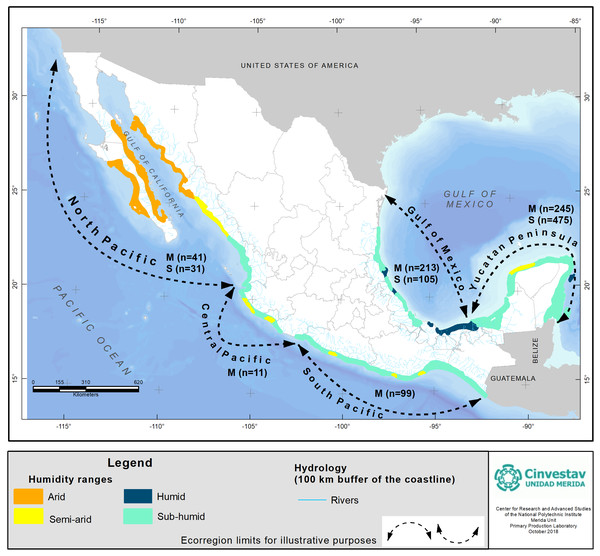 | Region | States | Climate | GT | HT | Mangrove species | Seagrasses species | Surf. Salinity | Int. Salinity | n Mangrove | n Seagrasses |
| --- | --- | --- | --- | --- | --- | --- | --- | --- | --- | --- |
| North Pacific | B.C. | | | | Ag* | | | | | |
| | B.C.S. | VA* | CL* | | Rm* | Rm | | | A:13 | A:22 |
| | Son. | A | SM | 2* | Lr | Zm | 34.5 (34–37) | 60.6 | B:28 | B:9 |
| | Sin. | SH | RE | | Ce | | | | | |
| | Nay. | | | | | | | | | |
| Central Pacific | Jal. | | | | Rm* | | | | | |
| | Col. | SH* | RE* | ND | Lr* | ND | ND | 49.7 (35–78) | A:6 | ND |
| | Mich. | | CL | | Ag | | | | B:5 | |
| | | | | | Ce | | | | | |
| South Pacific | Guerr. | | | | Ag* | | | | | |
| | Oax. | SH | RE* | ND | Rm* | ND | ND | 32.6 (8–38) | A:69 | ND |
| | Chiap. | H* | CL | | Lr Ce | | | | B:30 | |
| Gulf of Mexico | Tam. | A | | | Ag* | Hb | | | | |
| | Ver. | SH* | RE* | 1* | Rm* | Hw | 33.1 (11–38) | 20.9 (3–69) | A:170 | A:60 |
| | Tab. | H | CL | 2 | Lr | Rm | | | B:43 | B:45 |
| | | | | | Ce | Sf | | | | |
| | | | | | | Tt | | | | |
| Yucatan Peninsula | Camp. | A | KS* | | Rm* | Hw | | | | |
| | Yuc. | SH* | CL | 1 * | Lr* | Sf | | | | |
| | Q. Roo | H | RE | 2* | Ag | Tt | 37.7 (18–50) | 39 (0.5-86) | A:129 | A:254 |
| | | | | | Ce | Rm | | | B:116 | B:221 |
Regions accoriding to CONABIO (2016). Climates are based on humidity ranges (H:Humid, SH:Sub-Humid, SA:Semi-arid, A: Arid). Geomorphological types (GT) are: Coastal lagoon (CL), Salt mash (SM), River-estuarine system (RE) and Karst system (KS). Hydrodynamic types (HT) are open (1) and closed (2). The mangrove species are: Avicennia germinans (Ag), Rhizophora mangle (Rm), Laguncularia racemosa (Lr), Conocarpus erectus (Ce). The Seagrass species are: Rupia maritima (Rm), Zostera marina (Zm), Halodule beaudettei (Hb), Halodule wrightii (Hw), Syringodium filiforme (Sf), Thalassia testudinum (Tt). * indicate dominance. ND, No data. n, number of observations of above ground (A) and below ground (B) C stocks.
The estimation of the GHG emission pattern due to the loss of mangrove coverage was performed based on factors recommended by the IPCC (2014) and Howard et al. (2014). The extension changes in mangroves for each region was taken from Valderrama-Landeros et al. (2017) who accomplished a national mapping using remote sensing data validated by more than 1,000 verification points and 69,000 vertical aerial photographs (Rodríguez-Zúñiga et al., 2013; Valderrama-Landeros et al., 2017). The CO2e emissions by mangrove loss were estimated according to the average carbon stored per region and mangrove lost area. The mangroves CO2e emissions were estimated by regions during 1970 and 2015 time period using a conservative approach in which a loss of 25% of the Corg store is assumed in response to land use change (Pendleton et al., 2012).
To present an evaluation of the uncertainty of the data in this synthesis, the author Jorge Montero analyzed the carbon stock values of mangroves and seagrasses by region and nonparametric bootstrap confidence intervals were calculated using the method of adjusted bootstrap percentile (BCa, with B = 10,000) and bootstrap variance estimator. The BCa values were calculate using the boot.ci function in R software and library boots (Canty & Ripley, 2019). The uncertainty was calculated using the bootstrap standard error and 95% confidence interval for z normal distribution and expressed as a percentage based on the average value.
Conclusions
Mexico has great potential to contribute to mitigating the effects of climate change through the conservation and restoration of blue carbon ecosystems, especially mangroves and seagrasses. This study contributes to the quantification of Corg stocks and CO2e emissions estimation due to the loss of mangrove cover, and it provides the first data for Corg stocks and emissions of seagrasses at the country level.
According to this synthesis, the total carbon storage of Mexican mangroves and seagrasses is 498.8 Mg Corg ha−1 and 130 Mg Corg ha−1, respectively. Considering the official extension of both ecosystems, mangroves have a stock of 237.7 Tg Corg and seagrasses have a stock of 48.1 Tg Corg. Together, the blue carbon stock of Mexico compensates for the emissions of ≈300 million hydrocarbon users in a year.
Mexican mangroves exhibit great variability in organic carbon reservoirs according to the region, climate, and vegetation structure. According to the criteria, the highest averages for mangroves by region were exhibited in the South Pacific (397.1 ± 45 Mg Corg ha−1), in humid climates (368.3 ± 35 Mg Corg ha−1) and peten vegetation (728 ± 230 Mg Corg ha−1). The Yucatan Peninsula has the largest regional extension of mangroves (55%), and all structural vegetation typologies are presented; however, this region is the most impacted by land use changes.
Conservation and restoration should be prioritized in this region to avoid emissions, reduce vulnerability to sea level rises, and create adaptation opportunities based on ecosystem management. In the case of seagrasses, we report only for the North Pacific, Gulf of Mexico and Yucatan Peninsula, with the latter presenting the highest storage records (113.7 ± 7 Mg Corg ha−1).
Coverage loss of blue carbon ecosystems in Mexico has accounted for approximately 24 Tg CO2e emissions by mangroves over the last 20 years. However, no coverage change data are available for seagrasses, although preliminary results using literature scenarios and local data indicate emissions of approximately 6 Tg CO2e over 12 years. According to these results and if the current loss rates are maintained, the commitments of the Paris agreement signed by Mexico government will be difficult to fulfill.
The results of this synthesis suggest that the policies for conservation and restoration of blue carbon ecosystems in Mexico must be improved and enforced in addition to the current legal framework of protection, which do not properly fulfill their purpose. Official data report tourism, agriculture and land use change as the activities with deleterious impacts on Mexican blue carbon ecosystems. We recommend the regulation of those activities according to ecohydrological approaches in order to improve conservation and connectivity between ecosystems. Such action plans should use blue carbon conservation and restoration as an umbrella to maintain and/or recover environmental services, at the time synergies among government, academic, social and private sectors are reinforced and harmonized by win-win initiatives.