Capsules of the diatom Achnanthidium minutissimum arise from fibrillar precursors and foster attachment of bacteria
1
Konstanz Research School Chemical Biology

,

Germany
2
Zukunftskolleg at the University of Konstanz

,

Germany
3
Biology Department, University of Konstanz

,

Germany
Published

Accepted

Received
Academic Editor
Subject Areas

Keywords

Biofilms

,

Diatoms

,

Scanning electron microscopy

,

Energy-dispersive x-ray spectroscopy

,

Diatom-bacteria interactions
Copyright

©

2015

Leinweber and Kroth

Licence

This is an open access article distributed under the terms of the Creative Commons Attribution License, which permits unrestricted use, distribution, reproduction and adaptation in any medium and for any purpose provided that it is properly attributed. For attribution, the original author(s), title, publication source (PeerJ) and either DOI or URL of the article must be cited.
Cite this article

2015

. Capsules of the diatom Achnanthidium minutissimum arise from fibrillar precursors and foster attachment of bacteria.

PeerJ

3

:

e858

https://doi.org/10.7717/peerj.858
Abstract
Achnanthidium minutissimum is a benthic freshwater diatom that forms biofilms on submerged surfaces in aquatic environments. Within these biofilms, A. minutissimum cells produce extracellular structures which facilitate substrate adhesion, such as stalks and capsules. Both consist of extracellular polymeric substance (EPS), but the microstructure and development stages of the capsules are so far unknown, despite a number of hypotheses about their function, including attachment and protection. We coupled scanning electron microscopy (SEM) to bright-field microscopy (BFM) and found that A. minutissimum capsules mostly possess an unstructured surface. However, capsule material that was mechanically stressed by being stretched between or around cells displayed fibrillar substructures. Fibrils were also found on the frustules of non-encapsulated cells, implicating that A. minutissimum capsules may develop from fibrillar precursors. Energy-dispersive X-ray (EDX) spectroscopy revealed that the capsule material do not contain silicon, distinguishing it from the frustule material. We furthermore show that bacteria preferentially attach to capsules, instead of non-encapsulated A. minutissimum cells, which supports the idea that capsules mediate diatom-bacteria interactions.
Introduction
Diatoms (Bacillariophyceae) are among the most productive photoautotrophic, aquatic microorganisms. They contribute an estimated 40–45% to the net primary production (NPP) of the oceans (Mann, 1999), which themselves contribute approx. 45–50% to the global NPP (Field et al., 1998). Additionally, diatoms are important for the biogeochemical cycling of silicon, due to their ornate cell walls. These are called "frustules" and are composed of biomineralised silica (Bradbury, 2004). Cell division includes the separation of the two frustule parts ("thecae") along a "girdle" region. Each daughter cell then complements its inherited epitheca with a newly synthesised, smaller hypotheca. Within these thecae, slits (called "raphes") and pores may be present, facilitating the secretion of extracellular polymeric substances (EPS; Wetherbee et al., 1998; Wang et al., 2000). This in turn conveys substrate attachment and motility to benthic diatoms, which often form biofilms with other photoautotrophic algae, as well as heterotrophic bacteria (Buhmann, Kroth & Schleheck, 2012).
The diatom Achnanthidium minutissimum (Kützing) Czarnecki (1994) is a cosmopolitan freshwater diatom (Round & Bukhtiyarova, 1996) that is also found in the littoral zone of Lake Constance. It represents a dominant species complex of early colonisers (Johnson, Tuchman & Peterson, 1997), forming epilithic biofilms in association with a variety of satellite bacteria (Bahulikar, 2006). Such bacteria as well as their spent media have been shown to increase the secretion of extracellular polymeric substances (EPS) like carbohydrates by A. minutissimum (Bruckner et al., 2011). Additionally, growth as well as secretion of proteins and dissolved free amino acids was reportedly influenced in the presence of bacteria (Bruckner et al., 2008; Bruckner et al., 2011). Analogous to the rhizosphere of terrestrial environments (composed largely of fungi and bacteria associated with plant roots), a "phycosphere" has been defined as the space surrounding algal cells including the multitude of inter-kingdom interactions between bacteria and algae (Bell, Lang & Mitchell, 1974; Amin, Parker & Armbrust, 2012).
EPS secretion is of ecological relevance, contributing for instance to the stabilisation of sediments (Cyr & Morton, 2006; Lubarsky et al., 2010). Studying biofilm formation can therefore assist in the understanding of shore and coastline erosion as a result of climate-related changes (see section 3.2.1 of Widdows & Brinsley, 2002 plus references therein). At the same time diatom settlement is one of the major causes of biofouling of man-made machinery in aquatic applications (Molino & Wetherbee, 2008).
A. minutissimum is an excellent model for studying diatom biofilms, because this alga is abundant in natura (Patrick & Reimer, 1966; Krammer & Lange-Bertalot, 1991) and can be cultivated in the laboratory both as "xenic" biofilms (Myklestad et al., 1989) and "axenic" suspension cultures (Windler et al., 2015). Xenic cultures contain bacteria from the diatom's natural habitat. Removal of these bacteria is possible (for example by antibiotic treatment) and yields viable axenic cultures (Bruckner & Kroth, 2009; Windler, Gruber & Kroth, 2012). Bacteria-free cultures allow the establishment of bioassays in order to study the interactions between diatoms and bacteria, although potentially unwelcome long-term effects have to be taken into account. For example, axenic cultivation can lead to a reduction of average cell size and to frustule deformations (MacDonald, 1869; Pfitzer, 1871; Geitler, 1932; Windler et al., 2014). However, such deformations also occur naturally and can be used as stress markers, as well as water quality indicators (Morin, Coste & Hamilton, 2008; Falasco et al., 2009; Cantonati et al., 2014).
A. minutissimum forms biofilms and extracellular structures like stalks and capsules. These structures have been defined as "unidirectionally deposited, multi-layered structures attaching cells to substrata" (Hoagland et al., 1993). Stalks have been investigated previously by transmission electron microscopy and biochemical techniques to elucidate their structural morphology and chemical composition (Daniel, Chamberlain & Jones, 1987). Additionally, a phase model of diatom adhesion involving stalks has been developed (Wang et al., 1997): Stalks may protrude from so called "basal pads" of aggregated EPS at the apical valve faces within hours to a few days, thus elevating the cells above the substrate. Capsule formation in A. minutissimum biofilms occurs later in the stationary phase, is possibly triggered by bacterial influences, and may cement diatom attachment (Windler et al., 2015). That study also found that axenic A. minutissimum cultures mostly secrete soluble carbohydrates while the insoluble carbohydrates in xenic cultures were positively correlated with the appearance of capsules.
Diatom capsules have puzzled phycologists for a long time, and their potential physiological and ecological function have elicited a variety of hypotheses (Lewin, 1955; Geitler, 1977). For example, capsules have been proposed to participate in locomotion, flotation, attachment, waste removal, catchment of inorganic nutrients, storage of polysaccharides, sexual reproduction, as well as protection against grazing and dehydration. More recently, it was demonstrated that capsule formation is dependent on at least "a certain minimum light intensity," sparking the idea that capsules might serve as an additional polysaccharide storage pool, once intracellular capacities are saturated (Staats et al., 2000).
Diatom capsules and other extracellular material have been characterised biochemically, while electron microscopy has enabled highly detailed morphological characterisations of diatom frustules (Toyoda et al., 2005; Toyoda et al., 2006; Morin, Coste & Hamilton, 2008). Additionally, atomic force microscopy (AFM) revealed many mechanical properties of the extracellular polymers of some diatoms (Crawford et al., 2001; Higgins et al., 2003; Willis et al., 2013). In the present study, scanning electron microscopy (SEM), as well as energy-dispersive X-ray (EDX) spectroscopy were employed to analyse the microstructure and development stages of Achnanthidium minutissimum capsules in order to further develop this species as a model system for diatom-bacteria interactions, and to elucidate one aspect of the complex interactions of diatoms and other microorganisms.
Materials and Methods
Cultivation conditions
Achnanthidium minutissimum (Kützing) Czarnecki (1994) was isolated from photoautotrophic epilithic biofilms of Lake Constance as previously described (Windler, Gruber & Kroth, 2012). Stock cultures were grown in cell culture flasks with ventilation caps (Sarstedt, Newton, North Carolina, USA) filled with modified liquid Bacillariophycean Medium (BM; Schlösser, 1994; Windler, Gruber & Kroth, 2012) in two different culture states: either with co-isolated bacteria ("xenic"), or "axenic" after their removal (Windler, Gruber & Kroth, 2012). Monthly, these stock cultures were scraped off the flask bases and sub-cultured in new BM.
Biofilms were grown directly on SEM sample carriers by the following procedure: Sample carrier disks of ca. 1 cm in diameter were punched from Thermanox tissue culture cover slips (Miles Laboratories Inc., Elkhart, Indiana, USA). Thermanox material has two different sides, therefore care was taken to always store and handle the disks right-side-up. They were sterilised by immersion in 70% isopropanol (v/v in H2O) over night and subsequently irradiated with UV light for 2 h in a laminar flow cabinet. One sterile disk was placed into each well of 6-well plates (Sarstedt, Newton, North Carolina, USA, order number 83.1839.500) and covered with 3 to 5 mL BM. Culture wells were inoculated with 5 × 105 to 1 × 106 A. minutissimum cells from the stock cultures after those were checked to be axenic or xenic. Axenicity was confirmed by SYBR Green staining and observation under a BX51 (Olympus, USA) bright-field fluorescence microscope using GFP fluorescence filters. Well plates were sealed with Parafilm and incubated at 16 °C under an illumination regime of 12 h dark and 12 h light at 20–50 µmol photons × m−2 × s−1 for 11 to 31 days.
Crystal violet staining and bright-field microscopy
Thermanox disks were removed from stationary cultures after 11 to 31 days with inverted ("soldering" or "cover glass") forceps (Hammacher, Germany) and rinsed with 1 mL sterile-filtered tap water. A Gram-staining protocol adapted from Kaplan & Fine (2002) was applied to visualise adherent cells and their extracellular polymeric structures as follows: A droplet of 200 µL solution of 0.02% crystal violet (CV) in sterile filtered tap water was applied onto the disk for 12 min, which was held suspended by forceps. Disks were rinsed with 1 to 3 mL water, until the runoff no longer contained visible CV. In order to find the same cell clusters in both microscopic approaches, pointing or encircling scratches were made into disk surfaces.
Disks were placed on moistened glass slides and moistened additionally with 20 µL sterile-filtered tap water. Cover slips were applied carefully and marked regions were observed under a BX51 (Olympus, Tokyo, Japan) bright-field fluorescence microscope using chlorophyll fluorescence filters. Images of these areas at various magnifications were taken with AxioCams MRm (fluorescence and grey-scale images) and MRc (colour) using AxioVision software (Zeiss, Oberkochen, Germany).
Scanning electron microscopy (SEM) and energy-dispersive X-ray (EDX) spectroscopy
Diatom cells were fixed on Thermanox disks by incubation in a mixture of 2% glutaraldehyde, 10 mM CaCl2 and 10 mM MgCl2 in 0.1 M sodium cacodylate buffer at pH 7 and room temperature (RT) for 2 h. Dehydration was conducted first with 30% and 50% EtOH, at RT for 2 h each, followed by 70% EtOH at 4 °C over night, 90% EtOH at RT for 2 h and finally with 96% and 100% EtOH twice for 1 h each. Critical point drying in CO2 followed (Balzers CPD030; Oerlikon Balzers, Balzers, Liechtenstein) and samples were finally sputtered with gold (Au) and palladium (Pd) to a thickness of 5 nm (Balzers SCD030; Oerlikon Balzers, Balzers, Liechtenstein).
After fixation, dehydration and Au/Pd-sputtering, the biofilm-covered Thermanox disks were imaged with a Zeiss "AURIGA" scanning electron microscope, controlled with the "SmartSEM" software v05.04.05.00. The elemental composition of samples was analysed by energy-dispersive X-ray (EDX) spectroscopy. Samples were excited with the AURIGA's electron beam at 10 kV and the emitted X-rays (of specific energy levels due to the elemental electron configuration) were recorded with an Oxford Instruments "X-Max 20 mm2" detector (Oxford Instruments, Scotts Valley, California, USA) and the "INCA" software v4.15.
Bacteria counting and data visualisation
Bacteria (rod-shaped particles) on fully visible A. minutissimum valve faces were counted in scanning electron micrographs. Valve faces were classified into frustules and capsules, depending on whether pores were visible or completely disappeared under a layer of capsule material. Diatom cells with partial encapsulation were not included in the counting, and neither were bacteria cells which attached to the girdle bands of diatom cells.
ImageJ v1.46r with the Cell Counter plug-in v2010/12/07 was used to count diatoms and bacteria cells. This data was evaluated and visualised with R v3.1.1 (language and environment for statistical computing; R Development Core Team, 2011), ggplot2 v1.0.0 (Wickham, 2009) and RStudio v0.98 Desktop Open Source Edition.
Results and Discussion
For BFM and SEM observations, we cultured Achnanthidium minutissimum xenically and axenically on Thermanox disks. After incubation periods of 11 to 31 days, the disk surfaces in xenic cultures were densely covered by a mono-layer of A. minutissimum cells (Fig. 1). This biofilm was visible by eye as a light greenish-brown coloration on the substrate disks after removal from the medium. Staining with the dye crystal violet (CV) and subsequent bright-field microscopy showed that large portions of the diatom cells were surrounded by capsules.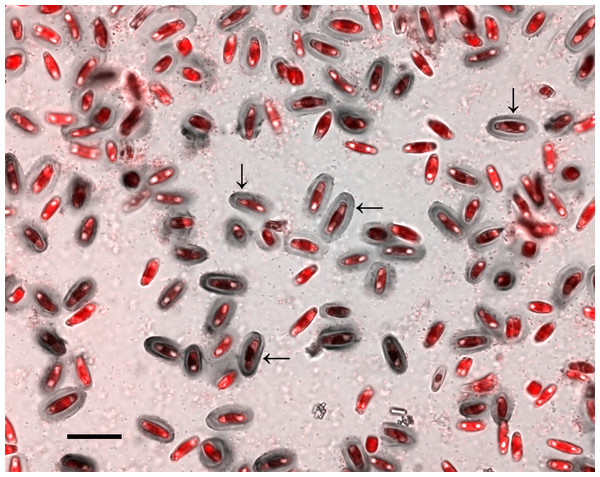 In contrast, axenic A. minutissimum cells did not form biofilms, so that even careful rinsing left much fewer cells attached to the disks and thus available for SEM analysis. This observation is in agreement with studies that utilised other growth substrates to compare biofilm formation by axenic and xenic diatom cultures. By measuring chlorophyll contents, the possibility that axenic cells might simply be less proliferate was excluded (Windler et al., 2015). Xenic A. minutissimum cultures on the other hand have also been found to develop biofilms on glass beads as well as in plastic multi-well plates (Lubarsky et al., 2010; Windler et al., 2015). Our results demonstrate, that xenic biofilms of A. minutissimum can also be grown on Thermanox disks, enabling direct preparation for electron microscopy of native biofilm samples.
Supplemental Information
Identification of A. minutissimum cell clusters in axenic culture by subsequent observation by both bright-field (A) and scanning electron (B) micrography (scale bars: 5 µm)
Demonstration of the same technique used to identify the appearance of xenic biofilms and dehydrated capsule material in SEM (main Fig. 2) in axenic cultures after 31 days of incubation with much fewer adherent cells and no capsules.
Scanning electron micrographs of fibril-covered A. minutissimum frustules from axenic culture
Samples were prepared for SEM after 20 days of incubation. (A) (scale bar: 1 µm) & (B) (scale bar: 200 nm): Frustules with few, short fibrils, which were not found in xenic biofilms. C (scale bar: 1 µm) & (D) (scale bar: 200 nm): Frustule with medium-dense fibrillar mesh, as also seen in xenic biofilm (main Fig. 4A). (E) (scale bar: 200 nm): Fibrils are not only flatly attached to the frustule but also stick out into space and make contact with other cells (arrows), as also seen in xenic cultures (main Fig. 4B).