Broad similarities in shoulder muscle architecture and organization across two amniotes: implications for reconstructing non-mammalian synapsids
1
Museum of Comparative Zoology, Concord Field Station and Department of Organismic and Evolutionary Biology, Harvard University

,

Cambridge, MA

,

USA
2
Concord Field Station and Department of Organismic and Evolutionary Biology, Harvard University

,

Cambridge, MA

,

USA
3
Museum of Comparative Zoology and Department of Organismic and Evolutionary Biology, Harvard University

,

Cambridge, MA

,

USA
Published

Accepted

Received
Academic Editor
Subject Areas

Keywords

Shoulder

,

Forelimb

,

Mammals

,

Non-mammalian synapsid

,

Musculoskeletal function

,

Posture

,

Locomotion
Copyright

©

2020

Fahn-Lai et al.

Licence

This is an open access article distributed under the terms of the Creative Commons Attribution License, which permits unrestricted use, distribution, reproduction and adaptation in any medium and for any purpose provided that it is properly attributed. For attribution, the original author(s), title, publication source (PeerJ) and either DOI or URL of the article must be cited.
Cite this article

2020

.

Broad similarities in shoulder muscle architecture and organization across two amniotes: implications for reconstructing non-mammalian synapsids

.

PeerJ

8

:

e8556

https://doi.org/10.7717/peerj.8556
Abstract
The evolution of upright limb posture in mammals may have enabled modifications of the forelimb for diverse locomotor ecologies. A rich fossil record of non-mammalian synapsids holds the key to unraveling the transition from "sprawling" to "erect" limb function in the precursors to mammals, but a detailed understanding of muscle functional anatomy is a necessary prerequisite to reconstructing postural evolution in fossils. Here we characterize the gross morphology and internal architecture of muscles crossing the shoulder joint in two morphologically-conservative extant amniotes that form a phylogenetic and morpho-functional bracket for non-mammalian synapsids: the Argentine black and white tegu Salvator merianae and the Virginia opossum Didelphis virginiana. By combining traditional physical dissection of cadavers with nondestructive three-dimensional digital dissection, we find striking similarities in muscle organization and architectural parameters. Despite the wide phylogenetic gap between our study species, distal muscle attachments are notably similar, while differences in proximal muscle attachments are driven by modifications to the skeletal anatomy of the pectoral girdle that are well-documented in transitional synapsid fossils. Further, correlates for force production, physiological cross-sectional area (PCSA), muscle gearing (pennation), and working range (fascicle length) are statistically indistinguishable for an unexpected number of muscles. Functional tradeoffs between force production and working range reveal muscle specializations that may facilitate increased girdle mobility, weight support, and active stabilization of the shoulder in the opossum—a possible signal of postural transformation. Together, these results create a foundation for reconstructing the musculoskeletal anatomy of the non-mammalian synapsid pectoral girdle with greater confidence, as we demonstrate by inferring shoulder muscle PCSAs in the fossil non-mammalian cynodont Massetognathus pascuali.
Background
The differences separating therian locomotion from that of other extant quadrupeds are usually understood as a contrast between derived "erect" or "parasagittal" vs. plesiomorphic "sprawling" limb posture (Bakker, 1971) (Fig. 1). Mammal-like posture is associated with adducted limbs, joints aligned in a single plane, dorsoventral bending of the axial skeleton, and the ability to use asymmetrical gaits (English, 1978; Biewener, 1991; Fischer, 1994; Fischer & Blickhan, 2006; Carrier, Deban & Fischbein, 2006; Bonnan et al., 2016). On the other hand, sprawling posture features abducted limbs, multiaxial joints, mediolateral axial bending, and mostly symmetrical gaits (Sukhanov, 1974; Edwards, 1977; Peterson, 1984; Ritter, 1992; Ashley-Ross, 1994; Reilly & Elias, 1998; Blob & Biewener, 1999; Baier & Gatesy, 2013). While kinematic studies of "erect" mammals (Jenkins, 1971b) and "sprawling" non-mammals (Nyakatura et al., 2019) have shown enough variation within each locomotor archetype to cast doubt on the usefulness of a rigid postural framework (Gatesy, 1991), it remains the case that mammalian limb use is uniquely diverse among amniotes. Mammals inhabit a wide range of habitats, using modified limbs to run, climb, swing, swim and fly. The forelimbs, in particular, have been transformed almost beyond recognition in many cases, not only becoming wings and flippers, or elongated with reduced digits and hooves, but also finding use in various non-locomotor behaviors such as prehension, excavation, grooming, and manipulation (Polly, 2007; Vaughan, Ryan & Czaplewski, 2013).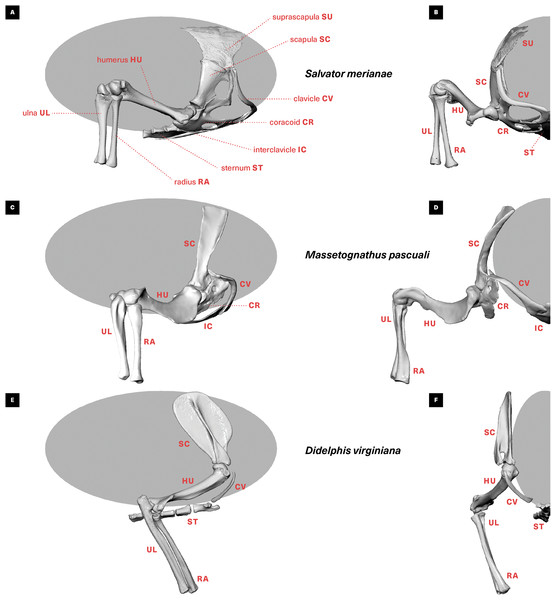 If exaptation of the forelimb was an important factor in the adaptive radiation of mammals, the groundwork for mammal-like posture and locomotion must have been laid down earlier, along the synapsid stem. However, despite a rich fossil record, major gaps remain in our understanding of non-mammalian synapsid musculoskeletal function. Our ability to interpret function is limited by the fact that the joints of the pectoral skeleton became unconstrained early on in synapsid evolution, shortly after the Permian emergence of the therapsid clade (Kemp, 2005). Differing hypotheses (Jenkins, 1970; Bakker, 1975; Kemp, 2005; Lai, Biewener & Pierce, 2018) concerning non-mammalian synapsid postural evolution have, hence, yet to find unequivocal support based on skeletal evidence alone, highlighting the need to consider the role of unfossilized soft tissues such as muscles. But before the muscle function of extinct vertebrates can be analyzed, it must first be reconstructed. To date, this has largely been accomplished using the extant phylogenetic bracket (Witmer, 1995). By correlating fossilized skeletal morphology with observed hard and soft tissue states in extant outgroup animals, this technique has been used to parsimoniously infer muscle organization in fossils ranging from basal sarcopterygian fish and stem tetrapods (Romer, 1922; Miner, 1925; Molnar et al., 2018a, 2018b) to early reptiles (Holmes, 1977), bird-line archosaurs (Gatesy, 1990; Dilkes, 1999; Hutchinson & Gatesy, 2000; Carrano & Hutchinson, 2002; Jasinoski, Russell & Currie, 2006; Langer, Franca & Gabriel, 2007; Holliday, 2009; Maidment & Barrett, 2011; Burch, 2014; Persons, Currie & Norell, 2014), and indeed, mammalian as well as non-mammalian synapsids (Watson, 1917; Gregory & Camp, 1918; Jenkins, 1971a; Cox, 1972; Kemp, 1980a, 1980b; Walter, 1986; Ray & Chinsamy, 2003; Oliveira & Schultz, 2016; Cuff, Goswami & Hutchinson, 2017; Lai, Biewener & Pierce, 2018).
Extant phylogenetic bracketing sheds light on the presence or absence of muscles in fossil taxa, as well as on the locations of their attachments. While knowledge of each muscle's origin and insertion sites provides insight into its general action and mechanical advantage (Maidment et al., 2014; Otero et al., 2017), a muscle's functional characteristics are determined not only by its attachments, but also by the internal architectural organization of its fibers in relation to its tendon. The geometry of a muscle's contractile and elastic elements strongly influence its mechanical output and working range by altering the component of force and length change directed along its line of action (Gans, 1982; Lieber, 2002). Hence, two equal-sized muscles with identical attachments but differing architectural properties might have very different functional characteristics, complicating the interpretation of muscles reconstructed on the basis of skeletal anatomy alone (Bates & Schachner, 2012; Bates & Falkingham, 2018). Finding a way to reconstruct muscle architecture would greatly strengthen reconstructions of posture and locomotion in fossil synapsids, as it would provide a means to estimate input parameters for computational musculoskeletal models and test competing postural/locomotor hypotheses (Hutchinson, 2004; Nagano et al., 2005; Bates et al., 2012; Charles et al., 2016; Regnault & Pierce, 2018; Bates & Falkingham, 2018).
Unlike attachments, muscle architecture cannot be rigorously inferred using the extant phylogenetic bracket, since internal fiber organization has no known skeletal correlates. Instead, extant animals that bracket the morphological and functional extremes of the fossil group of interest may help constrain reconstructions of architecture. The evolutionary history of non-mammalian synapsids saw not only a transition from "sprawling" to "erect" limb posture, but also a dramatic transformation in body proportions. The early "pelycosaurian"-grade synapsids had robust girdles, undifferentiated axial skeletons and relatively short limbs, but by the Jurassic, the first mammaliaforms had reduced pectoral girdles and regionalized axial skeletons, as well as proportionately longer limbs (Kemp, 2005). These morphological contrasts reflect the differences in gross proportions between extant lizards and therian mammals. Quantifying and comparing muscle architecture between representatives of these extant amniote groups should therefore furnish a baseline picture of architectural variation across two contrasting morphological and functional paradigms, and help bookend reconstructions of architecture in analogous or intermediate non-mammalian synapsids.
In this study, we present an in-depth qualitative and quantitative comparison of shoulder musculature in two amniotes that comprise an extant phylogenetic bracket as well as morpho-functional analogues for extinct non-mammalian synapsids: the Argentine black and white tegu Salvator merianae and the Virginia opossum Didelphis virginiana (Fig. 1). These two living amniotes are comparable in size, life history, and unspecialized ecology, yet differ greatly in the use of their limbs. As such, they represent suitable archetypes for investigating the functional morphology of "sprawling" and "erect" posture, respectively. We focus on muscles crossing the shoulder, a mechanically-important joint that is considered central to distinguishing between mammalian and non-mammalian posture (Romer, 1922; Gray, 1944). By combining nondestructive diffusible iodine-based contrast-enhanced computed tomography (diceCT) (Gignac et al., 2016) with traditional physical dissection in an experimentally-controlled context, we provide a comprehensive picture of shoulder musculoskeletal anatomy in two morphologically-conservative, comparably-sized amniotes. Our aim is to establish a framework for estimating architectural muscle parameters for extinct stem synapsids that will strengthen future biomechanical musculoskeletal models of extant and fossil taxa, ultimately yielding fundamental new insight into the acquisition of mammal-like posture and locomotion.
Results
In order to more easily compare morphology between a "sprawling" and an "erect" quadruped, we use a muscle-centric convention for orienting limb bones. The dorsally-oriented surface of the tegu humerus and the more caudally-oriented surface of the opossum humerus are primarily covered by the triceps complex, which acts to extend the elbow; we refer to these as the "extensor" surfaces of their respective humeri. Similarly, the ventrally-oriented surface of the tegu humerus and the cranio-ventrally oriented surface of the opossum humerus are covered by the elbow flexors m. brachialis and m. biceps brachii and are referred to as "flexor" surfaces. The remaining surfaces are referred to as "medial" and "lateral" based on their distance from the body wall. This convention also applies to the ulna and radius; the bones of the pectoral girdle are oriented with respect to the animal's body axis.
Discussion
The pectoral locomotor apparatus was an important locus of anatomical and functional reorganization in the evolution of mammals. Morphological change during the transition to mammal-like posture and locomotion is documented by an extensive fossil record of non-mammalian synapsids (Kemp, 2005), raising the possibility of reconstructing in vivo musculoskeletal function via integrating fossilized skeletal morphology with inferred muscle anatomy. This study aimed to establish a framework for reconstructing non-mammalian synapsid musculature, and did so by comparing and contrasting the topology and architecture of muscles crossing the shoulder in an extant phylogenetic and morpho-functional bracket: the Argentine black and white tegu S. merianae and the Virginia opossum D. virginiana. Below, we first discuss the myological similarities between the two, which were numerous and striking. We evaluate conservation and convergence as two possible explanations for the similarities in functional design, and the broader implications for understanding amniote musculoskeletal evolution. We then detail instances where departures were observed, and interpret these differences in the light of known postural and locomotor contrasts. Finally, we demonstrate the applicability of our data towards estimating key input parameters in musculoskeletal modeling by inferring shoulder muscle PCSAs for an extinct non-mammalian synapsid. Future studies will build on this technique to investigate the evolution of posture and locomotion across the synapsid-mammal transition.
Broad similarities in muscle topology and architecture
Pectoral girdle musculature is markedly similar between the tegu and the opossum. Based on physical and digital dissection, we found strong evidence for anatomical homology in 13 out of 18 muscles across the two species, including resurrecting a formerly-dismissed correspondence between the lizard m. scapulohumeralis anterior and the therian m. teres minor (Text S1). Muscle topology follows skeletal morphology: while the proximal shoulder muscle attachments have migrated with the modification of the pectoral girdle bones in the opossum, they remain recognizable between the two taxa; further, muscle attachments are directly comparable on the long bones of the forelimb, which differ little between the tegu and the opossum. These findings bolster a growing body of evidence from the extant phylogenetic bracket for a common set of amniote pectoral girdle and shoulder muscles (Abdala & Diogo, 2010; Lai, Biewener & Pierce, 2018), while adding new architectural data for these structures.
With our data we can go beyond gross morphology and ask: does internal architecture parallel topological similarity between muscle homologues? We find that, once scaled to body mass, the architectural similarities between homologous muscles outnumber the differences (Fig. 7). Muscle mass is significantly different in many cases, but is frequently accompanied by significant differences in fascicle length, resulting in fewer instances of significantly different PCSA. Mean pennation angle is very similar, differing significantly between the tegu and the opossum in only a couple of cases. The fact that PCSA and pennation are more similar between the two species than muscle mass and fascicle length suggests that differing aspects of muscle function might be under differing selective pressures. Muscle PCSA relates to the force requirements for body support and locomotion (Eng et al., 2008). Pennation is linked to PCSA and force capacity for a given volume of muscle, but may also enable dynamic gearing of mechanical output (Azizi, Brainerd & Roberts, 2008). These functional traits almost certainly interact with one another within the confines of the shoulder and forelimb, and a balance between competing functional priorities may explain the architectural similarity observed between the morphologically-conservative amniotes studied here.
A possible explanation for the broad parallels shown here is that both the tegu and the opossum have retained many elements of the amniote last common ancestor's (LCA) pectoral musculoskeletal system largely unmodified. These affinities echo the findings of prior comparative work, in particular that of Jenkins and colleagues (Jenkins & Weijs, 1979; Jenkins & Goslow, 1983), who compared muscle gross anatomy and function between the Savannah monitor Varanus exanthemicus and the Virginia opossum, hypothesizing a set of "functional equivalences" between lizard and therian shoulder muscles based on similarities in muscle activation patterns. Another possibility is that these myological characteristics evolved convergently, and are simply representative of a smaller-bodied terrestrial generalist phenotype. Both conservation and convergence have their issues: conservation is made less likely by the 320 million-plus years since the amniote LCA (Benton, 2009), while convergence is difficult to assess without prior knowledge of plesiomorphic states in the sauropsid and synapsid lineages. More extensive collection of architectural data from other extant generalist amniotes would be helpful in determining between conservation and convergence: Sphenodon is an early-diverging lepidosaur that attains comparable adult body sizes to S. merianae and D. virginiana (Feldman et al., 2016), and would be a useful point of comparison in inferring the plesiomorphic lepidosaur condition. Larger varanid lizards could provide a perspective from a different extant locomotor generalist; while the pectoral limb anatomy (Jenkins & Goslow, 1983) and pelvic limb architecture (Dick & Clemente, 2016) of varanids are well-studied, the architecture of the pectoral limb has not been published on. Among extant therians, quolls, tasmanian devils, hyraxes, and some of the more terrestrial civets are all locomotor generalists of similar size whose muscle architecture has yet to be studied. Finally, the morphologically-specialized (Jenkins, 1971a) extant monotremes invite comparison as similarly-sized phylogenetic intermediates between tegus and opossums. While a musculoskeletal model for the short-beaked echidna Tachyglossus aculeatus already exists (Regnault & Pierce, 2018), our ability to interpret this animal's joint mobility and muscle moment arms will improve once its muscle architecture is described as well.
Anatomical differences reflect locomotor transformation
Of the five muscles not directly shared between the tegu and the opossum, all have known origins in the amniote pectoral musculoskeletal system. M. subcoracoideus and m. coracobrachialis longus are probably plesiomorphic for amniotes and secondarily lost in therians; they are present in amphibians and monotremes as well as the tegu, but absent in the opossum (Walthall & Ashley-Ross, 2006; Diogo et al., 2009; Gambaryan et al., 2015). The remaining three muscles are found in the opossum and not the tegu, but are not neomorphic. M. supraspinatus and m. infraspinatus have been shown to be differentiated developmental homologues of the lizard m. supracoracoideus (Romer, 1944; Cheng, 1955). Meanwhile, m. teres major is found in mammals, crocodile-line archosaurs, turtles, and at least one lizard, and is suggested to be an amniote character present in the LCA and secondarily lost in bird-line archosaurs as well as most lepidosaurs (Abdala & Diogo, 2010). Both of the muscles that are lost in therians (m. subcoracoideus and m. coracobrachialis longus) originate on the procoracoid and metacoracoid in the amniotes that possess them. Meanwhile, m. supraspinatus, m. infraspinatus, and m. teres major all take origin on the scapula, which in therians has uniquely expanded to comprise almost the entirety of the pectoral girdle. The synapsid fossil record preserves a marked trend towards coracoid reduction and scapular expansion, extending well into crown mammals (Romer, 1922; Romer & Price, 1940; Jenkins, 1971a; Luo, 2015). The shifting proportions of these skeletal elements and the accompanying dimensional and positional changes to the associated muscles are likely strongly linked to postural and locomotor evolution in synapsids.
Comparative study of architecture has the potential to reveal aspects of locomotor specialization (Allen et al., 2014; Böhmer et al., 2018). Hence, architectural differences in muscles that are shared between the tegu and the opossum may also be interpreted in light of the postural and locomotor differences between these animals. The longer fascicles of the opossum's m. latissimus and m. pectoralis give these muscles a greater working range, which may accommodate the longer strides and greater pectoral girdle mobility of therians (Sereno & McKenna, 1995). The smaller PCSAs of the opossum's clavicular and scapular deltoids compared to the tegu may signify a decreased reliance on these muscles for limb protraction during swing phase, since girdle mobility may be a greater factor than glenohumeral joint mobility in the therian stride compared to other amniotes (Fischer et al., 2002; Baier & Gatesy, 2013). The unusual, folded morphology of the tegu's clavicular deltoid may work in conjunction with longer parallel-fibered fascicles to increase the muscle's working range beyond what would be achievable with a conventional parallel-fibered muscle, and may again reflect a greater role in humeral protraction for the deltoids of a "sprawling" animal.
The triceps complex is notably more massive in the opossum, but its architecture suggests different functional specializations between the scapular and humeral heads. The opossum m. triceps scapularis exhibits a ~50% increase in PCSA over its tegu counterpart but has a similar mean fascicle length. By comparison, the two humeral heads of the triceps have the same PCSA in both animals, but with significantly longer fascicles in the opossum. The increased PCSA of the opossum m. triceps scapularis suggests adaptation to resist larger ground reaction flexor moments at the elbow, as a result of shifting to an erect forelimb posture. Meanwhile, the longer fascicles of the opossum m. triceps humeralis likely provide a wider working range for the muscle. Taken together, these features provide evidence for a functional differentiation within the triceps complex, with the scapular head becoming specialized for force control in therians, and the humeral heads becoming specialized for position control of the zeugopod.
Both m. supracoracoideus and its derivatives m. supraspinatus and m. infraspinatus are thought to stabilize the glenohumeral joint during locomotion (Jenkins & Weijs, 1979; Jenkins & Goslow, 1983). In therians, a rotator cuff comprising m. supraspinatus, m. infraspinatus, m. subscapularis, and m. teres minor pulls on the humerus from opposing directions. The resulting compression of the humeral head against the glenoid fossa has been shown to be an important source of dynamic stability in ball-and-socket glenohumeral joints (Lippitt & Matsen, 1993; Hsu et al., 2011), and is thought to be particularly important in intermediate poses of the shoulder when the capsule and ligaments are relaxed and unable to contribute to joint stability. The greater PCSAs of the m. supraspinatus and m. infraspinatus could thus serve to stabilize the humerus as it undergoes the rapid, rhythmic oscillations generated by the highly-tuned therian neuromuscular system (Jenkins & Goslow, 1983; Ross et al., 2013). By comparison, the smaller PCSA and longer fascicles of m. supracoracoideus may reflect a greater reliance by other amniotes on ligaments rather than muscle force (Haines, 1952) to stabilize the shoulder, and may facilitate protraction of the humerus as it moves through the long, horizontal arcs typical of "sprawling" locomotion (Jenkins & Goslow, 1983; Baier & Gatesy, 2013).
Reconstructing synapsid musculoskeletal evolution
Whether conservation or convergence is ultimately responsible for the architectural similarities found here, it is apparent that selective pressures have either maintained or resulted in a distinct terrestrial generalist architectural phenotype shared by the tegu and the opossum. As non-mammalian synapsids are typically reconstructed as terrestrial generalists, the architectural parameters of the tegu and opossum may provide realistic "bookends" for the phylogenetically- and morphologically-intermediate non-mammalian synapsids. Here, we illustrate this by estimating shoulder musculature PCSA in Massetognathus pascuali, a Triassic traversodontid cynodont for which a phylogenetically-bracketed musculoskeletal reconstruction has been published (Lai, Biewener & Pierce, 2018). Using a scaling equation to predict total body mass based on the circumferences of the humeral and femoral diaphyses (Campione & Evans, 2012), we estimate the body mass of a particular Massetognathus pascuali individual (MCZVP 3691) as 1.437 kg, with upper and lower bounds given by mean percent prediction error (PPE) as 1.806 kg and 1.069 kg respectively (Table S4). This prediction closely matches the tegus (1.33 ± 0.11 kg) and opossums (1.35 ± 0.26 kg) dissected in the present study.
Assuming geometric similarity, we can scale mass-normalized PCSAs from both extant animals by Massetognathus' predicted body mass2/3 to arrive at architectural estimates reflecting contrasting postural paradigms (Fig. 9). Error around estimated PCSA is calculated by scaling by the upper and lower bounds of the body mass prediction. By taking the mean of the tegu and opossum values, we can obtain a third, intermediate estimate that might better represent an extinct transitional form. As expected from the broad similarities in PCSA previously discussed, Salvator-like, Didelphis-like, and intermediate values tend to fall fairly close to one another. In seven of the 16 muscles reconstructed both the Salvator-like and the Didelphis-like estimate are included within the upper and lower bounds of the intermediate estimate (thick black lines, Fig. 9); they fall just outside the bounds of the intermediate estimate in another five muscles. Altogether, this suggests that discrepancies between Salvator-like and Didelphis-like estimates of PCSA are generally proportionately small, and tend to be either closely comparable to or dominated by uncertainty around estimated body mass. This provides confidence in the intermediate estimate, and at the same time illustrates the importance of conducting sensitivity testing in future work, so as to ascertain the relative contributions of the bracket and predicted body mass towards uncertainty in muscle parameter estimation.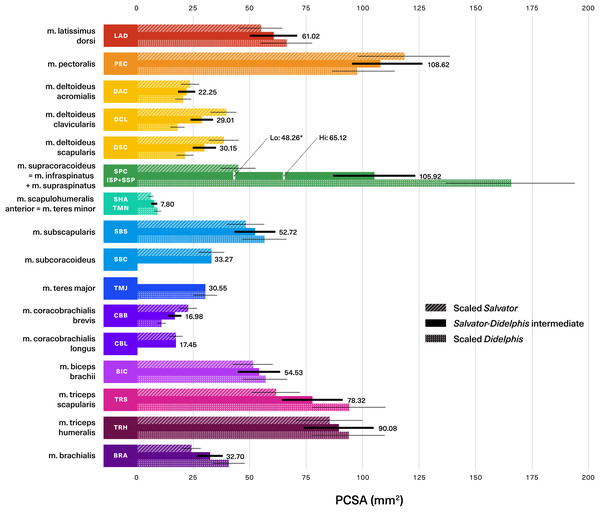 While the Salvator-Didelphis intermediate seems to provide a reasonable estimate for the bulk of the shoulder musculature, a different approach is clearly needed for the m. supracoracoideus/mm. infraspinatus + supraspinatus group, where the opossum-like estimate exceeds the tegu-like estimate by a factor of approximately four (Fig. 9). The fourfold difference in normalized PCSA reflects the smaller relative size of this muscle in the tegu (0.85 g) compared to the opossum (2.32 g). However, as shown in the Table S5, the normalized ratio of PCSA: muscle origin area is similar between the tegu m. supracoracoideus (0.18) and its homologues mm. infraspinatus + supraspinatus in the opossum (0.15). Moreover, mm. infraspinatus and supraspinatus PCSAs have been shown to covary with the size of their areas of origin in the short-nosed bandicoot Isoodon fusciventer, a marsupial with pectoral skeletal anatomy comparable to Didelphis (Martin et al., 2019). Considering mm. supracoracoideus, infraspinatus, and supraspinatus are all flat, broad, pennate muscles with fleshy origins that occupy well-delineated areas on the scapulocoracoid or scapula (Fig. 3), relative origin area may be a reasonable proxy for estimating PCSA in Massetognathus. Lai, Biewener & Pierce (2018) reconstructed Massetognathus with an m. infraspinatus on the infraspinous fossa of the scapula, as well as an m. supracoracoideus/incipient m. supraspinatus on the anterior coracoid (procoracoid sensu Vickaryous & Hall, 2006) (Fig. S2B). The area of origin for m. infraspinatus in Massetognathus resembles that of the same muscle in the opossum (Figs. S2B–S2C), whereas the area of origin for the incipient m. supraspinatus in Massetognathus resembles that of the tegu m. supracoracoideus (Figs. S2A–S2B). Taking the PCSA: muscle origin area ratios for the opossum m. infraspinatus and the tegu m. supracoracoideus, we are able to reconstruct the PCSAs of mm. infraspinatus and incipient supraspinatus in a 1.437 kg Massetognathus as 29.40 mm2 and 18.86 mm2 respectively, resulting in a combined PCSA of 48.26 mm2. This is a plausible estimate for Massetognathus, falling in between the PCSAs of the tegu (35.50 mm2) and the opossum (130.84 mm2). An alternative, higher estimate (65.12 mm2) using the proportions of the tegu m. supracoracoideus and the opossum m. supraspinatus for the mm. infraspinatus and supraspinatus (respectively) of Massetognathus also falls between the tegu and the opossum.
We note several caveats for reconstructing non-mammalian synapsid myology using this approach. While evidence exists that PCSA and Lf for many limb muscles scale at or close to isometry in varanid lizards (Dick & Clemente, 2016), proximal limb muscles scale with positive allometry in extant mammals and certain crocodiles (though not alligators) (Alexander et al., 1981; Allen et al., 2014). Not all non-mammalian synapsids were comparable in size to tegus and opossums; many, such as the Permian caseids and the Permo–Triassic dicynodonts, may have been up to three orders of magnitude larger (Reisz & Fröbisch, 2014; Sulej & Niedźwiedzki, 2019; Romano & Manucci, 2019), and architectural allometry may have to be taken into account. More studies of architectural allometry within extant squamates and therians are needed to determine the salience of body size to muscle functional design. Further, the ultimate mechanical consequences (e.g., for muscle force, strain, and work production) are difficult to determine without modeling the musculoskeletal system as a whole. With that being said, general agreement among most of these estimates of PCSA provides confidence that fossil muscle architecture can be empirically inferred within reasonable limits, and the robustness of parameter estimates for reconstructing locomotor evolution can be assessed in future work by performing sensitivity testing on musculoskeletal models incorporating inferred architecture.
Conclusion
Here, we compared shoulder myology across a phylogenetic and morpho-functional bracket for non-mammalian synapsids, consisting of the Argentine black and white tegu and the Virginia opossum. Our data revealed broad topological and architectural similarities between the tegu and the opossum, suggesting either conservation of plesiomorphic amniote myology or convergence towards a similar terrestrial generalist phenotype. In particular, muscle attachments on the humerus were directly comparable between both species, as were PCSAs and pennation across most muscles. The few topological and architectural differences can be interpreted in terms of functional tradeoffs associated with reduction of the mammalian shoulder girdle and the evolution of upright limb posture. For instance, we found significantly-increased PCSAs and shorter fascicles in the opossum m. infraspinatus and m. supraspinatus relative to their reptilian homologue (m. supracoracoideus), consistent with their enlarged scapular attachments and their role in stabilizing the therian ball-and-socket glenohumeral joint. Similarly, the opossum m. pectoralis and m. latissimus dorsi, which span the axial skeleton and the humerus, possess elongated fascicles that accommodate the increased mobility of the therian pectoral girdle. Both the myological similarities and differences are informative in reconstructing unpreserved muscle parameters in fossil synapsids, as we illustrate with the traversodontid cynodont Massetognathus pascuali. This work establishes the first quantitative basis for inferring functionally-important features of muscle architecture in extinct non-mammalian synapsids, and represents a critical first step in understanding how musculoskeletal reorganization led to the evolution of the versatile mammalian forelimb, with its myriad functions and behaviors.