Ecosystem antifragility: beyond integrity and resilience
Published

Accepted

Received
Academic Editor
Subject Areas

Keywords

Antifragility

,

Ecosystem integrity

,

Resilience

,

Complexity
Copyright

©

2020

Equihua Zamora et al.

Licence

This is an open access article distributed under the terms of the Creative Commons Attribution License, which permits unrestricted use, distribution, reproduction and adaptation in any medium and for any purpose provided that it is properly attributed. For attribution, the original author(s), title, publication source (PeerJ) and either DOI or URL of the article must be cited.
Cite this article

2020

.

Ecosystem antifragility: beyond integrity and resilience

.

PeerJ

8

:

e8533

https://doi.org/10.7717/peerj.8533
Abstract
We review the concept of ecosystem resilience in its relation to ecosystem integrity from an information theory approach. We summarize the literature on the subject identifying three main narratives: ecosystem properties that enable them to be more resilient; ecosystem response to perturbations; and complexity. We also include original ideas with theoretical and quantitative developments with application examples. The main contribution is a new way to rethink resilience, that is mathematically formal and easy to evaluate heuristically in real-world applications: ecosystem antifragility. An ecosystem is antifragile if it benefits from environmental variability. Antifragility therefore goes beyond robustness or resilience because while resilient/robust systems are merely perturbation-resistant, antifragile structures not only withstand stress but also benefit from it.
Introduction
Sustainable development needs to preserve the structure and functioning of natural ecosystems, that is, their integrity, as a sine qua non condition. In previous work (Equihua et al., 2014) an operational framework has been developed (see Fig. 1) to quantify ecosystem integrity as well as viable standards useful for managing the way ecosystem interventions, promoting development along sustainable avenues.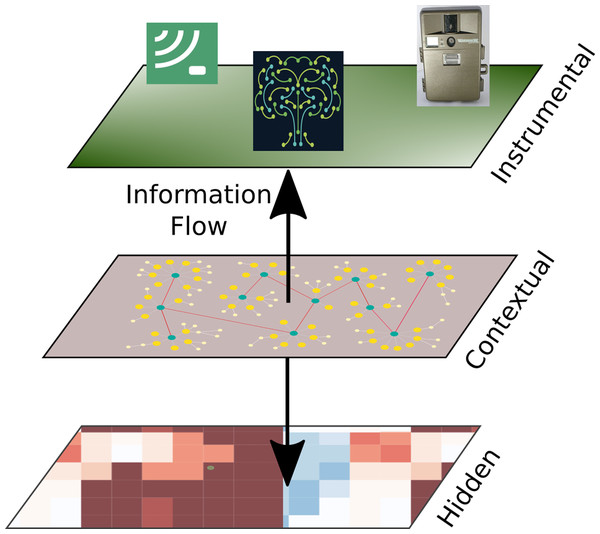 Humans are starting to be recognized as an overwhelming forcing factor modulating biosphere dynamics. In this view, the Earth system can be interpreted as entering in a geological era that can be called the Anthropocene (Steffen, Crutzen & McNeill, 2007), the Technocene (López-Corona, Ramrez-Carrillo & Magallanes-Guijón, 2019), or even Capitalocene (Haraway, 2015), depending on the conceptual stance adopted. Because of this driving influence of human decisions, there has been long interest in understanding and measure the way ecosystems recover (or not) from human perturbations. To operationalize sustainability, we require working definitions of this ecosystem ability and metrics to asses it, in addition to ecosystem integrity (as a component of a likely state variable accounting for the amount of natural capital assets: condition × extension). The recovery property has already been encapsulated into the ecosystem resilience concept. Here, we propose that information theory is a suitable framework to encompass both ecosystem integrity and resilience as we will discuss in next subsection.
According to Equihua et al. (2014), numerous studies have aimed to find a suitable and inclusive definition of ecological integrity; however, no general consensus has been achieved to date. In their work, Equihua and co-workers embrace a complex systems approach in which ecosystems are considered as self-organized entities constrained in their structure (including biological composition or biodiversity), and function by thermodynamic dissipative system properties (Kay, 1991; Regier, 1995; Manuel-Navarrete, Kay & Dolderman, 2007; Michaelian, 2005) and evolutionary processes (Levin, 2005).
The concept of ecological resilience was first introduced by Holling (1973) to portray the persistence of natural structures in the presence of environmental stressors due to natural or anthropogenic triggers. In his seminal work, Holling follows a system dynamics analysis. There, resilience is defined as: "the capacity of a system to absorb disturbance and reorganize while undergoing a change so as to still retain essentially the same function, structure, identity, and feedbacks" (Walker et al., 2004). Nevertheless, resilience or stability, which is commonly used as synonym, have at least 163 different definitions (grouped in at least 70 concepts of stability/resilience) (Grimm & Calabrese, 2011). For example, Saint-Béat and co-workers (Saint-Béat et al., 2015) summarize resilience and others related concepts often used interchangeably as follows:
Discussion
From the analysis of the literature, we found that the citation network from reviewed articles is not percolated, what we interpret as a lack of unification in the research field and an opportunity for interdisciplinary work (see Supplemental materials).
We found (see Fig. 2) three main narratives (a) ecosystem properties that enable them to be more resilient; (b) ecosystem response to perturbations; and (c) complexity. From this and complementary literature consulted we have identified 11 possible indicators for ecosystem resilience (see Table 3 and a glossary in Table 4). In particular we showed how to apply Fisher information in a study case which we consider a very promising proxy of resilience, since it has a solid formal framework, it is easy to implement and it can be applied to any kind of system.
Key
Indicator
Measure/proxy
Requires
Resilience
Narrative
FI
Fisher information
Stability
Time series
More stable ecosystem are more resilient and according to Cabezas et al. (2005) for a system to be resilient, after a disturbance the FI values prior to it must be recovered
Perturbations
Div
Diversity
Optional/use of resource space.
Presence field data
In general to greater diversity, greater resilience. But there are exceptions related to changes of composition and use of resources
Properties
Co
Network conectance
Stability
Knowing the networks and being able to quantify the intensity of the connections, Gustavson proposes ways to deal with the lack of information about it
Increase in the number of connections dissipates the effect of variation in distribution of species and enhances stability species
Properties
Omn
Presence of omnivore species
Communication between different scales
Presence of omnivore species
Presence of omnivore species enhance stability and resilience
Properties
NC
Network criticality
Balance between robustness (strong Interactions) and adaptability (Weak Interactions).
Knowing the networks and being able to quantify the intensity of the connections, Gustavson proposes ways to deal with the lack of information about it
Observations show that ecosystems are more resilient when there is a good balance between the number of strong and weak connections
Properties
L-VC
Lotka–Volterra Coefficients
Given a community matrix, if all the real parts of its
eigenvalues are negative the ecosystem is stable
Community matrix
More stable ecosystem are more resilient
Complexity
As
Ascendency
Mean mutual information
Given a network of interactions (i.e., trophic network) it measures how well, on average, the network articulates a flow event between any two nodes
Capture in a single index the ability of an ecosystem to prevail against disturbance by virtue of its combined organization and size
Properties
Lévy
Lévy flights
Scaling coefficient of foraging patterns for key species such as puma or jaguar
It is a proxy of resources spatial complexity
It has been shown that Lévy flights foraging patterns are related and enhance ecosystems resilience
Complexity
Frac
Fractality
Spatial complexity
High resolution satellite images
More complex ecosystems should be more resilient.
Complexity
AF
Antifragility
Change in the complexity of a biotic (i.e., trophic) network, in the face of disturbances
Network of interactions, can be a Boolean network of co-occurrences of a key species such as puma or jaguar with its prey for example
Resilience would be an intermediate state between fragility and antifragility
Perturbations
H
Homeostasis
System homeostasis
Time series
Equivalent of resilience
Complexity
| Term | Definition |
| --- | --- |
| Antifragility | Antifragility is a property that enhances the system's functional capacity to response to external perturbations (Taleb, 2018). In other words, a system is Antifragile if it benefits from environmental variability, works better after being disturbed |
| Ascendency | It is a measure of the magnitude of the information flow through an ecosystem's network framework |
| Complexity | A system is complex either it presents a sufficient number of components with strong enough interaction or it changes in a velocity comparable to the observer's time scale, and in most cases both. Forests as a system and forest management, certainly occupy a high position in the complexity gradient (Filotas et al., 2014). It is measure as the product of emergence and self-organization |
| Criticality | Criticality is a regime in which the system is in dynamic scale invariance (power law in frequency space) and in an "optimum" balance between robustness and adaptability (scale coefficient around −1) |
| Emergence | We can define information emergence E as the rate of information transformation. Can be measure as Shannon information |
| Fisher information | Fisher information may be understood as the quality of a measurement-inference process. It is related to tangential velocity and acceleration in phase space, hence with stability |
| Homeostasis | Fossion and co-workers (Fossion, Rivera & Estanol, 2018) have related homeostasis (physiological resilience?) to pairs of physiological variables, one to be controlled (the one that remains in homeostasis) and another one that controls the former. The main idea is that in order to have a homeostatic physiological variable (normal), the body must use other variables (right fat-tailed) to absorb a random injection of matter, energy, information or any combination of them from the environment |
| Integrity | Is a measure of the state of the ecosystems in terms of its structure, composition and function |
| Lévy-flight | Fat-tailed foraging pattern characterized by local space exploration (normal distributed) with some large "flights" for non-local exploration |
| Persistence | Persistence is the time for a variable to remain in the same state before changing to a different one (Pimm & Pimm, 1991). Persistence is a measure of a system's capacity to preserve itself over time (Loreau et al., 2002) |
| Robustness | Robustness relates to the durability of the stability of the environment. Robustness is then a measure of the amount of disturbance an ecosystem can endure before it changes to a different state (Loreau et al., 2002). The more robust the food web is, the more stable it is |
| Self-organization | Is the complement of emergence (1 − E) and represent the capacity of the system for increase its organization |
Nevertheless a new way to reinterpret resilience emerged from this critical literature review: Antifragility. This novel framework developed by Taleb (2012), Taleb & Douady (2013) and Taleb (2018) is based on fat-tailed, non-linear responses of the system to variability (see Fig. 4). In a simple way, if a system has a concave (non-linear) payoff function dependent of certain variable, then the system is fragile to it. On the contrary, if the payoff in convex then it is Antifragile and if the system is essentially insensible to variability, then is robust/resilient. In Taleb's work, antifragility is associated with bimodal risk strategy called "The Barbell" which we believe manifest itself as "a good balance" between: (i) strong and weak interactions in network topology; (ii) adaptability and robustness (Criticality); and (iii) ascendancy and overhead.
Real ecosystem antifragility may me measure using the complexity based metric presented inhere using time series permutation entropy as in (Ramírez-Carrillo et al., 2018) and then the complexity formulae from Gershenson & Fernández (2012). In addition to this direct metric, as pointed out by one of the manuscript reviewer, we consider Right-skewness in ecosystem state variables distributions may be one indicator of Ecosystem antifragility. The intuition for this came from recent work by Fossion, Rivera & Estanol (2018) in which they propose that in human systems (but we think is a general result), vital state variables for the organism as blood pressure need to be maintain into a very sharp range of values following a Gaussian distribution. This is no new since correspond to traditional ideas of homeostasis, the novel thing is that they identifies that in order to achieve this, organism need absorb energy, matter and information fluctuations from the environment. This absorbing or controlling process is carried out by heart activity variability. In this way, youth and health are characterized by Guassianity in homeostatic physiological variables and Right-skewness for absorbing (controlling) ones. In their work, the authors show how under chronic disease such as diabetes that statistical behavior flips: blood pressure (homeostatic variable) is Left-skewness distributed and Heart Rate (absorbing variable) become Gaussian (Fossion, Rivera & Estanol, 2018). Some problems could be to identified pairs (or network) of homeostatic-absorbing variables, and if skewness may be affected by other processes other than fragility.
Although our main interest was in the Informational Theory approach, along the peer review process we were suggested to grow the scope of our search criteria to capture more works in which Integrity and Resilience interact without Information Theory in between. We then conducted a new search using "Resilience AND Integrity AND Ecosystem" but asking for these keywords to be in the title in order to ensure the papers were focused on them and not treat them only in a marginal way. We found three new papers Müller, Burkhard & Kroll, 2009; Bratanova-Doncheva et al., 2014; Chipev et al. (2013) which fall into our previously identified narratives.
The first one makes an interesting discussion about the importance of studying how the ecosystem responds to perturbations for understanding ecosystem dynamics. The authors review, for example, the historical evolution of the subject based on the work on the 30's where complexity (in the way it was understood at the time, most likely as self-organization) was identified as a core precursor of stability. By the 50–60's the authors highlight the importance of equilibrium through three major components: stability, resistance, and robustness (see Fig. 1 in Grafton et al. (2019) for a good explanation of these terms). They say that in 60–70's literature started to mention vulnerability, fragility, path dependence, and local instability, arriving to disequilibrium in the 80–90's which gave place to the Holling perspective of resilience, updated later in 2012 by incorporating the concept of panarchy, defined as "a temporal structure in which the system is interlinked in continual adaptive cycles of growth, accumulation, restructuring, and renewal" Gunderson, Allen & Holling (2012). The authors put forward the idea that resilience and ecosystem dynamics change in different stages of ecosystem development, starting in a dynamics condition governed by components optimization (orientors) throughout undisturbed successions. They argue that in this context, integrity indicates orientor development but warns that integrity evaluations do not fully characterize ecosystem dynamics because it does not inform about how the ecosystem responds to perturbations. They further argue, for example, that in general it can be concluded that the ability to adapt after changes of the constraints may be decreased when a high degree of maturity is attained where mutual inter-dependency is maximum. This is a feature observed also in human induced ecosystems for which older individuals depart from criticality by an emergence loss so they are too self-organized (Goldberger et al., 2002a), a characteristic Perrow Perrow (2011) identified as necessary for a system to experiment normal accidents or be exposed to inevitable systemic accidents.
The other two papers relate integrity and resilience to ecosystem services so, they fall within our ecosystem properties narrative. Although ecosystem services could be considered a different narrative, it is not really defined for ecosystems but for socio-ecosystems. Thus, it properly should be a narrative framed within a socio-ecosystem resilience context, which we will briefly discuss in the next section.
Conclusions
In the long term, considering the coupling of ecosystem with human systems (i.e. via climate change) we consider that antifragility is a more desirable feature than resilience. Thinking in socio-ecosystems, we can see that they usually not only keep on living, but they do flourish and evolve, even in the presence of great stressors such as climate crisis or land change. In fact, in a recent work (De Bruijn, Größler & Videira, 2019), It has been shown that the outcome of using antifragility as a design criterion is that the scheme being studied demonstrates a more favorable behavior than a "simply" robust model in a setting that is susceptible to black swans (unpredictable, very low frequency of ocurrancebut vey high impact events). Then, for socioecosystem governance, planning or in general, any decision making perspective, antifragility might be a valuable and more desirable goal to achieve than a resilience aspiration (Blečić & Cecchini, 2018). On the other hand, naive interventionism of natural systems, such as randomness or stressor suppression may lead to a fragilization process as widely discuss by Taleb (2012). Living systems need the correct amount of randomness to flourish as showed by Fernandez-Oto, Tzuk & Meron (2019) with dryland ecosystems which in the presence of nonlinear front instabilities may enter into a self-recovery process from desertification. This makes us question: What may be the relation of Criticality, Antifragility and Fisher information? and How antifragility concept may enter into for example Cabezas et al. (2005) or Ramírez-Carrillo et al. (2018) sustainability frame work?
Supplemental Information
Suplemental materials.