Classifying acoustic signals into phoneme categories: average and dyslexic readers make use of complex dynamical patterns and multifractal scaling properties of the speech signal
School of Pedagogical and Educational Science, Radboud University Nijmegen

,

The Netherlands
Behavioural Science Institute: Learning and Plasticity, Radboud University Nijmegen

,

The Netherlands
Published

Accepted

Received
Academic Editor
Subject Areas

Keywords

Speech perception

,

Developmental dyslexia

,

Recurrence quantification analysis

,

Theory evaluation

,

Rise time perception deficit

,

Strong inference

,

Auditory temporal processing deficit

,

Complexity science

,

Aetiology

,

Complexity matching
Copyright

©

2015

Hasselman

Licence

This is an open access article distributed under the terms of the Creative Commons Attribution License, which permits unrestricted use, distribution, reproduction and adaptation in any medium and for any purpose provided that it is properly attributed. For attribution, the original author(s), title, publication source (PeerJ) and either DOI or URL of the article must be cited.
Cite this article

2015

.

Classifying acoustic signals into phoneme categories: average and dyslexic readers make use of complex dynamical patterns and multifractal scaling properties of the speech signal

.

PeerJ

3

:

e837

https://doi.org/10.7717/peerj.837
Abstract
Several competing aetiologies of developmental dyslexia suggest that the problems with acquiring literacy skills are causally entailed by low-level auditory and/or speech perception processes. The purpose of this study is to evaluate the diverging claims about the specific deficient peceptual processes under conditions of strong inference. Theoretically relevant acoustic features were extracted from a set of artificial speech stimuli that lie on a /bAk/-/dAk/ continuum. The features were tested on their ability to enable a simple classifier (Quadratic Discriminant Analysis) to reproduce the observed classification performance of average and dyslexic readers in a speech perception experiment. The 'classical' features examined were based on component process accounts of developmental dyslexia such as the supposed deficit in Envelope Rise Time detection and the deficit in the detection of rapid changes in the distribution of energy in the frequency spectrum (formant transitions). Studies examining these temporal processing deficit hypotheses do not employ measures that quantify the temporal dynamics of stimuli. It is shown that measures based on quantification of the dynamics of complex, interaction-dominant systems (Recurrence Quantification Analysis and the multifractal spectrum) enable QDA to classify the stimuli almost identically as observed in dyslexic and average reading participants. It seems unlikely that participants used any of the features that are traditionally associated with accounts of (impaired) speech perception. The nature of the variables quantifying the temporal dynamics of the speech stimuli imply that the classification of speech stimuli cannot be regarded as a linear aggregate of component processes that each parse the acoustic signal independent of one another, as is assumed by the 'classical' aetiologies of developmental dyslexia. It is suggested that the results imply that the differences in speech perception performance between average and dyslexic readers represent a scaled continuum rather than being caused by a specific deficient component.
Introduction
Many aetiologies of developmental dyslexia assume some deficit in auditory processing may be causally entailed in the difficulty with acquiring proficient levels of reading and spelling ability experienced by a small percentage of the population (see e.g., Ramus, 2004). The nature of the features of the acoustic signal that are assumed to be able to evidence such deficient components (e.g., phoneme representations, allophones) or component processes (e.g., frequency sweep detection, rise time perception) varies greatly between aetiologies (cf. Serniclaes & Sprenger-Charolles, 2003). The purpose of this study is to compare a number of such features under conditions of strong inference (cf. Platt, 1964). The goal is to examine whether average and dyslexic readers actually use these features to arrive at a particular classification of a speech stimulus, a first and necessary step to take before their causal entailment in dyslexic reading can be claimed. Three types of measures will be examined that represent different distinguishing features of the speech signal: however, this will not be accomplished by constructing stimuli that exclusively represent these measures as is common in auditory and speech perception studies (see e.g., Boets et al., 2007; Pasquini, Corriveau & Goswami, 2007). Instead, all measures will be extracted from one and the same set of stimuli and measures will be evaluated on their ability to enable a simple classifier to yield a response that is similar to classification responses by participants.
The measures used in this study can be extracted from any continuous signal (sampled, synthesised, or generated otherwise), but are very different in the type of information they are thought to capture or, more suitably, represent. The first are Component Process Measures, derived from the signal because of their supposed importance in contemporary theoretical assumptions about deficient components of cognitive or sensorimotor processes related to developmental dyslexia and speech perception. They represent the Component Dominant family of dyslexia ontology. The second type of measure are Periodicity Measures, derived from (linear) transforms or decompositions of the signal used in other contexts to express the average periodicity, harmonicity or regularity of the 'true' signal (see e.g., Guiard, 1993, for an application to harmonic movements). These measures quantify periodic changes of the variable in question over time. The third are Complex Dynamic Pattern Measures, derived from nonlinear time series analyses and multi-scale analyses that have a wide range of applications in the general study of the behaviour of complex dynamical systems. The interaction-dominant perspective on explaining complex behaviour assumes it emerges out of the interactions of many processes fluctuating on different spatiotemporal scales. The Complexity Matching or Complexity Control hypothesis posits that humans make use of the invariant structure of such complex dynamical patterns to coordinate their behaviour in ways that are comparable to principles for optimal and maximal information transport between complex systems as posited by formal fluctuation dissipation theorems (e.g., the '1/f resonance hypothesis' Aquino et al., 2011). Complexity science has developed a number of analyses that allow a quantification of complex temporal patterns and self-affine structure in empirical time-series. Such measures often concern a quantification of dynamics in a phase-space representation of the signal, reconstructed by means of delay embedding methods (cf. Kantz & Schreiber, 2003), or, the assessments of scaling relations between signal variability and the temporal resolution at which the variability is assessed (cf. Kantelhardt, 2011). The techniques used in this article to quantify phase-space dynamics and scaling relations in the speech signal are Recurrence Quantification analysis (RQA, cf. Marwan et al., 2007) and Multifractal Detrended Fluctuation Analysis (MF-DFA, see Kantelhardt et al., 2002; Ihlen, 2012).
The latter two types of measure (Periodicity and Complex Dynamic Pattern measures) have not been the focus of studies on dyslexia and speech perception, even though these measures seem tailor made to test claims of deficits in detecting complex dynamic frequency or amplitude patterns present in the speech signal. The association between speech perception and non-linear behavioural phenomena (e.g., hysteresis, enhanced contrasts) has been established in a number of studies (see e.g., Case et al., 1995; Porter & Hogue, 1998; Tuller et al., 1994; Van Lieshout et al., 2004; Hasselman, 2014a). Recent studies have shown that quantification of recurrent patterns (RQA) and the presence of power-law scaling in trial series of word-naming latencies of dyslexic readers are different (more random, less fluent) from average readers and are correlated to reading performance on standardised tests. The correlation only appears in dyslexic readers (Wijnants et al., 2012b). A comparison of response latency distributions in different tasks (word-naming, colour-naming, arithmetic, flanker tasks), suggests dyslexic readers' response distributions are a scaled versions of average readers, in which the relatively larger 'heavy tails' account for more variable, more random behaviour (Holden et al., 2014). This would indicate a general scaled continuum account of dyslexia and not, as component dominant aetiology suggests, a localised specific deficit. This is reflected in how the temporal evolution and change processes (i.e., continuous dynamics) are studied: component process measures quantify change over time as a nominal variable that can be 'on' or 'off' in a stimulus (F2 rate of frequency change is high or low; rate of change of envelope modulation is high or low). This is not the same as quantifying the dynamics of a continuous signal (RQA), or the full range of temporal correlations present in a signal (multifractal spectrum).
Figure 1 displays six different representations of a single speech stimulus (Stimulus 1) that was used to extract measures that have been suggested to be important for understanding the role of speech perception in the aetiology of developmental dyslexia. Each stimulus representation can be ordered with respect to the component versus interaction dominant causal ontology used in hypotheses about the origins of impaired performance associated with developmental dyslexia. What follows will be an introduction to the different measures used in this study and an analysis of their ability to serve as the features that enable classification of speech stimuli as observed in the performance of average and dyslexic readers in simple labelling experiments of those stimuli.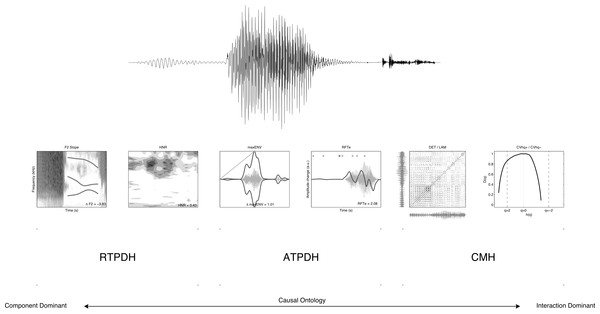 Method
Data sharing and reproducibility of results
The raw and aggregated data, stimulus files and Matlab code (The MathWorks, 2012) to reproduce the analyses and figures in this article are available at the Open Science Framework: https://osf.io/a8g32. The files are annotated and demonstrate how to extract the stimulus features from the audio files, how to create figures and perform the QDA analysis. In addition, the raw data is available in spreadsheet format.
Participants
Children could enter the study as participants after their caregivers signed an informed consent form (equivalent to "Consent Form 4 - Under 12" issued by the Ethics Committee of the Faculty of Social Sciences of the Radboud University Nijmegen. An English translation is available in the Supplemental Information 1 and Supplemental Information 2). There were 80 participants (age range 101.2 to 159.3 months) from 9 different schools in the southeast of the Netherlands. Half of the subjects (40) were dyslexic readers as indicated by two reading tests: A timed-reading task for regular words "Drie-Minuten-Toets"; Verhoeven, 1995 and a timed pseudo-word reading task ("KLEPEL"; Van den Bos et al., 1994). When the child's scores on both tests were within the 25th percentile (norm score by age), the child was considered to have severe reading problems. For one participant who completed the study, no data was recorded in the output file and could not be included. Table 5 displays the information for the participants whose data were analysed.
Average readers
Dyslexic readers
Mean
SD
Mean
SD
Age (months)
127.2
12.3
133.5
14.9
DMT1
100.0
15.5
72.1
15.7
DMT2
94.6
18.2
60.05
15.7
DMT3
84.3
16.7
48.0
16.2
KLEPEL
74.1
17.4
32.4
12.7
Gender
22 boys
18 girls
19 boys
20 girls
N
40
39
Stimuli and acoustic manipulations
The stimuli were based upon natural speech recordings for the words /bAk/ [container] and /dAk/ [roof] and transformed to create a 10-step /bAk/ to /dAk/ continuum (Van Beinum et al., 2005) using the Praat program (Boersma & Weenink, 2002). The stimuli differed only with respect to the second formant transition of which the onset frequency was gradually increased from /bAk/ to /dAk/ (see Table 6 for exact values). All the stimuli on this F2 continuum were manipulated in three manners using the Praat program (Boersma & Weenink, 2002). First, the speech signal was Slowed Down to 150% of its original length. This was achieved by a Pitch Synchronous Overlap and Add (PSOLA) algorithm (see e.g., Segers & Verhoeven, 2005). Second, the signal was Amplified by 20 dB, for the fast changing spectral elements. The algorithm used to do this in Praat was similar to the one used by Nagarajan et al. (1998), who confirmed this in a personal communication with Segers & Verhoeven (2005). Third, Both manipulations were applied as is done in the FastForWord program (Merzenich et al., 1996; Tallal et al., 1996): the speech signal was slowed to 150% of its original length and all the fast transitional elements were then amplified by 20 dB. There was of course also a continuum which had None of the manipulations applied to it. This yielded 40 different stimuli in total.
Procedure
Speech perception experiments
The speech identification task (labelling task) was presented on a laptop computer in a quiet room at the children's school. There were two tasks conducted in two sessions: an identification task (reported in this article) and a discrimination task (reported in Hasselman, 2014b). In the identification task, the participants were asked to rest their left and right index fingers on a coloured key on the left side [z] and right side [/] of the keyboard. After an attentional beep and fixation cross a smiley face appeared on the screen, which then uttered a word, one of the stimuli. The cover story was that the smiley face could not speak very well and the child had to help find out which out of two possible words (/bAk/ [roof] or /dAk/ [container]) it had just said. After the utterance of the word two frames appeared on the screen, one on the left, one on the right with either a picture of a roof or a container inside (positions were randomised). The child had to press the button corresponding to the position of the picture named by the smiley face. Prior to the experimental trials, 10 practice trials were presented using different pictures and pronunciations that were all clear exemplars. Feedback was given on the responses during these practice trials and no child made more than 3 errors during practice. During the experimental condition, the unmanipulated and the three types of manipulated /bAk/ and /dAk/ stimuli were presented in a random order. Each stimulus was presented twice resulting in 80 stimulus presentations (2 × 4 manipulations ×10 stimuli).1
Extracting the stimulus characteristics
The 40 stimuli were 16 bit digital audio files in .WAV format, with a sample rate of 44.1 kHz. These were always used as the basis for extracting the following measures2: The slope of the second formant transition (F2 slope, Fig. 2), the time it took for the envelope to reach its maximal value (mxENV Slope, Fig. 3), the entropy of rise and fall times (RFTe, Fig. 4). Settings were used in Matlab that mimic the default behaviour of the Praat program (Boersma & Weenink, 2002) so the output of this script should be similar to output generated by Praat. For the Inharmonicity measure (HNR; Table 1) and the measures obtained from recurrence quantification analysis (Fig. 7) only the transition part of the stimulus was considered. Following Little et al. (2007), to assure that the RQA is performed on time series of equal length, all files were resampled to 4,096 samples (waveforms shown under the RP plots in Fig. 7). The Multifractal spectrum was obtained by Multifractal Detrended Fluctuation Analysis based on the entire stimulus signal, using Matlab code by Ihlen (2012).
Statistical analysis
For each participant, there were 80 responses of either /bAk/ or /dAk/. These data were entered in a logistic multilevel model (using MLwiN version 2.2 Rabash et al., 2009) with the 80 measurement occasions representing responses to a random permutation of the ordered F2 continuum at level1. The responses at the level of the measurement occasions were considered binomially distributed as 0 and 1 and a logit link function was used. The repeated measurements can be thought of as clustered within the participant, who represent a second level of random variation in the model (level2). The modelling strategy was as follows: First it was examined whether the multilevel model gave a better fit than a single level model with just measurement occasion defined as a level; then, the empty multilevel model for change was fitted (M0), which in the present case means that a zero inflated fixed effect predictor was added representing the stimulus rank order on the continuum (0–9). In a subsequent model (M2) it was examined whether stimulus rank could explain random variation in the slopes of the curve at the level of the participants (level2). If so, this means the variation in labelling of the continuum between participants can be understood as random variation with respect to the average labelling curve of the entire sample. In the next step (M3) level1 and level2 covariates were added: A dummy variable that represents the four stimulus types (level1), and a dummy variable that represents whether subjects are dyslexic or average readers (level2). In the final modelling step (M4) various interactions were tested including cross-level interactions between participant type and stimulus type. The models were fitted using a Monte Carlo Markov Chain simulation with 150,000 iterations (Browne et al., 2009). This number was chosen after inspecting the Raferty-Lewis diagnostic for each parameter estimate at each modelling step and was found to yield a very safe margin for all predicted parameters.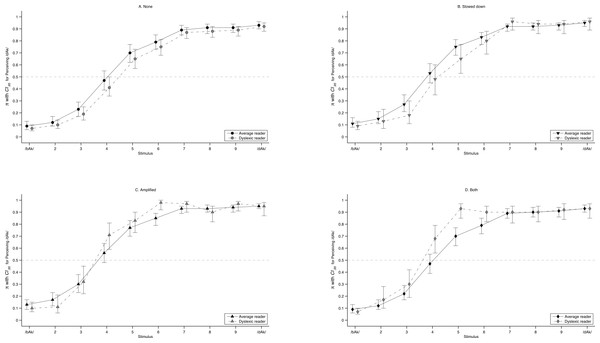 The predictions of the logistic multilevel model for each stimulus were used as targets for the quadratic discriminant analysis (QDA). If the lower 95% confidence bound predicted by the logistic multilevel model exceeded the chance level of 0.5 it was noted for that stimulus that /dAk/ was perceived. Otherwise the target for the discriminant analysis was /bAk/ for that stimulus. This resulted in a string of 40 zeroes and ones. The objective of the discriminant analysis was to replicate the classification in zeroes and ones based on pairs of the measures discussed above. The following pairs were tested mxENV Slope / F2 Slope; HNR / F2 Slope; RFTe / mxENV Slope; RFTe / HNR; LAM / DET. The pairs were all converted to the unit scale before analysis. The algorithm used to perform QDA was the same as described in Little et al. (2007). This procedure allows for calculation of 95% Confidence Intervals around the percentage correctly classified stimuli by bootstrap resampling. All QDA analyses were based on 15,000 bootstrap replications.
Msingle
M0
M1
M2
M3
M4
idLij =
β
S.E.
β
S.E.
β
S.E.
β
S.E.
β
S.E.
β
S.E.
Fixed part
Intercept
0.51
0.03
0.53
0.04
−2.04
0.10
−2.39
0.15
−2.77
0.19
−2.59
0.20
stimulus
0.66
0.02
0.77
0.04
0.8
0.05
0.78
0.04
Slowed Down (D1)
0.29
0.10
0.16
0.14
Amplified (D1)
0.63
0.10
0.37
0.14
Both (D1)
0.36
0.10
0.01
0.14
Dyslexic (D2)
−0.33
0.20
Slowed down ×dyslexic
0.25
0.21
Amplified ×dyslexic
0.53
0.21
Both ×dyslexic
0.73
0.20
Random part
Level 2
Intercept variance
0.11
0.03
0.36
0.08
1.79
0.38
1.81
0.39
1.83
0.38
Slope variance
0.42
0.09
0.42
0.10
0.42
0.09
Intercept-Slope covariance
0.12
0.03
0.12
0.03
0.12
0.03
Level 1
Binomial variance

D
8360.07
8220.42
5335.96
4958.18
4920.15
4907.22
D(ϕ)
8359.09
8167.94
5271.46
4835.14
4793.9
4777.51
pD(D − D(ϕ))
0.98
52.47
64.5
123.04
126.24
129.71
DIC
8361.06
8272.89
5400.45
5081.22
5046.39
5036.93
Results
Multilevel logistic model
The results of multilevel modelling taking the individual trials of the identification experiment as the dependent variable at level1 and subjects at level2 are shown in Table 7. A graphical representation of the predictions by the final model is shown in Fig. 10. In the final model, there was no significant main effect of experimental group (dyslexic reader vs. average reader), but there was a significant cross-level interaction between experimental group and acoustic manipulation. This interaction is revealed in Fig. 10 where in C (Amplified) and D (Both) there two clear examples of non-overlapping CI between the labelling curves of average and dyslexic readers for stimulus 6 in C and stimulus 5 in D.
In both cases the dyslexic readers have a higher odds for perceiving /dAk/. Another difference between the groups may be observed when evaluating at which stimuli the lower confidence bound of the odds for perceiving /dAk/ exceeds the chance level of 0.5. Again the difference between the groups is observed with stimuli of category Amplified and Both (C and D in Fig. 10). The dyslexic readers' odds for perceiving /dAk/ is with 95% certainty higher than chance at stimulus 4 for these manipulations, whereas for normal and Slowed Down manipulations it is at stimulus 5. For average readers this boundary is always at stimulus 5 irrespective of the acoustic manipulation. In Table 7 the significant parameter estimates of the final model (M4) corroborate this: At each unit step increase in F2 frequency (stimulus number) there is an increase in the odds of perceiving /bAk/. Amplified stimuli also increase the odds of perceiving /dAk/ and for the group of dyslexic readers Amplified and Both stimulus types add even more to those odds. The random intercept and slope variance indicate that labelling curves vary across participants. Adding predictors and cross-level interactions did however not noticeably decrease, or explain this variance (changes are in 3rd decimal of estimated parameters). The DIC statistic did decrease with each consecutive model indicating a better model fit.
Formant onset (Hz)
Predicted Probability (π) for Perceiving /dAk/ per Acoustic Manipulation
Stimulus
F1
F2
F3
None
95% CI
Slowed
95% CI
Amplified
95% CI
Both
95% CI
/bAk/
440
1,100
2,700
0.06
(0.04, 0.08)
0.08
(0.05, 0.12)
0.13
(0.07, 0.24)
0.18
(0.08, 0.35)
2
∣
1,178
∣
0.12
(0.08, 0.17)
0.15
(0.09, 0.25)
0.25
(0.13, 0.43)
0.32
(0.15, 0.57)c
3
∣
1,255
∣
0.23
(0.16, 0.33)
0.28
(0.17, 0.44)
0.43
(0.24, 0.64)c
0.51
(0.27, 0.76)b
4
∣
1333
∣
0.40
(0.28, 0.54)c
0.47
(0.29, 0.66 )c
0.62
(0.38, 0.81)b
0.70
(0.42, 0.88)
5
∣
1,411
∣
0.60
(0.44, 0.74)b
0.66
(0.45, 0.82)b
0.78
(0.56, 0.91)a
0.84
(0.60, 0.95)a
6
∣
1489
∣
0.77
(0.61, 0.87)a
0.81
(0.63 , 0.92)a
0.89
(0.72, 0.96)
0.92
(0.75, 0.98)
7
∣
1,567
∣
0.88
(0.76, 0.94)
0.91
(0.77, 0.96)
0.95
(0.84, 0.98)
0.96
(0.86, 0.99)
8
∣
1,644
∣
0.94
(0.86, 0.98)
0.95
(0.87, 0.98)
0.98
(0.91, 0.99)
0.98
(0.92, 1.00)
9
∣
1,722
∣
0.97
(0.93, 0.99)
0.98
(0.93, 0.99)
0.99
(0.96, 1.00)
0.99
(0.96, 1.00)
/dAk/
440
1,800
2,700
0.99
(0.96, 1.00)
0.99
(0.97, 1.00)
0.99
(0.98, 1.00)
1.00
(0.98, 1.00)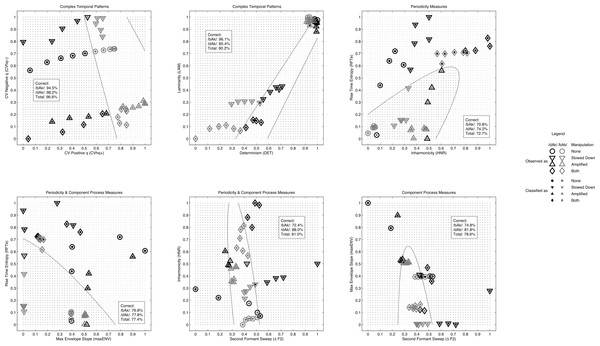 Quadratic discriminant analysis
Because the outcomes of the multilevel logistic model yield different boundaries at which dyslexic and average readers switch from /bAk/ to /dAk/ for stimuli of type Amplified and Both, the QDA was performed for each group separately using these labels as the target for the classification. At the same time, there was no significant main effect of group and the boundaries for the entire sample as predicted by M3 (see Table 6) deviated from the boundaries predicted by M4 for each group. To investigate the impact of these differences, an additional QDA classification was performed using the predicted labels on the level of the sample. The results for the sample are shown in Fig. 11 and Table 8 and also include the results for the predicted labels of M4 for each group of participants. What becomes apparent is that the Complexity measures outperform the other measures no matter which sequence of target labels is used.
Group
Feature combination
Correct as /bAk/
Correct as /dAk/
Overall correct
Median
CI.95
Median
CI.95
Median
CI.95
Sample
CVhq+/CVhq−
94.5%
6.2%
98.2%
8.1%
96.6%
4.5%
LAM / DET
96.1%
10.8%
85.4%
13.6%
90.2%
6.8%
HNR / RFTe
70.8%
19.0%
74.2%
15.3%
72.7%
8.1%
maxENV / RFTe
76.8%
17.0%
77.8%
19.4%
77.4%
7.1%
F2 / HNR
72.4%
17.6%
88.0%
15.2%
81.0%
9.7%
F2 / maxENV
74.8%
18.2%
81.8%
20.9%
78.6%
8.9%
Average readers
CVhq+/ CVhq−
96.0%
8.6%
95.5%
5.2%
95.7%
4.0%
LAM / DET
96.2%
13.4%
88.2%
13.8%
91.4%
8.8%
HNR / RFTe
75.8%
17.8%
72.1%
11.2%
73.6%
6.2%
maxENV / RFTe
84.3%
18.7%
81.2%
17.5%
82.4%
6.5%
F2 / HNR
66.8%
19.4%
86.1%
16.4%
78.3%
9.7%
F2 / maxENV
69.4%
22.2%
75.8%
25.4%
73.2%
11.3%
Dyslexic readers
CVhq+/ CVhq−
97.4%
7.1%
96.0%
6.7%
96.5%
4.3%
LAM / DET
94.9%
15.4%
87.4%
13.6%
90.1%
9.0%
HNR / RFTe
77.2%
19.2%
72.1%
11.9%
73.9%
4.4%
maxENV / RFTe
84.4%
18.0%
80.9%
18.9%
82.1%
8.7%
F2 / HNR
64.1%
17.7%
86.6%
14.4%
78.7%
9.1%
F2 / maxENV
73.5%
20.0%
78.5%
23.1%
76.8%
11.3%
Conclusion and Discussion
There are three clear and novel results to be discussed:
A difference between dyslexic and average readers in labelling some of the manipulated stimuli on the continuum is observed.

The Complex Dynamical Pattern measures outperform the other measures when used by a simple classifier assigning one out of two possible target labels to an observed response. This holds for the sample level as well as for each group separately, even though the sequences of target labels differ between the groups for two sets of acoustically manipulated stimuli (Amplified and Both).

The accuracy of stimulus classification by measures derived from different theoretical positions on the relationship between speech perception and reading appears to be ordered along a continuum (see Fig. 1 and Table 4). On one extreme, causal primacy is attributed to component processes (lower classification accuracy), on the other extreme, causal primacy is attributed to the interactions between component processes (higher classification accuracy).
The first result entails the dyslexic readers identifying stimulus 4 as /dAk/ with 95% confidence above chance when the stimulus is either amplified or slowed down and subsequently amplified. It is thus not the case that dyslexic readers "benefit" from the manipulations in terms of their speech perception becoming more like that of average readers; instead, they perceive the boundary one continuum step earlier than average readers do whenever amplification is applied to the stimuli. It should be noted though that this 'earlier' boundary perception is not the origin of the significant interaction effects between stimulus type and experimental group: the confidence intervals of the groups overlapped at these stimuli. Significant differences in odds for perceiving /dAk/ between the groups were observed for stimulus 6 (Amplified) and stimulus 5 (Both). This interaction is not likely to influence the actual labelling of the stimulus since both groups would label it /dAk/ above chance with 95% confidence. This difference would be noticed when the stimuli were presented to the same person many times, in which case a dyslexic reader would label stimulus 5 (Both) about 9/10 times as /dAk/ and an average reader about 7/10 times. A similar result was found in Hasselman (2014b), where it was suggested that applying some manipulations may actually reduce the accuracy of identification and discrimination of stimuli because it biases perception towards /dAk/.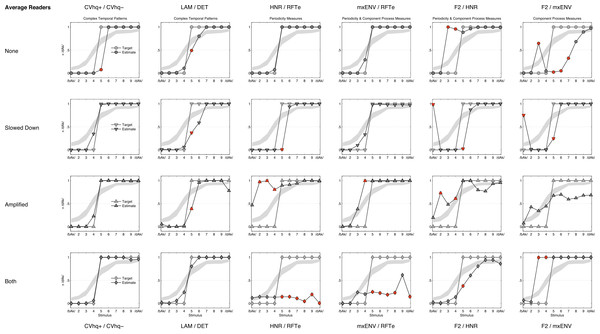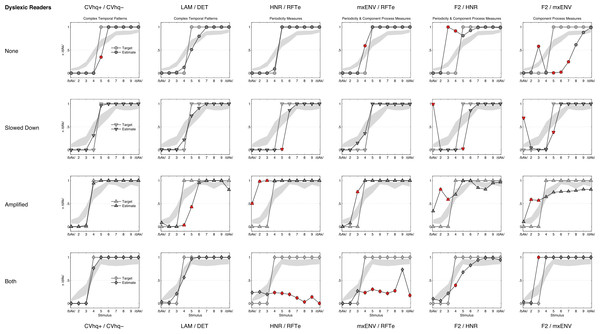 The second result concerns the performance of a simple classifier (QDA) employed to label the stimuli as participants in the experiment using several different measures extracted from those stimuli. The classifier performed best when the Complex Temporal Pattern measures (Coefficients of Variation of local scaling exponents of the multifractal spectrum, Determinism and Laminarity of the recurrence analysis) were used. In fact, the classification was almost perfect when the multifractal features were used. Upon examination, the only stimuli misclassified by the complexity measures were stimulus 4 (once) and 5 (six times), in both groups taken together (see Figs. 12 and 13). These stimuli lie on the perceptual boundary (Stimulus 4–6) where the target label changes from 0 to 1. Misclassification may be expected for these stimuli, but classification should be relatively accurate outside of this transition region. However, this expected pattern is not what is observed for the other feature combinations. There were many additional misclassification outside the region of the label transition yielding classification curves that are clearly false (see Figs. 12 and 13).
The third result concerns the condition of strong inference: What is the implication of these findings for the two deficit hypotheses associated with the F2 Slope / HNR measures (ATPDH) and mxENV Slope / RFTe measures (RTPDH)? First, all measures yield different values that appear to differentiate the stimuli in a sensible way (see Figs. 2–4 and Table 2). In other words they have the potential to be used for identification by a classifier. In fact, the classification results, expressed as % correct are not disastrous when these measures are used and at the sample level many stimuli are indeed labelled as human participants would label them. Some of these correct classifications may be expected from the way the stimuli are constructed. After all, this was done by manipulating the onset of the F2 while keeping everything else constant. Relative to that fact, their low rank in the accuracy results is surprising and should have consequences for the perceived validity of the role these features play in speech perception in general and developmental dyslexia in specific.
The measures used in this study to reveal invariant structure across scales of fluctuation, were inspired by Little et al. (2007) who showed RQA and scaling exponent based measures yielded the best classification of healthy and disordered speech. In such a clinical context, the benefit of roughly 10% more accurate detection of disordered speech is immediately apparent. In the present study, stimuli were classified but not participants; it is unlikely that the current difference in labelling between average and dyslexic readers would provide a gain in diagnostic capabilities over standardised reading tests. The difference between the groups of readers observed in Fig. 10 are reflected in the QDA analysis by an earlier label change (at stimulus 4) for dyslexic readers labelling the Amplified and Both stimulus manipulations. The multifractal spectrum measures enable the classifier to model this early jump correctly, the RQA measures fail for the Amplified stimuli (but also in the Average Readers group). The other measures fail for both stimulus types producing earlier jumps (Stimulus 3 or earlier) or later jumps (Stimulus 5 or later) in dyslexic readers, for average readers these patterns are shifted up the continuum (Stimulus 4 or earlier and Stimulus 6 or later). Apparently, there are invariant temporal structures in all the audio files that are insensitive to any disruption (e.g., the acoustic manipulations) or absolute differences in physical characteristics associated with articulatory cues (e.g., due to the changing F2 onset): Their relative rank order on the labelling curve remains approximately the same.
Recent studies in speech signal analysis and animal vocalizations have indeed shown the frequency domain obtained by Fourier decomposition may not be the information used by the neural systems of mammals to perceive sounds, whereas the Hilbert decomposition in slow varying envelope and fast varying fine time structure (the analytic signal), may be the more likely candidate (Smith, Delgutte & Oxenham, 2002). The Rise-Time Perception Deficit Hypothesis of dyslexia (cf. Goswami et al., 2002) is partially based on these findings. However, the fact that the speech signal is the product (i.e., multiplicative temporal interactions) of the fast analytic signal and the slow changing envelope is not considered by the theory. In any case, the claim that speech sounds are being stored in memory as strings of abstract symbols that represent speech components such as formants and phonemes, becomes untenable when they are directly compared to features that quantify dynamical invariants presents in the signal (see Port, 2007, for a review of arguments against positing 'phone' components). Many of the traditional problems with the scientific explanation of speech perception and production appear to be related to the use of a causal ontology that posits independent components whose additive interactions generate complex behaviour such as communication by means of spoken language.
The claim is not that humans use a neurological equivalent of QDA to identify speech sounds; the present study shows that it is very unlikely that participants simply analyse (relative) frequency changes or amplitude envelopes and somehow match them to collections of frequencies and amplitude patterns stored in the brain. It also seems unlikely that a failure to match those stored features can constitute an aetiology for observed reading and spelling problems in developmental dyslexia. Instead, based on the complexity measures, QDA assigns a correct classification curve to each experimental group, even when the curves differ between the groups. Compared to average readers, the category switches are 'early' for dyslexic readers which could indicate a lower threshold for perceiving /dAk/ or an enhanced contrast (see e.g., Case et al., 1995; Tuller et al., 1994) compared to the average readers. A comparison of the classification curves in Figs. 12 and 13 reveals that the multifractal and RQA measures which does not appear in any systematic way for other measures. This suggests that the processes underlying the small observed labelling differences between average and dyslexic readers may indeed reflect a scaled continuum rather than a specific impairment, a deficient component.
The classical information processing problems: lack of invariance?
Recently, Kleinschmidt & Jaeger, in press described an 'ideal adapter framework' based on (Bayesian) belief updating to model three challenging aspects of speech perception: (1) Recognize the familiar, (2) Generalize to the similar, and (3) Adapt to the novel (Kleinschmidt & Jaeger, in press, p. 4). These well known problems in the scientific study of speech perception are related to the lack of invariance between speech signals that are perceived to be similar, when in fact they differ substantially with respect to one or more physical characteristics of the produced signal (Liberman et al., 1967). The F2 manipulation in combination with the acoustic manipulations applied in this article can be considered a modest example of such variants, in reality the differences between speakers in the production of an F2 onset may be much more extreme than represented by the stimulus set used in the current study (see e.g., Kleinschmidt & Jaeger, in press). The similarity recognition problems (point 1 and 2 above) emerge due to the conception of perception and recognition memory as a database search prompted by an 'incoming' query (the signal). Specific values of perceptual cues are hypothesized to lay dormant, stored inside the brain, waiting to be constructed into a larger whole by accumulating matching stimulus features. Due to the lack of invariance, these features must somehow be collected into aggregate sets of features that overlap considerably between different categories.
To illustrate how the similarity recognition problem arises from its conception of a search and match operation, consider the mechanism behind a popular application for smartphones called Shazam (Wang & Chen, 2003). It is capable of analysing music being played in the environment, and after a few seconds it provides the name of the song and the artist who performed it. One of its interesting features is that it does not matter which part of the song is analysed, and that as long as the recording being played exceeds background noise and is in the Shazam database, a few seconds of analysis are enough to yield almost 100% accuracy. The search and match time is reported to be between 5–500 ms. Based on a sound recording a unique time-coded fingerprint is extracted from the spectrum and is stored in a database. If a song needs to be recognised, a smart search algorithm can quickly find likely candidates for the origin of the small sample of the fingerprint (Wang & Chen, 2003). The fingerprints are so unique that any song in the database can be quickly identified, irrespective of the sample being taken from the begin, middle or end of the song. This is exactly the reason why the database query metaphor is an unlikely model for speech perception: Humans are generally not very good at accurately reconstructing a word or sentence when just one or two parts (phones, words) are presented. The requirement of uniqueness in this type of database search is the main cause of the apparent similarity recognition problem in speech perception. A song of which the original studio recording is in the database will not be recognised when a sample of a live recording of the same song performed by the same artist is the source of the query. This is a failure to recognize the familiar, because the system cannot generalize to the similar. Even a studio recording of the same song by the same artist, but with a different audio mix (e.g., older recordings that were 'remastered') will not be recognised if the actual recording is not stored in the database.
This problem of generalisation is one of many problems identified with the notion of perception as constructing meaningful information from incoming perceptual cues by matching it to stored meaningful information (see e.g., Chemero, 2009; Haselager, de Groot & Van Rappard, 2003). Even if one wants to propose that we just store everything we hear from the day we are capable of doing so and disregard the fact that the amount of meaningful information to be stored would become infinitely large, it means we cannot understand someone the first time we meet him or her. We first have to store into a database the fingerprint of his or her utterances, using different speaking voices! Merleau-Ponty described it as follows: "An impression can never by itself be associated with another impression. Nor has it the power to arouse others. It does so only provided that it is already understood in the light of the past experience in which it co-existed with those which we are concerned to arouse." (Merleau-Ponty, 1962, p. 14). The internal representation of experienced reality is an unnecessary assumption in understanding intelligent behaviour when one examines how human perception and action is constrained by the physical features of the body and the environment (Dreyfus, 2002).
Biological information processing: abundant self-affine invariance?
The interaction dynamics that give rise to a constraining of the degrees of freedom in human speech perception and production were lucidly described by Stetson (1951): "Speech is rather a set of movements made audible than a set of sounds produced by movements." So the 'set of features' that should reveal the invariance used in categorical perception should be related to the complex system that produces the speech signal. There is evidence that a close bi-directional perception-action coupling exists when speech perception and production are concerned. In a series of experiments Perkell et al. (2004b) and Perkell et al. (2004a) have shown that the distinctness, or quality of a produced vowel contrast by a speaker, is related to the quality of the perception of that contrast by the same speaker. In other words, speech production will constrain speech perception and vice versa. Some of these notions have been incorporated in the DIVA (Directions Into Velocities of Articulators) model of speech production (Guenther & Perkell, 2004). In short, this model learns to produce speech by tuning, or constraining its motor output to auditory targets it is presented with (like an infant would attune to the often very repetitive speech-like utterances produced by its parents). This is in principle the same 'mechanism' suggested by the complexity matching hypothesis.
In the present context of self-affine scaling, the recognition of familiarity and generalization to similarity are represented by the different scaling relations estimated to constitute the spectrum of generalized Hurst exponents. That is, the local scaling exponents quantify the magnitude of 'familiar similarity' (right part of Fig. 9) relative to the signal itself, observed at different scales of fluctuation (left part of Fig. 9). Figure 14 reveals the full multi-scale, self-affine structure of temporal patterns present in the signal by means of a Continuous Wavelet Transform of the signal. The x-axis in the scaleogram represents time and the y-axis represents scales of fluctuation (expressed in seconds). The colour-coding represents the goodness-of-fit of the shape of continuously scaled versions of a 'mother' wavelet (the Mexican hat) with the shape of the observed signal. The scaled shape is shifted across the time axis and this causes the change in colour from left to right. The process is repeated for different scaled versions of the wavelet and this causes the change in colour from top to bottom. If the wavelet is scaled to cover large portions of the time-series, the fluctuation frequencies it can detect will be slow fluctuations and vice versa. In Fig. 14 the largest scale is about 0.6 s and the dark colour indicates the expected low association between the stretched wavelet with the entire signal. The large light coloured branching structures that extend across many scales reveal how patterns recorded at the smallest scales are nested as self-affine scaled copies within the larger structures.
By following the vertical extrema of cross-scale associations (the vertical line structures), so called temporal singularities can be found, that occur when the structure at a larger scales branches into two smaller vertical structures (see Fig. 14, inset on the right). These singularities constitute a spectrum that is equal to the generalized Hurst spectrum. The coloured lines in Fig. 14 trace a path that provides information about the signal that is invariant across many scales. Some paths yield predictive information (a larger scale version of the current waveform is yet to come), others constrain (or confirm) what has already occurred (the current waveform is a scaled version of larger wave form that just occurred). The entire spectrum can be considered a complex resonance frequency for self-affine structure. The adaptation to novelty achieved by QDA (i.e., adaptation of the classification solution based on slightly different empirical curves) is 'simple' enough to consider physically realizable in a biological system. A self-tuning resonator (Collins, Chow & Imhoff, 1995; Gammaitoni, 1995) could be an interesting metaphor.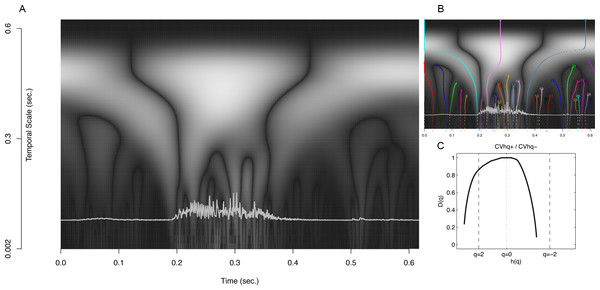 Chaotic Resonance (CR, see e.g., Freeman, Kozma & Werbos, 2001) would be a likely candidate for the kind of resonance that should be amplified. It is related to, but essentially different from Stochastic Resonance (SR, see Table 2 in Freeman, Kozma & Werbos, 2001, p. 117). Stochastic Resonance is a "cooperative phenomenon in which a weak, coherent input signal entrains ambient noise" (Hänggi, 2002), which has been evidenced in living organisms as SNR optimization effect of biological, sensory input signals transmitted thought the nervous system (see e.g., Hänggi, 2002). A consensus about the biophysical implementation of adaptive resonance is not available; there are many options to achieve resonance (Grossberg, 1999) and SR concerns mainly the neuron level, not the mesoscopic level of larger neuronal assemblies of interest to behavioural and cognitive neuroscience (i.e., the scale between the single cortical cell and the largest cortical structures such as the lobes).
Recent studies do model SR in larger neural networks (Aihara et al., 2010; Lopes et al., 2013) and report a strong association between scale-free network topology (e.g., small-world networks) and (extended) critical states as conditions for complex adaptive resonance to occur (Kwon & Moon, 2002; Ozer et al., 2008; Uzuntarla, 2013; Yilmaz et al., 2013). It is likely that a concept of Chaotic Resonance will be necessary to describe phenomena such as 'extended criticality' observed in complex systems (i.e., systems continuously break the symmetry of meta- or multi-stable states, but also recover them, see Kaiser, Görner & Hilgetag, 2007; Kaiser & Hilgetag, 2010; Kelso, 2012) and ultimately the complexity matching suggested in the present study. It is beyond the scope of this article to discuss the details of CR, it will suffice to describe it as a more complex type of resonance than SR, capable of generating stable behaviour by amplifying complex fluctuating signals that are internal to the system (rather than the input–output nature of SR that seeks stability by reducing fluctuations). The conjecture then is that a self-tuning, self-affine resonator should be able to produce a classification response similar to the QDA results, based on a the self-affine structure in the speech signal.
General conclusion
Whether participants actually matched, or resonated the complex dynamical pattern remains a topic of future studies: To evidence such matching at the scale at which the speech sound unfolds would require (neuro-)physiological measurements. The global convergence of the classifier accuracy on the scale of component-dominant to interaction-dominant causal ontologies of behaviour is non-trivial. The former perspective looks for components as efficient causes of behaviour (e.g., % of variance in one variable that is uniquely attributable to the levels of another variable) whereas the latter looks for dynamical invariants and correlations across lags time that may be exploited to coordinate behaviour (e.g., long range anti-persistent correlations or self-organised critical states, cf. Van Orden, Holden & Turvey, 2003). Although it is important to note that this does not mean an interaction-dominant perspective denies that components exist, it does imply that components (from phoneme representations to 'cues') should be assigned a different causal role in production and perception of human speech. It follows that components and component processes proposed by RTDH and ATPDH should be reconsidered as a factor in the aetiology of developmental dyslexia. The current results do not provide a readily available alternative, but they do provide strong cause for the development of an aetiology based on an interaction-dominant causal ontology; for example, based on the scaled continuum hypothesis (Hasselman, 2014a; Holden et al., 2014; Wijnants et al., 2012b) and complexity matching.
It is of course important to replicate these findings with other stimuli and other samples of participants. Interestingly, the analysis presented here can be performed post-hoc on any speech identification study already published. The measures can be extracted from any signal and the QDA can be applied using the observed labels found in the study as targets for the classification.
Supplemental Information
Table S1
Consent 12–17
Consent under 12
Extraction of these measures is described in detail in the file Hasselman2014-extractmeasures.m available here: https://osf.io/a8g32/files.