Population genetic structure and variability in Lindera glauca (Lauraceae) indicates low levels of genetic diversity and skewed sex ratios in natural populations in mainland China
1
College of Tea Science, Guizhou University

,

Guiyang

,

China
2
Beijing Forestry University

,

Beijing

,

China
Published

Accepted

Received
Academic Editor
Subject Areas

Keywords

Lindera glauca,

Genetic structure

,

Apomixis

,

SSR marker

,

Gene flow
Copyright

©

2020

Xiong et al.

Licence

This is an open access article distributed under the terms of the Creative Commons Attribution License, which permits unrestricted use, distribution, reproduction and adaptation in any medium and for any purpose provided that it is properly attributed. For attribution, the original author(s), title, publication source (PeerJ) and either DOI or URL of the article must be cited.
Cite this article

2020

. Population genetic structure and variability in Lindera glauca (Lauraceae) indicates low levels of genetic diversity and skewed sex ratios in natural populations in mainland China.

PeerJ

8

:

e8304

https://doi.org/10.7717/peerj.8304
Abstract
Lindera glauca (Lauraceae) is a tree of economic and ecological significance that reproduces sexually and asexually via apomictic seeds. It is widely distributed in the low-altitude montane forests of East Asia. Despite the potential implications of a mixed reproductive system in terms of genetic diversity, few studies have focused on this aspect. In this study, the genetic structure of wild populations of L. glauca was investigated via genetic analyses. Overall, 13 nuclear microsatellites (nSSRs) and five chloroplast microsatellites (cpSSRs) were used to genotype 300 individual plants, taken from 20 wild populations (a small sample size in some wild populations is due to the limitation of its specific reproduction, leading to certain limitations in the results of this study) and two cultivated populations ranging across nearly the entire natural distribution of mainland China. The populations exhibited low levels of genetic diversity (nSSR: AR = 1.75, Ho = 0.32, He = 0.36; cpSSR: Nb = 2.01, Hrs = 0.40), and no significant effect of isolation by distance between populations existed, regardless of marker type (nSSR: R2 = 0.0401, P = 0.068; cpSSR: R2 = 0.033, P = 0.091). Haplotype networks showed complex relationships among populations, and the H12 haplotype was predominant in most populations. Analyses of molecular variance obtained with nuclear markers (Fsc = 0.293, FST = 0.362) and chloroplast markers (Fsc = 0.299, FST = 0.312) were similar. The migration ratio of pollen flow versus seed flow in this study was negative (r = −1.149). Results suggest that weak barriers of dispersal between populations and/or the similarity of founders shared between neighbors and distant populations are indicative of the gene flow between populations more likely involving seeds. Wild L. glauca in mainland China was inferred to have highly skewed sex ratios with predominant females. In addition, some populations experienced a recent bottleneck effect, especially in Gujianshan, Chongqing, and southwest China (population GJS). It is suggested that few wild male individuals should be conserved in order to maintain overall genetic diversity in the wild populations of this species. These findings provide important information for the sustainable utilization and preservation of the overall genetic diversity of L. glauca.
Introduction
Plant populations respond to the changing environment and climate via phenotype shifts (Nicotra et al., 2010) and, mainly through sexual reproduction, by bringing together high-fitness alleles that reside in different individuals (Whitton et al., 2008). In general, sexual reproduction is predominant in eukaryotes and a nearly universal characteristic of angiosperms. In some groups, however, some sexual plants can reproduce asexually via apomixis, which is the production of clonal seeds in the absence of fertilization (Richards, 1986; Daniel et al., 2001), producing exact genetic replicas of maternal plants (Daniel et al., 2001). Apomixis occurs in fewer than 1% of flowering plant species, with an uneven distribution among lineages (Whitton et al., 2008). Apomixis occurs sporadically among angiosperms (APG, 2003) (Whitton et al., 2008). In some genera (i.e., Taraxacum), apomictic clones can be widely distributed and are temporarily ecologically successful (Van Dijk, 2003; Majesky et al., 2012). However, lack of diversity, the limited possibility of acquiring heritable variability (Richards, 1996), and an increased mutation load leading to the extinction of clones (Van Dijk, 2003), give apomicts an adaptive disadvantage. In contrast, apomicts have lower reproductive costs over than sexuals, a high proportion of loci fixed to heterozygous conditions, and significant advantages over sexuals in colonizing new areas (Majesky et al., 2012). Due to these short-term advantages, natural populations of apomicts are of interest for agricultural development.
There are two major types of apomixis, adventitious embryony and gametophytic apomixis that differ in the way embryos are formed (Whitton et al., 2008; Lo, Stefanovic & Dickinson, 2009). The origin of the former is somatic tissue surrounding the fertilized ovule, and the origin of the latter is an unreduced megagametophyte. Adventitious embryony is widely distributed in nature, and gametophytic apomixis is reported in a few families, e.g., Asteraceae, Poaceae, and Rosaceae. There are two ways for these to spread across space, direct dispersal via apomictic seeds, and indirect transmission via pollen (Whitton et al., 2008). For indirect transmission via pollen, the genes for maternal clonality can be transmitted via male gametes, and this mode of transmission may well be important in the establishment and spread of apomixis (Brock, 2004; Preite et al., 2015). Therefore, the transmission of apomixis genes to sexuals via pollen may be of long-term importance for the spread of apomixis, especially for an agriculturally important tree such as Lindera glauca.
Lindera glauca (Sieb. et Zucc.) Blume (Lauraceae), a deciduous shrub or small tree with both apomixis (asexual reproduction by seeds) (Dupont, 2002) and a sexual reproduction system (Tsui, Xia & Li, 1982; Tsui & Werff, 2008), is distributed extensively in low-altitude montane forests of central and southern mainland China, as well as in Japan, Korea, Vietnam and Taiwan (Wang, 1972; Chang, 1976; Zheng, 1983). As one of the main trees making up the shrubbery and young forest ecosystems in the central and southern areas of mainland China, this species has both economic value and ecological importance. Its fruits are rich in fatty acids and aromatic oils, and they contain terpenoids, flavonoids, and alkaloids, which are used for various applications in traditional medicine. Fruits are also used as raw materials to produce medicines, lubricants, and biochemical products (Zheng, 1983; Wang et al., 1994; Kim et al., 2014; Suh et al., 2015; Qi et al., 2016). Some root extract components, like N-methyllaurotetanine, exhibit significant anti-tumor metastatic activity (Kim et al., 2014; Suh et al., 2015) and some volatile oils from the leaves are used in the industrial production pf spices (Qi et al., 2016). Additionally, the L. glauca species has emerged as a novel potential source of biodiesel in China due to the high quality and quantity of its fruit oil (Lin et al., 2017; Xiong, Dong & Zhang, 2018). There has been increased scientific interest in the species, but relatively little remains known about its reproductive modes and their potential effects on genetic diversity in population dynamics and population differentiation.
L. glauca is native to the mainland China, and diploids (2n = 24) (Yang, 1999) with sexual reproduction and male plants have been known to exist in continental East Asia for several decades (Wang, 1972; Tsui, Xia & Li, 1982; Tsui & Werff, 2008). In a study conducted in Japan, Dupont (2002) found that female L. glauca could asexually reproduce via seeds. Adult population sex ratios of other Lindera species observed in Japan ranged from equal to a strong male bias (including L. obtusiloba, L. umbellata, and L. erythrocarpa) (Dupont, 2002). However, recent empirical studies revealed how L. glauca males are very rare in mainland China, with females reproducing via apomixis. This indicates that natural populations have a mixed reproduction mode that includes apomixis and sexual propagation. Apomixis might play a major role in shaping the genetic structure of the species, by limiting gene flow within populations (Daniel et al., 2001). Interpopulation gene flow in plants is mediated by a combination of pollen and seed dispersal (Ennos, 1994). Some natural populations of apomicts retain residual sexual function as pollen donors and thus have the potential to spread apomixis via male gametes, thereby increasing the genetic diversity observed within apomictic populations (Whitton et al., 2008). In previous studies and records (Wang, 1972; Chang, 1976; Zheng, 1983; Dupont, 2002; Tsui & Werff, 2008), L. glauca is dioecious, and has bisexual or functionally unisexual flowers. However, our survey indicates that there was a very small amount of pollen from the staminode of female flowers (By 2, 3, 5-Triphenyltetrazolium chloride, or TTC method) (Hu, 1993), implying that they have the potential for natural pollination.
Thus, the genetic diversity and structure of natural populations of L. glauca may well be more complex than previously thought. It is essential to study the gene flow and estimate the relative rates of pollen and seed migration among natural populations. Furthermore, population bottleneck effect is thought to be responsible for the very low levels of genetic variation found in a number of species that now have large population sizes (Pannell, 2013). Given that there are very few males of L. glauca in mainland China over the last decade, and many males grown on Taiwan (Zhang, 2007), it is interesting to investigate whether natural populations in mainland China experienced a bottleneck effect or not?
In plants, organelle genomes are often uniparentally inherited (Wills et al., 2005). It is widely believed that plastid genomes are inherited through the maternal parent (Zhang & Sodmergen, 2010). Recently strict maternal inheritance of the plastid was observed in around 82% of the species in two large-scale studies totalling over 500 angiosperms (Corriveau & Coleman, 1988; Zhang, Liu & Sodmergen, 2003; Zhang & Sodmergen, 2010). Strict paternal inheritance is rare, and population size matters as the levels of paternal transmission can be as low as 0.03% in determining the mode of inheritance of the chloroplast genome (Wang et al., 2004). Thus, considering the actual sample size per population, we assume that chloroplast DNA is maternal inheritance for L. glauca.
In the present study, the aims were to (1) investigate the genetic diversity of L. glauca populations in the mainland China, (2) detect genetic variation within and differentiation among natural populations, (3) assess the relative importance of pollen and seeds as agents of gene flow, and (4) determine whether natural populations experienced a decline in size (bottleneck effect). Molecular genetic analyses were performed and individuals in 20 wild populations (and two cultivated populations) of L. glauca were genotyped using 13 nuclear and five chloroplast microsatellite markers developed in the previous work (Xiong et al., 2016; Xiong et al., 2018).
Materials and Methods
Sample collection
During field expeditions carried out from 2013 to 2017, 300 individuals were sampled from 20 wild populations and two cultivated populations, representing nearly the entire natural distribution of L. glauca in mainland China (Table 1; Fig. 1A). Most L. glauca individuals are able to form clones via vegetative reproduction with stolons (Tsui, Xia & Li, 1982), as found in our field survey. In order to avoid the collection of several ramets from the same genet, a single sample was obtained from each cluster of shrubs in close proximity to a main tree, excluding the surrounding young branches growing on the ground. Each sample (individual) in same population was collected at least 10 m apart. In some smaller populations, fewer than 10 plants of putatively nonclonal origin were available. Overall sample sizes varied from 5 to 30 per wild population (Table 1). There was definite apomixis in the individuals of two cultivated populations (based on our survey for three years), and we added it to global analysis as a reference for wild populations. In the field, fresh leaves were immediately dried in silica gel after collection, and preserved at room temperature until DNA extraction.
| Population code | Number | Samples accession no. | Longitude (E° ) | Latitude (N° ) | Elevation (m) | Location |
| --- | --- | --- | --- | --- | --- | --- |
| ATM | 10 | A14-10 | 115.8602778 | 31.2243972 | 646–834 | Tianma, Jinzhai, Anhui |
| JGS | 30 | J13-09 | 114.0883389 | 31.8658833 | 203–317 | Jigongshan, Xinyang, Henan |
| LDZ | 20 | L14-04 | 114.2575139 | 31.9452917 | 154–261 | Dongzhai, Luoshan, Henan |
| SJG | 15 | S14-10 | 115.5421083 | 31.7488389 | 243–476 | Jingangtai, Shangcheng, Henan |
| NTB | 10 | N14-04 | 113.4231917 | 32.3289139 | 241–256 | Tongbaishan, Nanyang, Henan |
| YTH | 10 | Y14-04 | 115.8647444 | 31.0572889 | 647–734 | Taohuachong, Yingshan, Hubei |
| DBS | 10 | D14-09 | 115.8391528 | 31.0087028 | 834–1,003 | Dabieshan, Yingshan, Hubei |
| HMF | 10 | H14-09 | 113.0076417 | 28.4467750 | 224–257 | Heimifeng, Wangcheng, Hunan |
| TMS | 10 | T14-09 | 119.4495389 | 30.3255389 | 359–432 | Tianmushan, Lin'an, Zhejiang |
| SQS | 5 | S15-08 | 118.0738639 | 28.9580278 | 567–572 | Sanqingshan, Yushan, Jiangxi |
| LYS | 5 | LY15-07 | 118.2822889 | 32.2834417 | 134–138 | Langyashan, chuzhou, Anhui |
| KYS | 5 | K15-09 | 121.7357528 | 37.2661972 | 136–141 | Kunyushan, Muping, Shandong |
| FJS | 8 | F15-05 | 108.7698111 | 27.8495556 | 586–597 | Fanjingshan, Tongren, Guizhou |
| WYS | 7 | W16-04 | 117.9581530 | 27.6423810 | 206–217 | Wuyishan, Wuyishan, Fujian |
| ZJS | 30 | Z17-04 | 118.8264001 | 32.0671503 | 238–256 | Zijinshan, Nanjing, Jiangsu |
| WJS | 15 | WJ17-04 | 107.4861333 | 31.2340670 | 763–791 | Wangjiangshan, Dazhou, Sichuan |
| GJS | 22 | G17-04 | 106.6017170 | 28.9666002 | 1,104–1,186 | Gujianshan, Qijiang, Chongqing |
| NHS | 30 | HS17-05 | 112.7194830 | 27.2638000 | 233–255 | Nanyuehengshan, Hengyang, Hunan |
| FHS | 8 | FH17-04 | 108.4688137 | 32.8432889 | 813–897 | Fenghuangshan, Hanyin, Shanxi |
| ZJJ | 30 | ZJ17-05 | 110.5002670 | 29.1373330 | 291–368 | Huilongshan, Zhangjiajie, Hunan |
| SZYa | 5 | SZ16-10 | 121.1781194 | 31.0778861 | 45 | Shanghai Botanical Garden, Shanghai |
| HZYa | 5 | HZ15-09 | 113.3594389 | 23.1793639 | 11 | South China Botanical Garden, Guangzhou, Guangdong |
a
cultivated population. SZY cultivars were introduced from Jiangsu between 1973–1977. HZY cultivars were introduced from Guangdong in before 1985; all Samples accession numbers refer to voucher specimens deposited in the Beijing Forestry University (BJFU); geographic coordinates and elevation were obtained with portable GPS receiver.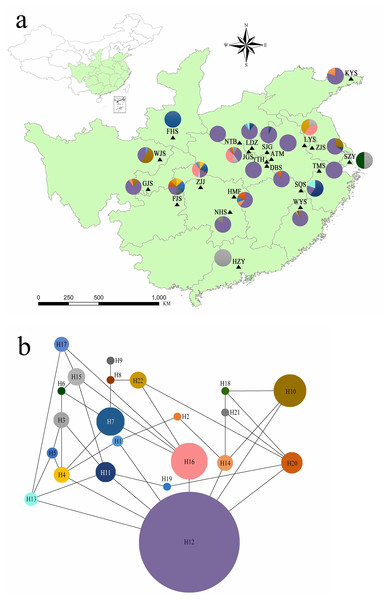 DNA extraction and microsatellite genotyping
Genomic DNA was extracted from 100–150 mg of dried leaves per sample using a modified cetyltrimethylammonium bromide (CTAB) method (Doyle & Doyle, 1987). Microsatellite loci of all 300 individuals of L. glauca were screened, including 13 polymorphic nuclear microsatellite markers (EST-based microsatellites; hereafter nSSRs; Table S1) and five polymorphic chloroplast microsatellite markers (hereafter cpSSRs; Table S2). All nSSRs and cpSSRs were labeled with fluorescently labeled nucleotides (forward primer with M13F) and detected by capillary gel electrophoresis. Subsequent\ steps and the PCR assay were conducted according to Xiong et al. (2016). Genotyping was performed using an ABI 3730XL DNA Analyzer (Applied Biosystems, California, USA ) with a GeneScan 500 LIZ Size Standard, and alleles for each locus were manually scored using GeneMarker version 2.2.0 software (SoftGenetics, State College, PA, USA).
Data analyses
Raw data matrices containing information of alleles and haplotypes for 13 nSSR and 5 cpSSR loci were checked for scoring errors. All SSR analyses were conducted with 300 samples. Data editing and formatting were performed using GenAlEx v. 6.502 (Smouse, Whitehead & Peakall, 2015).
The related indexes of genetic diversity were calculated as followed: for the nSSR data set, genetic diversity indices, including the number of alleles (NA), observed heterozygosity (Ho), expected heterozygosity (He), percentage of polymorphic loci (PPB), Wright's inbreeding coefficient (FIS), and Nei's (Nei, 1978) genetic distances, were estimated using GenAlEx v. 6.502 (Smouse, Whitehead & Peakall, 2015) and POPGENE v. 1.32 (Yeh, Yang & Boyle, 1999). The online package GENEPOP v. 4.1.4 (Rousset, 2008) was used to perform exact Hardy–Weinberg equilibrium (HWE) tests and to test for the presence of private (null) alleles. The differentiation index FST was computed for pairs of populations using Arlequin v. 3.5.1.3 (Excoffier, Laval & Schneider, 2005). Allelic richness (AR) was calculated using the software FSTAT v. 1.2 (Goudet, 1995). For the cpSSR data set, number of haplotypes (Nb), genetic diversity (Dv), haplotype richness (Hrs), the number of private alleles (Prv), and the polymorphism information content (PIC) per locus were estimated using HAPLOTYPE v. 1.05 (Eliades & Eliades, 2009).
The population genetic structure was analyzed as followed: for the nSSR data set, the genetic structure of the 22 populations (20 wild and 2 cultivated) was analyzed using the Bayesian clustering approach implemented in STRUCTURE v. 2.3.4 (Pritchard, Stephens & Donnelly, 2000), assuming an admixture model. In order to determine the most appropriate number of genetic clusters or groups (K value), K was set from 1 to 20, and the analysis was run with 20 iterations for each K with a burn-in of 1,000,000 generations followed by 50,000 generations for the Markov chain Monte Carlo (MCMC) simulation. The admixture level for each individual (Q) was also inferred. The program STRUCTURE HARVESTER v. 0.6.94 (Earl & Von Holdt, 2012) was used to estimate the number of population clusters based on the ΔK parameter according to Evanno, Regnaut & Goudet (2005). Based on the most appropriate number of clusters suggested by Bayesian clustering, analysis of molecular variance (AMOVA) was performed using Arlequin, with 10,000 iterations for the permutation test. A neighbor-joining (NJ) tree was generated using POPTREE2 (Takezaki, Nei & Tamura, 2010) based on pairwise Nei (1978) genetic distances between populations determined by GenAlEx. For the cpSSR data set, the Arlequin was used to determine pairwise FST values among all populations. A parsimony network illustrating genetic relationships among haplotypes of L. glauca populations was generated using TCS v.1.1 (Clement, Posada & Crandall, 2000).
Considering that isolation by distance (IBD) can be a key factor keeping populations apart by limiting gene flow (Coyne & Orr, 2004), the IBD of wild L. glauca inter-population in mainland China was tested. In view of the potential importance of pollen in the spread of apomixis (Mogie, 1992; Whitton et al., 2008), the pollen/seed migration ratio (r) was calculated. In order to examine IBD, the Mantel test was performed using GenAlEx, correlating the pairwise genetic distances [FST∕(1 − FST)] with the pairwise geographic distances (in kilometers). To calculate r, we used the followed formula: r = mp∕ms = [(1∕FST(n) − 1)(1 + FIS) − 2(1∕FST(cp) − 1)]∕(1∕FST(cp) − 1) (Ennos, 1994; Petit et al., 2005), where mp is the pollen migration rate, ms is the seed migration rate, FST values (overall FST) are population differentiation estimates derived from AMOVA, FST(n) is the nuclear FST and FST (cp) is the chloroplast FST.
Population bottlenecks were evaluated using BOTTLENECK v. 1.2.02 (Piry, Luikart & Cornuet, 1990) with the infinite alleles model (IAM) that a single mutation is allocated at a time and the resulting number of alleles is computed, stepwise mutation model (SMM) that is a Bayesian approach and generally more appropriate when testing microsatellite loci, and two-phased model (TPM) that is a modified SMM. According to Piry et al., sign tests, Wilcoxon tests, and mode-shift were applied, excluding standardized differences tests, which are useful when at least 20 polymorphic loci are available.
Conclusion
This study has shown low levels of genetic diversity in L. glauca across nearly its the entire natural distribution in mainland China. A complex correlation between populations was revealed by haplotype networks. Genetic structure within and among populations was similar at the nuclear and chloroplast levels. Furthermore, some populations experienced a recent bottleneck, and gene flow between populations is more likely to involve seed. This implies that wild L. glauca in mainland China has highly skewed sex ratios with predominant females.