Age, growth and natural mortality of coney (Cephalopholis fulva) from the southeastern United States
Beaufort Laboratory, Southeast Fisheries Science Center, National Marine Fisheries Service, NOAA

,

Beaufort, NC

,

United States
Published

Accepted

Received
Academic Editor
Subject Areas

Keywords

Serranidae

,

Life history

,

Age and growth

,

Natural mortality
Licence

This is an open access article, free of all copyright, made available under the Creative Commons Public Domain Dedication. This work may be freely reproduced, distributed, transmitted, modified, built upon, or otherwise used by anyone for any lawful purpose.
Cite this article

2015

. Age, growth and natural mortality of coney (Cephalopholis fulva) from the southeastern United States.

PeerJ

3

:

e825

https://doi.org/10.7717/peerj.825
Abstract
Coney (Cephalopholis fulva) sampled from recreational and commercial vessels along the southeastern coast of the United States in 1998–2013 (n = 353) were aged by counting opaque bands on sectioned sagittal otoliths. Analysis of otolith edge type (opaque or translucent) revealed that annuli formed in January–June with a peak in April. Coney were aged up to 19 years, and the largest fish measured 430 mm in total length (TL). The weight-length relationship was ln(W) = 3.03 × ln(TL) − 18.05 (n = 487; coefficient of determination [r2] = 0.91), where W = whole weight in kilograms and and TL = total length in millimeters. Mean observed sizes at ages 1, 3, 5, 10, and 19 years were 225, 273, 307, 338, and 400 mm TL, respectively. The von Bertalanffy growth equation for coney was Lt = 377 (1 − e(−0.20(t+3.53))). Natural mortality (M) estimated by Hewitt and Hoenig's longevity-based method which integrates all ages was 0.22. Age-specific M values, estimated with the method of Charnov and others, were 0.40, 0.30, 0.26, 0.22, and 0.20 for ages 1, 3, 5, 10, and 19, respectively.
Introduction
The coney (Cephalopholis fulva Linnaeus 1758) is a small to medium-sized member of the grouper family (Serranidae) widely distributed throughout the tropical and subtropical waters of the western Atlantic from North Carolina and Bermuda through southern Brazil, including the Gulf of Mexico and Caribbean Sea (Heemstra & Randall, 1993). Coney inhabit shallow to moderately deep coral reefs (Nagelkerken, 1981) and associated rocky ledge habitats.
Coney are of minor importance to the commercial and recreational fishing sectors in southeastern United States (SEUS) Atlantic Ocean waters. Within the recreational sector, annual landings of coney are minimal compared to other serranids. Estimated landings of coney from headboats (vessels engaged in recreational fishing, usually carrying from 16–100 anglers) sampled by the Southeast Region Headboat Survey (SRHS), which is administered by the Beaufort Laboratory of the Southeast Fisheries Science Center (SEFSC), National Marine Fisheries Service (NMFS), averaged 205 fish totaling 114 kg annually from 1981–2012 for SEUS waters (K Brennan, 2014, unpublished data). Estimated landings from private recreational boats and charter boats, the other component of the recreational sector, averaged 1,473 fish annually during 1982–2011 in the SEUS. However, landings by this sector in Puerto Rico were substantially more important, averaging 32,768 fish annually from 2000–2012 (T Sminkey, 2014, unpublished data). Commercial sampling programs in the SEUS accumulate small groupers such as coney in an unclassified grouper category, and thus commercial landings statistics of coney are unavailable (D Gloeckner, SEFSC Miami, FL., pers. comm., 2014). The majority of SEUS recreational landings of coney occur in Florida with the Carolinas contributing an average of only 58 fish annually from the headboat and private recreational sectors combined.
Coney are currently managed by the South Atlantic Fishery Management Council (SAFMC) through inclusion in a shallow water grouper category with a closed season from January–April and inclusion in a daily aggregate bag limit of three groupers per person for recreational fishermen (SAFMC , 2014).
Published studies on the aspects of life history of coney from the western Atlantic are limited. Potts & Manooch (1999) reported on the age and growth of the species from headboat samples in SEUS waters. Trott (2006) and Trott & Luckhurst (2007) examined aspects of the biology and population status of the species in Bermuda waters. Araujo & Martins (2006) and Araujo & Martins (2009) studied the age and growth and population dynamics of coney from the central coast of Brazil.
We revisited coney from the SEUS because it is one of the 60 species managed by the SAFMC and little new biological information on the species has been published in recent years. This study provides information on life history parameters for coney collected from the commercial and recreational fisheries of the SEUS and compares these new parameter estimates to previous life history studies.
Discussion
Coney were relatively easy to age and we found consistent agreement between readers with low APE values. Because our study included samples from the commercial and recreational sectors of the SEUS fishery, we believe that the results are likely to be more robust and representative of the SEUS coney population than those presented by Potts & Manooch (1999), due to our larger sample size and wider fishery sector coverage. The results of this study represent the best contemporary information on the longevity, growth and natural mortality of coney from SEUS waters.
The otolith edge analysis that we conducted strongly indicated that coney deposit one annulus per year from January to June with peak annulus formation in April. This result compares favorably to findings in other studies showing that peak annulus formation occurred in March in coney caught by the headboat fishery of the SEUS (Potts & Manooch, 1999) and in April through June for fish from the central coast of Brazil (Araujo & Martins, 2006) (Table 3).
Body–size relationships were nearly identical for coney from this study (W = 1.46 × 10−8TL3.03), the previous SEUS study by Potts & Manooch (1999) (W = 2.59 × 10−8TL2.94), and the study by Araujo & Martins (2006) from Brazil (W = 2.0 × 10−8TL2.97).
The growth rate for coney was relatively slow compared to other groupers, with coney attaining an average observed size of 294 mm TL by age 4 (Table 2). Similarly, Potts & Manooch (1999) observed a mean size of 278 mm TL by age 4. Growth of fish in our study slowed after age 4; coney reached 342 mm TL by age 8, then averaged annually only increments of 5 mm through age 19.
Our theoretical growth curve fit the observed data well (Fig. 4). Growth parameters estimated in our study compare most closely with the previous SEUS study (Potts & Manooch, 1999; Fig. 6) for fish age 6 and older. The lack of small coney in our samples (smallest fish was 218 mm TL versus 150 mm TL in Potts & Manooch (1999)) explains differences in the early years of growth among studies (Fig. 6). Greater numbers of smaller fish no doubt help define the growth curve for the younger ages. Also, Potts & Manooch (1999) used back-calculated lengths to model growth; this approach allowed the model to more adequately capture initial growth of coney. Though the size range of the coney in our study overlapped with the mean lengths at age of those samples available in the Potts & Manooch (1999) study, the fish in our sample were larger at age for ages 2–5. The theoretical maximum length of coney in our study (L∞ = 377 mm TL) was similar to that reported by Potts & Manooch (1999; 372 mm TL) but much larger than the L∞ estimated for Bermuda (Trott, 2006, 281 mm TL) and Brazil (Araujo & Martins, 2006, 316 mm TL). On the other hand, the studies from Bermuda (Trott, 2006, maximum age 27) and Brazil (Araujo & Martins, 2006, maximum age 25) included fish that were much older than our eldest fish (age 19). Perhaps fishing pressure in the SEUS is greater than in these other areas, contributing to a truncated age structure in the SEUS. The lack of older fish in the previous SEUS study (Potts & Manooch, 1999) is likely attributable to the lack of any commercially landed samples in the study.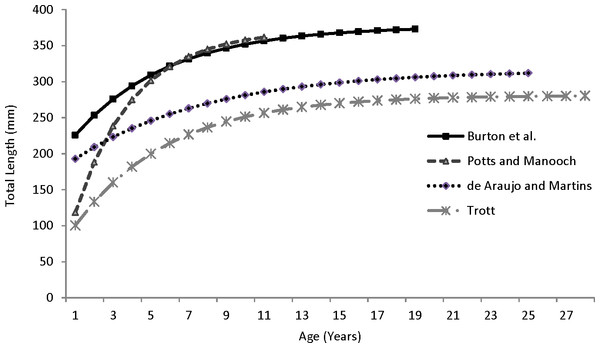 Natural mortality of wild populations of fishes is difficult to measure. A single estimate of M for the entire life span of a fish is unreasonable, except for fish that have attained a size that renders them invulnerable to high predation rates. The Hewitt & Hoenig (2005) estimate of M is based on the maximum age attainable in an unfished population. In this sense, the point estimate of M, derived using the method of Hewitt & Hoenig (2005), can serve as a lower boundary on the estimate of M derived for older ages by an age-varying method. The maximum observed age for coney in our study was age 19, in the middle of the range of maximum ages estimated by others (Table 3). Our estimates seem reasonable given that our age-specific estimate of M (0.20) for the older ages that was derived using Charnov, Gislason & Pope (2013) compares closely with the point estimate of M(0.22) found using the method of Hewitt & Hoenig (2005) (Table 2).
This study of coney in the SEUS has confirmed the findings of previous studies that otolith sections of coney are reliable structures for aging. Moreover, growth rings on coney sagittae are laid down once a year in spring and growth is generally slow throughout life, as evidenced by the low value of K, the von Bertalanffy growth coefficient. Our estimates of M are reasonable for a fish with a moderate life span and longevity of age 19. We believe the results of this study accurately describe the fished population of coney in the offshore waters of the SEUS. While the overall landings of this species in the commercial and recreational fisheries of the SEUS make it an unlikely candidate for a stock assessment by NMFS, our assembled data would be valuable inputs into multispecies- or ecosystem-based modeling efforts, either as stand-alone species data or in defining more inclusive functional groups of species (Christensen et al., 2009). A more likely use of these data would be applying it to studies of the population dynamics of U. S. Caribbean stocks (U. S. Virgin Islands and Puerto Rico). The U. S. Caribbean is typically a data poor region and studies from the SEUS could be used as proxies in analyses for the region. However, precautionary management should dictate that for the purposes of managing local stocks, local studies of growth, reproduction, etc., are used. The difference in growth parameters between various regions found in this study highlights the problems inherent with drawing scientific conclusions using data from outside the region.
Supplemental Information
Raw Data file for Coney age growth study