Effects of low pH and feeding on calcification rates of the cold-water coral Desmophyllum dianthus
Published

Accepted

Received
Academic Editor
Subject Areas

Keywords

Scleractinian corals

,

Deep-sea corals

,

Ocean acidification

,

Global change

,

Coral calcification

,

Carbonate saturation

,

Coral feeding
Copyright

©

2020

Martínez-Dios et al.

Licence

This is an open access article distributed under the terms of the Creative Commons Attribution License, which permits unrestricted use, distribution, reproduction and adaptation in any medium and for any purpose provided that it is properly attributed. For attribution, the original author(s), title, publication source (PeerJ) and either DOI or URL of the article must be cited.
Cite this article

2020

. Effects of low pH and feeding on calcification rates of the cold-water coral Desmophyllum dianthus.

PeerJ

8

:

e8236

https://doi.org/10.7717/peerj.8236
Abstract
Cold-Water Corals (CWCs), and most marine calcifiers, are especially threatened by ocean acidification (OA) and the decrease in the carbonate saturation state of seawater. The vulnerability of these organisms, however, also involves other global stressors like warming, deoxygenation or changes in sea surface productivity and, hence, food supply via the downward transport of organic matter to the deep ocean. This study examined the response of the CWC Desmophyllum dianthus to low pH under different feeding regimes through a long-term incubation experiment. For this experiment, 152 polyps were incubated at pH 8.1, 7.8, 7.5 and 7.2 and two feeding regimes for 14 months. Mean calcification rates over the entire duration of the experiment ranged between −0.3 and 0.3 mg CaCO3 g−1d−1. Polyps incubated at pH 7.2 were the most affected and 30% mortality was observed in this treatment. In addition, many of the surviving polyps at pH 7.2 showed negative calcification rates indicating that, in the long term, CWCs may have difficulty thriving in such aragonite undersaturated waters. The feeding regime had a significant effect on skeletal growth of corals, with high feeding frequency resulting in more positive and variable calcification rates. This was especially evident in corals reared at pH 7.5 (ΩA = 0.8) compared to the low frequency feeding treatment. Early life-stages, which are essential for the recruitment and maintenance of coral communities and their associated biodiversity, were revealed to be at highest risk. Overall, this study demonstrates the vulnerability of D. dianthus corals to low pH and low food availability. Future projected pH decreases and related changes in zooplankton communities may potentially compromise the viability of CWC populations.
Introduction
Over the last two decades, and in parallel with the quantification of the oceanic absorption of anthropogenic CO2 (Gruber et al., 2019 and references therein), large efforts have been devoted to the study of past, present and future trends in ocean acidification (OA, Pelejero, Calvo & Hoegh-Guldberg, 2010; Gattuso & Hansson, 2011; Bopp et al., 2013). Instrumental time-series, which now cover up to three decades, corroborate that the average surface ocean pH has decreased ~0.1 units since pre-industrial times (Bates et al., 2014; Kapsenberg et al., 2017). This rate of change is about 100 times faster than during glacial to interglacial transitions (Pelejero, Calvo & Hoegh-Guldberg, 2010 and references therein). Further declines in seawater pH are projected in the future, accompanied by major changes in marine ecosystems and the organisms that constitute them (Hurd et al., 2018). Not surprisingly, both tropical and Cold-Water Corals (CWCs), as marine calcifiers, were the focus of most of the initial research, since the lowering in pH and the associated decrease in carbonate ion (CO32−) concentration, together with the shoaling of the aragonite saturation state (ΩA) horizon, could potentially compromise the calcification of their carbonate exoskeletons (Cohen & Holcomb, 2009). Cold-water corals comprise many species of ahermatypic corals (Scleractinia, Cnidaria) that generally inhabit high latitude and the deep ocean where specific hydrodynamic and food supply conditions favor coral growth, but that naturally exhibit relatively low values of pH and ΩA (Guinotte et al., 2006). The future shoaling of the aragonite saturation horizon projected for the global ocean could soon threaten coral provinces in these basins by increasing their exposure to corrosive waters (Guinotte et al., 2006; Touratier & Goyet, 2009; Tittensor et al., 2010a; Ciais et al., 2013; Hassoun et al., 2015; Perez et al., 2018).
Previous studies of tropical corals reported significant decreases in calcification with a lowering of pH (Chan & Connolly, 2013 and references therein). Similarly, it was expected that OA could impact CWC communities as well (Guinotte et al., 2006), and perhaps even more severely, since they are characterized by extraordinary slow-growing and long-lived species that could be vulnerable to rapid and sustained changes in the chemistry of seawater (Roberts, Wheeler & Freiwald, 2006). Nevertheless, while there are nearly as many species of CWCs as their shallow tropical counterparts (Roberts & Cairns, 2014; Henry & Roberts, 2017), little is known about the biology of these enigmatic organisms, and even less about their response to OA. Indeed, culturing studies of CWCs with duration longer than 1 year have scarcely been performed so far, in part because the maintenance of these extremely slow-growing organisms in aquaria is technically challenging but, more importantly, because research on CWCs is a relatively young discipline. The use of remotely operated vehicles has only recently been applied at the depths where these scleractinians often live, generally at a very high associated cost, especially if repeated access or the collection of a large number of individuals is required. This technology provided first glimpses into their biology and ecology and, since then, CWCs are known to contribute to the formation of complex reefs or coral mounds that support highly diverse marine life (Freiwald & Roberts, 2006; Baillon et al., 2012; Henry & Roberts, 2017).
Early studies on effects of OA on CWCs generally targeted key reef-building species such as Lophelia pertusa and Madrepora oculata and provided diverse and, in some cases, contradictory results. Indeed, many studies showed no significant response in calcification rate under high pCO2 (Maier et al., 2012, 2013; Form & Riebesell, 2012), but the conclusions were based on incubations shorter than in the present study. More recent literature shows, however, a decrease in net calcification of these species under acidified conditions (Maier et al., 2016; Gómez et al., 2018). The response of solitary species such as D. dianthus has been less explored, but some of the few experiments exhibited signs of physiological stress (Carreiro-Silva et al., 2014), especially at certain life stages (Movilla et al., 2014). Regarding other stressors in addition to OA, few studies have been carried out with CWCs, but several examined their response to low pH and food availability (Maier et al., 2016; Georgian et al., 2016; Büscher, Form & Riebesell, 2017; Gómez et al., 2018). Being sessile suspension feeders, CWCs strongly depend on food resources from the water column, which are often scarce (Roberts, Wheeler & Freiwald, 2006), so food availability is very likely a key constraint that modulates the effects of environmental stressors such as OA in these species.
The present study aims to investigate the combined effects of acidification and food availability in the CWC D. dianthus by means of a long-term culturing experiment of over 14 months. To the best of our knowledge, this is longer than any other incubation experiment performed so far with CWCs. We carried out the experiment over a wide range of pH (4 levels, 8.1, 7.8, 7.5 and 7.2, thus covering extreme scenarios that may be expected in the future, particularly in the deep Pacific Ocean), and under two feeding regimes. We hypothesized that corals incubated at high frequency feeding would benefit metabolically from the additional energy input, helping them to withstand aragonite undersaturation conditions, especially in the lowest pH treatments. The large sample size of our study (152 polyps) was only possible thanks to the unique conditions in Comau Fjord (Chilean Patagonia), where these corals form dense communities at unusually shallow depths (Försterra & Häussermann, 2003; Cairns, Häussermann & Försterra, 2005), allowing the collection of a large number of corals of different sizes by means of SCUBA diving. This not only ensured the robustness of our results through replication but also provided the possibility of investigating the response of corals at different life stages.
Results
Carbonate system parameters
The seawater CO2 system variables of all treatments were calculated from periodic paired spectrophotometric pHT and TA laboratory measurements (Table 1). For all treatments, temperature, salinity and alkalinity remained virtually constant for the duration of the experiment (10.0 ± 0.1 °C, 37.9 ± 0.2 and 2,539 ± 4 µmol/kg, respectively). The pH in all treatments was kept reasonably constant over the entire experiment, with values of 8.11 ± 0.03, 7.73 ± 0.05, 7.50 ± 0.02 and 7.24 ± 0.02 (mean ± SE). These levels led to ΩA values of 2.74 ± 0.13, 1.31 ± 0.13, 0.80 ± 0.04 and 0.45 ± 0.02, respectively.
Skeletal growth rates
Mean calcification rates during the entire experiment (T0–T3) ranged between −0.3 and 0.3 mg CaCO3 g−1d−1 (Fig. 3; Table 2). The explanatory variables to major observed differences in growth, evident in Fig. 3, were pH (ANOVA F = 105.22, p-value ≤ 0.0001, DF = 436) and feeding regime (ANOVA F = 4.088, p-value = 0.0438, DF = 436) (Table 3).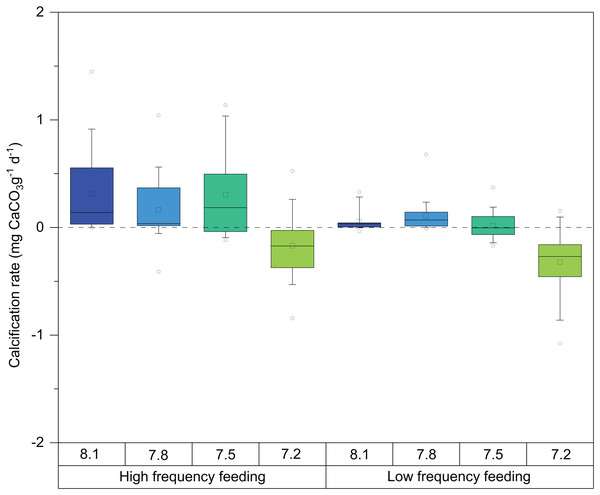 In general terms, as observed in Fig. 3, HF corals showed higher calcification rates than LF corals as well as larger variability. Significant differences were also observed between feeding regimes, in all pH treatments. Calcification rates of corals at pH 8.1 were very similar to those at 7.8 and started to exhibit some detrimental effects at pH 7.5. Interestingly, the response of calcification was more acute in LF corals (Fig. 3). At pH 7.2, decreases in calcification were evident from the beginning of the experiment (Table 4). Indeed, during weight measurements, visual inspection of corals in this treatment revealed increased mucus production and retraction of the basal coenosarc tissue, resulting in the direct exposure of the skeleton to seawater.
These observations were statistically significant, and post hoc analysis on the marginal means indeed revealed significant differences at the 95% confidence level on the calcification rate among pH treatments (Table 5), especially between the pH 7.2 and 8.1 corals (TUKEY HSD t-ratio = −15.736, p-value ≤ 0.0001). In fact, calcification was on average 17% and 30% lower in the 7.2 treatment in the HF and LF treatments, respectively (Fig. 3; Table 2). As mentioned above, boxplots in Fig. 3 denote that corals incubated at pH 7.8 barely differed from those exposed at pH 8.1 (TUKEY HSD t-ratio = 1.116, p-value = 0.68) (Table 5).
The effect of incubation time on growth was examined and found to be statistically significant (ANOVA F = 2.800, p-value = 0.0619). As observed in Table 4, all treatments showed a slight reduction in calcification with time and, after 433 days of exposure, the average calcification was 11% lower compared to the beginning of the experiment.
When comparing the cumulative skeletal growth rate (in mg CaCO3 g−1 d−1, normalized to the total polyp mass) for the whole experiment against the initial weight of each polyp at the beginning of the experiment (T0), there is a tendency for smaller corals to exhibit greater calcification rates than those with a higher initial weight (Fig. 4). Calcification rates of smaller corals were affected to a greater relative degree at the lowest seawater pH. The survivorship in each treatment was 100% with the exception of the pH 7.2 treatment aquaria, where 30% of corals died during the incubation regardless of the feeding. Moreover, as shown in Fig. 5, negative calcification rates were detected for a substantial number of corals and visual inspection of the corals revealed the deterioration of the skeletons. This occurred in 31% of the total number of individuals, with those exposed to pH 7.2 the worst affected; ~73% of the corals in this treatment showed clear signs of skeletal degradation such as a more fragile, porous skeleton, some with small holes.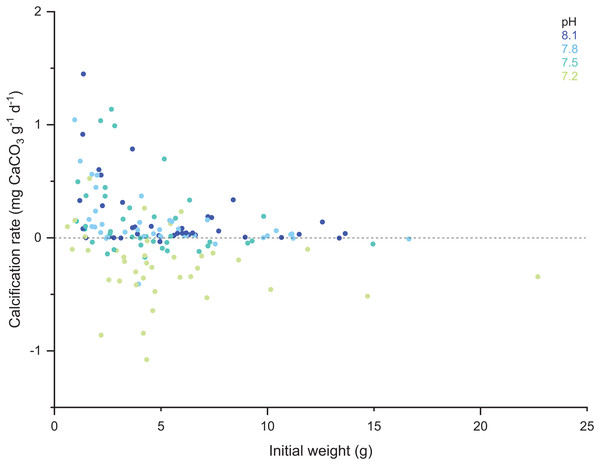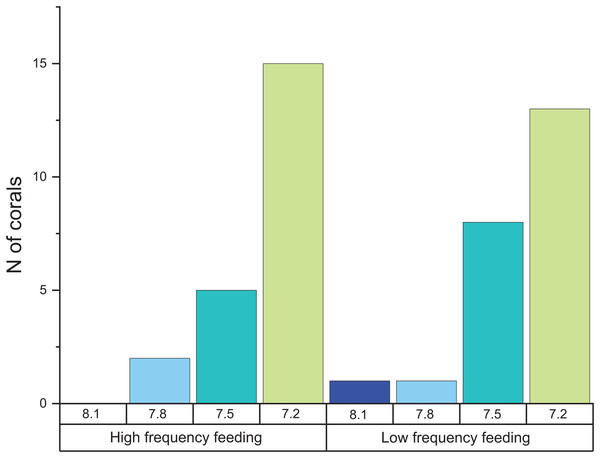 Discussion
In this study, we report data from a 14 month OA culturing experiment with the CWC D. dianthus. In addition to pH manipulation, we have performed the experiment at two different frequency feeding regimes, to assess whether increased food supply could mitigate or partially offset the adverse effects of OA. With this experimental setup, we extract conclusions regarding some of the key conditions (seawater pH and feeding) for optimum growth in this CWC species at different life stages.
Conclusions
The findings of this research provide insight into the sensitivity of CWCs, and especially the solitary species D. dianthus, to the combination of OA and changes in food supply. Our data from this long-term incubation experiment show the vulnerability of D. dianthus coral populations to low pH conditions over long periods of time, starting at pH 7.5 (ΩA = 0.80), with a strong response at pH 7.2 (ΩA = 0.45) and young life stages. High frequency feeding had a positive impact on net calcification rates of polyps regardless of the seawater pH. The increased food availability resulted in high inter-polyp, intra-colony variability of skeletal growth rates, as observed in nature, whereas low frequency feeding homogenized coral growth in all polyps, which probably focused their energy use on the vital process of building and maintaining their skeleton. Although the fate of CWC populations in coming centuries is still uncertain, it will be a result of the synergies and antagonisms generated by multiple environmental factors. In this study we show that seawater pH and food availability will likely play a key role, at least for D. dianthus. Additional long-term multi-factorial experimental approaches are needed to investigate the vulnerability and fate of CWCs in the future, especially at critical developmental stages, where corals are suspected to be at highest risk, and which are essential for maintaining coral communities and their associated biodiversity under future CO2 scenarios.
Supplemental Information
Data on weight, calcification rate and mortality of D. dianthus in during the experiment.
Results of statistical analyses.