Genetic divergence between populations of feral and domestic forms of a mosquito disease vector assessed by transcriptomics
Department of Entomology, Rutgers University

,

New Brunswick, NJ

,

USA
Published

Accepted

Received
Academic Editor
Subject Areas

Keywords

Culex pipiens complex,

Molestus

, Cx. quinquefasciatus ,

Mosquito

,

Natural selection

,

Ka/Ks

,

Cryptic species

,

Domestication

,

Arthropod vector
Copyright

©

2015

Price and Fonseca

Licence

This is an open access article distributed under the terms of the Creative Commons Attribution License, which permits unrestricted use, distribution, reproduction and adaptation in any medium and for any purpose provided that it is properly attributed. For attribution, the original author(s), title, publication source (PeerJ) and either DOI or URL of the article must be cited.
Cite this article

2015

.

Genetic divergence between populations of feral and domestic forms of a mosquito disease vector assessed by transcriptomics

.

PeerJ

3

:

e807

https://doi.org/10.7717/peerj.807
Abstract
Culex pipiens, an invasive mosquito and vector of West Nile virus in the US, has two morphologically indistinguishable forms that differ dramatically in behavior and physiology. Cx. pipiens form pipiens is primarily a bird-feeding temperate mosquito, while the sub-tropical Cx. pipiens form molestus thrives in sewers and feeds on mammals. Because the feral form can diapause during the cold winters but the domestic form cannot, the two Cx. pipiens forms are allopatric in northern Europe and, although viable, hybrids are rare. Cx. pipiens form molestus has spread across all inhabited continents and hybrids of the two forms are common in the US. Here we elucidate the genes and gene families with the greatest divergence rates between these phenotypically diverged mosquito populations, and discuss them in light of their potential biological and ecological effects. After generating and assembling novel transcriptome data for each population, we performed pairwise tests for nonsynonymous divergence (Ka) of homologous coding sequences and examined gene ontology terms that were statistically over-represented in those sequences with the greatest divergence rates. We identified genes involved in digestion (serine endopeptidases), innate immunity (fibrinogens and α-macroglobulins), hemostasis (D7 salivary proteins), olfaction (odorant binding proteins) and chitin binding (peritrophic matrix proteins). By examining molecular divergence between closely related yet phenotypically divergent forms of the same species, our results provide insights into the identity of rapidly-evolving genes between incipient species. Additionally, we found that families of signal transducers, ATP synthases and transcription regulators remained identical at the amino acid level, thus constituting conserved components of the Cx. pipiens proteome. We provide a reference with which to gauge the divergence reported in this analysis by performing a comparison of transcriptome sequences from conspecific (yet allopatric) populations of another member of the Cx. pipiens complex, Cx. quinquefasciatus.
Introduction
Specific life-history traits of arthropod disease vectors can determine the duration and severity of outbreaks by influencing vectorial capacity (NAS 2008). Plasmodium falciparum, the deadliest of human malaria agents, Wuchereria bancrofti, the widespread causative agent of lymphatic filariasis, and both dengue and yellow fever viruses are transmitted by mosquito vectors that live in close association with and feed near-exclusively on humans. Anthropophilic mosquito phenotypes maximize transmission rates and promote high pathogen virulence of these diseases (Dieckmann et al., 2002). In contrast, zoonotic diseases requiring amplification cycles in non-human vertebrate hosts such as West Nile virus or eastern equine encephalitis will only spill over to humans (often to the detriment of the parasite and the human) if a vector with a broader range of hosts becomes involved (Farajollahi et al., 2011; Kilpatrick et al., 2006). Although blood meal analyses have demonstrated strong associations between vector species and suites of vertebrate hosts, the mechanisms underlying host-choice are still broadly unknown and are often ascribed to environmental instead of genetic causes (Chaves et al., 2010).
The northern house mosquito, Culex pipiens, is comprised of two morphologically indistinguishable forms (eco/biotypes), Cx. pipiens form pipiens L. and Cx. pipiens form molestus Forskål (herein f. pipiens and f. molestus, respectively). Despite their morphological identity and very close phylogenetic history (Fonseca et al., 2004b), the two forms exhibit notable ecological and behavioral differences that make their identification possible. The feral form, f. pipiens requires a vertebrate bloodmeal for all egg development (anautogeny), enters winter diapause when ambient light levels decrease below a locally pre-established threshold in the fall (heterodynamous), swarms as a prelude to mating (eurygamous), and is primarily ornithophilic. In contrast, f. molestus can forego a bloodmeal for its first gonotrophic cycle (autogeny), adults remain gonoactive during winter months (homodynamous), which means they are often restricted to subterranean environments with standing water such as subways and sewers (hypogeous) that remain warm. Males of f. molestus will mate in very confined spaces (stenogamous) and females frequently feed on mammals, including humans (references summarized in Fonseca et al. (2004a)); see Gomes et al. (2012) for latest blood meal studies). Cx. pipiens f. molestus is a worldwide invasive species, spread by humans to all continents except Antarctica (Farajollahi et al., 2011) while f. pipiens has remained restricted to Northern Europe. Cx. pipiens populations within the United States are hybrids of the two forms (Fonseca et al., 2004b; Strickman & Fonseca, 2012) and are implicated in the maintenance and transmission of epizootic arboviruses such as West Nile Virus (WNV) to humans resulting in illness and occasionally death (Kramer, Styer & Ebel, 2008).
The two forms of Cx. pipiens are very closely related, as is evident from their identical morphology and genetic similarity (Fonseca et al., 2004b). This has led to controversy over their taxonomic standing (Harbach, Harrison & Gad, 1984; Spielman et al., 2004). However, they are differentiated at hyper-variable loci such as the flanks of microsatellites (Bahnck & Fonseca, 2006) indicating recent separate evolutionary histories. The genetic similarity despite striking differences in ecology, behavior and physiology indicate that f. molestus may have diverged from f. pipiens and evolved its association with humans as recently as 10,000 years ago (Fonseca et al., 2004b). This recent split represents an exceptional opportunity to test whether targets of molecular evolution in Cx. pipiens mosquitoes can be elucidated using two phenotypically diverged populations. Additionally, by framing the results in context of phenotype, the data generated would serve as a first look at the molecular basis for domestication.
To start testing this hypothesis, we generated and compared de novo whole-transcriptomes from one representative population each of Cx. pipiens f. pipiens and f. molestus using the Cx. quinquefasciatus genome (CpipJ1.3 Johannesburg, South Africa, (Arensburger et al., 2010) as a reference. Cx. quinquefasciatus is a closely related sibling species of Cx. pipiens (Farajollahi et al., 2011), and is the only available annotated Culex genome assembly. We performed pairwise comparisons of orthologous coding (CDS) nucleotide sequences to identify genes and gene ontologies that show evidence of evolving at accelerated evolutionary rates between f. pipiens and f. molestus by calculating per-gene rates of non-synonymous substitution per non-synonymous site (Ka, or dN). Wang et al. (2011) show that commonly used tests for natural selection that normalize Ka by a 'background mutation rate,' or Ks (synonymous substitutions per synonymous site) often produce non-uniform results among closely related genomes, yet find that Ka alone remains stable and an adequate gauge for rate of "uncorrected" peptide evolution. This is primarily due to the varying manner in which Ks is calculated in a likelihood framework by different algorithms, and can also be influenced by sequence composition (Parmley & Hurst, 2007; Wang et al., 2011). Additionally, Ka/Ks calculations are often incorrectly elevated among isolated populations and closely related lineages due to segregating polymorphisms (both neutral and slightly deleterious) present at the time of divergence (Kryazhimskiy & Plotkin, 2008; Mugal, Wolf & Kaj, 2014; Peterson & Masel, 2009). Since there is minimal phylogenetic distance between the two forms we sequenced, synonymous substitutions would be expected to far outnumber those that are non-synonymous. This scenario is particularly susceptible to the aforementioned biases, as even small stochastic variation in synonymous substitution rates coupled with artifacts in Ks calculation can exert disproportionately large influence on the selection signature (Koonin & Rogozin, 2003; Parmley & Hurst, 2007; Wang et al., 2009). For these reasons, we elected to use Ka as the primary metric for presentation of our data. As the software we selected for our calculations implements the test in a likelihood framework which corrects for multiple substitutions at sites, a process less likely to have occurred in such closely related taxa, we performed primary calculations using also observed substitutions in addition to those derived from the model and discuss congruence between the two approaches. Although our primary objective was to elucidate components of the mosquito genome evolving at accelerated rate, we also report here ontologies enriched in the set of genes devoid of non-synonymous substitutions as they provide candidates for targets of negative or purifying selection and define critical biological processes and cellular components in the Cx. pipiens genome.
To contrast the amount of genetic variation uncovered in the comparison of Cx. pipiens forms with that of another geographically isolated yet conspecific population, we repeated the analysis with publicly available transcriptome data from two strains of Cx. quinquefasciatus: a North American strain (Reid et al., 2012) and the Johannesburg reference (Arensburger et al., 2010). We hypothesized that a greater amount of divergence would be witnessed between the two Cx. pipiens populations, which exhibit qualifiable phenotypic differences characteristic of the taxonomic forms, rather than between conspecific Cx. quinquefasciatus populations. In addition, we examined whether particular GO terms present in our results may be derived from ambiguous placement of read data from paralogous or multiple-copy genes by testing for their presence within an enriched ontology list derived from genes which share significant DNA similarity with others in the genome.
Materials and Methods
Because only Cx. pipiens f. molestus or hybrids of the two Cx. pipiens forms occur in the U.S, we obtained egg rafts of f. pipiens from Baden-Württemberg in southwestern Germany. Multiple individual egg rafts were isolated, hatched and DNA was extracted from ca. 10 larvae from each using a Qiagen DNEasy Blood & Tissue kit (Qiagen, Valencia CA). PCR-based positive species identification of Cx. pipiens was performed via the acetylcholinesterase-2 assay developed by Smith & Fonseca (2004), and further to f. pipiens using the CQ11 assay of Bahnck & Fonseca (2006). Field populations of pure f. molestus are difficult to obtain since they are strictly subterranean and mostly found by chance (Fonseca DM personal experience). Therefore, egg rafts of f. molestus were obtained from a young colony, initiated from a large subterranean swarm of females detected in a New York, NY residential basement in December 2010. Blooded females that had been biting local residents were allowed to lay egg rafts in the laboratory and henceforth the colony has been maintained without access to blood. Representative specimens of the NYC colony of f. molestus have been genotyped with a panel of 8 microsatellite loci and have a genetic signature that matches that of populations of f. molestus from southwestern Germany, as do other f. molestus specimens obtained from multiple locations around the world (Fonseca et al., 2004b; Micieli et al., 2013; Turell, Dohm & Fonseca, 2014). Once eggs hatched, larvae of both forms were reared in ceramic pans under a 16:8 L:D cycle on a diet of ground rat chow prior to emergence. Four specimen groups were created: thirty 1st/2nd instar, eight 3rd/4th instar, eight pupae and eight non-blood fed adult (4 male, 4 female) mosquitoes. Each group was placed in a separate plastic 2ml microcentrifuge tube containing a 5 mm sterile stainless steel bead and 900ul QIAzol lysis reagent prior to disruption with a TissueLyser II (Qiagen, Valencia, California, USA) for 2 min at 20 Hz. Total RNA extraction was then carried out on each group using the RNeasy Plus Universal kit (Qiagen, Valencia, California, USA) per manufacturer protocol and quantified on a Qubit 2.0 fluorometer (Life Technologies) using the RNA Broad-range buffer. One ug of RNA from each group was combined and used to prepare an Illumina sequencing library using the TruSeq RNA Sample Prep kit v2 (Illumina, Inc. San Diego, California, USA) per manufacturer protocol. The Cx. pipiens f. molestus library was sequenced twice on an Illumina MiSeq (Illumina, Inc., San Francisco, California, USA), once using a 500-cycle (2x250 bp paired-end) MiSeq Reagent Kit v2, and once using 1/3 of a multiplexed 600-cycle (2x300 bp paired-end) MiSeq Reagent Kit v3. Culex pipiens f. pipiens was sequenced once using 1/3 of a multiplexed 600-cycle (2x300 bp paired-end) MiSeq Reagent Kit v3. Raw sequence data were quality trimmed using the CLC Genomics Workbench (Limit score cutoff = 0.05, CLC Bio, Aarhus, DK).
To assemble EST sequences for each mosquito taxon (illustrated in Fig. 1), we used the sequenced genome of another recognized member of the Cx. pipiens complex, Culex quinquefasciatus Say (Arensburger et al., 2010) (for current taxonomy see http://wrbu.si.edu) as a reference. We mapped raw read data for each form individually to the Cx. quinquefasciatus genome CDS sequence, extracted from the CpipJ1.3 genome assembly available via VectorBase (http://www.vectobase.org/organisms/Culex-quinquefasciatus, (Megy et al., 2012)) using the CLC Genomics Workbench (CLC Bio, Aarhus, Denmark) at a nucleotide similarity of 95% over a required length fraction of 95% of the read. Reads that had more than one best alignment (i.e., potentially paralogous DNA) were ignored. Consensus sequences for each CDS were then generated from the alignment, with conflicts resolved by choosing the base with the highest additive quality score and a minimum coverage of 2x. Areas of <2x coverage were filled with Ns from the reference. The f. pipiens and f. molestus CDS sequences were aligned with each other, and sites with Ns in either or both forms were removed. Genewise (Birney et al., 2004) was used to create in-frame CDS sequences using the homologous peptide sequence of the Cx. quinquefasciatus as a guide, and any sequences that had stop codons introduced after this process were removed. Codon alignments were created with TranslatorX (Abascal, Zardoya & Telford, 2010), guided by a peptide alignment of their translations generated via MAFFT v.6.9 (Katoh & Toh, 2010). This codon alignment was used to calculate Ka values using the KaKs Calculator v.2 (Wang et al., 2010) using both observed non-synonymous substitutions and those estimated via maximum-likelihood estimation under likelihood model averaging (MA). We retained Ka values for CDS codon alignments greater than 200 bp, or for alignments <200 bp for which >50% of the sequence length (as calculated from the Cx. quinquefasciatus homolog) was recovered in the f. molestus—f. pipiens comparison. As this test compares single haploid gene sequences, and we reduced allelic variation within and among individuals sequenced from the population by generating haploid consensus gene sequences (above), it is likely that our Ka calculations underestimate the true amount of non-synonymous variation within the populations sequenced. Additionally, the alignment stringency (95%) of the mapping will exclude genes that have diverged significantly between the subject and the reference; however, we find it a conservative value with which to avoid false positives generated from gene paralogs. Enrichment tests were performed using Blast2GO (Conesa et al., 2005) with a reference set consisting of 11,930 genes (Table S1) that met the length criteria above (GO Term Filter Value =.05, Term Filter Mode = FDR, single-tailed test) and a test set composed of the 95th percentile of CDS sequences with highest calculated Ka. Additionally, to discern possible candidates of purifying selection, a test set of genes lacking non-synonymous substitutions from the f. pipiens—f. molestus comparison was created by selecting 4,575 CDS alignments (generated above, Table S1) from our data with 100% amino acid identity and used in a separate enrichment test coupled with the reference set above.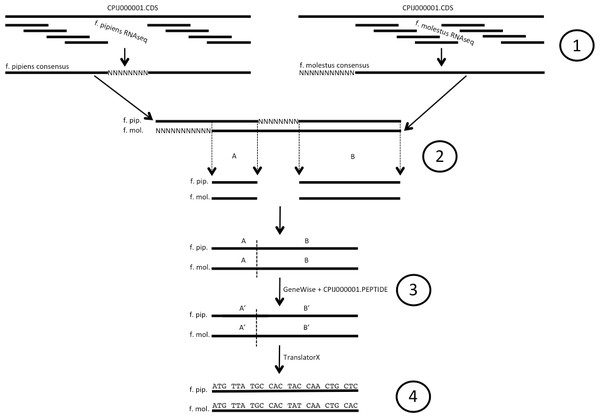 For the intra-specific Cx. quinquefasciatus comparison, data generated by Reid et al. (2012) from colonies started from an Alabama, USA population (strain HAmCq1 and HAmCq8) were compared to the CpipJ1.3 reference as above; briefly, reads from NCBI SRA libraries SRR364515 and SRR364516 were combined and mapped to the CpipJ1.3 CDS sequence, consensus sequences were built using the same protocol and parameters as above, and genewise/translatorX were used to construct the codon alignment prior to Ka calculation. From this, we constructed a reference set containing 13,281 genes which met the f. pipiens–f. molestus length cutoff above. As this was a conspecific comparison (assuming minimal evolution), we used only observed substitutions as opposed to those derived via maximum likelihood estimation (MLE) for the Ka calculation.
To examine whether particular gene ontologies present in our results may be derived via ambiguous placement of read data from paralogous or multiple-copy genes, we tested for their presence within an enriched ontology list derived from genes that share significant DNA similarity with others in the genome. This was accomplished by blasting the Cx. quinquefasciatus CpipJ1.3 CDS sequence data used above into itself via BLASTN (Altschul et al., 1990) with an e-value cutoff of 1 × 10−5 and saving all 'non-self' hits for genes which had a 95% similarity over a local alignment of 200 nt (a value we chose as our average read length after trim was 211 nt). This returned 3,687 (Table S11) sequences that were used as a test set in a Blast2GO enrichment test against a reference consisting of all CDS sequences.
In all tests, we retained GO terms with a False Discovery Rate (FDR) corrected (Benjamini & Hochberg, 1995) p-value of p ≤ .05. Gene names reported are retained from the Cx. quinquefasciatus reference used to construct the consensus. Annotations were performed against the NCBI nr database and via InterProScan v.5 (Apweiler et al., 2000). Phylogenetic analysis of the Peritrophin-A domain-containing proteins was performed by extracting the peptide sequence for each chitin-binding domain from the Cx. quinquefasciatus homolog corresponding to each of our candidate genes based on coordinates returned via InterproScan v.5 prior to alignment with a selection of peritrophic matrix protein (PMP) and cuticular proteins analogous to peritrophin (CPAP) domains of Jasrapuria et al. (2010) extracted in the same manner. Sequences were aligned using T-COFFEE v.10.00.r1613 (Notredame, Higgins & Heringa, 2000) and tree reconstruction under automatic model selection and 1500 bootstrap replicates was performed using IQTREE v. 0.9.6 (Minh, Nguyen & von Haeseler, 2013).
Conclusions
These are the first insights into the genome-wide molecular differentiation of two closely related yet phenotypically divergent populations of an important disease vector, Cx. pipiens. Analysis of over-represented gene ontology terms within the fastest evolving peptides elucidates the biological systems that are targets of local adaptation. Although further analyses with additional representative populations of the two forms are necessary, our results likely hold clues as to the molecular mechanisms responsible for phenotypic divergence between the two taxonomic forms, and subsequently confer Culex pipiens form molestus the ability to exploit human environments. The recurring localizations within our data to gene families functioning in odorant binding, hemostasis, digestion, and innate immunity can all be linked to a differential propensity of these forms to seek a mammalian host, ability to obtain and process a bloodmeal, and to thrive as larvae and adults in subterranean sewers rich with organic wastes and associated bacteria. In addition, we provide candidate loci for future functional in-vivo assays to qualify effects on phenotype. Interestingly, of the seven GO terms reported in this study, five terms (chitin metabolic process, chitin binding, serine-type endopeptidase activity, proteolysis and odorant binding) were enriched along the 'fly' branch (represented by the Drosophila melanogaster genome (Adams et al., 2000)) of the branch-site selection tests conducted by Roux et al. (2014), indicating they may represent a genetic 'core' remaining under selection and responsible for adaptive evolution within the Diptera. Further sequencing of members of the Culex pipiens complex (Farajollahi et al., 2011) will enable additional tests involving lineage-specific estimates of evolutionary rates (e.g., Mensch et al., 2013) and definition of functional classes of genes with significantly elevated selection coefficients as compared to ancestral states in the phylogeny (Serra et al., 2011), as well as defining the role of differential gene expression in the divergence of a global mosquito vector.