Host dietary specialization and neutral assembly shape gut bacterial communities of wild dragonflies
1
National Centre for Biological Sciences, TIFR

,

Bangalore

,

Karnataka

,

India
2
Shanmugha Arts, Science, Technology & Research Academy (SASTRA University)

,

Thanjavur

,

Tamil Nadu

,

India
Published

Accepted

Received
Academic Editor
Subject Areas

Keywords

Community assembly

,

Gut microbiome

,

Host-microbial interactions

,

Predator

,

Specialist

,

Geographic variation
Copyright

©

2019

Deb et al.

Licence

This is an open access article distributed under the terms of the Creative Commons Attribution License, which permits unrestricted use, distribution, reproduction and adaptation in any medium and for any purpose provided that it is properly attributed. For attribution, the original author(s), title, publication source (PeerJ) and either DOI or URL of the article must be cited.
Cite this article

2019

.

Host dietary specialization and neutral assembly shape gut bacterial communities of wild dragonflies

.

PeerJ

7

:

e8058

https://doi.org/10.7717/peerj.8058
Abstract
Host-associated gut microbiota can have significant impacts on host ecology and evolution and are often host-specific. Multiple factors can contribute to such host-specificity: (1) host dietary specialization passively determining microbial colonization, (2) hosts selecting for specific diet-acquired microbiota, or (3) a combination of both. The latter possibilities indicate a functional association and should produce stable microbiota. We tested these alternatives by analyzing the gut bacterial communities of six species of wild adult dragonfly populations collected across several geographic locations. The bacterial community composition was predominantly explained by sampling location, and only secondarily by host identity. To distinguish the role of host dietary specialization and host-imposed selection, we identified prey in the guts of three dragonfly species. Surprisingly, the dragonflies–considered to be generalist predators–consumed distinct prey; and the prey diversity was strongly correlated with the gut bacterial profile. Such host dietary specialization and spatial variation in bacterial communities suggested passive rather than selective underlying processes. Indeed, the abundance and distribution of 72% of bacterial taxa were consistent with neutral community assembly; and fluorescent in situ hybridization revealed that bacteria only rarely colonized the gut lining. Our results contradict the expectation that host-imposed selection shapes the gut microbiota of most insects, and highlight the importance of joint analyses of diet and gut microbiota of natural host populations.
Introduction
Host-associated gut microbial communities can have large impacts on host evolution. In turn, the gut microbiome is affected by many factors including host genotype, environmental variation, and host diet (Broderick & Lemaitre, 2012; Colman, Toolson & Takacs-Vesbach, 2012; McFall-Ngai et al., 2013; Kostic, Howitt & Garrett, 2013; Engel & Moran, 2013). However, it is not always clear whether these effects of host genotype, diet and environment reflect variation in the acquisition or the establishment step of microbial community assembly. Gut microbes are typically acquired from the mother, through social contact with conspecifics, or the diet; and they may either colonize the gut or fail to establish. At each step, various stochastic vs. deterministic, and neutral vs. selective processes determine community composition. For instance, a host may consistently acquire a specific set of microbes if they are maternally transmitted, or if the host is a dietary specialist. Within the host gut, microbial survival and growth dynamics may be primarily determined by stochastic neutral processes (e.g., based on initial abundance); or by deterministic and selective processes such as interactions with the host or with other microbes.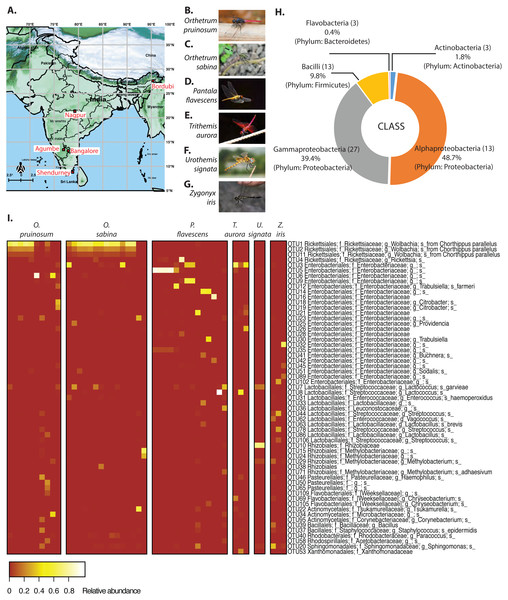 Gut-associated microbiomes can thus be considered as meta-communities (Sloan et al., 2007; Woodcock et al., 2007), where hosts represent local habitats that are colonized by microbes. Gut microbial community composition should thus depend on dispersal, subsequent filtering by the local environment (host), and successful establishment. Prior studies show that host diet can act as a major source of microbial colonizers, and thus can alter microbial dispersion into the host gut (Engel & Moran, 2013), impact nutrient availability (for the microbes) in the gut (Laparra & Sanz, 2010), and introduce new parasites thus inducing immune responses (Walk et al., 2010). In general, it is expected that generalist hosts are more likely to stochastically sample a wider range of environmental microbes associated with a variable diet (in comparison with dietary specialists), as observed for scavengers and omnivores (Yun et al., 2014; Yadav et al., 2015; Shukla et al., 2016). This disruptive effect of dietary variation can be opposed by the strong host-imposed selection, stabilizing gut bacterial community composition. Many studies have implicated such host-imposed selection as a driver of gut bacterial community composition (Spor, Koren & Ley, 2011; Engel & Moran, 2013; Antwis et al., 2017). For instance, host immune responses (Ley, Peterson & Gordon, 2006; Charroux & Royet, 2012; Broderick & Lemaitre, 2012; Quigley, 2013) or a host-derived protected niche inside gut crypts (Dillon & Dillon, 2004; Kikuchi, Hosokawa & Fukatsu, 2007; Engel & Moran, 2013) may allow only specific microbes to colonize the gut. In contrast, under weak host selection, neutral processes such as ecological drift and microbial dispersal may strongly drive community assembly (Hubbell, 2001; Rosindell, Hubbell & Etienne, 2011), with each host's microbiota functioning as a local community interacting with the larger meta-community outside the host (Costello et al., 2009; Costello et al., 2012).
Although several studies have found substantial individual and population level variation in the microbiomes of wild-collected insects (Osei-Poku et al., 2012; Martinson, Douglas & Jaenike, 2017; Sanders et al., 2017; Adair et al., 2018), the relative importance of various environmental and host-specific factors in determining the composition and stability of gut bacterial communities of natural animal populations remains unclear. We analyzed the gut bacterial and prey community composition in natural populations of six dragonfly species (adults), sampled from five locations in India (Fig. 1A, and Table S1) without significant temporal variation (each location sampled within 3–4 days). Dragonflies are generalist predators (Corbet, 2004) (i.e., predating on a diversity of prey items across its distribution); thus, we expected that they would consume diverse insect prey across locations and host species. In turn, this dietary diversity should be associated with diverse gut microbial communities. Previously, we found that the culturable fraction of gut bacterial communities of adult dragonflies varied significantly as a function of host species, location, and sampling time (Nair & Agashe, 2016). Here, we built upon this work by sampling more dragonflies, identifying most gut-associated bacteria using 16S rRNA amplicon sequencing, and analyzing host diet by sequencing the cytochrome c oxidase 1 gene (COX1) from gut contents. We then quantified the spatial stability of host-associated gut microbiomes; tested whether bacterial diversity correlates with host diet diversity; and quantified the relative importance of neutral processes driving bacterial community assembly.
Results
The gut bacterial community of dragonflies
Initial rarefaction analysis (collector's curve) revealed that our sampling depth was sufficient to determine the bacterial community composition in all but one sample (one Orthetrum sabina sample), which we excluded from further analysis (Fig. S4). Our PERMANOVA analysis revealed that library size did not influence the gut bacterial community composition (Tables S2A and S2B). As all samples showed sufficient sampling depth, we used the original dataset (non-rarefied) for our entire analysis. Moreover, McMurdie & Holmes (2014) have shown that rarefied datasets can lead to an erroneous measurement of species abundance, especially if a species is differentially abundant across sample communities. However, in relevant sections, we have also highlighted the results of our analysis of the mean rarefied (mean of 100 iterations) community for comparison. We separately analyzed a total of six sets of non-rarefied bacterial communities across all dragonfly species (6) and locations (5), generated using either closed or open-reference OTU picking and implementing three OTU filtering thresholds: (1) pruned community (576 OTUs open reference), (2) dominant community (59 OTUs open reference), and 3) minimally pruned community (2599 OTUs open reference). All sets showed comparable results, but here we focus on the pruned and dominant open referenced sets unless mentioned otherwise. Corresponding results for other sets as well as rarefied communities are given in the Supplementary Material.
We found an average of 188 OTUs per sample, most belonging to Proteobacteria (88%), Firmicutes (9.8%), Actinobacteria (1.8%) and Bacteroidetes (0.4%) (Figs. 1B & 1C). At the family level, Rickettsiaceae—comprising of three Wolbachia OTUs—were most abundant, although this high abundance was limited to dragonflies from the genus Orthetrum (Fig. 1C). In other host genera, especially P. flavescens, OTUs from the family Enterobacteriaceae were more abundant. Overall, we observed substantial variation in the relative abundance of OTUs across host species, as well as across host individuals (Fig. 1C, Fig. S5: all species, open referenced, dominant community).
Host species and sampling location shape gut bacterial community composition
We found that both host species and sampling location significantly affected the composition of the dominant gut bacterial community (PERMANOVA; Table 1; see Table S3 for other community sets) across the three best-sampled dragonflies (Table S1A). Linear discriminant analysis (constrained by the group, CAPdiscrim) to visualize clustering supported these results, showing strong separation in bacterial communities across host species and sampling location (Figs. 2A–2B, S5, and S6; see Figs. S7A–S7B for mean rarefied community). Interestingly, location explained a considerably larger proportion of variation in gut bacterial communities (26%; Table 1, Table S3) compared to host species alone (9%), suggesting that environmental factors (such as local microbial community and prey community, soil pH, or rainfall) have a stronger impact on community composition (Figs. 2A–2B, S6A–S6B, S7A–S7B). This pattern was consistent irrespective of the OTU filtering or referencing methodology used (open or closed; Table S3). When we restricted our analysis to the geographic location Shendurney, where we had sampled a total of 5 different dragonfly host species (Table S1B), we found a similarly weak yet significant impact of host species on dragonfly gut bacterial composition (Table 1B and Fig. 2C; Fig. S7C for rarefied mean community).
| (A) | Df | SSq. | Mean SSq. | F stat | R2 | P |
| --- | --- | --- | --- | --- | --- | --- |
| Species | 2 | 1.31 | 0.66 | 2.36 | 0.09 | 0.005 |
| Location | 4 | 3.77 | 0.94 | 3.40 | 0.26 | 9.9 × 10−5 |
| Interaction (Species, Location) | 3 | 1.41 | 0.47 | 1.69 | 0.10 | 0.032 |
| Residuals | 29 | 8.03 | 0.28 | | 0.55 | |
| Total | 38 | 14.52 | | | 1 | |
| (B) | Estimate | Std. error | t value | P |
| --- | --- | --- | --- | --- |
| Intercept | 0.11 | 0.09 | 1.15 | 0.28 |
| Species (P. flavescens) | −0.26 | 0.12 | −2.09 | 0.07 |
| Species (T. aurora) | −0.47 | 0.12 | −3.84 | 0.005 |
| Species (U. signata) | 0.33 | 0.13 | 2.47 | 0.04 |
| Species (Z. iris) | 0.03 | 0.12 | 0.25 | 0.81 |
Residual standard error: 0.13, df = 8, Adj. R2 = 0.80, F4,8 = 12.9, P = 0.001.
These patterns were also mirrored in the number of shared bacterial taxa across dragonflies. Of the 576 OTUs detected in total across all dragonflies, 206 OTUs (∼36%) were found in all host species (Fig. S8E). The percentage of shared OTUs increased to 64% (366 OTUs out of 571 OTUs) when we considered only the three well-sampled dragonflies (Table S1A). The congeneric dragonflies O. pruinosum and O. sabina, which harbored similar bacterial communities (Fig. 2A), also shared the maximum number of bacterial OTUs (407 shared OTUs, ∼71%, of which 34 OTUs were unique to the genus Orthetrum; Fig. S8E). Only 25% of the OTUs (145 out of 576 OTUs) were shared across locations (Fig. S8F) when we considered all dragonfly samples. This proportion increased marginally (30%, 175 out of 575 OTUs) for the subset of well-sampled dragonflies (Table S1A). Finally, for each explanatory factor, classification analysis based on gut bacterial composition categorised significant proportions of samples correctly into the respective groups (for well-sampled dragonflies: Figs. 2A–2B, Tables S4A–S4B (open reference dominant community) and S5A–S5B (closed reference dominant community); for 5 dragonfly species at Shendurney: Fig. 2C, Tables S4C (open reference dominant community) and S5C (closed reference dominant community)).

Our amplicon sequencing data had revealed that families Rickettsiaceae and Enterobacteriaceae were most abundant in the gut of dragonflies (Fig. 1C). We tested whether removing these two dominant families altered the impact of host species and sampling location on the observed community composition. We found that the results were robust to their removal (Fig. S12). Conversely, the abundance of OTUs from these families was influenced both by host species and sampling location (Fig. 1C and Fig. S13; Tables S6 and S7), mirroring our results for the full dataset. Interestingly, we found an extremely high abundance of bacteria from the family Rickettsiaceae in the gut tissues of samples from the genus Orthetrum (Fig. 1C, Fig. S13). We validated this observation using qPCR, which revealed that Wolbachia (which belongs to this family) was much more abundant in the genus Orthetrum compared to P. flavescens (Fig. S14).
Despite the significant effects of host species and location on community composition (Fig. 2, S6), these factors had relatively weak and variable impacts on bacterial community richness (Figs. S15A–S15C; Table S8A). The α-diversity of communities (considering both OTU richness and evenness) varied only across host species (Figs. S8A–S8B; see Fig. S9 for rarefied open reference communities); Table S8B and S9); whereas both factors significantly affected the β diversity (Figs. S8C–S8D; see Figs. S10 and S11 for rarefied open reference communities; Table S8C), indicating significant community turnover across species and sampling location. Interestingly, β diversity was higher in dragonflies collected from sites in Southern India (Agumbe, Bangalore, and Shendurney) compared to North Indian locations (Bordubi and Nagpur) (Figs. S8D, S10B). These results show that host-specific and environmental factors together govern bacterial community composition and turnover, with the latter having larger impacts.
Dragonflies show host-specific dietary specialization
To determine whether host-specific bacterial communities reflect host-specific diets, we next tested for dietary specialization across the three best-sampled dragonfly species, O. pruinosum, O. sabina, and P. flavescens collected from Agumbe region. We obtained 12.4% prey reads, out of a total of 2.1 million reads (Fig. S3). Our PERMANOVA analysis revealed that library size did not influence the prey composition in dragonfly guts (Tables S2C and S2D).
The pruned prey communities of both Orthetrum species had significantly higher richness compared to P. flavescens (P < 0.01, Kruskal Wallis' Chi-square = 16.91, df = 2, post-hoc Conover test: OP vs. PF: P < 0.01, OS vs. PF: P < 0.01, OP vs OS: P = 0.04), as well as greater diversity (P = 0.003, Kruskal Wallis' Chi-squared: 11.41, df = 2, post-hoc Conover test: OP vs. PF: P = 0.04, OS vs. PF: P = 0.0008, OP vs OS: P = 0.03) (Figs. 3A–3B; see Figs. S16A–S16B for rarefied mean community). These patterns mirrored the bacterial communities associated with these hosts (Figs. 3A–3B, Figs. S16A–S16B): Orthetrum had higher bacterial diversity (Kruskal Wallis' Chi-squared: 7.39, df = 2, P = 0.02, post-hoc Conover test: OP vs. PF: P = 0.03, OS vs. PF: P = 0.04, OP vs. OS: P = 0.69) (Fig. 3A, Fig. S16A), though not significantly higher richness (Kruskal Wallis' Chi-squared: 1.99, df = 2, P = 0.3) (Fig. 3B and S16B, though the trend was similar). The correlated differences in prey and gut bacterial communities suggest that they may be causally linked.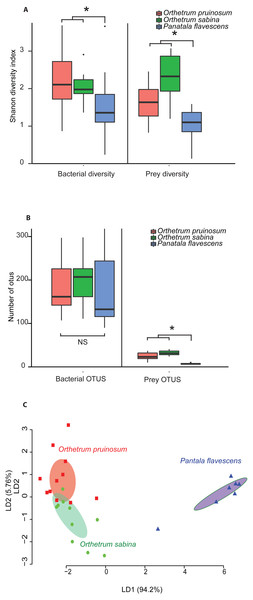 Notably, we observed striking differences between the diets of the three dragonfly species (Figs. 3A–3B and Fig. S17; 2A–2B). Orthetrum pruinosum and O. sabina had similar diets composed predominantly of Dipterans (83% and 68% respectively), whereas P. flavescens consumed more Odonates (88% of prey OTUs, potentially indicating conspecific predation) (Fig. S17). This was also evident in our PERMANOVA results, which revealed that host species was an important factor driving prey composition (Table 2A). Finally, our classification analysis (CAPdiscrim) based on prey composition also categorized significant proportions (75%) of samples correctly into the respective groups (Table 2B), highlighting host specific dietary patterns in dragonflies. Since all the dragonflies collected for dietary analysis were collected from Agumbe region, we examined the gut bacterial composition of dragonflies (of the three well-sampled species) collected specifically from this area. Concordant to our previous analysis, we found a strong correspondence between the effect of host identity on dietary as well as the bacterial composition of dragonflies (Fig. 3C and Fig. S16C vs. Fig. S18; Table 2 vs. Table S10). Similarly, CAPdiscrim analysis also showed comparable classification success for samples based on both gut bacterial composition (81%) and prey composition (75%).
 
Df
SSq.
Mean SSq.
F stat
R2
P
(A)
Species
2
3.24
1.62
8.12
0.39
9.9 × 10−05
Residuals
25
4.99
0.20
 
0.61
 
Total
27
8.23
 
 
1
 
(B)
Classification success
75%
P = 0.004
Proportion of trace
LD1
LD2
0.94
0.057
Manova
DF
Pillai approx
F
Numerator DF
Denominator DF
P
Host Species
2
1.367
12.43
8
46
2.78 × 10−09
Residuals
25
Overall, these results suggest that (a) O. sabina and O. pruinosum primarily consume small dipterans and lepidopterans (Fig. S17); (b) but their target prey community still differed substantially (Fig. 3C); and (c) P. flavescens is a specialized predator that predominantly targets other Odonates (Fig. 3C and Fig. S17). Thus, a host-specific dietary pattern can potentially introduce distinct bacteria into host guts, directly determining the observed host-specific gut bacterial communities of dragonflies.
Dragonfly gut bacterial communities are predominantly neutrally assembled
Next, we specifically tested whether dragonfly gut bacterial communities are acquired passively through the diet, with relatively weak host-imposed filters. We estimated the fraction of the bacterial community whose occurrence and abundance across hosts was consistent with neutral vs. non-neutral assembly, analyzing communities from all samples collected from a given location (regardless of host species). We found that a large fraction of bacterial OTUs was predicted to be neutrally assembled (mean 72 ± 0.08% with 99% confidence intervals, Figs. S19A–S19E; mean 63 ± 0.08% with 95% CI; ), i.e., whose distribution across hosts matched expectations from a model simulating assembly via random OTU dispersal. We also compared the fit of the Sloan models with that of binomial models (as suggested by Burns et al., 2016) using both R2 and AIC estimation. In each case, the Sloan model explained more variation in the data than the Binomial model (Table S11). This result suggested that the local communities are not just a random subset of the meta-communities and dispersal plays an important role in structuring the local communities. Beta diversity (variation in composition across local communities) is therefore better explained when we account for dispersal between local communities (i.e., Sloan's model). The proportion of neutrally distributed gut bacteria varied across locations (Fig. 4 and Fig. S19). Dragonflies collected from Bordubi had the highest proportion of neutrally assembled bacteria (83%), while those from Nagpur had the lowest proportion of neutrally assembled gut bacteria (63%; Fig. 4 and Fig. S19). As expected, we observed the opposite patterns for OTUs whose distribution was consistent with positive or negative selection (Fig. 4). We found similar results when we rarefied samples to the lowest read count per sample (e.g., 74% OTUs were predicted to be neutrally assembled, compared to 72% for the full dataset), suggesting that the model fitting was not sensitive to different read depth across samples. Finally, pooling all OTUs predicted to be under positive selection (across locations), we found that their taxonomic diversity was either higher than or comparable to OTUs that were neutrally distributed or under purifying/negative selection (Fig. S20). This result suggests that it is unlikely that dragonflies impose strong positive selection favoring a specific, shared set of functionally important bacteria. However, it is also possible that any functional traits selected by the host are not phylogenetically conserved (Louca et al., 2018), resulting in positive selection for unrelated bacteria. Currently, we cannot distinguish between these alternatives.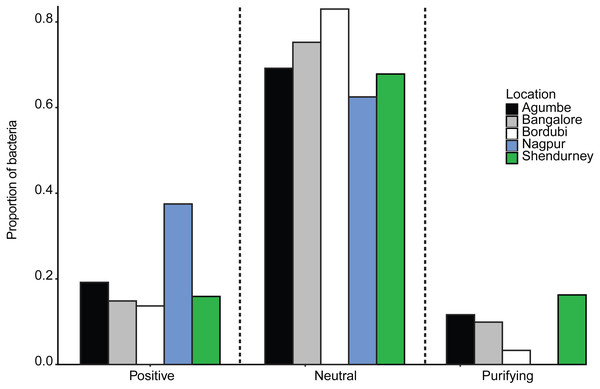 Since we had relatively low sample sizes for each dragonfly species in a given location, we had restricted our analysis (above) to pooled samples— i.e., we included data from all dragonflies in a particular sampling location. However, we also attempted to investigate host species-specific patterns of gut bacterial community assembly (Fig. S21). We found that host species and sampling location both had a significant impact on the proportion of bacteria that are neutrally assembled (Table S12A and Fig. S21A; also see Table S12B and Fig. S21B for bacteria under positive selection). The dragonfly P. flavescens (which hunts other Odonates, which are also carnivorous and can also house non-specific neutrally assembled gut bacteria) had a higher proportion of neutrally assembled gut bacteria, in comparison to O. sabina and O. pruinosum (that predates on insect orders which can have host specific gut microbiota).
Bacterial cells rarely adhere inside dragonfly guts
Finally, to test whether bacterial cells adhere to dragonfly guts or are housed in specialized structures, we dissected the guts of three species (O. sabina, O. pruinosum, and P. flavescens) and probed for bacteria using FISH (Fig. 5). Our positive controls (bacterial smears on slides) showed a strong eubacterial signal, indicative of proper binding (Figs. S22A–S22B); while our negative control (see methods) did not show a signal. However, we did not find any eubacterial signal in the foregut (Figs. 5B–5D), indicating that bacteria were either absent or rare in this part of the gut. Since we did not find a signal with the general eubacterial probe, we did not test foregut sections with the Wolbachia-specific probe. In P. flavescens, only the eubacterial probe showed a positive signal inside columnar folds (5 of 5 tested individuals; 3 with small patches of bacteria) (Figs. 5E and 5H); whereas Wolbachia was absent (Figs. 5K and 5N), corroborating our amplicon sequencing results. The midgut and hindgut of both Orthetrum species were positive for eubacterial and Wolbachia-specific probes (Figs. 5F–5P; all 5 tested individuals of each species), although the signal was weak and localized to a small cluster of bacteria in the gaps between columnar cellular folds. Interesting exceptions were observed in two O. sabina individuals where Wolbachia appeared to be sequestered within a specific tissue structure (Fig. 5L); the functional significance of this pattern requires further work. Overall, the lack of a clear signal of bacterial gut colonization suggests at best a weak relationship with the host.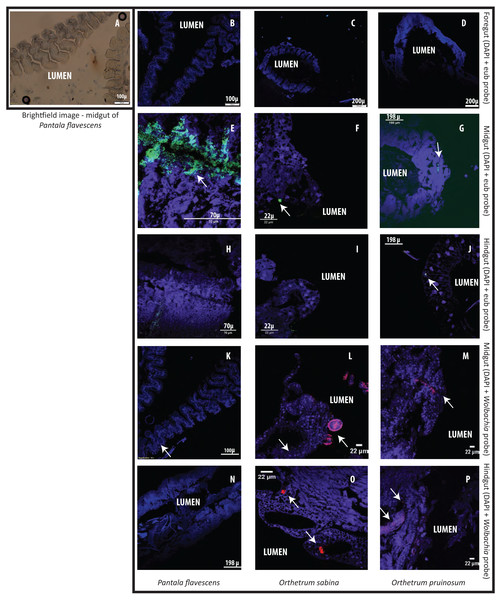 Discussion
Host selection is generally considered to be a strong force shaping the gut bacterial communities of animals (Colman, Toolson & Takacs-Vesbach, 2012; Engel & Moran, 2013; Yun et al., 2014) and is expected to stabilize communities (Lozupone et al., 2012; Coyte, Schluter & Foster, 2015; Foster et al., 2017) in the face of environmental variation. Here, we tested this prediction by analyzing host associated gut bacteria across spatially separated populations of six dragonfly species. Our key results contrast multiple findings from prior work: (a) adult dragonfly bacterial communities are twice as rich and diverse as other carnivorous insects, including Odonates (Jones, Sanchez & Fierer, 2013; Yun et al., 2014); (b) geographic location explain more variation in bacterial community composition than host species identity; (c) adult dragonflies have specialized diets that reflect patterns of variation in gut bacterial communities, and (d) the adult gut community is predominantly neutrally assembled with regard to host species, showing little evidence of the strong host selection reported for many other insects (Engel & Moran, 2013; Yun et al., 2014). Thus, our work highlights the importance of analyzing gut microbial communities of natural host populations in the context of natural variation in geography and host taxonomy.
Our findings corroborate previous studies showing a significant geographical structure in the microbiomes of well-studied animal species such as humans, flies, and bees (Corby-Harris et al., 2007; Turnbaugh et al., 2009; Costello et al., 2009). Our prior analysis of culturable gut bacteria in dragonflies had also shown a weak yet significant effect of sampling location on the gut bacterial community (Nair & Agashe, 2016). In this study, the presence of a strong geographic structure (Fig. 2B) despite incorporating long-distance migrants like Pantala (Hobson et al., 2012) further highlights the importance of environmental factors shaping the gut bacterial community composition. However, the dragonfly bacterial community structure is not strongly associated with the distance between sites (Fig. 1A, Figs. S8, and S10). For instance, dragonflies of the same species collected from relatively close sites— Bangalore, Agumbe, and Shendurney— had distinct gut bacterial community composition, suggesting that a combination of multiple locally-acting factors may drive the composition of site-specific gut bacterial communities (Figs. 1A, 2B, S8, and S10). These factors may include specific environmental conditions (e.g., temperature, precipitation, and soil pH) that drive variation in environmental microbes; site-specific variation in host imposed selection acting on similar environmental microbes; variation in insect prey communities driving differential dispersal into host guts; or local host diet specialization (Dillon & Dillon, 2004; Osei-Poku et al., 2012; Engel & Moran, 2013). Dragonflies are known to be generalist predators of various insects (Corbet, 2004; Olberg et al., 2005; Kaunisto et al., 2017), which often house host-specific microbiota (Dillon & Dillon, 2004; Engel & Moran, 2013; Yun et al., 2014). Hence, a shift in the prey base due to geographical variation may directly or indirectly contribute to changes in the gut bacterial community of predatory dragonflies. We do acknowledge that among different environmental factors, seasonal variation can play a crucial role in gut bacterial community composition. However owing to our limited sampling effort we could not address the effect of seasonality in our present study, which remains to be tested in future studies.
Despite the major impacts of geographic location, concordant to our previous study (Nair & Agashe, 2016) we found that adults of each dragonfly host genus house a distinct gut bacterial community. What explains this partial host-specificity in the dragonfly gut microbiome? Our results suggest a potential role for phylogenetically conserved host level processes in shaping the gut community. For instance, both species from the genus Orthetrum shared a significant proportion of their gut community, whereas dragonflies from the genus Urothemis— the phylogenetically most distinct genus in our dataset (Ware, May & Kjer, 2007)— had very different gut bacteria. As is known for host taxonomy, host phylogeny could potentially structure insect gut microbiota through active or passive filters imposed by host morphology, physiology, development, immune function, social interactions or diet (Dillon & Dillon, 2004; Sullam et al., 2012; Colman, Toolson & Takacs-Vesbach, 2012; Jones, Sanchez & Fierer, 2013; Engel & Moran, 2013; Aksoy et al., 2014; Yun et al., 2014; Moran & Sloan, 2015); though this remains to be tested.
Broadly speaking, host-specific gut microbiota may reflect host specific diets and/or host specific selective filters (Colman, Toolson & Takacs-Vesbach, 2012; Engel & Moran, 2013). Unfortunately, information on dragonfly diet is scarce because of their rapid and unpredictable movements that make field observations difficult (Corbet, 2004). However, limited behavioral observations in natural and enclosed populations suggest that dragonflies are generalists (Fraser, 1933; Corbet, 2004; Stoks & Córdoba-Aguilar, 2012). A recent analysis of prey DNA from the faeces of three odonate species in Finland (including dragonflies and damselflies) found large dietary overlaps (Kaunisto et al. (2017), supporting the idea that odonates are generalists. In contrast, using a similar approach, we found that three common, sympatric dragonflies in India (O. sabina, O. pruinosum, and P. flavescens) consume very distinct insect communities. Our result is supported by prior behavioural observations (Fraser, 1933; Corbet, 2004) and our own observations of Orthetrum spp. preying on flies, and mosquitoes and P. flavescens consuming other dragonflies (personal observation of Orthetrum spp. and P. flavescens foraging, by Shantanu Joshi and Rittik Deb, year 2015–2016). These dietary differences were also strongly reflected in the diversity and richness of gut bacteria, suggesting a direct association between dietary and gut bacterial diversity. Our results suggest that each dragonfly species may have a unique dietary niche that acts as a passive filter modulating the entry of environmental microbiota into the gut.
However, we caution that our results indicate correlation rather than direct causation, and further work is necessary to assign causality.
Although this hypothesis requires further validation, we suggest that such dietary specialization— rather than strong host selection— is the primary driver of variation in dragonfly gut bacterial communities. Indeed, simulations using Sloan's neutral assembly model (2006) revealed that bacterial communities were predominantly neutrally assembled with regard to host species and that assembly varied across geographic location and host species. Two additional lines of evidence support our conclusion that adult dragonfly gut bacterial communities are primarily structured via passive processes. First, the high taxonomic diversity of "selected" bacterial OTUs could suggest a lack of selection for a specific set of phylogenetically conserved bacterial functional traits (but see Louca et al. (2018)). Second, our FISH analysis also indicated a weak association with hosts. The rare observations of Wolbachia cells inside globular sacks in O. sabina deserve further attention as a possible special case of strong dragonfly-bacterial interactions. Nonetheless, our results indicate that although microbiota are transient, with likely limited impacts on the dragonfly host (comparable to observations in butterflies (Hammer et al., 2017; Phalnikar, Kunte & Agashe, 2018)), the microbiome may be largely shaped by host diet via its impact on microbial dispersal, nutrient availability and colonization .
Conclusions
Our analysis of the patterns of spatial and host-specific variation in the diet and gut bacterial communities of multiple wild-collected adult dragonflies highlights two key points. First, we suggest that environmental factors that may alter bacterial community stability should be given more importance when drawing general conclusions about host-microbe interactions. Second, while explaining variation in microbial community composition, it is important to explicitly consider neutral processes along with selection. The lack of significant host-microbiome relationships in dragonfly adults may arise from multiple reasons that remain to be tested. For instance, microbial mutualists may offer no benefit if dragonflies have endogenous digestive enzymes or acquire all essential nutrients from their prey. Alternatively, microbes may not be able to colonize the dragonfly gut because of the host's variable and omnivorous diet, or for reasons of historical chance. We hope that our work encourages further analysis of variation in gut microbiomes of natural insect populations, as well as experimental tests of the role of neutral vs. selective processes in the assembly of host-associated microbial communities.
Supplemental Information
Supplemental Figures and Tables