Different nitrogen sources speed recovery from corallivory and uniquely alter the microbiome of a reef-building coral
1
Department of Ecology, Evolution, and Marine Biology, University of California, Santa Barbara

,

Santa Barbara, CA

,

USA
2
Department of Microbiology, Oregon State University

,

Corvallis, OR

,

USA
3
Marine Science Institute, University of California, Santa Barbara

,

Santa Barbara, CA

,

USA
Published

Accepted

Received
Academic Editor
Subject Areas

Keywords

Corallivory

,

Seawater warming

,

Nitrate

,

Ammonium

,

Coral microbiome

,

Nutrient loading
Copyright

©

2019

Rice et al.

Licence

This is an open access article distributed under the terms of the Creative Commons Attribution License, which permits unrestricted use, distribution, reproduction and adaptation in any medium and for any purpose provided that it is properly attributed. For attribution, the original author(s), title, publication source (PeerJ) and either DOI or URL of the article must be cited.
Cite this article

2019

.

Different nitrogen sources speed recovery from corallivory and uniquely alter the microbiome of a reef-building coral

.

PeerJ

7

:

e8056

https://doi.org/10.7717/peerj.8056
Abstract
Corals are in decline worldwide due to local anthropogenic stressors, such as nutrient loading, and global stressors, such as ocean warming. Anthropogenic nutrient loading, which is often rich in nitrate, inhibits coral growth and worsens corals' response to warming while natural sources of nitrogen, such as ammonium from fish excretion, promotes coral growth. Although the effects of nutrient loading and ocean warming have been well-studied, it remains unclear how these factors may interact with biotic processes, such as corallivory, to alter coral health and the coral microbiome. This study examined how nitrate vs. ammonium enrichment altered the effects of increased seawater temperature and simulated parrotfish corallivory on the health of Pocillopora meandrina and its microbial community. We tested the effects of nitrogen source on the response to corallivory under contrasting temperatures (control: 26 °C, warming: 29 °C) in a factorial mesocosm experiment in Moorea, French Polynesia. Corals were able to maintain growth rates despite simultaneous stressors. Seawater warming suppressed wound healing rates by nearly 66%. However, both ammonium and nitrate enrichment counteracted the effect of higher temperatures on would healing rates. Elevated seawater temperature and ammonium enrichment independently increased Symbiodiniaceae densities relative to controls, yet there was no effect of nitrate enrichment on algal symbiont densities. Microbiome variability increased with the addition of nitrate or ammonium. Moreover, microbial indicator analysis showed that Desulfovibrionaceae Operational taxonomic units (OTUs) are indicators of exclusively temperature stress while Rhodobacteraceae and Saprospiraceae OTUs were indicators of high temperature, wounding, and nitrogen enrichment. Overall, our results suggest that nitrogen source may not alter the response of the coral host to simultaneous stressors, but that the associated microbial community may be distinct depending on the source of enrichment.
Introduction
Corals typically thrive in ecosystems with oligotrophic waters due to tight nutrient cycling between corals and algal symbionts (Muscatine & Porter, 1977). However, anthropogenic nutrient pollution has increased nutrient availability on many reefs worldwide, especially with respect to nitrogen (N) availability (D'Angelo & Wiedenmann, 2014; Fabricius, 2011). Anthropogenic-derived sources of N, often in the form of nitrate, have deleterious consequences on coral growth and physiology (D'Angelo & Wiedenmann, 2014; Shantz & Burkepile, 2014) and can make corals more susceptible to seawater warming (Burkepile et al., 2019; Fabricius et al., 2013; Vega Thurber et al., 2014). These patterns are concerning given that seawater warming events have been increasing in frequency and intensity due to global climate change (Hughes et al., 2018).
Alternatively, natural sources of N (e.g., ammonium from fish excretion) can benefit corals by increasing coral growth and calcification (Holbrook et al., 2008; Meyer & Schultz, 1985; Meyer, Schultz & Helfman, 1984; Shantz & Burkepile, 2014). In fact, corals under ammonium enrichment receive more translocated carbon from Symbiodiniaceae (formerly Symbiodinium; LaJeunesse et al., 2018) than corals enriched with nitrate (Ezzat et al., 2015). Ammonium can even alleviate the negative impacts of seawater warming by maintaining the response mechanisms of coral immunity at the molecular level (Zhou et al., 2017). Indeed, anthropogenic- vs. naturally occurring N seem to have contrasting impacts on coral physiology and susceptibility to seawater warming (Burkepile et al., 2019). Yet these effects on physiology can vary with N concentration (Ferrier-Pages et al., 2000; Marubini & Davies, 1996; Marubini & Thake, 1999), which likely influences how corals respond to other stressors (Fabricius et al., 2013).
Coral predation (i.e., corallivory) is a common biotic process on reefs with many corallivores removing coral mucus, tissue, and skeletal structure. Scraping and excavating corallivory by parrotfishes and pufferfishes removes coral tissue and varying degrees of skeletal structure, which can substantially reduce coral growth rates (Cole, Pratchett & Jones, 2008; Rice, Ezzat & Burkepile, 2019; Rotjan & Lewis, 2008). This impact can exacerbate corals' response to concurrent stressors and even prevent recovery from anthropogenic perturbations (Rice, Ezzat & Burkepile, 2019). For instance, parrotfish corallivory inhibited the recovery of Orbicella spp. colonies after a bleaching event (Rotjan et al., 2006). Nutrient loading can also interact with fish corallivory to drive changes in coral mortality. In the Florida Keys, parrotfish corallivory increased Porites mortality by 62% when corals were simultaneously exposed to anthropogenic nutrient sources (Zaneveld et al., 2016). These patterns may be driven by increases in opportunistic bacteria and wounding driving changes in the coral microbiome directly (Zaneveld et al., 2016) or resulting from compromised host immunity and thus inability of the coral to regulate its microbiome (Zaneveld, McMinds & Vega Thurber, 2017).
The coral microbiome is dominated by bacteria, protozoans, and archaea that perform a multitude of functions from nutrient cycling to protecting the host against opportunistic bacteria (Bang et al., 2018; Bourne, Morrow & Webster, 2016; Ritchie, 2006; Rohwer et al., 2002). Some commensal microbes produce antibacterial compounds to prevent opportunistic bacteria from colonizing the host (Bourne, Morrow & Webster, 2016; Ritchie, 2006). When the microbial community is disturbed, populations of opportunistic bacteria can become established, which can compromise the holobiont immunity and lead to coral mortality (Glasl, Herndl & Frade, 2016). This mechanism has been proposed for Porites corals under simultaneous thermal stress and nutrient enrichment, and even parrotfish corallivory (Zaneveld et al., 2016). Yet, commensal microbes can help corals resist and recover from abiotic stress and are critical for enabling their host to cope with challenging environmental conditions (Bang et al., 2018; Bourne, Morrow & Webster, 2016). In a previous analysis of the coral microbiomes included in this study, we demonstrated that stressors primarily act additively or antagonistically, not synergistically, to alter microbial community composition with high temperature and simulated corallivory wounding independently causing the strongest responses (Maher et al., 2019). Additionally, we showed that changes in community structure with stress are driven by increases in opportunistic taxa, rather than the depletion of symbionts. When considering holobiont health, it is vital to understand how the interactions between corals and their microbial counterparts respond to anthropogenic forcing (Rädecker et al., 2015; for review see McDevitt-Irwin et al., 2017).
It remains unclear how N source (nitrate vs. ammonium) may alter corals' response to elevated temperatures and corallivory. To that end, our study seeks to evaluate how different N sources (nitrate vs. ammonium) may mediate changes in: (1) coral growth rates, (2) wound healing rates, (3) Symbiodiniaceae densities, and (4) bacterial community dynamics in response to concurrent seawater warming and corallivory. We hypothesized that nitrogen source would differentially mediate the effects of seawater warming and simulated corallivory. Further, we predicted that varying nitrogen source would produce distinct microbial communities with indicator taxa that suggest potential functional responses to multiple stressor regimes.
Results
Growth rates, wound healing rates, and Symbiodiniaceae densities
Growth rates of individual P. meandrina nubbins ranged from 0.49 to 2.38 mg cm−2 day−1. We did not observe main effects or interactions among seawater warming, nitrogen source, or simulated wounding on P. meandrina growth rates (Fig. 1; Table S2). For wound healing, there were no main effects of temperature (LMM; F = 3.57, P = 0.065) or nitrogen enrichment (LMM; F = 2.09, P = 0.14), yet there was a significant interaction between temperature and nitrogen enrichment (LMM; F = 6.51, P < 0.01; Fig. 2; Table 1). Pairwise comparisons revealed that healing rates were reduced ~66% at 29 °C compared to 26 °C under ambient nutrient conditions (P < 0.01; Table S3). At 26 °C, coral nubbins exposed to ammonium enrichment had faster wound healing rates than controls at 29 °C (P < 0.05; Table S3), but coral nubbins exposed to nitrate at 26 °C did not (P = 0.063; Table S3). For corals at 29 °C, nitrogen enrichment removed the negative effect of seawater warming on healing rate regardless of nitrogen source. When comparing the wound healing rates at 29 °C, we found that both ammonium and nitrogen enrichment increased healing rates by ~63% compared to ambient conditions (P < 0.05; Table S3). However, there were no differences in the wound healing rates for P. meandrina nubbins enriched with either ammonium or nitrate across temperature treatments (P > 0.9 for all comparisons; Table S3).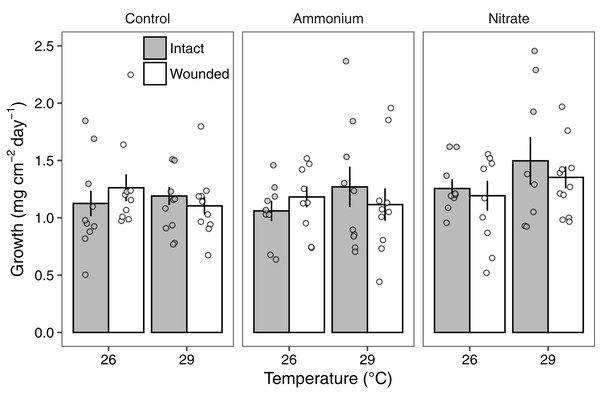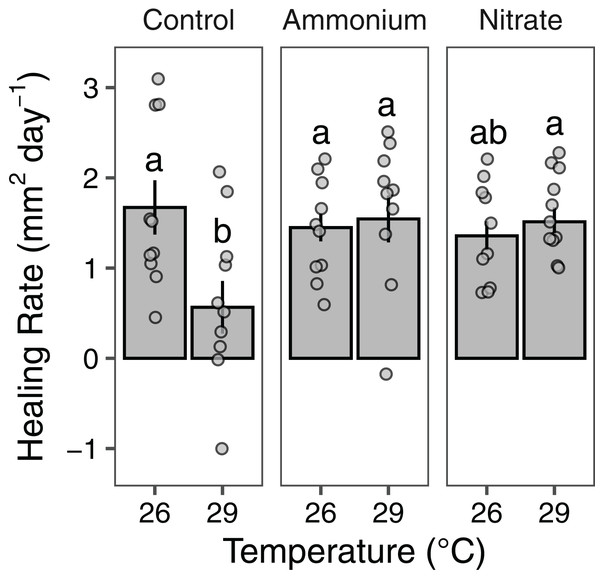 | Fixed effects | df | F | P |
| --- | --- | --- | --- |
| Temperature | 1 | 3.566 | 0.0653 |
| Nutrient | 2 | 2.091 | 0.135 |
| Temperature × Nutrient | 2 | 6.505 | <0.01 |
P-values defined as significant at a threshold of 0.05 are highlighted in bold.
Symbiodiniaceae densities ranged from 1.03 to 10.7 × 105 cells cm−2. Seawater warming increased Symbiodiniaceae density (LMM; F = 7.91, P < 0.01; Fig. 3; Table 2). There was also a significant effect of nitrogen source (LMM; F = 4.55, P < 0.05; Fig. 3; Table 2) with ammonium enrichment increasing Symbiodiniaceae densities by 30% relative to control conditions (P < 0.01; Table S4). We did not observe differences in Symbiodiniaceae densities for corals enriched with nitrate relative to controls (P = 0.51; Table S4) or nitrate relative to ammonium enrichment (P = 0.18; Table S4). Further, there was no interaction between seawater warming and nitrogen source on Symbiodiniaceae densities (LMM; F = 2.52, P = 0.086; Fig. 3; Table 2). Simulated corallivory had no effects on Symbiodiniaceae densities and there also was no three-way interaction between temperature, nitrogen, and wounded treatments on Symbiodiniaceae densities (Fig. 3; Table 2).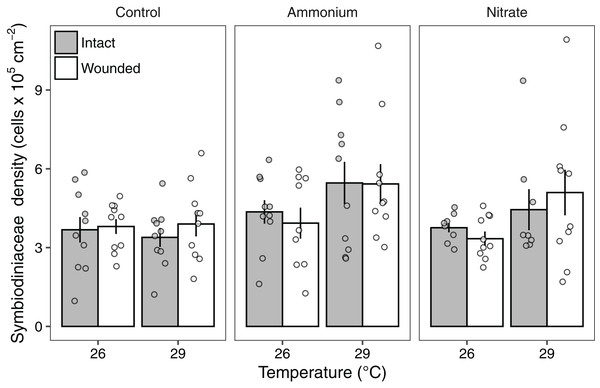 | Fixed effects | df | F | P |
| --- | --- | --- | --- |
| Temperature | 1 | 7.909 | <0.01 |
| Nutrient | 2 | 4.545 | <0.05 |
| Wounded | 1 | 0.0612 | 0.805 |
| Temperature × Nutrient | 2 | 2.522 | 0.0857 |
| Temperature × Wounded | 1 | 0.804 | 0.372 |
| Nutrient × Wounded | 2 | 0.346 | 0.708 |
| Temperature × Nutrient × Wounded | 2 | 0.0405 | 0.960 |
P-values defined as significant at a threshold of 0.05 are highlighted in bold.
Response of microbial diversity to coral treatments
In addition to measuring changes in the responses of the host and algal symbionts, we also evaluated the coral-associated bacterial communities to fully assess the effects of these stressors on the holobiont. In summary, there were 428 unique bacterial OTUs across the entire rarefied dataset. On average, coral nubbins contained a low diversity of bacterial taxa, around 48.0 ± 4.0 unique OTUs. The most abundant family in the dataset was Endozoicomonadaceae with a mean relative abundance of 67.76% ± 3.51% and ranging from 2.90% to 99.44%. Only two samples under increased seawater temperature and ammonium enrichment, one intact and another scarred, contained less than 10% mean relative abundance of Endozoicomonadaceae. Although the Greengenes database identifies this family as Endozoicomonaceae, here the updated taxonomic assignment of Endozoicomonadaceae is used (Bartz et al., 2018; Neave et al., 2016). Other abundant families included Desulfovibrionaceae (5.51% ± 1.55% and ranging from 0.00% to 59.91%), Enterobacteriaceae (3.79% ± 1.39% and ranging from 0.00% to 76.73%), Rhodobacteraceae (5.88% ± 0.89% and ranging from 0.00% to 32.71%), and Moraxellaceae (2.83% ± 0.78% and ranging from 0.00% to 41.22%). On average, coral nubbins with ambient nutrients had a Chao1 index of 68.56 ± 6.06, although this did not differ with coral nubbins under ammonium or nitrate enrichment (F = 2.053, P = 0.14) which had indices of 47.37 ± 5.56 and 71.47 ± 12.51, respectively. Coral nubbins in ambient nutrient conditions also were not significantly different (F = 0.377, P = 0.69) via Simpson's diversity (0.472 ± 0.069) when compared to ammonium (0.386 ± 0.055) or nitrate (0.446 ± 0.068).
While there were no clear associations between alpha or beta diversity with Symbiodiniaceae densities, host growth rates, or host healing rates (Tables S5 and S6) there were differences in the microbial community structure across treatment regimes (Figs. 4 and 5). Differences in beta diversity between treatment groups were identified from the log-transformed community data. While PERMANOVA tests for distinct communities were significant for temperature, wounding, and nitrogen with various dissimilarity measures, all R2 values were less than 0.1 (Table S7). Therefore, these results were not considered representative of biologically distinct communities. No treatment interactions produced significantly distinct communities (Table S7). However, unlike community dissimilarity measures, there were significant differences between nitrogen treatment group dispersions for Binary Jaccard (PERMDISP, F = 4.210, P < 0.05) and Weighted Unifrac (PERMDISP, F = 4.140, P < 0.05) measures of community dissimilarity (Fig. 4; Table S8). Pairwise comparisons for associations showed that for the Binary Jaccard and Weighted Unifrac measures, corals under both nitrate and ammonium treatments were significantly more variable compared to coral microbiomes under ambient nutrients conditions (P < 0.05 and P < 0.05, respectively), but nitrate and ammonium were not significantly different from one another (P = 0.63 and P = 0.61, respectively). Group dispersions were also significantly different by temperature with the Binary Jaccard dissimilarity measures (PERMDISP, F = 6.730, P < 0.05, Fig. S2).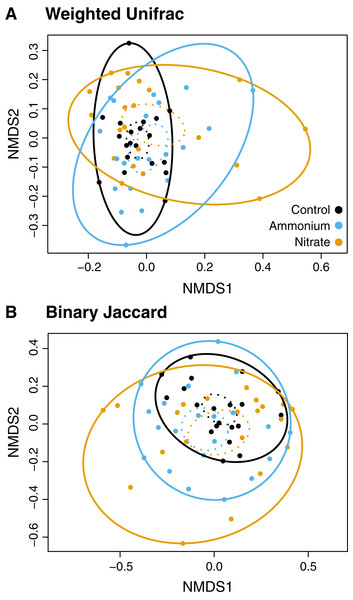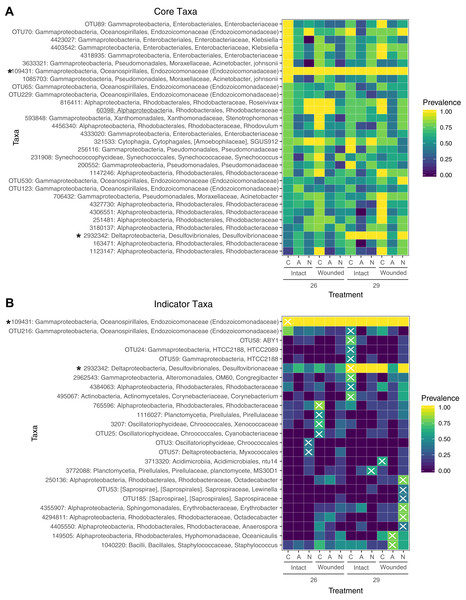 Prevalence and associations of microbial taxa across treatments
A total of 30 OTUs were identified as comprising the core microbiome which were present in at least 50% of samples. Taxa in the core microbiome were evaluated for prevalence across samples in the different treatments (Fig. 5A). A single OTU (ID: 109431) of the family Endozoicomonadaceae was found in every sample (Fig. 5A). Eight OTUs of the families Moraxellaceae, Enterobacteriaceae, and Endozoicomonadaceae were found in every control sample. Nearly every coral sample at 29 °C contained an OTU in the family Desulfovibrionaceae (ID: 2932342), whereas this OTU was less prevalent in samples at 26 °C (Fig. 5A). OTUs from the family Rhodobacteraceae were prevalent in wounded coral samples at ambient nutrient levels, however, the specific Rhodobacteraceae species differed based on whether the sample had been exposed to seawater at 26 or 29 °C. OTUs in this family were also less prevalent in wounded coral samples exposed to nitrogen enrichment (Fig. 5A).
Using a rarefied OTU table, indicator species analysis identified associations between bacterial taxa and treatment combinations (Fig. 5B). A total of 25 OTUs were significant indicators with a P < 0.05, however, one of these OTUs had an indicator value < 0.5 (Table S9). The control group (ambient nutrients, intact, 26 °C) had a single indicator OTU of the family Endozoicomonadaceae. The indicator value of 0.344 for this OTU (Table S9) is likely due to the presence of this OTU in every sample (Figs. 5A and 5B). While this taxon dominates control corals with >95% relative abundance in all samples, it is not exclusive to the control group. Eight taxa were indicators for high temperature only, including an OTU of the family Desulfovibrionaceae which was also a member of the core microbiome (Fig. 5A). OTUs of the family Rhodobacteraceae were indicators for various treatment groups with wounding, high temperature, or with the combination of the two with nitrogen enrichment (Fig. 5B). The treatment groups of ammonium enrichment, ammonium or nitrate enrichment with wounding, and ammonium enrichment with high temperature did not have any significant indicator taxa (Fig. 5B).
Discussion
Our study tested the hypothesis that different nitrogen (N) sources would have contrasting effects on P. meandrina growth, Symbiodiniaceae densities, wound healing, and the coral microbiome in response to seawater warming and simulated parrotfish corallivory. In contrast to our hypothesis, we observed that N source did not have divergent effects on the impacts of seawater warming and simulated corallivory on P. meandrina growth rates. However, N source did mediate the impacts of these stressors on Symbiodiniaceae densities and wound healing rates. In fact, intact and wounded corals were able to maintain growth rates under warmer temperatures and across nitrogen regimes. However, ammonium enrichment increased Symbiodiniaceae densities across temperature treatments. We also observed that warmer temperatures reduced tissue regeneration, but that ammonium enrichment counteracted this effect. At the microbial scale, community variability increased with nitrogen enrichment. We also observed distinct bacterial taxa that were indicators of corals under seawater warming, wounding, and the combination of these treatments with nitrogen enrichment.
Conclusions
As anthropogenic perturbations become more common on reefs, it is crucial to understand how these disturbances may change corals' ability to cope with ongoing biotic processes. Corallivory is a common process on reefs that can exacerbate the response of corals to human impacts (Rice, Ezzat & Burkepile, 2019). The current study suggests that nitrogen source can alter the effects of concurrent seawater warming and corallivory on corals, while nitrogen enrichment can have distinct impacts on microbial community variability. Moreover, our results suggest that coral growth may be prioritized over tissue regeneration under warmer temperatures. However, how nitrogen availability and concentration may interact with corallivory and concurrent warming to drive changes to the coral microbial community warrants further research. Moreover, empirical studies are needed to understand how coral immune pathways involved in tissue regeneration respond to these anthropogenic stressors and across nutrient regimes. We observed increased microbiome variability with the addition of nitrogen and identified bacteria that are indicators of different stress regimes. Future research may investigate the functional capabilities of these indicator taxa, particularly in reference to nitrogen cycling, and how their function varies with anthropogenic forcing.