Development and characterization of a multiplex panel of microsatellite markers for the Reunion free-tailed bat Mormopterus francoismoutoui
UMR PIMIT (Processus Infectieux en Milieu Insulaire Tropical), Université de la Réunion/ INSERM 1187/CNRS 9192/IRD 249

,

Sainte-Clotilde

,

Réunion Island
Published

Accepted

Received
Academic Editor
Subject Areas

Keywords

Microsatellites

,

Bats

, Mormopterus francoismoutoui,

Illumina

,

Reunion Island
Copyright

©

2019

Dietrich et al.

Licence

This is an open access article distributed under the terms of the Creative Commons Attribution License, which permits unrestricted use, distribution, reproduction and adaptation in any medium and for any purpose provided that it is properly attributed. For attribution, the original author(s), title, publication source (PeerJ) and either DOI or URL of the article must be cited.
Cite this article

2019

. Development and characterization of a multiplex panel of microsatellite markers for the Reunion free-tailed bat Mormopterus francoismoutoui.

PeerJ

7

:

e8036

https://doi.org/10.7717/peerj.8036
Abstract
The ecology and conservation status of many island-restricted bats remain largely unexplored. The free-tailed bat Mormopterus francoismoutoui is a small insectivorous tropical bat, endemic to Reunion Island (Indian Ocean). Despite being widely distributed on the island, the fine-scale genetic structure and evolutionary ecology of M. francoismoutoui remain under-investigated, and therefore its ecology is poorly known. Here, we used Illumina paired-end sequencing to develop microsatellite markers for M. francoismoutoui, based on the genotyping of 31 individuals from distinct locations all over the island. We selected and described 12 polymorphic microsatellite loci with high levels of heterozygosity, which provide novel molecular markers for future genetic population-level studies of M. francoismoutoui.
Introduction
About a quarter of over 1,300 currently known bat species are endemic to islands (Conenna et al., 2017), in which they sometimes represent the only indigenous mammals. These island-restricted bats play important roles in insular ecosystems through seed dispersal, pollination, and pest control (Aziz et al., 2017; Chen et al., 2017; Kemp et al., 2019). They are also significantly more threatened than continental bat species because of a limited resilience to the combined effects of natural disturbances, typical of island ecosystems, and anthropogenic threats such as urbanization or the development of intensive agriculture (Jones et al., 2009). Yet, scientific knowledge of the species biology and conservation status of these island-restricted bats is scarce.
The free-tailed bat Mormopterus francoismoutoui (Goodman et al., 2008; Fig. 1A) is a small insectivorous tropical bat endemic to Reunion Island, a volcanic island located in the Indian Ocean (Mascarene Archipelago) (Fig. 1B), which has emerged de novo about 3 million years ago (Cadet, 1980). This small territory (2,512 km2) is shaped by a very steep mountainous landscape and a great diversity of habitats, which have suffered from the clearing of natural forest, agricultural expansion and urbanization during the 350 years of human colonization (Lagabrielle et al., 2009). Despite such a fragmented landscape, M. francoismoutoui is broadly distributed on the island (Moutou, 1982; Barataud & Giosa, 2013), and forms monospecific colonies that range from a few hundreds to several dozen thousands of individuals (Dietrich et al., 2015). This species occupies caves and crevices along with cliff faces but also roosts in a variety of anthropogenic settings, such as buildings, bridges and picnic kiosques (Goodman et al., 2008). This proximity with human populations is often considered as a nuisance due to the considerable amount of excrement and their musky smell. As a result, several colonies have been displaced from public spaces (Augros et al., 2015). However, M. francoismoutoui is not considered at serious threat of population decline Least Concerned (IUCN, 2019) but it is protected by French law.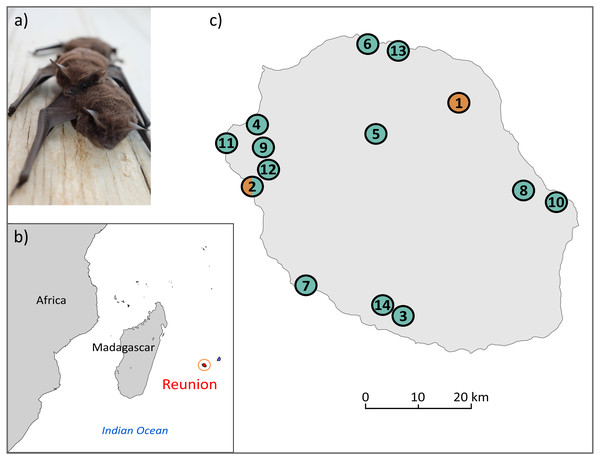 To date, only one study has used molecular markers to evaluate the genetic diversity of M. francoismoutoui. Goodman et al. (2008) sequenced the mitochondrial D-loop and two nuclear introns (fibrinogen and thyrotrophin encoding genes) from 31 bats sampled in 10 colonies. They found a high genetic diversity using the D-loop marker (28 haplotypes and 2.91% sequence divergence), but only limited genetic structure and no apparent association with geography. However, because of their lower mutation rate compared to nuclear microsatellite markers, mitochondrial markers may be poorly suitable to detect recent population changes (Wang, 2010), such as those induced by landscape changes or the proliferation of anthropogenic roosting sites. Therefore, microsatellite markers represent an ideal tool for inferring such questions (Cleary, Waits & Hohenlohe, 2016), especially in the context of M. francoismoutoui facing recent habitat fragmentation and agricultural expansion on Reunion Island.
The goal of this study was to use Illumina high-throughput sequencing to develop the first microsatellite markers specifically for M. francoismoutoui, and to fully characterize these markers using samples from all over the island. These markers could be used to quantity population genetic structure and evaluate individual movements and dispersal strategies within the mosaic-fragmented landscape of Reunion Island. Future studies can also use these markers to increase understanding of mating behavior, relatedness and paternity, and therefore help designing relevant conservation strategies.
Results and Discussion
We obtained a total of 1,104,709 sequences from the Illumina run, merged in 58,302 contigs. After the QDD process, 2,378 microsatellite loci were identified, 313 suitable primer pairs were retained and 24 high-quality loci were selected and tested for polymorphism in 23 individuals. Twelve of them showed proper amplification and high level of polymorphism in the 31 genotyped individuals and were multiplexed in 3 distinct reactions. Despite the presence of stutter bands for some loci, none of them impaired the recognition or differentiation between homozygotes and heterozygotes. Primer sequences, the size range of amplification product and multiplex assignment for each of the twelve microsatellite loci are presented in Table 1.
No evidence of linkage disequilibrium was found in the analyzed loci after sequential Bonferroni correction: only 1 pairwise locus combination showed a significant probability of linkage disequilibrium at p < 0.05 (MF_loc05-MF_loc11: p = 0.033). The percentage of null alleles was low and ranged from 0–6.7%. Global FIS value was 0.0092, suggesting no heterozygous deficiency. Tests for concordance with Hardy–Weinberg equilibrium revealed a marginal deviation in MF_loc07 only (Table 1).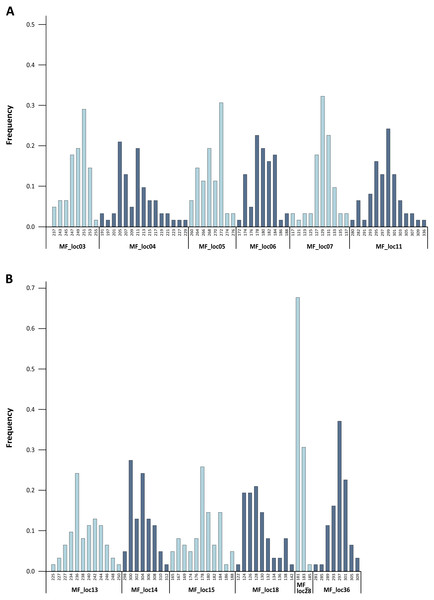 The level of genetic variability was high across loci. Indeed, we found high levels of allelic richness, with an average of 9.6 alleles per locus. Calculation of allele frequencies across the 31 analyzed individuals revealed that MF_loc28 was the only locus with a single allele displaying a frequency greater than 0.6 (Fig. 2). The expected heterozygosity (HE) per locus ranged from 0.450 to 0.928, and the observed heterozygosity (HO) ranged from 0.359 to 0.962 (Table 1). These results are in line with the findings from Goodman et al. (2008) who suggested elevated genetic diversity in the M. francoismoutoui population. Based on the analysis of mitochondrial DNA (D-loop), they indeed found a high level of haplotype diversity which was similar to what is found in the closely related species, Mormopterus jugularis, inhabiting the much more bigger island of Madagascar (Ratrimomanarivo et al., 2009).
Conclusions
In this study, we developed and validated 12 polymorphic microsatellite markers for the Reunion free-tailed bat M. francoismoutoui. These markers will facilitate further investigations on population genetics, social structure and behavioral ecology of this bat species. This research can be used to help to develop conservation and management plans for this understudied species. To our knowledge, the markers developed here also represent the first microsatellite markers available for the bat genus Mormopterus and may probably be used in closely related species (e.g., M. acetabulosus from Mauritius and M. jugularis from Madagascar), thus helping clarifying the biogeographic patterns and evolutionary history of these Afro-Malagasy species in islands of the western Indian Ocean.
Supplemental Information
Detail of bat samples
Microsatellite sequences and primers of the 12 loci developped for M. francoismoutoui
Genotypes of the 31 individuals for M. francoismoutoui
The file is in the Genepop format