Genomics of host-pathogen interactions: challenges and opportunities across ecological and spatiotemporal scales
Published

Accepted

Received
Academic Editor
Subject Areas

Keywords

Plasmodium,

MHC

,

Immunotoxins

,

Mucus

,

Natural selection

,

GWAS

,

Infectious diseases

,

Anthropogenic stressors

,

Co-evolution

,

Epidemiological surveillance
Copyright

©

2019

Näpflin et al.

Licence

This is an open access article distributed under the terms of the Creative Commons Attribution License, which permits unrestricted use, distribution, reproduction and adaptation in any medium and for any purpose provided that it is properly attributed. For attribution, the original author(s), title, publication source (PeerJ) and either DOI or URL of the article must be cited.
Cite this article

2019

.

Genomics of host-pathogen interactions: challenges and opportunities across ecological and spatiotemporal scales

.

PeerJ

7

:

e8013

https://doi.org/10.7717/peerj.8013
Abstract
Evolutionary genomics has recently entered a new era in the study of host-pathogen interactions. A variety of novel genomic techniques has transformed the identification, detection and classification of both hosts and pathogens, allowing a greater resolution that helps decipher their underlying dynamics and provides novel insights into their environmental context. Nevertheless, many challenges to a general understanding of host-pathogen interactions remain, in particular in the synthesis and integration of concepts and findings across a variety of systems and different spatiotemporal and ecological scales. In this perspective we aim to highlight some of the commonalities and complexities across diverse studies of host-pathogen interactions, with a focus on ecological, spatiotemporal variation, and the choice of genomic methods used. We performed a quantitative review of recent literature to investigate links, patterns and potential tradeoffs between the complexity of genomic, ecological and spatiotemporal scales undertaken in individual host-pathogen studies. We found that the majority of studies used whole genome resolution to address their research objectives across a broad range of ecological scales, especially when focusing on the pathogen side of the interaction. Nevertheless, genomic studies conducted in a complex spatiotemporal context are currently rare in the literature. Because processes of host-pathogen interactions can be understood at multiple scales, from molecular-, cellular-, and physiological-scales to the levels of populations and ecosystems, we conclude that a major obstacle for synthesis across diverse host-pathogen systems is that data are collected on widely diverging scales with different degrees of resolution. This disparity not only hampers effective infrastructural organization of the data but also data granularity and accessibility. Comprehensive metadata deposited in association with genomic data in easily accessible databases will allow greater inference across systems in the future, especially when combined with open data standards and practices. The standardization and comparability of such data will facilitate early detection of emerging infectious diseases as well as studies of the impact of anthropogenic stressors, such as climate change, on disease dynamics in humans and wildlife.
Introduction
Pathogens are widely agreed to be among the strongest agents of natural selection in nature, and their influence on the genomes of host species is often readily detectable (Kosiol et al., 2008; Enard et al., 2016; Quach et al., 2016; Shultz & Sackton, 2019). With the advent of rapid DNA sequencing technologies, genetic studies of host-pathogen interactions have moved from single gene perspectives to genome-wide approaches interrogating whole genomes of hosts and/or pathogens. At the same time, these studies have begun to tackle an increasingly diverse array of systems in both the field and laboratory, and have expanded from analysis of single pathogens to multiple pathogens under a variety of conditions. Environmental factors and gene-by-environment interactions, such as those beginning to be studied in microbiome research (Libertucci & Young, 2019), are increasingly appreciated as important in modulating the severity and fitness consequences of infections (Sekirov et al., 2010; Kamada et al., 2013; Villarino et al., 2016; Chomwong et al., 2018). As genomic approaches become increasingly accessible and affordable, it is becoming clear that the limiting factor in host-pathogen research is often not the technical aspects of sequencing pathogens or host genomes, but rather the ecological, immunological and epigenetic context in which genomic data are embedded (Kratochwil & Meyer, 2015). To mention one example, post-translational modifications of proteins in the mucus are known to play critical roles in pathogen defense in addition to genetic factors (Lindén et al., 2008b; Linden et al., 2008a).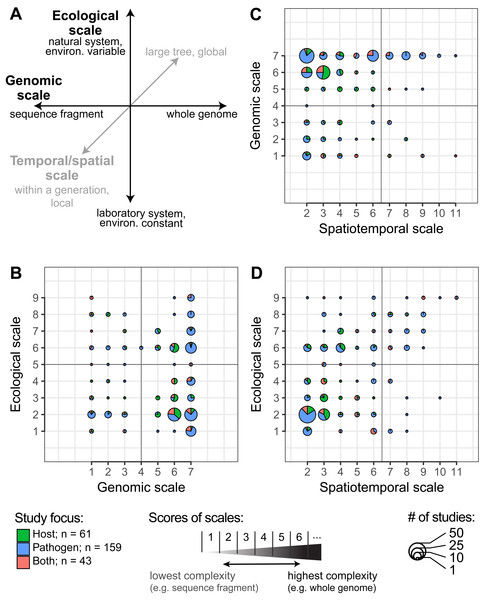 Host-pathogen studies encompass an extraordinary variety of temporal and spatial scales, including wide ranges of ecological settings and pathogen complexities—such as experimental versus field studies or single versus multiple pathogens—as well as genomic complexities, ranging from candidate gene studies to whole genome scans (Fig. 1A). Any single study can be classified according to these scales, with concomitant benefits and deficiencies in capturing the details of host-pathogen interactions in the real world. For example, studies aiming to link the evolution of host and pathogen genomes and to detect genomic signatures of host-pathogen interactions have arisen from searches for associations with single host candidate genes, such as genes of the major histocompatibility complex (MHC) (Hill et al., 1991; Kaslow et al., 1996; Wegner, Reusch & Kalbe, 2003; Meyer-Lucht & Sommer, 2005; Savage & Zamudio, 2011), to genome-wide scans for associations with resistance or susceptibility (e.g., Fumagalli et al., 2011; Bartha et al., 2013). We now have genomic insights into host-pathogen interactions that stem from field studies investigating temporal and spatial patterns (Hill et al., 1991; Savage & Zamudio, 2011; Penczykowski, Laine & Koskella, 2015; Bourgeois et al., 2017); to experimentally evolving populations or ancient DNA studies encompassing hundreds or thousands of host generations (Bos et al., 2011; Cairns et al., 2017; Tso et al., 2018; Spyrou et al., 2019); to phylogenetic and comparative studies spanning tens of millions of years (Enard et al., 2016; Koonin, Makarova & Wolf, 2017; Shultz & Sackton, 2019). This variety makes it challenging to draw broad generalizations linking processes on different scales and, to date, few syntheses have attempted to bridge the many temporal and spatial scales on which host-pathogen studies take place. This represents an important deficit, as generalizability is key to identifying fundamental principles in the field of host-pathogen interactions and enables accurate predictions to be made about host-pathogen interactions in new study systems.
In this perspective, we aim to address the complexities and commonalities of diverse studies of host-pathogen interactions through the lens of evolutionary genomics. We emphasize the wide range of approaches used recently and focus primarily on evolutionary responses of hosts to pathogens (Fig. 1). We first document the diversity of recent studies of host-pathogen interactions through a comprehensive analysis of the recent literature on the subject. This survey documents the sheer diversity of temporal and spatial scales on which host-pathogen studies are conducted, but also reveals that the heterogeneity of results across studies, from laboratory to field to experimental settings, poses a challenge for synthesis. Our survey identifies gaps in emphasis on research on host-pathogen interactions, but also reveals opportunities for discovering common principles and methodologies that are likely to drive the research field forward. We then review major themes in the study of interactions between hosts and pathogens in the wild. While daunting in terms of confounding variables, such studies provide opportunities for studying the synergistic effects of anthropogenic change and the evolutionary response to epizootics. At the same time, an increasing number of experimental studies that examine the effects of multiple interacting pathogens on their hosts, or of host microbiome on infection outcome, capture some of the reality of epizootics in nature. We conclude that the full promise of genomic and other -omics approaches to further our understanding of host-pathogen interactions will not be realized until these data are thoroughly and consistently embedded in high quality, consistent, and reproducible ecological and environmental metadata. Increased resolution of ecological metadata, smart databases that facilitate collaboration and comparisons across studies, and deposition of voucher specimens associated with specific studies in museum collections are just some of the ways in which genomic data can realize their full potential. These new tools will facilitate the application of knowledge of basic principles of host-pathogen interactions to real world problems affecting wildlife, endangered species, and ultimately human welfare.
Conclusions and Prospects
Innovations in genomic techniques have the potential to bring a synthesis to the study of host-pathogen interactions across systems and environmental conditions. We highlighted several recent trends in this perspective for genomic studies of host-pathogen systems: (i) evolutionary genomics approaches have allowed the field to move from a candidate gene approach to investigations at the scale of whole genomes; (ii) the use of genomics for the detection and surveillance of host-pathogen systems; (iii) the challenges of the integrating natural history and ecological metadata and genomic data across systems and timescales due to infrastructural challenges of database integration and transparency; and (iv) the impact of anthropogenic stressors on host-pathogen systems that have consequences for global health. Additionally, our survey of the recent literature of ecological genomics of host-pathogen interactions revealed that studies with spatially and ecologically complex settings are rare, as are detailed studies of host genomic responses to pathogens. Any single host-pathogen study is constrained by limited resources or genomic tractability, the geographical and evolutionary time scales involved as well as environmental complexities. Accordingly, transparent and open science will help to achieve a comprehensive understanding of host-pathogen interactions in general. This will contribute to the integration of findings across the different scales (Fig. 1). A large repertoire of comparable and inter-communicative studies will facilitate a more generalizable understanding of the causes and consequences of host-pathogen interactions and a clearer roadmap to combating the continuous threat of pathogens in a changing world.
Supplemental Information
References and scoring results of literature survey
Literature search on Web of Science (accessed August 30, 2018) with the following search query: (host-parasite* OR host-pathogen*) AND (genomic*). We refined the search hits by document type to include only articles, covering the publication years 2014–2018, and excluding studies with no genomic aspect. The table contains 263 papers with scores for each scale defined in Table 2.