First palaeoneurological study of a sauropod dinosaur from France and its phylogenetic significance
Published

Accepted

Received
Academic Editor
Subject Areas

Keywords

Titanosauria

,

Palaeoneurology

,

Cretaceous

,

Phylogeny

,

France
Copyright

©

2019

Knoll et al.

Licence

This is an open access article distributed under the terms of the Creative Commons Attribution License, which permits unrestricted use, distribution, reproduction and adaptation in any medium and for any purpose provided that it is properly attributed. For attribution, the original author(s), title, publication source (PeerJ) and either DOI or URL of the article must be cited.
Cite this article

2019

.

First palaeoneurological study of a sauropod dinosaur from France and its phylogenetic significance

.

PeerJ

7

:

e7991

https://doi.org/10.7717/peerj.7991
Abstract
Despite continuous improvements, our knowledge of the palaeoneurology of sauropod dinosaurs is still deficient. This holds true even for Titanosauria, which is a particularly speciose clade of sauropods with representatives known from numerous Cretaceous sites in many countries on all continents. The data currently available regarding the palaeoneurology of titanosaurs is strongly biased towards Gondwanan forms (Argentina above all, but also India, Malawi and Australia). In contrast, the palaeoneurology of Laurasian titanosaurs is known only from a few taxa from Spain and Uzbekistan, despite the discovery in other countries of Laurasia of a number of neurocranial remains that would lend themselves well to investigations of this kind. To fill in this gap in our knowledge, we subjected a titanosaurian braincase from the uppermost Upper Cretaceous of southern France to X-ray computed tomographic scanning, allowing the generation of 3D renderings of the endocranial cavity enclosing the brain, cranial nerves and blood vessels, as well as the labyrinth of the inner ear. These reconstructions are used to clarify the phylogenetic position of the specimen from the Fox-Amphoux-Métisson site. A combination of characters, including the presence of two hypoglossal rami on the endocast, the average degree of development of the dorsal-head/caudal-middle-cerebral vein system and the relatively short and subequal lengths of the ipsilateral semicircular canals of the labyrinth, are particularly revealing in this respect. They suggest that, compared with the few other Laurasian titanosaurs for which in-depth palaeoneurological data are available, the French taxon is more derived than the distinctly more ancient, possibly non-lithostrotian titanosaur from the Uzbek site of Dzharakuduk but more basal than derived saltasaurids, such as the coeval or slightly more recent forms from the Spanish locality of Lo Hueco.
Introduction
The first observations on the palaeoneurology of sauropod dinosaurs were made almost 140 years ago (Marsh, 1880: unnumb. fig.). Nevertheless, the group has since been the focus of relatively scanty investigations on a few species (see in particular Witmer et al., 2008, and references therein; Paulina Carabajal, Coria & Chiappe, 2008; Knoll & Schwarz-Wings, 2009; Wilson et al., 2009; Balanoff, Bever & Ikejiri, 2010; Knoll et al., 2012, 2013, 2015; Paulina Carabajal, 2012; Paulina Carabajal, Carballido & Currie, 2014; Sues et al., 2015; Martínez et al., 2016; Paulina Carabajal, Canale & Haluza, 2016; Bronzati, Benson & Rauhut, 2018; Paulina Carabajal et al., 2018). This is, in part, due to the fact that braincases of sauropods are extremely rare. Sauropods are especially interesting to the palaeoneurologist because of their Bauplan, which features, at the extremity of a variously elongated neck, a head of conspicuously small size relative to the generally imposing body (Sander et al., 2011; Hallett & Wedel, 2016). The size of the body reaches the maximum known in any land tetrapod within a speciose clade of Cretaceous sauropods, the Titanosauria (see e.g., Benson et al., 2014). Over the last decade, our knowledge of the palaeoneurology of titanosaurian sauropods has dramatically improved. While the endocranial morphology of titanosaurs has long been known only in Jainosaurus septentrionalis (Huene & Matley, 1933) from the Maastrichtian of India, a considerable amount of new data on the endocranial and inner ear morphology in taxa from Argentina, Spain, India, Uzbekistan, Australia and Malawi have recently been gathered (Paulina Carabajal, 2012; Knoll et al., 2013, 2015; Paulina Carabajal, Filippi & Knoll, 2015; Sues et al., 2015; Martínez et al., 2016; Poropat et al., 2016; Andrzejewski et al., 2019). However, this represents only a diminutive fraction of titanosaurian taxic diversity. In fact, while the descriptions of new titanosaur species are regularly published, they rarely include any neurocranial remains (Wilson et al., 2016; for recently described titanosaurs lacking braincase material see e.g., Calvo & Gonzalez Riga, 2019; Gorscak & O'Connor, 2019). Nevertheless, a number of titanosaurian braincases have yet to be examined from a palaeoneurological viewpoint (through modern imaging technologies or otherwise). This holds especially true for the Upper Cretaceous of Europe. Europeans specimens represent significant data to help assess the diversity of titanosaurs that are being neglected. The aim of the present article is to describe the digital endocast of an isolated braincase of an unnamed titanosaur from the Upper Cretaceous of the Provence-Alpes-Côte d'Azur region of southern France and to build on this reconstruction to clarify the phylogenetic position of the specimen.
Materials and Methods
The present study focuses on a reconstruction of the endocranial and labyrinthine cavities of a previously described, but undiagnosed braincase, FAM 03.064, from the Campanian locality of Fox-Amphoux-Métisson (Montmeyan syncline), Var, southeastern France (Díez Díaz et al., 2012). The specimen comes from the "Grès à Reptiles" Formation and more specifically from a sandstone deposit yielding wood, invertebrates and a variety of vertebrates (selachians, bony fishes, turtles, squamates, crocodilians and dinosaurs). The dinosaur fauna itself is diverse (theropods, sauropods, ankylosaurs and ornithopods), although only sauropod dental and cranial specimens have been examined in detail so far (Díez Díaz et al., 2012).
It was identified as belonging to Titanosauria on the basis of a combination of characters purportedly not found outside this clade (including a pair of well-defined crescentic transverse nuchal crests on the parietal and other features involving different neurocranial bones; see Díez Díaz et al., 2012: p. 635). Its precise affinities with other titanosaurs could not be clarified, except for the fact that several aspects of its morphology set it apart from other European titanosaurian braincases (Díez Díaz et al., 2012: p. 635), all of which either Campanian or Maastrichtian in age.
To produce a three-dimensional reconstruction of the endocast of the cranial cavity and endosseous labyrinth of the inner ear, the specimen was subjected to computed tomographic (CT) scanning at the Université de Poitiers (Poitiers, France), using a EasyTom XL duo (RX-Solutions, Chavanod, France) with a voltage of 130 kV and a current of 440 μA. The dataset consisted of 1165 slices (1089 × 1034 × 1165 pixels, 0.116 mm voxel size) in tiff format.
The CT data were imported into Avizo 7.0 (Visualisation Science Group, Burlington, MA, USA) for image segmentation and digital reconstruction. Anatomical structures of interest (endocasts, endosseous labyrinths, neurovascular structures) were labelled using Avizo's segmentation editor. The magic wand tool was used where possible to perform the segmentation semi-automatically (with thresholds for bone set to a greyscale value larger than 35,000, a value of 25,000–35,000 for sediment infill and values below 5,000 for air-filled cavities). In regions with poor contrast between matrix, bone and structures of interest the paintbrush tool was used for manual segmentation. 3D surface models and volumes were created to visualize the segmented structures and to illustrate this article with traditional figures (Figs. 1–3). In addition, surface models of the individual structures were downsampled to a degree that allowed for small file sizes, but preserved all details, and were exported as separate OBJ files for the creation of the interactive 3D model of Fig. S1, as outlined in Lautenschlager (2014: pp. 116-117) using Adobe 3D reviewer (Adobe Systems Inc., San Jose, CA, USA).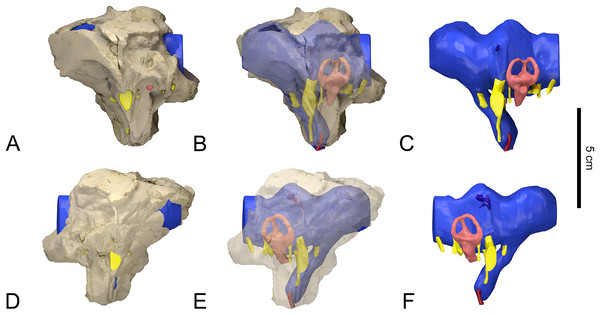 The palaeoneurology of FAM 03.064 is compared below with that of the other titanosaurs from the Late Cretaceous of Eurasia and India for which endocasts (be they physical or digital) of the cranial cavity and endosseous labyrinth have been described (Table 1) as well as with species from different times and locations when appropriate.
Specimen
Taxon
Age
Country
GSI K27/497
(Huene & Matley, 1933: fig. 6; Wilson et al., 2009: fig. 7)
Jainosaurus septentrionalis (Huene et Matley, 1933)
Maastrichtian
India
MPCM-HUE-8741
(Knoll et al., 2013: figs 3, 4, S1, S2, S3)
Lohuecotitan pandafilandi (Díez Díaz et al., 2016)
Campanian
Spain
MPCM-HUE-1667
(Knoll et al., 2015: figs 4, 5, 7, S1)
Lithostrotia indet.
Campanian
Spain
CCMGE 628/12457
(Sues et al., 2015: figs 3, 4, Witmer, 2019)
Titanosauria indet.
Turonian
Uzbekistan
Results
Description and comparison
As the median part of the conjoined frontals has broken away in FAM 03.064, the top of the cerebrocast had to be inferred to a degree. The same holds true for the ventral side of the endocast due to the incomplete state of preservation of the orbitosphenoids (the left rostrolateral region of the cerebrocast is mirrored from the right side, which could be reconstructed). Apart from these minor aspects, the CT scan data permitted a comprehensive rendering of the cranial endocast and endosseous labyrinths (Figs. 1–3). Most cranial nerves, as well as major vascular structures, could be reconstructed on both sides. Reconstructions of both the right and left labyrinths could also be achieved.
Discussion
Considerable advances in our understanding of titanosaurian endocranial anatomy over the last few years have been paralleled by substantial progress in our perception of the topology of titanosaurian phylogeny (see in particular Sallam et al., 2018; Gorscak & O'Connor, 2019; Mannion et al., 2019a, 2019b), which had been particularly labile until then. As it turned out, the study of the osteology of FAM 03.064 through external observation did not provide insight regarding the phylogenetic position of the species to which it belongs within Titanosauria (Díez Díaz et al., 2012). Nevertheless, palaeoneurological information uncovered in the present work and evaluated in the light of recent thorough phylogenetic analyses of Titanosauria permits some clarification to be provided on this issue (Fig. 4). Naturally, not all palaeoneurological features are equally valuable indicators of phylogenetic relationships. For example, it seems that the lateral distance with which the abducens nerve makes its way past the pituitary is particularly prone to homoplasy. Indeed, in a variety of titanosaurs, such as MPCM-HUE-1667 (Knoll et al., 2015: figs 5A, B, C, S1), which is most likely more derived than FAM 03.064, but also CCMGE 628/12457 (Sues et al., 2015: fig. 3B, C, E; Witmer, 2019) and S. musacchioi (Martínez et al., 2016: figs 9C, S1), for instance, which are certainly more basal, the abducens nerve and the pituitary are farther apart than in FAM 03.064. Likewise, we do not place too much systematic importance either on the observed variations of angles between the planes of ipsilateral semicircular canals. First and foremost, these characters are deeply dependent on the degree of deformation of the specimens. We must also recall that the relative developments of the vestibular system are distinctly different from one another in braincases referred to G. brancai (Knoll et al., 2014), suggesting weak stabilizing selection on the vestibular labyrinth (which, in turn, might be related to relatively sluggish behaviour and/or little reliance on highly coordinated eye movements) in this and maybe many other sauropod species. This notwithstanding, sauropod braincases are not subject to the same selective pressures as the rest of the skeleton and as such palaeoneurology is doubtless a source of helpful further data for phylogenetic inferences (Balanoff, Bever & Ikejiri, 2010; Knoll et al., 2012; Bronzati, Benson & Rauhut, 2018).
A single bilateral hypoglossal canal was identified in the osteological description of FAM 03.064 (Díez Díaz et al., 2012). The CT data reveals that this was the caudal component of a pair of rami, the rostral constituent of which is very close to the metotic group (left side) or not clearly individualised from it (right side). A single hypoglossal root (XII) was considered characteristic of titanosaurs (Paulina Carabajal, 2012), but it rapidly turned out that several members of the group show two roots (see e.g., Sues et al., 2015; Martínez et al., 2016). As two hypoglossal roots are seen in the basal titanosauriforms G. brancai (Knoll & Schwarz-Wings, 2009), E. holgeri (Schmitt, Knoll & Tschopp, 2015) and indeed most sauropods, this represents the plesiomorphic condition. This character-state suggests that the titanosaur from Fox-Amphoux-Métisson is more primitive than the roughly coeval Lo Hueco lithostrotians and the distinctly more recent J. septentrionalis as well as, in fact, all the titanosaurs with a single hypoglossal rootlet on the endocast, such as B. reigi (Paulina Carabajal, 2012: figs 2A, 3), the derived non-saltasaurid Diamantinasaurus matildae (Poropat et al., 2016: fig. 5c, d) and the basalmost lithostrotian (clade specifier) M. dixeyi (Andrzejewski et al., 2019: figs 2A, C, S1). We suspect that the rostral hypoglossal canal coalesced with the cavum metoticum in a derived clade of titanosaurs resulting in an apparent single hypoglossal branch in the neurocranial endocasts of the taxa belonging to this lineage. Data are too deficient to trace a definite pattern across the phylogeny of titanosaurs. Nevertheless, the rostral hypoglossal canal is fairly equidistant from that shared by the glossopharyngeal and vagoaccesory nerves rostrally and the one for the caudal hypoglossal root caudally in S. musacchioi (Martínez et al., 2016: figs 9C, S1), whereas it is noticeably closer to the metotic group in a more derived form like the Dzharakuduk sauropod (Sues et al., 2015: fig. 3C; Witmer, 2019). Furthermore, even though this is not an analogous phenomenon, it should be remarked that an ontogenetical trend for the most rostral embryonic hypoglossal canal to unit with the vagal canal is known in sauropsids (Starck, 1979: pp. 16-17). The fact that the rostral hypoglossal appears to have merged with the metotic group on one side but not on the other might support an intermediate position of FAM 03.064 within the phylogeny of titanosaurs between taxonomic units such as CCMGE 628/12457 (showing metotic group and rostral hypoglossal well separated on both sides; Sues et al., 2015: fig. 3A, C; Witmer, 2019) basally and others such as L. pandafilandi (with no visible rostral hypoglossal on either side; Knoll et al., 2013: figs 3A, D, S1, S2, S3) apically.
The phylogenetic position of the Uzbek specimen CCMGE 628/12457 is especially relevant to the present work because FAM 03.064 appears more derived in virtually every aspect. The Bissekty Formation sauropod has been recently regarded as a possible non-lithostrotian titanosaur on the basis of the absence of definitive sauropod osteoderms among the numerous vertebrate remains collected from the original site, Dzharakuduk (Averianov & Sues, 2017: p. 189). Nevertheless, bones of sauropods are extremely rare at Dzharakuduk and similar localities (Nesov, 1995: p. 20), and titanosaurian osteoderms are generally scarcely found (D'Emic, Wilson & Chatterjee, 2009), even in sites in which these sauropods are common (see e.g., Bellevue in France, Le Loeuff et al., 1994, and Lo Hueco in Spain, Vidal, Ortega & Sanz, 2014). More importantly, the possession of osteoderms is at best an ambiguous synapomorphy of Lithostrotia (see e.g., D'Emic, 2012: table 5) and, very probably, not all members of this clade bore such bony structures (see Martínez et al., 2004). Averianov & Sues (2017: p. 192) noted that the Dzharakuduk sauropod presents similarities to Dongyangosaurus sinensis and Baotianmansaurus henanensis. According to Mannion et al. (2013: p. 158), D. sinensis, and possibly B. henanensis as well, would represent a titanosaur with close relationships to Opisthocoelicaudia skarzynskii. However, D. sinensis and B. henanensis were later recovered as non-lithostrotian titanosaurs (Mannion, Allain & Moine, 2017: fig. 39, 2019a: fig. 5, 2019b: fig. 42), more in line with the view of Averianov & Sues (2017: pp. 192–193). If we adopt a parsimonious approach and assume that the reduction in the number of hypoglossal roots to one occurred only once at the ancestral node of Lithostrotia (or even more basally, at some point along the branch leading from the basalmost node of Titanosauria to Lithostrotia) and no reversal happened thereafter, then the titanosaur from Dzharakuduk cannot be a member of Lithostrotia, nor can S. musacchioi, which also show two hypoglossal rami (Martínez et al., 2016: figs 9A, C, S1). Whether or not CCMGE 628/12457 and S. musacchioi belong in Lithostrotia, their respective phylogenetic position with one another and with regard to the Late Cretaceous titanosaurs from Eurasia and India that have been primarily considered in the present study can be reasonably determined, with some caution due to the impossibility of assessing individual variation (Fig. 4). The reduced inner ear labyrinth of the Dzharakuduk sauropod suggests that it is more derived than S. musacchioi, whereas the thickness and convolutedness of its dural membrane and the related development of the associated venous sinuses and emissary veins (see below) implies that it is less advanced than the titanosaur from Fox-Amphoux-Métisson and a fortiori those with a single hypoglossal branch.
The distinct narrow channel that runs from the facial foramen down to the ventral border of the parabasisphenoid of FAM 03.064 (as preserved—most of this bone is lacking; Díez Díaz et al., 2012: figs 4, 5E, F) may also carry some phylogenetic information. No such groove is visible on the braincase of the Lithostrotia indet. from Lo Hueco (Knoll et al., 2015), but a similar feature is present on a fragmentary neurocranial wall recently described and attributed to Atsinganosaurus velauciensis (Díez Díaz et al., 2018: fig. 2A). A. velauciensis is a titanosaur from the Campanian of Velaux-La Bastide Neuve (Garcia et al., 2010). Velaux-La Bastide Neuve is only about 70 km from Fox-Amphoux-Métisson and the sediments of the two localities have presumably deposited in a short temporal interval around the transition from the Middle Campanian to the Late Campanian (see Leleu, Ghienne & Manatschal, 2005; Cojan & Moreau, 2006). Recent phylogenetic results suggest that Atsinganosaurus is a more basal opisthocoelicaudiine than taxa such as Lohuecotitan and Lirainosaurus (Sallam et al., 2018: fig. 3; Gorscak & O'Connor, 2019: fig. 29). This may well hold true for the Fox-Amphoux-Métisson titanosaur as well.
The fact that the junction of the antotic and prootic crests constitutes the ventral border of the trigeminal foramen in FAM 03.064 makes this region of the lateral wall of the braincase similar to that in MPCM-HUE-1667 (Knoll et al., 2015: figs 3C, S1) but notably different from that in G. brancai (Janensch, 1935–1936: figs 2, 5), where these two crests converge much more ventrally. Titanosauriforms more derived than G. brancai, such as M. dixeyi (Andrzejewski et al., 2019: figs 1A, B, S1) and CCMGE 628/12457 (Sues et al., 2015; Witmer, 2019), also appear more primitive than FAM 03.064 in having these crests providing a space for the possible accommodation of a ventral branch of the trigeminal nerve.
As alluded to above, the level of development of the dorsal-head/caudal-middle-cerebral vein system has also a bearing on our appreciation of the phylogenetic position of FAM 03.064. This structure is particularly elaborated in Spinophorosaurus nigerensis (Knoll et al., 2012: figs 4A, B, D, S1, S2, S3), which is likely a basal sauropod (Holwerda & Pol, 2019). Generally speaking, it is well developed in sauropods (see e.g., Witmer et al., 2008), including non-titanosaurian titanosauriforms such as G. brancai (Knoll & Schwarz-Wings, 2009: figs 1, 2A, B, C, D) and Tambatitanis amicitiae (Saegusa & Ikeda, 2014: fig. 4F). However, it is unnoticeable in derived titanosaurs such as those from Lo Hueco (Knoll et al., 2013: figs 3A, B, C, S1, S2, S3; Knoll et al., 2015: figs 4, 5B, D, S1), J. septentrionalis (Wilson et al., 2009: fig. 7A) and possibly the other titanosaurs from India mentioned by Witmer et al. (2008: p. 76). Therefore, the degree of expansion of this complex on the endocast of the titanosaur from Fox-Amphoux-Métisson supports a position more basal within the phylogeny of Titanosauria than that of those Late Cretaceous taxa from Eurasia and India. On the other hand, the sauropod from Fox-Amphoux-Métisson appears closer to them than to the titanosaur from Uzbekistan (Sues et al., 2015: fig. 3A, B, D; Witmer, 2019) in the lack of prominent dural expansion on the dorsal surface of the hindbrain (Fig. 4).
Finally, we suggest that FAM 03.064 is not overly closely related to the only other titanosaur named from the uppermost Cretaceous of France for which neurocranial material is available, Ampelosaurus atacis (see Díez Díaz et al., 2012: p. 635). The latter appears closer to Spanish lithostrotians such as those of the Lo Hueco site, which presumably branched further from the base of Titanosauria than the Fox-Amphoux-Métisson sauropod did (Fig. 4). Palaeoneurological investigations into A. atacis would provide valuable data concerning the respective phylogenetic positions—and biogeographical history—of the titanosaurs from the latest Late Cretaceous of Var, Aude and Cuenca.
Conclusion
The palaeoneurology of the titanosaurian braincase from the Campanian of Fox-Amphoux-Métisson reveals a number of characters of possible phylogenetic interest. These include the courses or number of canals followed by certain cranial nerves. The degree of development of the dural envelope and the associated venous channels in FAM 03.064 also appears to be indicative of its phylogenetic position within Titanosauria. Although not all the characters of FAM 03.064 may hint at a consistent phylogenetic position, the discrepancies are reasonable. This specimen appears to be from a species distinctly more advanced than the titanosaur from the lower Upper Cretaceous of Dzharakuduk (Sues et al., 2015), which exhibits a developed dura, but possibly less derived than those from the upper Upper Cretaceous of Lo Hueco (Knoll et al., 2013, 2015), which have only a single bilateral hypoglossal root. However, as the pattern of modification of the neurocranium within the evolution of Titanosauria is still poorly known, a number of features such as the level of thickness and morphological complexity of dural expansions in this group of sauropods might be more plastic than here considered. The growing number of studies such as this one in concert with an ever-consolidating phylogenetic framework will gradually but quite certainly enable a more positive picture of neurocranial changes during titanosaurian evolution to emerge.
Supplemental Information
Interactive three-dimensional digital visualization of the braincase, cranial endocast and associated soft tissues structures of the indeterminate titanosaurian specimen (FAM 03.064) from the Late Cretaceous of Fox-Amphoux-Métisson, France.