Crypsis and convergence: integrative taxonomic revision of the Gehyra australis group (Squamata: Gekkonidae) from northern Australia
Published

Accepted

Received
Academic Editor
Subject Areas

Keywords

Australian monsoonal tropics

,

Cryptic species

,

Lizard

,

Hybridisation

,

Endemism

,

New species
Copyright

©

2020

Oliver et al.

Licence

This is an open access article distributed under the terms of the Creative Commons Attribution License, which permits unrestricted use, distribution, reproduction and adaptation in any medium and for any purpose provided that it is properly attributed. For attribution, the original author(s), title, publication source (PeerJ) and either DOI or URL of the article must be cited.
Cite this article

2020

. Crypsis and convergence: integrative taxonomic revision of the Gehyra australis group (Squamata: Gekkonidae) from northern Australia.

PeerJ

8

:

e7971

https://doi.org/10.7717/peerj.7971
Abstract
For over two decades, assessments of geographic variation in mtDNA and small numbers of nuclear loci have revealed morphologically similar, but genetically divergent, intraspecific lineages in lizards from around the world. Subsequent morphological analyses often find subtle corresponding diagnostic characters to support the distinctiveness of lineages, but occasionally do not. In recent years it has become increasingly possible to survey geographic variation by sequencing thousands of loci, enabling more rigorous assessment of species boundaries across morphologically similar lineages. Here we take this approach, adding new, geographically extensive SNP data to existing mtDNA and exon capture datasets for the Gehyra australis and G. koira species complexes of gecko from northern Australia. The combination of exon-based phylogenetics with dense spatial sampling of mitochondrial DNA sequencing, SNP-based tests for introgression at lineage boundaries and newly-collected morphological evidence supports the recognition of nine species, six of which are newly described here. Detection of discrete genetic clusters using new SNP data was especially convincing where candidate taxa were continuously sampled across their distributions up to and across geographic boundaries with analyses revealing no admixture. Some species defined herein appear to be truly cryptic, showing little, if any, diagnostic morphological variation. As these SNP-based approaches are progressively applied, and with all due conservatism, we can expect to see a substantial improvement in our ability to delineate and name cryptic species, especially in taxa for which previous approaches have struggled to resolve taxonomic boundaries.
Introduction
Integrative taxonomic analyses utilise multiple independent data sources to illuminate patterns of phenotypic and genetic differentiation (De Queiroz, 2007; Padial et al., 2010). Thus, in addition to the traditional morphological characters upon which taxonomy was founded hundreds of years ago, systematists in recent decades have progressively added a growing battery of genetic approaches to analyse evidence from karyotypes, allozymes, mtDNA sequence data and, increasingly common, loci from the nuclear genome (Oliver, Keogh & Moritz, 2015). However, genetic species delimitation methods can incorrectly diagnose distinct populations as 'species', especially where dispersal rates are low or sampling is sparse (Carstens et al., 2013; Sukumaran & Knowles, 2017; Leaché et al., 2018; Singhal et al., 2018). In this context there is a need to set a higher bar to avoid over-splitting, one approach being to test for negligible gene flow where geographic boundaries of candidate species abut or overlap (Singhal et al., 2018). Contingent on sufficient geographic sampling, this is now feasible with increasing access to data from thousands of putatively unlinked nuclear loci (Single Nucleotide Polymorphisms, or 'SNPs'; Leaché et al., 2014; Leaché & Oaks, 2017; Melville et al., 2017; Unmack et al., 2017; Georges et al., 2018).
The gekkonid lizards in the genus Gehyra from Australia show conservative body form, variable appearance and have been a test case for implementing new methods to document species diversity (King, 1979, 1982; Sistrom, Donnellan & Hutchinson, 2013; Sistrom et al., 2014; Ashman et al., 2018; Kealley et al., 2018; Moritz et al., 2018; summarised in Doughty et al., 2018a). The various genetic techniques have led to increasingly finer resolution of phylogenetic structure, and have recently resulted in major revisions of Gehyra species-groups from the Australian arid zone and the Australian Monsoonal Tropics (AMT) such that the number of recognised species has nearly doubled from 22 to 43 (Hutchinson et al., 2014; Doughty et al., 2018a, 2018b; Kealley et al., 2018).
The Gehyra australis group is a lineage of geckos from the AMT, originally defined as having key morphological (medium size and undivided lamellae series) and life history (two eggs) features (Mitchell, 1965; King, 1983a). This group is recovered as monophyletic group in genus-wide molecular phylogenies for Gehyra (Heinicke et al., 2011). They are relatively large-bodied (to 95 mm snout-vent length) scansorial geckos that occupy arboreal and rocky habitats. Recent analyses of this group based on mtDNA and exon-capture datasets identified numerous divergent lineages or candidate taxa within the eight species currently recognised (Noble et al., 2018; Oliver et al., 2019). The major mtDNA lineages were supported by Oliver et al. (2019) as being evolutionarily independent when applying statistical delimitation methods to the exon capture data. However, most candidate taxa show low levels of morphological differentiation and non-overlapping distributions with other lineages from the same species complexes (Noble et al., 2018; Oliver et al., 2019). Furthermore, while mtDNA sampling was geographically extensive in these previous studies, the level of mtDNA divergence between some recognised and candidate taxa was moderate (Tamura–Nei distances lower than 10%), and lower than observed between at least some other species of geckos in the same biome that show evidence of gene flow between lineages (Laver, Doughty & Oliver, 2018; Moritz et al., 2018; Oliver et al., 2019). The sparse sampling of specimens in the exon capture dataset for each lineage, compared to that for mtDNA, also precluded detailed assessment of introgression at geographic boundaries between candidate taxa.
Here, we focus on two species complexes within the greater G. australis group: the G. australis and G. koira species complexes (Mitchell, 1965; Kealley et al., 2018; Table 1). Within these two species complexes, there is sufficiently dense spatial sampling to allow for a thorough assessment of morphological and genetic diversity across their distributions in the AMT. In contrast, an assessment of G. robusta and G. borroloola is not possible at this time owing to fewer specimens available, especially at boundaries between lineages (Noble et al., 2018; Oliver et al., 2019). The G. australis complex ranges widely across the AMT (Wilson & Swan, 2017) and currently comprises one recognised species (Uetz, Freed & Hošek, 2019), but four candidate species of arboreal/generalist taxa (Noble et al., 2018). From morphological and ecological perspectives, the G. koira complex consists of mostly large-bodied, saxicoline taxa from the western AMT. The two recognised taxa were originally described as subspecies—G. koira koira and G. koira ipsa (Horner, 2005), but have been regarded to be full species in recent field guides (Wilson & Swan, 2017; Cogger, 2018). Two additional candidate species have also been identified (Oliver et al., 2017, 2019) (Figs. 1 and 2). Prior genetic analyses also revealed a single lineage (koira 4 of Oliver et al. (2019)) genetically nested within the G. koira complex that has been consistently assigned to the G. australis complex on the basis of its small size, colouration and arboreal ecology. Given its morphological and ecological distinctiveness from other species in the G. koira complex, we treat this species separately below.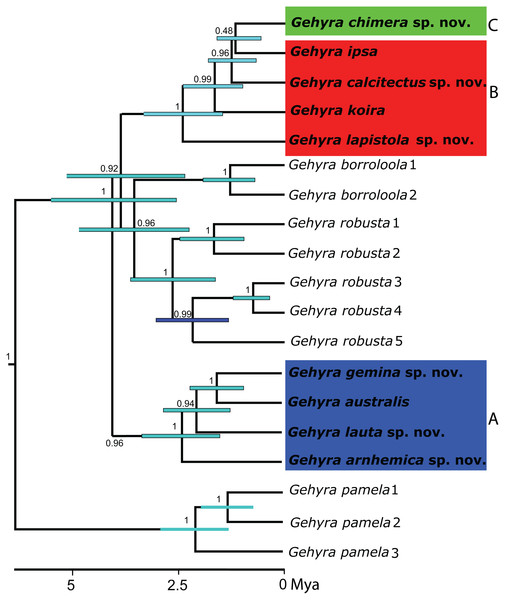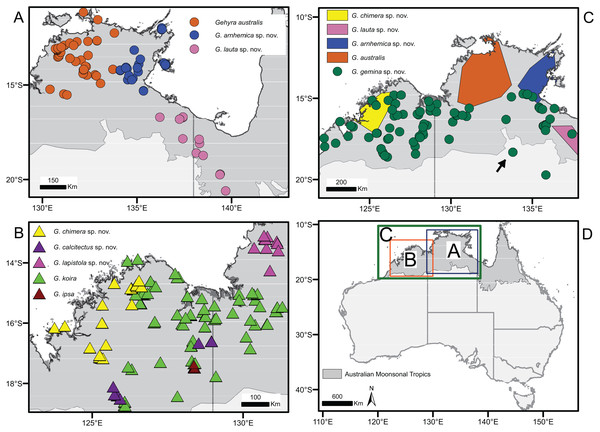 ++
G. australis complex
G. koira complex
Codon
G. australis
G. arnhemica sp. nov.
G. gemina sp. nov.
G. lauta sp. nov.
G. koira
G. ipsa
G. lapistola sp. nov.
G. calcitectus sp. nov.
G. chimera sp. nov.
10
Thr*
19
Thr*
Met*
Thr
25
Leu
Leu
Leu
28
Val*
55
Met**
82
Met
Met
127
Met**
Val
130
Thr
Thr
Thr
139
Thr
196
Thr*
Thr*
205
Met
Met
Met
Met
226
Leu
Leu
Leu
Leu
Leu
241
Tyr
253
Ala
Ala*
Ala**
265
Pro
268
Ser
274
Ala*
Ala
277
Ala
286
Ile**
289
Val**
292
Thr
307
Leu
322
Met
370
Phe
376
Ala**
Ala
382
Met
406
Met*
415
Leu
418
Thr
Thr
Thr
433
Thr**
436
Tyr**
451
His
His
His
Leu
454
Ser**
460
Ile**
Thr*
Ile*
Ile
466
Phe
Ile**
469
Val*
Ala*
Ala*
Ile
484
490
Val
Phe*
Phe**
499
Leu
Leu
Leu
Leu
502
Thr
Thr*
559
Thr
Thr
583
Ser*
Ser
Ser
Ser
586
Met
589
Asn
Asn*
Asn
Asn
Asp*
Asn
592
Gin
Gin
Gin
Gin
595
Trp*
616
Ile
619
Ile
Ile
Ile
Val*
625
Ile
Ile*
Ile
Ile
628
Met*
Met
Met
631
Thr
Thr
Thr
649
Leu
Ala*
Ala
658
Ser
661
Ala
Met*
664
Thr
Thr
Thr
Thr
667
Ser
Ser
Ala
679
Met
Met
682
Lys
Lys
694
Met*
Ile
Met
697
Ala*
706
Thr
Thr
715
Pro
Pro
721
Met*
Met**
781
Leu
Leu
811
Ala**
814
Ala**
820
Thr**
823
Met
826
Met*
832
Met*
835
Met*
Thr
Thr
Thr
838
Ile
841
Thr*
Gly
847
Thr
880
Val*
Val*
Val
886
Val
Val
910
Ile
Ala**
Ala
Ala
Ala*
937
His
961
Pro
Pro*
Pro
His
His*
His
His*
His
964
Asn
967
Arg
Pro*
Arg*
Val*
970
His
His
His
His
Gly*
976
Ala
Ala*
982
Met
Ala**
Pro*
Ala
Ala
994
Thr
Thr*
Thr
Thr*
Thr
1021
Met
Met
Ala*
1030
Ala*
Ala*
Ala*
1033
Ile
Ile*
In this paper we present additional molecular analyses to Noble et al. (2018) and Oliver et al. (2019) to assess detailed patterns of genetic differentiation. Specifically, we were interested to test for introgression where lineages come into contact or overlap by applying SNP analyses, as recommended by Singhal et al. (2018). To do this, we applied a new statistical approach to identifying discrete genetic lineages as deviations from a spatial model of isolation by distance within lineages (conStruct; Bradburd, Coop & Ralph, 2018). For low dispersal organisms, this method could be more appropriate than coalescent delimitation methods that assume random mating within lineages (e.g. BPP; Yang & Rannala, 2010). Specifically, when applied to continuously sampled populations with parapatric or overlapping sympatric distributions, this method has the potential to test for discrete structure vs. introgression across lineage boundaries. We also assessed habitat preferences and patterns of morphological variation across candidate taxa within these two species complexes of Gehyra, focussing on size, scalation and pattern. On the basis of these results, we recognise nine species within the G. australis and G. koira complexes, six of which are newly described herein.
Discussion
Documenting and describing morphologically similar, yet genetically and evolutionarily distinctive cryptic species poses well-recognised, but ongoing challenges for systematists, evolutionary biologists and conservation managers (Bickford et al., 2007; Oliver, Keogh & Moritz, 2015; Singhal et al., 2018). The existence of multiple species within the G. australis group was not apparent based on prima-facie morphological data. Indeed, in light of high levels of morphological similarity among many species, and given sparse geographic sampling in previous exon multilocus studies (Noble et al., 2018; Oliver et al., 2019), it was only after generating a SNP data set based on geographically extensive sampling that the case for the recognition of multiple evolutionarily distinct and isolated lineages (i.e. species) became compelling. The SNP data provided a crucial test for the lack of gene flow between closely related taxa in areas of geographic contact or even overlap. Many analyses of mtDNA diversity in other Australian lizard species have revealed similarly deep genetic divergences (Oliver, Doughty & Palmer, 2012; Laver et al., 2017; Laver, Doughty & Oliver, 2018), but corroborating independent evidence for evolutionary distinctiveness and the absence of contemporary of gene flow has been lacking. Where geographic sampling is sufficiently extensive, SNP data offer the potential to provide for direct tests of lack of recent genetic introgression between such problematic populations (Singhal et al., 2018). Conversely, increasing use of SNP methods may also serve to highlight instances of taxonomic oversplitting stemming from over-interpretation of morphological variation or results from genetic studies with inadequate sampling of geography and genes (Georges et al., 2018; Hillis, 2019).
Resolving species boundaries within morphologically conservative groups can yield new insights into speciation processes and eco-evolutionary drivers of spatial patterns of diversity (Fišer, Robinson & Malard, 2018). As cases in point, using genetic data to resolve species limits in Gehyra has revealed instances of parallel evolution (e.g. independently arboreal G. chimera sp. nov. and G. australis group; Oliver et al., 2019), body size evolution associated with establishment of sympatric assemblages (Doughty et al., 2018a; Moritz et al., 2018) and the high prevalence of short-range taxa in complex rocky environments (Ashman et al., 2018), and association of chromosome change with speciation (King, 1979, 1983b; Moritz, 1986). On the latter, King (1983b) karyotyped several individuals within G. australis s.l., all with the same 2N = 40a karyotype (but variable sex chromosomes) that by location can be assigned to G. australis s.s., G. gemina sp. nov. and G. arnhemica sp. nov. He also observed a different, 2n = 44 karyotype from several rock-dwelling individuals from central Kimberley which were ascribed to G. occidentalis by King (1984). There is no further information on chromosome variation across the taxa considered here, and given the association of such with speciation in Gehyra, especially in rock-dwelling forms, this should be rectified.
Many of the taxa described or revised here have wide geographic ranges and have been recorded from buildings and other anthropogenic structures, specifically: G. australis, G. gemina sp. nov. and G. chimera sp. nov. Our genetic data suggest that colonising of anthropogenic habitats has also led to human-mediated dispersal within northern Australia in some of these species. An isolated record of G. gemina sp. nov. from a roadhouse on the Stuart Highway in the NT at Daly Waters (SAMA R34176) is near genetically identical (mtDNA) to a clade within this species otherwise mainly known from the Kimberley region from WA (∼500 km distant). More interestingly, the SNP dataset highlighted a single putative hybrid between G. australis and G. gemina sp. nov. that was collected on the Renner Springs roadhouse, an important stopover point for traffic along the main route (the Stuart Highway) running south of Darwin. This single anomalous individual from a highly disturbed anthropogenic setting raises the possibility that hybridisation has occurred as a result of human-assisted translocation and mixing of (potentially naïve) individuals of cryptic species.
In contrast, our partition of the mainly rock associated species in the G. koira complex has provided support for three taxa with relatively restricted ranges; that is qualifying as short-range endemics sensu Harvey et al. (2011). Our revised taxonomy across the two complexes also highlights emerging biodiversity hotspots across northern Australia, including the Selwyn Range (Oliver & Doughty, 2016; Noble et al., 2018), Litchfield escarpment and surrounding areas (Rosauer et al., 2016), the Purnululu region in the eastern Kimberley and the fringing limestone of the Kimberley Craton (Oliver et al., 2017; Rosauer et al., 2018). Most taxa in these hotspots are ecologically associated with rocks, although G. lauta sp. nov. is mostly arboreal, suggesting persistence on trees within the Selwyn Range refugia (Noble et al., 2018). Perhaps the taxon with the most enigmatic distribution, however, is the widely disjunct and morphologically variable G. calcitectus sp. nov. Known localities for this taxon indicate it is closely associated with limestone (suggesting ecological specialisation), does not occur in sympatry with widespread G. koira (suggesting displacement or competition) and occurs in widely disjunct localities (suggesting range contraction). One possible hypothesis is that populations of this species have been isolated by the expansion of sandy deserts over formerly more widespread limestone ranges along western and southern edge of the Kimberley Craton.
More generally, here, as in other systems (Bickford et al., 2007), cryptic species are emerging as a substantial component of diversity. For the AMT specifically, most low vagility vertebrate species that have been adequately surveyed genetically, even if just with a few loci, have revealed deep and geographically fine-grained phylogeographic structure (Oliver, Doughty & Palmer, 2012; Moritz et al., 2016, 2018; Potter et al., 2016; Laver et al., 2017; Laver, Doughty & Oliver, 2018). With a few exceptions (Doughty, Ellis & Oliver, 2016; Afonso Silva et al., 2017; Moritz et al., 2018), the taxonomic status of much of this diversity remains to be evaluated. But even with the conservative criteria used here, it is likely that the current taxonomy substantially underestimates the true species diversity of the AMT. However, even though there is often a delay between the publication of genetic data and the eventual taxonomic revisions, it is possible to incorporate the new phylogeographic knowledge into conservation assessments (Coates, Byrne & Moritz, 2018). For the AMT, this approach has revealed novel hotspots of diversity, with high conservation importance (Rosauer et al., 2016, 2018; Oliver et al., 2017).
Supplemental Information
Details of specimens in the Gehyra australis group included in genetic sampling.
Measurement data for specimens in the Gehyra australis complex.
DArTseq data file for Gehyra australis and koira groups.
Original DArT SNP coding.