Cranial anatomy of Allosaurus jimmadseni, a new species from the lower part of the Morrison Formation (Upper Jurassic) of Western North America
Published

Accepted

Received
Academic Editor
Subject Areas

Keywords

Allosaurus

, Allosaurus jimmadseni,

Dinosaur

,

Theropod

,

Morrison Formation

,

Jurassic

,

Cranial anatomy
Copyright

©

2020

Chure and Loewen

Licence

This is an open access article distributed under the terms of the Creative Commons Attribution License, which permits unrestricted use, distribution, reproduction and adaptation in any medium and for any purpose provided that it is properly attributed. For attribution, the original author(s), title, publication source (PeerJ) and either DOI or URL of the article must be cited.
Cite this article

2020

. Cranial anatomy of Allosaurus jimmadseni, a new species from the lower part of the Morrison Formation (Upper Jurassic) of Western North America.

PeerJ

8

:

e7803

https://doi.org/10.7717/peerj.7803
Abstract
Allosaurus is one of the best known theropod dinosaurs from the Jurassic and a crucial taxon in phylogenetic analyses. On the basis of an in-depth, firsthand study of the bulk of Allosaurus specimens housed in North American institutions, we describe here a new theropod dinosaur from the Upper Jurassic Morrison Formation of Western North America, Allosaurus jimmadseni sp. nov., based upon a remarkably complete articulated skeleton and skull and a second specimen with an articulated skull and associated skeleton. The present study also assigns several other specimens to this new species, Allosaurus jimmadseni, which is characterized by a number of autapomorphies present on the dermal skull roof and additional characters present in the postcrania. In particular, whereas the ventral margin of the jugal of Allosaurus fragilis has pronounced sigmoidal convexity, the ventral margin is virtually straight in Allosaurus jimmadseni. The paired nasals of Allosaurus jimmadseni possess bilateral, blade-like crests along the lateral margin, forming a pronounced nasolacrimal crest that is absent in Allosaurus fragilis.
Introduction
Allosaurus is the most common genus of theropod in the Late Jurassic of North America. It is widespread both geographically and stratigraphically and the most abundant theropod in virtually all quarries (Turner & Peterson, 1999; Foster, 2003). Nonetheless, well-preserved complete skeletons are rare, and most occurrences are represented by scattered elements. A major concentration of Allosaurus material is preserved in the Cleveland-Lloyd Dinosaur Quarry, where disassociated bones of dozens of individuals over a wide ontogenetic range occur by the thousands (Madsen, 1976; Miller, Horrocks & Madsen, 1996).
Allosaurus has long played a crucial role in phylogenetic analyses of the Theropoda, either as a member of an ingroup or as an outgroup taxon in analyses of Coelurosauria (Rauhut, 2003; Benson, Carrano & Brusatte, 2010; Carrano, Benson & Sampson, 2012). Nineteen species of Allosaurus have been erected since 1877 (see Chure, 2000a; Mateus, Walen & Antunes, 2006; Dalman, 2014), although the holotype material for many has been neither fully illustrated nor described, and the validity of these species has not been critically evaluated. Many proposed synonymies are yet to be evaluated in detail, although we have a manuscript in preparation doing that. As the holotype of Allosaurus fragilis is not diagnostic, a neotype has been proposed in an International Commission on Zoological Nomenclature (ICZN) (Case 3506) (Paul & Carpenter, 2010; Carrano, Loewen & Evers, 2018) to conserve the name Allosaurus. In the past MOR 693 has been the subject of studies on pathology (Hanna, 2002) and morphology (Rayfield, 2005a, 2005b) and considered Allosaurus fragilis. This study refers this specimen to Allosaurus jimmadseni. We currently recognize only three species in genus Allosaurus: Allosaurus fragilis and Allosaurus jimmadseni in North America and Allosaurus europaeus in Europe.
Over the past 20 years, the authors have conducted a hands-on, detailed morphological study of virtually all North American Allosaurus material, including several new and remarkably complete specimens that shed important light on the morphology of this dinosaur. Given the abundance of data we now possess on Allosaurus, we will present our analyses over a series of publications; this present study describing skull morphology, is the first. A postcranial description and a revision of genus Allosaurus will be the subject of a future publication.
Discovery and excavational history
Here we describe two specimens of Allosaurus from the lower part of the Morrison Formation: DINO 11541 from Dinosaur National Monument of Utah and MOR 693 from the Howe Quarry in Wyoming. DINO 11541 was found by Dr. George Engelmann (University of Nebraska, Omaha) on July 15, 1990 (Hubert & Chure, 1992) during a contracted paleontological inventory of the Morrison Formation of Dinosaur National Monument (National Park Service contract CA-1463-5-0001). The surface material consisted of several articulated pedal phalanges of the right pes and several articulated midcaudal vertebrae. The specimen was located about six m off the ground in a sandstone face dipping approximately 70° south. Excavation of DINO 11541 by staff of the National Park Service's Dinosaur National Monument started in the late summer of 1990 and continued through the summer of 1994. The tilt of the beds and the weight of the block required the judicious use of explosives to remove overburden and the development of innovative solutions to getting the block horizontal on a palette (Elder & Madsen, 1994; Elder, Madsen & Chure, 1994, 1997). The postcranial skeleton was jacketed primarily in a single 2,700 kg block and flown out by helicopter (Chure, 2000a).
After the articulated and nearly complete postcranium was removed, excavation continued for another 2 weeks in an attempt to find the skull, but work ceased when the quarry wall became vertical and there was no sign of it. During the summer of 1996, Ray Jones of the University of Utah came to the monument and used his recently developed radiological surveying techniques to locate a high gamma emission source in the quarry wall. Excavations began again and the skull was found just below the surface (Jones & Chure, 1998; Jones, McDonald & Chure, 1998a, 1998b, 1998c). The spatial relationship between the skull and skeleton are shown in Fig. 1. Collection of the skull was completed in 1996 and the DINO 11541 was prepared by Scott Madsen and Ann Elder at Dinosaur National Monument during 1996 and 1997 (Chure, 2000a).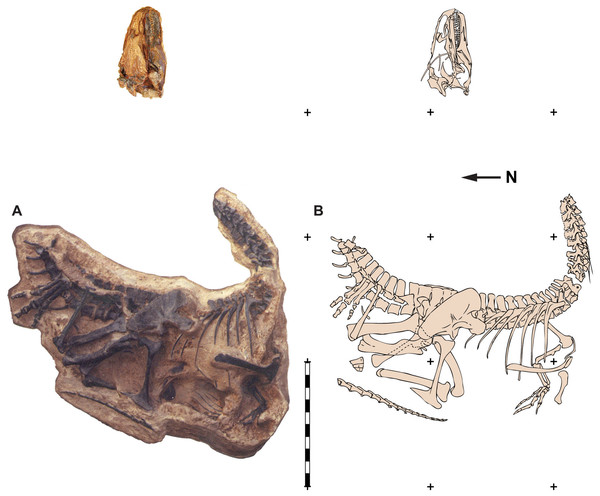 In 1934, Barnum Brown and a field crew from the American Museum of Natural History collected over 30 tons of sauropod bones from the Howe Ranch Quarry near Shell, Wyoming (Brown, 1935; Colbert, 1968). Brown's field crews excavated remains of multiple sauropods—including Barosaurus, Diplodocus, Apatosaurus, and Camarasaurus—along with elements of the ornithopod Camptosaurus (Ayer, 1999). The only theropod remains recovered during this period were of Allosaurus. During the 1990s a commercial fossil collecting company Siber + Siber, Ltd., from Switzerland began digging at the Howe Quarry, located on private land adjacent to land administered by the U. S. Bureau of Land Management (BLM). During this effort, the commercial company found limited numbers of specimens in the original Howe Quarry and subsequently began to prospect nearby for sites nearby (Ayer, 1999). In 1991 they discovered an associated Allosaurus skeleton that became known as "Big Al." The skull was still articulated with the axial column and much of the skeleton itself was in articulation (Fig. 2). Thereafter, the BLM recognized that this new site was located on public land and the excavation of the specimen (MOR 693) was taken over by a field crew from the Museum of the Rockies in Bozeman, Montana (Breithaupt, 1996). Undeterred, the Swiss found another, slightly larger individual (SMA 0005) on private land at Howe Ranch and dubbed it "Big Al II" (Ayer, 1999; Foth et al., 2015). This second Howe Ranch Quarry Allosaurus is housed in the Saurier Museum of Atahal in Switzerland. SMA 0005 is currently being described by scientists at Ludwig-Maximilians-University in Munich, Germany. Pathonogies in this specimen were described by Foth et al. (2015).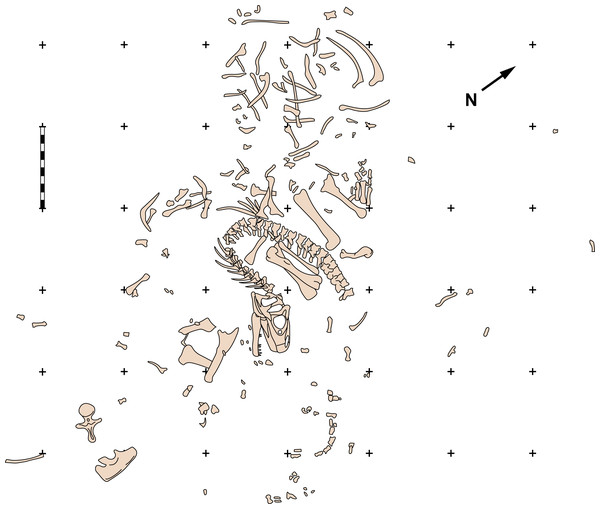 MOR 693 was prepared between 1991 and 1995 by crews from the Museum of the Rockies in Bozeman, Montana and has been the subject of several papers including studies of pathology (Laws, 1993, 1995, 1996, 1997; Hanna, 2002), cranial strength (Rayfield, 2005a, 2005b; Rayfield et al., 2001) and neck strength associated with feeding (Snively et al., 2013). All but one (Snively et al., 2013) of these studies have considered MOR 693 a specimen of Allosaurus fragilis and no detailed descriptions have been done on the specimen to date.
This paper describes both DINO 11541 and MOR 693 (Fig. 3) as a new species of Allosaurus and assigns other specimens from the Morrison Formation to the new taxon. The present description focuses on the head skeleton of the new taxon. We also differentiate this new species Allosaurus jimmadseni from the other two valid species of Allosaurus, Allosaurus fragilis and Allosaurus europeaus. Other previously named species of Allosaurus are invalid, including the recently named Allosaurus lucasi (Dalman, 2014), and are referable to either Allosaurus fragilis or are Allosaurus species indeterminate. These findings will be addressed in a subsequent review of species of Allosaurus, which is in preparation. The objective of this study is to provide a detailed description of the skull, mandible, dentition, atlas, and axis in a comparative context and to discuss the major cranial differences between the two species of Allosaurus in the Morrison Formation. Descripiton of the postcranial skeleton of Allosaurus jimmadseni will be the subject of a future paper.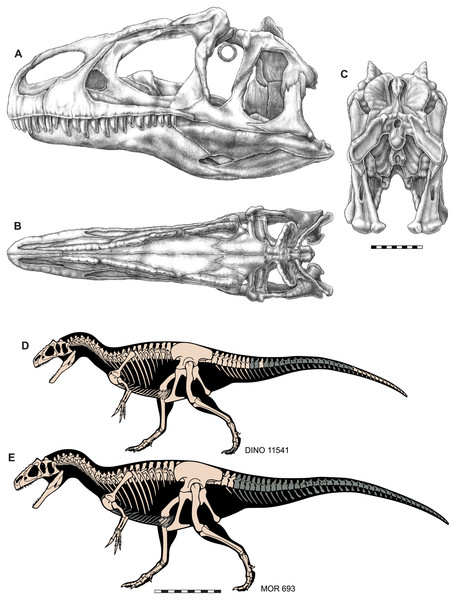 Results
Systematic paleontology
Allosaurus jimmadseni Chure and Loewen sp. nov. (previously nomen nudum (Chure et al. 2006))

urn:lsid:zoobank.org:act:4D577308-64BC-4F87-A1F6-EE0467CF1A2F
Etymology—In honor of the late James H. Madsen, Jr and in recognition of his outstanding contributions to our knowledge of Allosaurus through his herculean efforts of protecting, excavating, preparing, and curating of many thousands of Allosaurus bones from the Cleveland-Lloyd Dinosaur and his masterful monograph (Madsen, 1976) of that collection.
Holotype—DINO 11541 is a nearly complete and articulated skeleton, including: the left half of the skull with an occluded left mandible, an articulated vertebral column from cervical 2 through caudal 8, an isolated midcaudal vertebra, an articulated string of 16 distal caudal vertebrae from near the tip of the tail, cervical and dorsal ribs, a complete gastral basket, right and left scapulae, coracoids and articulated furcula, right and left humeri, left radius and ulna, four left carpals (two proximal (radiale and intermedium) and two distal), complete left tridactyl hand, complete pelvic girdle, right and left femora, tibiae, and fibulae, right astragalus and calcaneum, right and left distal tarsal III, left distal tarsal IV, right metatarsals I–IV, proximal half of left metatarsals II–IV, right pedal phalanges II and III-1 through 2, and right pedal phalanges IV-1 through IV-5 (Figs. 1, 3, 4, 6–13 and 16).
Referred material—Referred specimens include: MOR 693 ("Big Al"), a nearly complete associated skeleton, including an articulated skull (Figs. 2, 3, 5, 6, 8, 10–12 and 14–16); SMA 0005 ("Big Al II"), a nearly complete associated skeleton, including disarticulated skull and skin impressions on the base of the tail; USMN 544100; SDSM 30510, a juvenile partial skeleton and other disarticulated adult material from the Little Houston Quarry, Wyoming; all allosaurid material from the Dry Mesa Quarry, CO curated at BYU including: BYU 4861, 5164, 5268, 5292, 5583, 11936, 13621, 16942, 17106, 17281; and unpublished material from the Meilyn Quarry reposited as casts at the NHMU (UMNH VPC 481).
Holotype locality—DINO 11541 was recovered from locality DNM 116, east of the enclosed Carnegie Quarry in the Utah part of Dinosaur National Monument. Exact locality data are on file at Dinosaur National Monument.
Holotype horizon—DINO 11541 was recovered from the Salt Wash Member of the Upper Jurassic (Kimmeridgian) Morrison Formation. All referred specimens occur in the stratigraphically equivalent lower part of the Morrison Formation in Wyoming.
Referred localities—Localities include: The Big Al Quarry (BAQ), Big Horn County, Wyoming; Dry Mesa Quarry (DMQ), Colorado; DNM-116 at Dinosaur National Monument (DNMSW), Salt Wash Member, Uinta County, Utah; Dana Quarry (DQ), Washaki County, Wyoming; Howe Ranch Quarry (HQ), Howe Stephens Quarry (HSQ), Big Horn County, Wyoming; and Little Houston Quarry (LHQ), Crook County, Wyoming.
Regional horizon—Allosaurus jimmadseni was found in the Salt Wash Member of the Morrison Formation in Utah and lower part of the Brushy Basin Member of the Morrison Formation in Wyoming and South Dakota. Allosaurus jimmadseni occurs below the "clay change" of Turner & Peterson (1999), except for at DMQ, which occurs only two m above the "clay change".
Age— Allosaurus jimmadseni was found in the Salt Wash Member of the Morrison Formation and its lateral equivalents. The Tidwell Member near the base of the Morrison (below the Salt Wash Member) produced a date of 154.82 ± 0.58 Ma (RAIN-1325-4+4 of Kowallis et al. (1998)) and a date of 150.18 ± 0.51 Ma (LCM-1 of Kowallis et al. (1998)) was recovered at the base of the overlying Brushy Basin Member. These two dates constrain the the Salt Wash Member between them. These single-crystal, laser-fusion 40Ar/39Ar ages on sanidine crystals were recalibrated (Irmis, Nesbitt & Sues, 2013) to 157.32 ± 0.61 Ma (RAIN-1325-4+4 of Kowallis et al. (1998)) and a date of 152.77 ± 0.3 Ma following the Monte Carlo method of Renne et al. (2010). This places it in the Kimmeridgian Age of the Late Jurassic Epoch (Walker et al., 2012).
Diagnosis—Allosaurus jimmadseni is distinguished from other basal tetanurans by the following unique combination of characters: (1) in lateral view, a row of neurovascular foramina pierce the medioventral wall of the maxillary antorbital fossa; (2) straight posteroventral jugal ramus of maxilla where it articulates with jugal; (3) laterodorsal margin of nasal "pinched" into low crest continuous from premaxilla to lacrimal; (4) posterior portion of dorsal surface of nasal cup-shaped, producing a median peak in region of nasofrontal contact; (5) relatively taller lacrimal horns than in Allosaurus fragilis; (6) jugal with relatively straight ventral margin and straight-to-slightly-curved outline in dorsal view; a well-developed distinct antarticular, and (7) axial intercentrum is rotated dorsally and has a flared rim in lateral view.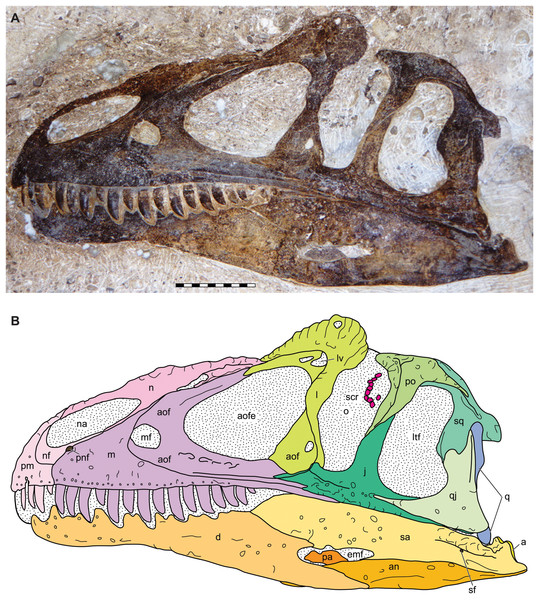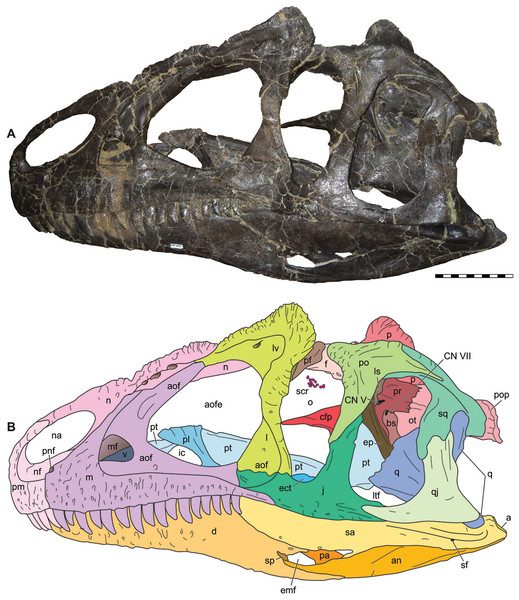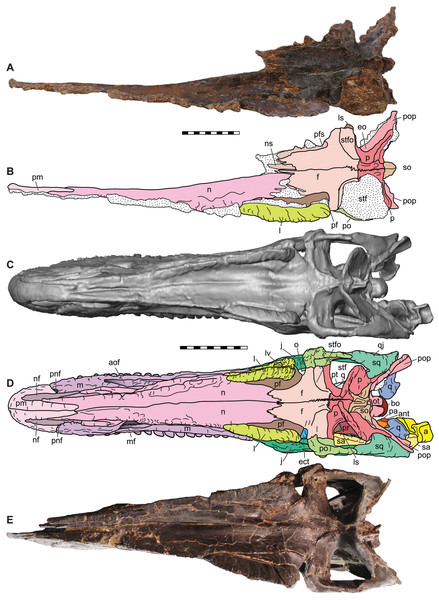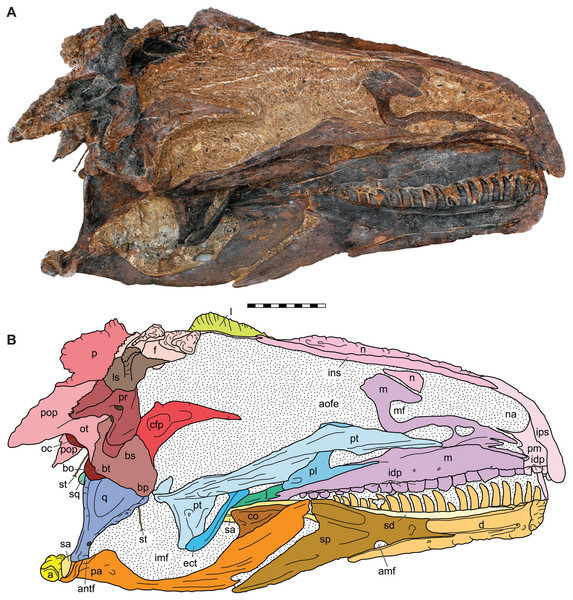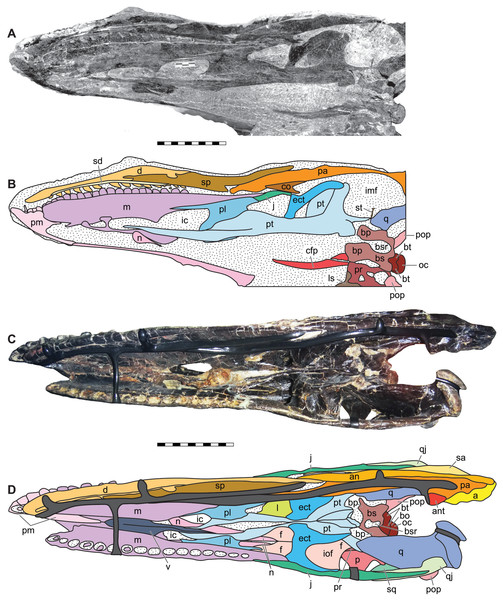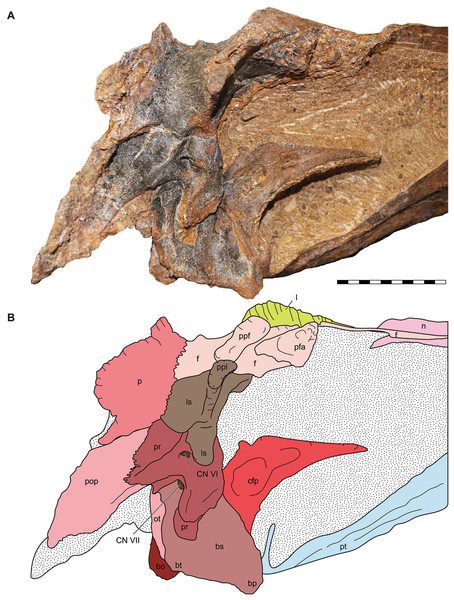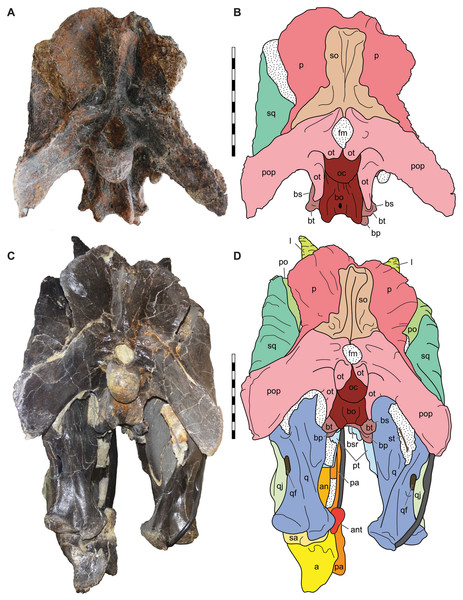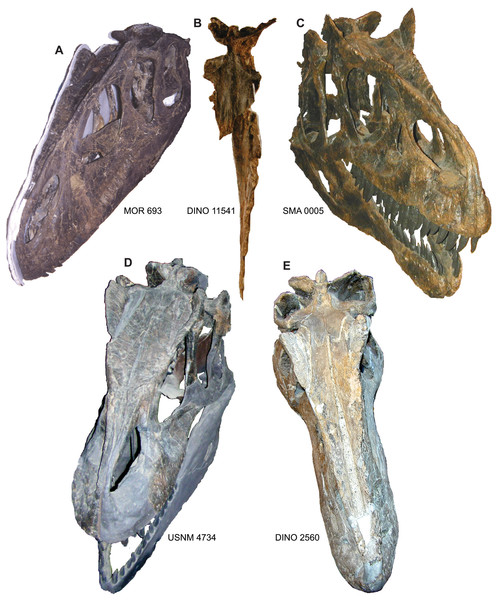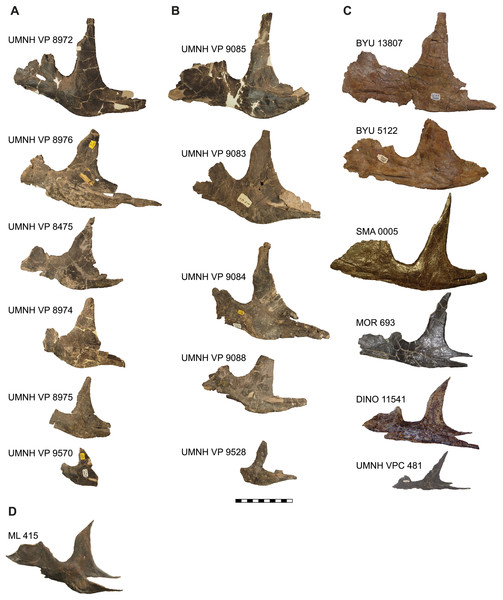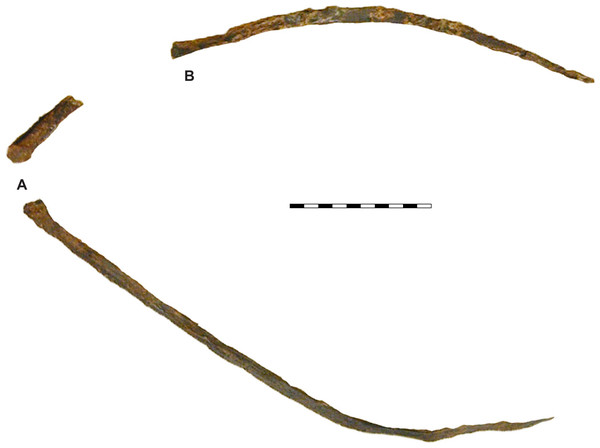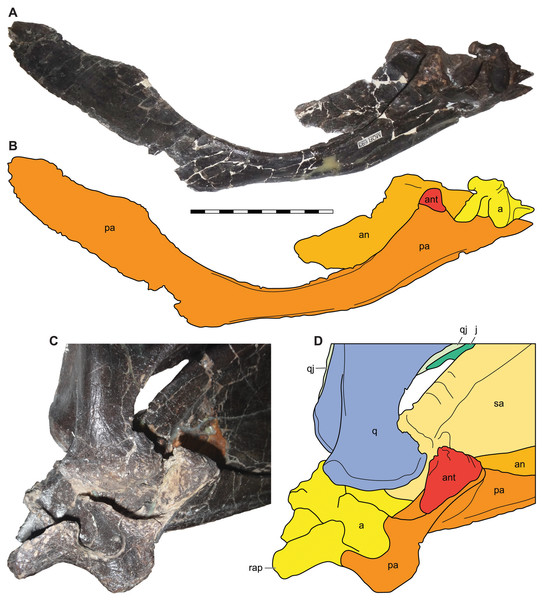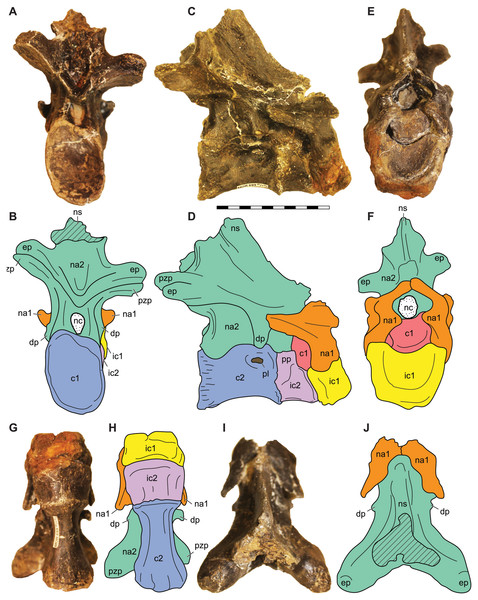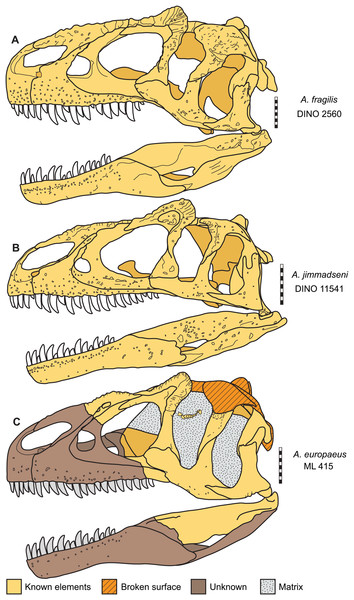 Description and Comparisons of Allosaurus jimmadseni
Ontogenetic Assessment of DINO 11541
DINO 11541 is one of the most complete single theropod skeletons known from Late Jurassic formations anywhere in the world. The remarkable half-skull allows for an understanding of skull morphology that is rarely afforded any theropod. For these and other reasons, Allosaurus jimmadseni will be an important comparative specimen for future studies of theropods anatomy and evolution.
DINO 11541 is clearly a specimen of Allosaurus. Some of the features in the field appeared to be markedly different from Allosaurus (such as the thin and drawn out lateral edge of the foot of the right pubis), surprisingly, turned out to be asymmetries within the specimen. Nevertheless, as given in the diagnosis, there are several features which separate this specimen from all Allosaurus fragilis specimens and warrants formal systematic recognition.
Brochu (1996), however, provides another approach to this question. Neurocentral sutures close late in post-hatching ontogeny in crocodilians, and this closure proceeds from posterior to anterior in the presacral series. Thus, in crocodilians, the closure of the neurocentral sutures in the anterior end of the presacral column occurs late in ontogeny and indicates the attainment of morphological maturity (Brochu, 1996, 1992a, 1992b). While this approach cannot give an absolute age for an individual it does provide a size-independent criterion for maturity.
The holotype of Allosaurus jimmadseni has an estimated length of 5.6 m, assuming that the missing midcaudals come to about one m. It shows a number of features which suggest that it is not morphologically mature. The sacral centra are not fused and there is separation between the centra of sacrals 1 and 2. More relevant to Brochu's (1996) indicators, the neurocentral suture is open throughout the entire presacral column, and there is slight separation along the neurocentral suture in cervicals 2 through 4. This suggests that the holotype of Allosaurus jimmadseni was relatively immature, and may not have undergone all ontogenetic changes, and was certainly not near its maximum size.
DINO 11541 does, however, show a pattern of neurocentral fusion in the caudal vertebrae which is in contrast with that of crocodilians. Brochu (1996) reports that in crocodilians the neurocentral suture is fully closed in most caudals at the time of hatching. In DINO 15541, the neurocentral suture is clearly open, as evidenced by a sediment filled gap between the neural arch and centrum in caudals 1 through 5 and caudal 8. In caudals 1 through 5 the neural arches, as a unit, pulled away from their arches for a distance up to three cm, indicating that there was stronger attachment between the neural arches than between each arch and its respective centrum. The larger size of MOR 693 and SMA 0005 further support the conclusion that Allosaurus jimmadseni was not near its maximum size.
As the lack of neurocentral fusion suggests that Allosaurus jimmadseni may not have undergone all ontogenetic changes, one might ask is the differences in Allosaurus jimmadseni might merely reflect this ontogenetic immaturity. Fortunately, the collections from the Cleveland-Lloyd Dinosaur Quarry can serve as an ontogenetic control, that is, when a feature appeared to be unique to Allosaurus jimmadseni, we examined specimens from Cleveland-Lloyd which were smaller, of equal size, and larger, in order to assess whether these differences might be ontogenetic in origin. The features diagnosing Allosaurus jimmadseni do not occur at any morphological stage represented by the Cleveland-Lloyd collection and are here interpreted to be of systematic significance.
Conclusions
Based on all known data for specimens of Allosaurus, the genus contains two valid species from the Morrison Formation of North America, Allosaurus fragilis and Allosaurus jimmadseni, which are distinct from Allosaurus europeaus (Fig. 16). The jugal, maxilla and nasal of the two taxa differ in multiple characters, including features associated both with signaling structures (nasolacrimal crest in Allosaurus jimmadseni; lacrimal horn of Allosaurus fragilis) and with craniofacial modifications that more likely reflect modification under the direction of natural selection (e.g., transverse expansion of the rear portion of the skull in Allosaurus fragilis; dorsal displacement of the maxillary tooth row relative to the jaw joint in Allosaurus fragilis). Using these characters, this study assigns several specimens to Allosaurus jimmadseni. In a subsequent publication we will review all named species of Allosaurus from North America in support of our view that there are only two valid species of Allosaurus in North America, Allosaurus fragilis and Allosaurus jimmadseni.
Supplemental Information
Specimens and institutional locations.